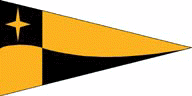 'Stoppress' pages for 2023
Scroll down....
---
---
These pages will be updated on an almost daily, certainly on a weekly basis, from all the mail and information coming in to us.
---
---
Click here to read the 2004 News pages
Click here to read the 2005 News Pages
Click here to read the 2006 News Pages
Click here to read the 2007 News Pages
Click here to read the 2008 News Pages
Click here to read the 2009 News Pages
Click here to read the 2010 News Pages
Click here to read the 2011 News Pages
Click here to read the 2012 News Pages
Click here to read the 2013 News Pages
Click here to read the 2014 News Pages
Click here to read the 2015 News Pages
Click here to read the 2016 News Pages
Click here to read the 2017 News Pages
Click here to read the 2018 News Pages
Click here to read the 2019 News Pages
Click here to read the 2020 News Pages
Click here to read the 2021 News Pages
Click here to read the 2022 News pages
Click the link(s) above to read earlier Stoppress items
There is also a Free Guest Forum, click here to go to it.
Full Members can post threads and respond. There is also a new 'Private, Members only' section!
You will need the passwords from us though!
---
---
And we have a new page of logs, click here, to go to them!
---
---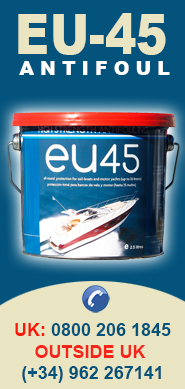 2023.
Discounted
EU45 antifouling for Sale.
I have got the same great deal on antifouling again, now called EU45, (as it was years back) identical to the old Marclear, made by the same man... Bill Robinson. For high strength navy blue, mid blue, red, black, grey and white Antifouling. (Workboat red has become just red!)

Ring the free phone number above and quote EOG. Bill will make a donation to the EOG as a result of owners buying...
Now on the paint is being supplied as 2.5 litres in 3 litre size cans, so it is easier to stir.
Members if you would like it delivered all you have to do is ring the free-phone number to speak to Bill and quote 'Eventide Owners Group' If you are not enrolled join first or we will know and you will not get the discount.
You pay him direct by card, or bank transfer it will come direct to you within 48 hours!
John
---
---
Scroll down for 2023 Stoppress pages...
So latest update at the top, under this header, earlier entries below.
---
---
Monday 27th November 2023.

For a country with no navy, (they scuttled their only surviving ship, to stop the ruzzians getting it), they are really punching above their weight!
Eventide news. Welcome to Otter, the owner of Wendy May! She sails from Penryn..

'Wendy May'
Will add pics coming from Otter to the 'Gallery' soon.

'Fiddler's Green', cocooned for the winter!
Heard from Roger with an update to soundings in the Thames estuary..
New Consolidated Update - 26th November, 2023

The new consolidated update is relatively short but has good news.

The Update includes one small correction, a brief overview of the 'state' of the Estuary and good news about the SW Sunk swatchway.

The correction was identified by an eagle-eyed reader; a waypoint number needs to be corrected. This year the Estuary has been unremarkable - in terms of changes. There has been and also have in progress a number of professional surveys that will keep us up to date.

For the SW Sunk there is excellent news, courtesy entirely from the Port of London Authority. The object in the SW Sunk swatchway described in the previous update is an old wreck recently exposed by the sand retreating on the NE side. There is 2.4m CD over the wreck. The PLA also sent me all the full data so I have been able to redraw the chartlet in much greater detail. Detail can be seen in the new Consolidated Update at https://www.crossingthethamesestuary.com/page6.html and the Download of the revised chartlet can be found at: https://www.crossingthethamesestuary.com/page29.html.

The profile of the swatchway demonstrates that the swatchway is quite substantial and I consider we can expect it to remain, certainly for next year. The waypoints remain fine and in my view do not need changing. The image below is a 3D representation of the swatchway looking from the west side to east.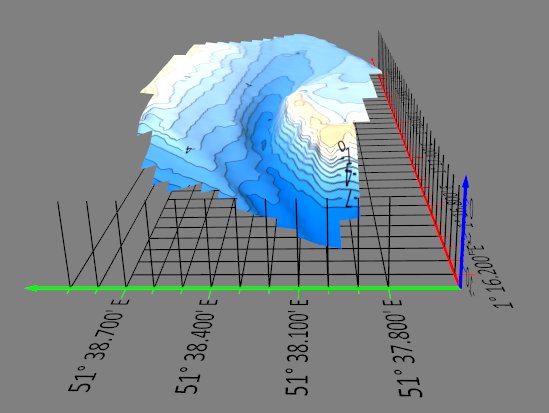 SW Sunk swatchway looking east

Download the Consolidated Update using the above link on the web site.

I wish you a Merry Christmas, a Happy New Year and a very Successful Season next year.

Roger
We have had a huge amount of rain again, here in Essex, 50mm in last 24 hours, and having to bring in the local builders with a digger, to dig out new drains. Over the last 25 years we think the drains we put in may have become blocked... Work in progress.. To add to it I have just heard the weather getting a lot colder and wintry weather on the way in the next few days.
Off to fill the log basket!
Do hope your boat is as well wrapped up as F.G.!
John
Sunday 19th November 2023.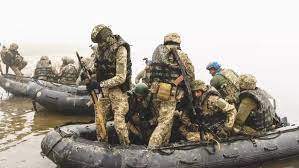 Great news from Ukraine, the small boats have opened a new front! They have crossed the Dnipro! ruzzians in retreat!!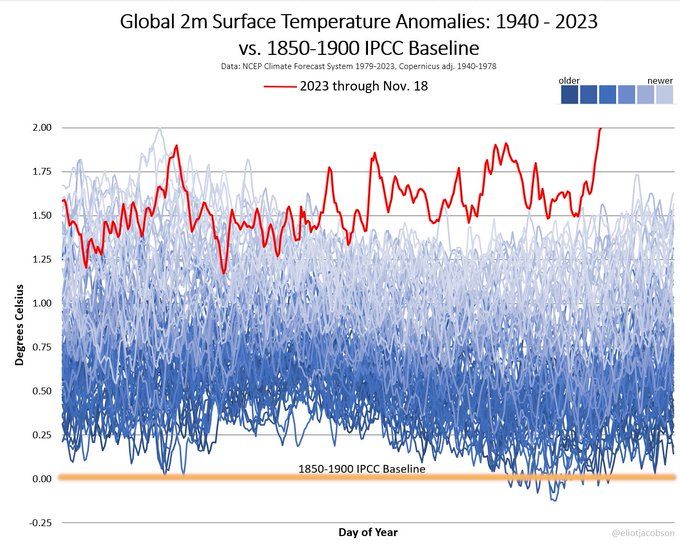 Not so good news.... Yesterday the world temperature officially reached 2 degrees above the base line limit.
We are now in trouble.. Plant trees!!!!!!
The best time to plant was 20 years ago, the next best time is today! We planted another 12 this week....
Eventide news.. Welcome to Chris in New Orleans. He has joined us with the intention of building a Kylix class boat. He has just donated to us for the drawings we hold and a DVD of drawings will be in the post tomorrow.
Heard from the owner of the M.G. yacht, 'Wendy May'. Hoping he may join us and send in photos for the gallery. Some may recall she was sailed by Dick Durham for a while.. the bowler hatted sailor from Leigh on Sea! He was looking for drawings. Sadly we have none, but maybe out there someone has a set?? Be great to have them digitised and added to the list of boats designs that we have archived. We send copies of all the drawings to the Greenwich Maritime Museum and the two wooden boat building colleges, so that they may be kept in the public domain, we came so close to losing all the drawings 20 years ago!
John, the Database Manager tells me he has overcome the IT issues he was having, with transferring the database from one P.C. to another and I hope soon we will get an update on the number of enrolments!
I have just asked the Steering Group, and received authority to reclaim the fee for keeping the secure status on these pages, the little padlock that appears in our address bar. The SSL.
Good news from Graham with the Eventide 24 'Borer Bee'. He is feeling fit enough to start renovations on her and has sent in a couple of photos of the 'Paper Mache' the top of the transom had turned to! Replacing with teak! More power to the elbow Graham!
I was fortunate to have the assistance of crew and friend Keith on Friday, to get the winter covers on Fiddler's Green at Bradwell. The sun shone but it was still cold at 9 degrees, would not have wanted it wet and windy though! The solar panels to keep the batteries topped up, are rigged on the bowsprit and with any luck she will be safe and secure till spring.
Pleased to say the decks looks sparkly clean after my efforts with the deck scrubber last week, the rain washed all the suds off!
We have had far too much rain here, recently, one of the signs of global warming, so much so that I spent a muddy hour or so clearing a ditch this morning as we were in danger of getting flooded with surface water again.. Climate change effects us all.
As I puttered the boat to the boat lift last week I noticed a lot of the larger boats on the western side of Bradwell marina had natty devices to hold mooring lines on their finger pontoons. Now I have been sketching ideas on the back of envelopes for some time but had failed to come up with anything that I thought the marina would approve of. These they obviously do approve of, and they looked ideal. Called 'Mr. Mooring', a play on words....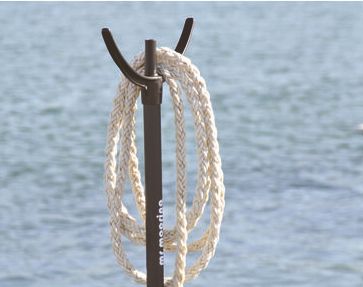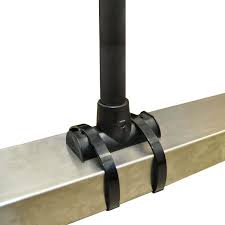 The base is attached to the pontoon with two very heavy cable ties. (What would be do without these today!)
So I searched the net and found the cheapest place for these British made devices was not 6 miles away from me in Burnham on Crouch! A firm called 'Wet works'... I had not heard of them.
Imagine my surprise when I searched out the place last week, to be greeted with 'Hello John, nice to see you!' It was none other than Dave Somers. I met Dave back in 1978 when I visited him at his new chandlery set up in a house in Leytonstone, 'Lakedale Marine'. I bought from him one of the first multi channel VHF sets, the Ocean Star 240! Up till then you could only buy VHF sets with a few limited channels and each channel had to have pair of expensive little crystals purchased, to get the channel. With the Ocean Star you could chose any 24 of the 55 available channels and program it yourself by moving pegs on a board. So simple. Tremendous step forward. Dave then went on to set up 'Mailspeed' and I was a regular customer till the day he packed in, due to ill health. Good to see him all recovered and fighting fit! I have had a new inflatable, new cookers, plus yards of rope, everything. Always used him. He helped the stepson rig his motor boat with electronics, and we always got good prices.
I walked out with two of the Mr. Mooring devices, to make it easier to grab the lines on our pontoon next season, my Christmas box!
Click on here to find Dave and 'Wet Works'.. Highly recommended.
All for now.
John
Monday 13th November 2023.

Pleased to see the Ukrainian Navy knocking out ruzzian warships. Good things come in little packages!
Eventide News.
Had a couple of mails re building a Kylix, hoping to hear from the enquirer, said he was having difficulty opening the enrolment page for some reason?? I tried it and it worked....
'Storm Debi' has been raging here all day. Earlier today I was down on the boat scrubbing the decks. The soap suds were blowing everywhere! Sure if there had been anyone down the marina, (it was deserted), they would have thought me crackers! Half an hour with hot soapy water and decks and the hull cleaned. It is going to tip it down tomorrow to rinse it off. The wind was a full F10, screaming through the rigs of all the craft ashore. Would have thought there would have been someone checking the chocks on the boats.... Still nothing fell over...
We were lifted out Friday and yet again we win the prize for the cleanest bottom in the marina! This year I have watched them attacking boats with sharp, long handled hoes. Some boats have had 6" of growth on them! OK it has been a shocking season of high winds and or heavy rain, so many boats have not moved a lot, but nor have we. Fiddler's Green had no growth of weed, just a couple of jellies on the bottom of the keel, where I had rubbed the antifouling off whilst ditch crawling!, and for the first time, a dozen barnacles on one blade of the prop!
If you have not tried EU45, and you did not take advantage of their autumn offer, I would suggest it is still worth buying for next season.
Note the lack of fouling! The muddy bit on the lower part of the hull is the result of a night on my Tollesbury mooring!
It took moment to wash off any slight slime. When safely chocked up, I took the deck scrubber to the bits that were under the stops, and it just came off without any effort.
Marclear, EU45, works!
Someone once told me he could buy cheaper, 'Flag' paint. But then admitted he had to beach the boat to scrub off mid season as it got fouled up.. Does not seem a clever idea that. I did an experiment many years ago, I had enough of the top International Micron paint left to do one side, and I painted the other with Marclear, (EU45 by its old name). It was obvious early in the season the International was not really working, so have used EU45 ever since! (It is 45% copper by weight, thus the name).
As I type this the wind has eased and hopefully no damage anywhere.
I did go straight out the back to check our trees, when I got back today, as the wind had really howled! All safe.
Next job is to get the heavy tarps on her. Already fitted the stainless 6" tube to the boom, to extent it to the crutch on the stern and rigged a line from bow to stern under the waterline to attach tarp tie downs to, but decided not to try and wrestle with the bundle of pipe lagging! I use that to cover all the top rail of the guard rails to prevent chafe. Think I'll wait for a calmer day. I have also to rig messenger lines to all the halyards, so they can come home and go in the wash.
Just heard from my sailmaker, he has repaired that mainsail cover, to be collected tomorrow!
The two 20w solar panels sorted and ready to take down as well, that will keep my batteries topped up.
Hope your 'lay up' going to plan.
John
Tuesday 7th November 2023.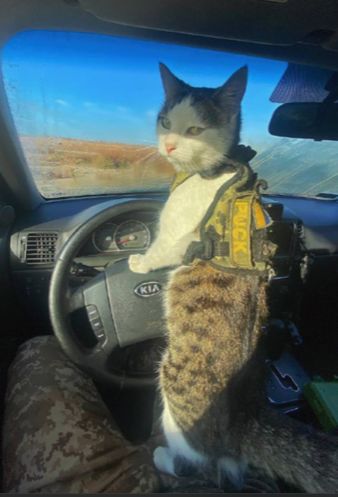 Those boys and girls in Ukraine love their animals! Here is a cat with attitude!
Miss mine..
Eventide News.
Well very little really. Managed to add some mast fittings to the bits for sale page and an article about renovating a GH 26 to the hints and tips page. Plus posted another 10 photos to the gallery, apologies for the delay in posting some of them, life gets in the way!
Been on board F.G. a couple of times removing kit and gear, some ropes and sail covers are already washed, dried and in store. Mainsail cover dropped into sail maker today, the stitching needs re doing. It is only UV resistant, not UV proof apparently, that's why some stitching gave way... Trying to work out how old the covers are, guessing over 20 years, maybe over 30! Sure they were made in the very early days afloat... could be 35 years! Wow they have done well! Washed in our domestic washing machine every year ( easy care 30!) and carefully checked for damage annually, and fixed by Lonton and Gray in Burnham on Crouch, if anything needs attention, and that seems to have paid off.
Had the call today, can I be down the marina 0800 Friday to motor boat round to the lift... Wow, that is going to be an early day! Storing ashore at Bradwell this winter as I have no major work to do, unlike last year when I had to keep her dry under cover, so I could repair the paint damage.
To prepare her for this winter I shall be removing all halyards and rigging 'messenger lines' in their place. I have just bought a 100metre reel of 4.5mm cord to do that job. Then the halyards can come off and go through the washing machine ( easy care 30!), and be clean and soft for next season!
I will also be gently hand pumping the water out of the three water tanks, all 25 gallons of it, could take a while, but better than the water freezing in the tank. That is if we get a winter this year.. Last year the garden pond never froze over, not done so for several years now. Must be time for a cold one...
I will be rigging heavy tarps I bought for the job 2 years ago, over the boat, one in front and one behind the mast, overlapping by the shrouds. A smaller heavy tarp over the back end. To protect the tarps I have a load of foam pipe insulation that I will cable tie to the guard rails, and pad any lumps and bumps with off cuts of old carpet. Amazing how many I see that do not bother and their tarps chaff away in no time.
I found a length of large diameter s/s pipe 2 years back, and cut it to slide over the boom, suitably padded with carpet. The pipe is secured with heavy cable ties and it extends the boom aft to the crutch at the stern that the mast normally stows in when we trail. That makes for a secure, roomy tent over the cockpit, with that big tarp on the back. In front of the mast I tie a heavy rope round the mast, at the same height as the boom, to the pulpit. Makes her really quite weather proof. Blown snow can cause havoc.. I do however leave a gap at the front and back, and all the 7 deck ventilators are left open to allow air to circulate.
To keep the 5 x 100amphr batteries in good health, I rig a pair of 20w Solar panels, connected to the ships charging splitter, so any battery that needs it, gets charged. As there is little natural light aboard with the heavy covers, I tend to use the all the LED lights powered by the aux. battery bank, when on board and found the solar panels would recharge the battery in a week or two, even in winter.
Hoping F.G. will be stored in a position where I can get afloat earlier than May or June! Got to catch the good weather, whenever it arrives!
Hope you took advantage of the Marclear antifouling offer, I have and have 3 cans of red ordered. I will arrange to collect them, or have them delivered sooner rather than later. Then as soon as the weather allows that antifouling roller will be out!
Already looking forward to sailing in 2024!
John
Tuesday 31st October 2023.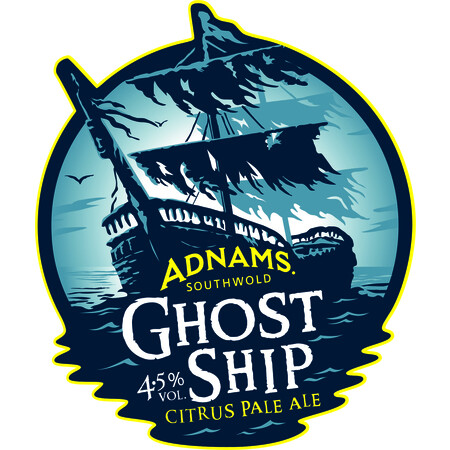 Free Halloween plug for a favourite beer!
Hot off the press. Message from Marclear anti-fouling......
YOUR LAST CHANCE TO ORDER AT THE PROMOTION PRICE EXTENDED UNTIL 12pm 1st NOVEMBER
<![if !vml]>

<![endif]>
Dear John Williams,
If you have already ordered your EU45 Antifoul thank you and apologies for disturbing you.,
IF NOT CALL OR EMAIL US NOW!
For more information or to order call us now on Freephone 0800 206 1845,or e-mail info@eu45antifoul.com
Special price not available on-line
Hear from the Met office that the storm coming this way is a F11!!!!!! Batten hatches!
John
Monday 30th October 2023.

Mural of child sheltering under the Ukrainian flag...
Wish we could offer better protection.
Eventide news.
Welcome to Chris with the Lone gull II, 'Mew Gull'. He has just joined us. Boat is moored in Portugal.
Had a couple of enquiries this week from owners wanting to advertise on the 'Boats for Sale' page. More when they come back with the adverts.
Had someone browse the Waterwitch page of the 'Gallery' and recognise a boat we have on there. 'Moonshiner'. Seems he sailed in company with the WW many moons ago. He is trying to contact someone who may have more information on her. Seems she was based in Essex at Canvey Island.
I, at last, have managed to get out on the boat for a night, first night spent on board in a while. With friend and crew Keith, we slipped out of Bradwell Thursday morning, in wet and dismal conditions, full oilies, to motor and run under genoa, in a gentle F2, across the river Blackwater to Mersea Quarters, and enter the creeks on the north shore to Tollesbury and Woodrolfe Creek. The rain stopped and the sun came out.
We picked up my mooring, at the second attempt, as I fluffed the pickup first time. I use 'Darian's duck catcher' ( As seen at fun fairs, the stick with hook on the end!) to reach out and slip the hook on the end of the short pole, into any mooring ring. Normally very easy, but the top ring on the buoy swiveled round as I tried to latch on and I missed it... Second time round and we were on. A tug on the pole and the hook slips off the pole and snaps shut, the 10ft length of line already threaded through the rollers on the bowsprit and secured, holds us. I slip our head rope, kept flaked down on the foredeck all the time, through the roller, and remove the 'Duck Catcher'.
We were just an hour after high water and as normal at Tollesbury, there were Fellowship Afloat dinghies out with youngsters and a couple of local boats puttered past. What we did notice was a pair of fishing boats dredging in the North Channel for Oysters. Not seen that for a while. Suspect they were trying to dredge up young oysters to take back and place in nets to mature in the Pyefleet or Salcott channel.
As the tide dropped the creek emptied and we settled gently in the mud, almost bolt upright. Sat in the sunshine in the cockpit in almost a flat calm, we watch as the wading birds ignored us and carried on their daily feeding ritual.
At one point I can count 60 Avocet in one group, just the other side of the creek, I recall the excitement when the first pair were seen here 15 years or so ago. wonder how many there are here now. We watch geese, Curlew, Egrets and dozens of different small wading birds all round us all afternoon. Noted the creek had altered a lot since the last time I sat on the mooring at low water. The channel had moved so far to the other bank then, leaving a steep cliff, that all the moorings that side of the creek were removed or washed away. The channel had begun to move back to the centre again. Amazing how the creeks alter.
This part of the creek has moved 50ft nearer in 2 years!
We had a peaceful night, settling at 2100 and floating up again at 0300. After a leisurely start we left the mooring at 1130 and puttered slowly back in a flat calm.
As there was not a breath of wind on our return, I took the opportunity, with Keith aboard, to remove the sails, always easier with two!
So now the living room is festooned with sails drying and the washing machine has already cleaned the sail covers, sheets and control lines and they are all drying near a radiator!
I will be back aboard tomorrow to remove blankets, pillows and the electronics for winter storage.
So far the only job I have added to the winter lay up list, is the find out why a set of sockets in the forward cabin were not working. They have a USB plug socket for the crew's phones. Important these days.
Reading the weather and news, seems we are in for a real blow Thursday, so secure those covers and check the mooring lines.
John
P.S. thanks to proof reader Keith, corrected.. Though I did rather like the new bird species I invented, the Curly Egret!
John
Tuesday 24th October 2023.
Sorry folks I missed Trafalgar day this year... Did not go out for a sail either....
Hopefully will do later this week.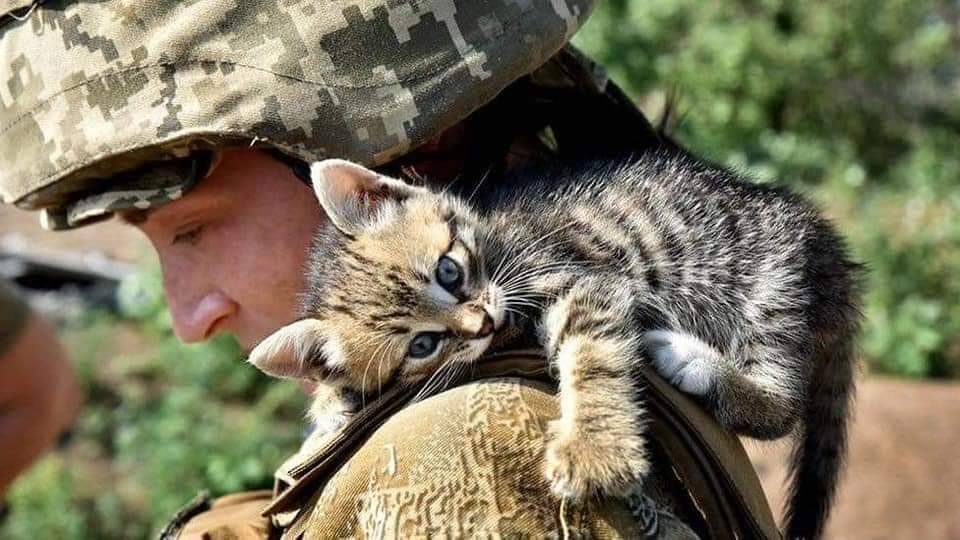 This kitty knows where its safe, he has adopted a Ukrainian soldier.
Eventide News. I have been sworn to secrecy at the moment, but there is some good news in the pipeline!
Mails have been quiet for the last week though I have had an article sent to me regarding repairs and renovations to a Golden Hind 26, I will try to publish that shortly...
I did have an Eventide owner, William, come to see me over the weekend, but not about Eventides but about my other hat, 'Saving Old Seagulls'. Seems Will and his lady, Adriana, are film makers and they spent 6 hours with me, filming. I will publish a link to the 'U-Tube' film when it is edited. Will need a lot of editing, I'm sure. William is the owner of the Eventide 26, 'Goldcrest'.
I am hoping to have a last sail later this week, slipping away Thursday, in the rain, to spend the night holed up in a creek and have a day sail Friday. Pleased to say the repair I did to the engine cooling system seems to be holding up well. I have used the motor for a day and keep nipping back to the marina to check water levels and run it up again and again. You can read the article here.
After the floods from Storm Babet, we were hoping for a spell of dryer weather, we had more than we need, even in this, the driest part of the UK. But no, last night we got another 12mm. The only real good news is our trees have now been well watered, some were beginning to show signs of stress, and the ground is nice and soft for me to plant another couple of dozen trees that we have reared in our little 'tree nursery' here! Some we had bought in, but many were salvaged by Darian, from odd places where Squirrel or Jay planted them, and forgot where they left them! potted up and watered well they are now ready to plant out.
Lastly a plea for help. At my friend Phil's Funeral recently Val exhibited a rather nice photo of him. Taken on Fiddler's Green probably back in 2000, but where? That year we sailing FG as far west as Cornwall, and I have a sneaky feeling this was Devon, but not sure. We were in company with Doug and Jo on their WW. Dougaljo. Can anyone confirm where this was taken? Recognise the buildings on shore? Plymouth maybe??

All for now,
John
Monday 16th October 2023.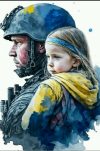 Ukraine is fighting not only for its existence, but for us!
Eventide News.
Very quiet week. No new enrolments and no mails either! Could be everyone was making the most of the last few days of sunshine? Today the temperature has halved just 11 outside, time to start throwing logs on the fire again!
Was hoping to take the boat out for a day or two, if I can muster some crew.... Talking about leaving her afloat so we could use her, but suspecting the colder temperatures will put off not only the distaff side! Don't do cold any more!
Spent a frustrating hour writing and rewriting the repair of my Beta heat exchanger article. The machine running dead slow. May be time to take it in for an upgrade, larger hard drive maybe, something has noticeably slowed it down...
Did eventually upload the article, but the text has not come out as it should have done, sizes and colours of fonts seem to have gone awry.
Still it is up and active. See the Hints and tips page and the new article.
John
Tuesday 10th October 2023.

Slowly but surely they are reclaiming their country.
Eventide News.
Another new enrolment. Simon from SW London has joined as a friend, he is negotiating the purchase of a well known Waterwitch! More later when the deal is done and he is upgraded to a full member.
Had a donation in from Simon for a set of Waterwitch drawings, plus a general donation, thanks for that, helps keep the site online!
Had a nice call today from Gerry Ware, the ex owner of the Eventide 26 'Cobweb'. He recently joined the new owner and his wife, and sailed her to her new home on the Dart in Devon. The new owners have joined us. He commented that the auto helm I sold him a year or more back, was used to great success for the duration of the trip!
The recent good weather, so different from earlier in the season, has tempted me to stay afloat this autumn.
On Sunday I managed to get out for the day, with Darian, her daughter and fiancée, on board. The weather was idyllic! Sunny but not too sunny and a gentle F2 all day, coupled to neap tides!
We puttered out of Bradwell at 1030 and hoisted sail, to be met instantly by a pair of harbour porpoises! They played round us for several minutes and as we drifted along we were able to alert other crews of their presence, they had not noticed! This is the third time I have come across harbour porpoise in the Blackwater, and every time in the same area, just off the old power station baffle, must be good fishing there!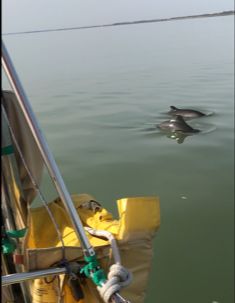 So nice to have an escort!

Malcolm on his Vulcan.
Gently sailing off St. Peter's chapel I espied a familiar shaped craft sailing towards us. It was a Vulcan, the steel big sister to the Eventide! Keep your luff taut, my camera is always ready to use! Malcolm's luff always is!
Malcolm was drifting back towards Maldon where he moors off the prom, he had a long way to go but 6 hours to do it in as it was low water, at 1.5 knots might take him that long!
We never exceeded 2 knots under sail all day!
I fitted an extra bit of safety kit to my pontoon on my return Sunday.
On my trip round the UK I had seen these at almost every marina and learnt that a coroner had issued a decree that all marinas should have them. Bradwell were not going to comply, they are a law unto themselves. I had searched in vain to find one till last week. Seems now they are generally available. Mine is called a 'Help Ladder', search the internet for them. An emergency ladder in a bag that straps to a cleat on the pontoon. Hanging under it is a weighted strap. If you tug on the strap a 5 rung ladder drops out!. At less than £30 a very good safety device. If your berth is short of a ladder, this could be a viable alternative and, as it is not underwater permanently, it will not get covered in barnacles etc., making it easier to get a foothold!

A very simply bit of kit that could save a life! Comes in 3, 4 or 5 rung versions. The rungs are strong and well made and the strap with weights is attached to the bottom of the set of rungs on mine, weighing it down.
In the winter, when the boat not on the berth, simply removed and can be stored next to a window indoors as an extra fire escape ladder!
Pleased to report that my repair on the cooling system is good. Header tank all topped up still and no signs of any leaks from all the new hoses I fitted! When I find 5 minutes I am going to marry all the photos with the text I have written and add the job to the 'Owners Hints and Tips' page.
Last week Darian and I, along with sister Sue and brother in law Keith, my regular crew, attended the funeral of Phil, the other regular crew member. I was pleased to see a few of our former colleagues from 30 years ago attending, though I had to admit I had difficulty recognising one or two! Has been a long time. A collection was made and RNLI 'remembering' donation envelopes distributed. Val, Phil's widow had suggested donation to the RNLI and more specifically to Tower Lifeboat that took over the old Waterloo Pier Police pontoon where Phil and I had often worked.
All for now, hope you have been managing to enjoy this unseasonal good weather. Make the most of it, it's not going to last!
John
Monday 2nd October 2023.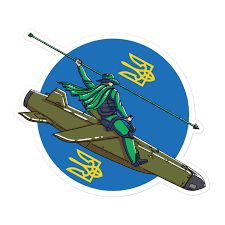 Our British 'Storm Shadows' are making a difference!
Eventide news.
New enrolment as a 'friend' for now. Mr. Florin in Africa wanting info on building a 'Riptide'!
Hope to hear back from him re plans..
We have at last a fully functioning boat! The Beta Marine inboard on Fiddler's Green' has been repaired and I have been out for a sail and engine trials! I have fully photographed the procedure to repair the header tank as it would seem others have had similar problems. I will be adding section to the Hints and tips page shortly. Bottom line is the saving in cost, £1,000.00 or £10.00 plus a few gaskets etc.

Engine trials in the Blackwater Saturday afternoon.
The trip out was just for a few hours, round Radio Caroline and back, but the motor performed perfectly and after a picnic on board I checked the header tank again and yes still full of antifreeze mix! However that morning we had both had Covid and Flu jabs and by the time we left the boat we were not feeling good. Took 24 hours to wear off, knocked us off our feet! Good job we were not staying out overnight!
The Eventide mail has been very quiet this week, could it be the lovely weather, at last, has everyone out sailing!? Hoping the warm weather persists.
John
Monday 25th September 2023.

Watching the brave lads and lasses gaining back their country, wishing we could do more.
Eventide News.
Borer Bee is for sale! Sadly Graham is having health issues and can no longer work or the restoration of this famous boat. He is offering her for sale for a fraction of what she has cost him, hoping an enthusiast can preserve her. Advert on the For Sale page shortly.
Enrolments. We have had one this week from Ivory coast! Mr. Florin has joined us, he is interested in the Riptide. I will responding to him shortly.
Heard from Nigel with Pegasus. He is working hard to restore her to her former glory, Vivian and Bruce must be so pleased.

Pegasus moves on slowly with interior almost done, decks painted, topsides finished, bottom ready for antifoul and cabin sides had 4 coats of varnish (still needs another 4). The new chainplates will be started soon - the stainless 316 has arrived.

I think I will miss out on sailing this year but plan to launch her next spring.

Attached is a photo of progress so far.

While showing the boat to a good friend (the son of John Mead who you may remember) it was pointed out that the bilge keels are back to front! Having looked at old pictures of Pegasus they have always been that way so maybe this contributed to her apparently good sailing qualities!

Best Wishes

Nigel

When you look at the bilge keels, they are indeed back to front! How odd, never noticed that before! Normally with Eventides we sometimes modify bilge keels by adding area at the back end of the keels, bringing the back edge to vertical or even sloping aft, to obviate weather helm... Maybe because she already has the space between the rudder and keel filled it did not make any difference to her! And a bowsprit of course!

Had a couple more enquiries regarding GH 26's, not entirely sure how many were produced off the top of my head, not dozens I suspect. But in recent weeks we have had many mentions of the class. An Eventide 26 updated with deeper ballast keel and bilge plates, more ballast. (Just like my own 'Fiddler's Green'). Doubtless they sail a lot better than early Eventides, mine does. The extra ballast and keel depth makes all the difference! Oh and of course Terry added an extra chine....

I have had another setback. I thought I was winning last week as I had repaired the heat exchanger, managing to seal it so the salt water side could hold a vacuum. I even had a real bonus with the starter motor. I had purchased a replacement starter that allegedly fitted my model, only to find it has the wrong number of teeth on the pinion. In desperation i took my original starter to a little auto electrical place I know in Danbury. A real old style engineers shop in a nissen hut. Chap has fixed several alternators for me over the years. He looked at the loose terminal, reached for a tool and with a deft flick of the wrist, tweaked it and passed it back. 'Fixed' he said, 'no charge!'. Ask a man who knows and the job gets done! I got my £99.00 refunded instantly on the replacement I bought!

So today Steve the local engineers in Bradwell crawled around the motor bay and refitted the starter, in seconds. I was about to say thanks I will take my time and refit the heat exchanger when he offered to fit it! OK I will have to cross his palm with silver, but he is an expert. Sadly then it went left handed. Tightening up the fixing nuts on the studs there was a 'click' and a stud broke! Rats. A setback. He quickly removed the stud from the block and we arranged to try again another day. When I dropped into his workshop on the way home he already had a length of new stud and was threading the ends! Back tomorrow to try again!

And today was a lovely day too, could have taken her out for engine trials had all gone well... Storm Agnes barrels in tomorrow!

On Saturday Bradwell hosted a free air show. It was not advertised to berth holders but was on social media and the marina grass area filled up with hundreds of cars. ( I am not on social media!). Some berth holders knew, but not that many.... The banks of the marina were filled with picnickers! Some years ago they did similar, but it was well organised, with dozens of military vehicles, support from re enactment groups, the RAF and the Air Cadets, with many marques of interest. Bradwell Bay airfield just a field or two away was a WWII Mosquito base and there is a rather unusual memorial there that is worth a look.

This time no RAF or Army or military groups of any sort..?? It turns out it was simply put on by the managers of the Green Man and the marina bar, to drum up trade?? Mayhem. Lots of grumblings... no one could get near the bar... ( we had dinks aboard!)

Luckily we arrived before the queues were half a mile long, just to get in. We sat on board and at 1400 we were delighted with a 20 minute display by the Battle of Britain memorial flight'! Reminder of the times this country had its back to the wall....

The crowd were regaled with the sound of Merlin motors and the smell of aviation fuel! Spitfire and Hurricane whizzing past and doing victory rolls!

Different sort of day at Bradwell. Still hoping to get sails up in a few days time, once Agnes has gone on her way!

John

Thursday 14th September 2023.

Special offer from Marclear! Members, Enter their competition and members can contact us to get the code for further discount!

ENTER THE EU45 BOAT SHOW FREE DRAW

NO PRICE INCREASE THIS YEAR!!! ORDER AT 2022 PRICES

<![if !vml]>

<![endif]>
Dear John Williams,
VISIT US STAND NUMBER D048 (IN THE DINGHY ZONE QUITE NEAR ENTRANCE)
FREE ENTRY TICKETS AVAILABLE TO THE FIRST FIVE CUSTOMERS TO ORDER ANTIFOUL TO BE PICKED UP AT THE SHOW
SPECIAL SHOWPRICE AVAILABLE ON ALL ORDERS PLACED AT THE SHOW
IF YOU ARE NOT VISITING THE SHOW YOU CAN STILL BE ENTERED
IN THE FREE DRAW OR ORDER AT THE SPECIAL PRICE BY RESPONDING TO THIS E-MAIL,
CALLING US ON UK FREEPHONE 0800 206 1845 OR E-MAILING info@eu45antifoul.com
BEFORE 31ST OCTOBER 2023.
DELIVERY OF YOUR ORDER CAN BE IMMEDIATE OR AT A LATER DATE OF YOUR CHOOSING.
Carriage UK wide charged at £12 per delivery
EU45 ANTIFOUL 2023 SOUTHAMPTON BOAT SHOW FREE DRAW
ENTRY GIVES YOU A £53 PER CAN SAVING OFF OUR NON INTERNET EU45
RECOMMENDED RETAIL PRICE OF £142
ORDER AT THE SHOW OR ENTER THE FREE DRAW OR ORDER BY PHONE
OR EMAIL BEFORE THE OFFER EXPIRES ON THE 31ST OCTOBER 2023.
1st PRIZE…YOUR BOATS HULL PREPARED AND PAINTED
WITH EU45 FULL STRENGTH ANTIFOULING PAINT
2nd and 3rd PRIZES …FREE EU45 ANTIFOULING PAINT FOR YOUR
BOAT, SUFFICIENT TO APPLY 2 FULL COATS.
DRAW TO BE MADE ON THE 31ST JAN 2024. WINNERS WILL BE NOTIFIED BY EMAIL.
THE RESULTS WILL ALSO BE PUBLISHED IN THE EU45 NEWSLETTER PAGE ON OUR WEBSITE
45% COPPER CONTENT, (ALMOST 2 KILOS IN EVERY 2.5ltr CAN). AVAILABLE IN 6 COLOURS
<![if !vml]>

<![endif]>
TO SEE OVER 150 PAGES OF EU45 USER TESTIMONIALS PLEASE CLICK HERE
TO SEE PRODUCT TECHNICAL DATA SHEET PLEASE CLICK HERE
___________________________________________________________________________
EU45 ANTIFOUL APPLICATION SERVICE
EU45 Manufacturer Applied Official Service with a written guarantee of satisfaction.
For a no obligation quotation and full information enquire at our stand, call us on
Freephone 0800 206 1845 or visit our website - http://www.eu45antifoul.com/application.php
and follow the Official Application Service links.
_______________________________________________­­­­­­­­­­­­­­­­­­­­­­­­­­­­­­­­­­­­­­­­­­­­­­­­­­­­­­­­­­­­­­­­­­­­­­­­­­­­­­­­­­­­­­­­­­______________________________
I have just ordered mine to be delivered next spring! I have also requested, and been promised the darker red, 'Workboat red'.
Worth buying now just to stand a chance of willing a free can or two!
Had a mail in from Jim, he confirms his newly acquired GH 26 has arrived! I like the bowsprit with guardrails!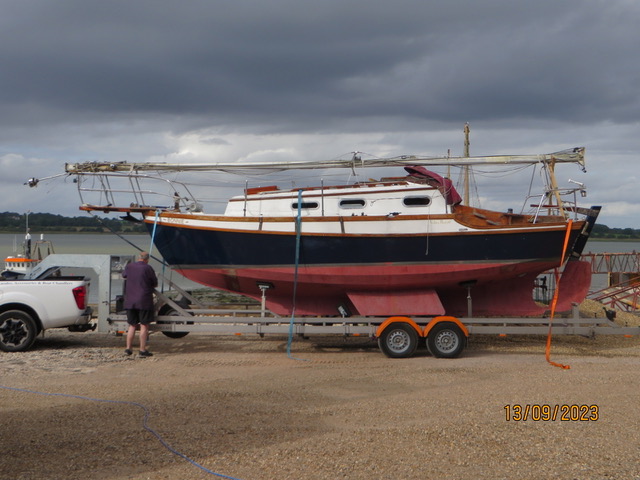 I am still working on my heat exchanger. nearly right, but Beta has just sent the wrong parts! So tomorrow got to get on to them for the correct hoses! As if i need another setback.
John
Wednesday 13th September 2023.

Sad to report the loss, yesterday, of my longtime friend and crew, Phil...

Eventide news.

Welcome to new member Martyn, the ex owner/builder of the scaled down 'Guapa', an Eventide with a difference, she had a centreboard.. Martyn has joined to get access to a set of drawings for a new Eventide to be built this time in steel. Watch this space.

Heard from Ian, trying to trace a Tidewater...

My Uncle bought the plans with permission to build 1 boat, from Maurice Griffiths, that boat was Brego. My Uncle Alan turned 94 this week and was talking about Brego.

It would be great if he could see her again.

We would like to get in touch with Paul Calvert, who we believe is the current owner. Can you please pass this message to Paul or pass on his contact information, if possible.

Many thanks

Iain

Anyone know where 'Brego' is now??

Also heard from Ann..

Hi there

I have a plea for information, my family spent much a fabulous Summer in the 70's and 80's in Salcombe on a GH called Golden Drake. It belonged to our amazing Grandparents who sailed her regularly to the Channel Islands and France. As they got older, they sold her between 1990 and 1992, I don't know who too. I do believe she was built in 1965 but sadly neither of my Grandparents are here anymore to ask.

Anyhow, I'd love to find her, if she is still in existence and see how she has got on. She has a very special place in my family's heart. So just wondering if anyone could help with her whereabouts. Have attached a couple of pics.

Thanks in advance.

Best

Ann

<![if !vml]>

<![endif]>
<![if !vml]>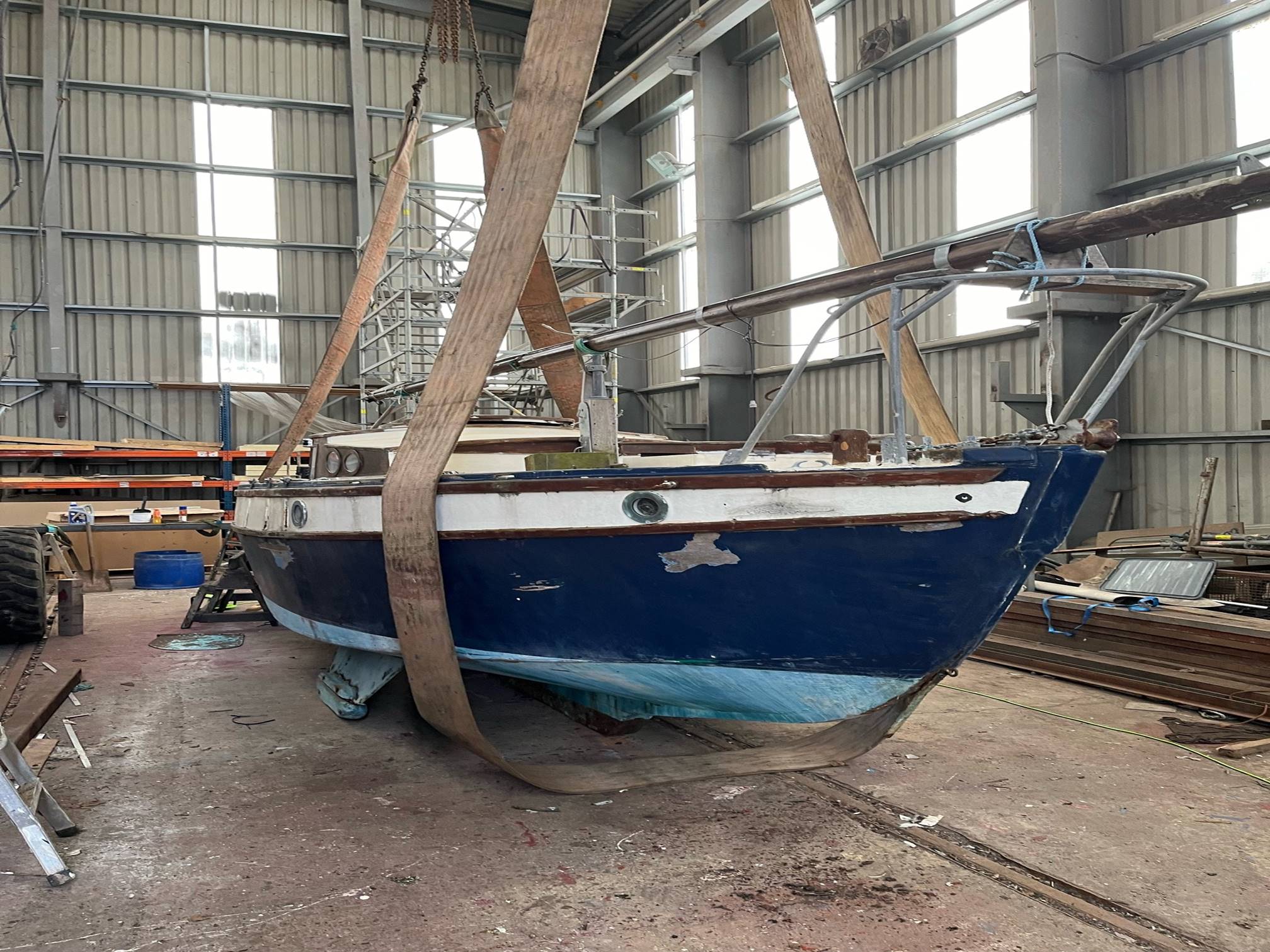 <![endif]>

I believe this is an early Golden Hind 28. I have asked our Database Manager John to see if he can find her, but if you know where she is now, please get in touch.

We have also heard from a relative of a former owner of another boat, trying to trace the boat today. He would like to buy her if possible.. Always great when a boat goes back to relatives of the person who built her. We have had several instances of this recently and have been trying to assist all of them. If anything comes of any of them, I will post it here!

Jim contacted us this week too, the new owner of GH26 'Clementine'

Hello John,

Just a quick note to say that I am expecting GH26 Bonnie/Clementine to arrive in Mistley this afternoon. Excitement all around! I will send a photo.

So far in my exploration of the website I have seen reference to two other GH26s — 'Swatchway Rambler' (I have also seen her on her mooring above Pin Mill) and 'Iris'. I have tried contacting the owner of Iris via the private message system, but so far no luck. I was wondering:

1. If you know of any other GH26 owners who are also members

2. Whether you would be able to provide me with either e-mail contacts or mailing addresses for these owners

Thanks again, Jim

Once again I have asked John Stevens to search the database and see if we can assist. We await photos.

Hopefully more GH26 owners will come forward and maybe even use the Forum to swap stories and ideas??

Lastly sadly I have to report that my 'Fiddler's Green' has her motor in bits at the moment, well not that many bits, but until I fix it she is out of action! Annoyingly it has coencided with the time the weather has at last come good. This Saturday is also the 'Maldon Regatta' and I normally like to sail up there to see all the 'classics' out. Not to be this year.

I have had to remove the heat exchanger from the engine so I could better get to the corroded area at the back of it. When off the boat I could clearly see the area that needed repair... It is now in bits on my bench, here at home, I'm repairing the corroded end surfaces where the 'O' rings are supposed to seal with liberal coatings of 'J B Weld'! I am awaiting a spares delivery from Beta marine in the next couple of days, with new gaskets etc. Tomorrow I hope to finish smoothing the resin and rebuilding the heat exchanger, ready to reinstall.

Sadly, to get the large water header tank off the motor I had to take a jigsaw to one of the supports at the rear of the engine box, as the tank had to be slid off sideways, off long studs, on the side of the engine. Engine box timbers will all be glued and screwed back when motor repaired, and tested! It was good however, to see the timber I had to cut was as clean and good as the day it went in, over 35 years back.

Searching the net I find a few others with Beta motors that have had similar issues. I can trace mine back to being mistakenly supplied a slightly undersized 'O' ring by Beta 12 years back, there were 2 different ones used and unbeknown to me I was supplied with the wrong one.. I hope the repair I am doing now will be as successful as the one I did 12 years back. She has motored some hundreds of miles since then!

Footnote.

I hear the 'Storm Shadows' we sent to Ukraine have just wreaked havoc on some ruzzian warships! My taxes well spent!

John

Tuesday 5th September 2023.

British Challengers lead the fight, breach ruzzian defenses, but sadly one lost.
Eventide news. Welcome to Alan in Totnes Devon, the new owner of the Eventide 26 'Cobweb'. Sadly 'Cobweb' has had a few people trying to buy and for one reason or another, (nothing to do with 'Cobweb'), sales had fallen through. Hoping she will have a more permanent home in Devon. Await photos .
On a sad note, Chris in the Netherlands has searched Faceache and found a note about our friend Norman. He resigned from the old assoc. over 20 years ago and joined us, went to live on a remote island in Scotland, Luing. Sadly his Eventide 'Jean' was destroyed in a fire whilst ashore, by vandals setting a nearby caravan afire, nothing left...
This is his memorial on line.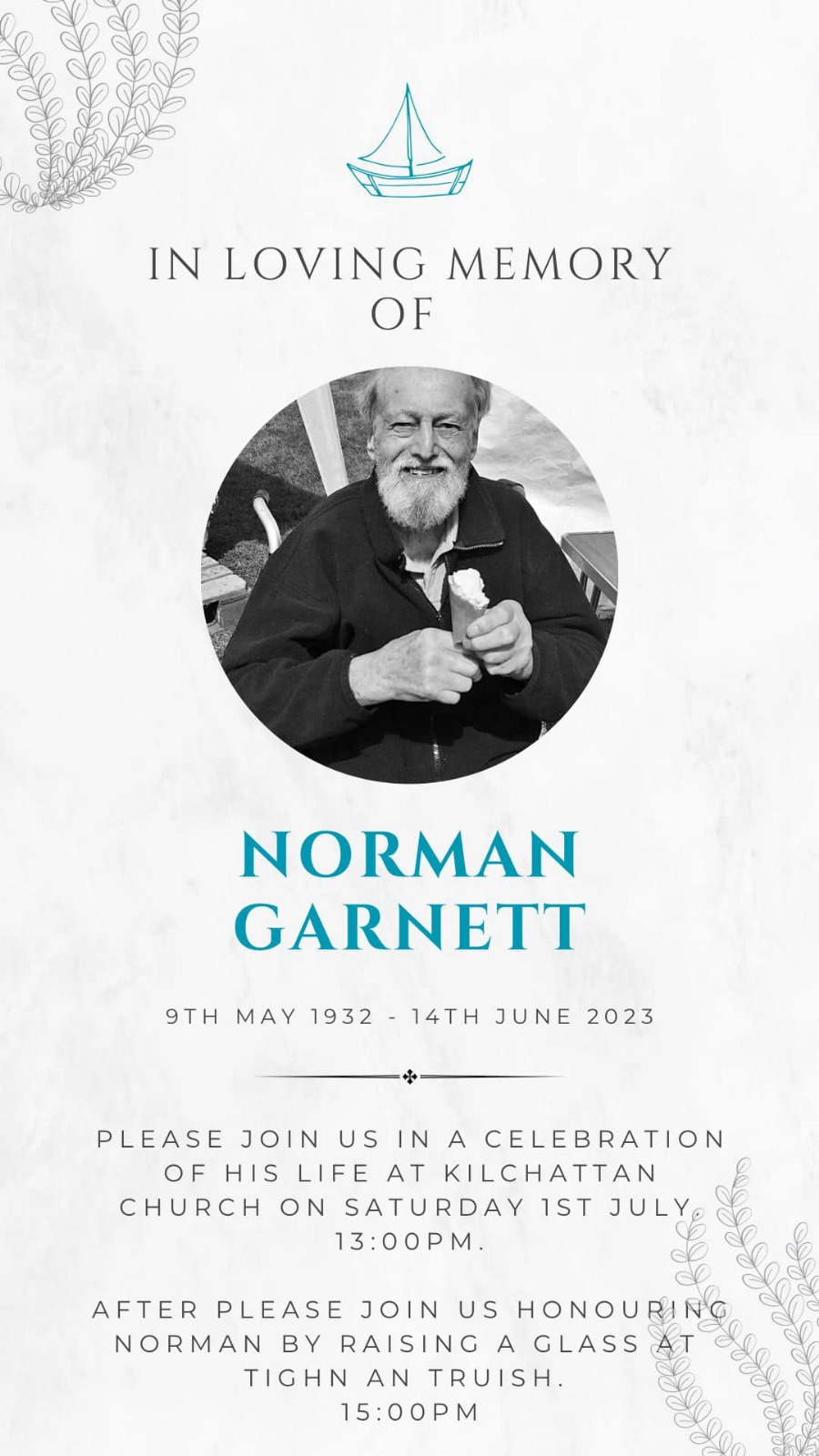 A member has sent this link in to us. https://www.ebay.co.uk/itm/295913904581 A most unusual Eventide! We believe we have heard about this one 10 years or more back up in the north west. She is now in south west Scotland, not that far away, so could well be the same boat.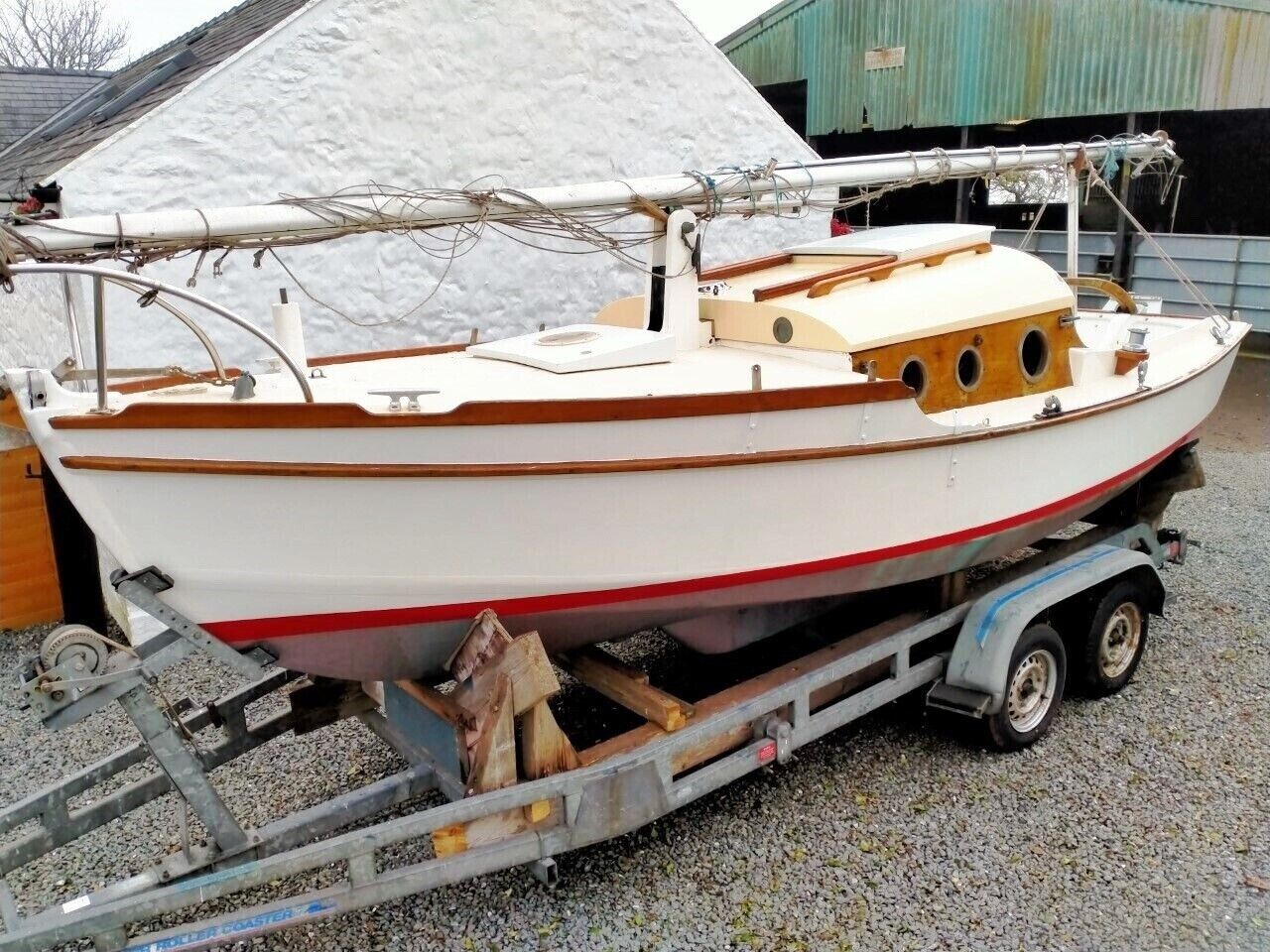 Starting bid £1,750.00. Trailer has to be worth more than that!
At 23ft long and with a centreboard rather than 24ft and the normal central ballast keel and two bilge plates, she is a huge departure from the plans. Add to that the fact that the cabin top can be 'unclipped' and taken off or raised! I would suggest she was rather suited to inland lakes than use on the sea, but then people do go to sea in bathtubs!
Be interesting to find out more of her history. Wondering if I can track down the photos of the one we heard of years ago???
My sailing. Sadly I still have engine issues. I thought I had fixed the leaking heat exchanger but when I tried to start the motor after running it to check water, the starter failed! First time I have had an issue like this, in 30 years of use!
I have checked all the wiring and batteries etc. and it all points to the starter and or solenoid. Hope to get Steve the local engineer to look at it later. (Needs 2 pairs of hands to hold the multimeter and cables while switches are turned!). He can then have the job of contorting himself into the boat to unbolt it and change it!
And of course the weather has at last bucked up, F3 with warm sun, and I'm stuck ashore..... Rats.
Hoping I can get all fixed before Christmas!
John
Monday 28th August 2023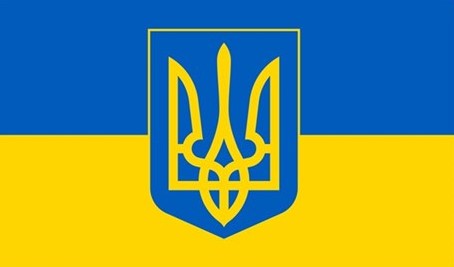 I make no excuses for supporting Ukraine. If we do not support them, we should learn how to speak ruzzian!
I support these charities and fund raisers.
Eventide news. At long last we hoisted some sails and had a day afloat. Sadly the day did not end well though, as our faithful Beta Marine died, just as we nosed into the berth! Fortunately we had our Royal Navy sailor on board who, with the step ashore line in his hand, was able to act as our brakes! I will write more about the issue later.
We have had one enrolment, welcome to James who has re- enrolled, this time as an owner! He is the proud owner of the GH 26 'Clementine'!
James will be sailing the Essex and Suffolk rivers and is to be based at Wrabness. Maybe if I get my motor sorted and get a chance to get away for a week, we may cross wakes.
Had an enquiry from Michael in Peterhead. He joined us many moons ago with 'Dark Star'. An Eventide 26 that like so many stretched a little to 28'. Seems he is having a problem tacking, I will point him at the Weatherhelm article and find out more about 'Dark Star'. If it was the Eventide I saw in Peterhead I do not recall seeing a bowsprit... If it is the same boat, it has no bowsprit!
Another enquiry, this time from Canada, Keir has a Golden Hind 31 he is restoring and would like to join the forum. I will be responding to him to get him to enroll so he can be given the codes to get on our forum..
Down at Bradwell a little birdy has told me that 'Irene', the 30ft MG designed boat based on the Eventide, has maybe.. sold. So far not heard from Norman and the boat does not look as if it has been touched, so maybe not?? Apparently sold unseen on eBay???. Never a good sign..
Me and my Beta Marine inboard! 'Fiddler's Green has had a Beta 17 inboard since 1993. 30 years. She has been a faithful, powerful, reliable crew mate. Gives us 6 knots. We over pitched the prop to reduce the revs to 3k and the noise, but she is so well insulated often we cannot hear her at tick over and many have asked what powers her. 'Solar' I quip back!
We once had an issue with cutting out, 7 years back, but that was down to the standard lift pump not being man enough to lift fuel from the larger tank we installed under the cockpit floor. Sorted with a small electric 'Facet' pump. But not before we had a few exciting incidents of cutting out at inopportune moments!
Recent years have seen a couple of issues with the massive amount of floating weed, being sucked into the filter and blocking it. Caused over heating.. To warn us of this issue we fitted an exhaust temperature alarm, which has already proved worthwhile.
This season I cleaned out the header tank heat exchanger tube stack and when refitted and refilled, I noticed a slight loss of coolant. I could not find the reason for this and just kept topping up.
Last Sunday, our first actual sail, we were motoring back into Bradwell against a strong ebb when I noted the revs dropping and an odd smell from the exhaust. Simultaneously 'smoke' was seen down below. A quick check and I realised it was steam, not smoke and the odd smell antifreeze! I cut the revs and we crept into the marina. As I approached our berth, a rather difficult one to enter and leave, I knocked the motor into neutral and coasted towards the berth, hoping to apply a short burst of stern gear to check us as we entered the berth. Oh No..... Motor died!
Luckily Brandon, our sailor grandson was there to stop our forward motion! Stepping smartly ashore with our 'step ashore' line, he was able to slow us before we hit the pontoon end!
We opened the engine box and allowed everything to cool as we unloaded and locked up. Too hot to touch... I suspected an 'O' ring seal leak!
As the fresh water and antifreeze mix is under pressure, any leak at this seal pushes the coolant into the salt water part of the system and then into the exhaust. Thus the odd smell. The exhaust temperature stayed a healthy 45C.
I returned the next day and yes, the header tank was nearly dry, but motor still turned over OK. Hopefully no damage. I have taken the header tank ends off and removed the tube stack. Thinking about it I did recall I had a similar problem 12 years or so back, losing water. Then I found corrosion where the 'O' ring seals fit at the ends of the tube stack in the header tank. Turned out it was caused by Beta supplying me with undersize seals! I fixed it then with the judicious application of that wonder material 'J B Weld'.
When I checked the Ali housing this time there were signs of corrosion again, just where the seal is supposed to seal!
So I have sanded and wire brushed the corroded Ali and got good bare metal and applied 'J B Weld' again. This time I hope I am doing a better job of smoothing the epoxy compound off than I did last time, as it was apparent it was not that smooth when I checked the other day!. (Though it had not leaked for 12 years and thousands of miles round the UK!)
I have made a tool to do the job better this time and today was onboard and sanded the epoxy smooth. After checking that everything fitted, I saw there were still a couple of slight voids, so applied another coat of 'J B Weld'. Hopefully tomorrow I will be able to smooth that off and if all good, reassemble the heat exchanger. (With new seals, kept on board, just in case!!).
I had searched the internet for solutions to my issue, thinking maybe I had not diagnosed it correctly, but I found other examples of similar tales of woe, and others using 'J B Weld'!
Contacting Beta of course they had never heard of anyone having an issue!!!?? I casually asked about a replacement header tank.. No spare header tanks for 30 year old motors available, well not the same tank, not one that could take my expensive bronze heat exchanger tube stack. I would have to buy a different 'fabricated' tank with different stack and fittings, hosepipes, you name it. Price just short of £1000!!!!
A complete new motor £5000!
Cost of 'J B Weld', under £10.00!
I will report back if my remedy works, (again), and we are able to take advantage of the weather while it lasts! Taken loads of photos, an article in the making!
Having said the weather is better, it was F5 on August Bank holiday Sunday, with rain, that meant the River Blackwater was once again empty. No boats moving in Bradwell today either, only a handful seen on the river... Why? Has everyone given up on boating this season?
Hoping you may have had a better season than 'Fiddler's Green' and crew have had so far!
John
Friday 18th August 2023

Sorry for pause in publication. We have been ultra busy here. Organising a party for all who helped plant our Spinney six and a half years back.
This is what we hope it will look like in another 6 years. We are getting there! Most trees over 6ft now, many over 12ft and some over 20! The 35 plus planters attending were impressed with the growth of the sticks they had planted!.
Eventide news.
Pleased to say the Eventide 'Kittiwake' has a new custodian. Someone from Ian's sailing club in Preston has taken her on. Hope they can sort out her rotten keelson problems. We hope to hear from the new owner..
We have had a new enrolment. James has joined us, wanting to speak to an owner of a GH26, cutter rigged, boat, to discuss the handling. James was the owner of 'Right-Eh-Oh' for a while, wants to down size to a 26. We spotted her in the Scillies a few years back! He is based in Essex now. If any GH 26 owners willing to chat to him, please mail us. enquiries@eventides.org.uk He has joined the forum, but for some reason or other owners seem reluctant to use that to the same extent that the sister forum on my seagull site is used....??
Have to say the GH26 and my own Eventide 26, 'Fiddler's Green' cannot be far dissimilar in performance. Would be good to sail in company with one to find out.
Had an enquiry from John regarding another GH26, the Junk rigged 'Lady Louise'. He is contemplating the purchase of a similar boat and would like to speak with the owner. Are you out there? Contact us and we will put you in touch.
<![if !vml]>

<![endif]>
<![if !vml]>'Lady Louise'.<![endif]>
John also tells us of the passing of an Eventide owner that we knew from 20 years back, we will publish more once confirmed. Another Junk rigged boat owner.
Sailing, the last week or 10 days has seen more F5's to 7's and today we have warnings of thunderstorms and a months rain in a couple of hours, joy! I am hoping against hope that Sunday is going to be a good day to get the sails up, for the first time this season!!!!
Also heard that Keith with the new Senior 'Dipper', is planning to be out this weekend, after storm Betty has passed! I will have the camera ready Keith!
Finally Ukraine. We have stopped buying anything sold by 'Unilever'. Until they stop sales in ruzzia. They are still active in ruzzia and according to an informed source in Ukraine they paid £33 million!!! into ruzzians tax system last year, supporting the terrorist campaign in Ukraine. If enough refrain from purchasing their products, we will force these (correction) not 'red' but rogue!, companies to stop dealing with the terrorists. Consumer pressure is already having an effect. Seen a Daily Mail article about this as well.... paying for 39 bullets a second!
Boycott Unilever!!!!!
See this website for the amazing list of firms still prepared to finance putins war.
https://som.yale.edu/story/2022/over-1000-companies-have-curtailed-operations-russia-some-remain
Here's hoping for an Indian summer!
John
P.S. Sadly had it confirmed by John, that Norman Garnett has died. He was the builder of 'Jean' a Junk rigged Eventide 26 launched on the Wirral in the 1990's, I attended the party. Norman left the old association after his terrible treatment by the then officers, he kept in touch with me after the assoc. died and later moved to the Island of Luing in western Scotland. He sailed there for some years then sadly a group of local youths manage to set a caravan on fire, it was stored next to 'Jean'. The boat was totally destroyed. He leaves a son, Ben, who now lives oversea. Ben was with him for the final weeks of his life. Norman was a real gent.
John
Sunday 6th August 2023.

Storm Antoni. The worst August Storm in 30 years!
Well I have not left the berth this last fortnight. If it has not been F5 to 7 then it has been tipping it down. The storm that passed through here today came with a good day of sunshine, for a change, but pleased to say not a single fool boat owner as seen out on the Blackwater!
I took the opportunity to take my 1958 BSA Bantam to a local Classis Bike show instead. Getting there against the head wind I was only able to do 35mph, changing down a cog for the heavier gusts! (Coming home I clocked 45mph!) . Down in my daughters neck of the woods, Brixham, they recorded 78mph winds at Berry Head.!!
Darian just back from a fortnight with her son in Dubai, she said the sea was too hot to swim in! From around the world we hear that sea temperatures are going crazy and sadly marine life is suffering badly. And still there are climate change deniers!
We are having a gathering of friends and family here shortly, as a thank you to all those who assisted us plant our little spinney. 2/3 of an acre of trees. They have all done their bit to fight climate change.
I am hoping that at some time in the future there will be enough of the right sort of timber growing here to build an Eventide! Some day when GRP boats are no longer made, as the oil is no longer available to be converted into resin, I'm betting there will be a resurgence of wooden boat building.
Been a very quiet week on the mails, no new enrolments and nothing new to report from any members. Had to send mails to myself to check the mails were working!
Weather looks to be improving, all down to the position of the 'jet stream' they tell me, so it looks as if we might get afloat soon! Have family staying here next week, itching to get afloat! Fingers crossed.
Now thinking of leaving the boat on the berth over winter to see if I can snatch the odd day sail during the colder months! Getting desperate!.
John
Sunday 30th July 2023.

No sports person should be expected to shake hands with a terrorist supporter!
Please to read the disqualification of the Ukrainian young lady fencer was reversed!
Eventide News.
I am awaiting info on a 34ft Steel Golden Hind that needs a new home. The info is scant at the moment, but this is 'Jua' who cruised extensively 25 years back. Awaiting details. Can tell you she has been stored ashore for a long time, and that she is Junk rigged.

Another mail brought in a plea from Mark. Could anyone tell him if his father's old Eventide 24, is still about. His father built and launched her back in 1970. Named as 'Yvonne', but he knows the name was changed to 'Ursula' by a later owner after his father sold her. Last heard of in the Torquay area of Devon...
Seen here being launched and on her mooring on the Stour in Dorset..
Anyone know where she is now? We do not have a sail number for her, she is yet another that has never appeared on our records! The number of Eventides built must surely be approaching 1000! Taken years, but they are coming to light.
Weather here is still dire, F6 and F7 this weekend and at the moment its tipping it down again! With wildfires decimating many countries I wonder how long it will be before all the doubters realise what is happening to our world.
They say the best time to plant a tree was 20 years ago, the next best time is today! If you can, do, for the sakes of our grandchildren.
John
PS. Tanks to preef readed Keith fur spouting mony mistates hear.... I ave tryperiter!
Sunday 23rd July 2023.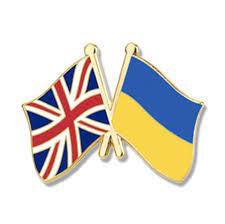 https://donation.dec.org.uk/ukraine-humanitarian-appeal
They need our help!
Eventide news. Another new enrolment this week, welcome to Simon from Maryport, looking for a GRP Golden Hind.
I have heard from the owner of a Steel GH, a 34ft version I believe, he is wanting to advertise her on the site, details awaits.
Peter Harrold has sent in details of his pretty 'Little Gull' a Lone Gull I design. I have placed an advert on the For Sale pages for him...

'Little Gull'
I have also added some info about his restoration back in 2012, to the 'MG designs' page. An interesting read.
You may have heard the Fastnet race has once again been hit by storms with over 80 boats retiring due to the adverse conditions. As this storm was well forecast makes you wonder what sort of seamen these racing lads are, to venture out into it. Seems the lifeboats have been kept busy and sadly one vessel sunk!
For my part I will not venture out when winds are forecast to exceed F5!. Boat may be able to take it, but I am not so sure about me these days!
I was down the boat last week with the two new batteries for the fridge. 190Ahrs of power. As soon as I wired them back up and they began to charge with the solar panel, the NASA battery condition gauge then soon showed them 90% full and on a half amp top up charge. I'd like to say by now they must be 100% full, but the amount of rain we have had recently and the cloudy skies, not so sure.
Yesterday I rode my classic 1958 BSA Bantam in the local show's parade, and got soaked. It fell down. First time the village show has been a wash out. Not boating weather, as it was F6, but I did hope I could have stayed dry!
Looking at the weather for the next week seems it is going to tip it down every day! Well the farmers and our trees need it. I was out in our little spinney, planting a couple of pots full of Ash trees, donated to me, amazed how soft the ground was. We have had a bit of rain here!
I do not think I have ever known a season like this one, we have yet to raise or unroll a sail. And the year rushing past. Hope to get out there soon. Speaking to others on the east coast, seems I am not alone, so many boats not left their berths.
Roll on summer.
John
Saturday 15th July 2023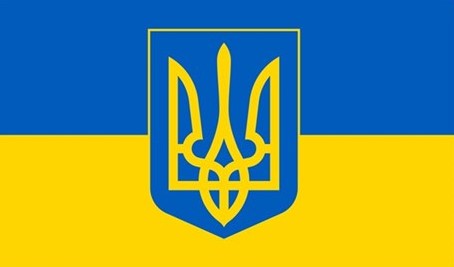 I make no excuses for supporting Ukraine. If we do not support them, we should learn how to speak ruzzian!
I support these charities and fund raisers.
Eventide News. Welcome to Peter Harrold who now sails from Woodbridge with the Lone Gull 'Little Gull'. Peter was a member in the old days and I bumped into him at Wells Next the Sea on my way round the UK in 2013. sadly the time has come for Peter to 'swallow the anchor' so 'Little Gull' is going up for sale.
I will be adding her to the 'For Sale' pages soon. whilst on the subject, I have just dropped the price for Warren on his GH 'Safrel'. Lovely boat. I removed an advert for an owner, or ex owner a little while back but note there are a few on there that have been there a while. Please if you sell via the page, do drop us a small donation and let us know, we can then remove the advert to save you getting calls.
Re my sticky plastic winch handle socket, John S asks if I tried WD40 or Baby wipes? Apparently solutions to this degrading problem. I gave up after trying a few things, including putting in the dishwasher! I bought a new one using our eBay page!
One of the things I found when doing engine trials last week, was the electric fridge had no power. The batteries dead. 200Ahrs of battery. I removed the 2 batteries a day later and put them in the workshop, testing and charging with one of those intelligent chargers. One was duff straight away. The other seemed to want to charge as the little indictor on the top showed green, but in the end it too failed. Rats!
Then I wondered, how old were these batteries, as I know they were on board in 2018. I checked the batteries and they had old dates on them, surely not. Then I re-read the Stoppress pages.!!!!
One of these batteries was fitted in 2014, the other 2012! So one was 9 years old the other 11! Now that is good service from lead acid batteries.
The new ones are both 95Ahr batteries, as close as I could get to the previous total of 200Ahr. Made under the Numax label. A sealed leisure battery, looks just the same as the old dead Alphaline one, case and dimensions identical, output just slightly less at 95 as opposed to 105Ahr.

Hope to take delivery of the second battery today, ordered it a day or two after the first one as I was waiting, hopefully, for the other to recharge! (Ever optimistic!) Normally Lead acid batteries last till a day after the 4 year or 5 year warranty. 9 years service is a bit of a record!
Gales have been blowing here again, SW now and F9 forecast! There seems no end to these high winds.
When we do get out to play again I have news of the shifting sands in the estuary and in particular the Ray Sand Channel, the cross sands link to the Crouch from the Blackwater.
Roger has sent another update!.
New Consolidated Update
I have added an update today which includes changes for the buoyage at the Ray Sand, the result of the recent Little Sunk survey and the survey in June for the SW Sunk swatchway.

All of you will be aware of the changes at the SW Sunk swatchway from the previous mailshot. There is no additional information other than quite a few have used the swatch now this year but it was the time to include the changes in the consolidated update. Note that there is no additional information about the object.

On 10th July, we completed a successful survey at the Little Sunk crossing point. The results show that there has been little change and it remains having at least 3.2m at Chart Datum in the central part. A new chartlet can be downloaded on the 'Download' Page. (https://www.crossingthethamesestuary.com/page29.html)

Yesterday the Crouch Harbour Authority issued a local Notice to Mariners reporting changes to the Ray Sand buoyage. The Ray Sand Middle buoy is permanently withdrawn, the Ray Sand North buoy is now a unlighted Special Mark Yellow Pillar buoy in the new positon of 51°40'.81N., 001°00'.57E. and the (tradional) unlighted Yellow Ray Sand buoy is also in a new position viz: 51°39'.84N., 001°00'.57E Those positions reflect the crossing point I had recommended previously. The chartlet is now updated to reflect the new buoyage and can be downloaded as above.

And finally, I took an image of Foulger's Gat on 10th July while we were looking from the Little Sunk directly down the Gat, bearing 174°(T). A bit distant but shows the 'avenue'.

The Consolidated Update is a pdf that can be downloaded at: https://www.crossingthethamesestuary.com/page6.html

I hope you are having a good season.

Best regards

Roger
The sun is now out after the torrential rain last night, we were out for a meal for our wedding anniversary and watching it from the comfort of a tiny Italian place we were in.. And very nice it was too.. Had to wait for the rain to stop before venturing out and on the way home had to negotiate very deeply flooded roads! Today the trees are bent double in the wind. Not a sailing weekend!
John
Monday 10th July 2023.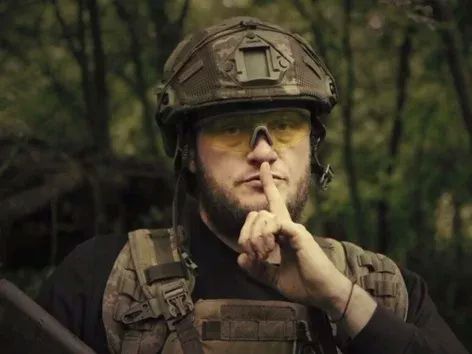 Quietly, Ukraine is fighting back.
Donate to the Ukrainian war relief funds through the Ukrainian presidents charity...
Eventide news.
Not a lot of it this week. I can tell you 'Keppel' the GH once owner by Richard Hare has sold, sadly the new owners not yet in contact.
The winds have been Westerly or Northerly, F5 and 6 for the last week, except Sunday, when it rained! However we managed to sneak down to 'Fiddler's Green' late Sunday afternoon, just as the rain was stopping, and managed to rig the last of the mainsail lines. The lazy-jacks and the reefing lines.
As the sun came out we slipped moorings for the first time this year and went out for an hours engine trials. Can tell you we had the Blackwater almost to ourselves, just one huge ocean racer sailed by, giving us enthusiastic waves! No boats hardly have left Bradwell marina in weeks!
Pleased to report cooling system working just fine now! The overhaul clearing the tube stack etc. was well worth the effort!
This time 5 years ago I had reached Queen Anne's Battery Marina, Plymouth and had the two lads aboard ready to sail to Cornwall! What a difference!

Engine trials, Blackwater 9th July.
Here's hoping the increased winds are not to be a permanent feature of our weather from now on. I have noticed a general increase in wind strengths over the last couple of decades or so, sadly this appears to be becoming the norm.
Hope you have managed to get some 'sea time' in where you sail. I'm told Scotland's west coast has had a great season thus far!
John
Monday 3rd July 2023.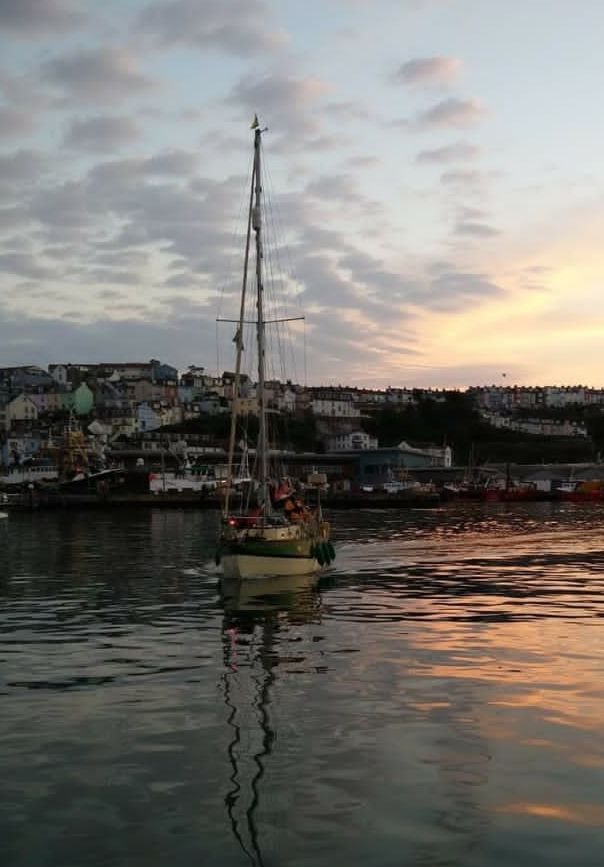 Taken by my daughter Jenny 5 years ago, as of Friday last. F.G. entering Brixham on our way west..
This year we have not even been able to leave the berth yet!
The observant amongst you will note something missing as I motor in.......
Eventide news. Well actually Golden Hind.
Andrew has slight damage, dents, to his Ali mast and is looking for a replacement spar. Anyone know of a GH 31 that has a mast going spare?
Keith with the Senior 'Dipper', abandoned any thoughts of sailing the Blackwater last week, the F5 and 6 forecast has kept the river empty for weeks now! Though the direction has changed from those cold easterlies, the wind strength has not, today F6 and 7!
Lots of owners itching to get our afloat!
Any takers for the repair of 'Kittiwake'. She is being sold at a reasonable price, but does need someone willing to do some radical surgery! See the Boats for Sale page.
I tried to clean one of those plastic winch handle holders, with no luck. Anyone know how to rejuvenate that horrible sticky plastic? I resorted to putting my hand in my pocket for £15.00, to buy a new one, mine refused to come clean.
News from Roger re SW Sunk Swatchway.
Changes at the SW Sunk Swatchway



After a number of postponements because of the persistent easterly winds, I eventually got down to the Sunk Sand in suitable conditions. There have been many days when sailing or motoring has been fine but the easterly winds play havoc causing pitching and rolling which hinders accurate data. But yesterday was fine.

The result is that the swatchway is still there, still well established. But there are some changes, albeit small but significant.

The SW Knoll has migrated slightly to the north. The pattern of this migration has been every year for at least 10 years but fortunately it has been matched the Middle Sunk uncovering sand on its SW side. I estimate the migration over the winter has been perhaps only 50m but the drying patch has extended to the east. I would normally be recommending that wpts 6b and 6c should be moved slightly to north to match that movement. HOWEVER, yesterday I fleetingly saw an obstruction on the side scan as we passed. I have been able to download the object which is this: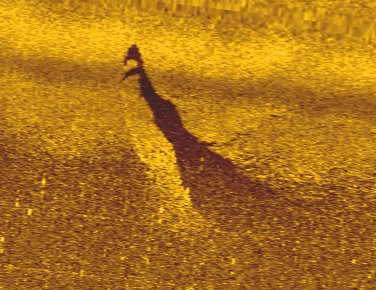 The location is at 51.38'.406N, 001.17'.293E. I regret I am unable to estimate the depth clearance with my kit but at least it can find such issues. At that part of the swatch, 0.5m to 1.0m has deepened and perhaps exposed part of a wreck or other debris. The Port of London Authority is aware (not that it is their responsibility) but they had already planned a re-survey this year so more information may become available. We are very fortunate that the PLA are interested and helpful.

The consequence of this discovery is that the track between wpts 6b and 6c is now approximately equidistant between the SW knoll and the object. The distance is approximately 185m either side so it is important to maintain zero or little XTE. Hence no suggestion to move the wpts to the north! Of course, it is possible to be south of the track keeping a safe eye on the contours in the right conditions. Do not rely on the contours of an electronic chart; rely on an accurate GPS position. Get live height of tide by listening in to London VTS on VHF Ch 69 15 minutes before and 15 minutes after the hour. They will broadcast Margate height of tide and for practical purposes you can assume you have the same HoT at the SW Sunk.

A new chartlet can be downloaded as a JPG or PDF at https://www.crossingthethamesestuary.com/page29.html. I will, of course, inform all readers as soon as there is additional information.

Our plan is to do the Little Sunk next. There is no suggestion that that area has changed but it is several years since we did it thoroughly.

I will endeavor to answer any questions.

Have a great season.

Roger
What was missing? My steaming light had not come on! Wiring glitch by the deck socket in the bow. Fixed the next day!
Watching the news from Ukraine and beginning to see small advances, and ruzzians fleeing, here's hoping they chase all the damned invaders out before too long.
John
Monday 26th June 2023.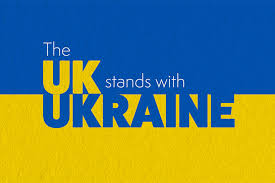 The last 4 days of weird civil war news from ruzzia makes you wonder how long it will be before it all falls apart. Here's hoping!
Donate to the Ukrainian war relief funds through the Ukrainian presidents charity...
Eventide news. No new enrolments. No ruddy sailing either! Tried on Sunday to get out but cancelled it as it was F6 again, from a different direction, but still F6! Now we have heat, near 30c. No one out on the river hardly, no one sailing. A few motor boats bouncing about. And the next few days do not look a lot calmer... Hey Ho maybe a good autumn?
Keith with the new Senior 'Dipper' has postponed his trip to the Blackwater, seeing the weather, sensible!
Had this in last week from Ian, owner of the Eventide 'Kittiwake'. Awaiting the full advert but thought I would post his note..
I own 'Kittiwake' Eventide No 1577, unfortunately, the boat has timber decay caused by fresh water to the keelson in the v-birth, I did not spot this when I purchased her in 2022.
Unfortunately, I do not have the resources or experience to repair 'Kittiwake' and I think it is time for her to be passed onto some one with the time and resources to restore this well-known Eventide.
She is on the hard at Glasson Sailing Club and has not been in the water since I purchased her.
I paid £2500 for her but am happy to receive offers around £750 it will be sold on the basis it is a project boat.
Can you please advise how I can place an advert in boat sales and I will put some details together to enable her to be listed for sale.
Many thanks
Ian Walker
07891667723
Hope there is someone out there who can take her on.
During the past week I had to do some serious maintenance on my Beta inboard. Last year I only clocked up a few hours running so was lax on the servicing, deciding the heat exchanger would not need stripping, just planning to change the anodes.
To my amazement when I removed the front anode plug, there was no anode? Probing into the place where it should be I found it blocked.. So of course I then had to take the front end cap off the heat exchanger to find out why.... Horror, the bottom of the cap full of corrosion and the tubes blocked.!
So then followed a full strip of the heat exchanger and all parts shipped back to base to clean.
Anode as found it and what it should look like. Some of the crud I found and the blocked pipes. The way the heat exchanger works the salt water enters at the rear, though the lower half of the tube stack, then passes to the front where it rises with the heat and is sucked back through the top part of the stack, then exiting to cool the exhaust. So with almost half the tubes blocked very little water was getting through!
Needless to say as I had to slack off the fan belt, I checked, and found it worn, so that got replaced too, and whilst I was at it, the pump impeller, though it was as good as new, so that went into the spares box.
On restarting the motor and crawling down the quarter berth to look at the rear of the heat exchanger for leaks, I was peeved to find a leak from the outlet hose to the exhaust! Split under the jubilee clip??? So I ended up changing the hose pipe there too. Took 2 hours to put all back together and then put the quarter berth inspection hatch back and then all the mast lowering gear stowed in there, then cushions and all.
Then had to go round with wipes making sure all clean and tidy before the boss came down!
I carry on board all I need to do a full service, new 'O' rings for ends of the exchanger, belts, hoses, impellers and filters everything, just in case! Just ordered some replacements from Beta marine to go back in the spares boxes!
Fun this boating! And we have yet to leave the berth!
John
P.S. That liferaft? Sold inside 2 days!
Sunday 18th June 2023.
Father's Day

Wish all Fathers wherever they are, a happy family day, but a special one to the Dad's of Ukraine..
Eventide news. No new enrolments this week.
Heard from Terry and the crew of the Golden Hind 31 'Mollymawk' though. They have sailed from their Kent base and are at the moment heading south west.
She has sent a link to thier log, well worth reading, visiting places I bypassed on my way south west five years ago, as well as others we enjoyed! I berthed there in Weymouth!. Great Fish and Chip shop but beware vicious gulls!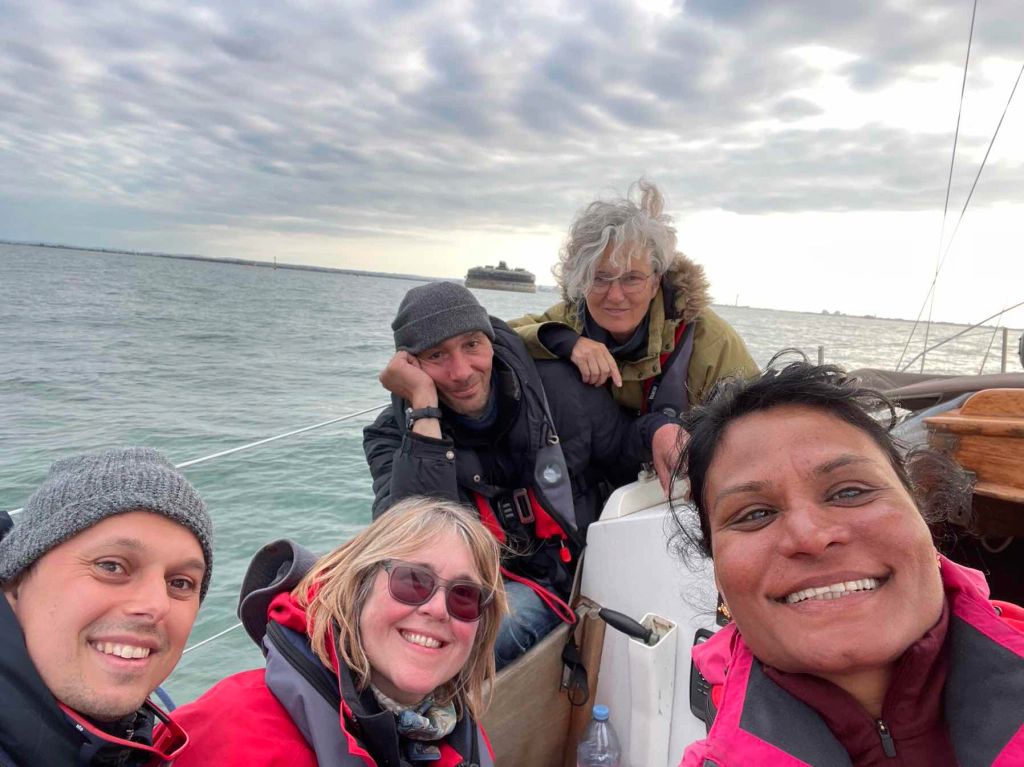 https://molliemawk.wordpress.com/
Wishing them well in their adventure, I can recommend a few places that I stopped at to change crews or just have a safe overnight berth. See my log of our 'Fiddling Around'
I went north from Essex in 2013, but in 2018 I started again and went south, then west. Hope they get to pull into Green Bay Bryher and drop in on Chris at Fraggle Rock bar. Tell him I sent you he will look after you!
Fair winds and Lee going tides 'Mollymawk'.
Some may have noticed a week back the eBay page stopped working, no longer could you add an item into the search section instead of the standard 'Maurice'. I tend to use our page when searching for anything, as it puts a few pennies in the coffers. I had a word with Andrew and though itis very complex, within 24 hours he had fixed it! So what ever you are looking for it works.
If you are after a life raft, I have just placed an advert for ours on eBay.! Not going far from now on so though someone else could make use of it.. see it here... https://www.ebay.co.uk/itm/256111513989
Quite a frenzy of interest so expect it will sell quickly.
Friday evening was the first time the easterlies had relented in weeks, so that evening Darian nipped down to the marina and myself bent all the sails onto spars. Was fun trying to remember what goes where!
Yet to do a few little jobs, fill the water tank and thread the reefing lines etc.., rig the motor sailing cone on its remote halyard, lash the anchor tripping line and buoy in place, scrub poo off decks, the list goes on and on.... but now she looks ready to go, with sail covers on... Since then of course the heavens have opened and at the moment it is raining, with the threat of thunderstorms... Rain much needed here, but could it just rain at night please, I need a sailing fix!
John
Monday 12th June 2023.

Hope our Challengers are giving the ruzzians hell!
Eventide business: Another new enrolment, Donald the owner of the Barbican 'Eilean Naomi' who cruises the Clyde has joined us. Welcome.
After 5 weeks of incessant F5/6 easterlies, yesterday brought stifling heat and calm, today Thunder is rumbling just offshore, but no rain, and we need it.
I hope to get down to FG today whilst the winds have eased and get the sails bent on. On board at the moment is a mess, gear stacked on bunks etc. and nothing stowed away. Give it a couple of days and most will have disappeared.
Heard that Keith with the new Senior 'Dipper' will be on the river later this month, will endeavor to seek him out for a few pics.
Whilst down at the Marina Saturday, retrieving my huge trailer, behind the car.... I spotted the GH 'Proteus' who was visiting...

Like the colours!
Heard from Gary on the Isle of Wight. He is still trying to sell that immaculate WildDuck, but he has had a couple of sails on her and is enjoying it. Apparently the broker looking at her now to advertise on Boat shed.
He had a query about rigging tensions. How tight? The general rule is tight enough so the lee rigging just feels slack but is not visibly slack when sailing in a full breeze. Obviously the mast top must be central on the boat, use a masthead halyard to check it is and make sure the tensions either side are equal. sighting up the sail track will soon show you if it is not straight, if you have a lower shroud too tight one side. More important is getting the pre-bend in the mast. mine bows 3" forward at the spreaders. When under sail the main pulls the middle of the mast back and the genoa pulls the top forward, I end up with a straight mast.
Here's hoping the weather picks up from now on, we have already lost a lot of the season!
John
Sad postscript.
Last week I lost my constant companion and faithful friend. Bumble climbed the rainbow to pussy cat heaven.

Sweet dreams Bumble.
Monday 5th June 2023.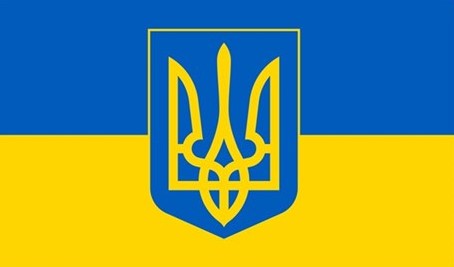 We hear the fight back has begun....
Eventide News. One new enrolment this week, Gary in Australia, he wants to build a Riptide. Watch this space.
I had a nice chat with a former Eventide owner, Doug. He and his wife, Dorothy, sailed the 26ft Eventide, 'Double D' as she was called, in the northwest, basing themselves at Preston. Doug is now into making model pond yachts and we have sent him the drawings of the Eventide that he is going to amend for the model boating enthusiast. Hope when the plans are finished we will be able to publish them on the site.
<![if !vml]>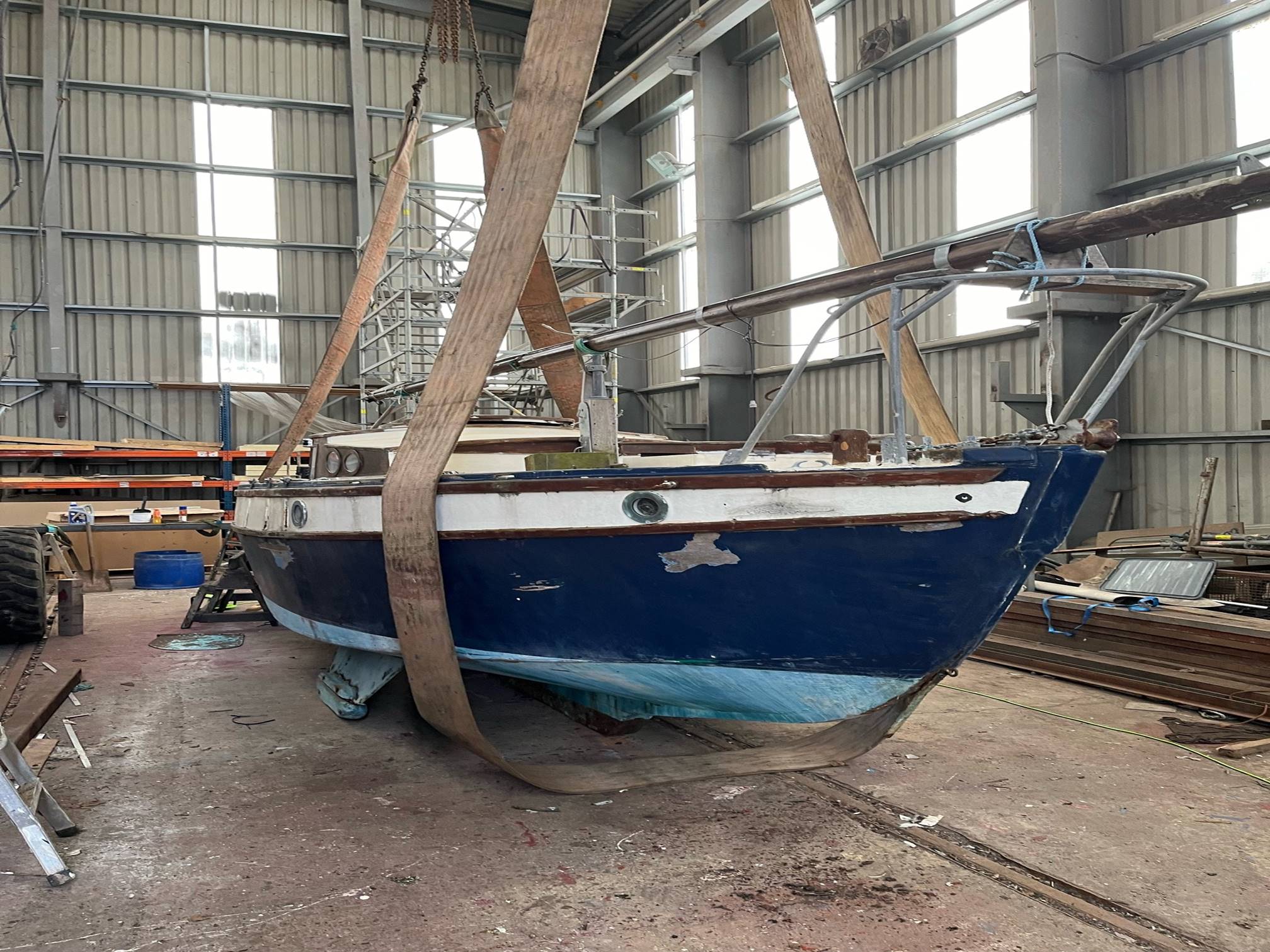 <![endif]>
<![if !vml]>Here is Doug with one of his recent models!<![endif]>
<![if !vml]>Doug would love to know where his beloved 'Double D' is now, sold south somewhere years back... Do you know where she is now?<![endif]>
<![if !vml]>I have been busy with 'Fiddler's Green' over the last week, she has been towed to the marina, and Saturday, in a brief lull in the F6's, we raised the mast, using our own 'A' frame and block and tackle. Sadly it does get harder every time! <![endif]>

FG back in Bradwell Marina

Keith and John set up the mast lowering gear.
<![if !vml]>I was down there yesterday and unloaded the heavy Delta anchor and 50 metres of chain from the back of my little Morris Minor van and winched it onboard. That gets harder every year too. The radar dome was mounted on its telescopic pole and raised, the solar panel rigged and the boat released from the shackles and rigging screws securing her to the trailer. She is ready to launch. I am waiting on a roofer coming to our cottage to replace a couple of roof tiles damaged during some work on the roof, and as soon as he is done I will be hot footing it to the marina to chat to the travel lift crew and arrange to launch. Late this year but I had to wait for the temperature to rise for the epoxy and 2 Pot poly paint to set!<![endif]>
<![if !vml]>Not missed anything of the season though, no boats moving on the water till yesterday and then only a few ardent racers braving the F5's to 6's out there!<![endif]>
<![if !vml]>Hope we get a good summer, been rubbish so far!<![endif]>
<![if !vml]>John<![endif]>
Sunday 28th May 2023.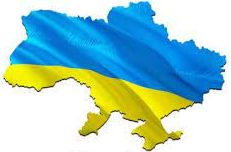 Waiting for the counter offensive to throw the ruzzian terrorists out... Fingers crossed for the brave Ukrainians!
Eventide news. Not a lot this week, no enrolments and the promised donation did not materialise so nothing sent to Brazil?
Amazing, no sooner have I typed that when a mail pings in from Roger and Kathy, the former owners of 'Jua'. Seems she has not been sailed since they sold her many moons ago and is now in Port Dinorwic, North Wales and is in a sorry state. The present owner has had her there for 10 years or more and is not in a position to use her! You may recall she is a larger Golden Hind, a professionally built steel 34ft version from memory, junk rigged and was sailed extensively on deep water by Roger and Kathy. They retired to an olive farm half way up a Spanish mountain many years back.
Seems the present owner may be interested in selling her, a phone call to the marina/boatyard there may reveal more. Sadly he has not contacted us so far. This could be a lot of work, but may be a lot of very capable boat for little money.... Any takers?? I can put anyone interested in touch with Roger..
I have just uploaded a new page onto the builders section. It is the story of the building of 'Dipper' the 16ft Selway-fisher hulled Senor. Well worth a read, click here to go there.
I am having a bit of an issue getting the font sizes and colours right, will have to contact the webmaster as I seem to have screwed several pages up!
I have been working my socks off here, finishing off the hull repairs (cosmetic only!), and readying 'Fiddler's Green' for the season. I have removed and refitted those bilge keel bolts, as good as the day they went in 35 years back. The wonderful sealing nature of Sikaflex proved yet again! The prop polished and the antifouling done.

We eventually were towed to Bradwell marina on Friday, but as yet have not managed to raise the mast and rig her, so not going in as yet.
However a few people have commented on her there, remembering that appalling looking damage she had to her gleaming paintwork last season.
Defy you to see where the scar was!

As it was!
Takes a lot of effort to repair 2 pot poly and epoxy, much sanding and epoxy filling, more sanding and more filling, many coats of undercoat and even more sanding before that frantic final coat goes on. And all the time waiting for the temperature to be just right, 12 to 15 degrees and no more when painting that last coat! However the final effect is worth it.
I have spent the last few days sanding back and re epoxy coating the washboards, 3rd coat of varnish just applied. When they are set hard i will take them down to replace the temporary washboards, left in place to just close here up. Then I can reload all the gear, another 2 Morris minor van loads!
Hope to be able to muster a crew to assist me raise the mast next week, but at the moment it is far too windy, F6 here today and for the next few days! Needless to say there are no sails out there on the River Blackwater.
Hope you are afloat and lets wish for calmer weather this summer.
John
Sunday 21st May 2023.

At last Ukraine is about to get the air cover it needs!
Eventide News. One new enrolment this week, Eduardo from Brazil. He is contemplating having a Wild Duck or maybe an Eventide built! At the moment sails a 36' GRP design, but wanting something with more character!
Sad news from Wales. Gerry tells me that 'Cobweb', his Eventide 26, is looking for a new owner. Gerry sold it last year and the new owner, Mark has to try and resell her, as he has to give up sailing to look after his wife, who was suddenly taken ill. Feel for you Mark.
So Gerry is temporary custodian of the smart Eventide 26 'Cobweb' at present still in Wales and is offered at the bargain price of £2000, sail away!

Contact Gerry by mail:- gerryware3 at gmail.com
tele:- 07785250052
Fitting out here, is well advanced, hoping to launch the end of this week. I have today washed the boat down from cabin top to waterline and cleaned the dust and bird droppings of the mast as well. The hull has been washed down ready to wax polish and I am ready to antifoul. Hopefully tomorrow. I will then polish the topsides. Refit the log impeller and remove the masking take around the anodes, and all will be done under water ready for dropping her back in. We are now towed to the marina by local farmer and his tractor, having found she is 4 tons on the trailer and over the legal limit for the Land Rover! Once back in the marina we will sort out the rigging, refit the bowsprit, (freshly re coated in Sikkens), and using our own gear to raise the mast. Load the anchor and chain and load on the sails and as much kit as we can and then wait our turn on the travel lift. (As it is normally a quick lift and I take her away from the lift berth straight away, the marina crew can often fit her in between other jobs).
At the moment I am finishing off the recoating of the washboards with epoxy and they will then get a coat or two of varnish. First time they have been taken back to bare wood in 35 years. The teak winch handle holder and the small teak box for the hand held VHF will be getting a coat of varnish at the same time.
Pleased to say almost all the other jobs on my annual work list have been ticked off. I have just to replace engine sacrificial anodes then all done.
Twisting my knee and the subsequent hobbling about,
has not helped this season, but we have got there. Well almost.
One last big job. Antifouling going on tomorrow. Always a great leap forward when the underside takes on a fresh clean coat of Marclear!
Hope you are in the water or nearly so. So far we have only ever seen a few boat out on the water this year, but it is now time..
John
Saturday May 13th 2023.

So pleased the UK has stepped up and is supplying Ukraine with what it needs!
Eventide news. A quieter week this week, on new enrolments.
I have has several more installments of the 'Building of the Senior 'Dipper'' to add to the ones already saved. will be working on publishjing these shortly.
We did have an enquiry for mast lowering gear from a member. He was apparently impressed with the article in the 'Owners Tips Section' where I pose nonchalantly holding the mast lowering/ raising line with mast part way up, or down! I had to point out I designed this to fit my boat and each and every one of our craft will be different, so no standard design.
Click here to go to the mast raising article..
The principle is the same for all our boats though, those with tabernacle mounted masts. In the case of my 'Fiddler's Green' I have special extended chain plates, made from stainless 10mm rod and 6mm plate, to extend the rigging for the topmast shrouds up to a point where it is in line with the tabernacle top bolt, the one the mast pivots on. This ensures the rig stays central as it is raised or dropped. If it twists it can wrench the tabernacle out of the deck, there is an enormous leverage if a 30ft spar gets out of control!

You can use the lower forestay to lift the mast with, attached to the top of the A frame, but I tend to use a heavy staysail halyard, doubled, as that way I can adjust the length of the lifting cable/rope. My A Frame sits on top of the pulpit when the mast is up, so I have to allow for that when raising or lowering the mast. The A frame top sticks up a long way, 9ft or more, and is tricky to attach things to at that height, so using a halyard makes for easy adjustment.
Of course the rig cannot be bar taught whilst raising or lowering or the mast would jam on the chocks of thin timber beneath the heel of the mast.. . But it does stay safely central all the way up or down. My A frame was designed to come apart and be stowed on board. I have seen many that have actually been designed into the top rail of the guard rails and left in place. Others use a single pole pivoting on the top tabernacle pivot bolt, but with a pair of light shrouds to keep the pole central. Parachute cord is all that is needed as there is minimal load on it whilst it is kept central. The problem is normally where to secure the outboard ends of the support shrouds to if you have not got purpose made, braced topmast shroud chain plates..
I use a 6 part block and tackle attached between the deck fitting at the stem and the A frame, and lead the working end via snatch block to my anchor winches rope drum to extra purchase when raising, but in practice once off the mast cradle built into my stern rail, it is easy to raise without the extra winch. An alternative is to take the working end of the rope to a mast mounted winch and use a normal 8:1 winch and handle to give the extra 'Umph' to start the process off.
Safety is always paramount when working with weights and loads and a mast raising or lowering operation must be planned and executed with great care.
However as I have shown it is quite possible for 2 strong chaps to maneuver a spar into the correct position to raise. These days I try to get an extra hand to assist! Sign of age!
I have been working towards repairing the damage I managed to inflict on my topsides last August. I did an emergency epoxy repair the day after, but it has waited till the weather was warmer for more epoxy repairs. I have shown on these pages the several sanding and filling stages and the two sanding and undercoating stages. Today I had all prepared and a willing?? helper. Darian has painted 2 Pot poly before, a long time back, she helped me apply the original 2 pot paint 35 years back and again about 20 years back when cumulative tiny knocks and abrasions made me want to recoat.
So this morning, before it got too warm, it was about 14 degrees, we masked up the cream paintwork and set about the frantic 10 minute job of painting 2 pot poly topcoat. Darian slaps on paint in a vertical strip about 18 inches wide, then steps to her right to repeat. I then have 20 to 30 seconds to use a special mohair paint pad, about 3 inches square, to smooth out and pull the applied paint into a smooth even coat. After a messy start where a little too much was getting dropped off the brush, we soon got into a system and very quickly were able to step back and admire. Sad thing is trying to judge the amount of paint and hardener to mix. You must have enough, but not too much. I over did it and only used half of the mix. Cannot save it, so it sadly has to be ditched. As a can of this stuff costs over £50.00, not cheap.

And here is the result! Amazing stuff 2 pot!
Well that's all from me for now, I shall be back to my boat tomorrow, touching up the antifouling before masking up and painting the deep red Marclear on her again. And giving my prop a last shine!
John
Saturday May 6th 2023.
Coronation Day.

Union Flag flies....

Star of the day! Grandson Brandon!
We in the UK, do state occasions well. Whatever your thoughts on the monarchy, on Charles and his wife, there is no doubt it was a spectacle!
So proud that our grandson Brandon was one of the few chosen to march in the Navy contingent on the day. Brandon you may recall was crew with myself and nephew Harvey, on the west country leg of my round UK. He joined the navy later that year! His pride in appearance and his work has impressed us. He sailed on that long trip to Japan on board the Queen Elizabeth. A Chef. See that trip on the BBC TV program. Now shore based, awaiting new ship.
Eventide news. Another new enrolment, welcome to Gregory in Kent, looking to buy a GH 31. More info when he acquires one!
Keith with the Senior 'Dipper' has sent several episodes of his building diary now. They will all be published on the builders page eventually..
Had an interesting enquiry regarding the rigging of a mast set up in a tabernacle. Some ill informed boatyard chaps telling an owner it was OK if the locking bolt was not inserted and the mast had extra rake! Oh dear, and these people are employed in boatyards?? I referred the owner to the Owners Hints and Tips pages. There are articles re lowering and raising using tabernacles. About weatherhelm and setting up the rigging and rig. Bunty King of Yachting Monthly wrote a splendid article called 'Sail Power' about setting up rigs. I always follow it when setting up every spring, works every time. I will check to see if it is still in print...
Some are frightened of imparting a pre-bend into a mast, do not be, they straighten when under sail, if you have followed the guidelines. Check out the serious racing boats when at rest, some serious pre-bends in some! Without a pre-bend the mast will bend the wrong way and the mainsail set badly, genoa luff may be slack...
My mast has a 3" forward bend that disappears under sail! efficient rig!
A week or so back we heard from Nigel who has been painstakingly restoring the Eventide 'Pegasus'. Bruce the long time owner must be so pleased she is being cared for. Sorry to hear Bruce is not so well, wishing him better.

Pegasus in primer and undercoat, nearly there! A hint at the change of colour from the red..
Whilst on holiday recently in the Scillies I came across this cartoon character on a bill board for a Gallery in St. Martins. Thought it apt.

Very true!
I was hoping to be working on 'Fiddler's Green' over the weekend, but I have somehow twisted or strained my knee and can barely walk. Or the more galling as the temperature has doubled in the last few days, 18 today, and the 2 pot poly undercoat will be more than ready to sand and fair off. Soon! A few more days rest and hopefully..
My jobs list is short but I have to re-lap the Toilet sea cock and then re-grease it. That entails kneeling in the heads.... may have to wait a week longer. Standing beside the hull to sand may be easier.
I am 3/4 the way towards a shiny prop again, I have removed all the lime scale deposits with a scotchbrite and kettle de-scaler, just the final polishing mop stage to attend to now.
Half the antifouling area wire brushed off to remove flakey old paint, half to do. Then a quick touch up of the bare spots before getting the paint rollers out. (I have used those long handled 'radiator rollers' for some time now, perfect for reaching under the boat!)
Hope you are afloat, or if not, nearly so. Not seen a single sail out on the Blackwater as yet....
John
Saturday April 29th 2023.

Our new Ukrainian flag on my new flag pole.
Sorry for the short break in updates, we have been away to our favourite island, Bryher, in the Isles of Scilly. Amazingly for April we came back with suntans, but only on our faces, darn easterly biting wind all week meant we were in winter coats all week. Still we loved it. Too early to bump into any Eventiders down there, in fact so windy no visiting boats till the last couple of days. Even the Islands Ferry the 'Scillonian' could not sail one day, 9m seas! Was only a 3m sea the day we came over, long Atlantic swells. Did not stop me having a hot pasty though! Amazingly the lady who served me my pasty is the owner of the Bawley 'Kittiwake' in Newlyn!! She works on board! Good to have a brief chat!
Whilst we have been away we have had three new enrolments!
Welcome to James with GH 'Trigger' in Ipswich. (Wonder how many times the broom joke has been told!)
Welcome to Phil, an ex Barbican owner looking for another, he is near me in Chelmsford.
Welcome to Kit in Darwin Northern Territories, down under, Kit has the Senior 'Gemini'.
I will be sending the welcome letters to them shortly.
We have also had two owners wanting to sell. One a Kylix the other a WildDuck. I will be adding the adverts shortly.
Have to say both have to be the best examples of the classes I have ever seen, real Classic Boats. The WD apparently took 37 years to build! Has to be seen to be believed!
Also heard from Keith the Senior builder, he is promising to put together a dossier on the building of 'Dipper'! Look forward to that..
I managed to get to 'Fiddler's Green' today, the temperature was a heady 16 degrees! Managed to sand smooth the epoxy I applied 3 weeks back and apply another coat of filler. That should have set by tomorrow ready to sand and if all fair and smooth, a coat of white 2 Pack Poly undercoat will go on..
Above the damaged area after sanding back and a second coat of epoxy filler applied.
Got to allow it to set before more sanding.. Then if fair, 2 pot undercoat..
One Job I was not looking forward to was to remove a bilge keel bolt from both bilge plates, to check for corrosion. Lawrence the surveyor felt it was time to check them.... These were fitted by Darian and myself in 1988! So that is 35 years ago! Tricky to get at the stbd side but managed to get the front bolt as it was accessible under the fridge, just!! Whilst delving in the locker beneath the fridge, I found a hidden jar of Marmalade, bought 6 years ago whilst I was in Bryher! A real bonus!
Bilge Keel Bolts
They came out with a good tap with a copper headed hammer, and are as clean as the day they went in there! Will be clearing the bolt holes with a file before refitting with the same Sikaflex sealant! Cannot sing the praises of Sikaflex enough, brilliant stuff, just do not get it on your hands!
I will clean the heads off when they are back in place and re-epoxy over them. Seems to work.
I now just have to clean off any flaky antifoul and repaint, polish the prop and service the Beta inboard, should be ready to launch soon!
Hope your fit out is going to plan.
John
Easter Sunday 9th April 2023.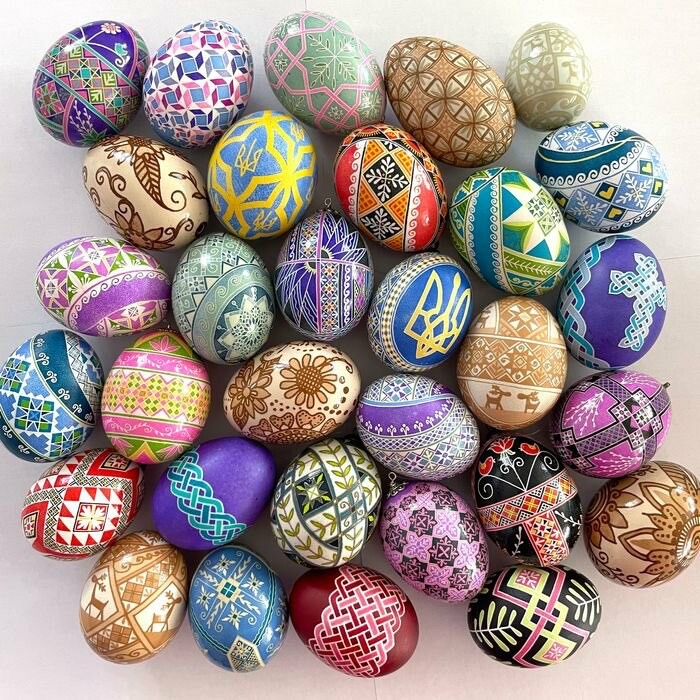 Decorated eggs from the Ukraine!
Eventide news.
No new enrolments again?? Had a few mails though.
Gary with the exquisite WD down on the Isle of Wight is thinking of selling. Reason? He has been tempted away by an LM24, with full headroom! He is looking for £12.5k for this, but it is the best I have ever seen... he is working on an advert....
The Lloyds saga drags on. The database Manager and myself, as fund Manager, have at last been informed we will have access to the account online. However no information as yet as to how we actually do that? Add to this, even though we had to give our full details, addresses and the like, mail is coming here for John Stevens? Maybe in another 2 years we will have it sorted....
Chris in the Netherlands has sent this snippet as an explanation of the physics of sailing, thought it rather good.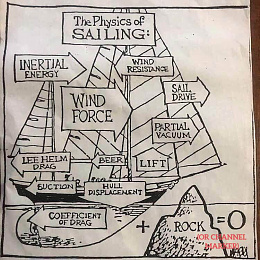 The Easter Bank Holiday has been the best for years, but Monday going to be a washout! But it has enabled me to start paintwork renovations.
Above photos of damaged area, then gently sanding down to take epoxy filler and the first coats of filler applied.
Also applied a coat of de-scaler to the prop, immediate result, light scale deposits bubble and fizz!
Hope to be able to sand, fill and fair off hull, apply a repair patch of undercoat before final flatting off and applying the top coat of 2 Pot Poly... Will be giving the prop a slight scrub with nylon pot scourer and more de-scaler, before final polishing. The antifouling has to be scraped for any lose bits, a few dabs of Marclear to bare sanded areas, before a good coat of workboat red! Spring is in the air!
Had a mail from the son of Frank Haddon, his Eventide 'Inshallah' was eventually scrapped. The son has items for sale, rigging, and a small Petter diesel. Trying to get more information..
John
Sunday 2nd April 2023.

Donate to the Ukrainian war relief funds through the Ukrainian presidents charity...
Eventide News. Welcome to Gilbert with a very smart looking steel Noontide based vessel. 'Artisan'. Like the doghouse/pilothouse/deckhouse! Gilbert is planning a series of long cruises, including to Norway and Greenland and promises to keep us informed. Congratulations on the arrival of a new daughter the day he enrolled too!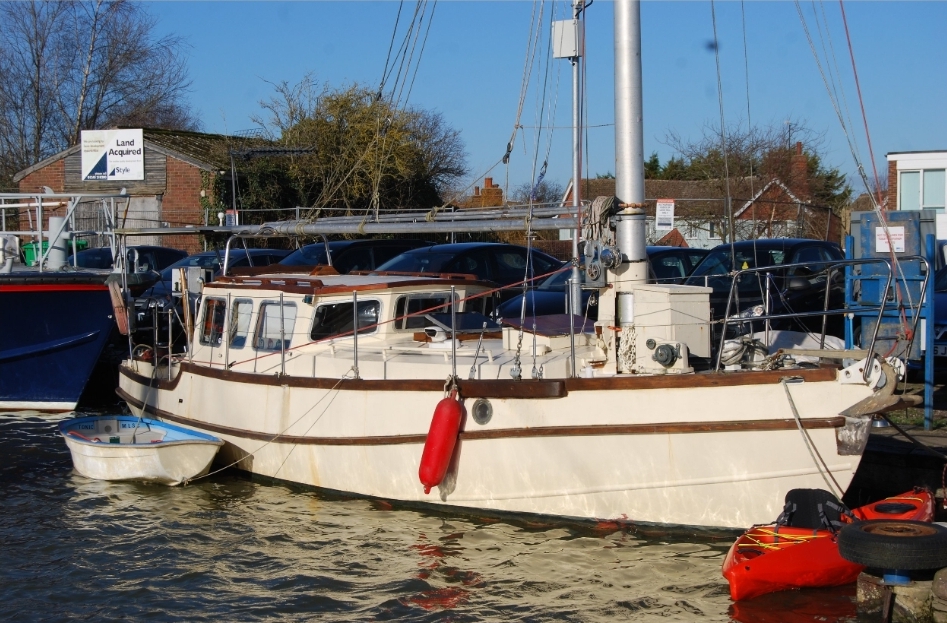 'Artisan'. Noontide 32 with additional deckhouse.
At present she is in St. Katherine's Dock London, but I believe I spotted her on the Backwater last year and the background of the photo above looks very much like Heybridge Basin?
Gilbert has sent us a generous donation for a CD of all the Riptide and Noontide drawings, plus a Burgee. They are winging their way to him now.
Another disc of drawings is on the way to Peter in Greece. He is tackling the restoration of a GH with rotten decks! Such a common story. We really do have to keep freshwater, rain, out, it carries the spores of wet rot and can spread like wildfire... Good luck with the work Peter.
I have not started on my sanding and filling etc. as yet, it has been just a tad chilly for my liking and though I am in a barn, too darn wet to risk contamination from damp. Heard yesterday that Essex has had 3 times the normal rainfall this year, a new record apparently. Who else reckons we will have a hose pipe ban come July! Hoping to start boat work sometime soon.
The lighter evenings are a real bonus now and walking out into our little spinney, the buds are bursting on the trees as the temperatures lift. Having said that it is only 9C today, with a chill northerly, not conducive to outside work in boatyards! Soon.
John
Sunday 26th March 2023.

Even in times of war the Ukrainians protect animals..
Did you remember to put the clocks forward? Still finding timers and clocks to alter!
Eventide News.
Heard again from Roy the model maker, that the large remote controlled MG design boat is back on eBay with a lower price, to be picked up in Essex.... Wish I could work out which design it is....
Pleased to say we have managed to fill in all the forms and send them off to Lloyds, time will tell if they OK them this time, and actually allow us to see our account on line! At least the promised statement arrived and as a result I have been able to do the accounts up to date and publish them on the Forum. We are solvent, but could do with selling a few burgees!
Congratulations to Doug, 92 last week and still bright as a button! Doug built the WW 'Dougaljo', that was later sold as 'Blackwater Witch'. Will try and look her up this year, she is now owned by the owner of Titchmarsh Marina! Sadly he has not joined us as yet.
The Eventide 'Sula' That was de-rigged and used as a motor boat, has sold and is on it's way to Bath via Lands End!!
Heard more about the sad WW in south Wales. Seems it had deck leaks in many places so good chance of wet rot, but the seller has declined to lower his price... Buyer beware.
I have managed to find the paint pads I have used before and bought a small stock. hoping to take advantage of the rising temperatures next week to sand and fill the scratch on the hull, then paint. I will publish pics! Temperature taken a dive today, a cold front coming through, but hoping we will be back up to 13 and 14C or more again, next week..
I have checked the enrolment page again as we have not had a new member this week. I find the security has changed slightly and one has to go back to the form after completing the security checks ad then click the 'submit' button, or it does not come to us. May have to ask the webmaster to add a note on that form.
Looking forward to lighter evenings now, more time for fitting out!
John
Sunday 19th March 2023.
Mothers day UK.
For mothers here and abroad.
Eventide news.
I was about to say it was strange we have not had an enrolments, as I sat to write this, then within moments, one comes in, from Peter in Corfu with the Golden Hind 'Terrapin'. Welcome to the Eventiders Peter, welcome letter on the way shortly..

Complete with 'passerelle'
The on going saga with our bank account continues, once again the promised statement never materialised.... Hoping that once I get the form back from Simon, I can then submit that and the other forms I have had to fill in so we can get more access to the account. When I can figure out the actual amount in the account, I will add that information to the 'Annual Meeting' thread on the members section of the Forum.
In the meantime Simon has found two possible alternative banks, if Lloyds do not want to play fair. Disappointed in them. Sadly when so many banks seem to be having a hard time you would think they would go out of their way to keep clients?
Today the temperature has been hovering above 10 degrees most of the day here, 12 at the moment, late afternoon, and though it is set to rain next week, I note the temperatures are set to rise. Good news, if like me you are wanting to use epoxy outside! I am about to sand down and repair the paintwork damage on my hull, that I inflicted on her last August. I have a stack of sanding sheets ready for the little battery sander, batteries charged, plus some wet and dry paper in finer grades, to flat off any fine irregularities after I have used a little smear of epoxy filler on the bit where the paint cracked off.
click scrape pic to enlarge..
2 Pot Poly paint is incredibly hard and where it was flexed by the nudge I gave it, on the corner of the pontoon, it did not dent like the epoxy underneath, but shattered. A day after I did it I repaired it with a coat of Araldite, just in case there was any break in the epoxy, but do not think there was. So this has to be sanded back and filled properly. I am hoping a little judicial sanding, filling and more sanding will leave me with a fair surface to repaint. May take a touch up coat on the damaged area first, to try and build up the colour, then a full repaint... or just part of the port side. If I can get away with a partial repaint I will be lucky, but if that does not work as well as I would like, I do have enough 'Fighting Lady Yellow' to paint the whole side, and some.
Painting 2 Pot is a tricky team job. It has to be done in 18 inch wide, approx., vertical sections, working a breakneck speed with one applying the paint roughly by brush and them immediately moving on to the repeat, whilst the second person, normally me, follows within 20 seconds with a paint pad, swiftly laying it off, so there are no dribbles and no bare patches, (holidays!). Then the process is repeated frantically till you reach the end. You only get 20 seconds of 'wet edge' then the paint has air dried and further application of the pad only results in horrible marks at best, or at worst the pad stuck firmly to the hull! If that happens time to give up, throw away the rest of the ready mixed expensive 2 pot paint and go home. It then has to be allowed a day or two to fully harden before you can sand it all off and start all over again. 3/4 litre of this paint costs the national debt! £50 plus!! Add the time delay and frustration factor I can see why not everyone uses it.
I have been fortunate in that I have had willing and able helpers in the past. Hoping I can bend my Darian's arm to assisting me once again. But it has been a while since we have done this together, the last couple of times a dear friend, Phil, has assisted me, but sadly he is poorly now and cannot.
When we tried to repaint the green stripe on F.G. 12 years or more back we found we could no longer get the colour from International. It was called 'Cape Green' and nearest match to the original 'Kelly Green' I applied back in 1989. 'Cape Green' is popular in South Africa and I was lucky enough to get a can from International in the UK here, 20 years back, they used to keep just a few cans here, in case a yacht visiting from S.A. need a touch up! So disappointed when last time I found it was no longer kept here.
So I shopped around and found local firms that said they could mix me the correct colour, trouble is they supplied paint suitable to spray.. (Warning do not spray this stuff without all the proper breathing apparatus, it contains arsenic!!). To brush it you added a special 'brushing' thinner. Sadly the stuff still went off in seconds, thus the paint pad stuck to hull. The first attempt was a rough as a badgers backside and it took several tries and lots of rethinking of thinners etc. by the paint maker, to get a passable result. International paints have got it right, just a shame they do not sell my bright green!
2 Pot is very durable if your boat has the right substrate to apply it to, in my case epoxy coated ply. The cream on my topsides has not been repainted for well over 6 years, and would have gone on for another 6 at least.... I will have to look back through my annual work books to figure out exactly how long ago it was painted, but had I not damaged it it may have lasted 25 years as the cabin top paint lasted! A polish every spring and most think she has just been repainted! (Or ask if she is sprayed steel or GRP!)
One job on my work list this year, by order of my surveyor, is to remove and inspect two bilge keel bolts. One from either side. The bilge keels were fitted to the hull by Darian and myself way back in the late 1980's, we struggled to get them on, they weigh over 125lb each and trying to juggle them into place and apply copious amounts of Sikaflex left us both liberally coated with the stuff. However they have shown no signs of leaks or movement so hoping once I 'persuade' a pair of bolts out, they are galvanised steel, I may well just be able to reapply Sikaflex and refasten them, we shall see.
I will post some pics as I work on her...
Painful bit this week, writing the cheque for the year's marina berth!
More power to the elbow during fitting out.
John
P.S.
Statement arrived Monday.. at last....
Sunday 12th March 2023.

Ukrainian Bunny Girl!
Eventide News.
Heard from someone looking at a Waterwitch and he tells us the dealer fobbed him off with a cock and bull story when he queried the 'crunchy' sounding deck. Fortunately he managed to get a closer look and found all sorts of horrors. The dealer should be castigated for this, beware buying in South Wales!
I am starting to put reports on the Forum private members pages. Will take a while, having issues with the Lloyds account again, no statements and no access to internet banking. If anyone has any knowledge of a bank or building society that does a 'club account' that needs two signatories to extract money and does not charge a fee, please get in touch..
Well the forecast snow arrived on cue and amazingly still some set off on the roads and got into all sorts of trouble. Suppose the 'nanny state' is to blame for this, seems no one has common sense anymore and expects to be led by the hand.... We hardly saw a flake here but I hope your covers were secure, as many parts of the country saw quite heavy snow.
I have at last made contact with Stewart, I rang him and he contacted me with a different mail address, that works ok. Stewart has sent in an article about the restoration and improvements he has made to his GH, 'Audeer'. Waiting to see if he get published in the yachting press before I add the article to the 'hints and tips' pages!
Nigel with the Eventide restoration ongoing on 'Pegasus', contacted me re chain plates, did they need a kink in the top... No, only the backstays ones! New ones on order! Seems he is steaming ahead with cosmetic work now after the stem was repaired. Putting it all back together.. Given 'Pegasus' a new lease of life, well done!
I will have to fill in a dummy enrolment form, to test the system as again another week has gone by without a new enrolment. Odd.
See this week the weather is warming up, but as to be expected with warm moist south westerly's, rain all week. The farmers will say we need it, but the rain over the last couple of days has left us with large waterlogged areas in our little spinney, sure the trees will soak it up quick though, they are already have bursting buds, so will be growing well as it warms up!
All for now
John
Sunday 5th March 2023.

So pleased the UK has doubled the shipment of Challengers to 28, and is training the crews!
Hopefully Ukraine will prevail.
Eventide News.
Still no enrolments??? Have tested the page and it works so not sure where everyone is at the moment.. Have they heard about the coming snow and are hibernating??
Stewart with the GH has contacted us again and I am attempting to reply, so far this time it has not bounced back. He has just completed the renovation of his cabin table, gone the teak Formica, replaced by real tree wood!

I recently sold an old Sony GPS set, donated by friend Doug to raise funds for the group. It sold for nearly exact cost of a years cloud storage for the website and the EOG files on this computer. Thanks Doug.
I sent a parcel of used Seagull parts to the Webmaster in Bermuda last week, as a thank you for all his work getting the EOG site, (and my SOS site), to secure status! You will note we are an 'https' site now with that little padlock.
Hea4rd from Graham that he found his daughter had recycled a bit of his old Seagull surplus, old fuel tank, reused as a header tank to a Reflex cabin heater, she had installed in her gazebo!

That will keep it cosy, and as the snow is forecast for northern counties next week, and the cold for all of us, it could well be pressed into service soon!
Off to throw another log on the fire!
John
P.S. Stewart of Tranona, if you are reading this your mail has bounced back to me again, can you ring me on : 01621 778859 so I can figure out why it is going wrong.
John
Sunday 26th February 2023.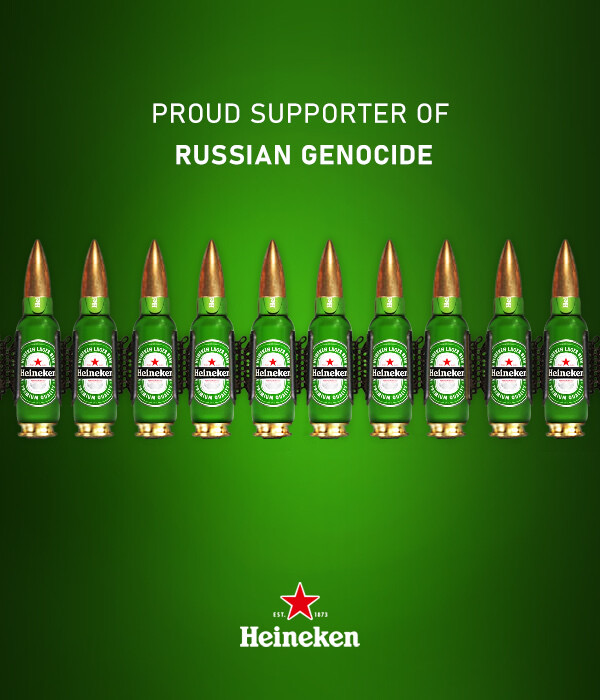 Time to boycott this brand, they are still exporting to ruzzia!!
Eventide news... Very pleased to announce our enrolment page is working again!, seems it was something to do with the new SSL certification. Andrew has managed to get both this page and the Forum page working and both displaying the secure padlock symbol. A large box of Seagull parts is winging its way to Bermuda as a thank you!
Have had a series of conversations with owner of a Wild Duck, 'JACQUELINE' in the Isle of Wight. He was concerned about getting a drying mooring. He need not have been, his boat is now gently settling into the soft mud at the top end of Bembridge harbour.
Beautifully restored WD, 'Jacqueline'.
In subsequent conversations we found out we both served in the Metropolitan Police, though I joined up when he was but 2 years old! After he retired, he went on to become a 'reverent' .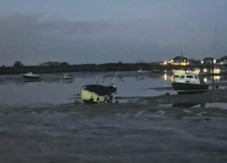 Difficult to see as it was dusk, but she is safely dried out, mast yet to be rigged.

Looks good to me!
I will be adding a very nice GH 31 to the For Sale page today. The Ketch rigged 'Safrel'. Warren the owner has decided it is time for a younger owner, as an octogenarian he has decided to swallow the anchor.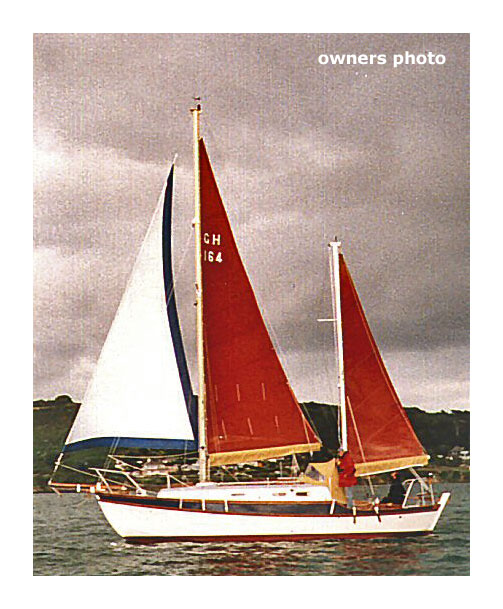 Smart looking GH. 'Safrel'.
Heard from William the new owner of 'Goldcrest' He has now been upgraded to a 'Full Member'. William is fitting out at Pin Mill and hopes to shift her to Colchester this spring.
Re the GH and the forward cabin layout last week, Stewart has been in touch to say his is the same. Sadly I have been unable to get back in touch with Stewart as it would appear his mail address is incorrect. Stewart if you read this come back to us as I think the mail address should maybe include 'demon'??
Anyway it shows owners read this page and that Andrews GH is not alone, though as Stewart says it is a stretch to call the berth a double! cosy!
Heard also from Ryan with the Eventide 24 on a trailer that needs a new home. Apparently there are 'planks' missing that need to be replaced?? I have asked for more info, wondering if this could be a double diagonal or maybe the 'planks' are ply panels??
Finally we have had this from our friends at East Coast Pilot.
Dear John

As usual we extend a warm welcome to all our subscribers, including those who have recently signed up to these very occasional newsletters.

This is just a short communication this time, mostly about our website but also some news of the Deben river entrance.

We have completely revamped our website, www.eastcoastpilot.com, something that's been in plan for a long time but somehow, like many boat maintenance jobs, we couldn't quite get round to it. But now we have. The old website used a software platform that had become obselete, and was never going to display well on devices other than a desktop computer. We were painfully aware that it wasn't good enough any more so we have replaced the old site with a new one written on a very modern, fast platform, which we have found quick and easy to use. In our tests it certainly is fast, and readily adapts to the screen size you have, from phone upwards.

We have also taken the opportunity to simplify the site structure - it had become quite complex, unnecessarily so in retrospect, so the new site does lack some of the original detail in some areas. However, we are very willing to receive constructive feedback and if necessary tweak the new design and structure to meet the needs of you, the user. We look forward to hearing from you!

We have taken the opportunity to add a page that includes any updates to Imray's new 'North Sea Passage Pilot', written by Garth and published last year.

And now that perennial subject for our coast - the Deben entrance. Before you dive off to look at our chartlet, I can say "hang on, it's still the same", with the same firm advice issued in December to call the HM if you want to enter or leave the Deben at the moment. What is new, though, is that the Trinity House survey has been done unusually early this year, and discussions about buoy placement are going on right now. At this moment it looks likely that the buoyed entrance will be further north than in recent years, moving to the 'new' entrance that has been steadily opening.

So, watch this space! As soon as it's available, we shall be telling you about the new directions and pointing you at a new chartlet on our website.

Kindest regards,

Dick Holness

Co-author and webmaster

East Coast Pilot.

Header photo - a Summer's day on the Orwell.
That's all for now folks.
John
Thursday 24th February 2023.
One year after ruzzia's brutal invasion.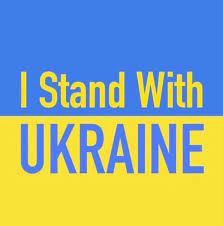 Ukrainians protecting Europe and the free world.
I make no excuses for supporting Ukraine. If we do not support them, we should learn how to speak ruzzian!
I support these charities and fund raisers.
I tried to go there driving an ambulance full of medicines, but was told I was too old, then I realised I had no passport, so I now support them via these three web sites. St. Javelin sells stickers, flags, clothing, at expensive prices, so the profits can pay for vital equipment!
John
Monday 20th February 2023.
Nearing one year since the ruzzian invasion of Ukraine

British Challengers on their way!
Eventide news...
Some may have noticed the padlock symbol has appeared on the address line of the site. This means our site is certified as secure!
Our thanks to Andrew in Bermuda for sorting this out for us. Some however may have been trying to enroll, as we have not had any new enrolments for a couple of weeks... We thought this was odd and on inspection, found the enrolment form has gone, a blank page instead?? Tried to reinstate it from here to no avail, so have asked Andrew if it had something to do with the new SSL certificate and could he look at it... hopefully it will be back soon....
Had a mail in from new GH 31 owner Andrew. He asks if there are any other GH owners with the same internal layout as his vessel. Forepeak has a double to stbd.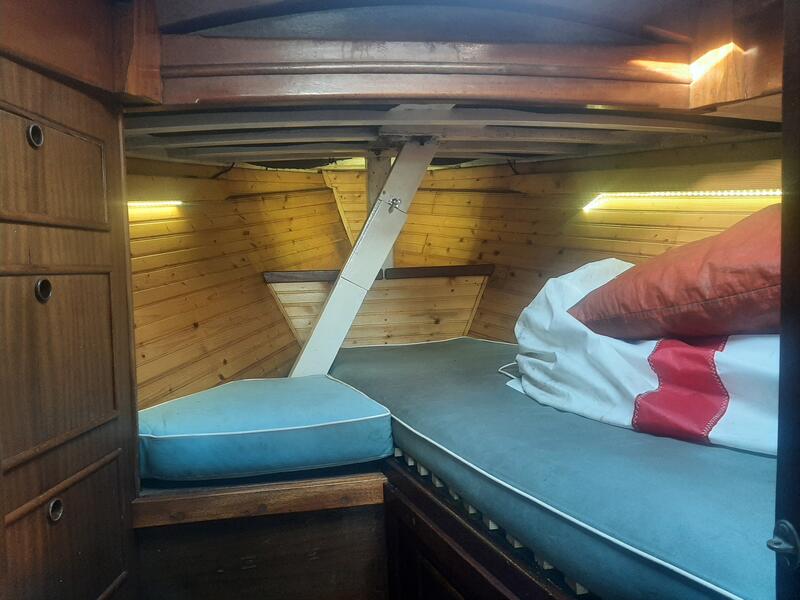 Is your GH like this below? If so let us know we will put you in touch with Andrew.
Andrew has sent us this....
I have also decided on a new name, and she will be registered as EmGee.
Previous names: Hoboheimia, Gilly Jinkles, Snow Goose and Natalie.
The coach roof and decks have been stripped back, the decks received new biaxial 450gm cloth and epoxy and will be getting painted with deck paint in the next few weeks.
New standing rigging being supplied and fitted in March, at some point the wires were upgrade to 7mm not sure what the original spec was but this seems a bit over the top.
( Ed's note 6mm specified..)
All the old skin fittings have been removed and new True design sea cocks being fitted.
(Ed. Waiting to find out what 'True' seacocks are?)
Half way through the new wiring.
Galley shelving was all removed to identify a leak and repair the damage to the galley framing.
The sails have been washed and a new UV strip added to the Genoa, the cock pit cover and Bimini have also been cleaned and new zippers and window replaced,
All the storage areas under the seats and behind the cabin side panels have been cleaned, painted and insulated.
Good luck with the refit Andrew. I will be adding pics of 'EmGee' to the gallery.
Marcel in Canada who joined as a friend after seeing the drawings in model boat magazine has asked for a set of 'proper' drawings to make is model Eventide from, waiting on a donation so I can forward drawings.
Warren the owner of the GH 'Safrel', has approached us to advertise her for him. he says age has caught up with him and 'Safrel' needs someone to use her full potential. Awaiting details to publish on the 'Boats For Sale' pages..
The Steering Group have just authorised me to claim for the domain name and service provider for the website. Also to purchase an enclosure to encase a spare 2Tb hard drive, as a further backup... Belts, braces and bits of string man here!
Weather over the weekend dry and sunny and so took advantage to get the grandchildren to plant anther dozen trees in our spinney. Was hoping to have a drone footage of the spinney taken as well, but lads battery had expired, so awaiting new battery.... I will show pics when done. Joked that the Sitka spruce trees planted were masts in the growing! 30 years time!
All for now, bracing myself for a cold snap in a week or 10 days, has to come..
John
Sunday 12th February 2023.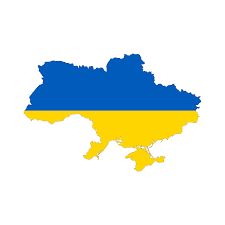 Support them. https://u24.gov.ua/
*****************************************
Support the victims in Turkey and especially Syria, where the ruzzians are preventing aid corridors being opened.
Link to our governments appeal....
https://www.dec.org.uk/?gclid=EAIaIQobChMI4JDH462S_QIVsWDmCh0gLAMdEAAYASAAEgI2QvD_BwE
*****************************************
Eventide News. Another week without a new enrolment? Unusual, is everyone hibernating?
Have had some interesting news from Keith with the new Selway-Fisher hulled Senior, 'Dipper'. PBO magazine are doing a write up on Keith's build and the Senior in general. Hopefully the EOG will get a mention.
Heard from Chris with 'Katana' in France. He sold that diesel 'Cosy' heater to a chap on holiday in France who could collect it.
Noticed that steel Eventide in Sussex is back on the market, eBay, same price....£1300.00.. https://www.ebay.co.uk/itm/404151365942
Heard that 'Pegasus' has been repaired by Nigel's boat builder and she is on her way to his home in Kent for painting and fitting out, suspect Bruce and Viv must be very pleased she has been saved. So often these days we hear of older Eventides that have fallen on hard times, often after the owner has been poorly, and then sadly no one can be found to give the boat the same care the builder or long term owner has lavished on them. Our boats do need more attention than GRP boats, but that is because they have souls!
Not too cold today at 10C but very grey and damp. Already suggested that Winter in not done with us yet..
John
Sunday 5th February 2023.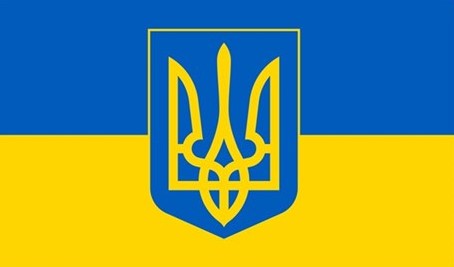 Support Ukraine!

https://donation.dec.org.uk/ukraine-humanitarian-appeal
Eventide News. This week it is 20 years since the inauguration of the Eventide Owners Group! My how time has flown! From the original 65 owners who formed this group after the sad demise of the old assoc., we now have had over 1700 enroll to support us. Dinosaurs they called us! We will try and keep the site live and keep support for these designs going for as long as there is interest.
Looking at the web statistics for our site, we are getting over 20 hits on it a day, some spending time to actually visit 25 pages. So active!
No new enrolments this week, but we have had confirmation that William has purchased 'Goldcrest'. Spoke to him last week and waiting on another mail from him so I can send the 'Full' member welcome letter.
Despite a reminder I have not yet heard back from Ryan, regarding the Eventide 24 on a trailer that needs a new home. Hope to hear soon.
I am slowly gathering materials needed to fit out my 'Fiddler's Green' this spring. Antifouling, (Marclear EU45), a pot of 2 Pack poly yellow for the hull repaint, sand paper sheets for the little battery sander. Yet to buy, a new water filter for the galley and maybe some engine spares, filters, Heat exchanger 'o' rings, etc. . Planning ahead!
Cannot help but think winter is not done with us yet though. Last week was 'Candlemas' here in the UK, or in America 'Groundhog Day'. Supposedly mid winters day. If on that day the sun casts a shadow, then, according to folk lore, we will have another 6 weeks of winter! Was a lovely sunny day! The groundhog in the States cast a shadow and went back in too.. So watch out for more wintry weather to come before we are through.
Sun was shining today, but a brisk and cold northerly. Did not stop Darian wanting to walk on the beach, and as always we did an hours litter pick. A couple of dozen bits of sea washed glass and a bag full of rubbish. Sad thing is there were others walking on the beach and not one picked anything up, watched one lady dog walker kick a large very bright orange, plastic woven sack, the sort you see carrots in at the grocers, but did not retrieve it, I did a few moments later while she was just 5 yards away, and I wonder what she thought... 'Not my Job' or 'I could have done that'??

The orange sack is in the bag!
Twenty years ago we used to gather a large black rubbish sack full every time we did a litter pick, now it is just a small litter bag full most times, plus Darian's toy 'sand castle' bucket with bits of sea washed glass. (recycled into art....)
Last week, Ian, a boating friend of ours was walking his dog here and noticed a large metal object freshly exposed by the tide in the mud. Concerned, he called the coastguard, it was an unexploded shell! I heard the bang at home when bomb disposal did their thing!
We have found treasures too. Safer ones.. fishing weights in amongst the tangles of discarded fishing line and a few year back I noticed a small piece of orange fabric showing, dug up a brand new, unmarked dog lifejacket!
The same as the one I designed 40 odd years back! Were able to donate it to a sailing friend with a hound.
The one I designed was the first of these back in the 1980's. I should explain I was involved in the design of new double chamber lifejackets with various protective covers for use by police, workmen, even welders, working over water. As a reward I was offered discount on a pair of ML Lifeguard life jackets. I asked if they could make me a buoyancy aid for my cat! They had never done anything like this, so I designed one.. Donated the design to Lifeguard Lifejackets with no royalty, so anyone could copy it! You see them in all the chandlers. Pleased to have maybe saved a few furry friends! Was actually made for a cat I had in the day. (Maddy). She never wore in in anger, as she was petrified the one time we took her afloat on the boat! She was perfectly fine with helping me to build it in the barn, climbing the ladder to get aboard and checking out every locker or new addition inside, and she even caught her first mouse in that barn!
However on my 'Fiddling Around' trip it was worn by 'Salty' the ship's cat!

'Salty' taking the air.

'Salty' in his jacket!
Good to see the evenings getting lighter, 1700 and still light. Just. Roll on summer.
John
Monday 30th January 2023.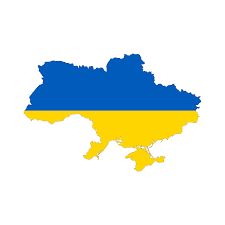 Over 11 months of conflict!
Support them. https://u24.gov.ua/
Eventide News....
No new enrolments this week. Still waiting to hear from Ryan regarding the E24 on a trailer that needs a new home.
The E26 at Rye is up on the Boats For Sale page, I have amended the advert slightly, have not heard of any takers yet. This is urgent... She needs saving or utilising!
Waiting to hear if 'Goldcrest' has sold. Hopefully she has and I can remove her from the Boats For Sale Page.
Same for 'Eirene'. Going to have to go through the pages and try and contact sellers. For some reason they are often sold and we are not informed. Cannot think it is because they begrudge the EOG a small donation if we assist the sale....
Had this in from Matthew:-

Click to open.

I was excited to see my father's old Wild Duck "Scoter" featured on your webpage, though rather sad to see her condition:

http://www.eventides.org.uk/wildpic.htm

I have a photo of her in better days (attached) and a few extra details that might be interesting. We sold Scoter about 20 years ago after my father died, and I don't have a lot of details, though my family does still have the plans she was built from (framed!)

Scoter was indeed GRP, and I didn't realise this was unusual. I believe she was also oversized - from memory I think 21 foot. My father bought her around 1990 from the man who (privately) built her, who sadly was drowned some years later (I'm afraid I don't remember his name). Whilst we had her, she was moored in the River Alt and she was with Blundelsands Sailing Club (that's the BSC painted on the stern in your photos).

Scoter was deceptively quick under sail, but my dad always struggled with the chronically unreliable diesel engine. After he died, we sold Scoter to one of his friends who was able to put the engine right, and he in turn sold her to someone else in the South of England. That was about 20 years ago.

Her woodwork was a source of particular pride to my Dad, and often he was unable to sail her because the tiller or some other component was in his garage being lovingly re-varnished: I've never seen wood as glossy.

Not a lot of detail, I'm afraid, but you're welcome to supplement the information on your site if you wish to do so.

Kind regards, and thanks for sharing the photos you have - it's good to see her again (and maybe her new owners have renovated her by now?)

Kind regards,

Matthew

Sadly we have not heard what happened to 'Scoter'. Last we heard a chap had transported it to his house to work on but a neighbour complained, so he had to pass her on. How sad. The new owner has not contacted us... She is back somewhere in NW England we understand....

Now

an unusual one. Gerry, who I sold that Tiller Pilot to has asked if we have a Facebook or WhatSapp group. I do not use social media so am not on Facebook and no longer on Twitter since it was degraded by the new owner.. (I used it just to keep tabs on the grandson's ship...

Are you watching the QE2 on the TV? Saw our sailor briefly last week!). Gerry has a Facebook group for members of his club on the Exe, all local stuff.....

Not sure how it would work for such a widely spread membership. Any thoughts...

Today I have been grappling with the latest all singing and dancing BT connection, we now have fibre in our lane and when the other end is connected up we will be going full fibre. What this means is the upload time for this page of the website will be a millisecond quicker.... Not sure that matters to me. What is useful is the EE mobile connection so if the cables get damaged in the lane we will still be online. Could happen.

Visited the boat yesterday to pat her transom, checked over from stem to stern.... all battery banks showing a healthy 13.5v and 100% charged!!

Hope your boats safe, sure Winter is going to come back soon!

John

Sunday 22nd January 2023.

Challenger II tanks to be sent from UK to Ukraine! Proud we are assisting. Hope the rest of the free world steps up....
This is a link to the president of Ukraine's special donation page, please donate what you can for medicines, for clothing, equipment. https://u24.gov.ua/
Eventide News:- No new enrolments this week but we have figured out which '36ft' Eventide William was interested in! We have found her on a boat auction site. https://www.boatbid.com/boatbid_boat.php?auction=1537&boat=306753

It is Eirene the 30ft Eventide based vessel at Bradwell. owned by member Norman. With the bowsprit she would be 36ft! Not sure if she has sold or not at the moment.
I mentioned a little while back that we were investing in a secure site certificate. You will know when the padlock appears next to the https in the address. Andrew is working on it and hopes to have us all up and running as a 'secure site' shortly.. To be honest I see this purely as a money making exercise by the providers of the certificate for I doubt they check the pages themselves before issuing a certificate! They just take the money. However I have heard from a couple of people that they were put off by the message. 'Not secure' when looking up our site. So hopefully more will feel happier about viewing our free pages!
We have had problems with mail being bounced back from many who enquire, it has been difficult to find another mail address to reply with. Seems since December G mail and several others, have added the need for some sort of certificate attached to domains, to let all know they are genuine? Not sure how that works because when I enquired at Heart, our service provider, they said, they could see we did not have this certificate and instantly added it! If it is that easy bet all the spammers have one too????
We will see if it works, if mails stop bouncing back....
I have had details of a poor Eventide 26 languishing at Rye in Sussex. The owner has just joined us and has sent photos. The ply has rotted in places on the hull. She has to go in the next month, and will sell for minimal amount £1.00 if someone takes it on. Has mast and sails and an inboard diesel. Loads of gear on her that could be used to restore her or another Eventide. Needs a team to strip her or to rebuild her. Any takers!
There are a few parts he has removed for safe keeping and is willing to barter with these, VHF radio Echo Sounder etc.
Contact Paul Harding email pfh9000 at gmail.com
Phone 01323 441944
Mobile 07903 864354
I will be listing 'Ishani' on the For sale pages later.
Heard from gentleman today who has an Eventide 24 on a trailer to dispose of. Sadly as a result of a bereavement. Hope to have more details later and will of course add details to the For Sale pages. This boat has been in the same family since it was built 60 years ago nearly! Sad but becoming more common place.
Richard contacted us last week with a photo of a boat he helped to do a delivery with some years back, 'Banjo' He sent a photo. Also delivered a Finesse 24, another we believe MG had a hand in.

'Banjo' Do you recognise where it is, I do.... Sadly we think she is no more...
Heard from Graham the keeper of 'Borer Bee', that he has a young chap interested in buying his Eventide 26, 'Goldcrest' He has promised to offer advice for the new owner whilst sorting it out and sailing. Great to see younger people getting afloat. Of course if Goldcrest sells this will leave Graham more time to concentrate on the restoration of BB!
Today the frost is still on the ground here, been best part of a week since temperatures were well above freezing to melt all the ice, but still the pond has not frozen over. Not really a winter yet then.
Stay warm and plan those adventures for the summer.
Reminder, if you have a log, submit it for the log and Seamanship trophies.
John
Monday 16th January 2023.

Another despicable ruzzian attack on civilians in Ukraine.
Eventide news. In the last week we have had another three enrolments!
Welcome to:- Paul with a sad Eventide in Rye he wants to rehome, awaiting an advert on that one.. Welcome to William from Essex, a new owner of an Eventide 26 and to Greg looking at buying a GH 31 in Essex. He has donated to us and we have sent all we have on the GH. Hoping to hear he has become the new owner.
In addition we have heard that the owner of the steel Eventide that was on eBay has been contacted by a member and advised to contact us, not heard as yet....
Some may have noted this page might look tidier. Thanks to Keith for pointing out to me that the text was askew! Took me some time to fight the formatting on the page and eventually scrap the page and redo it. Hope you can see all clearly now.
Keith of course is my crewman and one of a few friends that proof reads these pages for me! I need checking on!
Weather has turned cold again and we had reports of snow in parts of Essex this morning. Watch those covers!
That Tiller Pilot I had up for sale, on these pages and on eBay, went in hours. Turns out the buyer is Gerry, the ex owner of 'Cobweb', and the device is to be used on her this spring when she is sailed from North Devon to Kent. Bon Voyage!
Here is a photo of the last time it was used by me..

Memories of my round UK trip in 2018!
Heard from Norman with 'Eirene' apparently there is someone looking to buy her. Capable vessel, but a long way to Ireland if the buyer wants to sail her there!
All for now, time to toss another log on the fire. Stay warm
John
Sunday 8th January 2023.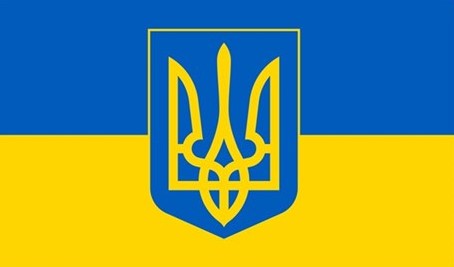 Support Ukraine!

https://donation.dec.org.uk/ukraine-humanitarian-appeal
We have had a link to an Eventide on eBay. But it is not just an Eventide, it is a steel 'Kesteloo' Eventide! At least I believe it is. Not sure if the owner/seller is aware. about 100 of these well made 27ft versions of the Eventide were made in The Netherlands and imported to the UK, many more were sold in the Netherlands. Have a look....
https://www.ebay.co.uk/itm/404088466167?mkcid=16&mkevt=1&mkrid=711-127632-2357-0&ssspo=ImmZ6bo8TWO&sssrc=2349624&ssuid=2dxlKAo2SP2&var=&widget_ver=artemis&media=EMAIL
The boat is ashore at Sandwich in Kent. Thanks to Bede for bringing this one to our attention..
Had an interesting mail from Marcel in Canada. The most recent new member. He has sent the drawings they reproduced in that Model boat magazine.
The drawings are very rudimentary and based on the very earliest 1957 drawings. So Marcel has requested a set of modern Eventide drawings, he would like the cutter rig with bowsprit and to fit pulpit and sternrail as well. Will be interesting to see if he can replicate the lovely model, remote controlled, that Tony Nelson built of 'Mistress II'. Remember that sailing round the sterns of our boats in Bradwell Marina one August Bank holiday meet.
There was once a nice model of the Eventide that was given to me back in 1980's in two shoe boxes, in bits! I carefully restored it and made a case for it. Sadly it disappeared when the old assoc folded.
I will be posting the set of 4 framed prints on the site today. Donated by friend Geoff last year.

Click on them to open.
Offering these for £100.00 plus courier post £8.00 UK. Available to members only... They are set number 36 of a limited edition of 100. Including the Frame approx. 12 x 9. (inches).
I visited our boat this morning, and was very pleased to see the little sunshine we were having was trickle charging the batteries. 4 had 13.3v in them and one had 13.2v. an 0.5 amp charge to the auxiliary and start bank and a 0.2 charge to the fridge set. Great news, it had been so dull I could not be sure the batteries were actually getting a charge, though I could note the voltage was creeping up on every visit by 1/10th of a volt, I never caught the panels outputting anything! Happier now I can see the batteries are being kept charged.
Already making mental plans for the partial repaint of the hull, port side, and for how i will tackle the scratch and gouge in the side... Determined it will be an invisible mend!
Been watching the severe weather the other side of the pond for the last couple of weeks, but it appears we may have escaped the worst of it, it has skirted north and that accounts for all that rain up in Scotland. Troon and Largs areas that I know from my round UK sail were very badly hit. Roads turned into rivers!
Suspect we will get cold weather later in the winter, a 'back winter' as friend John Stevens says.
T
he wind the other day damaged my weather vane.... sadly soldering was not strong enough, have to find some one to rebuild it using braze maybe, its made of brass and copper....
Hope your covers secure.
John
Post Script, selling price of 'Goldcrest' on our For Sale page reduced.
A
lso added the framed prints and my Tiller Pilot to the Bits for Sale page.
Tuesday January 3rd 2023.





Our thoughts with these young people defending their country and in turn, the rest of the free world.
As the new year has brought mild wet and windy weather to most of the UK after the cold snap, a reminder to check those covers. I am fortunate enough to be under cover again this winter, sharing barn with the owl, but the weather has been so dull my solar panels are not charging the batteries much. If they do not get a change soon I will be thinking seriously about removing them and charging them at home. A major undertaking as there are 5 large batteries aboard! Not charging them would be an expensive mistake though, they are not cheap to replace and if not kept trickle charged, will sulphate and be ruined.

Apart from a few mails with seasons greetings, the EOG mail box has only received spam, 194 waiting for me when I returned from a short break last week and more every day. Fortunately we use SpamFighter that weeds them out!

The website is still not listed as 'secure', the webmaster is working on it over the New Year, I will check how he is getting on shortly, it takes a while to register the SSL certificate for all the pages. Has worked for my Seagull pages, no longer do visitors there get the 'Not Secure' message. Soon. When up and running I will submit the claim to the Steering Group, for the paid certificate.

We have had a rather nice donation. Geoff and Sandra have donated a set of 4 framed Maurice Griffiths numbered prints. I will be posting these on the 'Items for Sale Page' shortly. £100.00 plus courier postage.

I have a set on my office wall That are admired...

All for now, off to edit lots of pages... I have to search the site to update it. If you find anything I have missed please mail me. enquiries@eventides.co.uk

John