Click here to read the 2004 News pages
Click here to read the 2005 News Pages
Click here to read the 2006 News Pages
Click here to read the 2007 News Pages
Click here to read the 2008 News Pages
Click here to read the 2009 News Pages
Click here to read the 2010 News Pages
Click here to read the 2011 News Pages
---
Sunday 30th December 2012.
Wishing all a very happy New year and hopefully a good sailing season, for a change!
Over the past few weeks my thoughts have been far away from home, with all the planning, but at home with the family for a few days and great to have them around. Will miss them when I go away. We have lots to sort out, for one thing I am going to need an understudy to write up this Stoppress page! And answer the mails. We get several in a day sometimes, in the last week there have again been 2 new members, 2 requests for CD's and another for general info. Be a shame if these queries went unanswered for 3 months.. So step forward the keen volunteers! Sure the Webmaster will be able to coach anyone willing to give it a try!
I have removed the bouncing Snowmen from the Home page yet again! Another Christmas gone. Hope it brought you the goodies you wished for. Darian and I have entered the 21st Century, with a pair of all singing and dancing smart phones. I have managed to get both working and have kept our numbers... eventually have sorted out the intricacies of WiFi and tethering, so my laptop on the boat has now got internet access whenever I have phone coverage! Very clever. Now I have to sort out a method of uploading text and pictures, from the laptop via the phone, to a page on our site, so all can keep up with me on my adventure. Has to be possible!
One of my presents this year was the 'UK circumnavigators guide'. I am pleased to say that so far my plans and the suggestions in the book coincide! I am OK on most of my kit too, which is great, even the life raft specs. I am wanting to invest in a cockpit repeater screen for my laptop plotter, or maybe a stand alone independent GPS Plotter, but that will work out very expensive....
New Members. Welcome to Robert Krelle, who has taken on a 3 Tonner, that actually appears on our pages. 'Brie' Sadly the intervening years have not been good to her and she is going to have to be largely rebuilt, but as Robert is a 2nd year student at the Falmouth boatbuilding college I am guessing she will be in good hands and a CD of the drawings will be on the way to him shortly!
Welcome too to Stephen Acton of Kent, he has no boat as yet, but does say he lived on an eventide 26 for 7 years, that takes some doing!
We have had an enquiry re a GH that is for sale from Andy, will get back to you on that shortly!
The house here is getting back to normal, the tree has gone out already, it is a 6ft tall spruce growing in a pot, so it only came in a week ago and with any luck, and all the water it got, it will be planted in the garden to join the others from previous years! Once the decorations have all gone and we have normality I will get to be able to spread the charts out on the table to update them, the sailing season approaches.
Good sailing to all in 2013!
john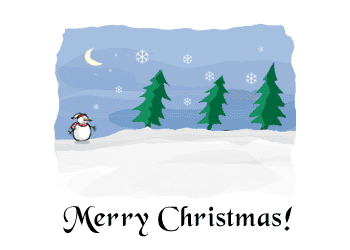 Wednesday 26th December 2012.
The day has gone and the gifts given, the feasting over for another year. Time to sit back and relax. Sort out the new toys and plan ahead. I have downloaded the 131 pages of the manual for the new phone! It's OK getting into the 21st Century technology, but to print it off I have destroyed 4 trees! and before you say read it on line, that is no good if you are away from the P.C. (even with the new smart phone!).
It looks as though I am going to have a crew for all of July next year, contacting others to see where and when they can fit in. Logistics of planing a long trip like this are many and varied!
Nipped down to the marina a few days back to check the covers on a friends boat, all secure, but near him there are boats with furled sails still aloft, one with a flying halyard that has now entangled itself with a nearby boat... Seems to me these are basic bits of boat care...
Driving to relatives for Christmas day the roads were awash, floods and heavy rain adding to the misery all the time, and we are in the driest part of the country. Have a thought for those in the west country or Wales where whole communities are cut off. I now understand 2012 to be the wettest year on record, why on earth did they declare a drought?! I feel for all those whose houses have been flooded. If it eventually is proven that mankind is to blame for the worsening weather we appear to be suffering, I will not be at all surprised. I have long said there were too many Ostriches about! Hope the weather does not spoil things for you, now or in the future.
Had a few mails in over Christmas, request for a CD as well, I will get back to people as soon as possible.
Saw a boat show bus trip advertised, will I go? I doubt it, Excel is about the most soulless place I have ever been for an exhibition and after a few tries to convince myself it was better than Earls Court, I gave up, do not think I will ever bother again. Sad thing is so many who had never experienced Earls Court, or the late lamented East Coast Boat show, will never know what they missed and think the bland offering at Excel the norm....
Job list getting longer, got to start ticking off a few!
John
Friday 21st still..... we are still here, the Mayans got it wrong....
Just a note to say the I have added a 'friends' boat to the Gallery pages of that name, lovely boat, 'Emma-Fay'.
john
Friday 21st December 2012, the Winter Solstice.
the time of the solstice is 11.11 GMT.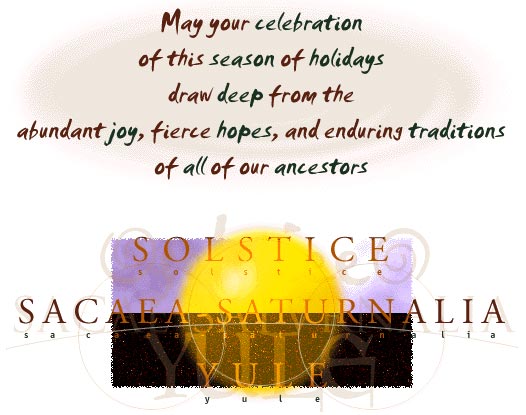 Thursday 20th December 2013.
Tomorrow is the winter solstice.
As of the next day, the days are getting longer again!!! I will be out there tomorrow night with my solstice fire, that is, if it stops raining for long enough for me to strike a match!
Of course if you believe the Mayans there will be no tomorrow after the 21st! Hope there is, have a trip to plan!
A select few enjoyed a great meal last night in Maldon. Good company and good food and a great time was had by all. Hope all of you with boats laid up, have had a chance to check the covers, it may be just wet at the moment, very wet I would say, and warm too for the time of year, but I bet the cold and snow will be back!
Good sailing to all those in sunnier climes!
John
Tuesday 17th December 2012.
Only a couple of takers for tomorrow night, are we all too busy Christmas Shopping? 7pm at the Izumi Chinese Buffet, ring me soon so I can book the table.....
Only a week to go till the day.... what's going to be in your stocking then, new GPS, sails, covers, cooker? Seems there is always something we could put on our wish list! How about a couple of cans of antifouling?
We have sent out 4 CD's to Australia today, and have had another enquiry. Lots of interest!
Wicormarine have contacted us with a special offer to members, moorings at Portchester. lovely spot up the top of Portsmouth harbour...

Worth a thought if you are on the south coast.... May pop in and take a look next year...., but not stopping....
We also had a card....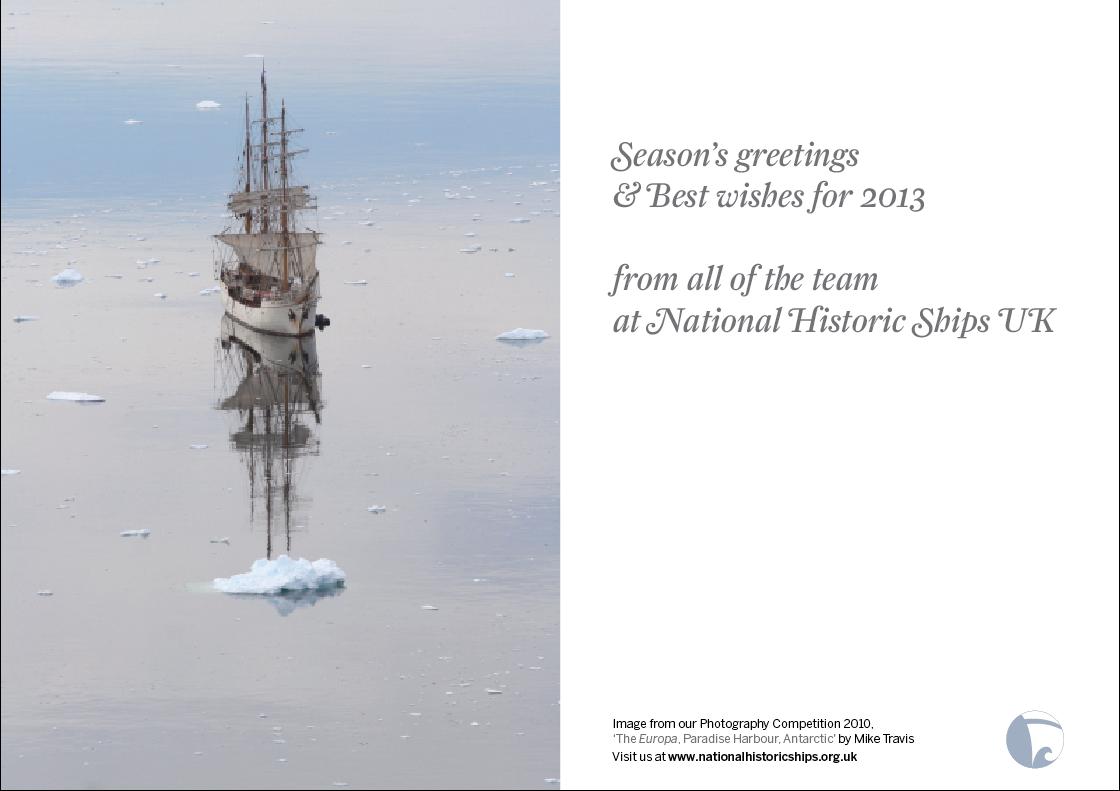 The Historic Ships Group believe our vessels will become the historic ships of the future maybe!

Any way nice thought.

I am still pouring over charts of exotic places with strange sounding names. Next summers trip is taking a lot of planning, not only the boat, but the pilot books, charts, canal fees to sort. Already had invitations to visit Skye! Hope it all pans out....

Have to charge the batteries on board this week, they have been sat for 2 months now and it will do them good to put the trickle charger on them. Hope you are managing to look after your ships, have them all wrapped up or hidden from the elements...

Friend of mine has just been to Maplin and bought some LED light strips, he has lit his boat up inside like its Christmas and uses less than 1 amp! Impressive. Warm white lamps too. Self adhesive, clever.

All for now got to put the cards up!

John

Thursday 13th December 2012.

Welcome to Rodney Carey in Australia who is wanting to build a Senior. hope to hear back from him shortly and send him a set of drawings.

Sent a set of Waterwitch drawings to Western Australia today, to Alex Rogers, another new member. Is there a sudden awakening of interest in our designs?

We are hoping to meet up with a few members next week, if you can get to Maldon. We will be meeting in IZUMI a Chinese restaurant, that has a permanent buffet. We have met here several times and it is loved by all, friendly, clean, busy yes, but the food is terrific! Please ring if you want to join us, so we can arrange a large enough table!

Sending out some parts this week I hope, just waiting on cheques, for some more of the chandlery on the bits for Sale page. Have already had the first enquiries re the antifouling too, people have seen the bottom of Fiddler's Green when she was lifted out this year!

Fiddler's Green is undergoing a very thorough inspection this winter, will be extracting a keel bolt and checking all the rigging, (just 2 years old) with a fine toothcomb. All the running rigging already washed and checked OK and stored away. Sails checked and 1 repair being done. All has to be 100%. I have gathered half the charts for the trip so far and will be spending hours [perusing them no doubt. the chart/map of the Caledonian Canal and lock Ness arrived yesterday, had no idea it was so deep, will not tell the boss! over 700 feet! Not many muddy places to anchor then! I am hoping to use the Crinan too, remember 'Para Handy' and the Vital Spark!

I have already had invitations from friends in far flung places round the UK, for us to drop in, maybe we should allow 4 months! already chatted to Dylan winter of 'keep turning left' fame! Have the UK circumnavigators guide on order too. lots of bedtime reading! A customer ad his wife called in today, avid sailors, they tried 2 years ago, only got as far as Lowestoft..... hmmm

Spent Saturday and Sunday securing the covers on the WW 'Dougaljo' with Doug and Jo, Saturday was OK, but Sunday was perishing! however she is trussed up like a proverbial turkey now and I hope it will keep the weather off her. The snow predicted never came to more than a few flakes, but tis early days yet for that. Hope you have managed to get your woodwork covered.

Snow is the very worst thing for wooden boats. It lays harmlessly enough, then it starts to thaw, then it freezes and that is when the fun starts. it will blow into all sorts of places and cause frost damage, best keep it out. We had minus 4 here last night, and guess who had forgotten to drain the garden hose! Popped the end off and when it thawed this afternoon found a puddle! now that has frozen! not for long though as, guess what? Rain is forecast, lots of it!

Time for bed, hot cocoa and that chart of Devon I think...

John

Friday 7th December 2012.

Sorry for the mistake in the month last week... must have been wishing it was warmer!

Having had enough rain to flood half the country, followed by ice and snow, the gales blew in yesterday to finish off the job. Forecasts of the coldest winter for 100 years, so I am waiting for the heat wave. (Remember the drought warning!).

Have sold, I think, more items off the pages. Have to add a couple more pics of other items.. some folks have understanding other halves, nice to get a seacock in your stocking!.

Another new member, a friend, Keith Irwin in Tennessee. Interested in the WW. Have had enquiries re CD's of Senior and Eventide. Membership numbers must be well over 1500. Will alter the numbers on the page when I get it confirmed.

Had a splendid mail in from Maurice Chapman, whilst searching for information about the Barge 'Ena', he came across this extract from the local newspaper.. East Anglian Daily Times.

Thursday July 31st 1924


YACHTING TRAGEDY ADVERTED.


Ipswich Men's Timely Aid.

While making passage from the River Roach to West Mersea during heavy weather on Monday, Mr W.A. Elliston and Mr Maurice Griffiths, two Ipswich yachtsmen, in the latter's auxiliary yacht 'Storm', sighted signals of distress near the Buxey Sands.


On approaching, with difficulty, they found a motor dinghy which had broken down. She was half-full of water, and her two occupants were exhausted from their efforts at bailing. After several attempts, which were rendered difficult by the heavy sea running, the dinghy was taken in tow, and the men hauled aboard and revived with hot coffee.


Their yacht, they stated, which had started from Leigh-on-Sea, was aground on the Foulness Sands, and had had to be abandoned.

Well found Maurice, The times I have read this chapter in 'The Magic of the Swatchways', so it was not artistic license! (never thought it was either)

Had an interesting enquiry from Martin the skipper of the Eventide 26 'TOA'. He is wanting to shift her from Wales to Scotland. (There has to be a joke in there somewhere??) First question, how heavy is it likely to be? Interesting one. Took a long mail to answer!

'An Eventide 26 with the later 1660lb keel will weigh approx. 2.5 tons with 'loose' gear removed. Could be nearer 3 ton with a lot of kit aboard! And well below 2 ton if stripped further.

(My 27ft version has a 2000lb keel and weighs in at 3.5 tons with all kit aboard.) We tow with a Land Rover Discovery which manages with no problems at all.

The legal all up weight is 3.5 tons, so you have to get the weight down and allow for the weight of the trailer. A local weighbridge gave weight of my trailer as half a ton! Well it is substantial and has got 6 wheels! In theory it will take 4.5 tons! (not legal at that weight though!) We are under the legal 3.5 tons on the road!

You can reduce the weight a lot by removing all the bunk cushions, bunk boards and floor boards, as well as the obvious, anchor chain, contents of water and fuel tanks etc! Doing this you can get a 28ft Golden Hind, down to weigh 2 tons for transport when all had been stripped out of her!

'

Another interesting mail in was about the new act of parliament that will give all harbour authorities carte blanch to make swinging local rules and regulations, without anyone to contradict or intervene! Not a clever idea as far as boat owners goes.

Have a look at it.

http://www.rya.org.uk/SiteCollectionDocuments/emails/in-brief/dec12-inbrief.html?utm_source=InBrief&utm_medium=Email&utm_campaign=dec12-inbrief

To finish off, as the wind rattles the chimneys and the rain lashes down, I am planning a cruise next year. Weather permitting!! Leaving mid May, if all goes well and heading off round the UK. Long been an ambition. I am going to allow 3 months..... 2000 miles. Cutting through Scotland via the Caledonian Canal, and maybe also the Crinan, could stop off in Northern Ireland, Isle of Mann, then south, via Wales and Devon and Cornwall, a stop over in the Scillies would be great, all those years of learning the names of the rocks could pay off, then back along the south coast. Retracing our course from 12 years ago.. Anyone fancy a cruise in company? I have several friends interested in joining on different legs, and my daughter too, (Passed her coastal Skipper practical!). Anyone who has sailed with me before and fancies a leg of it?

John

Friday 30th November 2012.

The Frost on the grass never melted all day today, guess winter has arrived! Waiting on a boat cover for my 16ft open boat, has an old tarp on it at the moment, but impatient to get the proper cover rigged, then cover and protect the boat further with an all over tarp! Hope you have your boats covered if ashore and outside. F.G. spoilt in the new barn! Really out of the way and safe from the dreaded white stuff.... and it is forecast...

Hope to get time to replace my jockey wheel tomorrow, new one sorted but have to drill out the bolt hole for the bearing bolt, a smidge fatter. Have you ever noticed how one little job on a boat tends to snowball till you end up doing a complete refurbishment and taking 2 van loads of gear there to do it?

Welcome to a new member, Derek with a Silhouette sailing from Erith. Not sure if he has simply joined as a 'Friend' and kindred spirit, or if there is one of our designs waiting in the wings! Doubtless we will find out shortly, anyway Welcome Derek.

Spent a little time adding pictures to the Gallery today, about 10 of them! Had a couple of nice ones of 'Wedjit' in from Tim, a Finesse, a Barbican or two and a beautiful Good hope design. Worth a look, on the Other MG designs page, but all that varnished hull! Be scared someone may scratch it, with a fender!!

Sold a couple of job lots of boat gear from the bits for sale pages this week, staggered down the post office with a heavy parcel! Also had an enquiry for another part today. Grab them while you can, they are mostly new bits and selling for a fraction of the value, just shop soiled.

Using the EBay page to good effect at the moment, just bought the first of a batch of items I will be needing if a trip I have planned comes off. Putting feelers out for crew too. A 2,000mile trip!

Off to toss another bit of wood on the fire, down to freezing outside.

Keep warm,

John

Saturday 24th November 2012.

Welcome to another new member, Deniz in Cyprus. she wants to build a Senior and today I have send a CD of drawings to her. Hope to hear the shavings are flying soon!

The weather here has turned very wet and windy, the UK has been hit with more rain in a day in places than we normally get in months. At long last people are waking up to the fact that it is us that are to blame, 100 years of pollution and in some cases pure greed, and future generations will be paying.

I am not sure what it takes to make people behave responsibly, in our own village one man has successfully prevented the hundreds of people who wanted to do something positive for the future and plant a wood. What with the new threats to our trees it would have been a wonderful asset, sadly it is not to be. It is truly astonishing how selfish some can be. As this man has no family he scoffed when we said we were doing this for the children of future generations, could not care less. How do these people sleep at night?

Those of us who build and repair wooden boats are really doing something practical for the environment. We could go further, we have here, by living in and maintaining a wooden house, but we are extreme! Planting trees also helps, after all where are we going to get the wood from when we need to replace a gunwale!

Whilst on the theme of energy saving, I have already said I have changed all our light bulbs on board to LCD, a bit like we have been encouraged to do at home. does not sound much, but it means that motor does not need to go on just to charge the batteries. If you go one further, as we have done, and have fitted a solar panel or wind generator that's another can of diesel saved... If we all did it.... get off the tree hugger soap box John! Beginning to think I am an old Fossil, seems to me that it is only our generation that fixes things rather than throw them away and get a new one... Prove me wrong!!!

I have just spent 2 hours updating pages on the site. I have added dozens of pictures , and more new boats!! I have added pictures to the Senior page, the Eventide, Golden Hind, Other MG designs and the For Sale page, the last one being a price reduction on the Eventide Camelot, a sail away Eventide 26 for less than £1k!

The site has really got so large now, with so many pages and sub pages, that the items for the Newsletter have been farmed out all over the place. I will get round to doing an edition later this year, a sort of round up of the year... with a few extras!

With the wind getting up and F8 in the forecast, rain hammering against the office window, as we have an Easterly, 'No good to man nor beast', (Essex fisherman saying), I am off to stoke the wood burner!

John

Thursday 22nd November 2012.

No sooner than I published yesterdays entry than we had another update mail, this time from Alan Stacey of the MG Storm 'Stella Marie'. A friend of his has bought the Senior, 'Avocet' that was on the For Sale pages and it will sailed or be trailered in future from Lincolnshire!

And today another price reduction on the For Sale page. An up and running Eventide for less than £1k!!

Re the Forum, we have got to the stage now where anyone who has already joined can post and read all the threads as normal, use the P.M. system etc, but at the moment no more members permitted. Gemini our server, are putting in a tracing program that is linked to a much larger operator and the idea is to prosecute Spammers for disabling services. They, the major server, apparently feel strongly about Spam, so hopefully we will have results and all will be back to normal and new members will be able to join.

I have been using the EBay page again, had to buy another jockey wheel as the one I had could not easily be reduced in diameter, however it was cheap at £7.50 inc P&P so worth it, the other wheel will do as a spare for my other trailer, it is the right size for that! I also used the page to search for and eventually buy my winter supply of peanuts for the birds! And corn for our visiting pheasants! We were rewarded yesterday with a sizable donation from EBay that went to our Webmaster Peter. Thanks to all of you that are using the page. At the moment I am using it, searching for a Cezves!

Back to work.

John

Wednesday November 21st 2012.

Forum Down.

Sadly the forum has been targeted by a mindless person or persons, and Spam web addresses and adverts left all over it. we have removed them, banned the Spammers etc but have had to close the forum down till we can update the security. The forum Providers and our server company are both working to sort this problem, it is not just us that are suffering.

However if you are already a member there is nothing to prevent you reading all the posts, adding and editing any post. We have simply closed it to any new members, for now....

On a brighter note We have had mails from several members over the past few days. One telling us of the sale of his boat, A Solani class MG design, 'India of Poole'. we have added a few details to the pages. another boat has been moved off the 'for Sale' pages, as we have now heard from the new owner.

So welcome Ian Garforth, with the Eventide 24 'Jeopardy'. she has moved from he Essex base to the west, and now sails the Bristol channel. Ian is interested in converting her to cutter rig. 'Jeopardy' has been the subject of major modifications, the boat was a bilge keeler, then fin and later back to bilge, with the additional ballast as per our pages. She also had the cabin top removed and altered, so a different boat all together. Ian is wanting to fit a bowsprit again... details on the CD and on the tips and hints page Ian.

I have added a few pics to the WW Gallery and have a load more to add to various pages. I will be doing this over the next few days.

Was down at my boat yesterday, armed with a new can of WD40. Have sprayed several nuts and bolts in preparation for later work, brake adjusters and trailer jockey wheel.

A new wheel arrived the other day, but I have to shave 1/8th off the rubber tread, as it is a smidge too large a diameter at the moment... should not be a problem. OK I should have bought the slightly smaller wheel!

I am contemplating a trip next year and thinking of fitting a second, independent GPS Plotter visible in the cockpit. I have seen several, all with internal aerials and onboard charts, waterproof, to a degree. Anyone had any experience of these? Needs to be removable, or mounted inside my sliding cockpit cabin window, small, but with as large a screen as possible, so I can see it! If you have one of these, and can report on its performance etc, please let me know, for everyone's benefit.

We would like suggestions for the recipient of the Seamanship trophy. Do you know of a member who has contributed to or displayed outstanding seamanship? please let us know.

Also suggestions for a suitable youth sailing charity that we may consider to donate to....

Keep warm and if sailing fair winds and lee going tides.

Thursday 15th November 2012.

We have had a few more pictures in and a couple of additions to the Bits For Sale page, and a price reduction on the Boats for Sale page.

I have a folder full of pictures now and have to find time to get cracking on them and upload them into the Galleries. Our pages are bulging with pictures sent in by owners or friends. We will get an update on our numbers shortly. I hope that by the time we get to February next year and our tenth birthday... we will have an update. (How are we to celebrate that I wonder??).

I am quite remiss as I have not sorted out a Newsletter for a while. the reasons are many, time, as it takes a long time to set up the pages... But also a time to enter all the articles. Instead I have been adding the information to other pages on the site, but I am really aware that I have not published several very large items, Tusk's circumnavigation, the 'Mabway' youth organisation restoration of their Eventide, and the amazingly successful Meet held in the Netherlands this year. I will try to amend this shortly.

We have had fun with some of the computer gear here recently and have had to buy new batteries for the Uninterruptible Power supply that protects the EOG machine. I have used the EOG EBay page and this simple action has put several pounds back into our Webmaster fund! do recommend you use the Page if searching for anything, simply take out the default 'Maurice Griffiths' (after you have had a look at all the items referring to him!) and alter it to what ever you are searching for.

Every year we vote to donate a sum towards a charity, normally involved with youth and boating. As yet this year we have not had any suggested, do you know of a suitable group?

Lastly I promised to show a picture of the bottom of Fiddler's Green's hull, when she was lifted out this month. As you can see, not a barnacle or jelly in sight, just a thin layer of very slippery and easily removed slime. Marclear works for me!

Fiddler's Green and her clean hull!
Off to the boat to spray a little WD40 on the brake adjuster on my trailer, and the bolts securing the jockey wheel, new jockey wheel on the way but a little TLC needed before I fit it. Hope your winter maintenance schedule is shaping up well and if you are in the southern hemisphere, you are fitted out and ready for the season. Send in those logs!
John
Saturday 10th November 2012.
Spent the last 24 hours working the washing machine to the limit! (Easy care 30 using 1 Bold sachet per load!) All the halyards, sheets, mooring warps, dodgers and sail covers have been through it and are now dried and packed away till spring. A good opportunity to check every rope and cover to ensure they are fit for next season. I am told I am over the top when it comes to looking after my kit, but I am sure there are others out there like me, who scrimped and saved to buy their gear and look after it as they know the value of it. Every year at launch, passers by ask if all the running rigging is new, 'no' say I , most years.. 'just cleaned!' (Replaced the main halyard for the first time in 22 years last year...).
When I nip back to the boat tomorrow I suspect I will find the camera where I left it on the engine box, with the pictures of her clean bottom on it! Marclear once again has come up trumps, no weed, no barnacles, no jellies, just a very slippery, thin coat of slime.... e3asy for the marina to wash off. Some boats have been terrible, they have used garden hoes to scrape off 3" of growth!
Measured up the collapsed jockey wheel I removed yesterday, and using the EOG EBay page bought a new one for £11.00. Easy!
Just added some details to the Parts for sale pages, a couple of ali booms that have come our way, one may be suitable to use for a boomed staysails boom. Have a look.
One of the bits of kit I bought last year and have tested, was a couple of lengths of 'Spirarol' from www.spirolls.com
This is a tightly rolled, length of slippery plastic rope protector to prevent chaff at my fairleads. I bought 2 lengths and cut each in half to make enough for my 4 mooring lines.
Some think these are not too clever as they had to use gaffer tape to secure them to their mooring lines and recommend the old garden hose trick, however if, like me you have substantial mooring lines that nearly fill the fairleads and there is no room for hose, then these win hands down. The 'Spirarols' are very thin, yet have shown no sign of any wear after a year and the slight chaffing on the mooring lines noticed last season, under the protectors, after 1 year, has stayed the same. I did not have to use gaffer tape, or anything unsightly, I simply fitted a fine (green) electrical tie on the boat end of the 'Spirarol', leaving the other end free, I found this worked fine for 3 of the 4, but for my forward spring I had to secure the pontoon end of the protective roll as well, with a bit of electrical tape, (green of course!) As the line also did a 90 degree round a cleat as well as another through the fairlead. Having just washed them they look good for a few more years...
Other gear fitted and tested include a second Nasa Battery monitor. This monitors the auxiliary battery for services, has a large clear display with a digital vertical bar type 'fuel' gauge, a simple charge or discharge amp indicator with large digits and the voltage also displayed.
As a bonus the one I bought was the BMI plus, with an optional lead to the start battery. By simply pressing a button the voltage in the start battery is also displayed... The one fitted to the fridge last year continues to work well and allows me to easily work out if the motor needs an hour or so running to keep the fridge working, as happened a few times this year when the rain fell in buckets and the spray hood mounted, 32 watt, solar panel, was not working. Normally it keeps all the batteries, 400amp hour in all, fully topped up, throughout sunny weather.
To save batteries last year I fitted LED festoon bulbs to all my cabin lamps. These cut the amps by a tenth, so we could have every lamp on for just a couple of amps drain. We have loads of lamps, 10 bulbs in the saloon 4 in foc's'l and 2 in the loo! They were good for battery saving, but not good on the eyes, a bright blue white. So late this summer I bought and fitted 'warm white LCD' festoons, cost about £40.00 for the whole boat, but the difference! The light is a welcoming warm glow, bit like filament bulbs, but brighter, current drain the same, negligible! (Still have my red night lights using LEDs, but these are OK.)
Another bit of kit sorted this year was a trailing log. I was given a duff Stowe log, managed to get it going and then find a new trailing rotor. It has a wire you toss overboard, with a spinning electrical generator on the end. These are so accurate they were often used to calibrate other logs. I can vouch for its accuracy, compared the GPS SOG at slack water there was little difference, less than 0.1 knot! The added advantage is that it is totally independent of any other power, in having it's own dry battery. Just so long as you carry a spare battery and stow it carefully so an not to leave it switched on.... Drawback, you must remember to whip it out of the water when others close by or you go astern! Seems no one looks for trailing logs anymore.. To be fair it is best suited to long coastal trips, not ditch crawling, but I just wanted to test it...
I think this winter for the first time, the boat was really ready to go anywhere and yet we haul out. I have just normal servicing to do this winter, with any luck we will be out there early next year.
John
Wednesday 7th November 2012.
Was down at the boat yesterday and again today, scrubbed the decks and cleaned the new spray hood up yesterday, rain later rinsed it and the sun today dried everything up nicely. All ready for lift out tomorrow, keen to see how the antifouling worked again. Most boats near me have grass skirts, with the Marclear we appear clean, but want to see the bottom before I shout!
Took the genoa into the sail maker for a wash and a small repair. The luff tape at the tack needs re stitching, always best to get tiny jobs done when you first see them.. a stitch in time and all that! At least I do not have to find room to store it at home!
This season I have not got a 'repair and fix' list as long as my arm, just a normal, 'service' list. Makes quite a change.... Wonder if the weather will be kind enough to allow me to get the cabin top repainted.... (2 pot poly, so needs to be warm..) Remember this is the first time it will have been repainted in 24 years!!!! Now that is not bad for a coat of paint.......
All towing gear loaded and ready for the off, all the rigging un-taped ready to slack off... ( i cover all the split pins and rigging screw locknuts etc in a green electrical tape fresh every year... gets a few comments as the tape matches the topsides and the fenders of course!!.. Hauling out and the forecast is sunshine! Got it right for a change... not snow... wonder what will go wrong?!
John
Saturday 3rd November 2012.
Where does the time go! winter is certainly sending a chill wind today, summer long gone... Spent a few hours down the boat today, sun was bright but the wind a keen northerly, felt it when we stopped working! Boat now empty, 3 car/van loads later. Others down the marina were saying just the same, where does it all go on board?! Boats are cavernous! We will be hauling out during the week and all I have to do beforehand, apart from removing the tape on the rigging and slacking all the screws off, is to remove the new spray hood. I have left it up as the solar panel is still topping up the batteries at the moment!
Hope your lay up plans are going well. Got to look after our ships during the winter, they look after us the rest of the year!
We have had quite a few enrolments recently. I have now got round to welcoming them all and to sending 1 CD to Poland and had another enquiry from a new member who has owned our boats and has joined as a friend, but now wants to build a model, so is after a CD too.
Welcome then to:-David Riley, who donated the Cockler and Bawley drawings. To Frank Dahmen with the WW 'High Nimbus', down Brighton way, To John Sheen the model maker on the Isle of Wight, he ran/owned a boat yard there... To Maurice Chapman with the Eventide 'Eloise' and his son with the GH 'Golden Mongoose'. To Dr. Ian Spooner in Australia, he is sailing as crew on a GH for the next 5 months, with a friend, round N.Z.! and also looking for one for himself! Used to own a 26ft MG on the Fal in Cornwall, hope to find out more about that ship. To Christopher Clement in Devon, one of the three part owners of the GH 31 'Imshallah', he also gave info about the GH 31 'Terrapin' that he had seen in Greece! and lastly to victor Wyle of Dorset with the Barbican 'Sivota'. a drop plate version based in Poole.
As you can see the mailbag has once again been bulging! Add to that a few nice pictures in from the Netherlands of a Vulcan, and more enquiries re drawings, boats for sale on eBay whose owners we have contacted and pictures in of quite a few more owners boats to add, you will see it gets a little busy here...
John Stevens, our Database Manager has promised a new version of the old database, but I am worried that with all the new members coming in he will never have time to catch up! Hope to get an update on the actual numbers of people enrolling shortly, as I feel so many have come in the number on the website may be out of date!
I have just about run out of burgees now, and am looking at getting more made, sadly the last manufacturer, in Burnham on Crouch, has closed, so asking around.. anyone any suggestions....
Off to sail maker with genoa next week, I was not going to bother getting it valeted this year as it all looked 100% and had hardly been over used, but of course managed to drop the thing into the marina as I lowered it.... Huh! Should know better!
All for now, John
Monday 29th October 2012.
As the weather was so damp and windy down in Essex last weekend I set to preparing the storage area in my garage for the boat gear that is about to come off 'Fiddler's Green', boxes of it! As part of my clear out I sorted out a load of new chandlery I had bought last summer as part of a Seagull job lot, form a chain of chandlers in Kent that closed.
I have now added loads of bits to the 'Bits for Sale' pages. I have also added a few used bits that I had acquired. Quite a list. many grubby shop soiled and even smoke damaged bits, (if you can damage stainless steel with smoke!) Some items in plastic packets that have partially melted... but contents 100%. Seacocks, rope and loads of plastic fittings blocks etc. worth a look, priced almost as giveaways!
Hoping to haul out in a week or so, after Guy Fawkes night.... not a problem these days but years ago I never liked to have the boat visible in the garden whilst Fireworks were on sale!
Talking of Fireworks, have you any out of date flares on board? I have. I did the Pains Wessex Flares demonstrator course many, many years ago and learnt from them that their flares were good beyond the 3 year date, if and only if, they were kept dry and in a padded and sealed container on board. (Not shaken about too much). They reckoned it doubled the life. So I have flares up to 6 years old.
Trouble is what to do with them after that time? I use time expired red hand held flares to light my garden bonfire. But parachute reds and smokes are more difficult. The red smokes can be let off at night at a firework display, but only if you are at a location where the resulting red stain from the smoke dust can wash out with the next rain. I let some off years ago on the brother in laws farm and stained the field next to the fire site for weeks, till it washed away in the rain!
Parachute flares are a real problem, no longer will the local chandler take them back nor will our local Coastguard. (Used to get rid of loads to him, I collected them up from all sorts of sources... so they were safely disposed of..) Not sure as I should write this, but bet I am not alone in doing it. I have found a way of safely disposing of mine now, by careful dismantling. I would only attempt it with the Pans Wessex I know... When safely stripped, (which is so easy, just remove the tape from the top and then the cap and invert, the rocket and flare etc drops out, into a bucket of water....) I then let off the empty plastic tube containing just the detonator, in a safe place with gloved hand! The rocket motor is dropped into a bucket of water and left to soak, before disposing as rubbish, and the red flare part inside on the parachute, can be also dropped into a bucket of water to dissolve and disable it and the residue of that disposed of in the rubbish or simply burnt on a bonfire. Far better than what I have seen recently, packs of flares thrown into a skip! If there was the slightest chance a child or irresponsible person got hold of these, I wonder if the thoughtless discarder would have a care?
How long will it be before they are actually banned or re designed to be more like the old Very pistols of yesteryear and we all have to have licenses again. ( I also carry personal flares, which are just like a .410 cartridge screwed onto a pen, they make a hell of a din set off at arms length, even with, as I have learnt, the other hand covering the ear! disposing of them when they expire, will be difficult....?)
The new strobe and laser distress lights have not quite got there yet, but expect they will... then the potentially dangerous pyrotechnics days will be numbered.
Then one or two of them will be on my Christmas list!
John
Saturday 27th October 2012.
Winters here! The temperature has dropped to near freezing overnight and only up to 5 degrees by midday. So autumn lasted a week? I am hoping it is a brief blip as I was off to the boat to strip off the 3 van loads of gear I seem to hide on her.. (OK little moggy Van fulls!). Have no idea how an Eventide 26 (OK 27) can hide so much gear! As it is F6 NE with sleet I will give that a miss today! Throw another log on the fire and settle down to an afternoon doing paperwork instead!
We have had more join as members in the past few days, will be back to you ASAP. Also trying to get hold of the guy selling the Levanter hull on EBay, for a borrow of the drawings so we can pass the on to others, so far he has not come back to me though, sadly. The boat is up for £1200, for a bare hull. Not a bad price but I wonder how many prospective builders there are out there in the real world. A few dreamers maybe, but as any one who has built a boat will tell you the hull is a fifth of the work and a twentieth of the cost of the final boat, so a long way to go.... The only exception to that would be if you have a 33 ft boat with a rotten hull and want to switch the lot to a new steel hull, even then it will be a load more expensive than you thought, and that's from experience. Sadly I would not like to see the boat lost, scrapped, but realise that is a possibility.... There are several steel hulls out there at the moment, including the GH39 that appeared briefly and did not sell and the two steel Riptides ??
Next Wednesdays evening meeting is going to be cancelled, I have heard from 3 of the regulars they cannot make it, so we will postpone it....
I have added a GH 26 to the For Sale pages. A prospective buyer queried why there were so many GH's for sale, he thought 1/4 of the ones built may be up for sale! not sure if that figure is right, but there do seem to be an awful lot. however I have heard that there are a lot of nice boats for sale everywhere, a sad sign of the times. I fear some will be for sale for a long time and none of these sellers will get a great price for them, certainly a buyers market!
Had some pictures in from the Netherlands of a steel single chine MG boat, think she is a Vulcan, will publish the pics and see if anyone can verify this..
Brrr. time to stoke the fire.. All my cats indoors, must be cold out there!
John
Wednesday 24th October 2012.
After 2 days of navigation exercises in the Blackwater, we got tired of the 100 metre viz and have returned to base! when you have done the length of the river a couple of times, with the eyes straining to see anything, it sort of gets to you!
OK good to practice the Dahhh Dit Dit and the Dahhh and to be able to navigate by echo sounder and compass, aided by GPS, but we could not see 20 feet on occasions and that was little fun. Proved the AIS worked, or at least it seemed to as I clocked one boat I knew that was transmitting in the marina, as we left and we had the report of another out there, the sailing barge 'Thistle' but she was in front and we never caught her to see if she was really as daft as us and out there!
One other vessel was sounding off, that we heard, and she appeared out of the gloom 50 yards away, just astern, off Osea. Weird stuff fog, sound really travels, but the directions the sounds come from can be very difficult to assess. We had thought her well off to one side... Objects like the yellow racing buoys are virtually invisible till you are on them. Quite startling when they appear alongside! Moored boats look massive, till you realise they are only a few feet away! Anyway after two days of that sort of fun it was enough. Back to base!
So the end of the season then. Everything on board working 100% and all set to sail, and we have to lay up... shame really, but keeping wooden boats out in the wet is not really good for them, so 'Fiddler's Green' is to be hauled out and brought to a covered winter store. We have a new secure location now... will keep her safe till Spring. The only job to do is a new mainsail cover, after 22 years mine has split! OK it has been valeted and repaired almost every year, but now the fabric is paper thin and had it. Not a bad investment all those years ago. Off to Lonton and Greys for a quote!
Had a couple of new members while I have been away, I hope to get back to you shortly, David Riley who donated the Cockler drawings, and ex owner of the Bawley 'Egret' and his father had the Cockler 'Eider Duck'.
And Frank from Saltdean in Sussex with 'High Nimbus' the WW. As he could not sell her he feels he is fated to be her custodian and will be restoring her! Well done Frank, keep us posted!
Back to the day job, Seagull customers waiting for bits!
John
Thursday 18th October 2012.

Today we have added another 2 designs and 3 variations of them to our catalogue of drawings. Thanks to the generosity of David and Sarah Riley, who have donated his fathers drawings for his 'Cockler' Eider Duck' we now have all the 1950 drawings for both the MG Bawley and the 2 variations of the Cockler saved and available on CD. I have not appreciated that the Cockler and Bawley were the same hull, just different depth keels. Nor had I appreciated that the Cockler was available as a bilge keeler as well as a centreboarder. All was revealed on the drawings! There are no less than 3 rigs on the drawings, including the Gaff rig here. Already had an enquiry from the owner of 'Jacinta' for a copy! £5.00 to members! And that includes postage! Have a look at her on the designs page.
Welcome to a new member too, David Lemon of Hampshire looking to buy a GH31... I will be writing to you later this evening David to welcome you personally.
Last weekend was not bad sailing weather, but sadly I had other things planned, not least a trip to a special printer to get the Cockler drawings digitally scanned.! Sunday I spent the afternoon watching the two sailing grandsons on a reservoir north of Colchester. Horatio, 7 next weekend, on Trafalgar Day, is fearless, he crewed for a chum and they whistled up and down the water. The no1 grandson has slowly but surely cracked it. Slightly shy and wanting do it quietly on his own he has learnt well. His Optimist was at the head of the 6 beginners boats all afternoon. The teaching staff at Ardleigh Sailing club were really having fun out there with the children, you could hear the laughter half a mile away! These Children were getting exactly the right start, sailing is fun! I also am getting a trained crew! I'm sure next year Horatio will be in his own Optimist, and no 1 Grandson will be hanging out the side of something sleeker and faster! That will cost me, but it's worth it to see the grins! Horatio has a new fancy buoyancy jacket on the way for his birthday!
I have now repaired the under side of the 65 year old moulded ply boat I have here and if it stays warm enough for the epoxy, I hope to fair off the outside of the hull before turning her over to epoxy the interior. Horatio will be be sailing it next season! (as well as his Oppie!). Bet that means another Seagull will be needed too! (got to learn to row first though!)
Reminds me that there are not many warm days left for outside repair work on our boats now, almost time to batten the hatches, just one last chance to sail next week for me, our Trafalgar Cruise... will be at the Green Man Bradwell Sunday 21st for the 'Immortal Memory' toast! Then hopefully the high pressure will last a few days.....
Helped a member take his boat round to the fuelling pontoon the other day. Was not a windy day, but breezy enough to make it interesting. the WW is a heavy old boat, with a lot of wind-age, so I opted for warping her into the berth from a nearby 'safe berth, and springing the bow out later, to get away. Something that comes naturally after a lifetime afloat, but sadly I do not see practiced by many....
Maybe that Seamanship trophy could involve more of a competition....?
Good sailing one and all.
John
Thursday 10th October 2012.
Sorry, forgot to mention a new member last week! Welcome to Geoff Shaw of West Yorkshire, he has at the moment a very aptly named catamaran, 'On the Level'! but is looking at an Eventide 26. So long as he has the up-rated, post 1973 keel, he will not be too far off the level with that!
I am off to get the Cockler drawings scanned this weekend, my local contact closed since I last got a set of old drawings digitally scanned. Hope to have these available soon, and already have a Cockler owner needing them! so pleased to be able to assist owners this way.
Was on board yesterday to fit new LED light bulbs to my interior lamps. I fitted white LED bulbs a year of so back, but they were too blue white. the new ones are 'warm white' and look very similar to the light given off by the old filament bulbs. Very nice! They are still use less than 0.1 amp and give out a brilliant light. We can use all 10 bulbs in the saloon, be nice and light and airy yet only use 1 amp! You can see the lights on board from miles away!
I just about finished off all my cottage painting this morning, all sealed and looking great, just a few touch up bits of topcoat in odd corners, for another dry day... but the weather has broken, hope you have the covers on there is supposed to be a lot of rain over the next couple of days.
Maybe just maybe the weather will improve for the 21st and a few days after...
John
Monday 8th October 2012.
Sadly just heard that Charlie Stock of 'Shoal Waters' died last month.
Charles was 85 and over the years sailed over 40,000 miles all without an engine. He could be found in all sorts of places and I recall offered assistance (in finding him a quiet mooring place) on the London River 25 years ago. He was always a cheery soul and would exchange a wave every time we sailed or motored past!
A year or so back we spoke whilst anchored up Lawling Creek, he admitted that day that as he could not raise his anchor, that day was his last sail.
Of course his legacy lives on as 'Shoal Waters' is now in the care of one of my seagull customers, Tony Smith, who sails her on the Blackwater still, now from Goldhanger and writes of his cruises in Practical boat Owner.
Thanks to Chris in The Netherlands for this link...
link removed!
However!!! The new owner of shoal waters has asked that links to his site be deactivated, and not nicely either. This man is no Charles Stock, he was a real gent.
John
Monday 8th October 2012.
'Little Baddow, 2 rescued from car in 5 ft of flood water!'
That was the news Sunday morning! pleased I cancelled our Seagull event!
Good news is the weather over the weekend , after the rain stopped, was brilliant, and 'Everjoy' is back afloat after many many years. Tribute to the work of John and Ann Morgan, for initially saving her, and to Ian Wilson for completing the project. She was launched on Friday at Fosdyke Yacht Haven in Lincolnshire. Pictures and video to follow and will be added to her page.
Ian has asked if anyone has a contact for cockpit covers.. As all boats are different I feel it has to be made to measure.... Sailmakers?
Though the weather was great Saturday and Sunday I never managed to get out afloat In 'F.G.' as it was there was no wind here at all anyway... Saturday morning I was preparing our 16 ft open boat and it's Seagull outboard, plus the tender's outboard that the grandson was going to use, till we heard the river Chelmer Navigation was in spate, that afternoon, too late to go boating. I cleared up and then decided to put a new plank..... in the cottage!
Sunday was spent completing or nearly so, that task and working on the other grandsons dinghy. I have now repaired the holes in this 65 year old, smooth moulded ply dinghy, and coated with epoxy and glass cloth. Should be strong for another few years! Will be sanding it off and smoothing it prior to rolling a last coat of epoxy over it and then painting.
Soon be too cold for Epoxy work outside.
Heard today that the 'experts' are predicting the weather pattern of the last 6 years may be the norm for 20 years! Great! So we all need to be afloat in April and have more reefs in the sails and better waterproofs... wonderful.
Hoping for an Indian summer, starting Trafalgar Day!
John
Saturday 6th October 2012.
Seagull Event tomorrow cancelled.
Heavy rain has caused flooding in the river Chelmer and its canal.
Friday 5th October 2012.
Today, through the post, arrived a full set of Cockler drawings!! When I looked at them I realised they also included the slightly deeper keeled Bawley drawings too.
We will have these digitally copied and will add them to the list of CD's available to members. We are indebted to Dave and Sarah Riley for these. Dave's Dad had them when he had 'Eider Duck ' built in 1960. Dave says he met up with 'Eider Duck' some years back in the north west via the Old Gaffers, and I suspect the owner who took him out for a nostalgic sail was the same Guy Fielding who we have as a member! Dave also tells us that he also owned a Bawley once, the version of the Cockler with deeper draft, bilge plates and no centreboard. Trying to get more info on that boat.
The old Gaffers were out in force on the Blackwater recently, as I reported here earlier, and I bet one of them out there was new member Graham Jenkins from Essex with the Cockler 'Jacinta'. Sorry I missed taking your picture... but welcome to the Eventiders Graham.
We have another new member this week, Clive Bamping with an Eventide 24 from Kent. This is an interesting one as it has an outboard for propulsion. We do not know of many with this set up and are trying to identify his boat, he has no name or sail number? Hoping he will come back with a little more info that we may be able to search our records with and help with the boats history.
John Hopthrow has found yet another Eventide for sale on the Bay, this one in Chatham... sold today for just over £1,000, not a bad price I suspect, as the owner did say it needed a little TLC. Strangely enough this 24 also has an outboard, you don't think it could be the same one.... Medway, Chatham.. could be, certainly adjacent...
We have had a mail from Paul, the owner of the GH 31 'Henry Rose' I will be adding an advert for her over the weekend, price about £33k. splendid looking GH.
We are playing Seagulls on Sunday, from Little Baddow to Chelmsford and back, weather looks to be better than the last couple of days at least! Could be a fun day! Hoping for a few more warmish days yet as I am epoxy coating a dinghy at the moment, hull repaired, now a layer of glass and epoxy to strengthen the exterior and I will be ready to do the same on the inside. Going to be a present for Horatio, the Grandson.
Talking of Horatio, Sunday 21st October, if the weather permits, I am off sailing for a few days to Celebrate Trafalgar! My crew and I will be in the Green Man at Bradwell that Sunday evening, for a meal, (Marina bar Sunday evenings closed for winter), if you are still afloat and fancy joining us.... will not be going far... Have had a chat with one of my Seagull customers today and threatened to sail over to him that week and make him open his bridge, he looks after the Potten Island one...! Last time I went to say hello the bridge got stuck for 6 weeks! As the Havengore is out of action at the moment, an upgrade apparently... will be very quiet round there... If the weather is calm it is a great place for wildlife, birds by the million this time of year.... deserted creeks too. Real MG sailing.
See you on the river.
John
Tuesday 2nd October 2012.
Weather last Saturday was perfect for a sail, but I could not tear myself away from an important job... I was painting the cottage. I grow and plant trees, built a wooden boat and live in a wooden cottage, all three need care and it was the cottage's turn! Took me and the son in law 7 man days to do the job between us and the rain started today 3 hours after we had cleaned the brushes... a result! One gleaming white weather boarded home again!
Monday, whilst the rain fell I took the day of from painting to join friends at Titchmarsh marina for a lunch time meal with Brian and Mavis. They have just put their beautifully cared for GH 32 on the market, see the for sale page. Due to Brian's stroke they have wisely decided their sailing days are over. Brian will not be off the water however and he has already worked out how to safely get on and off their launch alongside the jetty! Good to see Brian getting about and in good spirits.
I watched as a set of sail drawings for sale on the Bay spiralling out of control to a final price of over £100. Shame I thought, they will now go to a private buyer and be hidden for all time, however I am hoping the seller may photograph the drawing so we may reproduce it here, he says he wished it had sold to someone like us, we will see. Imagine my surprise when I open the mail today when I find we have been offered a set of drawings for the Cockler! Brilliant!, similar to the one sheet that was sold today. We are indebted to the son of the former owner of 'Eider Duck' for these!
Have had more information in from Julia re her Eventide 'Shantyman', nice to be able to add useful information to the history files we maintain.
Info in from John Hopthrow, a 'Friend'. 'I have wanted to tell you about the insurance that I obtained last Year for Pelagos [Sabre27] with out a survey from GJW Direct Silk house Court, Tithe barn Street, Liverpool L2 2QW 0500141141 insured@gjwltd.co.uk Contact Jo Griffiths or Carole Brophy. I have found them extremely helpful and not too expensive.'
Always nice to hear good stories re insurance companies, but i do wonder if the lack of the need for the survey may be more to do with the GRP construction. worth a try though.
I have 4 boats insured with 'Craft Insure' at the moment, my Eventide and our 16ft open boat and the grandson's dinghies. all very reasonably priced insurances.
Will be using our 16ft open boat on the Chelmer and Blackwater Canal this weekend we hope, our Seagull 'wind down' event!
I hope to be out on the Blackwater for one last hurrah on Trafalgar day. Meeting in the Green Man for dinner and then, weather permitting a few days aboard.
See you on the river?
John
Sunday 23rd September 2012.
It's officially autumn!
I forgot to mention another of the local boats that was unable to attend was 'Wedjit'. Tim the new owner sailed her to her new home port on the Humber in the past couple of weeks, log to follow we hope!
So it was that my crew Phil and I ventured out of Bradwell considerably later that originally planned, about an hour before L.W. instead of top of the tide and sailing north. We only got as far as the 3rd red can out before we ran out of water, we had just skirted past another local boat, 'Misty' that had stopped abruptly by the 2nd buoy. (That was always the shallowest bit...) so kettle on and wait! We stayed bolt upright, not so 'Misty'!. joy of an Eventide in her home waters!!
We sat in the sun sipping the coffee and marvelled at the vista. For as far as the eye could see multicoloured sails were dotted on a blue sea and overhead little white fluffy clouds in a clear blue sky, brilliant! The Old Gaffers had come out to play. At midday we gently floated and puttered on, sails up in a gentle northerly and joined the throng. Even the boomed staysail was up today. It was a brilliant sail in company with dozens of classics. A lot of banter between the boats... We stayed with them up beyond Osea, when the wind died totally and we drifted to anchor on the south side for lunch. More Old gaffers appeared and drifted past, never seen so many, looking so good, all together.
When the tide had made it's mark we slowly puttered off down stream as the sun sunk low astern, nipped over the Nass sands, on a falling tide!, to creep up one of the creeks off Mersea Quarters, where we found a quiet berth for the night, as the sun dropped into the cloud on the horizon it was suddenly very cold, we retreated into the cabin where the jacket potatoes in the oven were warming things up nicely.
After a convivial evening and quiet night we were awoken to the sound of a rogue halyard we had failed to tame. The boat was rocking and rolling in the tiny creek to a good F5 from the south.
We resolved to breakfast and move back to base before the predicted rain! We crossed the river in a very odd S/E swell and strong southerly wind that had now reached occasional F6! There were few out today! What a difference a day makes! We scooted into Bradwell, berthed, cleared up and were leaving the marina when the heavens opened.. the tail end of a tropical storm they say, but feels more like an Arctic one! 2 hours later, now, it is still pouring and the trees bent double.
Good timing I have to say. Very pleased I am not beating back down the Wallet at the moment!
As we left the marina we noted Mike and Anita had changed the sign on the marina bar door. Autumn opening hours..... another season drawing to a close...
We have a couple of last 'Hurrahs' planned, the first is Sunday 7th October at Paper Mill lock, Little Baddow! A Seagull Event... for those Seagull outboard enthusiasts out there and finally Trafalgar day evening will find me with my 2 regular crew, having a celebratory meal in the bar before, hopefully setting out for 3 or 4 days to finish off the Season... If you have the warm gear and heater on board, why not sail in company with us, will be very local!
John
Friday 21st September 2012.
The Walton Backwaters meet is not going to happen. Several of the boats that normally attend cannot make it, host Boat 'Right Eh Oh' is afloat but Brian is out of commission, (boat up for sale soon), two other boats are unable, 'Bonita' and 'Dougaljo'. I have not heard from anyone else.
One look at the forecast this morning conformed my feelings about a trip up the Wallet. Light head winds Saturday and stronger head winds with heavy rain for the return! OK still do-able, but why be wet and uncomfortable!?!? My crew, Phil and I like our comfort too much. So 'Fiddler's Green' will be in the Blackwater/Colne area Saturday anchored in a quiet creek somewhere, returning to base before the heavy rain I hope!
During the past weeks there have been more enrolments. I have finally got round to replying to all, ,welcoming them. Here they are, a big welcome to:-
Istomin Vladyslav from the Ukraine, he is keen to build a Senior.
Norman Macdonald from Scotland he has a dinghy at the moment, but again wants to build a Senior.
Russel Culf of Manchester has the GH 28 'Golden Drake' and is restoring her, he has just made a nice donation for several CD's.
Julie Bartlett is the new owner of E24 'Shantyman', we are trying to trace any info on this boat, but it appears it is yet another that has never been on record?
Oddly we also have Timothy Bartlett, (relation??) also joining, but with an Osprey dinghy, not sure which of our designs he is interested in, we have asked.
Sinsa Jakuus has joined from Croatia and already has a set of paper Eventide plans that I probably sent him 20 years ago, he is wanting a CD of the WildDuck drawings now. The Eventide being too large for what he needs now...
And finally an old friend of mine has joined us, Steve Delarre. Steve and his crew (and as you will soon see, he always has a crew!!). Steve sails a Westerly 21, but has joined because he and his son have realised they really want a Senior, preferably gaff rigged, to explore the tiny creeks on the Blackwater. I first met Steve 30 years ago when he was one of the musicians for the Blackmore Morris. We followed the Morris round the pubs of Essex.... Good music and dance, good company. Darian and I had the Morris dance at our wedding and Steve was there. Steve is a music teacher and vainly tried for 2 years to get me to make music with my Melodeon... (still got the squeeze box but gave up when Steve took up full time teaching again and had no time left.) Over the years we have swapped Seagulls and boats and trailers.... Bumped into Steve, his Mum, crew for the day, and Inca his guide dog, at Bradwell recently. He sails whilst blind! You can read about him and some of his exploits on his website. www.theblindsailor.co.uk quite a character!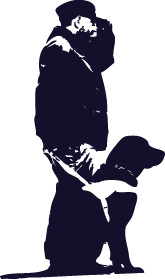 I have added more to many pages on the site over the past week and will be adding even more after I get back from sailing over the weekend,
see you on the river,
John
Tuesday 18th September 2012.
You see it here first. hot press from Steering Group Member Nigel's camera. the obstruction just north of the Nass beacon in Mersa Quarters has been removed!

Thanks Nigel.
John
Saturday 15th September 2012.
We are back! We have been pampered royally by Darian's son. It was her birthday whilst we were away and my 65th a couple of weeks before so this was a very extravagant present to both of us. Want to see where we stayed??

OK we only stayed 2 nights there, the rest in the Sheiks Arabian Summerhouses! Holiday beyond compare The world's only 7 star hotel, you can see why millionaires and rock/pop/football stars flock there, totally over the top. Interesting to see.
Click here to see the whole resort and see why the lad and his wife have been going back for years and I'm learning Arabic!
We have been fortunate to have accompanied them a few times before! You can also see why we named our two white feline Arabian princesses 'Jumeirah' and 'Madinat', (Sadly Madinat is the one we lost 2 years ago, being white with blue eyes, she was also deaf and did not hear the tractor.... a special tree marks the spot......)
The Arabian Gulf was like a hot bath and sand too hot to stand on, not surprising at 42 degrees in the shade in the day! (31 at night!!). Whilst we were there it was the hottest place on the planet for most days! Keeping their 10 month old baby cool however did not prove to be a real problem, even on the beach (in the shade) or round a pool...
Can you remember using damp tea towels to keep the milk cool, works just as well with infants, something to remember when the milk needs to be kept cool on board!
I took books to read, of course, and one of them I chose was one sent to me by member Alan Chinn, 'Rebel, 24ft of adventure'. It is the story of the adventures of a couple in Rhodesia with their home built 24ft Eventide, eventually sailing from South Africa across the Atlantic and Pacific, to Australia. A real epic trip that I am thoroughly enjoying... 40 years back there were no navigation aids, such as we take for granted and taking a shoal draft E24 on such a trip sounds crazy today, but then not so. Very good read. Will add details to the 'Books page' soon.
Seems the weather here has been good for the last 10 days or do too, and still is, hope to have a spin out afloat later today!
I have not got round to opening the mail as yet, but can predict there will be dozens of mails needing a response, so bear with me as I get back to reality!
I have to end on a slightly sad note. Brian and Mavis are swallowing the anchor. Brian has had to admit that since his stroke things have not improved enough for it to be safe afloat.... So their beautiful, wooden GH 32, 'Right Eh Oh' will be up for sale very shortly. Fitted out to the highest standard and maintained the same, fully surveyed and up to date this will be the best ever opportunity to buy a GH to step on and sail off round the world. Advert on the pages soon, price around £20k.
Opening the mail this one jumped out at me, Any takers!
Urgent TS Pelican is to be sold by Sealed Bid Auction - Express interest by Friday 7th Sept., bids by 17th September
34.6m (114ft) on deck. Three Masted Tall Ship Pelican of London. MCA and BV coded for World-Wide operation and equipped to sail in environmentally sensitive areas. Currently sail training and adventure sailing. Ideal for charter and expeditions. Outright sale for change of use may also be considered. Accommodation for up to 39 in 13 cabins, many with en-suite facilities and air conditioning. Well maintained. Certificates and Survey available - Please ask! - Based - UK
Good sailing, catch the rest of summer, see you on the river! (or at Walton on Naze next week?)
John
PS. Going through the mail I have now added pics to the GH and WW pages, to the Friends pages, plus a scanned brochure of the Evans designed 'Searover' that features there. I have answered loads of outstanding queries and mail and caught up a little, still more to go through, will catch up with myself shortly!
John
Friday 31st August 2012.
Am about to close down for a bit, so if you mail me I will not respond for a bit. Have to get a house sitter these days so if you call you will get the family, or a cat! Off to boat in a mo to check the bilges, and Yes, it is official now, it has been the wettest summer in 100 years!
I have added a few bits to various pages, have a look at the last entry on the books page... could be a broad hint for a pressie for your other half there!
Heard from Roger and Kathy, who sailed up from Newhaven to West Mersea last week, they are still holed up in the Swale waiting for the weather to improve, which it looks as if it is now, Friday evening, before sailing west down the channel. Next time we see their boat it will be junk rigged, a Schooner! Should be a sight! The GH 39 they had with junk rig, and sailed across to America and all round the Mediterranean looked a real picture!

Roger and Kathy's new boat.
I am off to wash down the epoxy on the grandsons dinghy, before sanding and applying the glass cloth and final coats of epoxy. Wonderful stuff, I have already repaired the damaged hull and faired it all off, with any luck will be ready to turn over and coat inside soon. I have to get it ready for Trafalgar day, young Horatio's 7th birthday! He is choosing colours for the hull at the moment. Older grandson just sailed the length of Lake Coniston in the little lug sail dinghy Ii gave him for his birthday 2 years back! (And climbed the Old Man too it seems!). A pair of new crew in the making!
Good sailing if you are afloat, hope to get out and up to Walton for 22nd September, anyone else going?
John
Wednesday 29th August 2012.
Out in the garden today, dodging the rain squalls and watching the tractors ploughing the stubble in, I was aware of the hundreds of swallows flying south. So that's it Eh?. For the last 5 years we have said the weather was rubbish, but this year has to take the biscuit! Never known a wetter start cold in midsummer and windy to boot. I have had enough I will be away for a week or so shortly, going to catch some sun, forgive me if you mail and do not get an immediate response, I might be sunbathing somewhere warm!
We are still getting loads of enquiries and mails and today I had a call from Robin Sjoberg, who was the RYA Cruising Officer! Nice of him to be in touch.
I have just added another boat to the for Sale pages, a different Eventide 26, she is gaff rigged. 'Camelot', she was based in the UK for a time, then in the Med for 6 years. The owner Roy brought her home and based her on the east coast. A good solid cruiser for £1400!
We have had enquiries from Russia for a CD of drawings, and another from Africa.
We have found out a little more about the GH 31 for sale in The Netherlands, apparently she is not quite for sale! Like so many owners I think the owner is waiting for a caring new owner to reveal themselves before they part with her. Johan has set up a page regarding his search and the GH and it is also in English. http://johan.vermij.org/blog/category/english/
I have pointed one ex owner of an Eventide, 'Omrod' to where she was last heard of, and have had more details about one that was stolen, never to be seen again, from Maldon in Essex, many years ago! 'Lily Belle'.
Had a couple of lengthy mails from a friend from the old days of the assoc, he has been with us as a friend for many years, but had missed the notice about the 'passing' of one or two of our friends from that era.
The wind and rain continue unabated here, must get down and check the bilges! Despite all my attempts to make the cockpit sealed, some still gets in, think it leaks in round locker lids, got to be sorted, cannot have fresh water aboard! Recipe for rot!
Signing off for now,
John
Sunday 26th August 2012
The sun is shining!
Yesterday at West Mersea we got soaked to the skin and frozen, wind ripped flagpoles off buildings and stall holders tents collapsed. We stuck it out long enough to watch all the wacky races, but had to admit defeat and retreat to the car to warm ourselves up, dry out and change. Missed the best bit, the greasy pole.
By evening the rain had been blown away and the thunder and lightning a distant rumble! We had 5 boats crews sat to dinner and enjoy the fantastic food at the Oyster Bar again.
Afterwards a quick sorté to the fun fair before the fireworks. The opening firework went off, then there was a 15 minutes delay, there must have been a lot of water in the boxes! Eventually they got the show dried out and lit and it was a typical corker. What we did notice as we watched though, was the severe drop in temperature! A real autumnal chill. A reminder to get out while you can and laying up is now approaching! Summer? What summer???
The wind died down overnight and a small ridge of high pressure came through, making Sunday a relatively nice day, contrary to the F7 forecast! Sadly Monday looks windy again, and I will not be venturing out if it is. I hear they have changed the opening of the Para Olympics because of the weather, pleased it id not just us getting a raw deal!
Off to work in the garden on grandsons dinghy, at least it is warm enough still for epoxy to go off.
John
Saturday 25th August 2012.
West Mersea sailing cancelled.
It is 1120 and the races at Mersea have apparently just started, according to the radio, not too windy, maybe 5 to 6 but i cannot even see the Blackwater let alone Mersea, rain has blotted it out. We will drive over later, as will most crews, to have the meal enjoy the atmosphere and watch the fireworks. If we get over early enough we will watch some of the inshore events, backwards rowing and greasy pole etc. Roger and Kathy, our intrepid transatlantic GH sailors, have already arrived by boat, they saw the forecast and set of earlier in the week from Newhaven. But even they have opted out of dinghy runs ashore and will use the trot boat. Hope the rain does not dampen things too much, fun fair and fireworks are normally good. We will try to gather on the WMYC lawn for a salute to MG! Weather permitting!
Not too many days left of this abysmal summer, we have to try and make the most of them, so if it improves enough we will be out Monday.... Wedjit is in Bradwell and may be of out today and sheltering in a creek till Monday, may get a closer picture of her under sail, could not catch her last time, lee-boarders can be fast!
Got someone coming to pick up boat bits this week, will be posting more on the bits page soon! Loads of bargains!
Enough for now, we are watching racing raindrops on the window now!
Really damped off, John
Friday 24th August 2012.
Additional info 2345, West Mersea, sailing cancelled, F8 forecast.
Those booked in for the meal travelling by road, except Roger and Kathy who sailed there early on hearing the forecast!
An Opps! I made the GH in the last entry a foot longer than it actually is! corrected.
Heard from another WW owner that he intends to drop in to West Mersea, but sadly the weather has put off another WW owner, who is now coming to join us by road. Yes the weather is going to be wet, great! Sunday and Monday should be OK!
I have at last got round to answering most of the enquiries and new enrolments, one to go, be with you shortly Andrew!.
Had more enquiries for CD's too.
Heard back from Roger about the Eventide Terrapin that was written off. Apparently they were trailing her when they were hit from the rear by a 40 ton lorry. The transom went through the Lorry cab, No idea how the driver fared, the bow ploughed into the roof of the Land Rover, Roger believed she saved their lives! She apparently was bought by the insurance agent, did she ever get repaired?
Will try and get a few sails added to the Bits for sale page later.
All for now, off to post office with today's van full of Seagull parts.
See you on the river.
John
Wednesday 22nd August 2012.
With the weather cooling after the hottest weekend for ages it comes as little surprise to find rain forecast for our Bank holiday meeting. We hope it will be light and refreshing! Several boats are hoping to meet up with us on the moorings Tony Nelson has obtained for us once again, top end of the Strood channel, the last 20 buoys chose one to suit. Tides are such that I do not expect to take the ground at LW.
We have 15 booked for the meal in the Oyster Bar. We will doubtless grab a pint and gather round MG's bench on the lawn of the West Mersea Y.C. too.
Regatta day with all the fun afloat, the greasy pole and the funfair, and brilliant fireworks too, just toss a coin or two in the collecting buckets!
Sunday we will have a sail out in company to anchor in a creek nearby for the night and off home Monday.
Other news. the Seagull event has been changed ever so slightly, not the pub but the steakhouse and grill /bar next door. the pub were not very forthcoming.... the Steak house have been very obliging.
Enrolments, we have had another 3. Welcome to Andrew Bailey in Crewe, no boat at the moment, welcome back to Roger Harris who has owned the Eventide Terrapin, (Sadly I learnt destroyed in a car accident on her trailer) and the GH Proteus, that appears on the Gallery! He is thinking about a WW or maybe a much smaller WD. welcome to Alex Rogers in Australia, building a Waterwitch!
Have also sent a CD of drawings to Poland!
Spoke to Doug the other day, he and Alan and Nick have been beavering away in Bradwell and have repaired his side decks, altered the genoa sheeting and removed a pair of redundant stanchions each side. I hope to crew for him again soon to test it all out!
Nigel of The Barbican Dianne II will be up the Ore this weekend, sounds like a nice trip!
Look forward to seeing Kathy and roger sail to West Mersea in 'Boudica', they are to be selling their GH soon. 'Moondancer'.
I have added a boat for sale, a Golden Hind 26, the last to be made, 'Lady of Lockerley' with an inventory list as long as your arm and a pedigree to match, mouth wateringly good price too!
From the Netherlands comes news that the very successful meeting over there is to be written up in a Dutch magazine ad maybe in Y.M. we will have a page soon, with loads of pics and video links!
We have had enquiries from the Netherlands re GH 31 no 18, anyone know anything of her? The Dutchman is looking at buying and came up with an odd statistic, a large percentage of GH 31's are for sale, why? I do not believe it has anything to do with a mysterious 'Crumble by' date, I feel it is more likely the owners are reaching a certain age and want to retire from the sea. I know of several who are really keen that the boats that have looked after them so well for so many years, go to good homes. Times are difficult for sellers these days though...
Heard from Paul Leader re a set of sails he has for sale and he is asking if anyone knows the whereabouts of an Eventide 24 called Lily Belle, the name was engraved inside the cockpit. she apparently went missing from Maldon many years ago and was never seen again! I am hoping to get a picture to show, she had a couple of features that may make her stand out after all this time.
Chatted to Nigel with Niarbyl, he is contemplating having a new hull made for her and shifting all the gear over. (some may remember her as 'Odden' sailed by that wonderful character Dave Wright! Interesting project...
Certainly busy at Eventide Central!
Enough for now, off out into garden to put another layer of glass and epoxy on the grandsons 'new' 1947 dinghy!
Good sailing, enjoy the weather while it lasts.
John
Tuesday 14th August 2012.

You officially have a pensioner running the website now! And what's more the weather stayed good for my birthday and the skies clear to see the shooting stars, ain't life grand! Even dressed overall for the evening, and was pleasantly surprised to find several berth holders nearby knew what it meant and wished me a happy birthday. Tradition is not all lost.
Another new member in today Zygmunt Jurek from Poland who is after a CD of the Senior for his dad to build! Welcome!
Had an enquiry re a boat on EBay,
http://www.ebay.co.uk/itm/280938138799?ssPageName=STRK:MESELX:IT&_trksid=p3984.m1555.l2649#ht_500wt_1288
Yes it is an Eventide, but is a poorly state and in desperate need for TLC before it crumbles away... a difficult boat to sell.
On the other hand I have heard from Bill Booth that Coronette is going to be up for sale again, a really nicely preserved classic! sadly nice boats are difficult to sell as well.
Got a couple of boats to add to the For Sale page tonight, and some more gear.
Heard from Roger and Kathy of Jua fame, (now GH. 'Moondancer'.). Sadly they will not be sailing 'Moondancer' to the West Mersea meet as she has been damaged on her mooring in Newhaven, now being repaired. Good luck to you with the repair.
With rain back and unsettled weather forecast for the next week I am hoping for a small miracle and a nice August Bank Holiday. By the way still 2 places available for the meal Saturday night, get in quick.. 01621 778859.
Grab the last days of 'summer'? when you can!
John
Tuesday 7th August 2012.
A little birdie tells me the weather is improving for the 'Glorious Twelfth'. (no so if you are a Grouse!). We hope to be out and about enjoying the chance of a summer sail. It's my birthday of course! Real biggy this year.....
The next occasion will be the West Mersea Meeting!
Fancy dinner at the Oyster Bar???
Again we have moorings available to us right up the Strood Channel, and it is Regatta day, so loads of fun on the water, plus the best Fireworks display locally in the evening. I have managed to get us a table at the 'Oyster Bar' again, (Best fish and chips for miles!!), they are staying open this year during the Regatta but we have the last table at 7pm and already have 9 booked and only a table for 10. As we are regulars he is prepared to extend his opening hours till 7.30pm if we get more than 10, so if you want to come along, by boat or road, and join us PLEASE let me know by Friday of this week so I can alter the booking from 7pm to 7.30pm with the larger table.
I have been busy as heck here, all sorts of projects and work, and have just found time to reply to 4 new enrolments. So welcome to all of you, have already mentioned the names... we are still getting more join that I ever though possible, all sharing our view that an owners group aught to be run by owners, makes plain sense to all, I am pleased to say. Got another WW CD to send out and an enquiry re the Eventide, who said we were Dinosaurs!
Working on a 10ft dinghy for grandson Horatio at the moment, think I might be swapping it in for something faster as at the age of 6 he has just had his first sailing lessons and been off on his own! Even, with a chum, has tipped their Pico trainer over repeatedly and righted it! Amazing! No 1 Grandson if now hurtling up and down in his Oppie and has even taken Horatio out for a spin. I feel a Topper or similar coming on! maybe two! Their mum is now trained as rescue boat coxswain and has done her first rescue, they all love it. Dad id doing the powerboat then sailing course too. I think I have crew in the offing!
Member just called and on his way round to pick up some boat bits, must sort out the rest of the chandlery I have here and get it advertised.. (Bought up a job lot!).
Enough for now, come on sunshine!
John
Thursday 2nd August 2012.
Summer is flying by and still little summer weather! May get out during the week again if I see a good day! You have to make the most of them!
Spent Saturday night in a local creek, was idyllic, 11 seals and 3 pups, one suckling from mum, right alongside! Next morning when leaving found we had fouled our anchor on some old moorings, took 45 minutes to clear the anchor. Fun! More of that episode later. Just got back to base, sparkling sail, then the thunderstorm!
Had a very nice surprise in the post today, a package from Australia, from Alan Chinn, a little present for me, a book for my shelf! Entitled '24foot of Adventure', it tells the tale of 'Rebel' a 24ft Eventide built in Rhodesia and the subsequent escape of the owners and builders from the new Zimbabwe and all the terrors of that regime, to sail to Australia! I had heard of 'Rebel' many years ago when I was Editor of the old assoc, and I think I have read and may have a copy of another book about her African adventures, I will have to search the other bookshelves. Signed by the son of the two intrepid sailors it will be bedtime reading for a little while and yes will join the other tomes from sailors of our designs, that nestle on the shelf in my study, next to MG's volumes! Many thanks Alan!
Another two enrolments this last few days. Welcome to Timothy Lawrence in Ray City USA, will be mailing him shortly to find out more as he has entered his boat as a canoe!
Welcome too to Dr. Alexander Wrasse who has also requested a CD of Waterwitch drawings and has asked specifically about the Leeboard version.
Told you all about our adventures in the Solent with our 16ft boat, 'Seagull', well I have another jaunt with the Seagull outboards in the offing this autumn, for those with Seagulls who may be interested.

Sunday October 7th, Paper Mill Lock on the Chelmer and Blackwater Navigation. 'The Essex 'wind down' Seagull meeting'. This year I will be taking part in a training day along with Darian, sister Sue and brother in law Keith, (oft crew and Seagull owners too!). We will then be allowed to operate the locks! We launch at Paper Mill free, courtesy of SOS but have to pay a £15.00 fee per boat for lock and canal use. The intention is to putter upstream to moor by Barnes Lock, then walk the few hundred yards to the 'Fox and Raven' public house for lunch, returning to Paper Mill for coffee and cakes before hauling out.
More info here. http://www.saving-old-seagulls.co.uk/seagull_racing/seagull_racing.htm
So if you have a Seagull and a dinghy and would like to join the fun, get in touch. mail me at SOS.
Sold a set of port hole rings from the pages the other day, donation of £47.50 to the EOG! I have to get organised and post loads of other bits I have here for sale!
Enough for now,
John
Friday 27th July 2012.
Good to meet new member Martin Wednesday. Only a few of us, but good venue! next monthly meeting at West Mersea over the Bank Holiday weekend, Regatta Day, with evening fireworks!
At the moment millions of people are watching the Olympic opening ceremony, here I am one of those who sees it as a ridiculous waste of public money and a money making exercise for a few. Speaking with many others I have found I am not alone with my views, but most seem to keep their heads down. Sadly that is what has happened in the UK for the past 25 years or more, and I do not see it as a positive move. If no one stands up for common sense or morality we are lost. Hey ho, at least the phone is not ringing whilst I work! Getting more cynical as I age!
At least the EOG flourishes, loads of positive mails and enquiries.
2 more enrolments today and another enquiry that I suspect will end in a new member!
Welcome to Angus Mc Kay in the USA, have yet to establish what boat he has. And to Geoff Tyson in Australia with plans for an Eventide but as yet not built! With a little encouragement...
Had an enquiry about the Leeboard Waterwitch drawings today, another prospective builder maybe?
Talking or Leeboard WW's I saw the Leeboard WW 'Wedgit' yesterday. I went out as crew on 'Dougaljo'. We sailed up on the tide to Maldon stopping alongside 'Wedgit', sort of unintentionally, as we got too close to inspect her. Little did we know she was hard aground, I thought she was moored fore and aft! 15 minutes later, waiting for the tide and admiring her all the while, we floated off. Was a smashing day for a sail!
Met Tony and Sally with their immaculate 'Silent Annie' at Bradwell, Tony confirmed our moorings were going to be available.
Had a mail from Roger and Kathy tonight, they have shipped their GH back to the UK whilst they sort the farm out in Spain. They intend to sail round from Newhaven to sail with us too!
Told you I had a good trip round Hayling Island the other day, here is us returning to Itchenor.

Colour scheme looks familiar!
Hope to escape this weekend, for quiet night on board, we will see. At the moment I am busy parcelling up some spares sold off the pages. Have a few more parcels to sort for the morning too, then maybe I can nip down the boat.
Hope you are getting to enjoy this nice weather if you are in the UK...
john
Wednesday 25th July 2012.
Meet at 'Izumi' Maldon tonight.
Come along to Izumi at Madison Heights, Maldon for a Chinese buffet meal and chat!
Welcome to 3 new members, we will have to have a recount, numbers are growing just as fast today, as they did nearly 10 years ago when we started. Wow!
So welcome to Matthew Sergeant in Shropshire, interested in the WW and to Keith Austin in Oz also a WW man, WW CD's wanted by them. A senior CD wanted by David Cochrane in Yorkshire, interested in building a Senior.
May have shifted a few parts from the Bits for Sale page, and in the next day or two will be adding more bits and more boats, 'Lady Lockerley' the GH 26 will be posted for sale shortly....
Hope to be out afloat tomorrow, in Doug's WW. Maybe see you on the water.
John
Monday 23rd July 2012.
Summer's here at last!
After the weeks of dismal weather so pleased to see summer here. Even more so because last weekend we trailed our 16ft open boat down to Itchenor and joined a group of fellow Seagull enthusiasts to circumnavigate Hayling Island, a 5 hour, 25 sea mile run! The sun shone and the wind abated. Lets hope we can have the same for Eventide Events!
The next big one is the August Bank holiday of course. we could have meets on the Solent and North West as well as at West Mersea of course! (Mersea Regatta weekend, buys but great entertainment and fireworks!
Over the past week had a couple more adverts in for the pages and another request or two for CD's, new members. Welcome to David Cochrane wanting to build a Senior in Yorkshire, but hoping to sail the Bristol channel area.
I am still trying to catch up with new additions to pages, am getting there, slowly!
Nice to hear from Ian that 'Everjoy' is edging closer to launching!
Back soon,
John
Tuesday 17th July 2012.
Sorry for the delay, over a week, opps. I was just waiting for the rain to stop! Dry on St. Swithin's, then tipped it down the next day, typical.
Today by contrast has been great. Working on boat in the garden last few days, got a trip to the south coast planned and another Island to circumnavigate! more shortly!
Welcome to Matthew with the Eventide 24 we were watching on E-bay, 'Marlin', she appears to be junk rigged and with a rather short mast, awaiting more from the new owner.
Just sent out CD of the Riptide and have another enquiry for a CD of the Eventide. This is from someone who bought plans proper many years ago but gave up and binned them, but had now had the idea to build again, hope it works out.
Have had lots of calls from Dave the new owner of E24 Jemima No 270, she is in heck of a state and is in dire need of someone to rescue her. Intact at the moment, but with the light keel and bare wood everywhere she is on the 'endangered list'!
I have found an phone number for a previous owner of 'Mystique' and hope to try and speak tomorrow.
The new webmaster has been quietly working in the background and has redrawn the burgee. will be reloaded shortly to clean up the image. whilst on the subject of burgees, anyone know of any cheap, reliable suppliers? Sadly the firm we had them made at before has closed and one quote I got today was for nearly twice the price... still mailing round, but if you know anyone. Or if anyone is willing to sew up 100 golden burgees, I can have them printed in the black!
Just trying to catch up with a load of mails and amendments to the site. getting do many it is getting to be difficult.
So much so that I have given up on the Newsletter for the time being. To be honest the Newsletter was repeated all over the site so a walk round the site and especially keeping up with this page kept you up to date. However we have had a couple of good meets do I hope to add a page or two about these later.
Yesterday heard from a friend from the good old days of the old association, he has an Eventide to sell, hope to get more details shortly. Named 'Pegasus' for those that recall her!
Time to pack up, gone midnight, so should be Wednesdays!
John
Sunday 8th July 2012.
With flood warning all over the country and torrential rain overnight here that flooded my garden we could be forgiven for believing someone has really upset the weather gods! Down at the boat yesterday, which as it happened was a nice day, apart from the occasional torrential downpours, hardly a boat had moved all day, think owners have given up! I was busy at home clearing a space for a new project, lot of heavy work, and aching today, but my garden is now totally cleared and ready, watch this space!
Today I have used a clever device and scanned some 1960's slides. The have come out very well. I also scanned some equally old photos sent in and have added all with the text from a lengthy letter, to the Waterwitch page. Great to Have Bob on board, as a Friend. His story of the building and sailing of his 'Waterwitch of Filey', is a tonic.
Just hoping for a change to all this wind and rain, all down to the Jet stream shifting position, to be over us in the UK, they tell us, but no one knows why really, or can predict when it will get back to 'normal'....
Hope to be out on the water next week tornados and thunderstorms permitting!
John
Wednesday 4th July 2012.
I have been ploughing through the mails and messages and I am beginning to catch up, just posted a Riptide to the For Sale page, 'Mystique' Bob Marshall's boat. Joe and Abby have been living aboard for the past couple of years and have rebuilt her, joined us and are virtually instantly leaving, as they are selling her. Welcome to the Eventiders both.
We have had 3 requests for CD's and these are being made up as I type, and another new member, Jouni in Finland who is after a WW CD. On the way Jouni!
Also heard from David Prior with 'Rigsa' the Kylix, she is being put up for sale and I will be adding an advert for her. On the plus side of the adverts sold my daughters boat! One to remove!
Will be slowly working through the backlog this week.
John
Tuesday 3rd July 2012.
The week we booked for our local cruise in company paid off, albeit Wimbledon week, Darian takes the credit for that. 2 crews met in Bradwell marina bar and a third was making their way, we hoped, south. Good to Welcome new owner Tim with his newly acquired Waterwitch 'Wedgit'! The more astute will realise this was dear friend Peter North's boat, Peter has decided to swallow the anchor... She sailed well, we could not catch her!
We sailed to The Colne the next day, visiting Brightlingsea and spent the night in the upper Pyefleet. Sadly Another WW, Bonita, had battery problems and could not join us. We locked into Heybridge basin and Wednesday evening 3 boats crews and friends 11 of us in all had a convivial meal in the Jolly sailor.
The week was cut short Friday by the weather, but we had 4 good days!
Have had a donation in for a CD of WW drawings, have to sort them out for posting.
Also a box of slides and I have borrowed a digital copier to be able to copy colour slides, the results will be on the WW page shortly 'Waterwitch of Filey'!
Pleased to announce the Eventide 24 saved by John and Ann Morgan, 'Everjoy' is finished and in the boatyard in Lincolnshire awaiting final rigging tweaks and launching. Well done to Ian for taking over from the Morgans. Ian has just sent in a CD of pictures that I will be adding to his page on the builders and restorers section.
Have not opened the mail box yet, bet it will be overflowing!
Back soon,
John
Saturday 23rd June 2012.
We hope to be afloat from Sunday evening, sailing to the Pyefleet maybe to meet up with one boat coming down from Walton area, then sail locally, in company, before ending up at Heybridge basin Wednesday. So the monthly meeting could be at Heybridge Basin in the Jolly Sailor. Call on 16/72 or phone on 07850 286607. Family at home looking after the cats, so use the mobile to get me.
Great news in from Ian in Nottingham, he is finished and in the boatyard with Everjoy, just sorting the rigging before launching, pictures on the way to add to the page on the builders and restores pages. News too from Tasmania, John is working hard on that Senior, I have more pictures to add.
On the Blackwater we under stand Wedgit is back afloat! congratulations Tim, hope to catch up with you during the week!
Always great to hear boats being put back into commission, now all we need is a little summer weather to be able to enjoy them!
Right, I am off to cut the grass as I'm told we are in for a basinful of rain tomorrow!
See you on the river!
John
Friday 22nd June 2012
Not Midsummers-day!
A little research has found the dance naked round the stones day is Sunday the 24th! All to do with the Earths orbit, the wobble and changing angles of dangle! We will raise a glass to the setting sun at Bradwell Marina Bar that evening! As Darian always reminds me, its all down hill from then!
Nice phone call this morning from one of our elder members! Tony Scrace, who you may remember, built a 30ft version of the Eventide in the old Rhodesia, more like a GH really, designed by MG for him based on the Eventide of 1957! He shipped it overland to South Africa when Rhodesia went and took all his worldly goods with him! The boat was sailed extensively and survived hurricanes at sea and even a mutiny when the paid hands tried to take over! Eventually shipped back to the UK when Tony returned, I helped him sell her when it became time to 'swallow the anchor'. Tony rang to tell me that at the young age of 91 he has designed and built an outrigger sailing canoe, unsinkable and with good sailing ability. Tony is a wiry chap and was fit as a fiddle when I last saw him a couple of years back, he tells me he is in training for a trip across Scotland in this canoe. He wants a companion to sail the Caledonian canal and Loch Ness with him later this summer. If you fancy an adventure, please get in touch and I will pass your information on to Tony. Tony is sending in pictures, and I will post them on this page for all to see.
I spoke to my sail maker yesterday evening, he promises that my new spray hood will be back on board in time for me to sail Monday.... should not have failed first time out, am hoping for better...
Spent an hour of so on board fuelling up and adding another battery for my fridge, now have 200Amphrs devoted to it, am hoping that will be enough! If the sun comes out the Solar panel will charge it. Have added a few other bits of kit this year, tiny stuff, to connect P.C. and radio to mp3 player, will see if that all works next week. I have a very old 'Stowe Log' on the office desk as I type, just have to connect new transducer cable then that will be tried out on board. They do say that this log was so accurate it was used to calibrate others, we will check to see if that is true!
Helped remove a keel last week, was horrified to find that not one of the keel bolts was actually holding the cast iron on. most of the nuts on the tops of the bolts wring off to reveal red dust beneath them, none went right through to secure the keel. Speaking to the previous owner, he had never checked the bolts and we think they had been in situ for 50 years plus. Had the boat been launched without checking someone may well have drowned. I will post a couple of picture on the Owners tips pages soon.
Hope the sun comes out soon!
John
Thursday 21st June 2012
Midsummers-day?
Well they cannot quite make their minds up if it was yesterday today or tomorrow, but either way where is summer? F7 SW blowing tonight and the rain has been torrential again. Still it does not appear to dampen the enthusiasm of our members. We have had some great mails in again this week congratulating us on the site and our stance on 'Owners Groups'. Won't dwell on the fruit cake we had to ban from the forum, suppose there is always one.
Another three enrolments this last few days, so a welcome to Ian with the 3tonner 'Humbug', do think that is a great name! She is kept on the Solent... To Daniel Booth in Australia with a Senior, we think, not too sure if he has one or is looking at one, will clarify later we hope, and to the Rev. Redelinghuys in South Africa who has joined as a 'Friend'.
We have heard from Helen and Eddie with the MG Tamaris who are looking for a rigging plan, can any one help? A photo of Tamaris would help them, they are rigging the new wooden stick they have acquired.
We have had an enquiry re one or two of the books on the pages that are for sale, hope to be posting one or two off to Tim shortly.
Peter with the GH 39 'Quicksilver' is looking for drawings, sadly we have none and last we heard from Terry's family they were not willing to part with them, so sadly like so many other drawings they will eventually disappear. The drawings we have are all archived and posted to boating organisations for posterity, as well as to all and any member who needs a copy, so we hope these will remain in circulation for years to come, for free.
We have had another enquiry for the Senior drawings on CD, Richard is contemplating building. May be a Selway-Fisher stitch and glue hull first!
'Fiddler's Green' and crew hope to be joining the crew of 'Bonita' for a gentle Blackwater/Colne/Crouch cruise over the next week, weather permitting, back on here when I can.
Thanks to John Stevens I have just been able to watch the Griff Rys Jones's sailing barge trip from Essex to the Thames on board Dawn.
If you click this link:- http://www.bbc.co.uk/programmes/b01jrlv2
You have just a few days to be able to watch it, a great way to relax for an hour! Thanks John.
Back soon,
John
Friday 15th June 2012.
Despite me being back from holiday, the weather gods are still throwing it all at us, cannot believe we are but a few days from the midsummer solstice and we have not had any settled summer weather yet. I heard this morning that there was a hint of more settled weather from mid week next week onwards, do hope so, as Fiddler's Green and crew would like a nice week whilst the lades are aboard! If you are able, join us in the Blackwater, Colne and Crouch areas from 24th June on.... cannot promise good weather... but...
I am struggling to catch up after the last week away and here I am talking about going off again! I am sorry if I have taken a while to get back to people, and there has been a lot of mail. I hope I am on top of that now, just have to sort out all the new pictures for the site that have been sent in.
The Meeting in the Netherlands has been a great success. I have a load of pictures to add, but as a taster how about this for a sail past! There are loads more pictures like this one! Good to see the Burgees flown!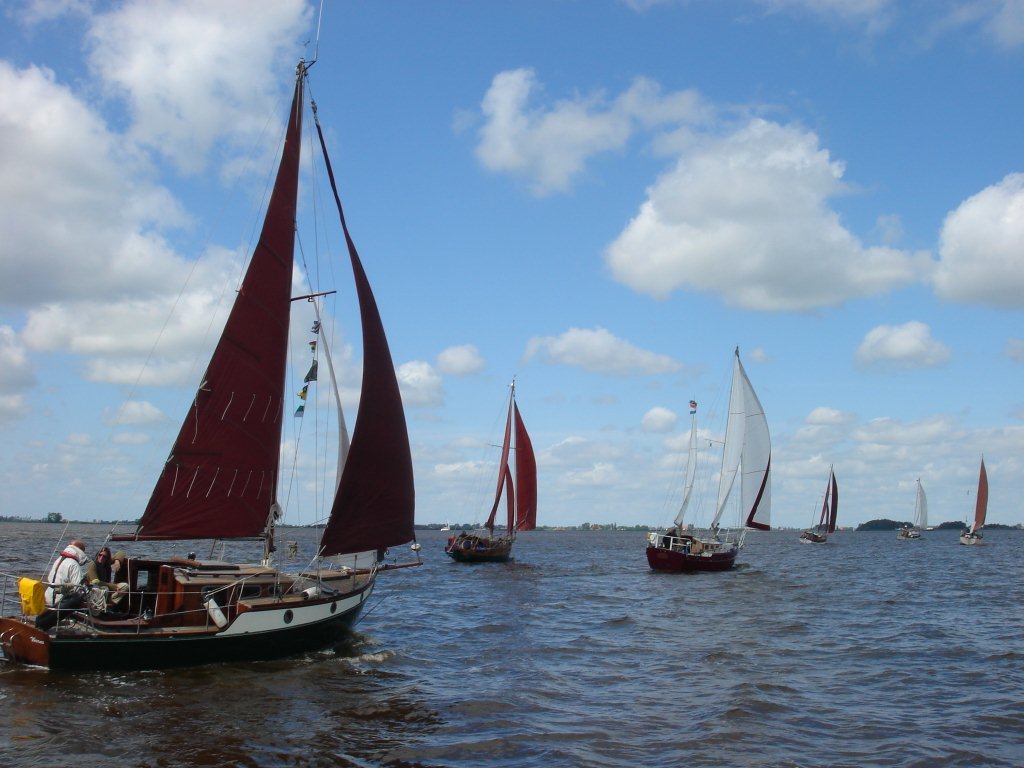 Great to see so many MG's and friends out together. Chris our man in the Netherlands, was there and has already sent in some video clips.. I have been asked by Eade one of the new Dutch members to say 'Netherlands', rather than 'Holland', as Holland is just a small part of the Netherlands!
I must extend a welcome to a whole raft of new members that have enrolled in the past 2 weeks.
Richard Cann in Australia looking to build/buy a Senior.
Mark Osborn of Eastbourne, in the marina no less, has saved 'Carina' the Bawley we seen and have spoken of so many times, that was for sale in Conyer. Hope to see her back in use in the not too distant future, she is being transported to Chichester shortly.
Welcome to Toine Bles in Leiden Zuid Holland with the Wild Duck 'WD40' love the name! I met this stretched WD in Gooes many years ago when called 'Die Struise', which I was told translated roughly as 'Hard Woman'!
Welcome to Eade in the Netherlands as a friend, his friend sailed his MG in that meeting!
To Giorgio from Italy who has just purchased the Atlantic Clipper 'Cossack'. she looks terrific, Giorgio tells us he has just to sort out new internal lighting before she departs the UK bound for the French Canals. Have a few nice pictures to add to the site from him...
And finally to David in Hartford USA, who wants to build a new Eventide!
In addition to the new members there was also a PayPal payment waiting for my return, from member Alan Wellings who has bought Colin Faggetters 'Teal' design drawings on CD.
After my week away I have tested all the gear aboard and worked out how best to tie down the 3rd reef in the new mainsail! The new Battery monitor has proven to be as good if not better than the first one, so now I can monitor the services and the start battery from this new one and the fridge from the original. They are the Nasa marine BMI and BMI+.
The AIS now works well with the proper lead. It shows all the bigger boats and ships on the plotter plainly.
The only item that caused problems during the week was the electric fridge. As the sun did not shine to top up the batteries with the 32w solar panel, which can work so well, I have just bought an extra battery to add to the fridge bank, making the total Amp Hours up to 200. Now I should not have to run the motor so often to top up the batteries.
The real disappointment was the new spray hood. For no apparent reason it split, badly. Seems the re enforcing was missed, so the sail maker has had to come out again to remove it and is promising to have it back on board shortly.... repaired... I would like to think it can be repaired and made to last as well as the original, that was 20 years old when I eventually decided to replace it, at £500 it was not a cheap replacement.
I have just bought a few new fuses and some extension wires to link the new laptop with a pair of speakers, so music will play! I have also ordered a tiny lead to link my iTouch to the portable Dab radio. All of these parts and more bought via our EBay page, though not sure how many pennies it will bring in as the prices were silly cheap, 99p inc P&P!
A slightly dearer item I found on the Bay was a new trailing log transducer for a Stowe Log I acquired. Brand new and less than half the price of a new spare from Stowe. £31.00! Now that must have earned a few pounds for the webmaster.
Off to post the Seagull spares, be back on the water soon, I hope... when the rain and winds stop!
John
Tuesday 12th June 2012.
We are back! The plans were always flexible and just as well, after having poked our noses out last Saturday, into a SE5 and then got a forecast of 6, 7 and 8, we turned tail. A few minutes later and at 5.5 knots under just rolled Genoa we were pleased we did. 3rd reef in main stayed in all week!
I think it must be the weather that makes us Brits so stoic! So instead of the Thames and Medway, we spent a week exploring places we had not visited, and a few we knew, not a million miles from base! Not the week I had planned but enjoyable all the same.
Not the same story on the other side of the North Sea. We are pleased to say the Dutch EOG meet went off exceedingly well and a full report from our Dutch rep shortly. There is already a link or two to utube! Click below!
http://www.youtube.com/watch?v=kqkN9LQoVh4
http://www.youtube.com/watch?v=HlmTD5SmadE
http://www.youtube.com/watch?v=GdPx6oP8zU4&feature=relmfu
http://www.youtube.com/watch?feature=endscreen&v=WbbJ5Q4_SGM&NR=1
http://www.youtube.com/watch?v=0sxk4ym5OWA&feature=relmfu
Will be back soon when I have shifted the backlog of mails, from a quick look there are at least 4 new enrolments and 1 payment for drawings, plus dozens of enquiries. Nice to be popular!
John
Saturday 2nd June 2012.
Ready for the off, 12noon and just leaving, sadly weather down right down the pan, so stiff upper lip and umbrella and wellies for Liz's 60th celebration!
Seems we are on our own again as a domestic incident had 'grounded' the other boat's crew, too much water in the house! We may catch up with them later in the week.
Just picked up another fleecy and the temperature has dropped!!!
Back in a week's time,
John
Thursday 31st May 2012.
2 boats so far for our Jubilee cruise... any more takers? Will be leaving Blackwater Saturday about 1400hrs bound for the Swin Spitway and south....
I have had a chat with the webmaster and he wants to do a rewrite on the site, to tidy it up. I would like to keep it looking much as it does, but any suggestions we can pass on to him, features we can add or lose? At lot of what he will do will not be seen, but may well make it work better and quicker.
I have yet to get round to editing the 'boat bits' page.. I have to remove a few items and add some, I hope to find time before Saturday!
I have added 2 adverts to the Boats for Sale page, one a bargain the Steel Riptide. Rachael was involved in an horrific car accident a while back, and this is why the boat is now up for sale, they have opted to move to France and will not be completing it... If only I was 20 years younger I would jump at the chance..... 32ft of professionally built steel boat!!!
Have had conversations with a new member re bilge keels, his are wafer thin, reminded me I had a pair on the 'bits for Sale' page. must alter the wording slightly, suit Eventide 26 or 24! If your keel has been deepened!
Closing as I am off to load more food on board, she has gone down an inch already!
John
Tuesday 29th May 2012.
What did I say about thunder storms?!?! Sky black and ominous here!
Time to type not tinker outside!
I tinkered on the boat Sunday, whilst we were gently anchored. I fixed the AIS! It was not happy the connection to the laptop kept dropping out. I spoke to Digital Yacht who make the ANT 200 and they told me it would not work with the lead our well meaning friend had fitted to it. It needed a special lead with some clever electronics in the actual USB plug. Has lights in it too, that indicate it is working correctly. Pleased to say after rewiring with the correct lead, the computer instantly recognised the AIS and straight way new symbols jumped up on the screen to indicate we were about to have a close encounter with the Thames Barge Thistle! For crossing the Tideway next week this should be invaluable, the course, and speed of every commercial vessel is displayed, along with a pecked line indicating their direction and even alarms can be set if they come too close! Very clever.
Welcome to Ian Fenston of Salisbury, looking at an Eventide.. more later I hope. We have also heard from the owner of the Senior 'Wagtail' who has had problems with his computer so has not quite enrolled yet, but hopes to meet up with us at West Mersea over the August Bank holiday weekend.
Had an interesting mail this week, it was from Steve in Filey. Steve is a plumber and was working at a clients house, who just happened to be his ex woodwork instructor in Filey, when he noticed a large name board on the kitchen wall, 'Waterwitch of Filey'. Bob Hall was the builder and sailed her extensively, now 97 he swallowed the anchor a long while back. Steve checked our website and found her she is now called Wendy and is in the north east still. Bob has since been in touch, pleased we have pictures of her now and that she is still enjoyed, he is writing to us with some photos to add to the gallery! We do get to meet some nice people...
I am due to sail about lunchtime Saturday for the Thames, still no other boats to join us? We intend to sail to Leigh Gut area, anchor for the night, then see what the weather has in store and maybe sail, or if it is as calm as they are predicting, motor, up the London river on the tide. Maybe pick up a mooring at Erith or maybe just turn round and drop back on the tide late that night, we will see. Could make straight for the Swale.. Flexible is the word! Either way there promises to be a few interesting boats to see on the tideway.
We are not sure if we are meeting Wednesday evening as yet, as 11 of us met a week or so back when we all visited Brian and Mavis.... Ring for info if you are thinking of venturing out, as a venue has not been arranged or anything!
Time to go sailing..
John
Monday 28th May 2012.
We have had several brilliant days in a row, hot and sunny decent breezes and no gales! I'm looking for thunderstorms now!
We were out Sunday, a lovely gentle sail up the Blackwater and a gentle putter back with the tide. Was a little surprised too see so few out sailing, concerned at the number of 'wet bikes' and 'jet skis'. There was rarely a time we were not having our eardrums rattled by these buzzing beasts. The most alarming part was the number of people without life jackets, (buoyancy aids), no shirt for a lot of the men either and an alarming number of young children sitting between or ahead of 'drivers and crew, not able to hold on, or being towed on 'do-nuts', bouncing them all over the place, and in front of other craft. Sadly there is going to be an accident. There will be stringent restrictions because of the morons one day. Will spoil it for the sensible ones.
Waterskiing and wet-biking seems to be everywhere now, off secluded beached, we even saw them slaloming through the moorings off Stone and don't even think of anchoring at Mundon! I have just heard why, the Water Bailiff has been made redundant. No policing! I will have to check up on this for if it is true the Blackwater will become a Wild West cowboy place...
Maurice did warn us.
Later tonight I hope to add a couple of adverts to the pages, for Rachael's Riptide and for a Golden Hind.
On a more positive note, Welcome to Roger Smith of Portsmouth with the Barbican 'Cinabbar'. (clever name that.... think about it!). Roger wants to learn how to get the best out of her... Do i hear an article coming along Heidi and Nigel?
The Eventide 'Merrywake' has been saved, She is in Devon and Daren Helen Flint are looking after her. I will try to sort out the sail number for them, I have it somewhere! Knew the owners years ago, Eric and Betty.
I have a few items to add and some to remove from the bits for sale pages tonight if I get time too.
Fiddler's Green is off to the Thames Saturday, 'to view the still waters and take the salt air'! (quote form the song!). We will be going where the wind blows, anyone else about? Call us on 16/72 or phone on 01621 778859 before Saturday..
Lets go sailing,
John
Monday 21st May 2012.
At last I have been out for a sail..... but there was no wind! Ah well, engine trials. Saturday after noon there were about a dozen boats visible all afternoon.... the Blackwater was deserted. Tested the kettle and the anchor, all seemed to work well enough!
The next day it was cold and damp and breezy, so tidied garden instead! do hope the weather improves. there is a hint that it might, but summer had better get a move on, mid-summers day just a month away....
Have a GH advert to add shortly and have tried to contact Rachael our Steel rep, who is advertising her Riptide on the bay, for silly money! hope she has a reasonable reserve on it....
More later.
John
Thursday 17th May 2012.
A group of 9 members made the trek to the northern most part, nearly, of Essex yesterday, to visit Brian and Mavis. We met at the excellent 'Harbour lights' at Titchmarsh Marina. We were so please to see Brian walk in and hear him chat, he has made a very good recovery thus far, but has a little way to go yet, as his right arm and leg do not work. He is still planning launching though! We hope he continues to mend.... The 11 of us enjoyed a really nice meal, a carvery and excellent sweet menu too. We all ended up at Mavis and Brian's for coffee afterwards and the weather was kind enough for us to admire Brian's handiwork in the garden!
Think we will be back to see them again, maybe by road, but if we happen to sail that way later this summer....
I went down to the boat today, still no spray hood, they appear to have loused it up... I am told they had to remake it, even though they had the old one as a pattern, and that was a perfect fit... I found the cut up remains of my old one in the cockpit.. Also my new dodgers, so stayed long enough to fit them, very smart. Missing the spray hood though, especially as it is tipping it down again!
Started the motor and ran it in gear for 20 minutes, (always try to load your diesel, to save it from glazing the bores....), the charge soon dropped from 16 amps to 2amps, so the batteries are still topped up! Hoping to get out at the weekend, but the prospects are not that good... Still changeable for another week at least.... Hoping it improves before we set off for the Thames....
A new member yesterday, welcome to David Swift in Kent. David admits he is no sailor but has acquired a newly built and modified Eventide 26 that he hopes to use as a motor cruiser. I have yet to find out if the transom has been widened to 6ft to accommodate the motor he intends to fit in the stern! If not, I doubt he will see over the bow! David I hope will be back with more info. Sadly even with our extensive records, we have no trace of the builders of this boat, so another Eventide unearthed.
We have had a couple of mails from GH members with an update on 'Frances Fletcher' and a big thankyou to all the active members for the website and all it's information! Well done all of you out there, without all those snippets we would be lost! I will add more info to the pages over the weekend.
Mike Hoban found a blog on the web with details of the building of the Eventide 'El lobo'. Took the builder just 2 years! Great another link to add!
I have been approached by someone to take part in a BBC2 program about Maurice Griffiths and the East coast rivers and creeks he loved so much, I feel rather overwhelmed by this... but it appears I probably am one of the few who knew him best, nice thought, I do hope I can do him justice....
Hopefully see you on the river... soon.
John
Monday 14th May 2012.
Sadly it is still very unsettled weather here in the UK, basically what that means is it is tipping it down and blowing a Hooley.....! So what's new then.
Still not managed to get our boat out! I am hoping for a respite soon... also hoping to get my new sprayhood fitted, so I can rig the solar panel, not that there is much sun to see!
We have had a new member in the last few days, Philip in Florida with the GH 31 Nancy Dawson, welcome Philip. He tells me he is going to replace the mast with one from a boat he is sadly going to break up, 'Arima', a 35ft Alberg. This is the one that took the first Afro American round the world solo, Teddy Seymour. Will be interesting to see how he gets on converting the rig!
Had a nice donation in from David Abbott , for a CD of Eventide drawings and addition to the funds.. Thankyou David.
Spent the weekend up in Warwickshire, where it was sunny and windy, and understand the breeze was a little brisk down here! The grandson had his first spectacular capsize in his Oppie, and I missed it! He came up smiling and righted the boat too, great fun! think he is hooked! Hope to be out there with dinghies in tow before too long...
We are set to sail up the Thames for the Jubilee, just as far as we can get on a tide I suspect, then back down, to spot as many of the historic boats as we can, and the tall ships. A Seagull customer called on me today and said he was doing just the same, with the Rowhedge smack 'Our Boys' a historic vessel herself, should be fun, if the weather behaves!
Hopefully see you on the river, soon....
John
Wednesday 9th May 2012.
The weather forecast has just given warnings of snow in the north! In the rest of the UK we are now on Flood alert as we are expecting torrential rain and the ditches, streams and rivers are already full. Wettest drought I have even known!
Just altered a little text on one of the latest Wild Ducks we have had added to the gallery, apparently the steel version and that of the Eventide were designed by Mr Bouma, a Dutch eye surgeon. Obviously had a good eye for designs!
Another new enrolment, James Rodgers of Dundee, about to embark on the building of one of our properly engineered 'Stitch and Glue' Seniors. Another one in the build! Hope James will keep us informed.
Have managed to put two Golden Hind owners in touch with each other, there is a question about the addition of a steel strengthening frame inside the bilge keels, linking them together. I had never seen this, could have been an option and may have prevented 'Libertine' from being damaged. Would be interesting to know if anyone else has this....?
Had a member and his lady, drop in to see me here today, Steve, from Spain, he is building a WildDuck and was looking for information, and a burgee! His boat is in the lofting stage at the moment, but it is going to be different, as it will have no cabin.!? He is going to build it as an open day boat, with keel and rig, but a bimini type cover if needed. Where is it to be kept? Minorca! Sounds ideal.
I have just taken delivery of a new anchor lamp, electric and fitted with a light sensor, so will switch off at daybreak. No more embarrassing strolls to the foredeck at 0900 to dowse the oil lamp. However I will still have the paraffin on board for the cabin lamp, for nostalgic evenings, and so will carefully stow the little brass lantern away for the occasional use.
Have also sent off for a LED bulb to fit the lamp, to further save the battery.
Speaking of battery, the new Nasa BM1+ battery monitor is now settled down and seems to be recording exactly correctly. (they take a little while to adjust to the battery and usage.) I will have to wait till next week and the new spray hood, then I can refit the solar panel on top of it and keep an eye on the charge it gives.
Several members have sent in the same classified advert, an Eventide 24 for sale with a very high, (I think) asking price. Sadly boats, like expensive sports cars and other luxuries and just not selling, and a relatively high price is a waste of time. The lads' 2 years use motor boat, worth £100k, will not sell for £75k, and the daughter's £2k ready to go cruiser has just had the first serious enquiry in ages... I had to tell a prospective seller recently that offering a boat and holding onto all the gear to sell separately was a non starter, sadly I think the advice fell on deaf ears and that boat will be on the pages for another two years..... A little realism helps when selling.
I am about to start adding chandlery items, the first will be 150ft of 12mm braided nylon anchor rope with properly spliced eye for a kedge, list price £125, sell for £65.00. I have 2 for sale! (The third length is now on board Fiddler's Green!). Have loads of other goodies to add.... just got to get busy with the camera...
I am reading the new book, 'Classic Classes' Must say I am impressed. Not only is the book a quality paper print with loads of fine photos, but the information is brilliant. I have learnt loads about designs I rather thought I knew! Full report soon.
Here's hoping we do not float away overnight, come on sunshine, lets go sailing soon!
John
Tuesday 8th May 2012.
Absolutely no surprise to anyone in the UK that few went sailing over the Bank Holiday weekend.! Saturday evening down at the marina bar the rain turned to sleet as the temperature dropped. Frost next morning.. The following day saw the max temp here of 6 degrees, with persistent drizzle. We went and watched the lad have his first sailing lessons instead! In 3 or 4 hours Saturday and Sunday he has it cracked! Hopefully by the smile, the Oppie was a great birthday present! Monday after noon and what a difference a day makes, 14 degrees, still raining, but warm with it. We spent the afternoon cleaning the boat and making ready for when the sun returns! Rubbed down the cabin top again, so it will be 25 years on one coat of paint, if I can repaint next year! 2 pot poly is magic stuff!
A group of us are going up to Walton on Naze on the 16th, to have a meal at lunch time with Brian and Mavis. Brian is recovering well from his stroke, but still has a way to go before safe to sail again. If anyone knows Brian and Mavis and would like to join us please ring on 01621 778859 at least before the 13th so we can book places.
Still raining here and forecast is for rain every day for next week, see you on the river when the sun comes out!
John
Thursday 3rd May 2012.
She floats! We were down the marina at 11am, had the mast up by 12 and in the slings by 12.30. At this stage the lads went for lunch leaving my crew and myself an hour or so to paint the patches of antifouling I of course had missed as the boat had been on the trailer. Time to get the washed mooring lines back on the berth and all shackles moused etc. By 2.30 we were on the berth and set the rig up, got the pre-bend in the mast and tightened all before taping all the rigging screw pins etc. By 4pm we had all the sails bent and reefing lines fitted, and gear stowed. And to top it all we could then sit in the sun in the cockpit for coffee and cakes. The rain started again as we left at 5pm! Has not stopped since, wonder if Noah felt like this..... last 5 weeks 90.5mm!
New spray hood being fitted today, (in the rain!). The old one had done sterling service for 20 years! Also replace 22 year old spray dodgers and my tiller cover. Maybe next year it will be the sail coats turn. The reason they have survived so well is twofold. The good material and the annual valeting, replacing those bits of stitching that fail and patching any slight damage. Having patched and repaired the spray cover and replaced the windows several times I suppose it could be compared to Trigger's broom, 17 new heads and 5 handles, but still the original broom!
I am earnestly looking at the forecasts for Sunday and Monday, with a view to getting out and about over the weekend, but at the moment it is not looking good.
If anyone is intending to try and meet up with us in the Blackwater, mail or phone on 01621 778859. Suspect we will be in Bradwell bar for dinner Saturday night....
The mail has brought in some good pictures of a Senior, 'Moonfleet', and this boat has brought up the 2000th picture that will be added to the Gallery pages! Thanks Bob. Seems they had the March 'summer' on a lake in Wales, well done. He says he has yet to add the internal ballast, but in light airs all was well, it is a centreboard version. Looking at the pictures it seems to float in a few inches at the moment.
Benne in the Netherlands has sent a correction for his Wild Duck caption on the Gallery, thanks Benne, will get that sorted and look forward to new pictures.
Off to boat later to load more toot on board and have a clean up, have you found the cleaning wipes, like tissues. They are magic, you can clean with 'Flash' wipes, then polish with 'Pledge' wipes, so easy and gives a great finish and nice smell too! (Other brands available!).
Roll on the blue sky days.
John
Tuesday 1st May 2012.
Ready for launch, just! Every year it seems to take that little more effort! I did not get to repaint the cabintop, just too cold, 2 pot paint needs 15 degrees for a couple of weeks.... fat chance in this cold.... but it still looks OK, paint just a little thin in places. On the other hand the hull paintwork polished up with 'Mer' and look great. I even managed to get a shine on the green raised topsides. Next year.....
I will report back on the success or otherwise of the new battery monitor.... and a new anchor lamp....
When the rain stops (total for April here 84mm!!!), I will do the last job, polish up the fenders... 'Polish!' ?? Yes I have them on the side of the boat all the time whilst berthed in the Marina and they do degrade. Trick I learnt some time ago, to clean them, mix half a pint of white spirit with a tea spoon of acetone. (nail varnish remover, no not mine!!) Use this with rag to remove all stains, then polish up with car bumper vinyl polish! It works.
Polished the Ali mast last night and today will refit all the halyards, trying hard to get them the right side of spreaders etc. real pain last year got one wrong and had to tie a thin messenger line to it the remove it and rethread it... was back to front too, crew thought I'd lost it entirely! 10 minutes later, all sorted. Embarrassing!
Have had a mail enquiry from New Zealand regarding a Steel Waterwitch that arrived in the south after being built in Glasgow in 1967. Trying to find out more, but I think there were a lot more of our designs that quietly sailed off to complete major voyages without any hoo haa. I have a photo to post shortly. (Had you noticed the number of pictures posted on the gallery, its rapidly approaching 2,000!)
Have also heard from the lucky purchaser of 'Libertine' a GH 31 that was damaged in severe weather , so bad that the starboard bilge keel was partially ripped off. Clive in Cardiff has previously owned GH No 1, 'Goose Girl' and has also owned Eventides and Waterwitch's, and is confident he can repair the damage and have her back in the water soon. He has joined us, Welcome. Hope he will send in pics of the work for the Newsletter.
Talking of which we have had a great article in from Australia of a classic boat 'race' written from the deck of a M.G. Barcarole or Bawley, more details soon. The article will be in the next issue.
We assisted Classic Boat magazines Vanessa Bird with her new book, Classic Classes' and the book is out! I hope to have a copy in my hand to review shortly and there is an offer of £5.00 off if anyone would like a copy, ( £14.99.) contact me for details on enquiries@eventides.org.uk I will post all details on the books page when the review is written.
Rain easing off, time to get the Seagull post out and off to dress the mast.!
John
Saturday 28th April 2012.
It appears we now have the wettest April, after the hottest March! What chance a summer. Fiddler's Green is raring to go, the brother in law is back on his feet after op to remove gravel from his innards and I have just the second coat of antifouling to go on and the topsides to polish. Gave up last night it was getting too dark to see, and the shoulders were falling off. Might dress the mast today, that is an easy enough job! Will polish later....
I have, for the first time in 22 years, replaces a couple of halyards this winter, but I was defeated when it came to splicing the new braid on braid main halyard. A trip to Dave the Rigger, DRS 01621 784716 resulted in a very neat splice!
Dave re rigged the boat 2 years back, I was his labourer for the afternoon and supplied all the wire etc. Did an excellent job, so if anywhere near Maldon, Dave's your man!
How do you make halyards last that long when actually used a lot...? Wash them every year in the washing machine, (Easy care 30 degrees and I do like the conditioner too! Use Bold 2 in 1...). Never leave them up over winter, if over wintering with mast up, (not a good idea as it halves life of wire!!!) but if you do, remove halyards and rig messenger lines.....
We have had two new enrolments in the past few days, A Wild duck owner in Morpeth, Northumbria, Garod is doing a restoration and Breton in Lexington US of A who wants to build an Eventide! Welcome to both of you.
The Essex section did not meet this April, there were no takers for a change, all were busy. But we are all going to visit Brian and Mavis on the 16th of next month, in Walton on Naze. Anyone else fancy coming to see them? Wednesday lunch. 01621 778859 if you would like to call. Brian has has a pacemaker fitted and will be getting the bionic arm shortly, he is making great strides, literally, recovering from his stroke.
I bought a whole load of British Seagull spares last week, and in among them are a lot of boat bits, that I will be adding to the bits for sale pages. also had a box of items, or two, donated to raise funds, so if you are looking for new bronze seacocks for the loo, will have some half price, also used winches, galvanised boathook ends, 2 new 50 metre lengths of kedge warp, 4 plait, a new, quality, VHF radio, (Not DSC)..... Will be taking pics and adding bits ASAP.
I have altered the price on one of the boats for sale as a result of mails from the seller, but I have to be brutally honest, not many boats are selling, there are just not the buyers about. It has to be a real giveaway these days, and few are prepared to do that. I cannot seem to sell my daughter's boat, which is a very smart 18ft first cruiser for someone, just add water (OK and antifouling, but that is included)! The lad cannot get a sniff on his luxury motor cruiser and as the dealers say, it is not the price, it is just the lack of buyers... People with spare cash are just not about. Those of us with boats should feel very lucky to have them, though paying marina fees brings a tear to the eye!
with the rain still lashing down and the gauge now reading 64.5 mm this month so far, (officially a drought!), I hope it clears for Wednesday..... Back afloat! Yippee!

See you on the river!
John
Monday 23rd April 2012.
St. George's Day!
The weather is not about to improve, even for St. George! Windy and showery rain/hail over the weekend and rain from this after noon for a week! Temperatures barely getting into double figures so a end to thoughts of 2 Pot poly painting in the rush to re-launch. Instead I will crack on with the polishing! Bet my cabintop will look a bit patchy after another good polish! Already seeing undercoat showing through in places....
Fitted the new Battery monitor and am tidying up the inside before finishing off the Sikkens on the toe rail and hand rails on the cabin top. Can get away with this in the rain as in the barn of course... Then the hard work, polishing. I have used a product called 'Mer', for over 20 years now, it has a slight cutting quality so shines up dull paint, then leaves a very good quality wax finish. would recommend it. Not only does the boat, including the mast, gleam with it, but so does the little van! (And that polish was put on last November!)
Was quickly out Saturday when my local computer shop mailed me to offer a cut price deal on Microsoft Office, 'home and business'! Bought two copies, one for me and one for the EOG, discount of well over £50.00, which pleased the Fund Manager, we had agreed approx £200 at the Annual meeting. I will be selling one or two bits of 'donated' boat gear and hope to recoup most of the outlay as a result!
Time to go and polish the armour and sort out the lance.....
John
Saturday 21st April 2012.
Today the sun is shining, but I have just checked and we will have rain later, lots of it, and all next week! So pleased we have the boat undercover. Talking at the Marina last weekend so many boat owners are so far behind with fitting out because of the cold and wet, and we are in a drought!
Will take advantage of the sunshine today to sand down the lad's Oppie centreboard and rudder and get a couple of coats of varnish on, will have to retreat into the garage later, to allow it to dry!
I also contacted Mel at www.names4boats.com this week and he is running off some decals and names for the lads boat, to make him stand out from the crowd. Mel does a really good and reasonably priced job of all sorts of boat names, anything goes and when I have applied the decals I will post a picture to show you. I already have 'Fiddler's Green' decorated with his name stickers and we also have the little dinghy, 'Second Fiddle' and my 16ft open day boat, (replica of a Thames Waterman's Wherry, dating from 1880), 'Seagull', some of you may have seen her. All these boats are very traditional, wait till you see 'Lightning'.
A little touch that really finishes off a boat, a bit of proper artwork, 'gingerbreading'! Worth doing.
Hope to be buying a proper copy of Microsoft's Office today, because a well meaning but mistaken chap loaded a non Kosher copy onto the EOG's machine. Microsoft know and send us messages about it every time i open the mail or a document. So after long searches and many dubious offers, my local computer shop has a batch of 'box damaged stock' in for £159.00. At least as Brian the fund manager says, if there is a problem you can go and see someone, something that cannot happen if bought off the bay!
John Stevens the Database Manager is re jigging all three databases into one and has managed to work it so we do not have to have Microsoft's database program, which is saving the EOG a couple of hundred on the copy of Office. Well done John. However I heard from john this week that he has had a major catastrophe at his house, a fat fire in the kitchen that has smoke damaged the whole house. Reminded me to check on my household insurance. Hope you have taken advantage of the CraftInsure link on the home page and links pages, to insure your boats too, just done the new dinghy, £3m 3rd party plus fully comp on boat, for £35! Cannot be bad....
John Hopthrow sent in a link to a boat on the bay yesterday, an early Eventide advertised for £7k. Suspect that one will be for sale for a while at that sort of money!
Simon mailed yesterday to ask if I had seen the Eventide in the background on the Food program? apparently filmed at Faversham in Kent, may look out for her if we explore the Swale this June! Is it yours? Simon said it was a very patriotic Red, white and blue!
Make the most of the sunshine! See you on the river in May!
John
Monday 16th April 2012.
The best laid plans.... as they say... It has been far too cold for 2 Pot paint this last 2 weeks, amazing. Had I been ready earlier or course, March would have been ideal! Hey Ho. So this year it looks as if the cabintop and deck will miss out on that repaint, so it will be 25 years since the cabin top was painted! Not bad for a hand applied coating! Rushing on with all the last minute preparations for launching, hope you are nearly there too. See you on the River.
Another enrolment today Richard in Germany, buying an Eventide in the UK and then sorting it out before taking it out to Malta. Hope Brian and he can get together out there, feel a meet coming on!
Another request for a CD of boat drawings. Again for the most popular of the bunch, the Eventide! Of the CD's passed on to members last year the Eventide outstripped the Senior 11 to 9! The total sold was 32 CDs the rest an even spread of the designs.
Off the the boat in a bit to refit batteries, all nicely charged.... Roll on Summer.
John
Monday 9th April 2012.
Easter Monday.
Rain all day and chilly with it, typical British Bank Holiday! Easter Saturday was freezing, but Sunday I had a bonus! I have always wanted to visit Pompey, Portsmouth to most. I have been there from the Sea, but never by road, and it just so happened that the boat recovery trip Saturday in the lad's truck got cancelled and after nipping out to buy a dinghy roof rack for or car, not a simple process these days..... I had to go Sunday, so we made a day of it. Roads were reasonably quiet and the trip took just 3 hours each way. So there we were trying to get into the Portsmouth Naval Dockyard car park with an optimist dinghy on the roof! Darn it, height restrictions! We had to park a little way off and risk leaving our newly acquired boat to the mercies of the locals. Spent 2 glorious hours on HMS Victory! We we both very impressed. The Navy have so much pride in Nelson's flagship she has been cared for in only the way the Navy could do. The ship was just breathtakingly preserved. Our tickets last for a year and we will be back! Recommend it to all with salt in their veins!
Dinghy safely delivered to grandson, for his birthday, to his total surprise and great delight at 2100hrs! He is booked for West Mersea's Dabchicks Sailing Club's Optimist course this Spring and a weeks intensive training in July. Watch out for new helmsman on F.G.! Or the Oppie rushing about near us!
Said it was quiet last week.. and bingo, in come the enrolments! Welcome to two new member in the Netherlands! and one from UK.
Benne with a steel WildDuck called 'Grauwe Razer', no idea what that means, but I have a guess that one or two of the steering group will know! He has sent a picture for the gallery and I will be posting that shortly. And to Rene with a 9 metre Steel Vulcan, another very purposeful looking ship. So many Steel versions of our designs have been so well built in the Netherlands. I have reminded both about the Sailing meeting in Holland this June, see the Events page.
Welcome also to Geoffrey in Lancashire with a Goosander 23. He thinks his had been rigged with a Lateen, but I'm betting it is the same Goosander 23 that we have advertised on the site with junk rig, he is investigating and pictures to follow. Geoff was after a CD of the drawings so he could build a cradle for her so she could be transported...
We had mails back and forth about the GH 31 that was for sale on eBay, price dropped to £3500, I am hoping Brian in Cornwall is going to come back and enrol as the new owner. Hate to think it had been destroyed just for that motor. It has disappeared of the Bay....?
Well the wind is now howling again outside and the train lashing down, no boat work for me today, instead sat in front of a roaring log fire again, summer was a Wednesday in March this year!
john
Friday 6th April 2012.
It has been a relatively quiet week at EOG HQ! However if you would like to create a bit of noise click this link to Dawn one of our member's Waterwitch's! Philip is a drummer in a rock band 'Dog Salad' and I believe has sold the boat to friend Steve, also in the band! The video clip is of one of their songs, 'Man overboard', Dawn is in the clip!
Have also heard from Geoff who is after a CD of drawings of the Goosander 23. A restoration in progress here!
You may have noted the GH 31 on EBay at the moment, several members have sent details. She has suffered rather extreme damage to her hull when a bilge keel caught up. Not heard of the hulls splitting on others. The price has dropped to £3,500, now a bargain with all the gear and that motor and Brian in Cornwall is looking seriously at repairing her. With a good shed, a helper and lot of energy I bet she could be sailing this year. We will see.
Got to spend the day on the boat yesterday, rubbing strakes and toe rail varnished, (Sikkens). Came up lovely! But with temperatures barely making 7 degrees it was not 2 pot poly paint weather, so we scratched off the bottom, removing a lot of the thick old anti fouling and got a first coat of Workboat Red on the bottom. As ever the transformation from looking 'uncared' for, to 'sparkling' happened as soon as that masking tape came off. Magic stuff that Antifouling!
However I ache today, so have taken day off!
Had to be up and about though as local newspaper came to interview me at 0930 and take pictures. We had an all terrain Cycle race past here last week and the rubbish left by them was an eyesore. I picked up 30 energy gel packets in the short distance down our lane. Do not know if there are any racing cyclists in our number, but think they should follow the sailing adage. 'Take nothing but memories and leave nothing but your wake'.
I suggested to the organiser of this large event that it could be run on a rough track in an arena, as the cyclists do not look at anything except the bike wheel ahead and it would be easier to pick up the rubbish. Imagine if we threw rubbish over the side at the rate of 30 gel packs per half mile! And that's just what I collected, (and it was a 104 mile race!), how much litter is that!
Back to more boatey themes, I'm off to Pompey tomorrow to pick up an 'Optimist' dinghy for budding sailor, bought via our Ebay page! Hopefully this will mean i have a competent crew shortly! Eldest grandson signed up for West Mersea Dabchicks sailing course!
Hope you get to sort your boats out over Easter, all we need it the thermometer to drag itself of the low end of the scale!
All for now,
John
Sunday 1st April 2012.
Worked all weekend clearing heap of 30 odd old Seagulls from the lawn, still 6 to go! Shipped a load out Sunday and can now get to my workshop! The pile of scrap Ali grows! Warm sun energises you!
Amazingly the weather has stayed warm, but keep hearing whispers of cold and snow for the week ahead. will be making the best of whatever we have in the next week, as I am planning on launching before the end of the month!
Mail has been reasonably quiet for past few days, so I am making the most of the respite to get on.
See you on the River!
John
Friday 30th March 2012.
Amazing isn't it, we have a week of glorious spring weather, with temperatures in the high teens, now the snow ploughs are being made ready! So much for me going to the boat and fitting out!
Do hope you are making progress with the fit out!
I have the three batteries all fully charged and ready to go back aboard, a little wiring to attend to, just to connect the new battery monitor then clean and polish all inside and start on deck paint, Oh and I have a new pipe to fit to the gas drain, 5 minutes work. (we will see....)
The major job is to rub down and prepare the cabin top! Will be a dusty job... Then have to remove all the dust prior to painting with 2 Pot Poly.... As I only have painted the cabintop once in it's 22yr life, and that was 2 years before we launched, so really 24years, I do not want it spoiled to have to be repainted! Ever tried to vacuum out a barn.?
Of to clear a pile of old Seagulls from the lawn before they get covered in snow!
John
Wednesday 28th March 2012.
With wall to wall sunshine for the past few days, and for a few more yet I am wondering if once again I have missed summer afloat! Records being broken every day it seems and there are still those who believe it is nothing to do with our intervention! Great for fitting out, but we now are all being warned of water shortages ahead. I will press on with fitting out and keep the fingers crossed.
Vince, with the Eventide 'Leopard', mailed with details of another Eventide he had found on the net, one that had missed the EBay net, as the owner miss spelt Maurice's name. You can see it here if you are quick! A steel Eventide 26 bought by the present owner a short time ago for conversion into a fishing boat! No rig and a very large motor as an option! She actually looks a nice shape from the picture, which is good for a steel one, as so many look as if they are Britain's answer to the scrapping of Ark Royal, as they have the Harrier ski jump bow!
Click here to have a look, going for a song!
All for now, of to the boat!
John
Monday 26th March 2012.
Yesterdays meeting was well reasonably well attended with a welcome to new local sailor John. We had a few send apologies, from all over the place, and as far afield as Tasmania! Brian and Mavis would have liked to attend, but Brian is still struggling to recover after his stroke and the physio is tiring him out. Good news is he has his speech back and a lot of movement. He is using one of these experimental robotic hands to strengthen his right hand and appeared on TV last week!
We also had an emergency Steering Group meeting after the Annual meeting. More of which later.
Before the meeting kicked off properly we made a presentation to Nigel and Heidi. The Barry Sturrock Seamanship trophy. Nigel and Heidi have, in a few short years, come from dinghy sailing into a pocket cruiser, a Senior, that they sailed with great aplomb locally, then they moved up to an Eventide 24 that they tore about in for a year or three, proving that Eventides can go fast! Last year they bought a 33ft Maurice Griffiths Barbican, sorted it out as arms length in the West country, then sailed it back to the Blackwater and went on to cruise to the Netherlands. Done more Sea miles than most by Easter.... and developed their skilled immeasurably, congratulations to them both. Nigel was singlehanding 'Dianne II' on Sunday and had to leave in a hurry to catch the tide back to Tollesbury... Nigel you left without the rest of your prize. I have a very natty sailing bag here for you, courtesy of 'Craftsure' our group insurers and sponsors for the Seamanship prizes!!
If you have not already tried them worth a quote.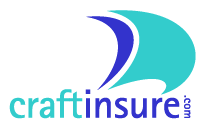 We will publish agreed the minutes of last years meeting and the agreed accounts. With just donations coming in from happy owners, we actually managed to buy a few bits for the computer, keep the web space going, pay for repair of 'damage' to the site, give £250 to Sailability the charity for disabled sailing and still show a couple of hundred in the black in the year.
So it was agreed to again find a youth sailing charity or group to support again this year. If you know of any deserving causes please let the Steering Group know.
We were very pleased to be the guests of Bradwell Marina bar again, all enjoyed a hearty lunch and the warmth of the Welcome. As others may know the marina is the local base of my colleagues in the Essex Police Marine unit. Chatting to them, as they and some of their shore based colleagues were around at the time and I have suggested they may like to show members round their boats next year!
The sun had come out here and the forecast is for temperatures in the high teens for a week, so fitting out time with a sense of urgency now!
I aim to be afloat for the 5th May! see you out there.
John
Tuesday 20th March 2012.
The Vernal Equinox. The first day of Spring!
The race is on to get back afloat! The sun rose in the due east and will set tonight in the due west, the days are warmer and longer, add to that the clocks Spring forward and hour Saturday, (so we loose an hours sleep, but hope you are awake enough to make the Annual Meeting Sunday!).
No new enrolments in the last few days, for a change, but we have had more information and pictures in from John in Tasmania, he is really progressing well with his Senior! I will add pictures later today.
Enough from me, I'm off to pack parcels of spares and one parcel of boat bits sold from the website!
John
Saturday 17th March 2012.
In the week the announce a drought and hosepipe bans for much of the South East, the heavens open! Its tipping it down! Still the gardens can do with it, they say, but the water is right to the top of our well and the fields are lush and green, which normally one would expect this time of year I suppose. We live in that tiny bit of Essex that has officially less rain than parts of the Sahara and is normally dry, so walking over the fields last week through heavy muddy clay you would think all was quite normal... The boat yards should be buzzing next week when high pressure returns and the sun comes back out.
I just used our EBay page and bought a couple of cans of International 2 pot poly paint, HALF PRICE! and put a few pence into the webmaster kitty! Will be out there with the paint brush and pad shortly. Our cabin top has not been painted in over 24 years, maybe 25! Not bad! After polishing it every year it is now very thin and the undercoat is showing in places! Sad thing is, as my crew pointed out, will probably be the last time I have to paint it! In another 24 years I will be.......
During the week we have had communication from China again, Our man there cannot get onto PayPal to buy his CD, so is going to wait till he goes elsewhere for a trip...
We have had one new member this week, Duncan from Devon, he has bought 'Figaro' the Eventide 24 that was for sale there. She had the rig removed and was used as a motorboat on the Exeter canal for a while.. Duncan has finished the outside renovation and is beavering away inside now and looking for a complete E24 rig... any out there? He has just bought a CD of the drawings to help him. Hope to see her sailing before too long!
Had another update from Tasmania, John is really making progress with his Senior, adding new pics to his page shortly... click here.
Sent 2 CD's to Carmelo in Australia, working out if he should tackle a pretty 3 Tonner or opt for the perhaps easier to build and more practical Eventide, thanks for the donation Carmelo, helps to keep these pages live.
Just added a bit to the Scran Bag of the latest Newsletter, which reminds me, I have to organise a new one!
Sold the scanner to the Historian, he had an old laptop of mine with a dodgy plug fixed, so this should be running again soon. I have replaced the scanner out of my pocket, as it was down to me! Clumsy!!.
Starting next week I shall be pulling all the stops out to get FG back in the water, have the paint, the antifouling, batteries are charged, just need to energise me!
Don't forget, Annual Meeting Sunday 25th at 12.30 for lunch... Bradwell......
All for now,
John
Monday 12th March 2012.
I am sat in a clean, shiny freshly painted and carpeted office, looks great, but so tidy I cannot find a thing! All the computer bits cleaned and refitted with no hic-cups!
Weather at the weekend was so good, I wished I was afloat! Know one or two who are and are enjoying it. Thick fog again this morning, so not all good news if you are afloat!
One new enrolment over the weekend, Jeff in the USA with a Westerly, but eyes on a MG? Welcome Jeff.
Reminder that the Annual Meeting fast approaches. No Essex shore based evening this month, instead meet us all at Bradwell for a meal, pint and chat before the official stuff. Nominations for Steering Group and Seamanship Trophy please.
All for now, catching up on Seagulls then off to paint more of the house.. (earning brownie points so I can get on with the fit out in a week or so...).
John
Wednesday 7th March 2012.
Local investigations have proved I was right, the 'fly-tipping' on the Osea causeway was 'unauthorised renovations' by the new owner of the island, thought it was too tidy for local fly-tippers! The owner, who had not requested permission from the requisite authorities to dump below the H.W. mark, assures local sailors that the rubble will be used to resurface the causeway. We will see if it is all levelled out later. Don't forget however, the Northey causeway still has 0.5m less water than shown on the charts! (and that island of course is owned by a large charitable organisation...!).
Work on the office continues apace, I have refitted my shelving and dusted off and replaced all the Maurice Griffiths books. Amazed to see how many copies I have of some!
One casualty of the refurbish so far has been the new scanner that I bought and share with the EOG, the usb socket pulled out of the back, so I have been forced to buy another, rats! If you have the wherewithal to put a new socket in it, I have a 8 month old scanner here that can go to a good home for a £10.00 donation to EOG funds. Retail £70.00, eBay prices about £59.00, which is what I have just had to pay to get a new one.....
I will be closing down the computer Thursday afternoon to remove all the components so carpet can go down, hope to be back Friday.. if I can plug it all back in OK!
John
Monday 5th March 2012.
John is up to his ears in it at Eventide HQ. The office is in bits, all empty bar this computer desk, for a total refurbish.... So I am working under duress for a few days.... Can't wait to get the new carpet down and get all the gear back in place!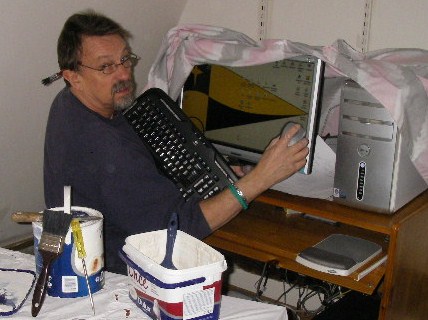 Hoping to keep cats off paint and paint off keyboard.. bear with me, normal confusion will be resumed ASAP!
Before the office was stripped we had another enrolment, welcome to David Abbot in Cyprus who is looking to retire to France but will be back in the UK to buy a CD of Eventide drawings! Sounds like a real rolling stone!
David studied carpentry and boatbuilding with the best, and is looking at building an Eventide 24. Should be a good boat with his credentials!
Walked down to the Bradwell shore last week in that summer weather, took a picture of the Baffle being removed. Seems the promises of total removal and all by February have been adjusted to partial removal by about April, but they did not say which year! They were not visibly working the day I took this, so maybe that's why it is taking a long time! also heard the method they were using, with divers had already resulted in two accidents and they were now going back to vibrating the piling out as they did on the trial run....

With the temperature plummeting again, and the wind F9 yesterday and F7 today bet they have not been working on it again.
John Hopthrow has brought an EBay auction to our attention, a Roach class cruiser for sale, sadly she is in France and in need of a little work. Go to the auction from here.... some may recognise her from our pages. could be a bargain project for someone...
Nigel sent in a note from the local notices to Mariners too. Beware this season if you would like to sail round Osea, some clown had dumped half a metre of spoil either side of the causeway. they claim it was fly tipped, but I have never seen fly tipping that neat!

Some years ago I found the owners of Northey had done a similar trick with 18inch concrete blocks alongside that causeway.. I gently slid over but gave a few barnacles a head ache... so you must add half a metre to both causeways drying heights on the chart when making passage round the backs of these Islands.
Time for the covers...and back to the paintbrush!
John
Thursday 1st March 2012.
Have to say the half dozen who turned up to the Grange in Boreham, Essex were very pleased with the meal, the venue and the company. Good to see a GH owner attending, Ken Marsden, also our Fund Manager. discussions varied from the events of the forthcoming season and suggested ports to the creation of a national water grid to cope with the impending drought! Babies, Holidays and general foreign travel.. not sure if we talked about boats at all.... Oh yes, Ken bought antifouling!
Next monthly meeting will be at Bradwell on Sunday 25th March! Our Annual Meeting. If anyone wishes to stand for the Steering Group please mail us..., (have already heard from a couple of Steering group members that they are willing to stand a gain thanks).
If anyone has heard of any member who has displayed good seamanship, or thinks they have themselves and has a log for us to read to prove it, please get in touch as we have a rather nice Seamanship trophy here to award.
On a sad note my wife told me of one of her clients, (she looks after stroke victims and the elderly, locally). John Tassier. He ran Fairways Marine Maldon. Many of you may have met him. He had a stroke a while back and never recovered his speech or memory. John passed away peacefully in his sleep a couple of nights ago. John lost his hand in an accident when he was a lad, but it did not slow him down and he was the man for Stuart Turner spares in Maldon. I recall buying a cylinder block, new crank and all the associated gaskets etc, for the Stuart 8 I rebuilt in 1974. He could pick up most items and handle them easily, took people by surprise when they realised he only had a stump! Darian used to take old Stuart Turner books of mine in for him, but they meant nothing sadly.. Nice chap, sad loss.
Our man in china is having difficulty with the internet there, so has not bought his Eventide CD as yet. How we miss the net if it drops out or we cannot get on.....
Had a long chat to John Holmes today, proud new owner of 'Otteau', hoping to sail in company with us this summer, why not join us too for one o more of our jaunts? See the Events Page.
Heard also from Tony Ealing, the man responsible for the major rebuild on 'Borer Bee' a few years back, he is interested in a Junk rigged Goosander now, Wonder if that will get the full treatment too?
Well the sun is shining again and it is time to get cracking, do not want to miss the seasons best weather again this year!
See you all on the river,
John
Monday 27th February 2012.
The weather over the weekend was better than last July. We went down to check the mooring and watched boats drifting in hot sunshine. wonder what it will be like in June!
I have just 6 takers for the meal at Boreham Wednesday, will report back on the evening. If anyone wants to join us I am told they could always squeeze another couple in... ring me 01621 778859.
Whilst ringing round to owners who may have turned out for this I called Brian and Mavis. Brian is making good progress after his stroke and though he has not yet got full mobility he is able to walk with a stick, however his right hand is still playing up so he is having treatment and has ordered the antifouling! A group of us have suggested we drive up to Walton on Naze to meet them one lunch time, apparently they do a good carvery in the Titchmarsh marina bar! Fancy joining us?
Had a go on my boat today, sorting out a few little jobs, and adding a couple more to the list! Removed a load of brackets from the trailer that I fitted to it last year, they will get in the way when I lay under her to antifoul, so a silly little job done, but one that will make a later job much more comfortable.
We have been discussing the cruises we are planning this summer, We have two in June, one the first week for the Jubilee, when we want to visit the Southend air show and patrol the lower tideway maybe, watching out for tall ships, before heading into the Medway. From there a trip to the Swale and Conyer could well be on the plans, we have an invite.
Later in the month we intend a gentle cruise with the ladies aboard, Blackwater area, maybe a lock in at Heybridge if the tides are favourable, that went down well before... Meal in the pub there too! That may well end up as the end of June meeting venue!
If you are afloat and available do give us a call, or mail us here for more info.
No new members in the last few days, but a few mails. One from the lady with the mystery 30ft boat, did in fact turn out to be the boat we have on the 'Unidentified' page, a twin keel 30ft Steel boat with a passing resemblance to a Waterwitch. The lady is going to find out if the former owner added the skeg he was talking about adding, to make here more directionally stable...
More from the Senior owner too, bought with a view to sell and as I have not heard from him again I suspect it will appear on EBay.
OK enough for now, back soon,
John
P.S. just added 2 more previously unknown boats to the gallery, amazing where they all come from! also edited a few pages on the Newsletters adding some new information.
Thursday 23rd February 2012.
Just spotted a project Eventide 24 for sale on EBay.... Did not show up on our page as Maurice Griffiths name not mentioned. Click here to go there.... only up for 4 more days Certainly a project boat, but looks as if someone has stripped out all the bad stuff and is rebuilding properly....
Heard from new member Dave, he is looking for an Eventide, think he is looking for one up and running though...
The thermometer went over 20 here today, had to go outside and feel it, lovely day. Flowers up all round the garden and the birds busy, bet it snows next week!
Had a lady contact us re a boat her father had left her, seems it may be the same boat that Jos Lambert had 8 years back. May .....? be loosely based on a Waterwitch, steel built, but if it is the same boat it has two small bilge keels only, no central ballast. The lady is going to send more info later for an advert.
Also had someone get hold of a Senior and wants to use the pages to sell it. Sadly they do not appear to want to sail it, just pass it on... There may be an advert for this one later too.
Reminder, if you want to come to the Essex meeting next Wednesday I need to know by Monday. ring me, 01621 778859.
John
Wednesday 22nd February 2012.
After an energetic weekend with all the family at Center Parcs, good to get home for a rest! Wonderful place for kids, and not bad for grownups! Swimming, and water park flumes and slides, cycling and walking in wonderful woodland, surrounded by wildlife. Deer come to the patio doors for the carrots we took, magical for kids! Hot tub in minus 3 great for the oldies!
Waiting for a bit of rain to wash the roads off, then my old van will come out of hiding.. too much salt on the roads still, so walking a lot, have to say it is good for you, time to get fit for the antifouling and general fitting out!
Talking of Antifouling I have a few cans in stock (and a few set aside for customers.). If you would like a can and are local enough, contact me to pick up from here in Tillingham or meet us at our end of month meeting in Chelmsford area next Wednesday.
If you would like to come and meet us we will be at 'The Grange', Boreham, Wednesday evening next, 29th at 1930 hrs. however we do need to book, so contact me by Monday next as I have to book it then......
Welcome to another new member, Dave Whittingham of Yorkshire, not sure as yet which of our boats he is interested in, hope to hear.
Have been asked for any history on the Eventide 'Mary Louise'.. If you have any info let us know.... I will be scanning the records shortly. Steve has sent a few pictures to add to the Gallery and he is already busy with the sander and paintbrush!
I have just added another chapter to the Senior Carita's page of the builders pages. John in Tasmania is beavering away and has had time to build a new dinghy as well!
If Carmello in Australia is reading this, your mail refuses to work......cannot reply..... So.... Re donation, £6.50 per CD please. Go to the 'Donate' button on the home page then just confirm by e-mail the CDs of drawings your require, 3 Tonner and Wild Duck I assume!
A big thankyou to Frances and Tim Knight for their generous donation following the sale of 'Mayna', will keep the website alive for years! Very grateful for the cheque folks... Makes it all worthwhile.
With the weather taking a warmer turn time to get cracking on our boats!
John
Thursday 16th February 2012.
Three new enrolments! Welcome to Malcolm Symonds who has acquired Doug Bullock's boat, the Eventide 26 'Karali'. Some will recognise those names as Doug and his boat featured for years in the Around the Coast correspondence in Yachting Monthly. Malcolm tells us he is new to sailing and has only recently learnt in a Caprice, which he has crossed Morecambe Bay in, treacherous waters! He is launching 'Karali' in April to sail her for the first time...
Welcome to Graeme Stevens in Surrey, who is looking to buy an Eventide, Waterwitch or Riptide....
And Peter from China! He has actually joined us before as a prospective Mouette builder, now he is interested in the Eventide 26, a much more commodious and usable boat. Much as the Mouette looks good from a distance, the sitting head room only inside would get to you quite quickly I suspect!
I have added a link to the Links and the Gear that Works pages. They are links to the firm that has supplied me with the Navigation Lights App. I wrote to them and they tell me a new App is due out shortly, in conjunction with Nav. Lights and that will have the sound signals and the rest of the Prevention of Collision Regulations. For the few pounds, literally, that these cost I would think they were excellent value for money.
I bought a program for my boat laptop as well, Lightmaster, but though it has the lights on vessels and buoyage system as the App, the graphics are not as good as the App and again there are no fog signals etc, ad yet. Await on this one.
The weather is still holding up with temperatures in the teens still. Off to the boat to check her out....
John
Wednesday 15th February 2012.
Hope you got a nice card or present yesterday and remembered to buy a bunch of flowers or make that meal reservation! Got one of the biggest bars of Toblerone I have ever seen! Brilliant meal in local eating house.... Traditionally the day birds start to find nest sites and a further step towards warm weather!
Good news today, the sale of another Eventide off our pages and a nice donation promised. Hope to see 'Mayna' out and about on the Blackwater still and hear from the new owner soon. Tim and Frances will stay on as friends!
Have had a serious enquiry from China for a CD of Eventide drawings. the question has been asked, how many can we build? Are we about to see a resurgence of wooden boats courtesy of China! Well there is a fleet of Seniors building in the Philippines, so why not.. MG called it the peoples boat!
With all the snow gone and temperatures at a very pleasant 10 degrees today, time to turn attention to fitting out again!
Another delivery of antifouling today, taking orders.... Discount for members and donation of £2.50 a can to the EOG.
Off now to mend a bird box...
John
Monday 13th February 2012.
The snow is at last melting after a few of the coldest nights we have had here in the past 14 years, recorded minus 7C. the lowest before that was just over a year ago with minus 4, and before that minus 3 was as low as it had been. Chris in Holland was talking of over minus 20C there! Hope you got the antifreeze in that engine!
Today a balmy 6 degrees above!
I bought a book the other day, it arrived Friday and I have had the weekend to read it. It was written by our late friend Colin Faggetter in 1995. It takes you from lofting the plans and reading the table of offsets, to launching, with a few pics of his Goosander in Greece to whet the appetite. I have been trying to trace the publishers, but it would appear they have disappeared. So I am going to publish a few extracts of it on the site without being able to get any permissions! Having said that a lot of it has appeared in Eventide newsletters and articles over the years anyway..

It is the sort of book any home builder should have on his bookshelf, all good common sense advice and lots of builders tips and wrinkles!
The family gave me a nice combined birthday present last summer, an Apple 'iTouch'. not a phone, basically a touch screen device I could put all my music on. It turned out to be far more useful than I ever had imagined. It is WiFi enabled, so will pick up any WiFi. I have it at home, but it is also able to pick it up in my marina berth, at anyone's house when I get the password, or out and about at free WiFi spots. I use it now for news updates, the weather and more recently have discovered the world of 'Apps'.
I have loads of then now, the ones associated with boat use I must mention, but I have language trainers too, trying my hand at Arabic! Also some about trees and even cats!
For boating the obvious 'App' to start you off would be weather and tide tables, some free too!
The marine side to these 'App's has opened up a new world. Years ago when working as a Marine trainer, I used a couple of old DOS programs to help me and my students in their quest to pass the Boatmaster and Yachtmaster exams. (Professional and amateur qualifications I taught.). Sadly these old programs no longer function on any computer I have, which is sad as they were good for entertaining a crew, and they never minded learning as it was fun.!
I have found an 'App', 'Nav lights and Shapes', which is fun and though not including the sound signals.... (as yet, have already been on to the company!!) it will suffice as a stand in.... as a training aid, it even has a fun test, and I have to admit to not getting all the answers right first time round! Practice makes perfect!
If you have one of the modern phones or an iTouch, worth a look.!
Off to recharge my iTouch, John
Thursday 9th February 2012.
Happy Birthday to the Eventide Owners Group!
Nine years old today!!!!!!!
Today, nine years after the formation of this group, I am so pleased to announce we have far exceeded our hopes and dreams. We have kept the designs alive and we have had over 1350 people think we are doing the 'right thing' and have been moved to join us! A far cry from the days at the end of the old association with just 100 paid up members and many of them non owners....... From the original 65 association members who joined the EOG at the outset we are so pleased that we have been joined by so many owners, ( and 'Friends') which just goes to show we were offering the 'right ' sort of support, 'For owners, by owners and Friends'!
Let us hope that we are able, as a group, to continue to support owners and prospective owners for many a year.
If you are a voting member, an owner, do not forget our Annual Meeting is coming up soon, (March 25th) and you can send in suggestions for the activities or direction of the group and turn up at the meeting with them and have a vote too!
Hope to see as many of you as possible....
Looking forward to seeing many afloat too this year, we already have a list of events, but would like to organise others in Scotland or the North West, Wales, and the south west. Any offers of host boat? All you need is a venue, a sailing club, marina, pub, cafe with nearby moorings or anchorages and a date, we will advertise it, if another boat turns up you have a meet!
What about a meting at a part restored or built boat project? These always were fun years ago, just have a kettle ready and allow people to drop in and chat! Interested, just call or mail.
Enough armchair sailing! Time to stoke up the fire, still got at least 4" of laying snow...
John
Wednesday 8th February 2012.
Sold a few more bits off the site yesterday, there are some bargains to be had, person buying very pleased!
Sent out 2 CD's yesterday, Eventide and WW to new member Alistair in New Zealand. Hope to hear which he decides to build.
Snowing again here, just light stuff, but having just walked to the post office and back in zero temperatures, it is drifting across the road again. Still 6 inches on the roof and all the sheds etc. Warm as toast inside, insulation, lots of it. Made me think how many of us have insulated boats?
I lined the dead spaces in 'Fiddler's Green' with closed cell insulation, mostly to try to make her unsinkable, which with the dinghy inflated in the saloon she would be now.. (No, not going to test it!!) But it also makes for sound insulation and heat insulation too. Behind the saloon seating backs, behind the galley lockers against the hull, under the cockpit floor, and each side of fore peak bunks. Sadly there was no good way of insulating the cabin top without losing headroom.... with a larger boat, Riptide or GH this could be possible, but if damp gets in, disastrous.... Anyone had any experience of it?
I have now moved the updated Marclear antifouling advert up onto the Stoppress page and the 'What works' page. For the third year running the price is pegged. already had the first orders in from boat owners in Bradwell where we know it works! Order your now. small donation from each can to the EOG.
Time for lunch and to toss another log on the fire!
Just noticed my office/house anemometer is working again! Just 3 knots of wind , but this is the first time it has worked since it went off the scale during the blow on Jan 2nd!
John
Monday 6th February 2010.
(No, it is 2012, just checking to see if anyone was watching..... thanks John)
The snow arrived on cue! We have between 6 and 8 inches here and must be the heaviest dollop of white stuff in 14 years! There are snowmen all round the village! Yes it has made the back roads tricky and some are still icy, but main roads were quickly clear, which was just as well because I was in Chelmsford area Sunday lunchtime to test out a pub restaurant with a view to use for the Essex Section. The place turned out to be a great venue, clean, warm, friendly, well staffed with good food and beer and even with flowers in the loos! Have to thank the BSA Bantam boys for the idea as we went there to meet the local Essex section of the bikers! Just as with the boating, a load of old chaps and their ladies with a common interest. Another great crowd. Why don't younger people get involved...? Mortgages, children, jobs all seem to get in the way of fun!
I will be trying to book the place for the end of February Essex meeting, only slight snag is they need a couple of days notice, as they can get busy, being attached to a Premier Inn.... We can but try. will be asking for calls to make the reservation the preceding Monday. That's the 27th February.....
Had a query about tacking long keeled boat today, a Barbican. (not a bilge or centreboard version) Now from what I have under stood from Nigel and Heidi they have had no problem with theirs, and as their keel has been stuck up for a while, they are exactly the same set up. I think from experience with my long keel Eventide, it is largely down to the setting up of the rig. I am waiting on some pictures of his mast and sails to see if I can spot anything obvious! Any Barbican owners like to comment, ones with stuck centreboards of converted to long keel?
One of our 'friends' boats was out over the weekend in that snow, John Hopthrow. John was tucked up warm at home but his daughter and partner were sailing her, they were warm down below till the butane bottle froze! Has anyone converted to Propane, for winter sailing or for good? Be interesting to know. I contemplated it for a bit as I extend my season till November most years, have even got a bottle and regulator, just in case, but have never fitted it, yet...
Keep warm, time to return to the log fire!
John
Thursday 2nd February 2012.
Winter has arrived, minus 2 here this evening, though it has just warmed up to Zero, so it's probably going to snow. Snow is about the worst thing for boats afloat or out in the weather. It settles, blows in everywhere, melts slightly, then the next night freezes and lifts all the darn varnish! Hope you have been to check your covers!
We have had a couple of new members join us, both as Friends... Carmelo in Australia trying to decide whether to go for the CD of the 3 Tonner or the Wild Duck. He at the moment sails a 17ft carvel built gaff rigged boat, so already a traditionalist! Phil here in the UK is looking for a bilge keel Barbican. Phil sails in Wales with a 36ft Westerly at the moment, but is looking for a sea kindly traditional boat!
I have been busy adding boats to odd pages, a Bawley seen on EBay, not sold yet and this is at least the second time she has been listed. Lots of work but lots of boat. I have also deleted a few bits of the boat bits page, sold! Donation to the site!
I will attempt to start the next newsletter off soon, have a few items here for it and one huge one. This Edition may just end up with one article! Watch this space, it's a biggy!
All for now, time to throw a few more logs on the stove and then turn in.... cold out there, cosy in here, but hang on, whilst thinking about our log burner.... Anyone any any recommendations for a replacement stove for a Waterwitch? there is a thread on the forum that needs an answer....
John
Sunday 29th January 2012.
Announcing a Dutch Owners Meet, June 2nd and 3rd 2012.
Due to a number of articles from my hand in the Dutch magazine "Spiegel der Zeilvaart" (Mirror of sailing navigation) the initiative has risen to gather all the described MG and connected designs in the Netherlands. So I'd like to announce the event on the EOG site as well, because it is also followed by Dutch readers.
Reunion of Dutch MG designs
At June 2nd and 3rd a reunion will be organised for all yachts designed by Maurice Griffith or closely connected to his designs based in the Netherlands. The meeting will be in the little village of Gaastmeer in the Frisian lake district. For further information you can contact us.
The organisers:
Martin Holtes
Eilard Jacobs
contact ejacobs ad chello dot nl
More to follow!
Saturday 28th January 2012.
I have just added a couple of photos to the Builders and Restorers section. John down under is forging ahead with the construction of his Senior, the keel in now on! John has opted for a steel plate keel and by the looks of it will attach weight to it by through bolting.. simple and effective. John is fitting out the interior as well now, hope to see her afloat before too long...
How many others are out there building? we have heard of a few over the past nine years, but many have gone quiet. ??? We noticed the Steel Riptide Rachel was building was a finished hull when it went on the market last year. Don't know what happened there, why she sold, or if she did, we have lost contact... Seems to be an ongoing problem, keeping in touch, so many change their mail providers and forget to tell us...
I said earlier 'Nine Years'. Yes the EOG celebrates 9 years next month. How far we have come! Present membership stands at over 1350 joining! We are trying to keep track of all members and all boats and past members and further back to all known owners and boats. This task is proving to be a problem. We have 3 separate databases that we are trying to merge into one automatic, on line system. We have made great strides, but have a way to go yet. Our new Webmaster Peter, is working on a system, but if you think you have a way of combining 2 Access databases and a MySQL one into something we can manage, please contact us!
I said I would report back on my experiences with the new CTEK battery charger. I successfully de-sulphated and restored my little lawnmower battery with it, that battery now on the solar panel again to keep it topped up. Not so lucky with the Morris Minor van battery, that showed up a fault and had to be replaced. I have been charging it once a week and it has been struggling. Worked out it was 8 years old!!! This week I tried my generator, (for the house, we live at the back of beyond..). That was reluctant to start the genny, even though that has also a Solar Panel permanently connected. So tried to revive it with the CTEK. Instantly threw up a fault... cost £50 to replace it, but as it was 7 years old and as an ex hire generator and you have no idea how it was cared for, did not think it had done too badly. Anyway connected new battery to CTEK and it zipped through the charging program and it informed me battery was fully charged after just 24 hours. Generator starts as soon as it sees the key now!
Doing further research into Lead Acid boat batteries, I have just bought 2 cheap 12v trickle chargers so I can leave the boat batteries in my garage over winter now, on a permanent trickle charge. I also have a 6v one on my old BSA Bantam....
Used the EBay page to buy them too, put 10p in the kitty! Do try and use this facility, Peter has reactivated it after our ex-webmaster threw spanners everywhere, it is working 100% again. I'm not saying the cheapest things are always on EBay though, far from it. One of the good things our ex web man showed me was how to search the net to find items for sale. Google 'shopping'. Part of the normal Google search engine. It will find the cheapest and if it is on the Bay, simple to copy the items details, and paste them into the EOG search page. works for me anyway.
Had a £20.00 donation in this week for the 2 Ali portholes that were on the pages. Sold to raise funds. hope to sell more items shortly, have bought a job lot of chandlery with some Seagull parts, and will be posting them shortly.
Enough for now, though it is cold, I am off to the boat to remove the last battery and wire in the new battery monitor.
Will drain any water too, as the weatherman reckons it's going to get chilly for a bit!
John
Wednesday 25th January 2012
Burns night! A nod to Barry our ex webmaster!
It is also Chinese New Year, the year of the Dragon, so this evening we are going to meet in Maldon at IZUMI Chinese Buffet!. Sadly all the regulars are indisposed or busy, (Jo is on her way back from Malaya and Doug of course is picking her up from Heathrow). Have had calls from two other members, but when I told them it was just to be myself and Darian they opted out.... good job I don't bruise easily or I could get a complex!
One of the two calls was from Martin who had just bought 'Mayna', advertised on the site. Hopefully we will see more of him afloat next season. Awaiting his enrolment ....
Another new enrolment in from Mark Symonds. Mark owns the Atlantic Clipper I have just added to the For Sale pages. She is a good looking boat with all the gear, make a good cruising boat for someone! Mark says if she does not sell she will be out and about in the Solent, watch out for him!
John Hopthrow has brought my attention to an Eventide 24 for sale at Prestwick. Project boat that sails and floats.... have a look....
http://www.ebay.co.uk/itm/ws/eBayISAPI.dll?ViewItem&item=120845740586&ssPageName=ADME:B:EF:GB:1123
OK that's it for now, off out to Maldon! Hope to see a few members in a months time maybe?? Or at the Annual Meeting 25th March at Bradwell.
John
Sunday 22nd January 2012.
Just back from lunch at the Marina and this year, again, Mike and Anita have agreed to let us use the dining room for our Annual Meeting.
Assemble 12.30 for lunch, beer and a chat. Normal large menu available. Meeting kicks off at 1400 and will last approx 1 hour. Anyone with anything they would like put on the agenda please mail it in at least 7 days beforehand. All members welcome, and full owning members get a vote don't forget.
I was going to take a look at the works going on at the Bradwell Baffle site, off the PowerStation, but though it was a balmy 8 degrees, the F6 made it feel a lot colder, so postponed. However we did learn that they have had major problems and though they did an experiment some years back and easily removed 30 metres of baffle by vibrating the piles out, this time they had opted to send divers in and cut them off. Subsequently they have had 2 incidents with the divers, so now have resorted to the 'vibrating out' method that worked! As a result the work is months behind and the exclusion zone around the area will still be in force, well into the summer. In addition they have now announced that the central concrete pillars are going to be more difficult to remove than first imagined, so they may leave them! They were supposed to be finished by spring with all removed and the bottom swept by wire to ensure no obstacles....
Will keep you posted.
I have updated the Events page today. If there are any other events, like a builders meet around a part built or restored boat, let me know and I will add it to the list and can arrange e-mailings to members living locally.
Had a mail in regarding a Steel Eventide, 'Torfreda' She was built in Holland and sailed to the UK by the owner and family in the late 50's early 60's... John Hubbard would like to know where she is now. They kept her in Bosham, (Chichester). I suspect she was one of the 'Kesteloo' built Eventides and possibly 27ft long, over 100 were sold to he UK in the early 1960's.
Had a mail in from John Slevin in Tasmania, he is building a Senior and making a lot of progress. See the Newsletter.. and the builders pages. Still got time to take the Eventide he built earlier, out fishing though!

Says there were no fish biting though! John is getting on ever so well with Carita and it will not be long before the boat is launched, the ballast keel is now fitted! Well done that man!
Time to go and throw another log on the fire and relax. I am saving my energy for the forthcoming fit out! (My excuse anyway!).
John
P.S. Stoppress.... Stoppress. This came in from our historian John Stevens as I was closing down the page to save it, have a look! http://www.bbc.co.uk/news/uk-16671444
John
Thursday 19th January 2012.
Welcome to Roger Hartley in South Africa. He is looking at an Eventide 26 and send the name of the area he would be sailing. The Historian mailed me back after I sent on the form, Google it he said. I did. Nice place! 'Saldanha'. We will have to update the number of members joining on the site soon, must have got well beyond the 1,300 listed!
Have had a couple of enquiries about advertising on our site, seems the 'For Sale' page is easily found! One came from a member of the old eoa from long back, selling a GH 31, the other enquiry from a commercial boat builder in Turkey. Once I realised that was what he was I informed him politely what we were about and we were not about to advertise his 27ft modern boats. Sadly it seems people will try it on.
End of the month meeting next week! Have heard from several of the regulars and they cannot come along.... We were going to meet in a Chinese restaurant in Maldon. If there is anyone who may be interested in coming along please contact me on 01621 778859, seems Darian and I may be on our own otherwise!
The saga of batteries.... after giving that bit of duff info and quickly correcting it, I can report that 2 of my 3 boat batteries have passed all tests with new charger, with flying colours. Next the old lawnmower battery, which amazingly has also come back.... This was dated 2004, a much abused 38Amp hr battery... Kept going for the past year by the use of a 5 watt solar cell on the lawnmower shed. Looks good!
However not so fortunate was the battery on my moggy van, which failed to respond and cost me £60 for a replacement yesterday! Had been nursing that with frequent recharges for a year now. Yesterday, one turn of the motor, then dead as a doornail! Was 7 years old..... So cannot complain, well not too much.. (£60, ouch!)
I will be trying to rejuvenate the battery for the house generator next, that too has been on a 5 watt solar cell for the past year.... but has needed charging as well... could be a tricky one. Clever charger/tester/rejuvenator, is a CTEK 5 amp unit....More later.
Had an enquiry re the WW CD today and there has been some activity on the Forum, sad there is not more....
Click here to go to the Forum pages...
All for now,
John
Monday 16th January 2012.
Welcome to Tim Baldwin with the Vulcan 'Silverhow', the latest to join and share information with us.
Today I had an odd request from someone who saw his boat listed on the gallery, he wanted it's location to be a secret... (It is in the Netherlands). I can only suspect he is hiding it from someone... very odd. Myself I always tell my boss what I have and why I buy these bits of boat kit, she rarely understands what I'm talking about anyway when it comes to boating.... but I have heard of aggrieved wives attacking their other half's boats.. famous one in Poole last year.... Takes all sorts as they say.
And talking of acquiring boats, I acquired another at the weekend, a cold moulded ply dinghy about 9ft long. I hope to renovate it for little Horatio, the grandson. Will post a picture later.
Have had an enquiry for the iron keel I have here, from a member building. Better than sending it for scrap! Have recycled a lot of bits recently. Good to see them going to good homes to be reused.
Will be altering the advert for the Eventide 'Funky Floater' shortly, price reduction, also adding info about the Clipper and Barbican....
Back soon,
John
Thursday 12th January 2012.
Sadly learnt today that the last GH building company, Newson's, is no more. We do not know if the moulds are still there, the yard now seems to be in the hands of the MTB 102 preservation society. Now should I volunteer to host the mould in my garden... After the last boat, not a chance. We also have lost track of the moulds of the Lone Gull II. (Are they moulds or are they molds?). I think it is the former, but what the heck... We were approached by someone who had a Lone Gull II part completed, he had the drawings too, which would have been great to save for posterity, but sadly we never heard again. We never heard from the family re the drawings of the Francis Drake and GH 39's etc, suppose those drawings have now been lost to all. Some people still think these boat drawings are worth a fortune and sadly determine to hang on to them till they get forgotten. Sad legacy for some of M.G's and the other designers, boat designs.
We will do our utmost to preserve as many different sets of these drawings as we can.
Heard from two members that they have successfully applied and got ship licences for free as a result of my posting the notice about the fine! Nice to know a couple more of our members will not be getting 'The Knock'. I know there are a few more out there who need to get legal.....
Had a nice series of pictures and text in from Justin about the centre plate on the Barbican. Should help a few owners decide what to do! Justin is proud skipper of one of a handful that were actually built to the MG drawings, with a centre plate that not only cannot fall out, but is used! I will be adding the pics to the Barbican and Atlantic Clipper page shortly.
I am pleased to say we have had the whole text of a GH's circumnavigation sent to us. Brian and Joyce sailed Tusk for years all round the world. they took pictures and wrote avidly. I am hoping to publish the lot for all to read, for free. A Generous gesture by Brian and Joyce. 'Tusk' can be followed from launch to her Mediterranean cruising today. More later.
Chris in Holland, one of the Steering Group, has sent in details of a free plotter navigation program.
http://www.antech-it.nl/nieuws/nws007.htm
While not as detailed as the electronic charts you can buy, it may well be adequate for many, especially if you are using it to back up paper charts.
We also heard from the grandson of the Classic MG, 'Ayuthia'. Launched in 1936 and spotted for sale in the USA in 2006, she of course appears on our pages and we have been able to furnish Charlie with some more info so he might track her down. He has promised some photos of her sailing in the Solent in 1950's!
I have taken delivery of a CTEK 5 amp battery charger, bought using our EBay page, to put funds in the kitty for the Webmaster... I will report back after I have tried it out on a couple of suspect lead acid batteries I have here. The lawnmower is going to be first!
It has a reconditioning program to try and bring back older batteries and a normal charging set up that first pulses to 'de-sulphate' a battery, going then through 8 stages to ensure batteries get the best chance. It also test them along the way. The one I bought is good for up to 120 Amp hr, but there are larger and smaller units to suit different sizes of lead acids.
Hope you are ticking off the jobs on your fit out list too.
Off Saturday to pick up another boat. This time a 'Fairy Duckling'! I intend to sort it out for Grandson No 2, Horatio, a budding Admiral at the age of 6 years and 2 months! Pictures later, of boat and crew....
John
Sunday 8th January 2012.
Have spent a few hours on the boat over the weekend and have partially installed my new battery monitor gauge. Took the opportunity to remove the start battery, Voltmeter said it had 12.7 volts in it, and sure enough the little green indicator in the top showed it was charged. Put on the bench and connected to the charger it barely took an amp! Hope you do this at home folks... Next step is to discharge it with a lamp and then recharge. Will keep it tip top. Now the battery is out i can replace the hose and check the seacock behind it, another job ticked off the list.
A day later and I have had some advice. Do not drain a lead acid down past 20% capacity by discharging, it does them no good. Instead let them self discharge slightly, to 80% it says, (now if you have not got a clever Nasa Battery monitor you will be hard pressed to figure that one out), suffice to say if the voltage is down to 12.5v., then recharge. Better still buy a clever auto charger that you can leave on all the winter. I have just bought one on our EBay page. cost £50.00 but if it saves the cost of the batteries... Will charge up to 120 amp hour battery and keep it charged
Fridge battery only registered 12.2 volt and the 'fuel gauge' on the NASA Battery monitor read 60%. That too is on the bench for charge discharge charge cycles. Not any more... a day later and wiser and it is now fully charged and awaiting the clever trickle charger.
With any luck I will be taking that back and maybe swapping it with the Services Battery next week, then connecting the new meter.
No power in the barn, or it would have been easy to leave the charger on! I do have a little generator, 60 years old plus, ex WWII Royal Corp of Signals battery charger, Bet my dad used to use one just like it in the north African Desert! corporal later Sgt in Signal corp. Only trouble is it is a little noisy, heaven knows how they kept them quiet behind lines in the L.R.D.P.
Though the thermometer says 9 degrees, the chill gets in you out there, so not too long on the boat today.... Hope you are managing to get jobs done.
Realised the London boat show was on. Had a scout round, apparently the place near empty. Well I do not know anyone bothering to go. Few if any chandlers, few deals, virtually no boat under 30ft and 100k! As one chap said, where are all the starter boats now for him to sell on to when he wants to retire from the game.
They are on our site!
John
Friday 6th January 2012.
Twelfth night so I hope you have your decorations stowed away safely. One Neighbour had his taken down for him, one of several trees felled by the horrendous winds we have had in the last few days!
I spotted the following and thought I had better print it.
Now I hate to have to say this, but in my view it is a 'no brainer'
If you have a radio, even a handheld VHF, you need a ship license.
It is FREE!!!!!!
If you do not have one the fine is £5,000.

Please contact the Radio licensing boys to get legal.
Will be adding more kit to the for Bits for sale pages, some new some usable second hand. I have also added a GH 31 to the For Sale pages too. If you have bits or boats, we do sell them from our pages!
For the first time ever we have had a member ask to be erased from the membership list! As he is in N.Z. it cannot be my B.O., not sure what the reasons are but we have written to Mike telling him we are perfectly willing to remove all his contact details etc, to comply with Data protection etc, but we can and will leave his name on the archive as an ex owner of the Eventide 'Quest'. Shame to lose you Mike. (most ex owners stay on as 'Friends' and still keep in touch occasionally, and it great to know you are still looking in on us.)
Used the EBay page the other day and ordered my new water filter. It arrived yesterday and so did a few pennies, into the Webmasters account! So the damage to the page is repaired and all is working fine again. We lost 3 months income, about £150.00. Peter is busy upgrading the forum pages to insert extra security and a nice touch, a compulsory field, your location. Seems some are shy of telling us they live in Cumbria or Wales or Sussex, no idea why. Well from now on you will have a clue where a member comes from, unless they lie of course and as we can look in and figure that out, any who deceive will be...
Whilst on about the forum we think this can be a great place for members to meet others either with similar boats or in the same sailing area. Come on do not be shy, join up. We have over 1,300 members and few so far on the forum pages. It really is not too difficult to join, after all if I can do it, you can!
Off to the Post office now with today's sack of Seagull parts then down to boat to measure up for new voltmeter.
John
Thursday 5th January 2012.
The weather has really given us a pasting for the last 3 days, winds of 100mph have been recorded at the local marina and we have had damage as a result.
As you may know we have a WildDuck abandoned in our garden, that was a casualty of the storm. We had hoped to be able to pass it on to someone who would give it the care it needs, not any more as the port side is distorted where it fell, so suspect frames have been damaged, so it is now even more worthless than it was.
Difficult to quite make out what you are looking at with all the debris, but she is now laid on her port side on the ground, but in falling had trapped an Ali ladder under her, cannot see if that has punctured the hull as yet, too much splintered timber from the legs of the cover frame. (Of course had the cover been erected, that would have taken the brunt and the boat would probably have survived!)
Even more damage was done, financially, to a boat in a nearby marina, here the 2010 boat show exibit Elan crashed over and had 3 holes through the hull plus impact damage, value £105,000!

Ouch, but unlike Tarka, bet this one is insured!
At the moment the Dartford River Crossing is closed again and there is chaos in Essex with fallen trees everywhere. My wind speed indicator on the roof has gone off the scale and jammed!
Roll on Spring.
John
Wishing all our members and 'Friends' a Happy New Year,
and Good Sailing in 2012.
Sunday 1st January 2012.
The rain is tipping it down but the thermometer is still hovering round the 11 degree mark. Blackbird in the hedge outside the study window is building a nest! What is going on!
We realised yesterday that the ex-webmaster had purposely fouled up the eBay page as another bit of his parting gift. Repaired today by Peter, and I have been spending a few pennies on it to test it. I bought a new filter for our on board drinking water filter, (Jabsco). Cheaper than driving to the nearest chandlery and we get a few pence in the kitty for the webmaster, all donated by EBay!! Also bought filters for the daughters fridge/icemaker and spare vacuum cleaner bags! All fun here! To search for anything on the EBay Page you just change the text in the window from 'Maurice Griffiths' to whatever you are looking for! Simple.
Did not get to Marina Bar yesterday, they were closed, never mind, we will drop in to see Mike and Anita shortly and set up a date for late March, a Sunday lunchtime, for our Annual Meeting.
Antifouling.... I will be trying to get the same deal as last year, hopefully.. and will advertise it ASAP.
We are looking for a new web editing program to replace the rather dated FrontPage we use at the moment. If anyone has any ideas or experience swapping over from FP please share it with us. The site as you know is huge, 1.5Gb plus and sometimes it takes a little while to download and upload when editing large sections. I have been doing edits for 2 days now... and have just about caught up.!
New edition of the Newsletter coming soon.....
Hope a few of you will be joining me and crew Phil for a weeks cruise around the silver Jubilee week... put the dates on the calendar. June 2nd to the 9th.
All for now.
John
---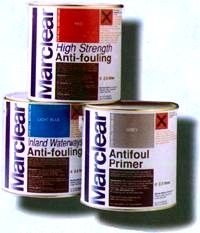 2012. Discount Marclear antifouling For Sale.
prices pegged for 3rd year!. Feb 2012.
I have again been offered a great deal on Marclear, for High Strength Work Boat Red Antifouling.
I am to be able to sell it at £60.00 for 2.5 litres, instead of the R.R.P. of £107.00! This will include a donation of £2.50 to the EOG for every can!
Thinners for wiping down, cleaning up or thinning 10% if it is really warm, (wish), £5.50 for a litre can.
There is also a primer in 2.5 litre cans, for covering old antifouling that may be flaking, unstable or not copper-based. £40.00
Also will have to be picked up from me in Essex, or carriage free if you want to order 4 cans, ( over £200 worth) to be sent to you up country! (Get together with a mate!)
For more details contact me on 01621 778859
This year again I will be accepting payment from credit cards on ordering
via the SOS PayPal account.
Contact me via this site enquiries@eventides.org.uk and I will send details.
John
Marclear have a web site up and running now, click here, Marclear to see the other colours.
---