---
These pages will be updated on an almost daily, certainly on a weekly basis, from all the mail and information coming in to us.
from Jan 2011
---
Click here to read the 2004 News pages
Click here to read the 2005 News Pages
Click here to read the 2006 News Pages
Click here to read the 2007 News Pages
Click here to read the 2008 News Pages
Click here to read the 2009 News Pages
Click here to read the 2010 News Pages
---
Saturday 31st December 2011.
Happy New Year everyone! The last entry for this year and I will now have to start a new page..... again!
I have spent 2 days updating the pages, I have added loads of pictures and suddenly realised we are fast approaching 2000 photos, on the gallery alone! I have added new boats ... 'Tusk' a round the world GH! and more adverts, boats for sale 'Mayna', an E 24, very realistically priced....and some more bits.... plus updated old pages with more recent information and am starting a new Newsletter as well.
Articles required please, news, snippets builders tips anything.
I have also enrolled the new owner of 'Otteau' and posted a picture he has sent in, welcome to John Holmes!
My pending folder is looking quite empty now. sometimes it takes a while to get all uploaded, there is just so much coming in! After nearly nine years I continue to be amazed at the support we get. Well done all of you!
With the temperature outside a balmy 13 degrees again today and no real prospect of a cold snap, I am off to so some work in the boat next week. I have to lift out the batteries to charge them (no electricity in the barn and generator noise a bit invasive..) and want to fit the new NASA battery monitor.
I have just read in PBO of someone fitting a 'Sterling' alternator controller. He seems to have had better luck with the device than I had, maybe the inventor took note and changed the installation instructions... they were terrible, 3 wrong wiring diagrams in a set of factory supplied info is just too bad. A French language set were OK, but not on.. Sent the 'Sterling' back. Installed an 'Alt-X' controller and matching splitter, 'Alt-Split', it does a magnificent job, fully charged batteries all year for 4 years now! charges 3 battery banks and monitors the voltage and temperature as well, clever. I also feed the 3 banks with a large solar panel through the X-Split, brilliant, no voltage drop. Can thoroughly recommend the firm.
(I had problems with an 'Adverc' system as you may recall, 10 years ago, the brilliant designer had made it 'fail dangerous' if by chance a wire was cut or in my case, if it was never soldered on from new, and came off with vibration.. impossible to see as it was sealed in their wiring loom!, as a result destroyed the batteries by massive overcharge!!!). Amazes me that these firms are still in business.
Hope your fitting out will be easy and you will be afloat early next spring! It is our intention to be! And hope we can meet up with a few east coast members for the late May, early June bank holiday week.....
See you on the river,
John
Thursday December 29th 2011.
Wishing all our members and 'Friends' a Happy New Year,
and Good Sailing in 2012.
Heard from a few more members over the holiday period. Nice to know so many look in on these pages and even nicer that so many of my friends from the 'old days', of the association drop by, to keep in touch with what we are up to!
Sadly that does sometimes lead to a call telling us of another of the older members, 'crossing the bar'. Over Christmas Gerry Loveridge quietly passed away. It was expected, he had been poorly for over a year. Our thoughts go to Valerie and to Sallie and Wendy. Gerry built the Goosander 23 'Goosey' and after years of ownership and happy sailing with all the family sold her. I'm told she was still afloat on the northern part of the Norfolk Broads, but not in the finest of condition these days...., went on to complete a Sabre, not a Cutlass as I first thought. She was named 'Leofric'. After some years Gerry and Valerie bought their dream ship, a Nicholson! Before becoming a police officer Gerry had worked on the interiors of these boats, so it was a homecoming for him. 'Leofric of Lothingland' was based in Lowestoft. Bon voyage Gerry.
Today heard from the new owner of the Eventide 24, 'Otteau', John, he is probably typing in his details into the enrolment form as I type this! He is keeping 'Otteau' on the Blackwater, so hope we will see her about. John has said he would like to come along to our January meeting... hope to see a few members there.
I will be organising the Bradwell Marina Bar again for our Annual Meeting in March, more details of that soon.
Heard from Kathy and Roger in Spain, they are selling up, leaving the walnuts and Olives and sailing their GH 31 'Moondancer' back to the UK next Summer. We hope to meet up with them afloat! they then hope to sell 'Moondancer' and buy something larger again, they were the owners of 'Jua' the 34 (or 36ft) GH, steel, junk rigged, that they cruised the Med and crossed the pond with. They have the wanderlust again, and jolly good luck to them!
Don't know about your household, but we have already taken down the tree here, and for a change it is not one with roots... could only buy a 2 ft real tree this year, so that is outside waiting to be planted somewhere in the garden and the big tree that we had indoors has been stripped and is awaiting recycling! (by us!) Always feel it is a good time for a clear up and clean out of all sorts of things and this year, so I made the decision to sell all my back numbers of P.B.O. I have every one, all but the last two or three years magazines are stored in files and indexed. (may buy the folders for them too... ) Over the years they have been a good reference library, but our little cottage is beginning to bulge at the seams, so maybe it is time!
Hope to add them and a lot more items to the 'Items for Sale' pages shortly.
Also added that other book review that Brian Cook send in....
With the weather still not 'wintry' we are trying to clear up the garden and some of the rubbish I have here. Lots of work, but keeps you warm!
All for now, if I'm not back beforehand, Happy New Year!
John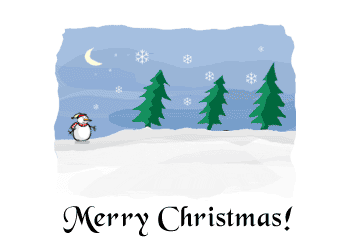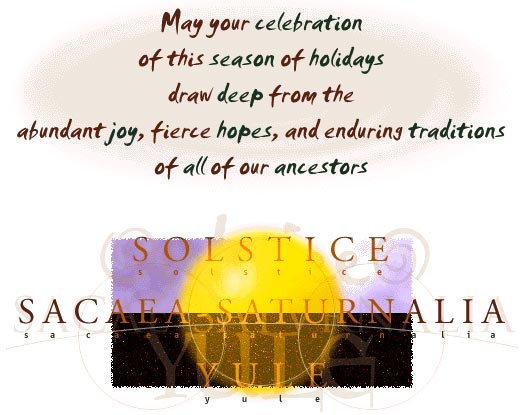 Friday 23rd December 2011.
I am often reminded how many of you look in on this page and it is always nice to hear from you. Good to know so many of you like to hear what is going on in Eventideland!
However I do often have sad news as well. Yesterday I learnt that Gerry Loveridge is not at all well. Gerry and Valerie from Loughborough, built and sailed a Goosander 23 before moving up to a Cutlass and later I believe a Rival. Gerry is not well and is in a Hospice nearby Valerie is able to be with him. Sallie, one of their daughter's (and the one who christened my daughter 'Duckweed', cos it smothers you!), chatted on the phone for a while and said they looked in at the Stoppress page every now and again just to see what was going on. Our thoughts are with you.
A bit of better news! Brian Neale is home. Mavis tells me he is making progress after his stroke, but it is hard work, our thoughts with you too Mavis.
A mail from Wilbur in South Africa asked after Tony Scrace and 'Eirene'. Sadly we have lost contact with Tony, over a year ago now and fear he may no longer be with us, but his boat is, and members Norman and Madeline keep her in the creek at Bradwell. Wilbur remembers Tony and his wife arriving in Cape Town after leaving Rhodesia, with the boat on a low loader...
We have had mails back and forth for the last week from Brian with 'Tusk' GH 31. Brian has sent me a whole raft of pictures to go with a log of his circumnavigation! Hope to use them in the next Newsletter...
Brian has also added another book and review for us.

I have included it on the book page. It is a sad story about the GH 'Cliperau' that like me you might recall was used for a whole series of boat handling articles in PBO years ago. She was eventually lost at sea and the book is an account of the voyage and the investigations. It would appear the conclusions were that she may have been dismasted or run down and the crew hurriedly abandoned. Without protective gear they huddled inside the damaged raft and may have been overcome by carbon dioxide leaking from a valve.... all very sad and if you can find a copy of the book, 'Master under God' worth a read.
No sooner had I posted this than Brian mails again, with yet another book featuring a GH!

I will be adding this one to the books page in a few moments! Thanks Brian.
News from New Zealand! Tom Driscoll has just joined us, he has taken on the Eventide 24 'Quest' that Mike Brown had been restoring. She is ashore in a shed and Tom is hoping to get her back afloat soon. Welcome Tom. I will be replying to your enrolment shortly.
Did I dance round the Solstice Yule fire? No too darn wet! Suspect this will be the last entry before Christmas so Best Wishes to all our friends out there and thankyou for your continued support. Without you we are nothing!
John
Tuesday 20th December 2011.
We are rapidly heading for the Solstice.... note I did not say 'shortest day'. I found out by chance that all the days from the 18th to the 23rd are (to the minute) the same length! Bit odd that. But the Solstice itself is at 5am approx on the 22nd!
Will I be out there with my Yule fire...? Well maybe, but as it supposed to be pouring with rain for the next day or so, maybe not.
In stead I will spend some time updating the pages... I have made a start today with a promised write up on a book we can now offer to members at a considerable discount....
the book is :-
'Keeping 'Nyala' in Style'.

If you click here you will be taken to the Books page!
I have been sorting bits of surplus boat gear out as well and will be adding bits to the pages as they get dusted off and photographed. Got a few good bits! Watch the Bits for Sale/Wanted page.
Hope to be back over the holidays, have a peaceful one.
John
Monday 19th December 2011.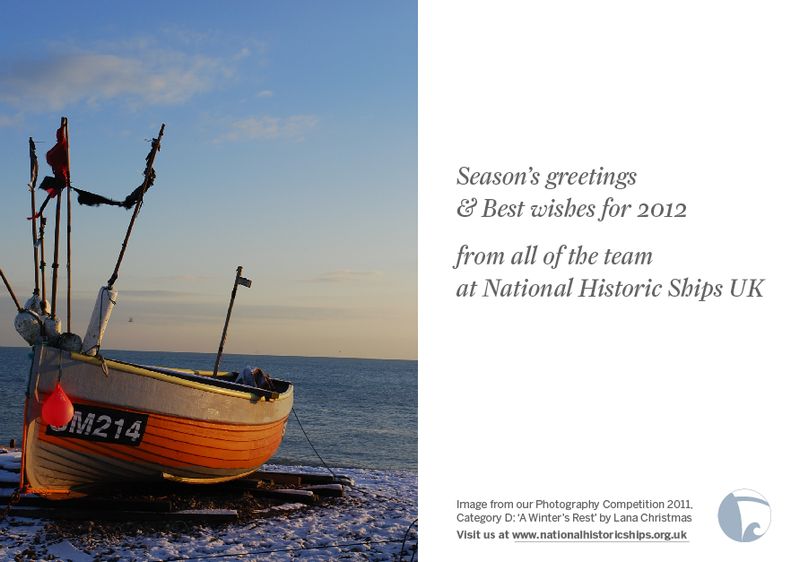 One of the nice cards sent to the EOG!
It snowed here yesterday, not for long and it did not last, but we are, or should I say were, into a cold patch, for today it has warmed up and looks like getting warm and wet over the next few days. ........ Have you ever noticed how us sailing folk watch the weather, even when we are not sailing! I love to see the synoptic charts and try and predict a day or two ahead, old habits die hard! What chance a white Christmas then??
Off to the post office with a sack full of Seagull parts, there are some stalwart boating folk out there! Brrr...
John
Saturday December 17th 2011.
The winters solstice is rapidly approaching and the festive holiday season seems to be in full swing! To all our readers, owners and members friends and guests, Seasons greetings.
At this time of year I hear from many of you, and also from friends from the past, it is good to know you are all looking in on the pages to get your boating 'fix'!
To those up to their ears in shavings, keep at it, it is worth it, when that tiller becomes alive in your hand it is a whole new world! A feeling that will be repeated time and time again! there is nothing like it, sailing the boat you have built or restored!
Hope Your Stocking has what you need in a weeks time or so!
In the meantime a big welcome to new member Peter in Brisbane with a GH 39! 'Quicksilver'. She has just been acquired and a little work is about to be undertaken. 'Quicksilver' sailed to the antipodes some years ago from the UK and has been idle for a while. Hope for some good pics when she is spruced up!
Went down to check F.G. the other day, after those storms, tucked up safe and sound, we did have F10 here and from the south for a while, so was a little concerned as her barn is open to the south! Thought we may have lost a few roof panels!
Hope you covers survived.
I have to finish a write up on a book I have been reading, then add the text and some pics to the books page. hope to find time this week...
All for now,
John
Saturday 10th December 2011.
Brr, pond frozen this morning, first real taste of winter, almost mid way through December. OK up north they have already had snow, but a reminder to us in the soft south, to check the antifreeze in the inboard and drain water tanks. Those out in the elements will need to check their covers after the wind this last week or the next rain (or snow) will wreak havoc with the varnish work!
We had a hiccup on the enrolment page last week, sorry about that, whilst the webmaster was working on the site a file was misplaced. we have corrected it, so if you are one of those who tried and contacted us, we are back up and running!
For those who were using it apologise for taking so long to reinstate it, was more complex as we had to add extra security.
For those of you who have not yet been on it, WHY NOT???? It is an excellent place to seek and swap information, meet other like minded folk. You are anonymous, in as much as your e-mail is not revealed, but using the Forum as an intermediary you can contact any other member. And they can contact you, as well as leave snippets of information for anyone to read on the pages.
We have been sent some good pictures in the past week, that I am slowly adding to the pages... GH, A Gibbs dinghy and an Eventide or two!
We have had no enrolments since Ken with Thalia, as the form broke, but have heard from one person with a part built new Eventide 26, who promised to come back and another with an enquiry re drawings. Hope to hear from them shortly.
I have also sent out a set of Tidewater drawings, to Khary in Las Vegas! He is keen to build and is choosing between Riptide and Tidewater maybe! Long way to the sea though!
Our Donations Manager has just returned to the UK. He and Mo went to India, toured from the south to as far north as Nepal! Exhausted on return.! Another Steering group member has just crossed Canada by train, Doug and Jo had a great time but barely time to sleep the schedule was so hectic! All these Globe trotters!
The Diamond Jubilee. As you probably realise by now the country is being given an extra holiday next June and I intended to use it as part of our May Bank holiday cruise. Depending on weather of course, but there will be a large flotilla heading up the Thames and even if we do not actually take part in the parade through the bridges we could be part of the lower Thames pageant.. any takers? We could end up anywhere in Kent or Essex afterwards for the week.
Nearly midday here and the roof still white with frost. Cats curled up indoors, wonder why? Sun is shining and I wonder if you are out afloat? Know another of the Steering Group, Nigel and Heidi are afloat on the Blackwater today, if you are going out, wrap up warm. A Bucket or two of salt water on the decks keeps the frost off! I recall the days afloat when we had to melt the ice of the inside of the windscreens with bare hands so we could see where we were going, and break the ice off the bow before it got out of hand and the boats were nose heavy! Not quite that cold yet.
I mentioned it a little while back but thought it worth mentioning again. I found a new Nasa Battery monitor on the E-Bay. I got it for 3/4 of the retail and when it arrived it was just as the seller indicated, new in it's box. It has an extra capability, it is the BM1+, in that I can get it to monitor the voltage on a second battery as well, an added bonus, as up to now I have relied on a small hard to read digital voltmeter with a switch to flick betwixt Aux and Start battery. ( The fridge is on a separate battery with it's own monitor, see Newsletter). I will be installing this over the winter and am sure I will be a pleased with this as I have been with the first one, (otherwise why would I have parted with £77.00 to buy it!) To be able to see at a glance the amount of charge left in a battery is great, just like having a fuel gauge! Have a look at the Newsletter and you will see what I mean.
Just heard on the VHF that a 55ft motor cruiser has sunk approx 1 cable north of the Nass Beacon, do hope this is not the splendid 'Rhis II', that we escorted out into the Blackwater all those years ago, to scatter MG's ashes.... she is that size and moored about there....
OK signing off now, but may be back if I hear why there is a ship in the Thames Estuary on the radio being told to drift and not drop anchor 'till accident assessors arrive'! Intriguing!
John
Friday 2nd December 2011.
Very pleased to announce the Forum is back up and running, our thanks to Peter,
the new webmaster!
Wednesday 30th November 2011.
Last Wednesday Meet of the Year.....
We meet tonight at 'Izumi' in Maldon at 7pm, (1900hrs!) I have booked a table for those who have been in touch, you have little time, but if you fancy it, 01621 778859 or just turn up and as it is mid week expect we can find places! It is a chines Buffet. Used it lots of times and the Essex crowd has met there a couple of times and liked it, never had a bad meal, as you can chose whatever you like, even have them cook it in front of you. Clean and smart.!
I have a copy of the book about the MG Classic 'Nyala' beside the bed at the moment, refreshing to read! I will do a full write up soon. Special price to members!
Sent a CD of drawings to new member Martin in Cumbria, he is seriously considering building a Selway-Fisher 'Stitch and Glue' Senior hull. We need feed back from those who have already embarked on this.. any offers?
Pleased to welcome Ken in Lincolnshire who is the new owner of the Riptide' Thalia' I believe! Have yet to write to him officially, when I do I will ask more, as she is currently in Cornwall!
At the weekend I drove over to Heybridge, Maldon, to witness the handover of the Waterwitch 'Wedjit'. Dear friend Peter North had approached me to help find a sympathetic new owner. I like to think Tim Fenner, the new owner has all the right attributes to look after this beautiful boat and expect a load of pictures later, after she has been given that little bit of TLC she needs. I feel very sorry for Peter, who spent 19 years building her and only used her for a few years before he had to lay her up when Jennie was poorly. When he went to get her back afloat he realised age was against him so once more laid her up. A real wrench to sell her. (I hope not to have than problem, as my daughter is up for sailing F.G. round the UK with me as a shakedown for the hand over to her! But I will retain part ownership or I may get thrown out of the EOG!)
Back to 'Wedjit'. The whole boat was covered in epoxy and cloth and painted with 2 pack paint, this needs re painting now, but is as sound as when it was applies 20 years ago. 'Wedjit' was launched the same year as our 'Fiddler's Green', 1990, and we too are just getting round to repainting the 2 pack on our cabin top this winter/spring, again first time in over 20 years. Worth doing the job right if you are going to do it.
Today was out on a mission to salvage a pair of bilge keels. They are all that is now left of the Eventide 26 'Seawitch'. There was a huge pile of sawn timber, for firewood. Sadly the only part found to be really bad was the deck and some of the raised topsides, the rest, though left exposed for some time, was solid as a rock. The commitment it would have taken to restore her was massive though, and as no one came along, she had to go. The mast had been damaged so was sawn into 6ft sections, and to my surprise it had been stuffed with engine sound proofing foam sandwich, the sort with lead in it! no wonder the mast was heavy when we salvaged it from the wreck of 'Francharlie' 9 years ago! Would not have done a lot for stability!
The bilge plates, that I bought off of her however were brand new and made from 8mm stainless! Sadly 2" too short for use on F.G. (and anyway mine are still like new.. mild steel. galvanized and epoxy coated.....). So they are going up for sale on the site, £175 the pair. Includes 10% donation to EOG. As I know my mild steel ones cost more than that 20 years ago they will be snapped up I suspect!
Had a nice mail from the ex owner of an MG Classic, 'Symphony', a Barcarole I believe. Greg sailed her to Australia and eventually. reluctantly sold her there and is now trying to trace her. He has logs and pictures to share with us. I looked her up in Lloyds list of Yachts and was able to glean quite a lot of info from there to pass on to our Historian.
One bit of good news, we have a new helper on the site and he is working on restoring the forum. We have to add extra layers of security to prevent malicious interventions, but have another helper who is well up for that and has already re written a few programs for me. More to come too!
Well enough for now, keep the mails coming in, I will try and keep up... Oh and I have just had 2 CD's full of pics drop in the post box, to add to the 'Everjoy' page! Go to the latest 'Newsletter' to see the amazing progress Ian has made.
John
Friday 25th November 2011.
Amazingly warm still! I seem to recall we were knee deep in white stuff this time last year! And I have an equally warm announcement.
(This is why I'm a little late with the Stoppress!!) We are grandparents again! Some who sail the Essex rivers may well have met Michael and Karen with their smart new motor boat 'Karená', at some of our meets, well now they have a son, 'Carter'. 8lb and 1oz, mother and baby home and doing fine! We spent the first night there with them, not a lot of sleep, but he is settling in now and growing visibly. A week old today!
Reminder that the Essex group are meeting next Wednesday the 30th at 7pm in Maldon. Do try and join us if you are in the area. Phone 01621 778859 for details. We will not meet again till January. We have a couple of our crew joining us that night....
Brian of 'Right Eh Oh'. Mavis has contacted me to tell me he is progressing well and though he still has no use of his right arm and little of his right leg, he is already planning rig changes for 2012! To that end I contacted Mark Urry who has instantly supplied some information, and today a parcel of drawings arrived that I will be sending on to Brian. Brian needed to know how long the bowsprit should be. I guessed right, Mark made them with 3' 6" overhang, just the same as I did on FG!
I will be adding copies of the drawings to the site for all GH owners to see.
Welcome to 2 new members. Florent Violain of Manchester joined and told us he was off to see the Junk rigged Eventide for sale on the Bay, he did not buy it, too much to do. But he has a friend restoring a GH and he has owned a silhouette, so suspect he is OK with ply boats.
Peter from Tenby area of Wales is interested in another boat seen on the Bay, 'Thalia'. Used to belong to Geoff Hyde-Fynn, and I met her in Plymouth in 2000. Seems not a lot of miles under her keel since Geoff sold her and she looks a little in need of TLC. well the price looks realistic, so hopefully she will get a new owner soon.
We had a mail from, Sylvia Murphy, the ex owner of the MG classic 'Nyala'. She has now sent me a copy of the book she wrote 'Keeping Nyala in Style'. I hope this is to be my bedtime reading this month and i will write it up. Sylvia has a small stock of these books she has reduced to half price to sell to us. There are pictures of the boat on the MG page of the gallery, which is how she came to find us. What a wonderful tool the web is!
I have been getting the grey matter into gear here installing security cameras. They are so clever these days. Fully automatic, sending pictures for storage via the net for viewing later, sending you e mails, all the lot. and the P.C. does not even need to be on! Very clever. Technology has come a long way!
I am installing another battery monitor this winter, I have been so impressed with the one I fitted this season. Again the technology is breathtaking. Wonder what MG would have made of it all.... 'decent tin hurricane lamps available in Woollies'!
I have send out a CD of the WildDuck drawings today, to Spain... the interest in these boat does not seem to diminish.
Enough for now, up early to sort a shipment of Seagulls!
Hope to see some of you on the 30th...
John
Wednesday 16th November 2011.
Hello all , at last the 'New' edition of the 'Late Summer' Newsletter it out! I have not yet uploaded all the info, but there is enough to say, go to it! Newsletter 16 is out!
Short and sweet today.
John
Tuesday 15th November 2011.
I have been taken to task for starting with the same word , I wondered how long it would take some one to realise! Thanks John. Shows someone reads it.
I have been uploading pages of into into the Newsletter, the 'Late' summer edition. Thanks Chris, did change the year to 2011, otherwise, as you say, it would have been extremely late! I still have 2 more big articles and several smaller ones to add, thanks to all of you out there sending bits in.
I have just added a chart-let from a notice to mariners, depicting the area where the work is going on off Bradwell too, and see the Late Summer sails for the picture taken by me sailing through the restricted zone! Oops!
Tried to contact a founder member today, only to find he had passed away, Ivan Sterling, who with many others who attended that notorious meeting in 2003, then like others, resigned the old assoc. Ivan was a Chief Superintendent, though you would never have known. He sailed 'Windsong' an Eventide 24 out of Heybridge. She is still there the family donated it to the Stebbings family who run the yard there and used to look after her for them, who of course are members too.
We get regular mails from some members and John Hopthrow is one such. Her recently sent me a mail with the Riptide 'Thalia' for sale in Devon. I mailed it to Geoff the ex owner, asking if he would like to buy it back, do not think Sandra would let him and he is content with his Senior, 'Mikros'. Raised a smile I think! See the eBay page, she is on there.
Talking about that page I have just used it for the purchase of a bit of kit, not for the boat but for our car... more about which later. Do use the page to search for any items you may buy, it raises funds to support the site. I will be shopping for a new main halyard shortly and I bet I get it via that page.
No new members this last few days, but a nice donation form John with the Eventide in Greece, just as a way of a thankyou. Thanks to you John. These donations and all the info sent in keep the site live.
Items on our for sale page sell as a result of the popularity of the site. The more active, because the more information there is to attract people, the more are directed towards us! so if you have bits to sell, mail me i will add them, but do let us know when they are sold, or you may continue to get enquiries.
All for now, weather so warm the grass is still growing, so needs cutting, in November!
John
Saturday November 12th 2011.
Well the weather has at last turned distinctly Autumnal, leaves everywhere and cold clear skies at night.
Managed one last run out on my BSA Bantam before tucking it up for the winter and making room in the garage for the old Moggy Van. So that's it, its official, time to hibernate, boat, bike and van in the warm. Logs ordered!
Washed all the halyards and covers this week, had to replace the roller reefing line, 6mm so onto our eBay page and got a bargain, half chandlers price. Also replaced topping lift as it was becoming tired, but had a spare length. Have yet to measure out and replace main halyard, that is 22 years old now and even though washed and dry stored every year it is getting too stiff to be used. The spray hood at 20 years of age has been run into the sail makers for a replacement quote and the dodgers and tiller cover too. Amazingly the Mainsail and boomed Staysail covers will survive another year.
Hope your winter work list is a short one. The major job on my list is to repaint the cabintop. I used 2 pot poly paint and she was in top coat at least a year before launch, so that has been untouched for 23 years at least. Next coat should see me out!
During the past week I have had some success with the Seagull website. Through a friend I found someone to untangle the mess and repair my database. The forum is also back up with another friend helping there. He is to turn his attention to the EOG forum shortly.
As a result of my SOS contact, we are going to have a new database incorporating all the old records we put onto a database and all our records on the database that Barry started and John Stevens, as historian, took over. Add to that every time anyone has enrolled since July they have been automatically saved. Now we have someone willing to put all these lists together and make them easily accessible to the Steering group so we can assist owners with history, sail numbers and build dates etc of their boats. Brilliant!
Talking of enrolments, welcome to Jim in Emsworth with the Barbican 33 'Darling Buds of May'! Has to be a story in there! Look forward to some pictures. Welcome also to David with the SeaFarer 18 that was pictured on the for Sale page for a while, looks immaculate. Dave has the boat at home on a trailer in Bridgewater, so expect he will be a west country sailer. Very interested in this one as I have a bid in on one locally and hope to restore it. (Another little job!).
We have had a good wishes mail from Jennifer Simpson of 'Iota' fame and a thankyou for the write up. a good Christmas present there maybe! 'The Iota Story' See the books page.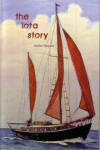 Also heard from a chap who has just acquired a GH 39 and in the next mail is an advert for another, see the For Sale page.
Last night I spent a few hours uploading pictures and items for sale, editing out those that have sold. We are waiting on the new owner of the WW 'Sea Troll' to get in touch, and the new owner of 'Otteau', seen on the Blackwater last week.. I try to remember to tot up the number of boats and pictures I add, on the index page, but think I may have missed few. The numbers are getting quite impressive.
We have had an update on Brian of 'Right Eh Oh'. He is progressing slowly, has some mobility and speech returning, we hope for more progress and will keep you informed.
Had no calls for the end of November meal night as yet, early days maybe, but do call if you fancy joining us. At the moment we think we are likely to end up in Maldon.
Lastly, and some of you may already know Darian and I have become foster parents again. So here we are introducing 'Bumble'

As ever my keyboard and desk seems to be a perfect place to curl up. At one stage yesterday evening he was asleep on my left hand as I typed, no chance of seeing the letters on the keyboard! So apologies for spelling!
Ahhhhh.
John
Saturday November 5th 2011.
Well my haul out went to plan. Last Wednesday it did not snow, rain nor blow a gale, what a change. In warmish sunshine, but with a cold wind, we puttered to the lift, were hauled out and pressure washed off. again not a single barnacle not a jell blob nothing! a light wipe of coat of slime. The yard lads, Dave and Ian said once again Fiddler's Green had one of the cleanest bottoms. Marclear a clear winner!
Mast was lowered without a hiccup and stowed on top all lashed down and before 4pm we were tucked up in the barn for the winter! Have a few jobs on the list but not many. Biggest one will be rubbing down all the cabin top and cabin sides. We will be repainting these areas for the first time in over 21 years! We did the deck last year, and will actually rub that down and repaint there too as the paint I used was a shade too light. We have Fighting Lady Yellow to use now, same colour as we painted the hull about 5 years ago. That is still pristine.
All the electrical modifications, battery, gauges, wiring etc have been 100% and I find I am hard pressed to find much for the job list.
Talking of lists. I keep a book for this. Every year I start a new section, transferring to it any jobs outstanding from previous years, like painting that deck! I also keep a record of what was used for a job, how long a cable or rope had to be. A very useful book, or rather number of books now after 21 years afloat! Recommend it.
Today being Guy Fawkes we are off to a bonfire night celebration, sadly though the centrepiece of the display is a very rotten Eventide 24. Pictures later.
Be safe out there tonight.
John
Sunday 30th October 2011.
Well the boat is almost ready to be lifted out, just the rigging to slack off, all the gear now ashore and being sorted, sails do not have to go for valeting, they have hardly been used, but the new mainsail has to go back as the sail number got jumbled up when it was put on, so needs redoing! Will have to replace the spray hood this winter, anyone any good contacts for that sort of canvas work?
We will replace the spray dodgers and tiller cover at the same time, but mainsail and boomed staysail cover have another year in them yet. not bad, 22 years!
Met up with dear friend Peter North over the weekend, I was hoping we could have helped sell his boat for him, a brilliant lee board WaterWitch, so well built! But there was a domestic hitch with the buyer at the last minute and he could not get down from Leeds to clinch the deal, so we took Peter to Heybridge basin tea shop for afternoon coffee and cakes, only to bump into Nigel and Heidi and son Oliver and their Barbican 'Diane II' moored neatly in the lock!
Mail this evening from Nigel tells me they saw their old boat, the Eventide 'Otteau' moored on the river today, so they are contacting the new owner to get him to join us. Will also be interested to hear what condition the keel bolts were in, they were withdrawn as part of the sale deal.... Bet they were still like new!
Trying to drum up a good meeting for the end of November, a way off yet, but put a note in your diaries 30th November and somewhere Maldon to Danbury area.... Will be the last meeting till January 2012.
One last comment and an apology. Today I started a very belated 'Late Summer' Newsletter. I will try and get the whole thing edited and up on line this week! Sorry it has taken so long, got lots to go in, just finding time to do it, that is difficult.
Regards,
John
Thursday October 27th 2011.
Well the season is rapidly coming to an end, might get a quick sail over the weekend, but the haul out and the barn are booked for Wednesday, so that is about it. I cannot recall a season that has been quite as dismal. Those who were in the water early, or over wintered in, got the summer, it was in March! The last few weeks have been a slight reprieve, so we look forward to the next season with fresh memories of sparkling sails on the Blackwater and beyond.
Over the last week we have had quite a lot of mail and activity. Another 5 enrolments and several enquiries! A month back when the site was attacked I wondered if we could recover, we bounce back! The enrolment form was only out of action for a few days and we apologise to those who tried to use it, at least one came back.
Welcome David in Galway who is looking for the drawings on the Mouette. At the moment he sails a Moody27, so he will remain a 'Friend' until the Mouette is under construction! Welcome to Jim in Havant who has the Eventide 'Joget'. Jim has ownership on behalf of St. Vincent College and the students are to restore it as part of their marine course! Brilliant idea. The steering group have authorised the sending on a set of Eventide drawings and they are already in the post. Hope to see what progress they make, so Jim and a few Student will be members! See her on the Gallery.
Keith from Tavistock has joined with the Eventide 24 Tamarisk. Keith says she is very traditional and he hopes to keep her that way, at present ashore and being worked on. Picture on the Gallery. Hope to hear she is afloat and sailing next year. Another new member is John in Bolton, who has bought the Eventide 24 Oman, based in Greece! we were able to give John the launch date and builder and the sail number, got a nice picture to add to the gallery.
Lastly we have an enrolment from Stephen in Spain, registering an interest with a Wild Duck. Not sure at this stage if it is actually owned or contemplated, time will tell.
John Hopthrow, frequent contributor, has been looking for a suitable boat for a while, after his lad sold 'Crystal Voyager' the Barrier Reef 38. He had been hankering for a MG about 26 ft but GRP... and din not find one, instead has opted to stay a friend and now is the owner of a Sabre 27, 'Pelagos', which I am reliably informed is Greek for 'Sea'. Glad you are still aboard John. He will be on the Essex coast next year, we will look out for him.
I have been laid low for a couple of days with a nasty bug, when I returned from our Trafalgar cruise I found Darian suffering (in silence, as they do). Well I was out of it for 2 days, so what with some local members in the USA, one in hospital and other unable last nights get together was cancelled. hope for a full house for the last Essex meeting of the year, 30th November... Venue to be announced.
I have added loads of pic to the site this week and adverts for sails etc, also removed some adverts as the head sails and instruments I had for sale went. Added more bits though!
Sadly the Eventide Seawitch is to be broken up this week, I have put in a bid for the bilge keels, the only decent bit left! she had just gone too far, even to be used as a children's play house!
Helped out Classic Boat again this week with sail plan drawings for an article in the making.
This weekend I am off to see a dear old friend and member, Peter North, I have helped him find a new owner for 'Wedgit' so am going along to the hand over. will be a mixture of emotions that one.
All for now, fingers getting sore!
John
Friday October 21st 2011.
Trafalgar Day
Late evening and back to base after 2 sparkling days of sailing locally in the River Blackwater and Estuary. Sailed up to the Thirstlet and beyond then back on the young flood, creeping through the shallows on the north side, less than 0.2m under the keel in places, water so clear you could see the bottom in 3 metres! Spent the night up the top of Salcott, beyond the oyster layings where no one goes, sailed out this morning and jousted with windmills on the Buxey, before rounding the Wallet Spitway buoy and scorching home in a good F4. All in sunshine, most in F2's and 3's! Great end to a miserable season. Haul out now booked. Barn organised! Early start planned for next year.....
We have had another 2 enrolments in the last couple of days, Jim with the Eventide 26 'Joget' that was for sale on the Bay. She is now to be restored as a project at the St. Vincent College, Gosport! Brilliant idea! We will be keeping track of her progress! She is teak hulled and was built in Singapore and then shipped back to the UK years ago.
Welcome too to Keith Tempest with the Eventide 26 'Tamerisk' . She is ashore in Devon and undergoing restoration as well. hope to see pics of her shortly.
The Steering group have agreed for a new webmaster, Peter Webster.. (Good name!) to reinstate the Forum and hopefully that will happen in the next 7 days. Peter, John Stevens and I are researching ways of making the enrolment form work better and Tony has stepped forward to offer assistance as he has a knowledge of just the systems that is uses. I hope that betwixt us we can put right the damage wrought.
Now is time for organising the removal of my boat gear, the job that takes 3 days and involves my little moggy van being filled to the roof 3 times. I always am amazed at how much gear an Eventide can hide aboard, because I don't fall over it when we are sailing her!
If you are still out there, or in warmer climes, good sailing,
John
Monday 18th October 2011.
Sunday was a lovely day, I escaped on my own for a change, F2 and wall to wall sunshine, delightful sail up the river and back. Surprisingly only a max of 40 boats anywhere on the horizon. This time of year it is a real bonus to get sunny days, and no fog either! Thursday and Friday I and my crew will be out to celebrate Trafalgar! The weather looks to be chillier but still sunny and F2 or 3 breezes. How many time I have had this when I have done the October Trafalgar cruises. Hope the forecast is right!
Heard from Mavis the other evening, Brian is responding well and being relocated to a clinic nearer home in Clacton. Though still not mobile and communicating that well, he is responding and doing all the right things, so we hope to see him fit and well before too long.
Had another two enrolments, John Sheen as a 'Friend' with a 19ft miniature spritty barge! dreaming of an MG I suspect! And Roy Sellwood with the Senior 'Puffin' sounds like a pretty one, gaff rigged, looking forward to the photos.
I am sending another CD of drawings out to Spain, sadly the one I sent a couple of weeks back did not arrive, wonder if I got the address right, made a Boo Boo with one to Norfolk recently so wonder if it was me not the Spanish postal system, maybe time will tell.... Age does very odd things doesn't it!
We have the offer of a new Webmaster. Peter a Seagull contact of mine stepped up to help with my SOS site and I am pleased to say has succeeded to find and restore my SOS Forum. When all settled down he will tackle the EOG one. Cannot have him juggling with two forums at once. Thanks to several members who have expressed sympathy re the site and Brendan.
I have to find time to publish another Newsletter, my apologies for being do late with this edition, it is certainly not through lack of material! we will get there!
Today a Seagull customer contacted me and sent me this picture. Now I see a clear link between Saving Old Seagulls, and the Eventide Owners Group!

If, like me you are off out to enjoy the last of this sunshine, good sailing.
John
Thursday 13th October 2011.
Welcome to Tony Tibbenham of Suffolk, joined as a friend and bought CD's of the Eventide, one for himself and one as a gift for a friend who had an Eventide and reintroduced him to sailing, by providing a willing ear and friendly advice. Nice thought and thanks for the little extra donation Tony. Tony looks forward to sailing a 21 ft Meteor called Mystery on the Broads when it is rebuilt.
Welcome to the David Clifford in Spain, no boat at present but has sent a donation for a set of Senior drawings and keen to built.
Well we are no further forward with a new web guru really, have a friend helping me out with SOS and if we win there we will turn our attention to a couple of pages on this site that do not work. Still nothing heard from the old webmaster, gone away....? We are going to make some discrete enquiries.
On a positive side I went for a motor bike ride today on my restored, 1958 BSA Bantam, at last I have got it all sorted and today MOT'd. Great fun takes you mind off the little strife! Dead flies in the teeth! sign of happy biker. Round the tiny lanes out here on the Dengie it is fun, but how I used to ride one 20 odd miles to London in traffic every day at 50 mph I cannot figure, 30 seems suicidal!
Hope to be out at the weekend on Fiddlers . Last weekend I was out on a local canal with 3 other Eventiders, Nigel and Heidi and John Stevens! See my SOS site for more! Great fun was had by all at Papermill Lock, Little Baddow at a 'Flocking of Seagulls' I organised! Blue smoke every where!
I intend to be out 19th October for 2 days weather permitting, my annual Trafalgar cruise, just locally in the Blackwater, then it is laying up time.
Hope the weather is kind to you,
Regards,
John
Friday 7th October 2011.
I am pleased to report that Brian, of 'Right Eh Oh' is making good progress after his stroke. I spoke to Mavis today who tells me he is responding to treatment and has now some speech returning, also some movement to his right foot. Knowing Brian it must be incredibly frustrating not to be able to do things. Mavis says he is trying to write with his left hand to communicate too. He is having physio, but it tires him out. For those who may want to send him a card, Brian Neale, Gainsborough Ward, Colchester General hospital, Turner Road, Colchester, Essex CO4 5JL.
Mavis said the Coastguard and Lifeboat were fantastic, a paramedic came on the lifeboat and two crew, that Mavis knew, jumped on board ushered her onto the lifeboat with Brian and took the boat back to the yard for her. She is now laid up safely ashore waiting for the skipper to get better, we all wish him well!
My thanks to those who have already responded to my plea for technical advice, we seem to be OK on most things but looking for help restarting the Forum and using the database.
I had a mail from Jonathan and Jane of Atheana, about a picture in the business section of the Daily Telegraph. A GH had been spotted, 'Countess'. Pictured in the Orwell at Felixstowe I think, but the article was about the Thames Gateway port., I rang my sister, knowing she takes the Telegraph and brother in law had already cut it out! then through the post yesterday came a packet from John Hopthrow, with the pages! Seems a few of you out there spotted her, wonder if the owner did!
John
Thursday 6th October 2011.
Very sad to report we have lost our Technical advisor and webmaster. Brendan was taken 'ill' last week and has not been seen or heard of since. His parting gifts included the destruction of my SOS website and the forum on here. We are not certain what has sparked this episode, but I do know he has been under incredible pressure to program a very whizzy site in America, and had devoted much time to it, to the detriment sadly of other things.
So we are looking for an advisor, someone who I can call on every now and again to help sort a problem with a computer, fix bugs in programs, mostly caused by my fingers! Most of all someone who understands the workings of PhPBB and data bases!
We are deeply saddened by the events of the past week but hope Brendan gets better and we can find smeone out there, hopefully close, in the UK, that can help.
John
Thursday 29th September 2011.
Very sad to report that one of the stalwarts of the Essex group had to be rescued from his boat off Walton on Naze yesterday morning after suffering a stroke. Brian is in hospital and we hope for good news shortly. Brian and Mavis were on their way to meet up with us afloat yesterday on the Blackwater and we were then all to go on to Maldon last night for a meal. Mavis tells me she put out the call and the lads from Walton Lifeboat came instantly to her assistance and the boat was returned to the Walton Backwaters. Our best wishes Brian and our thoughts are with you Mavis.
Rather put a damper on our evening out in Maldon then, after a wonderful day on the water, quite oblivious to what had happened that morning! Just shows you we must take every day and enjoy it to the full, never part on a cross word and sail when we can!
John
Monday26th September 2011.
Well summer has arrived! 'Dougaljo' was out Saturday, with me as crew, for a few hours of pleasant sailing with Doug's family on the Blackwater and the temperature has risen a few degrees since then and is set to go higher later this week!
I am out on 'Fiddler's Green' Wednesday with one of my regular crew and hope to cross wakes with the GH 32 'Right Eh Oh'. We are then all going to meet up in Maldon at 1930hrs for a meal at 'Izumi'. We have all been there before and thoroughly enjoyed it. Brilliant Chinese Buffet. Come alone too if you are nearby, room for lots of us! 01621 778859
We have had 3 new enrolments in the past 3 days! Welcome to John Gardner the new owner of the Riptide 'Ramillies', now to be based in Scotland and to John Bedford with a Finesse 24, 'Kiboko', based in Suffolk, got a pic of her for the gallery! We have yet another GH owner join us, Alexandra with the GH 31 'Marschallin', at present in France but is going to be repatriated and refurbished. We look forward to pictures.
We also had a donation in from Peter in Brazil with his Waterwitch 'Bruxa du Mar'. Peter told us the history of his boat, it had been built mainly in the Netherlands, but when he changed jobs, it came with him as deck cargo and he tells us it crossed the Atlantic 4 times before it was launched, that has to be a record! He has sent a picture in for the WW Gallery. Thanks Peter.
Gary has sent more pics in of his father's GRP senior, now known as 'Benny the Ball', one of two they built, sailing on the Orwell in about 1980, another for the Senior pages.
Jim and Kitty from the USA have been on to try and trace GH 31 No.199 'HALEKAI ' they owned it from new in 1978 and sailed it from the UK to the States, and back and over again, just for fun! Their cruises included the Med and The Scillies, and included getting caught in the Fastnet storm, and though knocked down they sailed on, unlike so many of the racing boats that suffered.... MG got it right didn't he! They last heard of the boat in 1988 sailing round Scotland, where is she now?
Heard also from the ex owners of anther Golden Hind 31, No 87, built in 1969 by Terry Erskine. They called her "Michael Stuart" and circumnavigated in her from 1979-1985. They sold her in Florida upon their return, to a couple who planned to keep her on Lake Ponchartrain near New Orleans. They planned to name her "Le Bob Papa". After that they lost touch, and fear she could have been lost in Hurricane Katrina. They asked if we hear any news of hull No. 87, to please let them know!
They attaching a couple of pictures to be displayed on the GH pages...- the first is the day of departure in 1979, and the one with all the flags is the day of their return to the US in 1985. They also recounted an interesting tale about a mast failure... more of that later.
We have also heard from Ian Wilson who is restoring 'Everjoy' He is getting on swimmingly and I bet he will be sailing next season! The outside is looking finished and waterproof and the keel faired off, ruder made and fitted, and last week the motor, a Yanmar, was fitted!
I have also Jason's pictures of the re-launched Eventide 'Ermintrude' to add. Jason has done a splendid job!
As each one of these contacts involved at least a couple of mails you can see the mail bag is nearly always full and busy! Just goes to show how successful these pages have become, well done all of you, could not have done it without you!
John
Saturday 24th September 2011.
Early hours and a quick line or two.
I was out last Monday for the day with my daughter, visiting from Devon, she is a natural on the helm. we tacked up river on the flood then turned and roared off to the Nass and into Tollesbury. Had time to pick up my mooring, check out the chain before a swift sail back, was a good F4 by the time we got back in. Good to have the crew back aboard for the day. sadly had to take her to get her train back to Devon the next day.
I'll be out again tomorrow, gentle southerly F3 is the forecast. I am crew on 'Dougaljo' for the day. Doug has family to take out and I will be deck hand.!
With a spell of decent weather forecast for next week i hope to be out on the water again....
Had a new enrolment yesterday, the new owner of 'Ramillies', John in Strathclyde! Hope to contact John tomorrow and beg for pictures.
Had a few nice GH pictures in that I have added to the Gallery, and a little more GH info. Ex owners trying to trace their boats, hope we can reassure them that they are still sailing and in good hands. Do you know GH 31 no 87? Or GH31 no 199?
Just had a donation in form Brazil, will find out which CD they are after later!
Off to hit the sack, but will watch the sky for a bit to see if the falling satellite lights up the sky! Explain that one to the insurance company!
John
Saturday 17th September 2010.
Another week of mixed weather! But we have had 3 more enrol!
Welcome to Chris in Norway with the Atlantic Clipper 'Night Cap'. Got a few nice pics to add, thanks Chris. Welcome to Stephen in Harrogate new owner of the 30 ft Bluewater, 'Myosotis', sailing out of the Orwell, hope to cross wakes Stephen. and to James in Saltash Cornwall with a sad Eventide, 'Tiddly Pooh'. James thinks it may be beyond redemption, if so he will break it for the spars and sails, will keep an eye out for this one.
Apart from a couple of enquiries about the brass port holes advertised on the pages, which have not resulted in a sale, the only other mails we have had are for the little Foxcub I have up for sale for my daughter and hubby.
Just shows you that the For Sale pages are looked at by the search engines and items picked up. If you do a search for Eventide 24 you should find a very nice one advertised on our site... 'Otteau'!
I hope to be out sailing next weekend as crew for Doug and in between, on Monday, if all goes well, with my daughter. watching weather like a hawk! My Jenny only gets to see me occasionally, but today she is flying in from Rumania, after having lead a trek there up in the mountains for the Wildlife fund. She can only stop a few days, so we have to make the most of it! Hubby Dave is in Africa either half way up or half way down Mt. Kilimanjaro. He is leading 3 treks back to back. Oh to be young and fit!
We have had pictures of GH 31 no 87, sent in, as 'Michael Stuart' she completed a circumnavigation between 1979 and 1985. the ex owners, Liz and Jim, would like to know where she is now. did she survive the Hurricane that hit New Orleans, for that is where she was to be based after they sold her. Hopefully we will find out for them, any way the pics are good!
Off to add some more pictures....
Oh and watch out for Classic Boat, a few of our members will be featured in the page about the EOG and the Eventide/Waterwitch etc.... Nice to have friends in the press!
John
Saturday 10th September 2011.
Ten years tomorrow.
We have had correspondence with a boatyard in Wales re the Eventide 24 'Tamarisk' Seems she had been left in their yard for a while and they have had to take out a writ on her and are either trying to contact an owner, via ourselves, or sell. So far we have been unable to get a response from Hal who informed us he was to be the new owner, a year or so ago, so the yard have placed her on EBay. You can find here here. 'Tamarisk for Sale'
Sadly she is in a bit of a state...

We were supposed to be out sailing now, but the rain is falling and the forecast once again has Strong Wind Warnings! so another weekend sailing spoilt.
I am hoping that once this spell of decaying hurricanes has past the sun may come out again! My daughter is coming to see me next Saturday for a few days, nice to have the crew back, so hope to slip out for at least an hour or three!
Hope you are finding jobs to do if not sailing...
John
Sunday September 4th 2011.
A red letter day here at Bluebell cottage, because this afternoon, at the 11th hour, we managed to lift the Wild Duck 'Tarka' from my trailer and gently set her down on blocks in our garden. We had been working up to this for 2 weeks! We had been raring to go Friday, the Gantry was pre booked through hire firm HSS, but they messed up. For a start the morning delivery failed to materialise, then at 12.55 a truck arrived with a gantry, far too small to span the boat. Seems the 3 metre by 3 metre Gantry booked was unavailable, despite promises so they sent a 1.8 metre one, as if that would be any good! The deal was cancelled. Will not use HSS again!
A call to a local farmer.. Ben had the machine, but was loading spuds with it for the next 2 days... Another farmer approached, yes would pop in Saturday, nothing! Did not turn up. Then as Brendan was packing up to go home disappointed, a call, Ben had a window of opportunity! Assisted by Simon Dunn, the local marine engineer, Ben could be here in an hour! The covers were whipped off and the strops readied. Ben started the lift with his 'Manitoo' and after a quick repositioning of the strops, the boat was air bourne. Simon Brendan and I manned the ropes and the trailer was whipped out and the Acro jacks switched from the trailer to the prepared wooden plates with ground spikes. Reckon the bare boat weighed in at 1 ton.
Then the heavens opened, and all that dry wood was doused! Brendan got the supports up in quick time and we hauled the heavy tarp back over her. When the rain eases off we will have to dry the decks again! A small price to pay!
The whole job took 2 hours, but we were exhausted. Brendan left for home in the knowledge that next time the shelter can be constructed and he will have a dry cover for the winter.
Wait till you see the construction of the frame for the cover! If that is anything to go by Tarka will be gleaming when she takes to the water again.
John
Wednesday 31st August, 2011.
It is now official, we have had the coldest summer in 18 years and there is no let up. dull damp days!.
One ray of sunshine, we have just had this in from Peter Harrold. 'Little Gull' is afloat again! (She is an M.G. Lone Gull class!)

I will be adding more to Peter's page shortly. As you can see from this picture, the finish is brilliant! Peter says the launching was a little more exciting than he had hoped, at one stage he was up to his knees inside with 6 pumps going! Down to one now, only cutting in every 10 minutes! It will get better! the joys of traditional wooden boats.
Here at Bluebell Cottage Brendan has really been beavering away for the past few days preparing the frames for his shelter. 'Tarka' the Wild Duck will be lifted off my trailer Friday and gently, we hope, lowered onto blocks and propped up, then the frames can be moved into place and joined together and covered to create her winter quarters.
We have had a nice letter from one of the boating magazines who are doing an update on MG and the Eventide, they pass their warm regards on to the Eventide Owners Group and wish us well. Should see the article sometime over the winter.
Over the Bank holiday weekend we have had 3 new enrolments, welcome to Brian Penney with the GH 'Gallinula', to Ivan Tanner with a Kenneth Gibbs Halcyon design, 'Jasmine', our second and I am pleased to say via the EOG we have managed to put him in touch with Chris who has another. welcome also to an ex owner of a SeaFarer 18, John Stillman. His SeaFarer was sail number 34, 'Jayess', wonder where she is now, was in Milford Haven.
I hope to reply officially to these three shortly....
Well here's hoping for an Indian Summer.
John
August Bank Holiday Sunday 28th, 2011.
With the rain pelting down and the occasional gust of Force 5's, it is typical August Bank Holiday weather. So the crews of 4 boats met at West Mersea Saturday, but left our boats where they were! Some of us where there early enough for a drink in Maurice's club, before a short walk along the road to the Oyster Bar. We enjoyed an excellent meal and evening. Maybe next year.... if we get a summer again.. am rapidly losing faith in British weather.
Sent out a Burgee to Brian with the GH countess, and thanks for the donation. A CD of the 3Tonner drawings was also sent to new member David Goldsmith in the USA. Also sent CD of the Eventide drawings to Rob, again thanks for the donation too. These little extra donations help keep the site and group live, as well as assisting with our charitable donations etc. Thanks to all of you.
Had another member join John in Scotland, he is interested in building a 3 Tonner! He has built smaller vessels and is wanting the drawings.. Hope to hear positive news from him later... We have not heard back from more than a couple of people we have sent drawings to over the past 8 years or so, and we have been sending out 60 a year recently. John in Tasmania is making great strides with his Senior and will be launching in a little while.
Enough for now,
John
Thursday 25th August 2011.
The season is flying past and still the weather is duff. Heavy rain again today and forecast for Friday and Saturday.
Though a table is booked for West Mersea on Saturday I would not be surprised if all turned up by road!
Several owners are having health problems and cannot attend by boat, the latest is our Historian who was knocked down on a pedestrian crossing this week! Walking wounded, but bet he is shook up! We all wish you well John
Seems I am joining the wounded.. I am just back from docs with my right arm all strapped up, he thinks I have damaged a cartilage or torn a ligament in my wrist, strap is to remind me not to turn the winch too hard! Still hope to get to West Mersea by boat!
We have another enrolments, David is in the USA and had just joined and bought a CD of the 3 Tonner drawings.. Rob joined last week in Ireland with 'Genifa', an Eventide 26. I have been able to trace a bit of her history for Rob and pictures on the way I hope.
Brendan is staying here at the moment, working on his boat, ostensibly, but the wet and other commitments have curtailed a lot of that. However next week we are planning to lift his boat off my trailer and lower her gently onto blocks, then build a shelter round her. It will be easier to get at her after that.... Trouble is for anyone working 'outside' the seasons are changing rapidly and the cold is not conducive to boat work....
I have just uncovered a 16 ft open boat from a shed in my garden to work on it, it is GRP but I want to epoxy some timber into her and I do not need it cold nor wet. Will post a pic when she is finished...
The Steering group authorised the purchase of a new scanner this week, which I will share with the EOG, £27.27 each.! Just could not get my 10 year old one to work with vista! New one does, so will be using that shortly to scan in some old leaflets etc!
Regards,
John
Thursday 18th August 2010.
Thanks to Nigel for this, do not argue with the big boys! Has no one ever told these racing boys it is bad for your health?
http://www.youtube.com/cowesofficial#p/a/u/0/_tUoUxzt9sI
Back soon,
John
Tuesday 16th August 2011.
Just spent 2 hours adding dozens of pictures and information to the Senior, Eventide, Waterwitch, For Sale, Other MG designs and the gallery and index pages. Have still a large backlog of pictures to post, sorry folks for the delays, but they are actually coming in quicker than ever now!
And another new enrolment, welcome to Rob in Tipperary with the Eventide 'Genifa'!
Off out afloat tomorrow, so turning in now!
John
Monday 15th August 2011.
At last I have set the new mainsail and sailed for more than 20 minutes! Saturday we left the Blackwater with all sail set and had a sparkling sail for several hours before coming to anchor off Rat Island in the Colne. (I avoid Pyefleet lower anchorage these days, the bottom seems to have been turned to soup!) Rather than sail through all the anchored boats in Pyefleet, then wend through the oyster laying to the little known anchorage far up stream, we opted for the Colne. An hour and a half before LW I sounded out an area then gently grounded. Riding light definitely needed here! (We needed to be relatively close to the entrance of the Colne the next day for the trip back.)
I had installed a new 110 amp battery the day before and spent an hour or two installing a pair of good quality 12v accessory sockets and then a DIN 12v plug and socket with better capabilities, for the power supply to my laptop and thus plotter. Very pleased with the result which I shall report on later.
We had a perfect night and were looking forward to a great day with F2 to 3 forecast. What did we get, F5! and to add insult bang on the nose once we rounded the Molliette beacon.. On motor and charge new battery for 2 hours!
Have to say this has been the worst season I can recall. Apart from the splendid start to the year, when most of us were fitting out, it has either been wet or windy or both, but we should not be unduly surprised, we were warned that the 'global warming' issue would cause this and it did rain on St Swithin's Day!
The next major outing will be the West Mersea meet, August Bank Holiday. If you would like to come along and join in for a meal on the Saturday night at the best fish restaurant in town, the 'Oyster Bar', do contact me this week, as I am booking places. I also hope to visit West Mersea Yacht Club for a drink maybe earlier in the day.
I will be contacting Tony Nelson later re moorings, and hopefully the normal £5.00 a night ones will be available. But be aware it is springs, so at L.W. we will be aground.
Anther welcome to new members, Marshall from Florida looking for information on building a boat for himself, and Suzanne from Washington, both of the U.S.A. Suzanne is contemplating building a Senior. She has brought to my notice the price hike by Selway-Fisher, from £50.00 to £70.00! Quite an increase. Ours still £5.00 UK and £6.50 overseas! Also a missing link on the pages she thought, but now we cannot find it. If anyone does see a page that does not work, like Suzanne has done, please let us know so we can rectify it.
all for now, back to the day job..
John
Thursday 11th August 2011.
On the Bay at the moment is a Yachting monthly Junior, sail no 376, on a trailer looking really nice, for less than £500.00 She is over in Wales.
This is the link to the eBay page, click here.
I have spoken to the seller and he has confirmed the sail number etc and believes it was built in Ireland. Whoever did it made a nice job... has another 6 days to go! Have a look
Off to boat to test lead acid main 110amp service battery, I have borrowed a clever resistor tester. I think it has failed on me. Battery two and a half year old, warranty 2 years! Typical.
I have just bought a new type of 12v plug and socket as well as a pair of better accessory sockets that are supposed to take 10 amp. I will let you know later how they compare. Why the new ones? Well the 12v accessory socket, a 3 way car type device, melted! That's what made me realise the lead acid batter had failed.
When you connect a computer inverter to boost the 12v to 18 through one of these sockets it can draw a few amps, if the voltage in drops the amperage increases dramatically in an effort to meet the power demand.... the plastic melted!
I have found a much more robust 12v socket for normal use and an even more robust DIN plug and socket that will take 16amp. designed by Hella and sold by a variety of names it is altogether a beefier set up, time will tell, but the mini vac at 10 amp will go on one as will the computer feed!
Hope for a little better weather tomorrow and I will get out for a sail...
John
Wednesday 10th August 2011.
With yobs rampaging the streets looting and burning for the hell of it you could be forgiven for thinking the UK had gone to hell in a hand cart. But quietly without any Hoo Haa so many youngsters are enjoying the challenges and delights of this hobby of ours. I think we as a group have shown you do not have to be stinking rich to get afloat.
Today we were sent a picture of a Kenneth Gibbs boat that Ivan and his lad are going to restore. At 14ft not an ocean going super yacht, but one that may well give a young family years of fun! Hope he enrols shortly, just sent his mail on to Chris King who has another of the same design....
I have yet to post the pictures of yet another of Kenneth's designs, the Senior 'Iona', sailing in Poole last month, looks like loads of fun...
And just to top it off Mat has sent in details of a boat on the bay, I have contacted to owner to make sure, but it does look like a Gibbs Junior! On a trailer for less than £500!
Speaking of youngsters, I took both the grandchildren out for a putter and brief sail a week back, and last weekend we took the youngest for his first night aboard! At 5 and 3/4 years old, (and the 3/4 is important at that age), he was delighted. Soon got the hang of pushing the tiller the opposite way to go where you wanted to, but if the chap in the Waterwitch sailing ahead of us reads this, sorry, we were not all drunk, it was just allowing Horatio to sort it out for himself! So we never caught up to take the pictures...
Wild ad windy yet again today F5 and 6, hope it calms down for Friday, would like to be aboard for 'The Glorious Twelfth'.... Watch the night sky for my birthday firework display, normally worth watching.
John
Thursday 4th August 2011.
Locally on the River Blackwater, for as long as I can recall, I have crossed wakes with a pocket cruiser by the name of 'Shoal Waters'. Sailed expertly all those years without a motor by Charles Stock who always said hello and passed the time of day with me. I was saddened when anchored in a quiet creek in May 2010 as he gently sailed past when he told us why he was faffing about the night before, not far away from us, he was trying, and failing, to get his anchor up and that morning we were the first to hear he had made the decision to swallow the anchor. Why all this on the EOG website? Little apart from local interest, Charles is a real gent.
A post script December 2013. I have been forcefully asked to remove the link to the new owners website and the photo he gave us permission to use here. Not 100% sure what is going on, why this change of mind and the rude mails, but the new owner is no Charles Stock and after the exchange of mails I will not allow us to be associated with him. He is no gent. Por Charles would be turning in his grave.

As many of you will know we voted 'Sailability' as our youth sailing charity this year and on 9th July they had Pirates day to raise funds. entering into the spirit of the occasion we send a suitably silly pirate like letter with a donation of 250 golden nuggets! Yesterday had a nice letter of appreciation back. So well done all who donate to the site, not only does that keep the site live but we can do good works too. When I can get my scanner to work I will post the letter here.
John
Wednesday 3rd August.
Nigel has sent me this update on the loss of Egretta. courtesy of PBO.
A 28 foot classic yacht has been wrecked near St Margaret's Bay in Kent. The yacht Egretta was abandoned after being driven ashore in a rough sea state and strong WSW winds.
Nigel Stokes, Duty Harbour Master at the Port of Dover, told PBO: 'We understand that the yacht was on passage from either the Thames or East Coast, bound down Channel for Wales, with the single-handed owner on board. "Egretta" was observed to be coming round the South Foreland in rough WSW'ly sea conditions on the afternoon of Wednesday 8th June, when the genoa then appeared to be flapping and the boat turned about and disappeared from our view behind the cliffs. A little while later, I, as the Port of Dover Duty Harbour Master, received a call from Dover Straits Coastguard, saying that a yacht had reportedly run aground on the rocks by St. Margaret's and could we consider sending one of our Harbour Patrol/Pilot launches round to assist. Apparently, the owner of the yacht once she had been driven ashore, then scrambled over the rocks to a nearby café in St. Margaret's Bay to raise the alarm. Due to the prevailing weather and sea conditions, plus the treacherous location the casualty had ended up, we were unfortunately unable to assist with any of our own floating craft at the time.

'Once the Coastguard had arrived at the scene, the owner was whisked off to hospital by ambulance, as he was suffering with concussion, although after some rest and recuperation, he was discharged the next day. Egretta was by now being pounded by heavy surf and once the tide had receded later that day, it was apparent that she had been quite badly holed. In addition, the remote location of the stranding, was giving cause for concern as to any successful recovery operation being put in place.

'The yacht has now been declared a 'Constructive Total Loss" and after a S'ly gale last Sunday night not long after these photos were taken that same afternoon, the "Egretta" is now breaking up where she lies, with all valuables and personal belongings having already been removed. It's heartbreaking to see such a lovely craft meet such a sad end.'
This is yacht Egretta, a Maurice Griffiths Design, built in Maldon in 1965, changed ownership in April this year. Was Sailing from Woodbridge Suffolk.
Sad end to a fine ship.
John
Thursday 28th July 2011.
We switched locations for the Essex get together last night, to the place we started meeting over 10 years ago, the Griffin, Danbury. We chose here originally as it is about the highest, most central and furthest from water place in Essex! It went down hill rapidly years ago and continued its decline until this year when the notorious owners were declared bankrupt and it was boarded up. Reopened in May it has been refurbished and we can confirm it serves a great meal! We hop to be back there in September.
Just had some bad news in, the 28ft MG Classic, 'Egretta' was lost off the Kent coast last month. The owner managed to get off unhurt, but the boat broke up .
Just before I went away We had a new enrolment from Stephen Buckley, interested in the Barrier Reef design, welcome Stephen. managed to get a CD of drawings off to him the day before I left.
Also had donations in from Paul Joyce for the EOG generally and for a CD, thankyou Paul, very generous.
Strangely I have not as yet heard from the RYA regarding the £250 donation we sent to 'Sailability'. I will have to chase that. we spent a lot of time composing the Pirate letter and making it look authentic do not like to think they are ignoring us because we are the 'Rebels'! with over 1,100 enrolled members now we believe we are a legitimate organisation, an Owners Group, as opposed to the old eoa that seems to have less than 30 members and most non owners!
When the dust settles after my 10days away I will get round to uploading the summer Newsletter.... promise. also have to add the accounts to the pages too, as our Fund Manager has reminded me. now where can you buy extra hours for days.....
John
Monday 25th July 2011.
Has the next ice age begun? Do we now need to speed up global warming to offset it? Just spend 10 days in the cold and wet with 50 knot winds. The Scillies should not be like this in summer! Returned to stories of flash floods, torrential rain thunderstorms and the rest. I was right, summer was that Tuesday in March.
the mail bag had 0ver 100 mails, plus 120 spam and 120 junk, I am ploughing through them slowly, apologies if I take a while to respond. My business mail is even more daunting!
I have pics of another Buchanan SeaFarer and an Atlantic Clipper, (I think) to upload, found in the Scillies!. We have had enquiries re 'Hellebarb' the Wild Duck I used to know down on the London River at Erith, where is she now? The two ladies she was named after by father and builder, John Stanley have been in touch, Helen and Barbara!
An enquiry re CD's and some updates from John Slevin on the building of his Senior, he is nearly ready to plank now!
Gary Griffin has informed us his Barbican is now called 'Rose Emma' a nice name! pictures for the gallery to follow!
One of the Steering Group has been using the eBay page recently ands has been surprised by the donation eBay makes to us as a result. this helps to keep our Webmaster in pennies for all the work he does for the EOG.
Have had a query re the forum and someone unable to log in.... job for the webmaster.. so keep on using the eBay page folks!
On my return I have had enquiries re the mast and portholes I had put on the site, because of the popularity of the site and the way Brendan has designed it, items placed for sale come up on the search engines. so dig out that Jumble and take advantage, a thankyou donation is all we ask.
Time to close, find another jumper and light the fire....
John
Tuesday 12th July 2011.
Cold grey skies and northerlies F5 and 6. Oh dear what has happened to the weather? Darian and I are off and away tomorrow night, down to the Scillies, again..., just proofed our oilies..... so a quick note just to tidy up loose ends. We told you we have family staying at our place and the builders in while we are away.. Brave I have had you say! Fingers crossed on that one!
Off to nip down to boat to check her before we go. Went to sail maker today to have new mainsail sorted, hollow cut leech and o battens, sadly found that the Sail-maker, Ian, was poorly and no one in to look at my sail, so it will have to wait till we get back. Wishing Ian well
We have had another Barbican owner join us. They are getting to be a large minority! Welcome Gary, with the Barbican moored at Weir Quay on the Tamar. I will not give the name as he is considering changing it.. having seen the name, so would I!
Name changing.. Unlucky? I do not think so, done it with several and so long as you follow these simple rules.. You have to remove part of the original boat, part of the structure and replace it, a solid handrail, a washboard, not just a tea towel holder!
We are trying to work out how to get the Wild Duck off my trailer here and we think we have the makings of a plan, thanks to mike. Look at 'Cirra's page' on the 'restorers section' and you can see how resourceful he is!
Just had a look at these restorers pages and realise some need an update. will get on that when I return, along with the new Newsletter.
Back on the 25th,
John
Friday 8th July 2011.
Well the weather has not improved, wet and windy still with more to follow, sunny in between, but not good. Especially if you are restoring or building out side.
We have our webmaster Brendan staying here at the moment, working on his boat in our garden. Very pleased to say some large leaps forward have been made during the week. I will be adding pictures to the 'Tarka' page on the restorers section soon.
We are away for a holiday in the Scillies and when we return so will Brendan, hopefully to more progress. We have family staying whilst we are away and also have the builders in! Hope not to find loo in drive on our return, something that happened at our last home when we did the same thing 20 years ago!
May get a trip afloat in before we go, weather permitting.
Over the past week we have had another new enrolment, Andrew with the very smart 'Peterwit' once a local boat here on the Blackwater, but now moored at Bucklers Hard off the Solent! Welcome Andrew and thanks for the picture, already on the Kylix Gallery page.
We sent out an unusual CD this week, Peter one of our new 'Friends' had asked after the 'Mouette'. Not too many have been built so far.
Had another mail and some pics in from John Slevin down under, his Senior is progressing nicely, will be posting these pics soon too.

The Steering Group have been busy over the last week, did you know tomorrow is Pirates Day! Mike Hoban brought to our attention the news that 'Sailability' our chosen charity this year, has picked 'Pirate Day' to promote sailing for the disabled. as a 'Pirate' Group ourselves, at least as far as the RYA were concerned when we formed, thought it an appropriate day and event to send in our donation. We are donating £250.00 from our funds, in line with our ethos of assisting others get afloat.

Enough for now,

Here's hoping summer comes back,

John

Friday 1st July 2011.

H

alf way through the year and still not used the mainsail! Hope to rectify that Sunday.

Hope to visit a friend on his Waterwitch tomorrow, hope I have found a buyer for this beautiful boat. It has not been openly advertised as yet, but I have someone coming to see it tomorrow.

Brendan is coming to stay for a week to work on his boat here, we are now looking for some scaffolding to make a shed and to boat lift, all in one. It will be the only way to lift his Wild Duck off my trailer... Anyone got any to beg or borrow?

Had a Vulcan owner, Edwin in Scotland, join us. His boat 'Silverhow' is ashore being refurbished at the moment, pictures to follow.

Just has a donation in for a Burgee too, from Paul in Wales. These burgees are getting everywhere!

I have been contacted by Colin Jarman of 'Sailing Today'. He and his east coast colleagues have launched an online page just for the East Coast. It is great and of course we, the Eventiders, have a link on it, we will place a link here and on the links page.

There are loads of relevant topics that are very useful to us in the area, click on the logo to have a look.
John
Monday 27th June 2011.
Lease said about my weeks sailing the better.
On to nicer things.. the monthly meeting is being brought forward to tomorrow and will be at Bradwell, as 3 boats and crews will be there.
Not had time to open mail yet, but if anything like my SOS there will be a deluge. will get back to you ASAP.
It is past 2200hrs and still over 25 degrees here, was 32 today..... off out into the garden to cool off!
John
Saturday 25th June 2011.
Well trust me to pick Wimbledon week. F7 and heavy rain! No, did not leave the marina. We stayed on board 3 nights, were the only ones in marina! All the sensible owners left for home Sunday, heard of many cancelled cruises... One Dutch crew arrived and decided to go for walks.... far to windy. At least we saved the cat sitter a job!
Today it is supposed to go quiet, the rain to peter out and Sunday is promising to be a 30 degree day with light breezes.. certainly does not look that way at the moment, trees bent double and the road only just drying out.. we will see. Might get a sail in this week yet!
Wednesday is our monthly meet for the Essex section. We will be at 'The Cock Inn' Boreham at about 7.30pm. call me on 01621 778859 if you want to come along and join us..
Off to answer some of the mail now.... just seen we have Peter in Harpenden has joined us, interested in the 'Mouette' design....
John
Saturday 18th June 2011.
I must need my head testing! Why on earth do I never learn.... Once again I have chosen to go away boating during Wimbledon! The rain and wind have not let up all night and today, apart from brief sunny periods, looks little better. We have heavy rain in the forecast for the next few days.... So as not to cause any problems with the 'distaff' side I will bide my time before I venture to suggest we go to the boat! Might be on board Monday then. We are hoping to have a leisurely few days, (getting fewer!) drifting about the Blackwater and Colne areas. We will see.
Have had some interesting mails back and forth recently regarding the possible sale of a leeboard Waterwitch. this was built by a dear friend of mine, to the highest of standards and sadly now he has had to swallow the anchor. Sadder still because he did not get many years to use it as he nursed his dear wife though illness for years. She is such a nice boat I am hoping to find an owner who will cherish her. Having just read 'The Iota Story' about a leeboard WW that was shipped as deck cargo and sailed all over the Pacific, West Indies and Indo China, albeit 40 years ago, this boat has incredible potential!
No new enrolments in this week, but a nice letter and donation form an ex owner and enrolled 'Friend' who wanted a CD of the Eventide drawings, so he could make a scale model of his old boat, nice thought!
Heard from our steering group member with the newly acquired Barbican, who is still enraptured by her comfort, speed and handling. He has logged many hundreds of miles in her already this season, lucky man. Hope to get to inspect her at some stage shortly. (Was to be tonight, but we have just been invited out 10 pin bowling!), will be warmer doing that than sat up a creek in the wind and rain I bet!
Another Steering group member is off to his Eventide, 'Glasstide', this week and may venture out, might cross wakes....

If worse comes to worse and I do get stranded up a creek for a few days it should give me time to sort out the wiring for my new AIS device. If I manage to get my head round the complex wiring the plotter should be able to tell me where the big boys are, we will see. I checked the link to the world wide AIS site the other day and zoomed in on the Blackwater, to see a sailing barge registering 10 knots, sailing down the river, was a breezy day! If you have not looked at this site yet it is well worth a few moments. Click on the logo below. (or go to the links page and find it!)

Closing down for a week now, see you on the river
John
Tuesday 14th June 2011.
We are getting ready to venture forth......
June 19th/27th, the summer solstice cruise! Join us in the Essex/Suffolk Rivers for about a week.
We were going to try to organise a Dutch cruise again, but there were not many takers, so instead a trip into the Essex rivers was suggested.
We intend to sail from The Blackwater, wherever the wind blows! Could be Pin Mill and Ipswich, or Fambridge and Paglesham, who knows! Contact me on 01621 778859, or call Fiddler's Green on the VHF ch. 16 or 77 that week to meet up with us!
OK, Fiddler's Green is ready and we will be off out, weather permitting, Sunday. At the moment the weather is dry and windy but deteriorating to wet and wild towards the weekend, hope it blows over!
Have had a couple of boats and owners enrol this week, welcome to Christopher with the GH31 'Mollymawk', she is now base in Beaulieu. Very smart vessel... and to the unusual 'Le Manchot' an Eventide 26, now owned by Paul and in Angle Bay, Milford Haven. She is different because she has a proper aft cabin! Pictures to be added to the site.
Heard from Brian Platts today, Brian and Elizabeth sail the Eventide 'Avocet', up in the North West, but also have another Eventide and a Silhouette down in the south East. they are going to trail their Silhouette to Anglesey and sail round it, for fun, hope to read about that later, even if it isn't in one of ours, they are supporters!!
The webmaster has gone back home and 'Tarka' is secure in our garden. Hopefully Brendan is going to come back to work on her in the near future and we are hoping she will be weather proofed, at least on deck and the cabin, before winter.
I will be reporting back on another bit of gadgetry I have purchased, an AIS reciever. It is supposed to be tied into my laptop SeaPro300plus program and should give me an indication of the big ships out there.. as the size of regulated vessel comes down, it is now 300 tons and 8 passengers, the number of 'contacts' will increase. I know the sailing barges for instance are obliged to carry transmitters now... It will give the vessel name and information about it's cargo and destination, as well as position, course and speed at that instant in time. Very useful when crossing the estuary...
All we have to do is connect it, sadly it was lacking information on plugs and wiring them, but we are getting there... by the end of week on board I should have it cracked...
Peter Harrold has sent in a great pic of the restoration of 'Little Gull, another to add!
Had a picture in From John in the southern hemisphere who is building a Senior. Frames and bulkhead up, stem and transom to follow, keep at it John, it will be worth it, as Tony can attest to with his Senior 'Iona'. he has enjoyed a very pleasant weekend afloat in Poole harbour recently, pic to add to site!
Good sailing all of you afloat, and to the builders, more power to the drill!
John
Saturday 11th June 2011.
Sorry it has been over a week, but it has been a real busy time here.
First off Brendan has been staying with us and has given this machine a total health check, installed the extra safety measures and ensured all working 100%.
We have spent a day converting my trailer with brother in law and regular crew Keith, and have collected his boat from Kent to now reside in our plot for a while. Keith is an ace driver, Essex champion Tractor handler for several years and National champion once too. Towing no problem, if the trailer is right! And we ensured it was! So my trailer can now take E 24's and 26's, plus Wild Ducks!
We did also get a chance to get out afloat.... in a F6, twice! must be mad! We had an afternoon on Fiddler's Green in the Blackwater, a scoot up river in a South Easterly 6 and a back back down under motor...

Though here anchored off the south west tip of Osea it does not look at all bad!
Brendan, assisted by Keith again came with me to act as crew for Doug and moved 'Dougaljo' from Burnham to Bradwell. It was 6 days after my little run afloat, but guess what F6 again! this time Westerly, so we scorched out of burnham, nipped over the Ray sands and head into the wind to enter the Blackwater. Fortunately the breeze eased to a F5 by the time we entered Bradwell but I had a 'moment' when berthing Doug's boat as the motor died when going from astern to check her, to ahead to kick her stern round... many hands fended off! Dare not scratch that new sparkling paint job...
Heard from one of our members with a Barbican. She has the drop keel but we understand the skipper is considering a radical alteration involving wheels or a sort of sledge arrangement, better for sliding off shingle banks...! More on that one later, maybe!
Only had one new enrolment, Andrew Bailey as a 'friend'. He is looking for a suitable bilge keeler to convert to Junk rig.
We were looking forward to a week in the company of friends starting the 19th, but one by one problems have arisen and seems we may be few in number on the Blackwater that week. We had hoped to lock in at Heybridge again, some time, and maybe even sample Tollesbury Marina! We will see, will be local, whatever happens. Give us a call on 01621 778859 or on VHF 16 if you are out and about that week.
Closing down to sort the cover on 'Tarka' now!

John
Thursday 2nd June 2011.
We have had a flurry of new members in the last few days, apologies to some of you for not getting back straight away, have been a little busy here, what with one thing and another!
Welcome then to Philip Gorry on the Isle of Man with the Eventide 24 'Sea Jay. To Des Jacobs in South Africa with the Eventide 26 'Chala', built by Larry Coghill in the old Rhodesia many moons ago and whose building stared in many of the old newsletters and on our hints and tips page today! To Andrew Bailey, wanting a Junk rigged boat and looking at a boat up to 26 from our stable, to Stephen Steelman in California who is just looking at the moment, at the WW. And to Abby with the Riptide 'Mystique' moored in Essex.
Welcome all. I have been able to send some information out to one or two of these and have more to follow.
On the boat moving front, we have towed 'Everjoy' up to Nottingham and have now converted my trailer to take a Wild Duck!
We hope to be collecting 'Tarka' next week. Brendan is giving the EOG computer a health check and at the moment is watching my clumbsy attempt to typrete ! That made him laugh!
The EOG machine now has an extra hard drive and as well as the mirroring it does, all data is now automatically backed up to a spare drive as well. bit like me really, belts , braces and bits of string! This will ensure we are as safe as we can be and all the data has several places to get lost so I can never find it!
Have just removed the 'rig for sale', from the pages and a donation will soon be winging our way. Have had an enquiry on the boom I posted last week and have now added more , some windows and winches... Seems lots of people are finding our pages... Brendan has had an idea about doing our own on line auction, more on that later....
Pleased to say we have heard 'Dougaljo' is back in the water, though still a problem, but hope to be helping him shift her back to Bradwell shortly. Heard John Stevens was aboard 'Glasstide' today and also that Brian of 'Right E Oh' was recovering from his little op and will be back on the water soon. Hope to be out afloat tomorrow, so closing down to get some shut eye!
John
Saturday 28th May 2011.
Spent the day yesterday trailing 'Everjoy' the Eventide 24 we have been storing in our garden, we sold it (on behalf of John and Ann Morgan), up to Nottinghamshire to Ian the new owner. We married it up with the spars from 'Folly', that is now a bare shell of rotten timber, sat waiting for November 5th!
Ian had all his neighbours waiting ready for us and a local firm turned out with a 'Hiab' on a lorry and lifted her off the trailer and into his garden to sit on a trailer he had made for her. When completed she will be trailed out to the water. We are going to start a page on the Restorers section for her and Ian promises to send in progress reports.
Had a glitch with the Enrolment form earlier this week, but all up and running again now, so welcome to Phil on the Isle of Man with the Eventide 'Sea Jay' and Des in South Africa with the Eventide 'Chala'. Both of these boats are known to us and I will be sending what information we have to the new owners.
Pleased to be able to say Brendan has managed to digitise some of my old records into a format we can use and add to the EOG database. This will help owners a lot in the future. Brendan is coming over to me today, to stay for a few days/week to check the computer and add another drive and to help me modify my trailer so we can go and get his boat from Kent!
I actually managed to get to Fiddler's Green last night, after dark, but at least the wind had dropped enough for me to get the Genoa on. Mainsail Monday and a sail I hope! (With Brendan of course!).
Wind is F5 and rain in the air, as well as a couple of Tornados.... RAF ones! Passed low over the cottage, really low, close enough to see the pilots! Southend Air Show today in previous years have been anchored off under the planes, not this year! Hope wind abates for Monday!
Have a few additions to the For Sale pages to make, 'Sea Troll' the WW Ian and Carolyn have been restoring in Dorset is on the market, £5,000 for a 3/4 restored boat. Family commitments have forced Ian to give up, after many years. Will be a good buy for someone! Brian is after wooden spar for a Senior... any helpers?? And I will be adding more general chandlery I have 'acquired' and wish to pass on, donations to Group Funds.... See the bits for sale. Nice pair of winches, new windows, bilge pump....
John
Thursday 26th May 2011.
Well Everjoy is out of my garden and part way to Nottinghamshire and Ian the new owner. Tomorrow we take her the next leg to Ian's house. We have already put the mast and spars from the Eventide Folly on board, recycling Eventide parts is getting to be a hobby!
We met at Boreham last night and Nigel dropped in to join us. A small but select group! Talk was about babies, sails and hot tubs! Meal was good as ever.
With the rain setting in seriously today and the wind strengths up again I suspect it will still be a day or two till I get the sails up!
We are having a security glitch on the Enrolment page. Sorry it is working too well. Brendan is on the case and hopefully it will be cured shortly....
Off to the day job, back soon.
John
Sunday 22nd May 2011.
Well I still have not got a sail up! today we have F5 and 6! I had hoped, as the wind had gone easterly to get the sails bent onto the spars last night, but it just got windier! Hopefully will be luckier today.
Can report though that the Nasa BMI battery monitor reports that my solar panel has charged the Fridge battery to 100% in a week! (From 60%). Now that is great. Seems the Solar panel is working better than I thought. It is one of those flexible 32watt panels, that fits nicely on top of my spray hood.
On the mail front we have had another payment for a CD of Eventide drawings to Dave Leathley and last night a generous donation came in from Boudewijn in the Netherlands, for a burgee and a CD of the Riptide drawings!
Chris Luke has contacted us to inform us his boat is one of the unidentified or miss identified Eventides on the Gallery, Thanks Chris, hope to hear from you with the filled in enrolment form. The boat? Sarane.
Had an interesting letter from Paul Hyde in the USA. His father was the very proud owner of Cock Robin, a slightly larger, ketch rig version of the original Mouette, and his family spent many seasons sailing her around Cape Cod, Massachusetts. Cock Robin was a very able vessel and she really shined when the wind got up. The ketch rig balanced very nicely and when she was trimmed properly, we could let go of the helm and she would sail herself on a steady course relative to the wind.
During a trip to Maine in the summer of 1974, he says he encountered the original Mouette in Gloucester, MA. If he remembers correctly she was owned by the pastor of a church there. It was during that voyage that he first read John Rowland's Wind, and Salt Spray which features pictures of Mouette and also mentions Cock Robin.
He promises to comb through some old photo albums and scan some images for us. Subsequently, after reading through our forum about Mouette photos he realized that the boat in Gloucester was the smaller cutter rigged Stormy Petrel, not the Mouette. He is pretty sure his sister has Wind and Salt Spray so he'll look into getting some scans.
Look forward to adding info to the Mouette page.
I have sorted out a lot of the bits I salvaged from Folly and they will be appearing on the for Sale pages shortly. I have placed the head sails on there already... Have yet to test the automatic bilge pump and switch!
Tuesday we are loading Everjoy back onto my trailer and transporting her up to Halstead, to marry her up with Folly's mast and rig. The first step of her journey to Nottingham. Then we have to set too and alter the trailer to enable us to load Brendan's WildDuck on it...
Well the sun has come out, it's 0900, but the wind is whistling round the cottage, so will wait for it to drop before attempting to venture to boat, time to sort the garden!
See you on the river, soon, please!
John
Tuesday 17th May 2011.
Well still not got a sail up! and the weather has now turned... typical.
However International Eventide rescue has been at work again. No sooner had Fiddler's Green hit the water than the trailer was pressed into service again. I have bought the wreck of the Eventide 26 'Folly' from Tollesbury, where the JCB was about to crush her. I just wanted the mast and spars for Everjoy... After a little fun and games Folly is now up in north Essex and being broken up. She was rotten as a pear. It was easier to kick the side out to remove parts, than take them out the hatch!
All caused by a few deck leaks! I have removes anything usable, ply locker doors and old light fittings, water tank etc and all are to be loaded onto Everjoy so Ian can use them if he wishes. Lots of blocks to clean up and reuse too. I found a few goodies on board for me, best was a brand new mainsail! It fits F.G. and will eventually replace my aging, 21 year old main. what's more it's tan too! I thought I was just going to do this for love, but someone must have been smiling on me.... all the good bits, radio, compass, clock, barometer, inboard diesel and all ancillaries, cockpit winches etc, had all been removed by the yard as part payment of outstanding fees. The brand new sail was therefore a total shock, got to change the sail number and find some battens that's all! (could have the leech re-cut hollow and same as FG, no battens.. will think about that!). I will later advertise the 3 head sails I also found, Genoa, no2 and staysail for 26. All white, in fair condition, made by Taylors of Maldon.
This past week I have sent out another CD of Senior drawings and joined up another member, Paul with the Kylix 29 'Jemima'. I will have to find time to add a few pictures of her and of Nigel and Heidi's new Barbican. Keith has sent in a new pic of the Eventide 'Polly Peacham', he and Sue will be out and about in her from now on and as they are only across the way in St. Oysth we expect to meet up with them. He asked me to add Sue's name to the ownership as when motoring he is captain, but when sailing Sue is! Good on you Sue!
I was out on the river at the weekend in the lads motorboat, sadly probably for the last time, as I took her over to Brightlingsea to be sold. Poor Michael and Karen have just had no time to use her the past 2 years and the weather when they have had a say, has been horrid. Add to that we are expecting the patter of tiny...... not the best time. In a few years maybe. in the meantime we hope we can persuade them to come out on odd occasions with us, and bring bump too!
Time to turn in, another long day tomorrow, and if it stays dry, and calm, I hope to get the boat kitted out ready for sailing.
See you on the River,
John
We now have the makings of a bonfire for November 5th.
Tuesday 9th May 2011.
She floats! At long last Fiddler's Green is back in the water. Seems half the summer has already passed with all the nice weather for the past 2 months. In deed we have not had significant rain for 6 weeks! All went to plan again, Phil and Keith my regular crew, are so proficient at this nothing has to be said, all the jobs just get done! I am impressed every year and at the end of the day we can all pat ourselves on the back. Job well done. The chaining down and securing, the sorting of freshly washed halyards and untangling of wire rigging, hoisting the mast and tensioning the rig, all jobs that might tax some are attacked with confidence and the marina staff just leave us to it, throwing in the odd quip as they pass, like 'the mast is back to front....' or 'you missed a bit', or 'stop polishing that prop we need sun glasses!' They are a great bunch
Every year there is always something catch us out, would not be boating if not. This year all went swimmingly, we were lifted off the trailer, the odd bits of antifouling you have to miss were touched up and we were gently dropped into the water.
The motor started first touch of the button, loads of go in the newly serviced starter, (or was it the new cable?) and we were off.. only for the motor to die with an air bubble as we were steaming fast towards the mud at the end of the first straight run.... Professor Sode strikes again! Fortunately the Beta is self bleeding and a touch of the key had her running again... but it could have been funny! 1st trip 200 yards from launch to grounding! After we berthed we had the motor running at all sorts of different revs, in and out of gear, to ensure the bubble was really gone!
What I noticed instantly was the new NASA battery monitor on the fridge battery was recording 14 amps of charge at tickover. This is the X-Alt cutting in and controlling the charge. I will report further on these two bits of kit later in the season. Initially impressed.
The Eventiders!
We have had 2 payments for CD's and one for a burgee in the last couple of days, will be in the post tomorrow!
Just had another enrolment, the Kylix 29 Jemima, ex Mirimbe. This was triggered by me contacting the owners again after the daughter of the former owner contacted us to see if her dad's old boat was indeed down west, as she had thought she had seen it in Suffolk. Turned out to be sister ship Risga! But Paul has responded with a coup of pics and an enrolment form! Welcome Paul and Carol. Jemima is in Bideford at the moment, being fitted out ready for a West Country cruise!
I have just lowered the price of the Eventide 24 Otteau on the for sale page. less than £6k now...
I am going to be very busy, as is my brother in law and regular crew Keith, as we shuffle Eventides around Essex and the Eastern counties, culminating in a rescue mission to Kent for a Wild Duck! More on all of this later!
All for now
John
Friday 6th May 2011.
Amazingly it is still relatively warm, we have had precious little rain and apart from last weekend, winds have been reasonable.
All this is about to change as I prepare to launch Tuesday!
Still working like mad and countless jobs out standing, but, in the words of the advert, 'We are getting there'.
I had one sad call this week, from Esther Smith, to tell me that Jim, her husband, died suddenly on Sunday. Jim was 90 and up till very recently was still quite active, but a fall seems to have slowed him and after a walk round his garden to feed his fish he collapsed indoors apparently suffering a heart attack. Esther and their daughter Patricia were with him. Jim and Esther were kingpins in the old association and I am very pleased to say have supported the EOG from the start. The film we pass out, on the building of the Eventide, is of Esther and Jim building Neptune's Nereid, a Eventide 26, so well known in the Medway and beyond. It was Jim and Esther, along with Peter North, Tony Sykes and myself who sorted out all the plans from Yachting Monthly. Jim was a real DIY man, a practical London Stevedore, he could make or move, anything! After the boat he built a large optical telescope on equatorial mounts for watching the sky at night, though with all the street lights where they live in Bexley I am not sure how much he could see. Over the years I visited, a half size Tiger Moth materialised in his shed.. this was not for him or his brother to fly, they did it for fun, but fly it did, eventually, another amazing DIY job! I will be going over to the funeral in Bexley on the 19th of May and will take your good wishes with me. Esther also made the best jam scones I ever tasted! I will miss Jim's chirpy voice on the phone....
Been a busy week on the mail. Welcome to Dr. Brian Marsh with the Senior, Polly sailing out of Keyhaven on the Solent, he has plans for a gaff rig too! To Colin Linklater with a spectacular Atlantic clipper, 'Rebecca'. there is a tale to be told her and that is going to wait for the Newsletter. Colin and his father sail the Outer Hebrides, lucky people. Having visited a few years ago I think it must be a cruising ground fit for the gods! Closer to home the Rev Keith Maxwell-Whale, sails out of St Oysth! He has 'Polly Peacham' once owned and sailed by Chris box, a well known figure in the old association., hope to cross wakes with him this year. the Rev has a sideline, or siding... he has a business repairing and supplying model railways! Shades of the Fat controller! No offence Keith! Boyhood memories of my Tri-ang 'OO'.
We have also had an enrolment from Tim Schultz in America and a request for a CD of the 3Tonner. Tim asks, what are they like in 'heavy weather'? At only 19ft that might mean anything over a Force 6, my bet would be safe but uncomfortable! I would be looking not to be out there personally, but I wonder if Tim has a long trip in mind.....?
This week I was sent a DVD of the cruise of 'El Lobo'. This has come all the way from Canada, though the cruise took place in UK waters, way back in 1966. John has added a commentary, as it was recorded in 8mm cine i guess, no sound. Very interested to watch one chapter, where they arrive in the Scillies. Instantly recognisable to someone like me who has spent so many wonderful holidays there. It has changed, but not a lot! I will see if we can get permission to pass copies of this CD on to members. Filmed before radios, in the days of cotton sails and woolly jumpers, waxed oilskins and tins of bully beef! Great stuff!
A seagull customer contacted me this week, Alan from Littlehampton way, sails the Eventide 26 Marionette. apart from wanting a few Seagull bits we chatted Eventides too, and as a result he has sent an update picture for the Gallery.
I have a few to add, and a couple that we already have can now be identified, thanks to two of the new enrolments.
As I get closer to launching I am also up to my ears in the logistics of moving several other boats with my trailer, more on that later, but it is interesting trying to tie all the people, boats, cranes and my trailer together!
I have to turn in, early start tomorrow, still got cockpit drains to sort, last bit of varnishing outside, all the galley to put back in and the motor to run up and oils to change. Managed to fit new winches today, that was fun, and replace the 2 fuel filters. Nice to see both were clean and no trace of the dreaded fuel bug.. That could be because I always keep that tank full.. now I have to fit the anti siphon device.....
See you on the river, soon!
John
Thursday 28th April 2011.
I have been given a day off tomorrow and I should say thank you to William and Kate for that, and wish them well.... so I'm off to antifoul the boat!
Another good meal at the Cock Inn last night, seems a pleasant place to meet, no frills, just clean old fashioned pub that serves food!
We have had a payment for a CD to go out to Spain for Tomas, CD will be on the way shortly Tomas.... and an enquiry from Tim regarding obtaining a CD of drawings for the 3 tonner. Hope to get his enrolment shortly.
Worked on the boat for a bit the other day, eventually removed the cockpit drains. They had been in 20 odd years and were extremely reluctant to give up their hold. I only wanted them out because the surveyor rightly stated the hoses needed changing. when I removed the hoses I realised the fittings were loose in the cockpit floor, so water was probably leaking past them. I eventually had to resort to using a hole saw and cut out round the fitting, fortunately it had a tiny flange.
I was planning to reuse the bronze elbow and hose tail, just replace the chromed brass bath plug fittings. However it is a good job I took them out as when I got them to the workshop and applied a little force, the bath fitting crumbled away, De-zincified! Even through the chrome, the zinc had leached out, and these fittings were never under water. Salutatory lesson there. I am now looking to replace the lot with a stainless drain fitting....
As the weather is chilly and damp is in the air... I will soon be ready to launch!
Hope you enjoyed the summer.
John
Wednesday 27th April 2011.
We meet tonight at the Cock Inn Boreham, Essex, just off the A12. All welcome.
With the sunny weather persisting I hope you are enjoying it or making good use of it! The Cuckoos have started and the skies round the cottage are full of Swallows.... Great weather for getting the epoxy to go off! I have just fitted a new ring of timber around a deck aperture, to fit a new clever ventilator on the stern deck. The vent has a dozen or so small buoyant balls inside it, and if any danger of heavy water through the vent, they float and neatly block the vent! simple yet neat. I have always been aware there was a slim chance of water getting in if the boat had a wave climb the stern. It has never occurred yet, and we have been out in some choppy stuff, but belts, braces and bits of string, that's me!
Had another enrolment this week, Thomas from Spain, he wants to build a Junior dinghy! Just sent a CD of the Eventide out to Susan in Suffolk. Susan if you are reading this we have responded to all your mails, but you do not seem to be getting them.?? Have a quick look in the Spam folder.. maybe...
Had a nice pic of the Senior Wagtail in, taken from a Barbican! Another to add to the gallery! Thanks Nigel.
Otherwise the mail has been a bit quiet, unusually... Still gives me a chance to concentrate on fitting out.. Off to the boat for the afternoon today, and all day Friday, thanks to that happy young couple!
Good sailing, enjoy the sunshine whilst it lasts......
John
Thursday 21st April 2011.
The warm weather continues.!!! 25 degrees here yesterday and today, quite unnatural for this time of year!
Still the Swallows have arrived, they must think it is warm enough. Time was when I could say without any doubt, that I would see them arrive on the 1st of May. over the past 10 years or more they have been ever earlier, last year it was the 13th of April I seem to recall, but this year, I was not certain of a sighting till the 20th, when on a walk to St. Peters Chapel, down at Bradwell I watched as they came in low across the sea to sit in the hedges all round me, great to have them back. the cottage always has them flying round it in the summer.
I watched the boats on the Blackwater with some envy this week, a lot of sails out there.
Me, I am still plodding on with the fitting out! Finished all my main rewiring today and the new 'fuel gauge' meter on the fridge battery is up and running, will tell you how accurate it is later... I fitted the new hose pipe to the water cooling on the Beta and that is all ready for a run up, then i can change the oils, will do the diesel filters first though.... the new closed circuit shore side cooling system is a boon!
Going to spend the day on her tomorrow, with my crew Phil, we will get most of the outside jobs sorted tomorrow, varnish work, polishing cabin top, quick sand of the decks to repaint them, (first time in 20 years!). then antifoul...
Not sold many cans of Marclear this year, have you all found better stuff? or cheaper and prepared to scrape those barnacles off....?
Sent out a Burgee and set of Tidewater drawings to Dave with Tidewater 'Alchemy', thanks for donation too Dave.
No new enrolments this week, but Justin with the Barbican 'Eilean Naomi' has sent in a few pics of the Maurice Griffiths style Centre board and gear fitted. Will make another page in the new newsletter.
Have had a few nice pictures of the Eventide 'Tanera More'. Will be added soon. She is now launched and sailing on the Deben, hope to cross wakes with her this year...
Had an update from Australia on 'Windward' sadly she is now up for sail, but I have requested a few recent pics, as Robin has just finished repainting etc...
Trying to twist our new Barbican owners arm to be rep for them... Nigel.... can't wait for the centreboard trials!
Hope to see you out there....soon! hope this weather holds.....
John
Saturday 16th April 2011.
Well the sun has come back out and fitting out carries on apace! I seem to be taking two steps forward and three back. Refitted the cooling stack to the heat exchanger on our Beta, only to realise the cooling pipes from motor to anti siphon were in need of attention, so they are now out awaiting replacement.
Fitted the new gas locker seacock, good job done, 3/4 bronze with stainless ball valve and lever and the cheapest was Mailspeed at £12.! I then went to replace the start battery, realised one of the heavy start cables corroded, so out with all the old cable and today made up new one. Tested isolator switch and found resistance across it, removed it and retested prior to ditching it, a Hella key switch. Just thought to touch the two probes together to test the meter, and found the same bad reading... it was a probe, it had broken off inside the plastic shroud! Sods law. So refit all wiring back onto switch! Now have to find a new pair of probes!
I was just having one of those days so disconnected one of the service batteries and brought it home for recharge instead, back tomorrow for another exciting day fitting out!
On the website front, we have just had the film on DVD of a 1966 Eventide cruise posted to us. I might ask the provider if we can share it with others.. will have a look first.
Have had another 2 enrolments, a 'Friend' in the USA, Jaqueline and family, they have got the boat building bug badly and after several smaller boats want to take on something like a Storm, Carvel built as well!
We also have yet another Barbican owner joining, Justin. with the Barbican 'Eilean Naomi'. I last spoke to Justin back in 2001 when I was secretary of the old association. Justin wrote a little about his Barbican and I was intrigued to hear it actually had the MG 'L' shaped Centre board. I will be getting more info on this for the next newsletter I hope. Justin sails her out of Holyhead on Anglesey.
Had an interesting conversation with one member about renaming a boat and the protocol to get round the superstitions. I suggested replacing part of the structure of the boat, removing a bit of timber or fitting and replacing, not just a bunk cushion or a GPS, had to be something that was permanent, a handrail or bit of gunwale.. He had heard of transferring the name to a toy boat and selling it for a pound! not heard that one. Has anyone got any other ideas to share?
I have also been playing with a pattern for some novel Ali folding mast steps. Sadly the original pattern a friend made went astray and he could only find a rejected early attempt, so I have been trying to get my head round how it will work and get the pattern right to have some cast. not as easy as it looks. It is a job i keep creeping up on in the workshop! Too late for this summer, but if I get it right, maybe for next!
There are some mast steps for sale on the site, and at £6.00 a casting they are cheap enough, but they do need finishing and then anodising, and they are a fixed 'D' shape on the side of the mast, so I have steered away from them now.... Told they could be noisy in a breeze, but small price to pay I suspect, if you need to get aloft.
Wednesday 27th is our next evening at Boreham. If you are within reach , it is just 3/4 mile off the A12 at Boreham interchange, drop in and join us! If you ring either myself or Doug, we can ensure places are booked, but to be honest, the place will not be packed on a Wednesday!
OK that's it for now, I'm off to bed, to get my strength back for another day fitting out...... tomorrow.
John
Tuesday 12th April 2011.
Knew it could not last, hope we do not look back and say summer was early April this year! Went down to work on the boat, refitting wiring after having starter motor serviced, was suddenly aware of drop in temperature.. Head out of hatch, very dark, moment later the heavens opened... still I had just planted a tree, so saved me walking down the field with the watering can again!
Had another enrolment, the new owner of the senior 'Iona' that John Hopthrow had seen for sale and sent the pic in.. Anthony the new owner is going to sail her around Poole Harbour, just the perfect place to use her! She is an interesting oat, built as a centreboarder, but Mike Craddy the owner back in 2005/6 got a set of drawings on CD from us and converted her to the more stable bilge keel version! made me wonder why he did not go for the even better extended bilge keel version, then I realised we did not have the information on the CD at that time, so maybe there is a further incarnation waiting....
We are pleased to Say Nigel and Heidi seem very pleased with their new Barbican, a real good looking boat. We are waiting for feedback on the pro's and cons of that dreaded centre plate! Good echo sounder one member said!
I have my anchor chain laid out in the garden at the moment. I have to turn it end for end.. though it is really more for cosmetics than safety. If there were any bad bits I would relegate it to chaining up the trailers! The surveyor saw it and just as I had thought, assumed it was rusty. No it's stained with mud, I do tend to use it a lot! however when turning end for end, I now have to remove all the white paint that has marked it for years, with paint stripper, and also cut off all the fluorescent electrical ties I use to further mark it... Oh Bother...
Started removing the grout on my tiled galley today, the little tool I have for doing it works well, £5.00 at the DIY shop. Bought the new grout too and borrowed a special grouting applicator.. Will see if it looks any better this year, surely cannot look worse, the 20 year old grouting was a little grotty!
Pressing on, fitting out time seems to get compressed every passing year.
More power to the elbow to those fitting out, and to those afloat, fair winds and lee going tide.
John
Friday 8th April 2011.
And still the sun shines. Wonderful fitting out weather, or in the case of one crew, great sailing weather.
I heard from Nigel and Heidi yesterday, text read, 'Bradwell in sight, nearly home!' At 13.15 yesterday they were back in Tollesbury with the newly acquired Barbican. 302 miles in what 4 days, very good time!
Quiet days on the mail front for last day or two, or is it that you are all off to your boats?
Spent an hour with double jointed fingers and fiddly extensions on the socket set, bolt taped to socket so it would not fall out.. eventually refitted starter motor... Also used the multi meter and tested all the wiring to see if any resistance. all OK.
However out of interest I tried testing the battery isolator switches, guess what, one had 200 Ohms resistance across it. Bought a new one today! (EOG EBay Page!) another little job.. Well after 20 years afloat I suppose I should expect a little wear and tear...
I also got to play with something else that I had been working on for a while...

Actually got to take it out for its first Spin Sunday, but yesterday was off round the local lanes. 'Sign of happy biker? Dead flies in the teeth!'
Back to reality and the day job!
John
Wednesday 6th April 2011.
We have been in touch with Colin Faggetter's widow, Sheila and she has given the group permission to carry on handling Colin's drawings with out a Royalty now. The Steering group have decided to therefore reduce the cost of these CD's of drawings to the same cost as all the others, namely £5.00 UK and £6.50 overseas, to include the cost of P&P as well as the scanning, recording disc etc. In addition in line with Sheila's wishes the EOG will make a donation towards the RNLI in Colin's name when we sell any of his designs. Our thanks to Sheila for this.
On the drawings front we have had a payment in for a Senior CD and a donation from bob Puzey, Thanks Bob, CD in the post tomorrow. also had a letter in the post from a member in Havant, Mr. S. Thomas, for an Eventide and a Riptide CD. Both in the post tomorrow as well.
We have again heard from the crew of the Barbican, they have now made Eastbourne, Tuesday evening, and doubtless are enjoying the balmy weather today, 21C here! Set to stay warm with lighter winds for the next few days whilst they make their way round the North Foreland and into the Thames Estuary. Back to Essex for the weekend!
I spent some time on my boat today, at last. Refitted the serviced starter motor, what a fiddly job! Would not want to do that at sea! Using a multi-meter I have been measuring the resistance in all my starter cables etc. Found little to none anywhere, but one of my Battery isolator switches has a high resistance, so that will have to be changed. found one smaller wire with corrosion that I will cut out and re fix the terminal. Next visit is for the galley top. I have to remove the grouting between all the tiles and re grout. Going to be a messy job! will be worth it as it looks less than smart as it is.
Just one seacock left to sort. Following the survey I have serviced and replaced 3, the last, the gas locker drain, tried to refit it only to cross thread the valve, so sourcing replacement now. all hoses now double clipped....
Think I will lift the main aux battery off too, discharge it and recharge before launching.. Have to disconnect it anyway whilst i work on switch, so I might just as well lift it off, at 110Amp hrs though it is no lightweight. Same goes fro fridge battery, but that appears fully charged still! However as I have to disconnect that whilst I am re wiring the feed to it and fitting a battery monitor, I might just end up with that one at home too.
hope your fitting out is going well,
John
Tuesday 5th April 2011.
I heard again from Nigel and Heidi. First off it was an odd bleeping on my mobile. A text message informed me they were in Yarmouth, Isle of Wight! They have had a a swift passage across Lyme Bay and beyond 87miles in 15 hours. yesterday an e-mail, Hasler Marina Southampton, short hop after the day before preparing for long haul to Eastbourne and beyond. With the wind a F5 SW for the last few hours I bet they make Dover or Ramsgate and back to Tollesbury in the coming weeks heat wave! 21c forecast for tomorrow and the next day with gentle F2's. Could not have been better weather for the trip... will let you know when they are back.
The newly acquired Barbican sailing home to Essex. The second picture of her in Haslar Marina, is titled 'Un-named Barbican' Because the present name will change!
We have had another enrolment in the last couple of days, they are still coming in at the rate of 2 or 3 a week, astonishing!
Welcome to Marshall Lowry of Florida, owner of many boats, but with an inclination to build an Eventide or larger. Welcome as a 'Friend' till he gets the boat started..... doubtless he will be in touch for a CD or two.
Speaking of the drawings, we have just had a lovely letter from the late Colin Faggetters wife. She has donated the royalties to the group. The Steering group will have to decide if we should pocket the royalty or drop it. More later on that one. Incidentally, we were contacted by a gentleman who purported to be Sheila Faggetters brother and who had lost touch. I am very pleased to say she has told me he was her long lost brother and she is trying to contact him using the information he sent. nice story and the power of the Eventiders site on the web!
Sheila also informed me that the motor cruiser drawings he was working on when his eyesight was failing were sadly scrapped, as he was not happy with the result. Shame I had sort of half hoped it could be a retirement boat for me or anyone else who wanted to remain a full member of the group but wanted to gently retire from the sailing... I have my eye on a Buchanan designed SeaFarer 18 at the moment!
We have had a flurry of mails and photographs from John Burke restoring a rather special 3 Tonner. This one is Clinker built. I will be adding his pictures to his page on the 'Builders and Restorers' section. I pulled his leg rather about a little window into the cockpit, John has done a special pic to show us what he did with it! Hope to put all the pics on tonight.
Well the rain is beating down at the moment, but the forecasters are talking of warm and dry this afternoon, so I am off to the boat this afternoon to fit the refurbished starter motor and get on with more chores..
John
Saturday 2nd April 2011.
We have had more enrolments. A warm hello to Christopher Gregory of Kent, keen on building a Senior and who has already sent his pennies and had a CD sent to him. Thanks for the donation as well Chris. Also to Robert Fuller with the Ferro 38ft, Barrier Reef, 'Crystal Voyager'! Robert is also from Kent, but the boat is at present berthed in Essex at North Fambridge. hope to cross wakes with her later this season.
Bob Puzey with the new Senior, 'Moonfleet' has sent a nice donation and also paid for a new burgee, he hopes to be flying it in the Bristol area this year. Look forward to the pics Bob!
I had a mail a few minutes ago from the new owners of a Barbican, Nigel and Heidi.! They had just sailed into Dartmouth, my favourite landfall! They are off to cross Lyme Bay tomorrow and Nigel reports the centre plate has not fallen off yet! Told him that I bet he crosses the bay quicker than I did.. just watch out for the rough bit off Portland!
Had the written up minutes of the last Annual Meeting through today from Mike Hoban, which reminded me that I had not announced him as a new member of the Steering group as yet, welcome Mike. Mike and Helen have the GH 28 'Cirra'. Mike has even built a boat shed for her in his garden to ensure all is dry and in perfect order for the rebuild. I'm told this year should see the most of it done.. Maybe we can organise a restorers meet there, Buckinghamshire....
Also reminds me that I can publish the previous years minutes now, along with the accounts...
I spent a few hours on my boat today, for a change... took me an hour to cut through the mastic to get the 'sealed' cockpit floor up! Will have to think of moving the primary fuel filter somewhere else...
Fitted the handles to 2 of the seacocks I was repairing but the third I managed to cross thread the valve assembly and ended up taking the lot off. It was on the gas drain and had not been shut in 20 years, so my fault for not working the valve to keep it moving, now I have to fit another valve...
Heard from the auto electrical man who has my starter motor, said it was not in too bad order, needed new brushes and clean up, hope it spins the motor better... Will collect and refit that this week. Have to pull the stops out now, 4 weeks to launch and have still to clean out and renew grout on tiled galley top. Have not started to think of paint...Too many jobs lining up!
Talking of paint, no one seems to want to use the Marclear this year? Spoke to one of my customers from last year, he had bought some cheap stuff. I asked if the Marclear had failed? 'No' he said, 'not a barnacle'.. so why move to a cheaper brand that many use here and it plainly does not work? 'Now't so queer as folk', as they say.
Hopefully see you on the water in May!
John
Thursday 31st March 2011.
Eight of us met at The Cock Inn, Boreham last night and were again pleasantly surprised to receive an excellent meal. The place is a real pub, that also serves food, and Bob was rushed off his feet when the bar staff phoned in sick and loads of people came in for the darts match, however, apart from a little wait, during which the talk yo-yoed from bilge keels to Jowett cars, all went well and he coped, even to supplying coffee as a thankyou to us for our patience...
The other nice feature about the place was the cost. 2 courses for £9.95! Cheaper if you chose from the bar menu... and a good choice too. And they even have Darian's Red Bull !
Heard from new member Bob Puzey that he has bought Stewart Moxams's newly built Senior, 'Moonfleet'. Bob will be sailing the Bristol area, says he will wait a little before venturing into the Bristol Channel though, wise man! We are looking forward to the new pics, but here she is awaiting sale...

Really nice centreboard Senior. Apparently about the only bit of paintwork to sort is the replacement of a letter 'A' with a 'G' on the stern!
We have had another person contact us to join but appears to have confused the Forum with our enrolment form, hoping they will have got my explanatory mail now and will sign up, they have already applied for a CD!
News hot off the press. Nigel and Heidi are now the proud new owners of a splendid Barbican, Diane II. It is a centreboard version and there have been long discussions about the centre plate.
Strangely the Barbican plate has been the subject of hot discussion in a few quarters. There was an article in PBO where an owner replaced his, having first asked advice regarding materials from Nigel Warren of PBO, then promptly ignored it and used a mixture of materials designed to create problems. I was quite surprised they even printed it and wrote to tell then so. Saying that if the owner knew much about the designer or cared to ask us he would have done something different.. The owner? None other than Mr. Leaper, now leader of the old assoc. Some may have read my words on this elsewhere. Maurice did not design this centre plate, his drawing was of a seamanlike 'L' shaped plate that could not drop out if the wire uphaul broke. However Phillip and Sons of Dartmouth would not use the sensible one as it impinged on the accommodation plan they had in mind. As a result Maurice never mentioned the hull design in any writings, though he told me he did approve of the bilge keel version. The later builder, after problems owners had with these plates, removed it and a few of the later boats are simply classed as long keel.
Sensible owners have followed the builders lead and I have met one such owner in Kent this month who told me the only real advantage of the centreboard was the manoeuvrability under power with the plate down, it turned better, he removed his and got round any turning problems by fitting a bow thruster, very sensible idea. I have heard of another owner in Walton on Naze doing this too. Sadly though, one owner is opting to reopen a sealed up case in Walton. Do not understand the thinking here. If you think it will make the boat faster to windward, you need to buy a different boat! For windward performance is not what it is all about, surely, a safe, seaworthy craft is more than just fast.
It will be interesting to see if our resident fast cruising crew, Nigel and Heidi, think the bother of the non MG plate is worth the hassle..... time will tell.
Another couple of members have kindly sent in a few pics of GH's they found in Falmouth, thanks John and Margaretka.
Enough for now, got to sort the Seagull post then get off to the boat....
John
Wednesday 30th March 2011
Next Essex shore based Meeting, Tonight!
Wednesday 30th March 2011, 7.30pm at the Cock Inn at Boreham.
Please ring 01621 778859 to book for meal.
Got table for 8 so far.......
Tuesday 29th March 2011.
In the last couple of days we have had another 2 enrolments, welcome to Robert Zdarilek in Croatia with a Wild Duck! Also to Bob Puzey in Ross on Wye looking for a Senior...
Had a mail from an ex owner recently who was cross that we had given historical details of his boat to the new owner? I still cannot figure out why. One would hope a seller would impart all details and history to a new owner, but in this case it seems not to have happened, though the seller was keen to stress to me the qualities of the boat in rough weather, assuring me the keel had been increased in weight. He said he had done a thorough restoration, so I have asked him to send in details for all to see and learn from, I hope he does.. A thought on selling, Should there be a form to fill in to state all these facts so a new owner has them at their fingertips? I am pleased the new owners do get in touch and that we can furnish history. Without our records a lot of owners would not even know what their sail numbers should be, let alone who built their pride and joy, or where...
Had the new owner of 'Everjoy' here today, Ian. He wanted to measure up so he could modify a trailer to suit his boat, but decided not to complete the trailer until his boat is delivered to him. If I get my finger out I hope I can get my own boat launched by the end of April, then get my trailer back under 'Everjoy' and arrange for her to be shifted to Ian....
The clocks have changed and the evenings are lighter, so maybe I will get time to get cracking on all the jobs I still have outstanding... I have managed to remove the starter motor to get it checked and have overhauled the seacocks, so I am getting there, slowly.
Enough for now,
John
Friday 25th March 2011.
Happy Birthday to Doug.!!!
Doug of Doug and Jo with 'Dougaljo' the WW, is 80 today. We and a few others are off to celebrate with him this evening. Doug's boat has had a bit of bad luck over the past 3 years, twice being damaged on the berth by fouling the posts in the Marina and last season a large boat sideswiped the back end tearing away at the davits causing serious damage to the stern area. Very pleased to say 'Dougaljo' is all repaired and freshly repainted in 2 pack dark green with a shine you can see your face in. hope to be sailing in company with Doug and Jo and other friends again this season!
We have had a few more enquiries this week, there are two more boats for sale on the pages, the GH 'Gallulina', is back after a buyer reluctantly had to cancel.... and there is a part built Lone Gull II. I have also added a 32ft mast to the Boat Bits page, and a boom, both new.
John Hopthrow has sent me a whole raft of Barbicans to add to the pages, all for sale. And I just went to add the pictures of the one I saw in Gillingham, but find they have disappeared from my camera???? She is a Centreboarder that the owner had done the sensible thing and had it removed. To assist marina manoeuvring the owners had a bow thruster fitted, great idea! I will try and get more pictures next time I go down with Brendan to his boat, if she is still there... I did leave the EOG details with the owners, so they may be in touch....
Anyway time to close, off to a birthday party!
John
Monday 21st March 2011.
Today is the first day of spring and at last it is warm, for a few days this will be the case, so make the most of it.
I learnt yesterday that some members of this Group have actually paid the old assoc, to join them as well. Why on earth would anyone want to give money to a group of people who so abused all their members and failed them so badly. I just fail to grasp why anyone would pay to join them... Hey Ho. Takes all sorts as they say. Personally if anyone did to me, what the officers of the association did, I would never have anything to do with them, and I will not. But I suppose it is all smoke and mirrors these days and the propaganda machine they run is in overdrive to rewrite history. It is sad that the truth seems to get buried. Bet you would back a call to have your local council member prosecuted if he took £500 from your council kitty for himself.... why is it then we can turn a blind eye to such corruption elsewhere?
To nicer things, these last few days we have had yet more swell the ranks, we are some 1100 members now.. Welcome to Albion Watts who has send pennies for Goosander drawings and to Mark who wants to build a Senior and has also sent in pennies for drawings, plus the film and photos CD!
We have also heard from the owner of GH1!!!! 'Goose Girl'. He has joined today and is restoring her for her 50th birthday! another new member is Bob with 'Gallinula' a GH built in 1969 by Hartwells.
I have removed an advert from the Site, Stewart Moxham has put the sale of his Senior on hold. There is a real problem out there at the moment when selling a boat.... there are not many buyers about.. However heard from one member that he has actually bought a new boat, another MG, more details later....
Well time to be productive, the sun is out and time to fit out. Thanks to all those who have been sending their kind comments in about the site, and the constructive comments. One today pointed out that we had missed the sail area from the Specs on the Senior... Opps. but unlike some, we will rectify the error immediately.
John
P.S. Just in!
We don't have a links page at the moment but I'm sure I can add one.
I can link to your Buchanon page.
Incidentally I haven't had a MG at the Thames Revival yet but I think it's not complete without one.
see www.thamesrevival.com Can you invite MG owners to apply? We want to show the range of boats which make up the history of the Thames from river to Estuary so a couple of the best examples of MG yachts would be most welcome.

Best regards,
Ian

And thought you might like this wildlife clip they sent in.... watch-v=5biRe IeZ1Qc
Wednesday 16th March 2011.
For the past few days I have had Brendan over to stay, so he could be at the Annual meeting. We also took time off to visit his boat down in Kent, retrieving his inboard and arranging to collect the boat in may for a trip to Essex. In the meantime Brendan has, in his new role as I.T. Manager, been checking over the EOG computer. We have found a problem with the storage devices and the data protection.
To sort it out Brendan has been working round the clock for two days and it is now back up and running again, thus enabling me to get on here to edit the site. We are going to have to purchase about £35.00 worth of new hard drive to match the two we have mirrored just for 'other data' storage.
The meeting on Sunday at Bradwell was attended by 11 members and a meal in company was enjoyed before hand. A full report will appear later, but highlights were the success of the website and the number of new enrolments. We have over 1100 members now! John Stevens is now the 'Official Eventide Owners Group Historian', as Brendan now made the database fully automatic, so as Brendan has now moved beyond 'just' Webmaster, it was agreed to make his role 'IT' manager. Brendan outlined some ideas for the future, including a special members area of the site with the ability to search for local members and get in touch with them, all without breaching the Data Protection Act. Clever.
At the end of the meeting the Barry Sturrock Seamanship trophy was awarded to John Stevens for the preparation work sorting his boat for the move to his new mooring. In addition to the trophy there was a Seamanship book as well.
A Pewter Tankard was awarded to Brendan for his services to the Group. The Group really appreciates his assistance.
A burgee was donated to the Bradwell marina bar for display...as a thankyou.
John Morgan donated a small library of nautical books to add to those already donated. We intend to offer these for loan or swap. a list will be published, for those a distance away, a donation for postage please.
So time for fitting out seriously now, lots of jobs to do and deadlines to meet, see you on the water end of April!
John
Sunday 13th March 2011.
Our thoughts are with the people of Japan as they struggle with the aftermath of the largest earthquake and Tsunami event in living history.
To us who use the sea as a playground it is humbling to see the immense destructive power it can release.
Today is our Annual Meeting at Bradwell. I have had apologies in from a few people and we hope to meet a few friends and members there in an hour or two.
I have just taken a few moments to update a few pages, but given the enormity of the disaster in Japan I will leave it there.
John
Friday 4th March 2011.
Very pleased to witness the handshake that sealed the sale of 'Mistress II' today. I suspect the new owner, Simon will be filling in the enrolment form shortly. Simon has done a shipwrights course and even with the brutally honest advert on these pages and E-bay, was not put off. He was exactly the sort of chap I wished would come along. I did not look forward to breaking her up, which might have been an option! (even though she has a new 14hp Yanmar!). Far better for the motor to stay where it is and power her later. I'm hoping there will be a log in of a trip to Portugal in two years time!
I am trying to advertise another Eventide on the pages, but have only PDF pictures, so am waiting on getting them converted to jpgs. The boat is 'Eventually', an Eventide 26 built/launched in 1993 and sailed in the Solent and beyond. We knew of this boat years ago and though practical thought the extra high cabin top detracted from it. I would paint an eyebrow line above the ports to disguise the height, a simple trick that would make her look so much better.
This brought me to think of paint schemes that some have used. If you look carefully at my 'Fiddler's Green' you will notice the green of the raised topsides is carried on below the gunwhale and right to the transom, which is also green, this reduces the effect of the raised topsides on the eye.. At least I think it should, does to my eye! Trick is light colours make a boat look bigger, dark ones smaller. Now you cannot paint a clinker or carvel built boat black without suffering with the planks opening up with the heat absorbed, but a dark stripe on a ply boat works.
I photocopied the sail plan of the Eventide and tried all sorts of colour schemes, including different sail colours, before making the final application of paint. As I have seen some really odd colour schemes maybe it is a tip worth passing on!
The weather today was brighter, but still cold, too cold to start my fitting out yet, hope for warmer weather next week!
A reminder... The annual meeting.... Sunday 13th March, Bradwell Marina bar. Just over a week to go....
John
Wednesday 2nd March 2011.
Hopefully it will warm up shortly... cold North winds here in Essex today. We are just back from a trip to Devon and have come back laden with sails from my daughter's boat to get cleaned. Sadly they were left on the spars over winter and the mildew will be difficult to remove.... Sails just should not be left out when they not going to be used. You seen the cost of a set these days! UV will rot them and wet will mark them, not a smart move. I am hoping I can get these sails white again.... nothing looks more unloved than a boat with dirty sails...
Amazingly, after all the enrolments last week, there were none over the weekend. However I have heard from the owner of the Eventide 24 Katherine, down in the West Country, she has now been converted into a powerboat with steadying sail! He promises to join.
I have just removed the Bluewater, 'Myosotis' from the 'for Sale' page. Sold! and Fiona the former owner is promising a donation for her sale. Nice to able to assist. Sadly not all boats are selling.
I had a query about 'Eventually' recently an Eventide 26 with an unusually large cabin top, which I believe really detracts from her appearance. the owners seemed to believe she was worth a fortune. Suspect they paid over the top for her a few years ago and were trying to recoup the loss. Sadly her looks and the market were not going to make this possible and I told them as nicely as I could this was the case. Have not heard from them again. Sorry folks but I have to be honest.
I hope to have better news about Mistress II later in the week! Watch this space.
Brendan has been busy keeping an eye on things in the background again, several blips have occurred with our service provider recently. We will keep an eye on things there. My SOS site was hacked by the Russian Mafia a few months back, via Gemini, had it not been for Brendan's vigilance this site could have been too. All damage repaired in a few hours, but it just reminds us to keep on our toes.
Had a nice mail from Gary, his father built two GRP Seniors from a mould he made. He believes 'Benny the Ball' on our pages was one of them, I will be putting him in touch with the owner. Now I wonder where the other GRP Senior built from that mould is, and for that matter, where is the mould?
As I speak, the extra security device has just reported it has saved the latest edition of the website, very clever!
OK enough for now, I feel it cannot be too long before the sun warms things up and the smell of antifouling fills the air.. Yes I'm selling it again and have some in!
John
Thursday 24th February 2011.
I am off to Devon for a few days, so a quick note here first. Today seemed like Spring, 14 degrees outside and this afternoon, sunny, 'Fitting Out' time! Have lists of jobs to do and I am determined to be afloat early this season. Cured the stuck Galley pump nut by using fine grinding paste to ease the threads, then applying a little silicone polish (Pledge)!
We have had another flurry of enrolments. Welcome to Susan with the Eventide 'Osprey', this is yet another that has never before been recorded! She is to be based on the Deben, so hope to see her sailing. Sue is promising pictures... Brian Has a GH 28 down on the Solent, 'Countess', I have some pics to be added... Thanks Brian. We have a new Friend too, a Kenneth Evans designed 'Springtide' called 'Tyker' based in the west of Scotland. Clarke has asked to join as a friend, realising we have other Kenneth Clarke designs shown on the Friends page, (Sea Rovers). And lastly Robert has joined, the new owner of an Eventide 24 called 'Stryder'. I am sure I had heard the name before but can find no trace of her. Robert has sent a picture, (to be added shortly) and I can see she is an early one.
Robert sails and lives at Wooton Creek Isle of Wight and is a shipwright. He has a lot of local knowledge and we could have a venue and host for a Solent meet here!
Had an enquiry from anther Robert regarding repairs to a GH31 with damp problems, hopefully yet another enrolment shortly, 5 in a few days!
Brendan has sorted the extra security on the EOG P.C. with a daily back up of this site now to another secure place. Belts, braces and bits of string, that's us! very clever yet so simple!
OK that's all for now folks catch you next week on our return from sunny Devon, where it rains 6 days out of 7!
John
Wednesday 23rd February 2011.
Yesterday afternoon at 1540 I was watching the Fellowship Afloat's web cam and witnessed the voyage of Glasstide as she dropped the mooring in the creek, 1547 it was over, as she arrived at her new mooring! Sadly today the webcam has failed, due to all the interest in that voyage no doubt. So I cannot check to see if the eggs and bacon are on! Hoping John will be able to finish off the jobs on 'Glasstide' to make her more comfortable and I already know he has a another cooker and a stainless fuel tank and filler. Hope to see him out and about this summer.
John
Monday 21st February 2011.
Another new member yesterday Brian in Southampton with a GH 28.5, named 'Countess, welcome Brian. Also in the last week Stephen in Wales with the Eventide 26 'Mary Louise', which I believe could be the Eventide 'Mary Lou' from nearby Merseyside. Hopefully Stephen will be able to let us know the sail number so we can verify this....
Had a smashing reply from Chris Keenan in the West Indies, Chris has contributed a few times, a shipwright and now charter skipper he worked on a few MG boats in the UK and has responded to one member with 'Mali'. Thanks Chris. He went on to send details of his website. clicking on t it has the Wow factor, so if you fancy a sail in warm climes with Chris as skipper, or learning a little about seamanship or just a romantic get away, click the link! www.cksailing.com
John Hopthrow has brought a Francis Drake 38 back to our attention, if you go to the Ebay page you will see her.
Also on the same page is 'Mistress II' again, still no takers. There must be someone out there to take on this boat...?
Paul in Germany has approached us for 5 sets of drawings, wonder which one will get built.... Like to hear from those who have started, we know there are a few of you, keep everyone up to date...
Had a mail from Paul in morocco again, he has found out about Junk rig and is keen on converting a Senior, well it has been done before, but this time it will be designed by a marine architect... We wait to see pics!
I have been busy on F.G. I have dismantled the 2 bronze valves on my cockpit drains and released them, they are now greased and working smoothly! I have now sourced the cheapest 1 & 1/4 inch spiral hose on the net, just down the road in Burnham! I am working on the galley seacock now, again bronze, but seized, always left on you see, like the cockpit drains, the WD40 is doing it's job.... I have also removed the sink and freshwater pump so I can re-grout the tiles on the galley top. After 20 years the grout looks a little grubby. Isn't it amazing how one job leads to ten... I now have to repair or replace the galley pump as the securing nut and the thread on the body have swollen over the years and will not screw back together, took forever to get them apart to remove it, anyone any suggestions..? I thought grinding past on the threads!
Double clipped the last 2 skin fittings, but then found a clip I had fitted years ago was part s/s and part zinc plated, another job!
Emptied a cupboard onto the sole and when I looked behind me the sole was covered in plastic bags, rolls of tin foil, packets of washing powder and odd utensils, all normally hidden from view! At least half of that lot will come off the boat.
Strangest thing I found was under the fuel tank, a corner not normally visited. I found a new, bolt on Seagull bracket I had bought on my trip to Cornwall 10 years back! Had been extra ballast all this time, I will have to search further! I recall buying 4 or five brackets and a box of parts, obviously missed this part!
Had a peek at the Tollesbury Fellowship Afloat website the other day, and they have got the web cam back, nice thankyou on the page to us. Soon be time for all the kids to be out in the creeks again.
A member sent in a link to a group he is involved with, Sailing for the disabled. Thanks Dave, looks like fun for all! We are in Oxford with Sailability as a group of 2.4 sailors braving the cold weather for some sailing ... Go to Feature
Had mail from Cindy Skinner, their bare GH 31 shell has sold! who has it, own up now!
Time to stop, many mails to answer.
One last thing, we have cancelled the Essex pub meet this week, as 6 of us and friends, met up yesterday! Will meet there in March instead, after the Annual Meeting....
John
Tuesday 15th February 2011.
After a few days with few enrolments we have had a hat full over the past few days. Welcome to:- Matt in Suffolk looking for a WW. To John in Suffolk again, looking for an Eventide. To Chris in Kent, looking to build a Senior, Paul in Morocco thinking hard about building a Senior, and to Paul in the USA also interested in building a Senior.!
Also in a cheque for 2 CD's, Tidewater and Riptide... and Stephen is toying with the idea of using Airex foam and GRP.... anyone any experience can give him a few pointers....
I have had the prices for the Marclear antifouling in and the first orders. It will be the same price as last year, £60.00 for 2.5 litres of the workboat red. Other colours available but more expensive.
The mail has been coming in thick and fast recently, more very nice comments about the site and what we do. So thank you all who have sent in information to add to this site to make it the pleasure it is to read.
I have just added one of the best adverts for a MG that I can recall. It is for the Lone Gull II, 'Lonestar'. Look on the For Sale page Owned by a chap I have heard about for years, he was, like me a police officer, and like me joined the marine section, his beat was the south coast. Like me he doted on his boat and a look at the inventory will underline that. He has also sent in pics of his earlier boat, an Eventide! all pics to be added to the Galleries too.
Removed an advert from the bits for sale page too, had been sold a while back but today someone rang him asking if it were still for sale. Please if you have an item on the pages, let us know when you have sold it, helps to keep the site bang up to date, an saved the frustrating phone calls.
also if you have swapped mail providers... Just managed to put another Dutch owner in touch with the Netherlands section, as he troubled to inform us of his new mail. Helps out all round, thanks.
Dave has sent in some more pics of 'Moonbeam', a Seamaster Sailer 23 specially equipped for sailing with disabilities. Dave was an Eventide owner now a 'friend', I will edit and add pics to the Friends section of the Gallery. He has sent in a few interesting comments and articles over the years, thanks Dave.
John Hopthrow has sent details in of Classic Boat parts selling off loads of bits, if you are interested click here.
I am working full tilt at the moment and have a few jobs on F.G. I need to start, finding time is a problem! I want to get down to her to clean out the oily bilge again and to service/remove the seized seacocks on the transom /cockpit drain.. Have a mind to remove them and see if they will clean up before ditching them as they are gunmetal. also just seen the price of new ones! Ouch. Have to check the dates on a couple of fire extinguishers too, when was the last time you looked at yours?
Time to get back to editing the site and a timely reminder from our webmaster today to back it up to CD again... Actually has to be a DVD as this site is so large... come a long way in 8 years.....
John
Friday 11th February 2011.
Had a mail the other day from someone who had been waiting for over a month for a reply, from the old assoc. He then found us and was astonished to get a reply within an hour. 'big difference, I wrote the Assoc a month ago, still no word . I found your site 'Eventide org' last night and read for hours ... ' We had replied by morning! After I explained the formation of the EOG and our ethos he congratulated us, saying, 'Of course Eventide should be operated and run by owners of boats , anyone else is only a interested party with no "skin in the game " so to speak.' He says will be enrolling shortly and sending for a CD! We are often getting comments like this, so nice to know we did the right thing all those years ago!
We have just contacted six of the nine owners registered in Holland, for another Dutch member. If you are in Holland and are reading this, yet did not get the message, could be you are one of the few who may have changed their mail address and we cannot contact. Please let us know mail addresses if you change them.
I searched the internet yesterday and found, on Amazon, the book John Hopthrow recommended. "The Seaworthy Offshore Sailboat" by John Vigor. I will let you know what I think of it later.
I already have the voyages of 'Iota' to read.....
Got my full survey report back yesterday. Very pleased to say 'Fiddler's got a full '5 gold star' rating. The only things Lawrence commented on were the items I had already in hand. The anchor chain to check to see if it was rust, and that was already back here being turned end for end, the two transom drain seacocks that I have been buying replacements for, and the 3 seacock that were not already double clipped, and I had bought and taken on board a bag of suitable stainless clips two days before. Now I just have to get on and do the jobs.
Had a few interesting mails back and forth from Ian re building a suitable Eventide 24 trailer. He has sourced a caravan chassis, 4 wheels and suitable weight, but not wide enough. Boat trailers are a lot wider, so anyone out there already found a way of easily converting old caravan chassis?
We have been sorting out the accounts in readiness for the Annual meeting and once again we appear to be in a very healthy position. for an organisation that is 'not for profit', we have more than broken even again. Any ideas of a suitable youth sailing or seamanship charity for our attention?
OK enough for now, the rain has stopped and I have promised Ian I would send some pictures of the underside of Everjoy with a few measurements for his trailer building...
John
Tuesday 8th February 2011.
After 2 years of troublesome oil leaks I have at last found what I believe to be the major source of the trouble on our Eventide, 'Fiddler's Green'. Finding oil in the bilge again recently I was in despair, thinking I had been right all along and the main rear oil seal had gone. However the lack of oil where I would have expected it to run was puzzling. Looking at diagrams I realised the sump oil pump rubber hose was close to where the oil pooled.
Laid on my belly with bare are stretched to full extent I could just get to it under the sump.. Not only was the hose loose on the spigot, the hose clip could be rotated round the hose with my outstretched fingers. Wonder if it had ever been tight? I think I may have been very fortunate not to have lost all my oil! I realised there was no way I was going to get a screw driver close and was about to give up and call for a crane, when I realised the jubilee clip had a hex head. A 7mm spanner at full stretch and I could just get a 1/8th turn, took an hour or more and now my right arm is 2 inches longer than the left!
Now I have to degrease the bilge, again! But am now pretty certain the problem is sorted!
We have had another enrolment in, Peter in Germany, a 'Friend' for now, but might become a 'Full' member, as he wants CDs of several sets of drawings to make up his mind which one to go for! Eventide, Riptide or WW. welcome Peter.
I have just altered the price of the GH ketch for sale on the site, down to £15,000. I have also added a sad one, the Eventide 'Magog'. Tony has decided to give her away after she was sunk on the river in France where she is moored. A severe flood was responsible. There is some damage, but it is repairable. Fortunately the engine and all the interior fittings were ashore. So if you fancy a Free Eventide you just have to organise a trailer and collect it. See the 'Boats for Sale' page.
John Stevens has sent me details of a couple of boats seem for sale. The sad 'Galliard' now down to a much more realistic £3,500, but I would still advise a survey, I know how bad she was... and an Atlantic Clipper, up for a lot of money, £18k for what looks like an unloved boat. If I had that sort of money I would look at the GH31 for £15k on our pages! Also had a lovely Barbican, £35k Bilge keeler and in superb order. We will be adding details of her to the Barbican page.
We have had a request for a link to the Alan Buchanan Association, which I will be adding shortly, and in the mail today comes details of a boat in Cyprus, a 47ft Buchanan twin screw motor sailer, nice! The owner will be back in touch with more details.
Heard from John in Tasmania that the Senior CD has arrived, the shavings are already knee high by the sounds of it!
Sorting out the income and expenses with the fund manager I can see the number of Senior CD's this year is going to far exceed the others!
Don't forget, March 13th, Bradwell for the meeting, and any proposals for the trophy, please get in touch. On the subject of seamanship, John Hopthrow contacted me to recommend a book "The Seaworthy Offshore Sailboat" by John Vigor. An American book, but with very valid ideas. Talks about having a line attached to the bitter end of the anchor chain that is secured below and long enough to come out the hawse pipe on to the deck. Here you could shackle on extra line if needed and cut the line on the bitter end. John, that is just how mine is. In addition I told him I have a heavy nylon strop secured to my samson post with a stainless chain hook on the other end. Stops the noise and takes the snubbing. The chain is always secured to that and the load taken by the post, but the chain is still made fast, just in case!
I have had a better chance to examine my chainnow and I will just swap it end for end. Not rusty, but mud stained!
The sunshine today has brought all my Seagull customers out of hibernation, but I bet it won't last, more gales and rain predicted. Go and check those covers.
John
Saturday 5th February 2011.
We have had two new enrolments in the last few days, a 'Friend' looking for a WW, Tim in Leeds, and a 'Full Member', Chris with the GRP, yes GRP, WildDuck called 'Scoter'. Welcome to the Eventiders.
I had someone ask me why they could not see pages of our site, turned out they may have been looking at the defunct old assoc site, that had password protected on pages. I have been told that is because there is nothing there to look at and that message is put up to make it look as if there is.!
The Eventide Owners Group site is open to all.
We have been established 8 years today! Over 1,000 have joined us. As far as we can ascertain just about every boat owner we knew of before and hundreds of others. We are hoping soon to offer something special for your membership, a password protected members area! Difference is behind the password there will be a new version of the interactive map with a means of contacting other members. Not by giving away their mails, but by us mailing them to say you are interested in communicating. Up to them if they respond.. If we can get it to work it will be great. Brendan is sorting out the ways and means. John Stevens is catching up on the database so the information is up to date and can be used.
One thing we would like from Full Members and Friends alike, if you change your mail address, just drop us a mail to let us know!
Advertised my new and now unneeded log and echo sounder last week, and Dave of 'Snowdrift' contacted me within a few days, trouble is Dave I do not think my replies are getting through to you ... If you read this, phone me 01621 778859.
Went down to my boat Friday to remove the anchor chain for inspection. Found the second part of the length, there is about 50m of it, is not discoloured like the first, used part, so will change it end for end. strangely the only rusty link is the last one, in the chain locker, that has the line tied to it. the wet line had caused it to rust.... So have to cut one link off and turn the lot end for end.
Now that aught to be it, but I painted the chain every 5 metres and it is marked also with fluorescent cable ties. Of course I now have to remove the ties and the paint, as the paint is in coded lengths. Long white for 10 metres 2 long white for 20m etc. Now not in the right place..... never thought of all that when I had the bright idea of turning it end for end.......
Lifted a floor board and to my horror oil again! I thought I had cured the engine leak, it appears not. Looking in the engine compartment there is oil beneath the motor, but not apparently on the front or the sides of the sump?? Where it is coming from is a mystery. It is not the rocker box, which I replaced and so far I have been unable to figure it out. Next week I will rig up my ashore engine running kit, the 5 gallon Jerry can hanging over the exhaust, filled with water and plumbed to the seacock inlet again... Then bright torches and mirrors on sticks!
Hoping to get prices for Marclear shortly, for those like me who find it works. Had a satisfied customer call this week asking for more, he keeps his in the creek at Bradwell and has had little if any weed and no barnacles as I reported in the Marina. Yet to hear how it performed over at Tollesbury on 'Glasstide'.
Talking of Tollesbury, went on the Fellowship Afloat website to use the webcam, only to see the camera has been sent away for repair and a thank you to us, the Eventiders for paying for it!
Golden Hinds. I heard the moulds for the GH were up for sale and contacted Keith Newson who owns them.
He says they are indeed for sale if anyone wants to make a 'sensible offer'. Not sure what one of those is so have asked for a price. Keith did say they were willing to mould a hull still, if you wanted one....
I have not tracked down the moulds for the Lone Gull II, they were supposedly sold by Brue marine in the west country but they are not sure who bought them???? Was it you?
Brendan has been helping me out with a computer problem this week. My laptop I use on board died, my fault, tried to load XP onto it... did something wrong. Sent the drive to Brendan who managed to sort it out, however got more complicated. The tide table program I use expired. Belfield software now needs XP or more recent so had to have XP but another program, an old one will not work on it.. Not too happy that the program I bought did not function properly, so was sent another version.. this works but why did I have to ask for it? I have now found a tidal program called Neptune, that costs a little more but lasts 50 years not 2! Guess which one I will look at next time. I have a sample up and running and I could be looking at the same programs for all the differences... Neptune, remember the name.
I have also been looking at running AIS alongside the plotter so needed an update on my Seapro. Cost just £20 for the latest version so now I will be able to plug an AIS receiver in to the laptop as well..... Just got to find one at the right price....
My eventual solution to the computer on board and the programs was to use the eBay page and bite the lip, buy another later laptop. I opted for a 5 year old semi-rugged Panasonic 'Toughbook'. It can withstand bumps, is metal cased with a water resistant keyboard. Brilliant, got it for the right price and after a few hiccups, it arrived, in an unpadded box! 3 times too big! with the accessories rattling about as well.! Says a lot for it that it fired up, bet it had a rough ride. The seller was totally incompetent with communications, posting/packing and got a lot of the description wrong too, some in my favour, some not. At the end of the day I have a cracking bit of kit that will do the job, but why is it never easy though?
Next step is to load it with the SeaPro plotter program and it's charts and a few other navigational programs I normally use. The old laptop is relegated to running the antique program when I need it! Fitting out is expensive this year, and i have not started on the boat yet!
Hope the gales have not given you sleepless nights about the covers, mooring warps etc.
Roll on spring,
John
Sunday 30th January 2011.
Nearly last day of January and it is cold, but we are ever nearer to spring, the days are noticeably longer! It is 1630 and daylight!
Today I have been trawling through the Boats For Sale and the Bits for Sale pages. I have approached a few people to see if their adverts are still valid and modified a couple as a result. If you have anything advertised and the advert is not up to date, or you wish to advertise anything, all we ask is that you mail in the details so we have them on paper, or at least sent electronically. ( We have not deleted a single mail or picture sent in to us, all are saved!).
I have added a couple of adverts, a GH 31 for sale, that is being refurbished just to sell and a set of new, boxed, NASA Clipper instruments, log and sounder, plus the mounting Pod they sell. They are mine. Selling for £50.00 off each on retail price, so if you are in the market, look at the links.
It has for a change, been quiet here. There have been no new enrolments for 10 days now. So unusual is this that we have had to test the enrolment page in case there was a glitch! Brendan has been running his eye over things too.
The post man delivered a letter with a big thankyou and a bigger cheque. Thanks to John and Ann for this donation, (I sold their Eventide 'Everjoy', through the site....)
March 13th only 6 weeks away now, so time to do the accounts and sort out items for the Annual Meeting. We still have no contenders in for the trophy?!?
I am waiting on a book winging it's way to me, then I hope to be reading it with a view to a review.. It is about the travels of a WW, she was shipped as deck cargo all over the world, so they could cruise exotic places in the limited time they had available, sounds a great idea...
Last week I think I caused my old laptop to have a real problem, I tried to bring it into the 21st Century and load XP on it.. Opps! Brendan has sorted it and thankfully it should still be OK on 98, but for the boat I have bitten the bullet, used the EOG eBay page and bought myself, or should I say the boat, a used waterproof and drop proof, laptop. (Or so they claim!) I will see when it arrives, but seemed to me that a Panasonic 'Toughbook', with a reputation for ruggedness, would be an excellent idea on the boat. In the adverts they wash they keyboards with a hose to clean them and run over them with the car to save using handbrakes....
Why change to XP? Well for years I have been using and promoting the Belfield Tide Plotter, It is a great program, though the price has risen it is still reasonable value, especially if you buy more than 1 years worth. All the secondary ports of the UK and more given. Sadly this year for the first time you have to have a minimum of XP....
I use the laptop in conjunction with a 'Seapro' plotter program and a set of Admiralty charts loaded onto the laptop, just plug in the GPS and I have a 14inch screen GPS plotter. A quick glance inside the companionway to the laptop in the quarter bunk under the chart table, and I can be assured I am where I think I should be!
Bet the fun will come when I try and load all the plotter programs and charts back on!
On a real boating subject, I had 'Fiddler's Green' surveyed Friday. The surveyor inspected gear here in storage, including lines and fenders! I took him to the boat, answered a few pertinent questions then left him to it. I know my boats strengths and her weaknesses, so I was pleased to hear he was really please with her and could only fault one or two things. When he told me it was the two seized seacocks on the cockpit drains I told him he has passed his surveyors badge with flying colours! Having been looking about at the cost of replacements I can now see why the insurance value is twice the market value!
I picked up my serviced life-raft Friday too, another tick on the surveyors tick box!
Friday too I updated my CG66. I was sent a nice reminder that it was 3 years since I had filled in the online form. There is a link on our links page if you have not already done it..... Go on you know it makes sense....
John
Thursday 27th January 2011.
As luck would have it when we turned up at the new 'Lion Inn' at Boreham last night, there was a 45 minute wait for a table. A quick conflab in the foyer and we jumped back into cars and drove a mile up the road to a pub we had noted earlier. Now a near empty pub is not a good sign, but the others we had seen were heaving... What recession?.
A few minutes later we were being welcomed by Dave and Bob to 'The Cock Inn' Boreham, still in Main Road, just a mile or so from the A12 junction.
There was a small eating area and a menu that looked very reasonable. OK the decor was run down and the place had the air of needing TLC., but the welcome was warm and friendly, so we decided to stay.
The place was quiet, especially after the darts team got on the coach, to bus off to the tournament.
We sat and chatted, chose off the menu and waited with some apprehension. WOW!! the meals were the best we have had in years! So we have arranged to try again for the last Wednesday in February, the 23rd. See you there! Oh and the cost, as it was mid week 2 courses £9.95 a head!
The Cock Inn is situated on the left side of Main Road Boreham, if you are driving from the A12 Boreham interchange, approx 1 mile and it is on the junction of the turning off to Boreham airfield and village.
Nice to be pleasantly surprised these days!
John
Tuesday 25th January 2011.
This came in today and I thought I would pass it on right away. I will hopefully be reading the book shortly to write a review for you.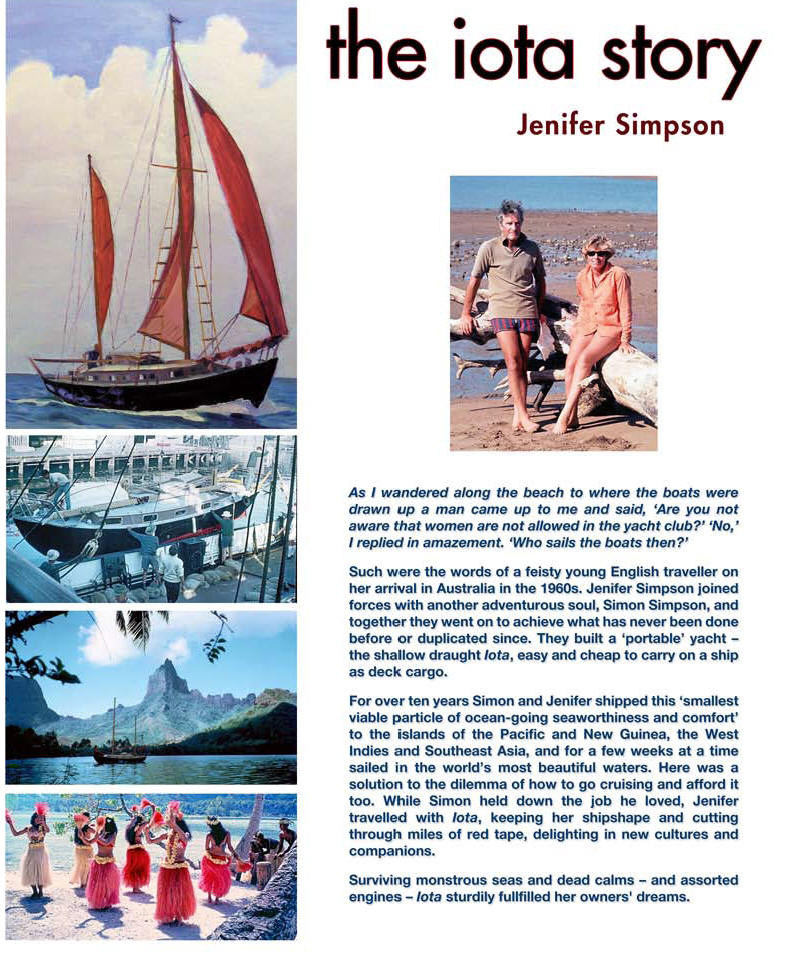 Press Release FOR IMMEDIATE RELEASE
"The Iota Story" Cruises Readers through 12,000 Miles of Exotic Waters on A Portable Yacht.
(AUSTRALIA) - Author Jenifer Simpson today announced the release of "The Iota Story", a true account and life journey predominantly set on the boat Jenifer and husband Simon had built, then cruised through some of the most attractive cruising grounds in the world.
Over a period of ten years the couple cruised 12,000 miles through French Polynesia, the Caribbean, the Solomons Islands and New Guinea, Indonesia, Singapore, Malaysia and Thailand with a final cruise from Tonga and Fiji.
Jenifer Simpson was born in England with an insatiable appetite for travel. After migrating to Australia in 1957, she became one of the first women to race her own skiff on Sydney Harbour. "I dreamt of one day sailing back to England and visiting exotic islands along the way, so I learned coastal and celestial navigation." says Jenifer Simpson.
Teaming up with Simon Simpson, who would later become her husband, she persuaded him to build a portable yacht which could be shipped as deck cargo on freighters to the start of a cruise each year during Simon's holidays. They called
her Iota for, as Simon put it, she was "the smallest viable particle of ocean going seaworthiness and comfort".
A flat bottom, hard chines, leeboards and ketch rig enabled her to be transported easily and cheaply without the need for an expensive cradle. Her designer, Maurice Griffiths, described her as "a sailing caravan". "Iota was unique and achieved what no other yacht had done before nor has she been emulated since. "The Iota Story"
is not just an account of her crew, but her own story."
"The Iota Story" is also a time capsule of life in the Asia Pacific area during the 60's and 70's, from remote locations like New Guinea to the bustling streets of Bangkok.
"The Iota Story" is more than just a book about boating and life at sea. "This is a story about enjoying the experience of living in many parts of the world, each with its own distinctive language and culture and its complement of interesting characters." says Jenifer Simpson. "I also enjoyed the special life of ships at sea."
From The Iota Story: "Dawn revealed gigantic steep waves, towering like threatening fists, at least twice as high as Iota was long. We wondered as each approached whether Iota would rise to it or allow it to break over her. As her stern lifted,
her bow seemed to point down to the centre of the earth and then gradually, as we slid off the back of the wave, it came up to point at the sky. On top of the waves we could see the stormy leaden sky and feel the full force of the wind and spray. Down in the troughs, in an ominous calm, we could see only water."
""The Iota Story" had to be written because the 'portable' yacht, Iota was unique in that she was the answer to the yachtsman's dilemma of how to enjoy the challenges and pleasures of ocean cruising without having to sacrifice his job." says Jenifer Simpson.
Jenifer Simpson lives in Australia and is already an accomplished author.
###
Media Contact:
Name: Jenifer Simpson
Mail: jsimp at netspace.net.au
Phone: 07 5450 6283
Looking forward to reading the full story, I knew of her travels from my time as editor of the old assoc. I read some very interesting snippets then....
John
Monday 24th January 2011.
Got two dates for you all.
Firstly this Wednesday, yes the day after tomorrow, we will be meeting for the first time in the 'Lion Inn' Main Road Boreham, just 1/2 mile off the A12 I had listed it as Hatfield Peveral before, but stand corrected.... . We will meet in the lounging area from 7.30 pm till 8pm We hope and then be allocated a table. This is one of those busy places where you have to wait for a table often, but there is a comfortable lounge area and a bar just inside the door. Hope fully members will contact me on 01621 778859 to let us know they are attending, especially any who have not come along before, so we can watch out for you, flap a burgee about or something!
The second date is the Annual Meeting. After last years popular event I have arranged with Mick at the Bradwell Marina bar to meet there again. Sunday 13th March. 1pm or 1300hrs! We will have the exclusive use of the dining area again. Lunches can be ordered at the bar to be served straight away and the meeting will take place at 2pm or 1400hrs.
Of course nothing to stop you getting there earlier if you so wish.
We need suggestions for the Seamanship trophy and the Steering group should contact me to let me know they are still willing to stand. (Not too onerous last year was it?).
Please let me know if you intend to come along so we can give Mick some idea of numbers. Bar billiards etc to amuse the younger ones in the annex to the main bar, within sight...
I have had more pictures of the Eventide 'Carita 6' in to add to the site and more promised of another Antipodean Eventide, 'Seaquence'.
Just had a nice mail from the editor of Classic Boat, Dan, he has given me authorisation to publish an article that first appeared in their pages re gas installations. I will add it to the latest Newsletter soon!
Also had a mail from Laurence asking if anyone would like to buy a set of sepia prints that we used to sell for £10.00. as yet he has not put a price on them but if he does and it is not silly, I will post it on the for Sale page.
Talking of the for Sale page I have apparently made a mess of advertising 'Jeopardy' I put her on the site some time back but it appear the advert disappeared? Could have been when we had a bug on the pages. Anyway I resurrected it only to find it was an old advert. I hopefully have it straight now, suffice to say selling for £1,900 ono.
Had a query about insurance and values the other day. An insurance value is not yhe market value. In most cases it can be as high as twice market value. As my boat is having her 20 year survey on Friday it will be interesting to see the valuation put on her that I will have to pay the premium based on for next year! Still think the deal we have with 'Craftinsure' is a hard one to beat.
So don't forget, the Lion Inn at Boreham Wednesday!
John
Saturday 22nd January 2011.
I am constantly amazed at the numbers joining us, this week another three! And the nice comments about the group and what we stand for, an owners group run, simply, by owners! This apparently means a lot to most.
A big welcome then to Chris Sayer with the Barbican 33 'Tempus fugit'. Chris sails out of the Hamble. Chris has also volunteered a lot of information on the Barbicans to add to the site. I did not know there were two types of interior. apparently they had to modify the boats when the early motor fitted went out of production and they went over to the Mitsubishi based inboard. He has also give the numbers built, 82 but the sad fact that two were lost at sea... not so clever. however I have heard of many Eventides being lost at sea, not least Number 1! I will add details to the Atlantic clipper/Barbican pages.
Two Friends, one was crew on Veterata I believe and trying to trace the owner now, last we heard Chris Evans, no not that one! John the Database Manager is on the case.
The other is Stephen from Scotland who is very interested in having a boat built. He is interested in the tidewater and the Lone gull II. Does anyone know what happened to her moulds? They were for sale a few years back for £1,000.
Another sent in pennies for a Waterwitch drawings CD, plus a little donation, thanks Eilard.
I know when it is getting out of control here, all the papers slip down the back of the computer desk because they are piled too high... just retrieved a load! Lots of snippets to add, all over the place! Keep sending them in!
Off to the marina tonight, just for a meal, for a change, but will enquire about a date for the Annual Meeting. Watch this space.
Suggestions for recipient of Seamanship trophy please......
All for now
John
Monday 17th January 2011.
Saw this boat on the bay.. yesterday, if you click on Link to Chloe of Mourne you will see her. Another MG this time not selling for 99p but £10,000, maybe a lot of boat, if you have the time and effort, and a few little pennies to bring her back into full commission. She is in Kent. This link will take you to our eBay page where I first saw her, but now she does not appear as they appear to have removed the 's' from Maurice's name! however another familiar boat is there again, 'Mistress II'. Good luck Andrew.
We have had yet another new member, another ex association man, Nigel with the Eventide 24 'Niarbyl'. You might recall her as 'Odden' owned by the late Dave Wright, one of our 'Friends'. Always nice to track down a friends boat and nicer to say welcome back to old association members. We have had a few recently. Nigel sails her in the Bristol Channel! He tells me the only main change is the new Beta 13 inboard. Good move!
Today had another enquiry for a CD, this time an Eventide to an owner, Bob with 'Harvest Moon'.
Heard from another member today re the 'Exel' boat show. another disappointed attendee. Is there anyone out there who went this year and has good things to say?
Heard from 'Echopilot' today re the possibility of replacing my log and echo sounder displays. I explained that I had obtained a working, (hopefully!) VDO display unit. However these 'Echopilot' people are a good firm to consider if your log and sounder heads fail and you do not wish to disturb perfectly good transducers. Provided the transducer for the log is a paddle wheel with a magnet and the transducer works on a 5 v system, as most appear to, there is enough adjustment in the Echopilot head apparently, to allow it to work with any of these 'Hall effect' transducers. the range is called the Bronze series and are fully waterproof flush mount cockpit instruments.
Had a call today about boat interiors, which is best etc. I have tried to show a few interior shots, but if you have a few you would like to share, with a few words to explain, it could help anyone with a blank canvas....
I have another GH to add to the for Sale pages, she is being renovated at the moment, a ply 31ft version, asking £14k......
Enough for now, do have a read of the new Newsletter and give my your thoughts.
John
Friday 14th January 2011.
This evening I have finished the large part of the Newsletter. I can and will be adding items to the pages for a bit, but it is all up to read now. Newsletter. I am hoping there will be some feedback from some of the articles!
I have just received a nice mail from Mat, supporting what we do, always nice to get a pat on the back, thanks, nice to know people are reading the site!
Used the eBay link again today, this time to buy a new water filter for 'Fiddler's Green'. the little note pad I keep each year for fitting out will soon have another item ticked off. Yesterday I ticked off 'Renew Log' . through the post arrived a new and unused VDO speed log head or display unit. This will be fitted to replace mine that kept losing it's display. Now I have to find a man who can repair the old one, so I have a spare!
I will be advertising the new Nasa log and echo sounder shortly, to be sold at a discount! £99.00 each as opposed to £145! also the 'Pod' I was going to mount them in, £35.00.... Advert over...
Paid for my mooring at Tollesbury today, it had gone up! Now a whole £50.00 for a year! Now I wish the marina fees were as low! Will be scraping the piggy bank to sort that bill out shortly!
I took my crew and their other halves out to dinner last night, and play a round of ten pin bowling too, bit of a treat to say thankyou for all their help. Keith and Phil, who a lot of East Coast sailors will have met are the reason I can still go boating, without their assistance fitting out, towing and storing, sailing and scrubbing I would be hard pressed on my own. Nice to have good friends who are willing to roll their sleeves up and get stuck in.
I was thinking if the new location for the East Coast Social Club does not work out we could all go to the place we went to last night. OK if you like Chinese... 'Izumi' a buffet style restaurant in Maldon, with Ten pin bowling and shortly, roller skating attached! How are you on wheels!?!?
Welcome to two more members. One a full member has already joined verbally and is the new owner of the boat in our garden, 'Everjoy'. welcome Ian. the other is Stephen from St. Vincent in the US virgin Islands! Wow! He has a 39ft GRP sloop he says, not sure yet if it is a MG, but he has signed up anyway, will find out more.
Spoke to John Stevens today, he has been burning the candle at both ends and going without days off, hopeing he will have tie soon not only to get down to 'Glasstide', because we want her fit to join in the sailing next season, but also he is hoping to find time to catch up on the database entries.
Brendan has made them automatic recently, but there is a years to catch up on before the whole thing is up to date again and John can just concentrate on filling in the all important twiddly bits! Then Brendan and John can have another go at that interactive map!
I have more bits to add to the Newsletter already, I have just been sent the 'Trident Owners magazine, they are friends of the EOG. In it there are two good articles you should read! Won't be there tonight, 'time for bed' said Zebadee!
John
Tuesday January 11th 2011.
Hello all, I have spent some time creating the new template for the latest Newsletter, just need to make time to down load some of the many articles and mails etc. I will get round to it..... soon.... promise!
We have had more enrolments in the past few days. Lots of mails too. Welcome to Mick Reader looking to build a Senior, he wants a CD of course.
Also to John Slevin from Tasmania. John is the builder and the family is the owner of an Eventide 26 called 'Carita 6' All the boats he and his father have built have the same name, so now he is after a CD of the Senior design and when launched she will probably be 'Carita 9'! John has mailed me at some length with some stories that I hope to recount in the Newsletter! He has old association newsletters and recognised me and my boat!
Bob Turner a new member, has just been back in touch, he has the Eventide 'Harvest Moon'. We could not find her on our old records so he is looking up on what he has, and has found a load of old assoc magazines! Seems no one logged the name, cannot believe that...
I have added an advert for the Eventide 24 'Otteau'. Nigel and Heidi have been seen on these pages many times, sailing their boat to the full, she really is a fast Eventide, with deeper modern ballast keel and good sails. Well cared for too. A modern Eventide. Wish them luck selling her, sure a new owner will be pleased with her, Nigel and Heidi, well they are looking for a good GH or similar, so hopefully we will still be sailing in company for some time!
I have had an interesting For Sale or Wanted to post, swap caravan for Eventide.. see the for sale page shortly.
I have spent a little time on the site, going through the pages updating to 2011. We do need events in the Solent to get off the ground this year, also maybe in Scotland or else where, SW, NW, NE, why not, we have members all over.
Had a note from PBO yesterday in response to a letter regarding centre plates on the Barbican and Atlantic Clipper. It will be interesting to see if they come back again and we see some mention. I get the feeling that some of the yachting press are somewhat embarrassed they dismissed us so readily 8 years ago. We could not have known how popular we would become and we knew we were right to set up the EOG, so one cannot blame them too much, however we do feel it is time they accepted reality and the fact that 1,000 plus people, owners mostly, support this group.
I will be chatting to Mick down at Bradwell Marina again, to try and get the Annual Meeting there again in March this year. We will go for a Sunday afternoon again.
I nearly braced myself for a trip to the Boat Show. I am not a fan of the Excel venue, the couple of times I went it left me feeling cold and exploited. However I was steeling myself as I had a dilemma.
Last summer I decided that the intermittent display on my 15 year old quality VDO log was just too difficult to use and I could not rely on it. Thumping it worked, but for how long! I suspect a dry joint in the display head....
I opted to buy a new log, and to make it a matched pair, so the perfectly good echo sounder would have to go. I was reluctant but eventually bought a new Nasa log and sounder, plus a pod to mount them in so I could mount them higher up....
However I then realised the transducer on the log had no stop valve and I would flood the bilge every time I removed the log for cleaning.... Mmmmm.
I looked at EchoPilot displays, they would both work on my existing transducers, the echo sounder works on 200hz as opposed to the 150 that many budget sounders seem to be on, and as such I can get measurement down to 0.2m before i slide onto the mud at 0.00m! and they would cost me £350.00 plus.
I think I have saved myself the trip to the boat show. I have tracked a good working VDO log display head! I am hoping this will solve my problem, the power at the internet! Cost less than £100.00 If all works I will be selling the Nasa log and sounder at a large discount! More notes in the fitting out book.....
Hope you are able to start fitting out, or at least planning for it.
John
January 6th 2011.
Happy New year everyone!
After a reasonably quiet break we are all back to the grindstone. My little Seagull business has erupted into a frenzy again and so has the Eventiders mail box!
We have had another 4 enrolments in the past week! Welcome to Bob Turner with the Eventide Harvest Moon down in Devon. to Keith Worsell with 'Last Barbican' yes a 33ft Barbican, of the long keel variety sailed in the North East. Keith has sent in a great pic, but I cannot extract it from the folder it is in at the present, hope to soon. Geoff Tyson has joined in Australia, waiting more information but we believe he has an Eventide. and Martin in Devon who wants to build a Riptide, but the 32ft Noontide version.
Build I hear you say? Yes people are still building and here is a picture that came in yesterday to prove it. Ken Marlow in South Africa is powering ahead with his project.

More power to the elbow builders, we know there are quite a few of you out there!
Boudewijn in the Netherlands has sent in a link to a website featuring another Dutch owner, Merijn Tinga with the GH 'Longevity'. Look the web site up here! http://www.uitschot.com/sailingrhythm/index.html
I have also had loads of pictures in from another member, who with his good lady wife, has circumnavigated the world in his GH. Brian and Joyce Cook and the GH 'Tusk'. We are hoping to be able to publish the whole trip on the site, in the Newsletter.
Which reminds me I have to set up the Winter one!
Also heard from the owner of 'Vandal of Whitby' a Kenneth Evans designed Sea Rover. Whilst not actually one of our designs, (we did think it was possibly was at one stage), we have left the owners on the pages and they are all 'Friends of the EOG. The design is so like M.G.'s 'Medusa'. As a result of this we have had a lovely mail from Kenneth's daughter, thanking the EOG for keeping her father's legacy alive. A pleasure Christine.
As many will know I managed to sell the Eventide 'Everjoy' for John and Ann Morgan, she will go to Nottingham in the spring for completion. One person reading these pages noted this and has offered history etc as his parents borrowed the boat many years ago for their honeymoon, 9 months later he was born! Lots of happy memories!
Well I have to get back to work, thankyou to all who have sent in messages of goodwill to us for the site and our work, we all enjoy doing it and really like the continued input from all the members. So thanks to you.
Good sailing in 2011.
John