If you have any snippets of news that you feel could be added here please mail us on enquiries@eventides.org.uk
---
Thursday 31st December 2015....
New year's Eve.

Fireworks over Tower Bridge, my patch for 20 odd years!
Welcome 2016, a year for good sailing?
Wishing all our members a good 2016 for sailing and whatever else you are up to. (Has to be better than 2015!).
Had a reminder in that Gipsy Maiden formerly Cevamp is still on 'Gumtree', up in Scotland, any takers?
I'm off to pat the boat's bum and add the last gallon of diesel to the tank to top it up! the sun is out and the temperature is still in double figures, silly weather. Sure we will pay for it later. Till then take advantage and get a head start with the fitting out!
2016 here we come!
John
Monday 28th December 2015.
Hope you had a peaceful Christmas and Santa brought you the gift you wished for!
Mails have still been coming in over the break, many saying they have voted in the Classic Boat competition for the Eventide that has been short listed. Hopefully Classic Boat will then do a full article on her.
If you have not yet voted, and time is running out, go to:- www.classicboat.co.uk/awards2016 Look back at last weeks Stoppress page for more info...
We have had a promise of a small donation for the EOG as we helped sell a boat for an owner, many thanks Bob.
We have had a mail in from the States, from the owner of a sad Junk rigged Golden Hind. He has had to admit defeat and offer the boat free to anyone who can save her, a major project, but we have had several others saved, so somewhere out there we think there is that saviour, with time, experience, energy and a few bob that can save this one. Details will be on the 'For Sale' page as soon as we get them.
The year is rapidly ending and our thoughts here are for the New Year and the sailing it hopefully will involve. Anyone up for a long cruise in company, Essex to Scotland via Ireland, starting June????
Also we know of several owners who are undertaking refits and rebuilds in 2016, that should see some more boats in use by the end of the year!
So to all of you in Eventide land, more power to the elbow and wishing fair winds and lee going tides in 2016.
John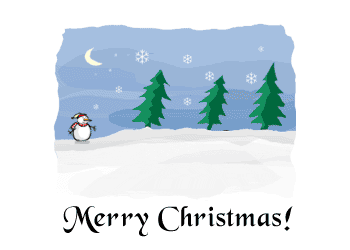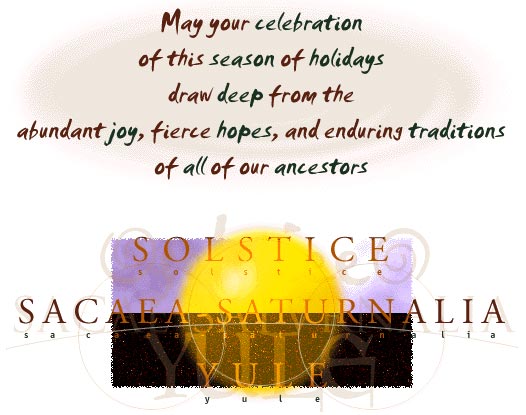 Tuesday 22nd December 2015
The Winter Solstice
Today is the shortest day, so from now on its getting better every day! However as we have not had a hint of winter yet and John Stevens was telling me he had to cut the grass yesterday.... Still 15 degrees outside as I type this, though windy! I think we are going to have a rude awakening if the cold snap I predict comes along!
At the moment it is blowing F7 and 8 predicted, though in a day or two we are in for 70mph winds as Storm 'Eva' comes our way!
What have we done to the weather??
Had a mail in from Bill looking at buying an old G.H. and restoring it, we are waiting to hear which one he is looking to save.
Have had an enquiry re the portholes for sale on the site and am waiting on 2 people coming back on that brand new VHF. First come, first served.... Another is looking at putting an inboard in a Senior, Alex, (used to own an Eventide 26) and he has reserved the prop shaft and tube, with that nice PSS seal... that I have here.
Strangely did not sell any Burgees as Christmas presents this year. They flew off the shelf last.
We did send one to the crew of the G.H. 'Moondancer' doing the transatlantic crossing though!
We have heard that the Senior 'Moonfleet' for sale on our pages, has sold, and Welcome to David Bewick the owner, transferring from 'Friend' to 'Full' member!
Had a card in to us all, from the Lowestoft College
Dear Eventiders,

Merry Christmas

We would like to wish you a Merry Christmas and a Happy New Year from the Shipshape crew here at IBTC Lowestoft.

The Sawmill
Pleased to be able to support them, they have copies of all our designs!
John Stevens and I have been organising a mail shot to many of our members. However so many mail addresses have come back as undeliverable. (about 50 so far.) Looking at them we can see that many e-mails are with companies that no longer exist! So probably you have had to change your personal mail addresses. I know, I had to. After having a nice simple one with Virgin for over 20 years, they dropped all but cable customers.... so I have now had to switch and am now with BT.
Please let us know your mail address if you have changed it. We might want to send you something to your advantage!
As it was we have heard back from a few people that the mail shot did get to and they have all told us they have been on the Classic Boat website and voted for the Eventide!
With a bit of luck we might just swing it for Nigel and the Eventide design!
If you need the link again, here it is! www.classicboat.co.uk/awards2016 Look back at last weeks Stoppress page for more info...
Had some sad pics in from Gordon re the Eventide 26, 'Polly Peacham'. She is not is half as good condition as first thought. She looks to be salvageable, but is now listed more as a 'project' than a sailaway... Have a look at the new pics and you will see what I mean. For Sale.
Still not heard back from Ross Cottrell in Australia. He seems to be having a communication problem. If you are our there Ross, please mail us back, or simply go to the 'Donate' button on the home page and donate £6.50 and we will get those drawings to you!
Michael Salisbury the owner of 'Everjoy' now, (and man who was quite likely conceived aboard!!) Lovely story!
He is wanting to buy or build a purpose made trailer for her. I towed (or rather my crew and brother in law Keith did), towed 'Everjoy' from Tollesbury to our cottage here and then on to Nottingham via Halstead, to marry it up with a mast and boom! We jacked her onto the trailer (no crane) and then chained her down and she sat firm and safe, secured on my 6 wheel trailer. Michael is after a 4 wheel, 2 ton capacity boat trailer, or something that can be converted to use as a boat trailer, anyone got a spare one!??
Rounding off, I organised a 10 pin bowling night for my crew and friends last week, it was a great evening, enjoyed by all the wives and they all got to meet the grandson. At 3 months old he is at that age when you do not want to put him down. Not sure if my daughter is going to be able to sail away from him for a fortnight next summer either! Plans are being made and remade, and at the moment we are on course for the second leg of my 'Fiddling Around' trip in June. Scotland here we come, via Ireland!!!
Hope you have plans for sailing in 2016, may catch you out there as we sail past!
Very happy and peaceful Christmas to you all.
John and crew!
Thursday 17th December 2015
Time to get those bouncing snowmen out again!!
Heard from a few members who have troubled to vote on the Classic boat of the year competition... I do hope lots of you do as it is a real chance for us to promote the Eventide.
If you have not already done so, here is the link again: www.classicboat.co.uk/awards2016
The post bag has been bulging for the past week or so not just with cards and greetings!
Welcome to new member, 'Friend' John Gaskill of Brackley, who is contemplating building one of our boats.
Have had a few mails back and forth that have bounced as mail address was wrong. Ross if you are reading this we have tried to respond but Yahoo say you have not got a mail with them.. think it may just be that part of his address might be missing, tried to sort it but as yet no response. If you are out there Ross try again using a different mail address!
One person who has got though OK is Ed with the GH Moondancer.
He has sent us a link to his wonderful web pages ad given us permission to embed his films. We shall be doing that later, in the new year, but for now just click on this to see a GH going at full speed!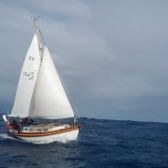 Well worth watching and just listen to the music, that's Ed and his chums!! Look at the other clips, I particularly like '4K Deep'!
We have sent Ed a burgee as a prize and thankyou for his video logs. Expect we will see it flying in the next batch of films as they leave the Cape Verde Islands, (Was contemplating going off to holiday there sometime!). They are heading for the West Indies.
Mail from Mathew.....
I don't know if you aware but another Eventide has appeared on Andy Seedhouse's website which I cannot trace on your site and wondered if you know this boat? Also there is another sad looking one up here on the broads which I am trying to find out about. Looks a standard 24 with the original size doghouse, which has been extended forward with the tabernacle mounted on the cabin top.
Merida, a red hulled Eventide on your pages is, I believe, sitting on a trailer in the front garden of a house in Hoveton, Norfolk. Pretty sure she was lifted out at Wayford Bridge boatyard a few years ago, she still looks in good shape and has been well wrapped up.
And finally, the lovely 3 tonner Running Wild advertised on the for sale pages I've been informed by the owner has been sold.
Sadly I do not know the boat in Woodbridge, but I do know the place it is for sale in, mmmm least said .... and I have tried but failed to contact the owner of the Wild Duck. Shame owners who advertise do not tell us if they have sold. Hope I will eventually heard back from the owner of 'Running Wild'. (They may be away!).
And lastly a great story, Heard from Mike Salisbury. I had spoken to him years back and put him in touch with Ian Wilson who finished the rebuild of 'Everjoy'. John Morgan and Ann rescued her at Tollesbury, and got a long way to sort her before ill health caused them to give up. We rescued the boat from the yard and brought her here , shortly after Ian took her on and finished the job, sailing her in the wash. He has now sold the boat to Mike and I recalled a story told to me years ago... how a young couple borrowed the boat for their honeymoon.....
Here's what Mike said.. my parents did spend there honey moon on her and it will be 40 years in 2017 since that day, I plan to have her back in the water for there anniversary so they will again be able to spend a few days on her to celebrate.
My mums Dad my grandad Ron helped Tony build Everjoy in his garden in the 60s. Tony recently saw Everjoy and my mum this year and has plenty more photos that we are getting. Tony said it took him and my granddad 5 years to build her.. That's amazing commitment and time, so pleased she lasted and John brought her back from the brink.
We are looking forward to many years of fun and enjoyment of her.
I will certainly look to enrol.
Mike
<![if !supportLineBreakNewLine]>
And how old are you Mike??? 40 years in 2017 I hear! Wonderful story!<![endif]>
<![if !supportLineBreakNewLine]>Just a few days to order that Christmas burgee....... still time, just to post it.<![endif]>
John
Tuesday 8th December 2015.
We are pleased to announce that an Eventide has been short listed for 'Classic Boat' of the year.
Had this in from member Nigel. We have been watching with interest his project and have had a lot of input into the mods and ideas. Early cabin top but later ballast ideas etc.!
So pleased to see it come to fruition!
Hi John,

I am writing because my new Eventide has been nominated by Classic Boat magazine for an award. She is on a shortlist of five and the one with the most votes wins - voting is done on line and is quite simple. Would it be possible to put something on the EOG website that encourages people to vote? The attachments give a bit more detail and some pictures. It would be great publicity for Eventides in Classic Boat magazine to do well in this award.

If you are ever in the vicinity of Bristol then I would be delighted to show her to you.

Very best wishes,

Nigel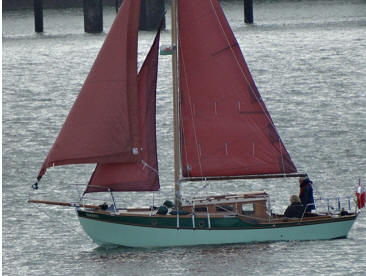 Nigel attached this description of the Award and the other contenders. Now this is where the Eventiders come in, there are many hundreds of us, How about helping Nigel and the Eventide design by voting for his Eventide...?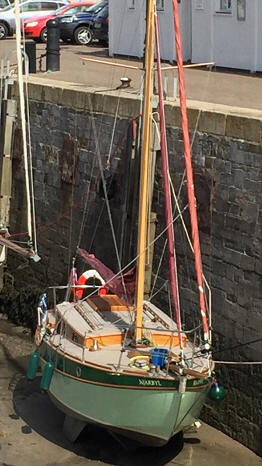 Classic Boat Magazine Awards – Please Vote for an Eventide!
In the spring of this year I finished (so far as you ever finish a boat!) my Eventide 25 which was built by Star Yachts in Bristol. Here are a couple of pictures of her:
She has been nominated by Classic Boat magazines for their 2016 Best Traditional New Build Under 40 ft award. The other four boats on the list are all open boats. The boat with the most votes wins, so could I ask all members of the EOG to vote please? To vote all you do is go to www.classicboat.co.uk/awards2016 and check the box "Eventide 25" in the "Traditional New Build Under 40 foot" list, though you do have to leave your name and email address - this to prevent multiple voting.
Classic Boat have got a couple of things wrong in their write-up. The say she is of ply construction when in fact she is cedar-strip on an oak and utile backbone. And they say she is a Bermudian sloop when she is actually a cutter. But it is great to be shortlisted for an award.
The background to this project is that for years I sailed an old Eventide 24, which I re-named "Niarbyl" (after a beautiful bay in the Isle of Man) around the Bristol Channel. When I felt it was time for a new, less maintenance-intensive boat, I experimented with a modern "classic" GRP yacht for a couple of years but found her far less suited to my particular needs and taste than my old Eventide – so I decided to build a brand new one. I felt the Eventide 26 was larger than I wanted, so I "stretched" the 24 by a foot, enabling me to accommodate a heads compartment and solid fuel cabin heating stove. I re-used the rig, engine, deck fittings, etc. from the old boat, and I called her "Niarbyl II". After a summer around south Wales, attracting much admiration from tourists and boat owners, she is now in Portishead Marina, her home for the time being.
Nigel Vaughan, 06 November 2015
So go to this web address www.classicboat.co.uk/awards2016 and vote for the Eventide!

John
Post Script, it took me just 30 seconds to click in the link above, scan down the various classifications till I saw 'Eventide' and click on the dot next to it.
You then put in your mail address and your name and click 'Vote' job done!
Come on, support Nigel and get his boat voted as best Classic!
(you then of course get offered a cut price subscription, which on the face of it is excellent value! Tempted, especially as I am giving up on PBO now. If its not racing, its which 55ft cruiser is for you, get real PBO!!).
All my old PBO's are for sale on the Bits for sale page! All from number 1 in 1968 and 99% in binders!
John
Saturday 5th December 2015.
Desmond has been rattling the windows here today with Gale 8 bending a few trees. After last weeks gale I hope the owner of the boat that went walkies at Bradwell will have it secured better!
Heard from Peter Fox, recent new member, he has a set of Y.W. drawings he has sent on to us, checking on the copyright on these at the moment, Peter sails a 30ft Clansman class classic cruiser, 'Velella' in Australia and is contemplating building a Senior! (As a tender?)
Heard from Bert in Scotland who is selling his boat. Here is a link to the advert on Gum-Tree.
https://www.gumtree.com/p/for-sale/eventide-26ft-yacht-gipsy-maiden-formally-cevamp/1145276830
Some of you may recall the name, Jackie Williams wrote a book on her experiences with Cevamp years ago, fun read! See it on the Book page.
I hope to reassemble my roller reefing drum tomorrow, figured out I am going to have to do it over an open umbrella to catch any errant ball bearings, shaving foam, umbrellas and ball bearings, you could not make it up!
Had an interesting mail from Bede re the cable on an echo sounder. why is it they all get so abused? Hopefully Bede will have used a length of TV coax cable and repaired it by now, but the fun bit is trying to test the echo sounder works with the boat out of the water... i seem to recall there was a formula to divide the reading by to see if it is correct to the scale, as out of water I remember the readings show more depth than the distance between the transducer and the ground... anyone know??
Brian Hutchings contacted us with the offer of an old set of Eventide 24 drawings with the sail number 136 issued. Best we can figure is that these must have been issued in 1959! I explained we already had these on CD that we give away at cost to members, so Brian is thinking of building a model from them, great idea. Would not build a real boat from them, we have moved on in so many ways!
Alan Austin of Somerset has come back to us to say he is hoping to sell his Finesse 24 next spring and look for a suitable Senior to sail, will hopefully then join him as a full member!
Lucy sent this in to us, wondering if it were a Waterwitch.
http://www.hooness.org.uk/images/slideshows/yard/2.jpg
No it is an Eventide 26 in need of some TLC. Seen down at Hoo in Kent, think we may have seen her before....
Brian our Fund Manager has sent this in..
http://www.rya.org.uk/newsevents/enewsletters/inbrief/Pages/flag-etiquette.aspx?utm_source=InBrief&utm_medium=Email&utm_campaign=dec15-inbrief-mem
An item on flags and where to fly them. Seen some shocking breaches of flag etiquette over the years, the Jack the lad with the Union flag or the guys flying the cross of St. George, probably football fans.. sort of grates when I see the Dagenham Navy and the skull and cross bones too. Must be getting old!
John
Post Script. I got the Seamanship Trophy back yesterday, after a bit of trial and tribulation, we nearly lost it! Anyway it is back and engraved and I have a plaque to send off to Victor and crew.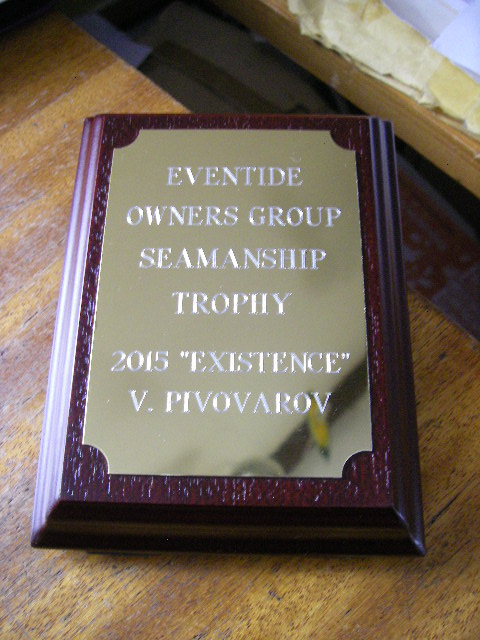 John
Sunday 29th November 2015.
As another F8 rips through this part of Essex I feel for those who have not yet got their craft safely ashore and secured for the winter. So many are getting damaged on moorings locally. I know you might want to nip out on Christmas Day, done it myself, but the problems of wind and frost damage are a real downside to leaving boats on moorings. Hope yours is OK, check those covers and mooring lines.. Do implore owners who leave boats on swinging moorings to use chain not rope, dealt with too many 'drifters' in the past, all equipped with a 3 ft frayed mooring line dangling from the bow!
Had another new member yesterday, welcome to Alan in Somerset, joined as a 'Friend'. Not sure which of our designs he is interested in as yet. Hopefully he will respond to my mail.
Anther who is having trouble getting through has contacted me again saying the form does not work?? Tested it and it does and Alan's enrolment underlines that, cannot see what the problem can be, unless it is simply falling foul of the stricter security we need to stop the Spammers these days, does take a little thinking to work it out...
Thinking ahead to next summer, and with the weather as it is and the cottage rattling in the gales, a great way to take you mind off what's happening out there. We have had one member ask if anyone else has signed up for Brest 2016?? Mark Urry is signed up and attending and wonders if any other Eventiders would like to join him in their boats.
It's claimed to be the biggest of it's kind in the World and is from July 13 to 18 (which includes my birthday), followed by a parade of sail across the Rade de Brest to Douarnenez, where there is another festival from 20 to 24 July. I'm hoping to participate in all of it, plus there is a group of classic boats from the Old Gaffers Association coming across to France to rendezvous with French members, one who is a friend. They then plan to sail along the coast together, stopping for various "celebrations" en route at St Malo, Roscoff and a few others. All being well I should be away for about a month and will probably need to dry out at the end of it all. Mark.
Mark is sailing 'Sea Fever', his immaculate Golden hind along the French coast calling in at a few other events as well. If you fancy it here is a link to the event... https://www.brest2016.fr/en
Anyone thinking about it please contact Mark via us at enquiries@eventides.org.uk
Also had this to say about the keels dropping off 'Celtic Lass'.
Read your item about bilge keels falling off Celtic Lass with interest. Seems to me there is a very simple explanation, ie. galvanic corrosion.
Stainless steel (the keels) has an anodic index of approximately -0.5 volts, galvanized steel about -1.2 volts. The difference in potential is therefore around 0.7 volts. It is generally recommended that the maximum potential difference is salt water to minimise galvanic corrosion is around 0.15 volts. In other words, this combination was about 7 times the recommended level and the metal with the most negative potential, the bolts, will corrode away.
As I suggested, Monel metal bolts maybe should have been the material! Would still like to know where she was moored in case there was an electrical 'leak' nearby!
I was hoping to have my Radar mast up and fitted by now, but at the moment earning 'brownie points' so I can slip away next summer to complete, hopefully, my circumnavigation of England, Wales and a bit of Scotland. To that end knee deep in furniture as we are decorating the whole of the ground floor of the cottage. Cannot even get at boat bits in store in the garage for crates of books and furniture! Hopefully normality will be restored after next week... as the kitchen is painted...
I am in discussion with a member regarding the contents of his garage too, which will appear on the bits for sale pages shortly, certainly cannot be thinking of picking items up whilst I cannot get in to my bits, but soon!!
The roller reefing saga rolls on, (sorry about that!). I heard from Stuart, (spelt it correctly this time) at Sea-Teach and my marbles are in the post, also got a can of spray shaving foam to try!
John
Thursday 26th November 2015.
A small but select group of members met last night in Boreham. We had probably one of the best meals we have had for a long time, the setting great, the food excellent, the company superb. Shame you missed out.
The next meeting will be Wednesday 27th January 2016. All Members and Associate members welcome. We would love it if members from other parts of the UK could announce a venue and invited local members to attend near to them. We know we are far flung, but there are a few areas that might attract a few others to attend. I will ask our Database Manager, John Stevens to figure out where clusters of members are largest and closest... then we might make suggestions for areas where, if you fancy a meal out and have a venue, it might work... Then let us know and we will advertise it, you never know you might not eat alone! Eventiders tend to be friendly people...
The weather has gone back to mild and totally unseasonable again, over 11 degrees already this morning and bright sunshine, which is just as well as I am having all the downstairs carpets cleaned as I type! So have to stay at base today, otherwise I planned a day on the boat fitting radar....
However a job I have lined up for later here is to rebuild my new roller reefing gear. Just the new drum at the bottom. Having had the top of my old drum machined slightly to match the new drum top, I am swapping them over and rebuilding so the drum will work with my existing ali foil.
The top part of the drum has a socket for the foil and of course mine was the old sort...! A problem solved by lateral thinking!
Trouble is those ball bearings! They are very large, about 7mm and not held in a cage, so difficult if not impossible to reassemble, without a trick or two. Thought this wheeze was the best yet, glue balls to race with honey!!! As the bearing is not greased in use but open so as to be flushed with water, after reassembly you simply dunk the lot in the washing up bowl with detergent and wash the honey away!! That's the theory, I will let you know how I get on later!
First I have to call the company Sea-Teach and find out how many balls, both Delrin and stainless, should be in each race, in case I lost a couple....
Off to check my marbles.
John
Post script. After counting what I had recovered and speaking to Stewart at Sea-Teach, who supply all the Plastimo spare parts, seems I am a couple of marbles short.... I know, so many have told me..... but great lad that Stewart, he is popping a few in the post. He also said alternative to honey, shaving foam, washes off even easier! Has an affinity with Eventides, used to own one!!
John
Monday 23rd November 2015.
The cool weather continues, but not for long, back to wet and milder by Wednesday.
Wednesday is the last Eventide Owners Group evening meal till after Christmas. We will be at The Grange at Boreham at 1900. Members who would like to join us for a meal in a convivial atmosphere please call on 01621 778859 and I will be pleased to add you to the seating plan!
Just been adding a few pics and details to the pages again, a Senior in Spain under construction, Well done Marc, she is looking like a Senior!
A Senior found on the Bay, 'Shoestring' I think she may have sold now and so we are awaiting a call from the new owner.
Just sent a CD of drawings of the WW off to Fin in Arizona and heard from another prospective builder. Another Senior! Membership form expected soon.
Heard an horrific tale from Bob the ex owner of Celtic Lass, seems she lost both bilge keels to corrosion!!! They literally fell off. The securing bolts rotted away in 2 years... the keels were stainless and were bolted through with galvanised steel bolts. Do not know if they were otherwise than the standard size bolts, but I have feeling that she may have been moored near a boat with a faulty mains electricity set up to have rotted anything away like that.
So if anyone knows of a pair of bilge keels going spare, the new owner is in need of them! wondering if monel bolts may have been better??? Cannot explain that amount of corrosion in 2 years....
Added a couple of pics of 'Friend's' boats to the Gallery today. as well. Welcome.
One of these Friends also has a wrecked G.H.! and sends this in a link to another of our members doing a great restoration on his... http://blacklabadventures.com/1968-maurice-griffiths-golden-hind-31/
Don't forget, Wednesday evening 1900 at Boreham, Essex, come and join us, ring me.
John
Saturday 21st November 2015.
Brrr. 2 degrees outside and with wind chill down to minus 7! At least the F7 has slackened off or it would feel colder. snow in the forecast for the early hours. Boy am I pleased to have F.G. locked securely in a barn!
Heard from Fin today, he wants to build a Waterwitch so a CD of drawings will soon be winging their way to Arizona. Isn't that where the old London Bridge went??
Think we have found an unlikely source for more back up drives, Tesco! Hopefully will be updating drives shortly.
Went over to see the neighbouring farmer today, and get into the barn to pat the boats bottom, after the F10 we had here 3 days back he was pleased his new barn still had a roof, so was I!
There were a couple of nearby buildings that were not so fortunate!
Up to my ears decorating indoors at the moment, earning brownie points so I can sail off next summer, just fitted all the decorative sealing strips round the garden doors I installed 6 years ago, looks great but did get a bit of stick as a job on F.G. normally gets done in 6 days!
One by product of all the painting indoors is that the nice heavy duty dust sheets, I purchased especially, are going to be great on top of the boat, once I have added eyelets, they will keep the dust down when they are shifting the wheat!
Time to throw a few logs on that fire and snug down for the night....
John
Friday 20th November 2015.
After 'Barney' breezed through at F10 it has at last got colder, from 15 to 5 degrees in 2 days and snow in the forecast for the first time. winter covers well snugged down?? nothing worse than wind driven snow for finding places to lodge and then a bit of thawing and freezing and we have loads of work to do come spring. better to lash the covers down tight now.
Welcome to Kin in Arizona, just joined as a friend. Will hopefully find out which of our designs he may have an interest in.
Had a call from Brian and Mavis, they of the GH 'Right-Eh-Oh' some time back. Swallowed the anchor now but we are planning a get together for the new year to include them! Brian tells me he is assisting his brother with a small GRP sailing cruiser, but it's a basket case!
Had the first enquiry for antifouling! A little early, I normally start advertising it again in February once I have sorted prices and availability again, ready for March and April painting time!
I heard through the rumour mill that the powers that be in Brussels were now truing to prevent individuals painting the bottoms of their own boats. you would think, after the devastating events in Paris with those links to Belgium, they would have better things to sort out!
John Stevens is advising us regarding safe storage of data and another upgrade to our already backed up back ups! We have filled the 1Tb drives with backups now so are looking to increase the storage to at least double... The market being searched today...
Pleased to say the website and all our info is backed up in three separate locations now and in addition there are at least three extra data backups going, automatically.
Some years ago I started an organisation we called ASSOFASS It was a loose association of owners groups and associations. Basically the editors and website coordinators swap info. So I was very pleased to be able to contact the Exeter regional member for the Trident Association to inform him of a Trident 24 that was for sale on the Bay.
No one would have found it because it was advertised as a 26ft wooden sail boat!! Except that John Stevens and Myself both know Tridents, so when I sent details to John he agreed with me that it looked like one.
So it's GRP, not wood, and 24ft not 26.
Nigel of the TOA, who I informed, said it would be worth looking at even though it was in a terrible state, just for it's windows, and deck gear, bilge plates, tabernacle etc. Have not heard yet, but hoping someone from the Tridents will have it!
The Trident owners are finding the same as we are, selling boats is difficult, once an owner feels he is too old or infirmed to sell, finding a buyer is becoming a nightmare.
I am feeling quite proud of myself here. I have just managed to convert my newly acquired Plastimo roller reefing drum to fit my existing spar. A rigger friend suggested that if the top section of both the old and new were the same inside, I could just swap them, putting the top section of the drum, that fits my spar, onto the top of the new enclosed reefing drum. When I disassembled it, (watch out for all the ball bearings!!) I found it was 'almost' the same. A small turning job for a friend with a lathe and it all fits! bonus is I have the new top section as a spare and if I damage the 25 year old foil one day, I have also acquired enough foil of the later shape to redo the lot in the later section that of course fits the new drum (with the other top on it!).
Reading that back it sounds awfully complex!
Suffice to say the bearings in the old drum were shot and this is why the roller reefing was a pain, next season all should work smoothly again! Fitting out in November...!
Watching the outside thermometer fall, time to throw another log on the fire!
John
Thursday 12th November 2015.
Welcome to yet another new member, Bennett Roger with an 18ft Seagull on the Norfolk Broads. Not sure which of our boat designs Bennett has his eye on, hope to find out shortly.
Had an update from Andrew in Lossiemouth with the beautifully varnished WW there, 'Jenny B', he sadly is having to sell, but is interested in an Eventide. Another advert to be placed on the pages soon.
Heard again from Ed with 'Moondancer', he is heading for Trinidad shortly!!
Read all about their adventures here..
I have attached a couple of recent photos of Moondancer and the links for our website documenting our journey.
and on Facebook …
https://www.facebook.com/moondancersailing/
I was able to let him know how to set up a QME self steering set up he has acquired!
Sold a couple of small radios from the site and have someone interested in the new loo and a sail makers palm! Will be removed from the page shortly.
Had a mail from Ross Cottrell re the WW drawings, expecting yet another new member shortly as a result... Ross is in Oz.
Was able to pass on a tip for cleaning fenders that I picked up from Norfloat, the people who make my green fenders.
Take a pint of turpentine or white spirit and add a teaspoon full of acetone, scrub fenders with 'Scotchbrite' soaked in it, best done outdoors.. (no problem today at 16 degrees still!!).
When clean wash with detergent then wipe over with that cleaning protection for car plastic bumpers. works a treat. I will have to add this to the hints and tips page!
Postman brought me a new Plastimo roller reefing drum for my reefing gear, wow it spins forever if you give it a twirl! My old one was seized solid when I took it apart. Was down the boat today and removed the other part of the drum, the part riveted to the spar. Slid off the top swivel to strip and check that too. May end up replacing the bearings in that as they are apparently just mild steel! Sure my local 'belt and bearing' shop can supply stainless! It's on the bench to be stripped tomorrow!
With the weather as warm as it is, not only still cutting grass but thinking of doing a bit of remedial work on the Sikkens on the rubbing band, one less job to do in spring!
Silly weather, if you are still afloat enjoy it! Watch out tomorrow, Abigail is on the way!
John
Wednesday 11th November 2015.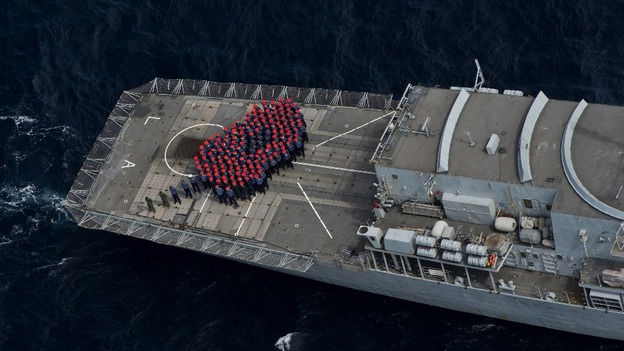 Saturday 7th November 2015.
That has to be the shortest season I have ever had, 2 months and 4 days! 'Fiddler's Green' is safely locked up in her new winter storage again. I am so lucky to have a friendly farmer neighbour with spare storage space. There is little doubt in my mind that undercover winter storage is far better than a tarp. However this year I am sharing the barn with hundreds of tons of wheat, so a dust cover may be needed!
Our recovery and mast lowering went without a hitch. The boat yard lads work like clockwork and we are hoisted out in moments, dropped onto the trailer and they leave us to it. My crew work as one and hardly a word is spoken, rigging un-taped and slacked, lowering gear shifted from under the quarter bunk to the foredeck and assembled, 20 minutes later the mast is down and we are tying up the wires, ready to move the mast forward to rest on the pulpit tabernacle and crutch at the stern. A well oiled exercise. Only draw back, through out all of this, it tipped it down!
Just as well we came ashore yesterday and not today, SW Gale 8 today!
Good news is hardly anything needs doing for next year, the halyards are already washed, sails were clean and undamaged so stowed for next season and the bottom of the boat looks as if I had just painted it, so just a quick coat of Marclear for next season.
Had a couple of enquires re chandlery for sale and a few items may be removed from the list shortly, things do move on there.
Several owners have brought to our attention the Senior 'Shoe String' for sale on EBay, look for 'Day Sailer' the same owner and I seem to recall builder, for 40 years, nice boat.
We have more boats for sale on our pages too.
However hearing from others that shifting even GRP MG boats is getting difficult. the poor wooden boat owner trying to sell is having a terrible time, unless the boat is sparkling and modern there is slim chance of a quick or profitable sale. Sadly one has only to look at the bare timber projects that slowly spiral down in price till they are removed from sale and possibly end as Viking Funerals.
Some GRP owners have inflated ideas of value, seen a Barbican for sale that is berthed near me, ridiculous price. Hang on isn't he the leader of the old assoc... does that mean all the lead members of that lot will not have our boats soon!!
Had this in from a Seagull customer, who also happens to be the owner of the G.H. Moondancer!
HI there John.
I hope all is well with you.
We made it to The Canaries in Moondancer and now spending a week or two enjoying the sunshine and doing more work on the boat. We are also doing some projects with the local school children around learning English and empowering them to live their dreams which is going well.
We will be sailing to La Gomera next week so perhaps we could pick up Seagull parts from San Sebastian Marina...
Well done to Ed and his crew, read of his exploits here:- https://www.facebook.com/Moondancer-Sailing-1657761154469109/timeline/
That's it for now, off to empty van of wet ropes!
John
Thursday 29th October 2015.
We met at Boreham, Essex, last night and had a great meat with friends and members. Shame you were not there.
Welcome to new member John Lidster with the Steel Eventide Xercia, will be based Leigh on Sea. Hope to cross wakes next season!
Tuesday last I escaped for 5 hours afloat, it was 17 degrees and warm sunshine, F3/4 gentle South easterlies and we sailed all the way up river and beat back, long and shorts. Perfect last sail of the season and only 10 other boats visible on the horizon all day. Returning to base within half an hour the sails were off and stowed and the halyards off the mast. That's it for this season. One item of note, the lazy jacks are terrific! Why Oh why had I not fitted them before!! cost was minimal, about £20.00 including the eyelets and cord. No need for heavy blocks of extras. I will be publishing details on the owner's hints and tips pages soon!
Today the heavy gear came off whilst the tide was up, so I could push the trolley up the brow OK. My little Morris Minor van down on its springs on the way home! I bet I will have another 2 van fulls before she is lifted out next week and locked back up for the winter in the barn. amazing where it all goes on board.
Though only afloat for barely 2 months we have had many sails and sorted loads of little problems, diagnosed others, (the bearings on the Plastimo reefing gear are shot!), that can be fixed over the winter. With any luck it will be a quick antifoul and away next spring! What could go wrong!!?
Just had another enormous parcel of paperwork come to us through the post, all sorts of Golden Hind articles and details, to be scanned and added to the pages.
Peter the webmaster has created a page for us courtesy of the Junk rig Association, its about the Mouette 'Erik the Red' I have added links to it on Mouette pages.
Off to add a heavier duty jockey wheel to the trailer tomorrow, it has to be man enough for the weight, and the normal one is not. this one is for a 3.5 ton trailer, so should do the job, as fitted to Ifor Williams trailers!
All for now,
John
Monday 26th October 2015.
A little reminder if you live or work near Chelmsford, the Essex members are meeting at 'The Grange' Boreham on Wednesday. If you fancy coming along for a meal with friends, do call me, John on 01621 778859 and I will add you to the table plan!
Tuesday looks to be about the best day this week, weather-wise, so I am taking 4 or 5 hours off and escaping for a last sail, with a friend. After tomorrow, gear comes off and we are coming out and back to the security of a locked barn for the winter. I just have this feeling that it is going to be a hard one this year.
Hope you have had a good season, sadly so many have had a dire one, we can always wish for better next season. Heard from a few others that laid up last summer.. I have only had 2 months afloat, but have crammed a lot into that time and with the help of crew have sorted loads of little niggles and larger problems.
Tomorrow I will be testing the latest idea, 'lazy jacks'. We did try 'Lazy Phil's' a year or two back, same idea but hung from the topping lift instead of the mast.... did not quite work as the lines needed to be further forward. However now I have the lines rigged as traditionally from the spreaders and when I fit the last additional hardware will be able to stow them out of the way along the boom when not wanted as well. Got to test before I publish the article, but this picture of me knee deep in yards of line with a puzzled look, shows how one can really get tangled up !!

It will all come out OK on the day.... I hope!
One of the local MG boats to me in Bradwell is the 30ft 'Irene'. I noticed she was not on her mooring the other day, and had heard the owner was talking about selling. No sign of her in Bradwell marina nor in the yard and no one has heard more, is she sold? Seen her?
Had a nice message from Bekir in turkey, he has all the drawings I send him for his new build, another Senior, he promises to let us know how he is getting on.
Tim of Wedjit contacted me today to tell me his Waterwitch will be with us on the Blackwater for another season at least, much better sailing water here I suspect, but also that Tim has won a place at Lowestoft College, the boat building College. Well done Tim! Hope to cross wakes next season.
Reminder, Wednesday, Boreham, near Chelmsford, meal with the EOG...
Oh and apologies for the 'selfie', first one and probably the last!
John
Saturday 24th October 2015.
Outside the skies are leaden and grey and within the hour its going to fall, feel it in the bones. So very pleased to have managed to escape afloat last week.

The Database manager, John Stevens and I had 4 days afloat, just around the Blackwater, some good sailing and a lot of silly little jobs sorted. John is going to be one of my crew for the second leg of my 'Fiddling Around' next year, so it was a good opportunity for him to get to know the boat better and its gear. We did not go far but the weather was kind most days, though cold..
The 'Immortal memory' toast was duly performed! Good to sort out the last few teething problems aboard too. the cruise culminated in a beat against the tide for a few hours, from the Nass to Bradwell, just to show a well balanced and sailed Eventide can make over a foul wind and tide!
Back to mundane EOG matters. I had a call today from a lady to request an advert for an Eventide 24 project her late husband was involved in. As he was the owner of a boat yard this one is basically sound I suspect but now needs finishing. Hope to have more info shortly.
Sent a DVD of drawings for the Senior out to Turkey this week, Bekir was a member of the old assoc 30 years back and built and sailed a Senior in turkey, I recall him well. Hopefully he will be able to repeat the exercise!
We have heard again from the couple planning to build a Riptide on the other side of the pond and have been able to provide more info re suitable timbers and direct them towards the 'Owners hints and tips pages'.
Has anyone any information on a modern equivalent to the old 'Building Chine Boats' book that I and others tried to update 30 years ago. All woefully out of date now sadly. We need another guide book we can point builders towards.
I'm off to the boat this afternoon, left a packet of bread on board, got to retrieve it before it tries to climb out on its own!
Bet many of you will be thinking of hauling out now, if you have not already done so. A reminder. fill that diesel fuel tank up before lay up! Will save you getting water from condensation in it and then the dreaded diesel bug.
And on the other hand empty all water tanks and make sure there is antifreeze in the motor. I have a sneaky suspicion this winter is going to be a hard one for a change.
All for now,
John
Sunday 18th October 2015.
We have had more enrolments and one very confused new member.!
Welcome to Bekir Tarman in turkey, or should I say welcome back. Bekir was a member of the old eoa back in 1988 when he bought a set of drawings from me as plans sec and built a Senior. Sadly later he sold it but now he has rejoined to get the DVD of drawings and information so he can build another!
Sadly Kathleen in Minessota and her husband got confused by the fact that the old association is still up on the web and mistakenly paid them over twice what we would have asked for a set of drawings! bet the assoc is rubbing its hands in glee, not only do they get a cash injection but they can send out an out of date non checked set of drawings. We have now sent Kathy the new and updated set for free!.
When any builder wants information on 'how to' we are pleased to say the Eventide Owners Group has many members who have actually built these designs and we will always be able to put you onto someone for advice, not so the old association now!
Next week its the anniversary of 'Trafalgar', so as in previous years 'Fiddler's Green' will be out and about on the Blackwater for a few days to celebrate it. if you happen to be afloat call us on Ch16.
I have just added a couple of boats to the 'For Sale' pages, a nice project Bawley and a remarkably good Senior.
We have had another enquiry from Helen, half of the name of the wild Duck 'Hellebarb'. We are trying to trace Joe up in the Amble area, he was restoring her, (the boat that is!) and was just about finished in 2008, but we never heard any more. Joe if you are out there, of anyone knows the whereabouts of 'Hellebarb' now, perhaps they could let us know and we can put Helen in touch. She tells me she was the one who always hid her uncles tools when she went aboard. John Stanley, the builder, has sadly passed away now and Helen would like to know 'her' boat still floats!
All for now but remember that toast on the 21st' 'To his immortal memory'. It will be heard all round the world, wherever a 'navy' man lifts a glass.
John
Wednesday 14th October 2015.
In the last few days we have had three new members join.
Welcome to Kathleen Leitold in Minnesota, with a 30ft GRP boat, but interested in a Riptide.
Welcome to Keith Goodwin in Derbyshire with an 80ft MFV! He is interested in the good Hope class.
And welcome to Orlen Collins from Harpers Ferry somewhere in the 'US of A' wanting drawings of the 3 Tonner. (Not sure where Harpers Ferry is.. sounds right out of a Clint Eastwood film!).
I have been adding a few items to the bits for sale pages and hope to add another Maurice Griffiths, a Bawley, to the 'For Sale' pages later. This one a bit of a project boat...
We have had some interesting mails and calls, one from the ex owner of an Eventide, that I knew years ago, now the owner of a Golden Hind. He is an interesting man and I hope to be able to tell you later more about him and his BEM! (There is a story developing here!).
Had a long conversation with a man who runs a boat share scheme. His idea is simple, instead of selling, try offering a part share in your boat so you share the running costs and all yet still get a chance to sail. sounds a clever ides. I will let you know more after the Steering Group have had a chance to mull this one over. I will be sending them details shortly.
Just watched a brilliant TV program about the Scottish islands, may of which we saw on our sail through those waters, spectacular scenery! Looking forward to going back next year....
Watching the weather now, if it settles down I hope to be able to have at least a day out yet...
A call for new members of the Steering Group. We would like a couple of people to step forward. Anyone with a Senior?? Chris our Senior rep is standing down, after some one stole his! (He is still GRP advisor though).
We also need a Barbican owner, Nigel and Heidi are selling, have sold theirs and again Nigel is stepping down, in line with our rules. Our group is run by actual owners!!
If you are either a Barbican or a Senior owner, or come to think of it the owner of any of our designs, and would like to get a little more involved, please let us know. When we say a little, it is just that. every now and again we pass a mail betwixt us to comment on and make some sort of decision. Normally we are thinking of buying a bit of computer kit, or it could be where to donate money to, not onerous, and we do not have to meet up to do it, so you can be in Australia.
Please give it some thought, sure there may be a few who can assist out there...
John
Sunday 11th October 2015.
Yesterday I had a crew meeting on board 'Fiddler's Green' and in the marina bar afterwards. I wanted to show the crew what changes had been made after the first leg of our round UK trip and reassure the other halves that all was as safe as it could be on board. Spent several hours showing all the boat and gear and ended up with 12 of us sat down to eat. The various crew dates have been roughly sorted with those with preferences of parts of the coast they wished to sail, luckily being accommodated. At least on paper.
A good day.
Today I took my newest crew member out for his first sail. He was, to say the least a bit laid back about it.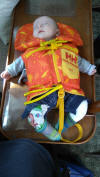 Well Rafferty is only 6 weeks old! We had 3 hours out in a cold North easterly F3/4 and he slept through the lot!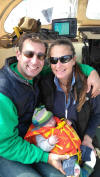 Oly, Jenny and Rafferty
Proud skipper with round UK crew Jenny and new member!
I took my Jenny out when she was 6 weeks old, but Oly tells me his dad took him out sailing when he was even younger, in a dinghy, albeit a large safe one! So had to be done!
John
Monday 5th October 2015.
The weekend was perfect for a last minute sail, if the fog had not have rolled in!
Fortunately I picked Friday to take a trip out! the Data base manager John and a pair of my chums joined me for a delightful end of summer sail, the winds were moderate and the sun warm, we took a slow trip up to Maldon on the tide and motored hard back... Good job we did as it revealed a slight air leak on the new pipe work, the motor cut as we were coming into the marina, 20 yards from the berth.. John on deck thought I was showing off and had just the right amount of way on to slip in unassisted! As it happened we did just manage to drop into the berth! Hope I have fixed it now, time will tell, only took 5 minutes to bleed the system and get it going again, bit longer to tweak the tickover to 850 revs, give or take...
So instead of boating at the weekend I was polishing and sorting my moggy van and setting up my old BSA Bantam on my take-down bike trailer. I fixed a charging problem I have had, new rectifier/regulator and rewired the loom, now lights and charging!
Towed bike up to the huge motorcycle show on Sunday near Ipswich, 120mile round trip. Was displaying both and at the same time passing out Seagull leaflets! Amazed at the number of boating friends I met. The show was near Ipswich and they all boated nearby, but as it happened were also motorcyclists, two even had Bantams!! Small world Eh! (Fog had stopped boating!)
Today, Monday it is raining hard and the skies leaden, what a change from the weekends clear blue sky and hot sun.. Last cut made on the grass this morning before the rain, that is normally the end of the 'summer' boating, from now on it is winter warmers and hot Bovril's!
Just added another GH to the Gallery, not sure why she was not on there earlier, 'Moondancer'! The owner, Eddie has a 'Face book' page where he is going to publish details of his adventures, have a peek, looks good!
https://www.facebook.com/Moondancer-Sailing-1657761154469109/timeline/
Eddie is also one of my Seagull customers, again, small world!
Now one last bit of great interest to all GH enthusiasts. The GH 28.5 that is on the For Sale page has to go, and to that end anyone interested that can promise a good home to her, CAN HAVE HER FOR FREE!!!!!
She must go to someone willing to work on her and get her sailing though, if one of the sharks get hold of her we will chase them off! Big sticks in hands!! Had enough of the sharks that had Galliard and Seawitch!
All for now
John
Thursday 1st October 2015.
A small select band met at the 'Grange', Boreham last night, great company and tasty food. the place has had a facelift since last we used it and all agreed it was a great location, so will be there next month!
We have had some great news re sail plans for the Ketch rigged GH, some drawings have come to light and have been added to the others we have. Also we are promised the junk rig sail plans designed for the WW and the GH 31!
In addition a new friend Chris with a Sea Rover, and yes, Junk rigged. We are now more convinced than ever that MG had a hand in this design... wonder if we will ever be able to prove it!
I am out on the river tomorrow in the company of the Database manager John and a couple of my regular crew, looks as if it could be a good day out!
See you on the river,
John
Monday 28th September 2015.
Did anyone else see the Lunar Eclipse last night, 0350hrs!! Stunning blood red moon, not another one like that till 2033....
Mail coming in thick and fast till, great picture of a Buchanon design in from Freddie in the Netherlands, 'Carmen of Tollesbury', she is for sale in the Netherlands.
Info in about the sad looking Barcarole or Cockler for sale on EBay, asking £450 at the moment, a mammoth restoration job or a job lot of firewood?
Info in from Pieter on the other side of the pond re Erik the Red and the Mouette. I have contacted a website with a view to sharing the information on our site and a link swap....
Wednesday 30th, fancy a meal out with other members, Chelmsford area? Call me on 01621 778859. Meeting about 7pm for a meal.
Had a great 'drift' on Saturday, sunshine was really warm, enjoying a few nice days here in Essex, so hope to take advantage and be out there again later in the week. So far not found any more 'little problems' on board. Transported the new inflatable aboard and it stows neatly up forward.
Off to pick up some stainless steel work today, for the latest project... all will be revealed soon!
So once more, Wednesday, meal out, 1900hrs Chelmsford area....
Hope you are sailing...
John
Friday 25th September 2015.
After the heavy rain and wind of the last few days the weather seems set fair for the weekend, for a change! hope to be out there.
last night I spent 3 hours editing the pages, adding dozens of photos, articles, adverts and the like. I spent another hour this morning adding more! I still have at least 3 hours work to go. the amount of information, advice, photos and the like coming in is terrific.
The postman delivered a thumping great package from Mark Urry last week and I am slowly going through that, load to ad to the GH pages!
I have now heard back from almost all my prospective crew for next years 'fiddling Around' and we are meeting up shortly on board and in the marina bar for a meal.
In the mean time the last Wednesday in the month Essex Meeting will be held on the 30th at 7pm at Boreham, any takers?
Of out to walk to village in the sunshine with today's Seagull post, make the most of the good weather!
John
Wednesday 23rd September 2015.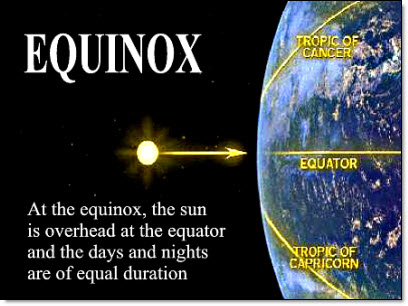 It is the Equinox. Day and night equal in time. It was also last night, definitely cold! A harbinger of weather to come? Hope not, need an Indian summer to get more out of my ultra short season!
Stayed at base all yesterday awaiting a delivery from Mailspeed, a replacement inflatable. Told it was due to come, paid extra to ensure it would arrive. Sadly it did not, and worse the couriers website falsely informed us it HAD been delivered, at 1929!!. After complaint to Mailspeed they reimbursed me the fee for the courier, but to be honest I would rather have the goods!
My Avon inflatable now appears on the For Sale page. I recall an article in P.B.O. some time back, where a tired Avon was filled with foam, a thought??!
Welcome to Christian Legg has just joined us with the Eventide 24 'Lady Gertrude', an Eventide with quite a history, she is one of the few that has circumnavigated the UK! hoping to join that number next year.
To that end I have arranged a crew meeting at Bradwell in the near future, for crew and spouses to inspect Fiddler's Green and her gear and to discuss the last trip and the forthcoming one over a meal!
If the weather is OK the next day I aim to take my new grandson for a sail, aged 6 weeks! His mum sailed at that age!
Sent 3 DVD's of drawings off to America to our newest Associate member as a thankyou for his donation.
Just sold, I think, the old anchor lamp that was on the site Bits for Sale page. Items placed for sale on our pages are now picked up by Google shopping and other shopping search engines, because they are so active, so if you have any gear that needs a new home, why not advertise with us. We do not charge a fee, but a small donation when it sells helps keep the site going!
I will be adding more used chandlery shortly!
Al for now, weather set fair for the weekend again, I could be out there again!
John
Monday 21st September 2015.
Not only does she float, but she sails! At long last F.G. left the mooring and has been tried and tested and not found wanting! We had a perfect day for it, see the last entry on my preparation log!
Heard from Bede today his Eventide 'Lady Gertrude' has a new ownner, waiting to hear from Chris and his dad who picked it up over the weekend. think they know how lucky they are to get it for such a low price after all the work that Bede put into it, and expense! Bede will remain with us as a 'friend' and has bought a smaller Snapdragon 21 that he will fly the burgee from! hope to cross wakes with him next summer.
We had a most generous and unexpected donation in for America yesterday. Thomas Brockman has been watching our group and its progress for some time and really enjoying all the information and articles. His donation is large and as a small token we are not only signing him up as a friend, but sending 3 CD's of drawings of his favourite MG boats. There are some real nice people out there!
I have been busy amending the advert for that 16ft GRP boat, as more and more kit comes to light and alterations are made to boat and trailer. Now has new bearings and decent tyres! sure that is going to go quickly.
If I do not sell my inflatable tomorrow, to the man who expressed an interest in it, my tender will go onto the pages for £100 and I bet that goes quick too!
Off to marina shortly! Got to pat it's transom!
John
Thursday 17th September 2015.
Just added a small GRP boat to the For Sale page. Not one of our designs, but small and cheap enough to get almost anyone afloat. A little work needed but a great starter boat for the grandchildren! A 16ft pocket cruiser!
Just had another enrolment, welcome to Ryan in the USA. Ryan is after the drawings of the Senior and judging by the neat little sailing dinghy he has, if he built that, as I suspect he did, he will turn out a good Senior.
Just had payment in for a CD of Eventide drawings, these are going to another newly enroled member, Peter in the Netherlands.
I have another set of pics to add to the MG pages of a beautiful Lone gull II timber version, Mew Gull. What a special boat! A Face book page link too.
At last the rain seems to be abating and the wind dropping, so with any luck we will be out on the Blackwater Sunday, see you on the river!
John
Tuesday 15th September 2015.
The weather has taken on a very autumnal tone, misty mornings, gales and rain, hang on that was what summer was like?!?!
I have at last just about got the boat organised for the first outing, better late than never... Bede and Ted have both sold their eventides without feeling the tillers come alive!
'Lady Gertrude' sold for a song, considering the cost of renewing the trailer.. boat came free! And 'Camelot' sold for about the same amount on EBay as she sold for the last 3 times, so the price must be about right!
Lets hope the new owners of both these vessels join us and let us help them get them afloat.
A new enrolment in today from Paul in the Netherlands, lives in the same place as Chris our GRP advisor! Paul has bought 'Perami'. Welcome Paul, official welcome letter and info on how to get the CD of boat plans you need in the mail today.
Mark Urry is in the UK at the moment and is posting a parcel of useful GH information to us, for the site. Look forward to sorting that.
The garden store is getting slightly easier to move about in as the huge lorry tarp donated by Doug, went last week! I have removed quite a few other items from the web pages as they have gone too. Even the 'Seago' life raft, with a couple of years on it, went off by post yesterday, and those gimbals! Now I can see the rest and shall make attempts to shift that!
Hope to get that Seagull out and gone today!
Spent several hours aboard last night, in a lull in the rain and filled water tanks, sorted electrics and even got the carpet down. Now all I need is a calm day to take Darian out to test the motor properly and try the new gas stove! Not even boiled a kettle yet!
John
Wednesday 9th September.
Happy Birthday Darian!
We have had a few mails re Camelot back up on the EBay, you have to search for 'Sailing Boat' to find it. Last I looked it was nearing £600. A bargain.
The Lady Gertrude is also on the Bay again you have to search for it, try 'Eventide 24 sailing boat'. That is up to £1000 now. This must have been a great disappointment to Bede, he has spent so much time effort and expense getting her to the condition she is now, that trailer alone set him back a fortune!
Hope they both go to good homes.
Sent a burgee to Justine for her Golden Hind 'Marschallin'. She will be based in Chichester next season.
That odd looking boat that is described as an Eventide 24 has come back on EBay. nothing like any Eventide I saw, so a little poetic license there... not nearly enough freeboard and no raised topsides... rudder and transom slope far too much, I think it may be a YW 24.. close, but not one of ours.
I have just removed the lorry tarp and the inflatable dinghy from the pages, along with other bits, sold today from the pages. The tarp was a donation for funds from ex WW owner Doug.
Had a text today from WW owner. Tim of Wedjit, he was trying to make me jealous as he was out sailing on the river, lovely day for it too and here's me stuck here, awaiting delivery of those new batteries!
As I type the batteries arrived. Will take them to boat later...
Had an enquiry from Robert, who owned a GH called 'Ceilidhe man's' back in the 1970's, he would love to know if she is still about, we do not seem to know it, does anyone else out there? I will try and find out more.
All for now,
John
Sunday 6th September 2015.
Still loading my boat, sails yet to be set and stowed, but today the sun is out and the wind has at last dropped, so will be trying to get all sorted. May still be a few days sailing left!
Went to a local boot sale yesterday and took a load of chandlery I had here. To my amazement sold loads of it and have taken a deposit on the inflatable I'm selling for a friend. Man came back here and bought a couple of lifejackets and took measurements of hatch. The VHF might go too, so a very useful spot to sell boat bits. I am amending the bits for sale page!
We have had a couple of people join the Forum, so hope there may be some more activity on that. Cannot believe it is so quiet on it....
Added a GH wind pilot bracket to the pages. if you are considering fitting a wind vane have a look! Snag is it is the Netherlands.
Heard from Ted who bought 'Camelot'. He has had to put her on EBay as he is in no fit condition to carry on boating. sorry to heard Tad. hope you get most of your money back. Last I heard it only had £60 on it!!!
Have heard from Mike Hughes, he has a Senior he has to move on, advert on the pages shortly....
Robert tells me 'Celtic Lass' has sold on EBay, he did not get as much as he would have liked, just over £3k, but he thinks she has gone to a good home and Bob has bought an Elizabethan 29, fast but wet!
Paul with the GH 'Chloe' is promising to send pics in of the rebuild.
Next Essex shore side meeting last Wednesday, last day, of September! The 30th. Somewhere near Chelmsford.
Off to sort boat now!
John
Wednesday 2nd September 2015
She floats!
After 20 months ashore refurbishing and fitting out, Fiddler's Green is back in her element. We launched today.... In a thunderstorm! Not sure what sort of omen that is! I will be spending the next few days sorting sails and loading kit. Pics on my preparation page soon!
Will be back to edit some pages when I get 3 minutes!
John
Monday 31st August 2015.
Sadly only 1 boat turned up, a WW Wedjit with Tim and Colin aboard, who is the owner of a 'Searover'! But the Fund Manager Brian and his wife Mo made it too, so 6 of us. Others probably saw the forecast, F6 and rain, rain, rain! Barely stopped all weekend! Typical August Bank holiday.
Fiddler's Green's cooling problem is sorted, it was simply a case of 'less haste more speed' and next time John properly locate the cap in the tricky tiny slot before tightening!
Today Darian accompanied me aboard and we cleaned our ship from stem to stern, polished the interior and replace crockery and pots and pans that had been home for a deep clean. She is ready to roll and booked to launch Wednesday. All the sails etc are aboard and by the end of Wednesday the mast will be tuned and sails all set and stowed. A couple of days to load the kit and we will be ready to set off on sea trials!
In the meantime we have had a new enrolment from Chris Painting in Spain with the pretty Lone Gull II 'Mew Gull'. Chris has also sent in an article for us to add to the Hints and Tips pages.
Heard from Paul Walton that he is the proud new owner of the GH Chloe, number 46. she is in the north west. hope to hear more from Paul shortly.
Bede with the Eventide 'Lady Gertrude' has her safely back at home and is investigating the leak, that appears to be coming from a poorly sealed stern tube. Suspect the only answer to this is going to be removal cleaning, drying and resealing with a modern sealant. do not expect that is what he needs to hear though.
We were able to put a sailing friend in touch with Mark Urry last week, someone he met on his summer cruise.
Had a query about adverts on the site not having the full e-mail addresses. We have always disguised mail addresses, unless the person insists. The reason well you and I can work out that joe.bloggs at hotmail.com must be joe.bloggs@hotmail.com, but a webbot trawling the site looking for mail addresses to send Spam to cannot figure it out! I was able to reassure him, but just in case anyone else worried I have increased the size of the notice explaining this on our For Sale pages.
Enough for now, just to say mother and baby doing well and I am hoping to get him out for a sail in the next month or so, his mum went for her first sail at 6 weeks!
Granddad John
Saturday 29th August 2015.
Its a Boy!
Arrived at Bradwell at about 1930 and had just got to the bar to order drinks for the members that had turned out, when Darian rushed in with her phone. (guess who had left his at home in all the confusion!!) . There was even more confusion as I did not recognise the phone number on the screen, nor the voice.. borrowed phone and sleepy daughter .... took a few moments to realise it was my Jenny and I was a Granddad! A cheer went up in Bradwell bar!
Rafferty John Robert Watts was born at 1813 in Worthing Hospital to proud parents Jenny and Oly Watts! After 5 days of all sorts of 'procedures', Jenny had the 8.5 pounder naturally!
Hope now we can all get some sleep!
Whilst they wake up to the responsibility of a new life, I am heading for the boat and finishing off the last few jobs as we now launch Wednesday.
All for now
Grampy!
Friday midday 28th August 2015.
Nope she hasn't had it !!!
After several false alarms still no baby.. told a few minutes ago that this is the last ditch and if nothing happens now they will operate.. but they said that 3 days back!!
Could be I will be celebrating down at Bradwell tomorrow!
Spent some time aboard again and hopefully have fixed the water leak on the heat exchanger, see my preparation log.
All for now will be back later as I have more news, but off to post office with a van full of Seagull spares now.
John
Wednesday 26th August 2015
And still not a granddad!! But things are happening as I type, so by tomorrow?????
A sudden glitch and I will not be afloat for the Bank holiday. Fiddler's Green was all set to be re launched tomorrow, but the marina is the host location for the staging of a memorial to the 121 airmen lost from Bradwell Bay RAF station tomorrow, so hoist out of action.. Then at the last minute anyway I find a leak in the heat exchanger. I was running the motor to warm up the oils, changed them all and was feeling on top of the world..... then found a puddle of green water in the bilge.. the antifreeze. I have a fix for it but certainly will not be sorted till after the Bank Holiday.
However Darian and I will be in the Bar at 2000hrs to buy anyone turning up a drink!
John Hopthrow has brought our attention to the Atlantic Clipper you can see on the EBay page, back at a lower price, again....
Just heard a new GH has hit the water in Preston, GH 251 has been named 'Serenity'. Hoping for the enrolment form shortly. Here is a pic of the new arrival!

Nice looking boat!
Whilst on the subject of nice ones, Mark Urry has sent in a few pics of his recently launched GH, 'Sea Fever', of course you would expect the GH builders boat to be a masterpiece and it is. Photos on Gallery shortly. Along with a load from others that have come in recently.
No sooner that I add an advert for a beautiful Kylix than another owner contact us to advertise his. At first I was confused and thought two people were advertising the same boat. took a day or two to separate them, again more pics to add.
I have sold a few tuphnol blocks to a chap in the States today, he saw one on the site and asked about others, that I just happened to have going spare. The EOG pages are really picked up well on the net, good place to sell items, if priced well.
Had an enrolment from Poland, not the first from there bay a long chalk, Wojtec wants to build a Wild Duck so a CD will be winging its way out there shortly I suspect. another member has just enquired about the CD of the 3 Tonner.
We had a load of sheets of drawings for the Barbican donated to us recently. They were dropped off at a relation in Warwick and have just made their way here, sadly when I look at them I see it is the Barbican 30, not the MG Barbican 33, but they are all the interior fitting out drawings for completing or repairing a hull. We will scan them if anyone want a copy, one day...
Better available to anyone, than filed away in a cupboard!
That's enough for now, just seen the time, time to turn in. hope to see one or two of you at Bradwell Saturday, just sad my boat is still landlocked!
John
Sunday 23rd August 2015.
And still I am not a Granddad... she is hanging on to it!!
Apart from leaping out of my skin every time the phone rings and pacing up and down as if it were mine, I have actually done other things this last few days.. but as you can imagine the suspense is killing!
I heard from her yesterday, they were driving along the A27 near Shoreham when the road was suddenly closed ahead. If you have seen the news and the terrible tragedy that happened there.. 5 minutes earlier and ..... worry me, not a bit have always been grey! (well the beard anyway!).
Bradwell August Bank holiday and I will be there Saturday in the bar from about 8pm 2000hrs, to buy any EOG member a drink! Already had one taker! Hoping for a few more.
We are battling to get F.G. ready to launch Thursday, cutting it fine I know and I will still be loading kit on board Saturday and probably Sunday, but if the weather permits hope to take a trip out.....
Having said that I was doing so well today, till the heat exchanger sprung a large leak and emptied the antifreeze into the bilge! Getting there slowly! I have a cunning plan.....
Mails in the last few days include a request for a CD of plans to Poland and another to ex WW owner Ian.
I have to sort out an advert for a Kylix shortly, taken a time to collect all the pics.
Sold my Liferaft that I advertised earlier in the month, and possibly the fiddle rail and gimbals set. Had an enquiry from the States for the tuphnol block and as it happens I had some more he is interested in..
Peter our webmaster has sorted out a load of files for me so I can add them, the log of the M.G. barcarole across the channel and back in the 1960's in company with 'Sixpence'!
Brent Garvie building the Senior in South Africa has been on, he is buying ground tackle now and looking forward to launching in a few moths, their winter at the moment... Pics shortly.
'Idle Duck' pics came in from Robert Telford, the finish is eye wateringly good ! She is just taking to the water too!
Sad news from the Netherlands, our GRP advisor Chris had his Senior stolen!!!. He thinks it was for the trailer it was on, but I think someone recognised a beautiful boat and fancied it. If you see a GRP Senior about 18ft long call the law! Of course could be anywhere in Europe by now.
Info from Luke, the GH Francis Fletcher is up for just under £25k....
Warren of The G.H. Saffrels was reading the pages and recognised a name. 'Korthals', checking his boat documents and the drawings of the Monitor Self Steering, there was the name of the former owner of 'Charisma' that Mike salvaged from Belgium...
Through the post yesterday from Ivan a nice picture of his ex boat, The Tidewater 'Tidewitch' with a page of info to go with it. That will find its way onto the tidewater page shortly...
OK just about all for now, hope to see a few at Bradwell over the weekend, hope the weather bucks up!
John
Tuesday 18th August 2015.
Sorry for the pregnant pause....... Opps! Been to see my 'very large with child', daughter. Not had it yet, but we have been away to see her, thus the gap in Stoppress news. She is huge and any day now, I will be a granddad!
Whilst I have been away Eventiders mails have been busy though.
Heard that a really dirty sad looking Golden Hind seems to have been recovered from the deep and is back in the boatyard at Tollesbury, such a shame, She was a real picture before launching.. do hope there is some insurance in force!
Speaking of which I had some one ask the other day, yes 'Craftinsure' look after Eventiders, see the link on the home page!
Heard from Bede with the 'Lady Gertrude' he is spitting bullets, paid a fortune to repair the trailer, plus launching fees etc, only for the boat to have a serious leak he has to fix, so had to pay for recovery and tow her back home! Feel for you Bede, not what you want after all the effort.
I am hoping to be down to mine this week and sorting the antifouling and running rigging, launching next week! As always, so many last minute jobs...
Heard that Celtic Lass the Eventide 26 that Bob Wheeler restored, and sailed in the Classic rally to the Channel Isles this year, is on EBay! He had that pair of stainless bilge keels from me to restore her, though the price he has quoted on the Bay is over 5 times the price I recall!?!?
Think Bob is looking for £5k for her, maybe...
Heard from a GH restorer that the drawings supplied to him by someone for the bilge plates bore no resemblance to the shape of his hull? Odd, wonder why the discrepancy. Hope to find out.
We may soon have an advert for a nice Kylix on the pages, the owner is sorting the advert now.
Had enquiries for some of the blocks etc I have on there too.
Interesting mail from Robert with 'Idle Duck', he is still pressing on with restorations. He has tracked the plans down to the Maritime Museum at Greenwich, where they were sent by Phil Sheaf. Seems Mr sheaf did not want the people he was in bed with for a while, the old association, to have them as they were only interested in making money maybe? So he has donated them to the nation.
I have friends there so am making attempts to see if they can be made available to all via us!
I hear the price of the GH Longevity has dropped again, have to check that...
I have had more from Ivan who owned the Tidewater 'Tidewitch'. He has send photos and a load of text, but the format is unreadable so he is resending, by snail mail so I can scan and publish.
I am aiming to be afloat for the August Bank holiday weekend at Bradwell and would welcome anyone visiting by sail or road on the Saturday Evening in the Bradwell Marina bar. Buy them a drink! Really hope the summer has not gone, (what summer? I hear you say!! ) The windiest for 20 years, wettest July on record and though we had a week of very hot weather, it was F6 at the same time!! Who'd have a boat Eh!
See you on the river! Soon!!
John
Wednesday 5th August 2015.
Met Ivan Frost today. He is a Seagull customer of mine from Wivenhoe. He has also been the owner, with his good lady, of 2 MG classics. For 14 years the owners of the 24.5ft Cockler 'Salad Days', that I used to see on the Colne years back, and then the beautiful 30ft Tidewater, 'Tide witch' for many years. This beauty has a varnished hull! They have almost given up boating now, but not quite, now sailing a GRP boat to save time at Fitting out! They are 10 years my senior. They have promised to send in some pictures of both the boats for the Gallery.
Spent more time on my boat, this time went to it on 2 wheels as my van sick. See my preparation log.
I have also added an item that may be of interest to those of you afloat and contemplating a trip in the next few weeks, my Liferaft! See the Bits for Sale page. Why? Well the next service would be during the time I may be away, so not useful.. And then I managed to buy a 2 year old identical Liferaft, using our EBay page, which does not have to be serviced next year. so thinking maybe this one will do me for the next ten years, if I can keep going that long, so I am swapping them over. Selling at bargain price....
Waiting for news of a GH that is being worked on, to see if she can be saved, and have feelers out to find out what happened to the GH 'Pengallon' at Tollesbury that sank..
More when I hear it.
John
Sunday 2nd August 2015.
Where did a week go? Its late Sunday evening and its the first chance I have had to update the Stoppress page. busy busy busy!
There have been the normal enquiries and a new member, Ted with Camelot. she is a gaff rigged Eventide 26, and she will be based on the Thames at Gravesend Sailing club, through the lock gates off the tideway!
A friend, John, will be in the Blackwater in his GRP boat, and using my spare mooring in Tollesbury. John, I am racing to get out there and hope to see you shortly!
Mark Urry has promised some more paperwork on the G.H.'s. As soon as I get it it will appear on the pages for all to see, old brochures and building instructions etc! Thanks Mark.
Had a great letter from Mike Clarke in Scotland, who rescued the GH from Belgium....
As you know, I knew Charisma 198 when she was new on Terry's berth in Sutton Harbour Marina with her owners
John and Virginia Meulenburg living onboard. I have a wonderful photo of Charisma and Pitterpat 217 (my boat)
alongside each other in Puerto Rica, Gran Canaria waiting for the end of the hurricane season before we crossed over in 1981.
The second item is a postcard from John and Virginia cruising the Aegean in 1990. They also sailed her back to Florida.
The third thing is a copy of a letter your Carrie wrote to someone called Jan on the 10.12.99 who was sailing Charisma to
the Black Sea. He then presumably sailed her back to the States because I have documented proof that a chap called Korthals
sailed her from Miami to Holland. She then went by road to Antwerp and then in June this year by road to Scotland where she
is in my yard waiting for me to restore her to her formal glory.

That makes six times the old girl has crossed the Atlantic and I hope to make that eight before I fall off my perch.
Looking forward to the restoration photos and details.
Heard from Bede, he at last has had his trailer sorted, cost a fortune, but he was looking to trail her to Poole this weekend, been a good one here, ideal for launching, dry and sunny and for a change light winds... hope it all worked out OK. We are promised pics!
Did you see the papers this week.?
How long have I been saying it is getting windier? Well the Met office have at last let on that it is the windiest year in 20 years. I could have, not I have, told you that for ages! not only that but We have had no calm days in May, June or July and that month has been the wettest on record. boy am I pleased to have taken this time out of commission to renovate!
Speaking of my renovation, I passed a major milestone today. I have finished all the epoxy work on the underwater hull, she is now faired off smooth and has 3 more coats of epoxy on top of the 3 I gave her when she was launched 26 years back. Looking good and ready for the antifouling! I have just the green stripe to attend to and some Sikkens work and the outside is done!!
Forgot to say, a select few had a very pleasant , and cheap, evening out at the Duck at Newney green, just outside Chelmsford. No meeting next month, August, as I am hoping to meet some of you over the August Bank holiday, and yes I aim to be afloat for it!
I was hoping to be working on the boat all this week but my little Morris Minor van had other ideas and broke a spring, got the bits, she will be fixed Tuesday, so have to sort a few items at base for a day or two...
All for now,
John
Sunday July 26th 2015.
The buzz of the chain saws reminds me how windy it has been this weekend, magnificent Beech tree nearby was felled Saturday. The whole area blacked out as trees brought down power lines and our village marquee destroyed in the gales. Over 2 inches of rain too. So cold Saturday we lit the log fire....July??? Had I set off on the second leg of my 'Fiddling around' trip I would probably still be in the Solent or nearby, sheltering from the weather!
Hear sad news from John our Database manager, a GH that had just been launched in Tollesbury after a long refit, overnight, sank on her mooring!

As you can see from this photo I took a month or so back, she was looking beautiful. I have no idea what went wrong and hope we can find out, makes you doubly concerned about launching! I trust they refitted the log transducer and the like, and checked the bilges were dry before they left her???
I have just organised a couple of CD's of drawings to go to America, one of our members Tom Ross is working towards building an Eventide, but has persuaded a friend to look at the Wild Duck or 3 Tonner.
Someone saw our 'boat bits for sale' page and contacted me. As a result I have a load more items to go onto the pages, a couple of nice opening approx 5 inch ports and a couple of dead lights, plus some matching brass rings, a good Houdini hatch and some useful navigation lamps. A brass ships wheel, stanchions, a pulpit, cheap and cheerful, quite a lot of gear... I have sorted all out and they are advertised today. Have look. One of the useful items is a stack of ballast ingots, iron and steel....
Great mail in from Tony Hays, his father was the owner of the first Barcarole and he has sent both photos and a log from the summer of 1960... can you remember back that far! hope to have the log on the Logs page shortly, courtesy of our Webmaster Peter, as it is in a format i cannot handle. with luck we will also get some of the pictures from it for the Barcarole page.
Robert wheeler with 'Celtic Lass' has successfully participated in the 'Classic Channel Regatta' and thought he says he was 'outclassed' he sailed it, taking in ports on the South coast, Dartmouth and Poole, he also stayed with them via Guernsey and Paimpol! Well done Robert!
Gervas With 'Cammander Jones' has unearthed more of the boats history which has been passed to the Database Manager John. I now recall the name of the former owner, Jack Gridley. Gervas sails from Norfolk.
David Bowen with the MG look-alike 'Parahandy' says he is now berthed in the Crinan canal. I'm envious! Beautiful part of the world with access to great sailing! Though a further mail from him reveals he has had problems with the hydraulic steering hoses and out of desperation has replaced the lot, so has not been sailing! He is an RNLI fundraiser and busy with that....
The next week is forecast to be wet and miserable, but it does give me a chance to finish off the epoxy coating of the hull. She now has 5 layers over most of her and by the end of the week 6, one wag suggested I was trying to be torpedo proof! Certainly will be difficult for a toredo worm to get in, don't know about a torpedo!
As the temperature is going to be 20 or below, it is going to be right to get the last coat of 2 pot poly on, my green stripe.
See you on the water in August!
Or in the Chelmsford area on Wednesday if you fancy a meal out with like minded people.
John
Saturday 18th July 2015.
Welcome to latest person to use the new enrolment form, Gervas Steele with the Eventide 24 'Commander Jones'. Gervas sails out of Burnham Overy Staithe on the Norfolk coast.
Gervas has a friend who used to sail an Eventide 24 called 'Chalaki'. Anyone know where she is now? We have no trace of her. We have maybe 800 eventides on out books, but still there are some that come to light having never been involved with the defunct assoc or us.
Greg in Australia is trying to track down a Barrier Reef out there, hoping to find one for sale.. No joy so far.
Our database manager John is going to have a look to see if there are any registered with us, but he has had a bit of a health scare so taking it easy for a bit! Get well soon John.
Had a mail in from Chris Keenan, the Essex lad who worked at Johnson Jago and worked on many an MG. He is presently sailing in the West Indies, see his webpage. www.cksailing.com
'still chartering and just finished our 4th season. We did 26 charters since November. Bloody knackered. So now we will lay up at anchor in s. Grenada and paint till we faint and varnish till we tarnish. '
Just had a request in from member Tom Ross for a couple of CD's of drawings, Wild Duck and 3 tonner. We wonder if he is thinking of building another design or if the Eventide build got shelved?
I have entered a new phase with my boat work, yesterday I epoxy coated the hull. We were going to paint the green, but the squally wind and dust put paid to that. see my preparation log.
Off to the boat again shortly, another coat of epoxy to be applied!
Hope you are enjoying sailing as the weather has been good for the last week, rain tomorrow!
Hey ho!
John
Tuesday 14th July 2015.
Our 26th wedding anniversary, who'd have thought it!
26 years ago today, about 150 friends and relations gathered in a remote Essex barn. We had invited them to a Nautical Naming Night. Morris men and the folk dance band entertained us...
We rolled out the boat and it was duly named, and I was so pleased to announce my Darian had also been 'named' that day, as we were married.
She still does not forgive me for sharing her wedding with a boat!
John
Thought readers may well be interested in this mail I had from Mike Field in Oz, an ex owner and 'Friend'
Hi gang,
Arthur Ransome's wonderful book for children, 'Swallows and Amazons', was first published in 1930. It has never been out of print, and has long been considered a classic, not only among children's literature but in literature in general. (It was also the book that led me into sailing, and thence into establishing Wooden Boat Fittings.)
It was made into a pretty horrible TV series by the BBC in 1963, and then a wonderful full-length movie in 1974. (Also a, English play a couple of years ago, about which I know very little.)
Now the BBC are remaking it as a new movie. They are insisting on changing one of the character's name to make it more 'politically correct' -- that is, they're bowdlerising it. For me, 'bowdlerisation' is synonymous with 'vandalism', and I feel very strongly about the change of name. (How would we be if Herman Melville's Moby Dick' had to be renamed 'Moby Richard'? Or Conrad's great novel renamed 'The Dark-Skinned Person of the Narcissus'? It defies comprehension.)
If you feel as I do about this, please consider signing this petition --
https://www.change.org/p/bbc-allow-titty-agency-in-rejecting-sexism-from-the-bbc?recruiter=21264209&utm_campaign=signature_receipt&utm_medium=email&utm_source=share_petition
Cheers,
Mike
Visit us to see how we help people complete traditional boats authentically.
So I signed up and got this back!
go on show how you feel about Titty being written out of the book! Bet your children were read the bedtime stories from the books just as mine were!
Lets see your names on the petition shortly!
John
Sunday 12th July 2015.
A lot happens in a week and it has been busy here that's for sure.
Sadly we have been rather preoccupied with the sudden death of my niece, Julie. some of you may have met her. She was my 'dot and carry one'. she had cerebral palsy and from birth had a difficult time, but over came all manner of obstacles always with a smile, though she said my Fiddler's Green jumpers were not her colour! We got the berth in Bradwell, next to the main walkway so it was easier to get her, (and me) on and off! I hope we gave her a good send off, certainly the 150 people attending the celebration of her life all had smiles when they left!
For my part I have managed to finish the complete repaint of all cabin top, decks and cockpit. A mammoth task. I have also got all the 15 plus years of old antifoul off. I am about to try my luck with my green stripe, last time I repainted it, with paint made for us locally, about 5 years ago, it was a disaster, the first application went on like water, then went off in 10 seconds! subsequent attempts, we had 3, resulted in a finish as smooth as a Badgers backside.... and eventually we gave up and just polished all the brush marks out. In contrast the International 2 Pot paint lasts so well and looks as if I had her sprayed! Its all because my shade of Kelly Green is no longer sold by International....
Heard that Bede has a man sorting his trailer, so at last 'Lady Gertrude' is looking like getting afloat.
Awaiting the outcome of further surveys on a GH in the Netherlands and had great pleasure of putting a member of the original owners family in touch with the restorer of Sue of Solway.
A contact in Australia sent us this link....
http://www.gumtree.com.au/s-ad/thornlands/sail-boats/36-foot-maurice-griffith-yacht-/1079706896
He asks, is she an MG? Not sure I recognise her if she is, very shallow draft! Looks more like one of the many Dutch shoal draft steel craft we see visiting the East Coast every year.
Sad tale from Italy, 'Tinka' seems to have sunk in harbour... Waiting to hear her fate from the owner, a member....
Chris in the Netherlands is trying to track the moulds of the GH 31 and 26 down, he, like me tracked them to Newsons in Lowestoft, but no further, however we have new leads and if anything comes of it.... Now where can I store a GRP mould..... certainly will not fit in the garden.
Nigel and Heidi are trying to sell their Barbican and have lowered the price rather drastically, if you have the pennies a lot of boat, waiting for Ernie to come up, me!
A couple of price reductions on the bits for sale pages too, an inflatable and an outboard down in price.
Still got even more pictures to add to the Restorers pages, I'm getting there, but so slowly!
This mail came in today....
Hi John,
Have just seen the pictures of "Polly" on the senior section of the web site.
I was amazed to see her tied up at the quay in Wareham!
This is my sailing area and there is anther picture of her on Poole Harbour, I had thought that "Iona" was the only one of her kind here in the south.
We have been rather lonely over the past few years since I bought "Iona" and would have loved a "friend" to sail in company with. It's such a pity to think of "Polly" and "Iona" sharing the same waters but never meeting.
Do you know if she is still in the area or has she been sold away?
Best Regards
Tony Mitchell
Does anyone know?? Let us know if you do... she sold a year back and we are not sure where she is now....
I am having a day off boat painting and scraping today, damaged my neck the other day, boss is sure I have slipped a disc, hope not, but the pain in my arm and neck is enough for me to take a day off and pop a pill or two... hope it does not slow me down too much!
See you on the river!
John
Friday 3rd July 2015.
I was out early today working on boat, or should I say watching the guys working on the boat, see my preparation log! Back at base at 12.00 I thought I'd write my page up right away.
There has been a mail flow back and forth with someone wanting to create a GRP GH from the remains of a timber one, using it as a pattern for making flat GRP sheets. It is an interesting idea, though heavily labour intensive. will be interesting to see if anything comes of it.
I wondered if the GH moulds were still in existence, they were at Newson's in Lowestoft, but nothing has been heard of them or the Lone Gull II mould. We have had more enquiries re that boat, sad the builder and the moulds have gone, but where to??
Peter the webmaster has belatedly signed up 6 for the forum, seems their registrations got lost in the system, a large hole and he is looking into it!
Off to sort some boat bits to take down and refit, launching this year is a probability!
John
Tuesday 30th June 2015.
And its a scorcher! So hot it is too warm to apply 2 pot poly! Alternative jobs.. refitting deck and cabin top furniture....
The new enrolment form working overtime as people fill it in.
Welcome to Noah in China wanting to build a Senior, not going to get many on that Noah! Walter in Livingstone, but no boat listed so will find out more... and Tom in Faversham with the Eventide 'Evanstar', or should that be 'Evenstar'?? Will be answering the enrolments shortly and will try and find out more.
Also heard from owner of Barbican 'Chime' who wants to join. Waiting his enrolment.
He has already sent in a link to an on line log he has written, will be adding that link shortly.
I have a lot of catching up to do after a week moving house for one of the family, so its maybe just as well there is an extra second on the clock today, had you noticed the day was longer?
A leap second to correct the time, as our planet is slowing its rotation....
off to the boat..
John
Monday 29th June 2015.
Sorry for the pause in news, but I have been away from the machine for a week moving house for one of the family!
As a result nothing done on the boat either. (Except a bit of varnishing late one evening...)
Had a lot of mails in though, most I have managed to answer.
Chris in the Netherlands looking into GRP builds..... a long hard project methinks, Bede with trailer problems and not yet afloat, Jim looking for a boat, now looking at Mystique, but where is the owner? Bill Banner still trying to trace the GH 'Canopus', last heard of in the USA being rebuilt????
Peter has figured a problem on the Forum pages and with any luck it is now sorted, so I will be responding to all those who have tried to join recently later.
Had a note from Paul who has a Tidewater for sale, in Ireland, £29,000! Has to be a good one at that price, sadly they do not seem to go for anything near that.... more info later I hope.
Lastly today we have had an enquiry from Noah!! Noah wants to build a boat in china. I heard they have had some floods... We are only too happy to help so hopefully they will be filing on 2 by 2 into one of our designs!
John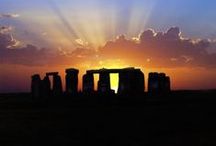 June 21st 2015.
Father's day as well as the Summer solstice.!
Heard from one of our founder members today, Geoff, he is swallowing the anchor.... a Senior will be appearing on our For Sale pages shortly....
The 24ft boat 'Sans Elan', thought to be based on an Eventide, has sold the last owner of that also giving up sailing..
Bede down in Somerset is trying desperately to start.... with his Eventide 'Lady Gertrude', but on the way to the sea the trailer collapsed! Suspension units gave out and tyres burst or ignited with the heat of friction on the mudguards!. Spectacular but not what you need! Thanks to the AA he was recovered and got back to base, but had fun getting under a low bridge as once on the low loader it only gave an inch or less under a low bridge, so large traffic jam and not popular with stuck motorists!!
First encounters with trailer repair shops were less than encouraging too and he was looking at a repair that would have cost more than the boat! Fortunately he has found an old fashioned garage who seems to have come up trumps, sourcing the older style suspension units and offering to repair in situ! Hoping to get full details of this chap for our Links page!
Bede and I were in a bit of a race to get afloat, but even with this set back I think Bede will be sailing long before me.
Incidentally Bede has worked out his mast raising gear and it all works effortlessly! Pics await!
I have at last, painted all the decks and cabin top etc. what a fiddly job. spent a day yesterday removing masking tape and carefully scratching off the odd blob of paint that has gone beyond the masking tape. If you do not get 2 pot off in a day or two it will be there for years! Remove all the fittings from the cockpit after that and next week hope to have the last of the new bright cream paint on her, has taken 2 litres of International Perfection!
Today having a day off, exhibiting my Moggy van in big show and meeting family for Father's day!
I have been quietly musing that, had all gone to plan, I would have been setting off at 0700 for Ramsgate, so through the day working out where I should be if all went to plan, F4 westerlies would have given me a good sprint off the start line, but if they keep up and increase to the promised F6, wonder how long I might be holed up in Ramsgate. I will be watching with interest over the next few weeks....
John
Friday 19th June 2015.
Watching the weather change. A week back they were predicting a really hot weekend, now its rain and cool. I was supposed to be sailing away Sunday on the second half of my round UK, seems the weather gods still think I'm going!
We have to give Peter the Webmaster a big round of applause. He has totally re written the EOG enrolment page and it is up and running again. (We lost it when we changed provider), not really much of a loss as it had so many complicated extras it was forever failing.
The new Enrolment form has instantly brought a new member, so welcome Rob with the Waterwitch 'Moonshiner' down in Exmouth. This seems to be another boat we have never heard of!
Rob used the page and kindly attached a picture of 'Moonshiner' and that will be on the pages shortly.
There have been a lot of mails back and forth re boats for sale on the Bay, some good some not so. We notice the notorious 'Kiafas' is up for sale, she was built to 28ft long by Tony Woodford in 1972, sold several times, including to one of those responsible for the demise of the old eoa, several owners since he slunk off, but the new owner selling is claiming its the only 30 ft Eventide.... Really? interior looks just as it did when i sailed her in August 1976, basic!
A very sad Senior has been noted for £85.00 so far, but it does include sails, not sure the trailer it is on is safe though so transporting it might be a problem, but then the seller is keeping the location secret, so anyone guess where it is.
A couple of Atlantic Clippers are for sale. One quite reasonably priced the other not!
There are some bargains out there, but also some to be wary of! Always get a survey and beware adverts that demand a non returnable deposit!!
I have, with the able assistance of our Data Base Manager John Stevens, managed to create some space on the EOG machine, about 70GB so far! We have purchased another external drive and this will cope till the NAS can be made to work as it should.
I have upgraded the Avast anti virus and had to upgrade the photo editing program i use, it was 15 years old and could not cope with Vista!
Whist all this is happening I am also beavering away on board, see 'preparation' log and the painting is coming on a treat. Varnishing parts indoors too. Hope to have all the cabin top, decks and cockpit finished by the weekend, we will see.
That just leaves my green stripe and the dreaded antifouling removal.... Hope to see you on the water before much longer.
John
Tuesday 16th June 2015.
I have been beavering away on board and Fiddler's Green has changed colour She is now back to the original green and cream she was 27 years ago when I last painted the cabin top! Amazing how much the paint has bleached out, but my didn't it last well! the 'preparation' log is still being updated! suffice to say the last bit of the new fuel tank plumbing was finished yesterday and I am now planning to fill the new tank, well half fill it for now, to check the new fuel gauge!
Off down to her again shortly, painting decks.... but in the mean time I have spent some time amending the For Sale pages. A few boats have sold, and other we think may have, but the owners have not yet informed us.
We have the enrolment form back up and running, thanks to Peter the webmaster. We have been struggling with new people joining by laborious mails back and forth for quite a while. Testing seems to show it working OK, but we will keep an eye on it. People can even attach pictures again.
We have heard sadly that 2 Golden hinds have been broken up, or are about to be, Old Cataract' in the Netherlands and Hindsight here in the UK, rot got them both. both suffered long periods of wet and warmth, with little or no ventilation. That will do it every time!
Heard a success story from Mike Clarke, he has salvaged the Golden Hind Charisma from Belgium, but not without traumas. At Calais the French Police stopped them and turfed off 4 'illegals', trauma enough you would think, but more was to come as reaching Dover the border patrol's search dogs went nuts and sure enough there were two more inside. As Mike says, 'so much for the French search'! Now the problem is the authorities hold the lorry driver responsible and he is liable to a huge fine ! Something very wrong with the system here. If a harder line was taken with these scroungers and mumpers we would all be better off. So many of us think it is too late now, they are here by the million and many of them hate us. Enoch Powel was so right, in his 'Rivers of Blood' speech. What surprises me is that the Brits have not risen up in angry protest yet. When I was in the force we were predicting it 30 years ago... and nothing has changed for the better.
Advised Mike to get 'Charisma' finished ASAP and sail away!
Off to work on my escape pod now!
John
Friday 12th June 2015.
I am still beavering away trying to get afloat. See preparation log. I am getting there but slowly.
Heard from Bede with the 'Lady Gertrude' this week, he has changed the colour scheme to a much more conservative Blue and white, and is very nearly ready to take to the water, think he is going to beat me!
I was supposed to be setting off round the UK on the 21st, Mid Summers day, does not look as if i will even be in the water by then!
'Sue of Solway' is being restored in Preston by Graham and family and they are making great progress, Graham though was a boat builder so has a slight advantage.
Heard of several other restoration projects that are being worked on, some forging ahead others more negative. There does come a time with a wooden boat, when it is sensible to call a halt and give them a Viking burial. A boat full of rot spores, because it has been full of freshwater and no ventilation in a warm place is a recipe for disaster with our boats.
So many times I have said ventilation and waterproofing is the way. Fiddler's Green has 7 permanently open waterproof vents, plus hatches, to keep her sweet all the time, it pays off.
Will be adding pics to the restorers page for 'Sue Of Solway' shortly.
A boat was brought to my attention by John Hopthrow, on SharkBay.
http://www.ebay.co.uk/itm/sailing-yacht-boat-/131530725458?pt=LH_DefaultDomain_3&hash=item1e9fd79852
The owner seems to think it is the only 30ft Eventide, well I have researched and found several others now. the ill fated Galliard, Eriene and one that stretched to 30 but was squeezed to 7ft beam??? (built behind a house and had to be narrow to get it out.. However the owner seems to think it may be worth £9k? Not from what is on the advert sir. some have a rather unrealistic view of boat values. they are worth as much as someone is willing to pay for them, and from experience about half what you think sir, even with a glowing survey.
Some boats appear on our pages and elsewhere with huge price tags, but they rarely if ever sell for anything near. the market is just not there. I also would caution anyone buying, that a £300 survey could save you thousands!
To finish off I had a really odd query last week, from the Forth Yacht Club. What's the Portsmouth Yardstick rating for a Riptide!??
Racing a Riptide?? Sure you bought the right boat sir!
There has never been a yardstick number to my knowledge. We only had one for the Eventide 24 and 26 because 30 years ago a local club decided cruiser racing was the thing and two owners got enthusiastically involved. (140 and 136 if you are really interested!). He was thankful to have their ratings as a benchmark!
Our boats are safe study cruisers and I am a little bemused when someone wants to race one, buy an old Dragon sir!
John
Monday 8th June 2015.
Been busy as heck here, but not so much with Eventider business, just life! Having said that we have had 25 emails on various subjects with photos and comment in just the last week,
Forgive me but I was away for a couple of days and back to a heavy backlog of computer updates and work related mail, but I'm getting there. I have actually managed to get some paint on my cabin top too, but lots more to do!
I am off now to add an advert to the pages.
John
Friday 5th June 2015.
Not sure where the last 10 days have gone! not getting on fast with my fitting out, suppose as I have postponed the trip there is less pressure, but a lot of other things have happened here. Not least I find my self as the organiser of a local protest group trying to motivate people to complain about the 25% extra houses planned on a farmers field! Been crops since the Doomsday Book, but a greedy 'farming' family (more like opportunist land owners not farmers), want to grow 90 houses instead of wheat.
As a result I have been running around 26 hours a day!
Boat work slowed, got some primer/undercoat on, awaiting topcoat.... All takes time. Oh and just to top it all my new computer failed after a month, so that's back with the shop! All sent to try you, so they say!
Lots of mail in and apologies if you have not had the normal prompt response!
I have another GH this time a 26, 'Kinvara' to advertise.
Also info in from Briony in Scotland who is fitting out 'Molly Jade' having lived on her in the Caledonian Canal in winter, Brrrr!
I have entered Richard Hare's GH 31 Keppel onto the for Sale pages as well as that beautiful Barbican 'Diana II'.
I have sold a few bits off the bits for sale pages and have a set of winches to add, suit a smaller boat or for use on a mast or boom for halyards or reefing.
Still getting the odd enquiry and one came in the other day via my Seagull website. the owner was extolling the virtues of this wonderful boat he had bought, did I know the design? A Golden Hind called Moondancer. not only could I reply that I knew the design but how were Roger and Kathy the last owners! He sent me a link to his web site. http://movingsounds.org/moondancer-sailing/
John Fitzpatrick, true to his word, has donated a full set of drawings for the Barbican interior joinery! We will get this scanned and onto disc to add to the library of drawings we can send out at cost!
Well the thunder and lightning, hailstones etc have stopped, so time to go and get some Seagull spares in to post, then off to boat to paint!
John
Wednesday 27th May 2015.
Meeting tonight at The Duck Inn. You coming along? Ring quick so I can book extra seats.. number below..
Been varnishing like fury and off to sand the undercoat back later. however I have realised there is insufficient time for me to finish the engine installation and fuel tank, and paint the boat top to bottom and launch sea trails and fill with stores, so I am putting off my round UK trip. I would hate to bodge any job and certainly do not want to set off with jobs outstanding, not my thing. all has to be 100% tried and tested!
So 2016 for the completion of the 'Fiddling Around'!
Heard from Peter our Webmaster, he is back home and recuperating, had a bad session in hospital but sorted the problem. To do with carbon dioxide levels, a bout of flu and diabetes.... Get well soon.
We have heard from someone we had contact with a year back regarding the drawings for the interior of the Barbican. though we doubt anyone will be fitting out a bare hull.. wish we knew where the moulds were... in years to come an owner may be refurbishing one, and these drawings may come in handy for them. Waiting to hear back after I agreed to pay for the postage on them..
Heard from Bede that the restoration of 'Lady Gertrude' is coming along well, the paint would have looked better but for the thousands of insects evicted from the nearby field by the harvester! A rub down and another coat needed now! Better colour now though, waiting on the photos.
Had an enquiry for 'part' of one of the old booms we have on the for Sale page. Got to see if it comes off easily!
Chris in the Netherlands is preparing to ship his newly acquired GH to a barn near home.. great project. Hope in a year or two to see the results. We are going to have a page on the restores section for it of course.
That's it for now, off to work on the boat.
John
Saturday 23rd May 2015.
I have white 2 pot paint on my nose! It was pointed out that the last time I painted this bit of boat, the paint lasted 27 years, hope this bit does not last as long, but it is proving stubborn to shift!
We are going to the Duck Inn at Newney Green, Writtle, next Wednesday, wonder if it will be visible still! Come and find out! Great food and atmosphere. Ring us on 01621 778859 so I can add numbers to the table reservation.
Just added two magnificent boats to the 'For Sale' pages, A Barbican and a Golden Hind 31. Both really exceptional examples of their designs.
We have another GH in the pipeline, details shortly.
I have a great article from Wayne about his beautiful Swin Class boat 'Moonraker', one of several articles etc. awaiting my time to load them onto the site!
The website protection seems to be working well and the additional security and backups are working on the computer, thank goodness. John Stevens is going to fine tune things shortly, so the backup program can automatically find the NAS and load to it, then I will feel a lot happier.
Having a weekend off boat work, got a special visitor here, my daughter, though she will want to pat the boats transom I'm sure!
All for now,
John
Thursday 21st May 2015.
Good news yesterday, the GH 'Old Cataract' was donated to a good home! Chris our Netherlands rep is going to look after it, he has already arranged undercover storage and has surveyed the damage and feels he can cope with cutting out all the soft bits and rebuilding her. We wish him well.
I have 2 adverts to add tomorrow, The Barbican 'Dianne II' and the GH 'Keppel', both names you will recognise. Nigel and Heidi are buying/have bought, a 40ft classic GRP boat, a real passage maker, they will stay on as 'Friends' of course! Richard Hare is sadly having to give up sailing and travelling so is parting with his GH. We have all seen lots of here in P.B.O. a lovely boat with a high price tag to match the quality. Want to sail off over the horizon for years? this could be it! Or that delightful barbican.. (something about the shape of that transom....)
Had an interesting mail from Simon Fisher, his father sailed with Edward Atkinson in 'Borer Bee' and Simon was wanting to read the log. I was able to point him to our new logs page!
I was also able to tell him it may be up for sale, and that interested him greatly... Maybe, just Maybe!
Had a nice letter and donation in this week from Ian Wilson, he of the rebuilding of 'Everjoy'. Ian has finally had to part with her and swallow the anchor, but we hear she has been safely transported from Lincolnshire to Shrewsbury and we are just waiting for Michael Salisbury the new owner, to get in touch.
David Lemon, who bought the Waterwitch 'Pintail' and had so many problems with her at first, has continued to be dogged by problems. He has changed her name to 'Wimaway' to try and improve his luck and is at the moment giving her a real overhaul in Southampton. The main keel is off, after a lot of problems and he is now going about refitting it with the right sort of bolts and protecting the ballast keel from the elements. Epoxy coating has worked for me for 25 years and I suspect he will go the same way.
Sent a CD of Eventide drawings out to Conny in Spain last week, she is looking to fit a small diesel and alter the keels by doing the time honoured update, filling in the gap between ballast and skeg. will improve the sailing!
John Stevens is off to his Eventide at the weekend, now he is retired I am hoping he will find time to get her ashore and sort the jobs that need doing to bring her up to full cruising spec, then we hope to be crossing wakes with him regularly in the Blackwater!
I have been working on F.G. and am getting there, slowly. as ever one job sorted than another crops up! Been grounded for a few days as my little moggy van went back into the paint shop, she is home and looking great now, will have the first real wash and polish shortly and have the last decals to fit arriving tomorrow! My Seagull man for the doors! I will post a pic when all done. We are exhibiting her and the little BSA Bantam in a show in a weeks time, Bantam will be towed behind her on a special little trailer!
Off to the boat tomorrow and hope to get the first coat of new paint on her cabin top in 27 years.....
Note we are meeting at delightful 'The Duck Inn', Writtle next week.... do come along, ring me and I will add you to the table booking! 01621 778859
Good sailing, if you are afloat.
John
Tuesday 12th May 2015.
Hope you have been as busy fitting out as I have been or indeed are already afloat. had a couple of long mail conversations with Bede the new owner of 'Lady Gertrude' an Eventide 24, he is racing to launch. Mast raising and lowering gear has been the subject of discussion. seems that there are many and varied methods. I published mine on the Hints and tips page. but I have seen some ingenious and some dangerous methods. One of the best was where the top tail of a substantial pulpit pivoted up to make the Sheer pole! Another had an 8 part tackle permanently attached and a sheer pole as hand hold across the foredeck.
Have you an interesting and working system you might like to share with us, for others..
Send pics, even better if in use, with descriptions of use etc.
The mail has been busy as ever, but not half as busy as my Seagull mail. Firing up new computer for the first time it downloaded 3750 mails! Taken me a few days to file them, fortunately they had all been dealt with. But doing this has revealed some vulnerabilities in the old back up system, so the Data base manager and the Steering group are working on ways to protect the website, the saved versions of it and all the backup documents and pictures, and most importantly the drawings. We already make backup DVD's and these are spread around, so not all in the same place. But now we are going further, with rather fancy copying programs and double hard drive Cloud storage systems as well as remote hard drives... But all takes time.. As the railways used to say, 'we are getting there' but not quite sure as yet where 'there' is!

Lucy mailed in to let us know the rather nice GH 31 Francis Fletcher was up for sale at £9950 and was 'under offer' at Brighton Marina. Are prices still coming down?
Conny with the 24ft Eventide compass Rose, is looking for an engine for it, anyone got a 12 hp diesel for sale?
Vince sent a link in you might like to look at, old wooden boats being cared for! http://www.rescuewoodenboats.com
I spent some time on board F.G. over the weekend and today am about to spend most of the day, with a strong helper, so that antifouling should soon all be gone. Real good news is I have my new propshaft, bearing and my prop back! Only taken 12 weeks for the clown to rectify the mistake. There are some right cowboys out there!
So I'm off to so some more sanding and filling and to fit that shaft, see you on the water, soon.
John
Thursday 7th May 2015.
The Election!
It's all change here too, without an election! We are changing internet providers and there are major changes to the way we store and save our information. At the time of writing this 1000 the internet is out and I am awaiting the change over. We have a new system of backing up the computer here and a new computer in the pipeline, add to that our own personal 'Cloud' as well as an external one. And that is just here, the Webmaster Peter has similar protection. Will take a while to sort all the wrinkles no doubt, but the aim is to protect the EOG's information, website, archives etc.
As I have no Internet today I am off to the boat again, though still aching from yesterdays marathon, sanded every inch of the deck, cabin top and cockpit! See the preparation log. I have also got my prop and shaft back, after a 10 week delay!!! The bearings done and the shaft looks OK, (but I have not measured it!). hope it is inch!!
Heard from Mike Clarke yesterday he is seriously looking at the GH in Belgium with a view to converting her to sloop rig. He and I and Mark Urry have been buzzing mails back and forth. Mike has to price transport yet, that may be the last problem!!
Our Netherlands man Chris is going to look at the GH up for grabs there, the owner is threatening to break her for parts! Chris will report back at some stage.
All for now, cannot update this page as yet though, as no internet at all now. Hopefully by tomorrow!
John
Monday 3rd May 2015.
Spent a lot of time with John Stevens, on the phone and e-mail, re updating the EOG machine and the back up system. Things are getting clearer! With the OK of the Steering group we hope to have extra precautions to safeguard all the information and the website.
Working most days on the boat now, weather is warm enough for painting the 2 pot poly too, just got to finish the preparation work. a good finish is 90% preparation.
Heard back from our newest member, Gervas, with more info that ties nicely to the records we shared with him. He is looking to be sailing the Essex rivers this summer in 'Commander Jones', his Eventide 24.
That's it for now, off to varnish some washboards!
John
Friday 1st May, 2015.
'MayDay', but not a nautical one!
We are still plagued with internet and computer problems here, the slow service stops me adding photos and even receiving them. A week to go till the new service provider steps in and I have been promised higher speeds than I had before. we will see, bit like politicians these firms, you know they are lying, because you can see their lips moving!
Had a new member yesterday Gervas Steele, welcome. Gervas has just bought back an Eventide that he sold 12 years before. Hope to get some more info from him shortly, but apparently already saved him time and effort after just one call to us.
Steering group to help me sort security issues with our files in the next week or so, need to get the backups working correctly, the ones set up some years ago have been proven to be pretty useless!
I am working away like fury on my boat, hope you are getting there with yours, paint brushes out today and the all the new fuel pipes now fitted!
Heard from Malcolm in Fleetwood, he has sent a couple of nice pics in, of a boat nearby, one I had never heard of before, that is 2 new ones this week alone, where do all these Eventides hide! they are very low resolution pictures, so they got here OK bit I will have to wait to post them, when the net speeds up.
All for now.
John
Tuesday 28th April 2015.
They need your help now

The Disasters Emergency Committee has launched its Nepal Earthquake Appeal following the massive 7.8 magnitude earthquake that struck Nepal on Saturday 25th April.

Already over 3,000 people have been confirmed dead and more than six million people have been affected.

Despite awful conditions DEC member agencies, including Oxfam and the British Red Cross, are already bringing hope to children and families as they start to rebuild their lives. The DEC is asking if you will make a donation today.

The DEC urgently needs funds to ensure that help is given to those affected. The main aid priorities are food, water and emergency shelter.

| | |
| --- | --- |
| • | £25 can provide clean water for four families for one month |
| • | £50 can feed a family for two weeks |
| • | £100 can provide emergency shelter for five families |


You can use PayPal to donate securely and quickly – online (including on your mobile). Your donation today will help to provide food and shelter for families to help them survive.

Please make a donation today.

Thank you
Made my small contribution today, hope you might consider it too. Easy to use my PayPal account.....
4 years back my daughter was leading a trek to base camp Everest......
Eventiders Stuff........
The weather has taken a cold turn and though still just about warm enough for epoxy, not warm enough for my 2 Pot poly painting. hope your fitting out going apace. Still waiting on my prop shaft, the engineer is now messing me about so it could end in tears, his, not mine!
Wednesday 1930 intend to be at Izumi in Maldon for a meal, so far have one couple as probable and one enquiry.... where is everyone? Time was 15 or so turned up for a meal and a chat. call me on 01621 778859 by noon Wednesday, if you want to come along, have to book a table.
Just sold some sails off the pages, to be honest as they were so cheap i have been amazed they have not been snapped up sooner. Posting to Somerset!
Peter the Webmaster tells me he is recovering and soon will be back to normal, and has the enrolment form and updates to forum high on his list of 'to do's'!
I am off to sand down some more cabintop and deck now, whilst it is slightly warm!
See you in Maldon tomorrow??
John
Friday 24th April 2015.
We are having real problems with slow and non existent internet her still, and will be till a week into May and the new service starts but the mails are still getting through and enterprising souls are ringing!
Just received a nice donation from Andy Laraway for the sale of his Eventide from the pages and today Albert from the Netherlands rung and bought that Wykeham Martin gear! Had a donation from Alex Willis for the Marclear antifouling service I run , he loves the stuff. another buyer said his had lasted 2 years afloat without a barnacle! tis good stuff.
Spent some time down the boat again today, was getting on so well, but then I broke something... drat, it does happen, but this was a bit on the little Beta Marine engine and not sure how easy it is going to be to replace. Have you noticed how, when you do something like that, it is always a Friday just after all the firms have closed for the weekend?
Don't forget the Maldon get together at Izumi next Wednesday..
All for now,
John
Wednesday 22nd April 2015.
Had a call from one of the managers at Virgin Media yesterday, advising me that they 'could see no end date' for the internet access problem I have. Seems when virgin moved us to Talk Talk, the wheel fell off a they have now lost the nuts.
His advice, amazingly, was to get another supplier, which today I have, but the start date is after May 7th!!!
So until then very limited ability to receive large photo files and not a chance of sending any, nor posting any on the site, can just about manage text. Upload speed logged at less than 0.01Mps!!!! Takes forever to eupload an edited page!
Does not stop me getting phone calls though and Simon with Helen May in Kent called to ask about the meeting in Maldon. Hope you can get along, a very informal affair over a Chines meal in Izumi the fabulous Chinese buffet.
Please just ring me on 01621 778859 so I have numbers for booking the table.
Spent the day on board F.G. yesterday with a friend, amazing amount sorted out. See the preparation log , really making progress now....
I hope this wonderful weather lasts for you, if fitting out or sailing.
John
Sunday 19th April 2015.
Heard from Johan in The Netherlands that unless someone comes along to take his GH 31 Old Cataract, she will be broken up and sold as parts! He cannot afford to keep up the storage payments. So if you are considering, act now. contact him :- johan at vermij.org
Spent some time on Fiddler's Green the last few days and the preparation log has been updated. At last I feel I am getting somewhere.
Had a call from a member wanting Marclear antifouling again, it seems to work for him too, I will be re applying it to F.G. when I am sure I have removed as much of the old flaky stuff as I can. In 25 years I have only ever stripped back to bare once before, a dirty messy dusty job, best done little at a time!
Contacted Peter the webmaster last night and he is almost ready to upload the new enrolment form, which will be great as it will simplify new people joining!
Had a cryptic mail from Roger Longly, telling us that the GH 31 'Francis Fletcher' is on the market see Apollo Duck. Maybe the owner would like to advertise on here.
Talking of boats for sale I have managed to get the internet to allow me to post some small pics of the 3Tonner running wild, looks terrific. Noticed last night I had actually a little upload speed... just enough. worth a look! I will also add her pics to the 3 Tonner pages when the internet allows!
All for now, off to get grubby under the boat again!
John
Friday 17th April 2015.
We are still awaiting full internet service here as Virgin my supplier passed all their customers to Talk talk. sadly not only did my personal mail fail bit he internet download speed dropped to nearly non existent and up load really nothing. As a result mails with attachments are not getting through and I have fun uploading to the website. Add to that my home computer fell over a week or so back .. Made it all fun here.
The Eventide mails still coming in, albeit slowly. Bede has trailed 'Lady G' safely to Somerset where a little paint will be applied shortly. Hope to catch up with Bede and the 'Lady G' on my Fiddling Around cruise this summer.
The same goes for anyone on the south coast, south west, and Irish east coast. We are intending to cruise these area as we complete the circle, ending up back in Troon in Scotland! Then a lift back by artic in time for the August bank Holiday meet. Well that's the plan, we will see how we get on. I will have the log on the site live and there will be a phone number and an e-mail address for us whilst sailing. Hope to see as many friends as we did up the east coast 2 years back on the first leg!
We have had a new member join from Australia, Simon, he is after a set of 'Junior' drawings for a building project! Still awaiting the new enrolment form, must speak to Peter again.
Had a details of a lovely 3 Tonner sent in for sale, but at the moment cannot get the photos on the pages, I will keep trying.
John Burke has sent in some great pictures of his clinker 3 tonner, he is doing a magnificent job, as soon as the internet connection allows I will add the pictures to his page on the Builders and restorers section.
I will also add the logs that Andy the last owner of 'Lady G' sent in, they were written by long time owner Dave Green. Not his round the UK trip but a couple of cruises round Scottish waters. They will appear on the new logs page.
Heard back from Gary re the Eventide for sale locally for £6k, he promises to send more information and I will then put n advert up. I have another advert to post, but waiting on internet for the ability to download the pictures.
Spent time on the boat this week, and sorted a few more jobs, cockpit floor all finished with seals fitted, off to sand then paint the battens for the seal to sit on tomorrow. then the floor can go down, got to lift it again to fit fuel pipes etc, but hope to sort most of the final engine jobs shortly.
One of my crew coming along next week and together I hope we can prepare the cabin top for its coat of paint, the first repaint in over 25 years!
Spent the afternoon in the garden cleaning and painting a dinghy, hope to sell it over the weekend.
Cold here though, 10 degrees feels like 4 or 5 in the brisk Nor Easterlies.
Roll on spring again.. are we going to say we had summer on Wednesday last week? Made over 20 here....
John
Saturday 11th April 2015.
Where did the week go?!
Been so busy here because the temperature has at last risen enough to enable daily forays to the boat armed with epoxy, and it's going off nicely! Add to that the work I did last week on parts here has so now has set and been sanded back smooth and more applied. Hope to have the deck vent position repaired with new Treadmaster cut in so will be 'nearly' impossible to see the join! The world seems a brighter place when you can get jobs done!
So much so that the 'Fiddling Around' cruise departure date has been chosen, mid Summers day! Should be warmer than last time by then!
On the mail front things have been busy too.
Bede has just sent in a donation for a new burgee and a copy of the Eventide drawings on DVD, he will be towing 'Lady Gertrude' down to the west country next weekend!
Also in a donation for a burgee from Steve Barnard with the newly built Wild Duck 'Tuna'. Steve has decided, very sensibly, not to tangle with the EU directive on boat building! He is keeping 'Tuna' but handing her to family to look after for a couple of years. By then he might be in a position to use her and if not can comply with the 'not to sell within 5 years of launch' rule!
Dr. Clayton in the States has sent in a picture of his finished Senior, yet to be named.

The keel yet to be attached. if you are wondering about the rudder, it's because she is a radio controlled model!
Looking forward to seeing this unusual 'pond yacht' sailing! strangely we have had a few enquiries from radio control boat enthusiasts for the Senior drawings. wonder if she has been featured somewhere?
Gary Humm has contacted us to sell an Eventide 26, priced at £6000 because she has a new motor. I have explained that at that price the boat must also be in tip top condition else where as well, but he has not come back to me. I worry that thinking a new motor can sell a boat if maybe she is not 100% sound? Hopefully Gary will come back to dispel that fear.
We had the owners of a GH 26 contact us 4 weeks ago but that advert has never materialised either, not sure why.. got no response to another mail.
Getting my head round the new NAS drive and it now has all the EOG data stored on it, when I am happy all is safe I will delete the data of this machine to ensure it works faster!
Apparently Ian's acquisition of M/G.'s old yacht 'Storm' has aroused interest on the classic Boat forum, with an argument about the correct colour to paint her. I am with Ian, he has decided on white!
Read the discussion and reasoning here:- http://www.ybw.com/forums/showthread.php?427090-Paint-It-Black
We are going to be watching this restoration and reporting back on Ian's progress to restore this grand old lady to the condition she was in when Maurice owned her.!! Well done that man!
Well as the rain tips it down outside I am gearing up to go down the boat again, temperature firmly over 10 degrees and looking to stay there for a while.
Have fun fitting out,
John
Saturday 4th April 2015.
Sorry for gap in communications, we are having internet problems with our provider Virgin. They have ditched all phone line customers to Talk Talk but it has not gone smoothly and add to that some clown chopped through a major optic fibre cable in London and all that traffic re routed onto cable, thus slowing all to a crawl. My upload speed for putting the pages on the net fell so low it would not register, thus no updates. Today minimal, so slow. We will catch up.
The mail has still been coming in thick and fast. but some larger files may not have made it sorry, if you sent in large pics please contact us again as we are having speed issues...
Heard from Viktor and Olga in the west Indies so pleased to be awarded the trophy.
Heard from Steve in Spain with the problems associated with selling a home built boat. By law you cannot sell for 5 years or you must comply with the recreational craft directive re building and design. not sure what he is going to do as yet, my advice was to sit on it for a year or three till it was 5 years since finish and then sell. avoids confrontation with the eurocrats...
Heard from Bede again, he is now the proud owner of Lady Gertrude and will be arranging to tow her home shortly! Helping him with the rigging. 'Lady G' is sloop rigged. very simple. Time will tell if a bowsprit is needed!
Robert with 'Celtic Lass', who had the new stainless steel bilge keels from us, has re-launched and has had sea trials, he says the improvements are good. The filled in skeg and extra ballast have worked! See Celtic Lass's page for more. Robert has got a place in the classic cruisers run to France later this year, should be fun!
Had a great mail in from Ian Clarke a 'Friend and MG enthusiast with a delightful old motor cruiser called 'Straight Across'. He had just announced that he is the proud owner of Maurice's original 'Storm' and she is being transported to Titchmarsh where she will be lovingly restored!

Storm
1924 bought and sold after one season after his father died leaving his mother penniless.
1929; not sure whether he bought back in 1929 or 1930
1930 photographed in detail at Heybridge Basin (and painted white). Later painted black and photo's in the lock with Juanita.
Mar 1931 for sale, painted black, with photo's, a long description and general arrangement plan in Mar 1931 YM.
Look forward to hearing more about her restoration.
Also heard from Mark Urry regarding queries over the GH rig. Mike Clarke is looking at one with a view to restoring, but there was a query about the mast position as she is a ketch rig and mike wants to rig her as a sloop. Is the mast stepped in the same place in both rigs. Seems unlikely but at the moment it would appear that it was?! Do you know different. Sloop mast centred on 11ft from stem apparently.
I have a couple of boats to add adverts for, but as loading speed is dire and loads of photos, have to hang on a bit.... have added small edits to bits for sale page...
We are on watch again here this Easter for travellers, but this year we have a barrister on standby. There is a notice informing all that we are watching and prepared to get an injunction at any time 24/7 and so far so good.
After days of 7 degrees or worse, the temperature looks as if it will reach epoxy setting temperatures again soon, can't wait.
John
Sunday 29th March 2015.
After a late night babysitting and the clocks altering overnight we feel knackered! Must be getting older! Off to my boat today as the temperature has gently climbed into double figures over the past day or two and is set to stay that way for a few days. Great all the preparation work I have done over the last few weeks can now be glued together.
Some one else gluing, but not too worried about the temperature is Marc in Barcelona. He is getting on well with his extended bilge keel Senior!

Marc has not yet fitted out the inside, more pics to come, looks it has fair lines Marc.
Reminds me that we still have not a good drawing and photograph of the fin keel version of the Senior that some have built. The deep fin keel versions we have seen glimpses of look as if they should work well, but what we need is one that has been sailed and proven then all the dimensions on a drawing plus photos. then we can add it as an option on the drawings.
A Welcome to Bede who is now the proud owner of one of the boats advertised on the site, 'Lady Gertrude'. Wait to hear from Andy that she is sold officially but we know that Bede had her surveyed, successfully, and is planning the 300 mile trek to tow her home with his ancient Landrover. Apart from some cosmetic work 'Lady Gertrude should be sailing under our colours shortly.
Some of you may remember a former owner. Fred, he sailed her all round the UK and criss crossed the UK by the canals as well. Andy, the owner selling has promised to send in the logs of that trip round the UK, should make good reading , especially for me as I am off to complete the 'fiddling Around', round England Wales and most of Scotland trip, that I started in 2013!
More of that nearer the day, at the moment I'm still awaiting my prop shaft back, an annoying tale, see my preparation log.
John Hopthrow, a 'Friend' has mailed in a link to a few MG classics he has tracked down on the net, i will be adding a few details of these to the MG page of the Gallery.
Our Senior and Netherlands Steering Group member Chris has sent in details of a Senior found for sale in Scotland, as far as I can tell another boat we may not have seen before. Well found Chris.
One sad bit of news, The Wild Duck built in Spain is up for sale. 'Tuna' as she was named has to go as Steven is having to move. So sad after all that effort to sell her before having even a season's use out of her. Now this may actually prove to be more difficult that is might appear, as to comply with the EU recreational Craft Directive a boat builder is not supposed to sell a boat without EU certification, unless built for your own use and kept for 5 years from date of launch. Difficult one... the 'date of completion' is the vague part of the sale definition.... Some may remember that this is the exemption John here won for home built craft when he served on the RYA cruising committee and was asked to comment on the 'white paper' for this legislation.
Normally a self builder would want to keep their creation and thoughts of selling are akin to parting with a limb, but in certain cases I can see that an owner may have to sell sooner than the 5 years since 'completion' (which was taken as date of launch!), I can think of a couple, death of the builder or serious illness for starters. As I say, a difficult one.
OK on a light note I have just aligned my engine and prop shaft, in an hour, with my innovative, (even if I say it myself!) cat toy creation! Read more on my preparation log. just updated. Though it may not be everyone's taste, not all are refixing engine mounts, I have thought up a new way to align prop shafts and have explained all on the pages of the preparation log. It works and is astoundingly easy, even if I say so myself! Scroll to the bottom of the pages to see it of course.
Off to do some gluing now, back to edit more later.
John
Monday 23rd March 2015.
Happy 84th to founder member Doug!

We had a birthday cake for him yesterday at the Annual Meeting, where 2 WW builders and 1 owner, 2 Eventide owners, one builder and 1 ex owner and all their other half's attended. A few members sent apologies. The minutes of last years meeting were approved and will be published shortly. The minutes of this years meeting, our 12th, will be displayed in a year.
The fund Manager Brian presented the accounts which were discussed and approved and will be published shortly, the bottom line was that despite some large outgoings for updates to IT, we had just under £2k plus assets, so were in a good position to make another donation to a youth sailing group. The Steering group to discuss a couple of suggestions.
John Stevens gave an account of the progress with the new database and on line enrolment form he is sorting with the webmaster and said although members joining had tailed off from the rush a few years back, we were still getting one join, on average, every week! Over 50 a year! We certainly have to be doing something right.
All the Members of the Steering Group stood again and were voted in unanimously.
The afternoon rounded off with the award of the 'Barry Sturrock Seamanship Trophy' to Viktor and Olga with the Atlantic clipper, 'Existence' for for the preparation log on the 'Builders and restorers' pages prior to their successful Transatlantic voyage! Well done to them! A plaque will be sent.
A small sale of donated books and used chandlery raised even more funds.
A friendly social occasion enjoyed by all, our thanks to Mike and Anita for the exclusive use of the room!
John
Friday 20th March 2015.

Today is slightly unusual as in is not only a total eclipse, (though only 85% here) but today is also the Vernal Equinox, the first day of Spring!
Typing this at the moment 0900, it is getting darker and darker outside. However the sky is 100% thick cloud and not any chance of seeing it. Feel sorry for all those who traipsed across the fields to Stonehenge to view it through the stones! We went to tick it off our bucket list about 5 years back and of course it tipped it down and no one saw the sun at all!
So though I got the Eclipse glasses out, no chance of using them! we saved as a souvenir of our 1999 trip to the Scillies to witness a wonderful, if slightly cloudy, eclipse there. Darian has taken them into work as a prop to talk to her old folks and see what they can recall about eclipses.
We remember the one when we were in school and all sooted up bits of broken glass so we could observe the sun. As I recall it was a beautiful clear day and we had a brilliant view. To my knowledge none of us went blind nor cut our throats with the glass.! Today hearing the schools are Mamby Pamby and all the kids have to watch on a TV! Shame.
Had a great call yesterday from the skipper of the GH 'Pitterpat'. Mike Clark sailed her across the pond to the West Indies and had great adventures with her till one night 10 miles off Guadeloupe he sailed into something that holed him and she sank without trace under his feet! Earlier on the trip he had met up with the crew of the GH now known as 'Charisma'. 'Charisma' is for sale on our site in Belgium/Netherlands and Mike is keen to acquire her and bring her back to the UK. He has a query though, and we have not as yet been able to assist. Is the main mast on a Ketch rigged boat in the same place as when cutter rigged? Hoping Mark Urry will come back to him with the definitive answer.
Just heard on the radio that today's eclipse is a 'Super Moon Eclipse' as the moon is closer to us at the moment.
Now 0915 and twilight outside.
Just had a mail in to tell us that 'Ivory gull' has sold, not off the site, but people have mentioned the site, so it is working...
0922 and now it is getting dark enough to turn the lights back on. All gone quiet outside too, birds are going back to sleep!
The Equinox happens at 22.45 today, that is the precise moment the sun is overhead at the equator.
0927, there is an odd stillness outside, rather like the feeling you get just before it snows or a Thunderstorm is about to start. In 1999 we sat atop Gweal Hill on the tiny Island of Bryher and had exactly the same sensation, really odd, there all the gulls went quiet.
Just on the radio heard that at Stonehenge the eclipse is visible as a big smiley in the sky! In Chelmsford cars now have their headlights on, 0930.
Suddenly it is cold outside and I can feel an appreciable drop in temperature, from 7.9 degrees now down to 5.9!
And of course the radio is playing, 'here comes the sun'!
Feel sorry for all those who geared up to watch. Those in a plane circling north of Scotland have the best chance, being above the cloud.
0936 this is as dark as it is going to get I suspect and with the marvels of modern tech, I have just seen the Eclipse live on my phone from the Isle of Lewis and the stones of Callenish! Spent my 60th birthday there, a truly amazing place!
0940 and the views from other parts of the north are amazing, the diamond ring showing now! Lucky people seeing that live.
Always amazes me that we are the only planet to have a moon exactly the right diameter and distance between us and the sun and with an orbit that means it does get between the sun and us. What are the chances. A moon 400 times smaller than the sun and exactly 400 times further away from the Sun than the distance between us and the moon, spooky!
0944 the total eclipse is finished and the diamond ring appears the other side, or at least it does on my phone live from the North of Scotland!
Here it is getting lighter and the birds are on the move again, but we did not get a second dawn chorus as we had in 1999! Temperature still 5.9 though, will take a while to warm up I suspect.
I am off to the boat today to fit the new cooker restraints and dry fit the timbers to raise the cockpit floor.
Watching the temperature slowly creeping up a tenth of a degree as it gets brighter, 6.1 degrees now.
Now have to wait 11 year for the next one and book my place on the good ship 'Scillonian' as it will be total in Scilly and partial elsewhere in the UK, got to be done!
1000, Time to go the work
John
P.S. 2300hrs now and it is warmer outside at 7.7 degrees than it was during the Eclipse!
Just added 2 boats to the for sale and Gallery pages and the restorers pages.
Don't forget Annual Meeting Sunday, 1230 at Bradwell for lunch then meeting, do come along.
John
Wednesday 18th March 2015.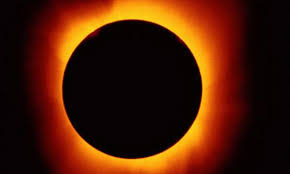 Get ready for Friday morning!!
I have dug out my eclipse glasses from 1999. DO BE CAREFUL. Do not look unless you have the special glasses and if you cannot find any here are simple instructions for a pinhole camera so you can see it safely.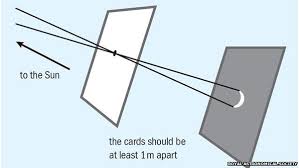 Or failing that how about this!!!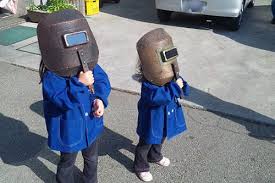 That will work well! and a little stronger than my cardboard glasses.!
Just sold the Avon inflatable thwart, pleased that has gone to a good home, hate to throw bits away!
Peter and John are colluding on the new enrolment form, and Peter has thought to add MMSI number! Not got one as yet, but maybe one day, when my old VHF expires... and maybe not then as I have a spare identical one in store! I have a 25 year old Dutch VHF nothing strange about it, except that it has a telephone handset! Having used 'Sailor' VHF's at work the telephone handset has a great advantage, you can hear the transmissions far easier in noisy conditions!
Heard from a few that they are coming along Sunday, see you there, don't forget, 1st drink on me!
John
Tuesday 17th March 2015.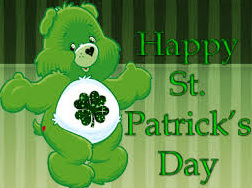 Those who know us will know why its a care bear!
Has to be green text today!
Sold another bit off the website and had yet another enquiry!
Will hopefully be able to find time to add a couple of adverts to the boats for Sale pages tonight, busy here!
Sorting out bits for the Annual Meeting on Sunday, you coming! ??
Jim who has been an associate member for many years and got a CD of drawings from us for the WW has told us he is looking seriously at a WW in Essex. more on that one soon.
Ted has confirmed he is now the new owner of the Eventide 26 'Camelot'. Hopes to transfer her to Gravesend shortly.
Temperatures have gently risen today, after a week of very cold NE winds, hope to be cutting timber and gluing this weekend!
Happy St. Patrick's day everyone.
John
Monday 16th March 2015.
Less than a week to go till our annual meeting Sunday. I would like to welcome as many members as can make it to Bradwell and my normal offer of the first drink stands! See you all there!
This is your chance as owners to vote us in or out, to stand for the 'Steering group' or help out in anyway you feel fit, or just to tell us where we are going wrong!
Not had any suggestions in to me as yet for the Seamanship trophy and we will probably like a suggestion for our annual charitable donation to a youth sailing charity....
Peter the webmaster is 3/4 of the way through making a new enrolment form, and that should be up on the site shortly, to make it easier for John Stevens the Database Manager and myself to welcome new members and log their details. at the moment we are doing it with e-mails and its a little long winded.
The New NAS drive is up and running and hopefully that will protect our data even better.
Selling items off the 'bits for Sale' pages regularly, a sail, a Wykeham Martin gear and now an enquiry for that Avon thwart!
Have added couple of new items and have two boats to add shortly.
I have designed a device to align engines and prop shafts and will be testing it shortly, if it works as it should i will write it up and possibly send it to the sailing magazines too. It is so simple I am wondering why others have not published it....
Hopefully very shortly after my new 1 inch prop shaft will slide straight in and fit precisely!
Cold here at the moment, too cold for painting or gluing, but made some cooker gimbal locks the other day they too will be photographed and appear on the site, again so simple I am wondering why others have not published it....
A Seagull customer of mine is looking at 'Lady Gertrude' in Lancashire next week and yet another of my Seagull customers has just told me he has bought 'Camelot' from north Fambridge. More details soon on both as new members!
All for now, don't forget that first drink is on me Sunday!
John
Wednesday 12th March 2015.
Just had this in from my fiends at Mailspeed marine, made me smile hope it will you!



9 Things a Sailor Will Always Beat You At
You seem to be doing alright at this little thing we like to call life. You're well-travelled. You have well-informed (you like to believe) opinions on your local MP and an array of enviable life hacks you picked up while backpacking across South East Asia. You can open a wine bottle with you feet and cut a skirt in half using your little finger. Your family thinks you're great because you can make Thai food from scratch without even thinking. However, there's always someone out there that's better than you. Like sailors. You'll never be as good as a sailor.
Here are nine everyday things they'd beat you at and then leave you on the floor wondering exactly what happened.


1.
Parallel parking
I know, I know. You're one of the best parallel parkers in the world. You are surprised that they haven't created a reward especially for you. The words three-point turn don't even exist in your vocabulary. Sorry, but really you're an amateur. Try reversing a fire engine (without rearview mirrors) into a car wash, on ground flooded with water, during the worst thunderstorm imaginable. That's what sailors do. They call it docking.
2. Walking Straight When Drunk
Your supposed poker face is an utter joke. We all know how many shandies you've had as soon as you see-saw to the toilet. Unfortunately, legs don't lie, unless you're a sailor. A life on the water rewards sailors with a liquescent centre of gravity. The more fluid they consume, the straighter they walk. Come to think of it, if you see a sailor off-kilter you should probably buy him a double.
3. Keeping a Straight Face
Sailing terminology is an ocean awash with metaphors, puns and double entendres. You can't think of a boating pun that hasn't been done to death. Sniggering at words and phrases like 'breastlines; cockpit; coming about; and, in need of a tug' is the sphere of land lovers. Find someone who can, without flinching, present a Seaman Discharge Book (yes, that's a real thing) to a customs official and you've found yourself a sailor.
4. Giving Directions
'So, hmmm...turn right by the tree and then pass the school on your left. Well, I think it's a school. Maybe it's a police station.. A few streets behind that is a road. I can't remember what it's called but just call me when you're outside.' These are certainly not directions. If people were able to give better directions, there'd be a much smaller hole in the ozone layer. Sailors know this. They also know that on the ocean vague directions can lead to death. Or worse, Skegness.
5. Dressing Appropriately
Even the best weather apps resort to some measure of horoscopic superstition and the problem is nobody has built one made up of actual human bones. Sailors have bones. They have bones that tingle, crack, wobble and creak. Sailors can sense inclement weather in their bones before the weather even realises it's feeling inclement. If you are wondering what to wear for the day, find a sailor and copy what they're wearing.
6. Bondage
Don't even think about telling porkies. After watching 50 Shades of Grey, the reason you've never actually tried bondage isn't because it's taboo. It's because you're unable to tie knots. Securing your beau to a bedpost isn't really the same as tying a shoelace. There are safety issues that you need to be aware of, unless that is you fancy an embarrassing trip to the local hospital. An unfortunate combination of poor ropemanship and a slippery surface can turn into an emergency very quickly and nobody wants to be gnawing on a granny knot when the plod arrive. You know who knows a thing or two about knots? Sailors. They could string up a sumo wrestler with a piece of string. And, more importantly, untie him afterwards.
7. Pulling an All-Nighter
It was the pillar of your secondary school education, but somewhere along the line the insouciance of burning the candle at both ends morphed into chronic anxiety. The only thing that burns in your house after midnight now is the office block you're burning down in your dreams. Caffeine is impotent and even dubstep (a supposed form of music) sends you to sleep. However, sailors are driven by something stronger than caffeine and panic combined: the fear of the great unknown. The ocean is a capricious mistress and much like the writers of many TV series, sailors don't always know what's going to happen next. They're prepared for every eventuality and what does that require? Being awake. ALL THE TIME.
8. Letting Things Go
Usually when something disappears into the vast ocean it's gone forever. The only thing to do is try and put it out of your mind and forget about it and move on while mumbling something profound like 'It's part of the circle of life.' At sea if you don't learn to let things go, you drown in your own unrelenting suffering. Sailors would actually make great psychologists.
9. Democracy
Sailors don't know what democracy is. On a boat the captain is always right. Even when he's not. Only joking! Sort of.
Liked this? Make sure that you keep an eye on the Mailspeed Marine Blog for the latest nautical updates, amazing product deals & reivews.
A bit of light hearted frivolity!
John
Tuesday 9th March 2015.

Congratulations to the crew of Existence, An MG Atlantic Clipper, Transatlantic Sailors!
John
Monday 9th March 2015.
Ever get the feeling it is one pace forward and 2 back when fitting out, that was me yesterday when i found the new shaft I had bought had been made the wrong size! could not believe a shaft maker could make such a fundamental error, especially has the had the original in his hand to copy.
Time will tell how much this delays me! full write up on my preparation log.
I had a great picture in today.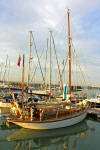 This is Lindy II a Harrison butler design that I have been able to supply details of from my library of old magazines. From a 1926 copy of 'Yacht Sales and Charters' edited and seemingly mostly written by Maurice and his then wife and a couple of chums. This design won second place in one of their famous 'design competitions' the Winner being a certain F. Shepherd! Pleased to say I was able to send pages of information to the proud owner Robert. I have also added a link to the HB association on our links page and they will hopefully reciprocate.
Sent out a CD of the WD to Anthony in Australia today.
Whilst I was doing that I had a count up of the years CD sales and Burgees and other CDs' 'sold' during 2014. Numbers very slightly down on last year I think, but still over 2 a month! And lots of people happy they can get them still!
Heard from a Golden Hind Owner over the weekend, want to use out page for an advert, so hope to hear from her again shortly.
Still waiting to hear from Ross in Australia who joined and wanted a CD of the WW drawings? if you are reading this Ross, just mail us and I will walk you through the process, it is very straight forward now you have enrolled.
Talking of enrolments, Peter the webmaster, is close to starting off the new form, watch this space!
With bumblebees and butterflies out and warm sun for the last couple of days I guess a warning to check those covers should not go amiss, bound to snow!
John
P.S.
Just heard from Victor and Olga with the Atlantic clipper 'Existence', they have just done a 29 day crossing of the Atlantic and are now enjoying the sunshine the other side of the pond. This is a link to their page on the restoration of their boat.
John.
Saturday 7th March 2015.
Feels like spring is in the air, the first bumble bees about here. Spent a few days working on the boat and have a clearer idea of the jobs to be sorted, tomorrow I hope that stern shaft and all the gubbins will be secured back in place! Written up a bit more of my preparation log.
Call today from a Bawley owner who saw the Wykeham Martin gear for sale, He is promising to send in the log of his trip round England and Wales and a bit of Scotland too, he used the Clyde and forth canal.. i have a mind to do so myself, if time and weather permits and come back down that inhospitable east coast... Maybe.. anyway looking forward to his log, parcelling up the Wykeham Martin gear for him.
Whist sorting my stores I realised I had 2 more pairs of oars I had to sell, tripping over stuff here! so I have added them both to the pages of boat bits for sale.
I will shortly have a load more bits to sell. Some donations, some for others and some gear I have collected and no longer need. Watch that page!
We took delivery of a new 'uninterruptible power supply' (UPS), recently, it has 12v batteries inside it and kept charged so that in the event of a power cut, it steps in automatically to keep the power on, long enough so that the box of tricks can also close down the computer to protect it. Clever.
(Our old 'UPS' died a month back, it was 7 years old....). The new one paid for itself today as we had one of the frequent power cuts here whilst I was working, without it the hard discs would have been fried!
In addition as a further safeguard for the data we keep, we have bought a 'NAS', this box of tricks will house all the vital data we have, the photos and up to date copy of the website as saved here on various medium at the moment. Plus all the documents and correspondence. It has 2 x 3Tb hard drives that are mirrored with RAID 1, so that it too has a back up and the discs are 'hot swappable', so in the event of a drive failure a new drive can be bought and dropped into the box without even turning it off. It will automatically then re save all the data to the new drive. Isn't techy stuff getting clever?!
As we are all about data, this was considered a prudent investment.
Talking about prudent investments, I have just bought a new Belfield Tidal plotter program, 3 years of tide tables and tidal streams for all the UK and channel including Eire, £20! Now resident on my own P.C. here and the laptop I carry aboard, with a back up CD! For serious sailing this program is brilliant.
Have had several mails from a Seagull customer of mine who was enquiring about a boat for sale on EBay, and also on our pages. Seems there was a discrepancy about the build material, steel or ply. Think we have sorted it now, but not sure it will sell easily, as it sounds as if someone has done some strange repairs with metal under the ply?? Never heard of that before..
Robert Wheeler has sent in some more pics to add to his page, the repairs and conversions coming along nicely, and Graham has sent in some text to go on his GH restoration page, SOS as he calls it, (Sue of Solway)!
Always great to hear progress on these projects.
I have found all the info needed for the Harrison Butler Association and will be sending that along shortly too. Real classic boats!
Brian the fund Manager has been doing the accounts and we seem to be doing more than OK, even after the IT investments we have made. We are still thinking of yet another donation to a suitable youth charity, so if you have a bone-fide group that could do with a few bob, let us know and the Annual Meeting on the 23rd, will discuss it!
Do come along to Bradwell for the Annual Meeting, we only have a bare hour or 'official' stuff, but it is a chance for full members, owners, to have their say.
Enough for now.
Enjoy the sunshine this weekend, fitting out time.
John
Thursday 5th March 2015.
I did not know till I opened Google today, but its Mercators 503rd birthday.
https://www.google.co.uk/search?site=&q=Gerardus+Mercator&oi=ddle&ct=gerardus-mercators-503rd-birthday-4839806819368960-hp&hl=en&sa=X&ei=uR74VOnPJIec7gal94CoAw&ved=0CAMQNg&biw=1280&bih=566&dpr=1
Click on the above to go to the information about this clever man. Almost every chart we use today is made using his invention!
Another enquiry today and a probable new member. Though never heard from the guy in the States with his donation for a CD. Sadly another CD I sent to Australia arrived cracked, has to happen occasionally, but we got round it !
Actually got to work on the boat this week and as the weather is now warming up, hope to be down there on a regular basis now. 14 degrees outside, in the sun, 8 out of it!
Reminder that the Annual meeting coming up, Bradwell Sunday 23rd, do come along.
Spent a few hours reading Maurice's 'Yacht Sales and Charters' magazine from 1925 to 27. I had been searched out as we have a set of these magazines and it is published on the books page. the Harrison Butler Association wanted details of a design they heard came second in MG's design competition. I was able to track it down and confirm and hopefully if it turned out to be the same boat as they suspect, 'Lindy', I will be able to supply them with sail plan, lines, accommodation plans the lot!
As a by product of this research I have enjoyed great bedtime reading, many of the chapters of the 'Magic of the Swatchways' were first printed in this thin tome! so predating the 'Magic'! I am proud to say not only do I have and cherish these, by MG was good enough to sign them for me! I have found a few pearls of wisdom in their pages that I will share.
Have another order for antifouling in so the Fitting out season is under way, more power to the elbows. I have a owl poo problem! Have to scrub off my stern deck, as I share this nice cosy barn with Oly the barn owl. He leaves me interesting presents. Anyone want any Owl pellets for the nature table?
John
Saturday 28th February 2015.
I was just off down the boat today. I stepped outside to do a couple of jobs in the garden and froze! The wind has got up and with wind chill factor I am recording 4 degrees here. Brr.
So instead I am going to spend 5 minutes updating this page as I have not been on here for over a week. (Been editing other pages though!)
Welcome to new members, to Malcolm Uttley with the Eventide 24 'Blue Dawne', he is based in Fleetwood and his Eventide is very much as the early drawings, even down to hanked on head sails, rare these days. He can often be seen sailing between Peil island and Fleetwood at weekends in the summer. Our eyes in the north West!
Welcome to, Ross Cottrell of New south Wales. He is after the drawings for a WW, and may build. An Associate member for now.
Welcome to, Antony Harvey of New south Wales too, he has joined as an associate member to get a set of Eventide drawings. He would like to build one looking as the original, but with the later versions sailing abilities, hope to hear the shavings are starting to fly soon!
Welcome to Jim Teeszn, associate member for now, but I suspect soon to be uprated to a full member. He is wanting to build a Junior.
Wonder if there has been a boat show or a magazine mentioning us in N.S.W.??
We had a very large donation in this week from a very satisfied Waterwitch owner on the east coast. He wished to remain anonymous. A very happy WW man.
Bob wheeler has sent on photos of his Eventide 26. Bob bought the pair of new stainless bilge keels i had been storing here for 3 years. I knew someone would want them. He has them all fitted already, and has also filled in the space between the main keel and wooden skeg whilst he was about it, adding a few hundred pound of lead inside as well, as he has the lighter 1200lb keel. should transform his sailing next season. what with that and sorting out the rigging. He got a CD from us as his rig was really odd. Turned out the mast was from another boat. Hope it is sorted now.
Rachel our steel advisor got in touch last week, wanted to know more about the GH for sale in France, where she now lives. not heard anything, but it did look a bit of a 'basket case' to me. Loads of work.
The Steering Group gave me permission to buy a special device to add safe and secure storage to our machine, as we have filled the hard drive nearly. Last night, after about a month of investigations and deliberations, I bought one. It will store 3Tb of information on 2 separate drives automatically. Back up the web site and also all the pics and files. Hopefully ensuring the EOG website and all its information can carry on for another 12 years at least!
Members are joining us at the rate of 2 a week still and I have not had an update on the 1500 membership figure for some time, so bet that figure is due to change.
Richard in south Africa who found the Searover for sale, has turned up an Eventide i do not think we had on the records, yet another, Phoenix. pics to add soon.
Have also pics of a Swin and Tinka to add, and a wonderful Buchanon design, Pipedream.
People are so pleased to find our site and read how active it is, I am always amazed how many have got in touch over the last 12 years, something tells me we must be doing something right!
Come along to the Annual Meeting in March and let us have your views. All opinion counts, but remember, only owners can vote and change things!
I did a stock take, for the Fund Manager, on burgees the other day, 36 roped and toggled in stock! Plus 9 for threading onto poles. Is it time to renew yours? £12.50. just bought a new one.
All for now. Now I have warmed up, off to the boat to fit prop shaft. OK tucked away in barn!
John
Friday 20th February 2015.
No sooner had I published this page in red below, that I was contacted by Mike in Australia, the ex owner of 'Sanderling' a YM 3 Tonner. Alan Buchanan has passed away in Jersey aged 92.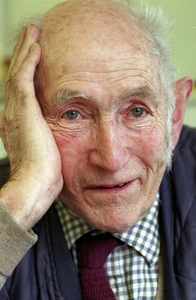 The full obituary can be read here.
Off to practice 10 pin today, for the next time the Eventiders go bowling, so I don't get thrashed again! As if practice would help me!
As promised the weather has warmed slightly, but got wet. Cannot have it all ways. Talking to Seagull customers in Scotland they have snow!
Had more info and pictures come in from Richard re the Searover, one for sale in S.A. see pages. Now we know it is a Searover! And there is picture of the underwater profile, an Eventide shape if I ever saw one, albeit round bilge. Wish we could find proof of the MG connection.
More pics of Sue of Solway, (the other SOS!). with the promise of words to follow.
Another crate of antifouling due for delivery today, get those orders in!
john
Tuesday 17th February 2015.
The sun is out and the temperature into double figures, can't last! indeed gales and heavy rain forecast for tomorrow. so making the best of it while we can!
Just deleted the new seacocks etc. from the bit for sale page, gone to fit in a Folk Boat in Cornwall.
Mike in Australia has found more pics and information about the boats he saw at the show in Victoria and lo and behold the Swin is already on the site! I will be adding all the details and pics later.
That sad E 24 'Cherokee' has appeared on EBay, but no real bids on it yet, starting bid of £40.00 Sadly I do not think she is worth that! she does have a vintage Stuart Turner and a mast, but there is stops!
Just posted a CD of the Junior drawings to Australia. New associate member Jim Teesz.
The first Marclear antifouling orders in, seems fitting out is under way!
Heard from David Bowen with the Searover 'Parahandy', he is fitting a hydraulic steering, hope to have more on that shortly. We are still convinced there is an MG connection with this design, there was a rumour about an affiliation. As MG did work with so many other designers and this has his handiwork all over it we will carry on looking for that link. a Searover brochure may have the info, if we could find one.
The Swin class was an affiliation between MG and Alan Buchanon, I did not know that till this week!
We have had some really sad pictures in of a GH in France, it is for sale, but the owner has given up halfway through the renovation. in fact he has done the dirty work, removing all the rotten ply etc, but now the boat is exposed to the elements and looking sadder than it did before!

Hope a competent carpenter comes along to buy her quickly, or she will suffer the same fate as 'Cherokee'.!
Off to look at a shed load of chandlery next week, much of which will appear on the pages here!
Now off to boat, to throw open that barn door and let the sunshine in!
John
Thursday 12th February 2015.
After a few still cold days the weather is on the change again, warmer but wet and windy! In a couple of days the birdies officially start nesting and the sun will get warmer, fitting out time!
We were contacted today as the 'official international authority on the Y.M. Eventide. Wow! Sadly the next bit was sadder. We were sent details of an Eventide called 'Cherokee'. she has suffered severe rot and the restoration has been abandoned. Cherokee will be broken up in Cowes next week. she has however given a lot of people over 45 years worth of fun, so not a bad innings.

Much as we do not like to see an Eventide or any of our designs go to the big boatyard in the sky, there is nothing anyone can sensibly do for her. So the records will be duly amended.
Mike in Australia, a 'Friend' now he has sold his 3 Tonner, visited a boat show afloat and found not one MG, but two beauties. A Swin Class and a Tinka.
Full details will be on the MG page of the gallery shortly. Well found Mike.
Had a call yesterday and we have now sold the 2 new SWMF seaocks and the Stuart Turner one! will be removed from the pages as soon as the cheque gets here, £15.00 donation to the EOG as well!
Will be back soon with more news.
John
Saturday 7th February 2015.
Sold a couple of items off the 'bits for sale' page today. The s/s fuel tank and the outboard bracket. I will be adding a stern tube inner bearing and stuffing box for a 1 & 1/8th shaft shortly! Donated. May have a couple of other bits to add soon too.
Heard that The GH 'Charisma' in the Netherlands, may soon have a caring owner, hope to be able to tell you more soon.
Have you noticed how the days are getting longer? We need more warmth as well! roll on summer.
John
Thursday 5th February 2015.
Andy Morgan found this article in the Daily Mail on line and forwarded it to us. You have to see it to believe it!!!
Click here to go to the article, it concerns a Norfolk broads registered Y.M. Senior
I have tried to contact the last owners to see if they know who it was sold to.
We understand this was one of a hire fleet of small vintage sail cruisers based on the Broads. They were sold off some time back. I even know someone who hired one once. Perfect way to do a Swallows and Amazons trip round the Broads, or should that be 'Coot club'.
Wintry weather continues, but at least it is not settling. Check those covers!
John
Wednesday 4th February 2015.
The wintry weather continues and the puddles have now been frozen outside the cottage, in the shade, for 4 days. That sort of continued cold penetrates into moored and stored boats outside. Hope yours is OK.
I have found details of the boat 'Minthami' that Sam was trying to trace, sadly though Sam has not got in touch.....
From Belfast came an enquiry re an Eventide 21?!? No it is a 24 but the official registry measures from stem to rudder stock, thus 21ft! I have even found details and a sail number for the new owners. She is still called 'Realta' and still has her original Stuart Turner. Sadly as no spares are now available now these are becoming museum pieces. Hope to get more information and photos. Picture posted on the gallery!
Another mail has brought in loads of pictures of a sad GH, 'Sue of Solway'. Graham and son Richard are restoring and I am going to open a page for them in the builders and restorers section. Will be adding a page shortly.
More bits selling off the bits for sale pages, will be updating that shortly too.
Bob, a Senior owner, contacted us yesterday as his Forum registration did not appear to work. It did not take long to activate it and I suspect Bob may have just been unfortunate to register when we were swapping servers! bob has already made a post! Go to the Forum to see it. A very interesting thread about ballast in a centreboarder!
Really would like to see more using this excellent facility. So I have posted a long response to Bob and an earlier posting by Martin. If you are registered and post anything you are automatically notified if there is a further response by anyone. Go and have a look at the pages and if you see anything that interests you just add a small comment and that will mean any other responses will trigger an alert to you. All clever stuff and I am surprised it is so little used. By contrast on my Seagull website I cannot keep up with the messages and comments there are so many! All self policing too!
I have not heard from Marclear as yet, re this years prices, so have given them a reminder. Hope to be taking orders shortly. (Remember no Workboat Red any more, the dull red, but bright red, blue and black have same copper content.) I hope to be able to send orders of 4 cans or more carriage free again, so team up with a friend! (I use over one and a half 2.5 litre cans to paint mine!).
John
Sunday 1st February 2015.
Trying to trace an Eventide 26 called 'Minthami' or very similar spelling. She is carvel built and was made slightly longer at 27ft. (Sounds a reasonable additional length! Same as mine!!). We have heard from Sam, she was living aboard her for at least 5 years, 1990 to 95 and sailed with her parents to Croatia and then back to the UK in her. Sam tells me her parents sold her about then and she would dearly like to know where she is now. We have a record of an Eventide of that name in Lancashire, but not really sure of dates as the records state updated 1993, this may have been 3 years after they left.
So is 'Minthami' still out there, a 27ft carvel built Eventide? She may have changed her name of course....
Heard from Graham Howitt this week, he turned up at an Essex area pub meeting last year, as he and his daughter were passing through the area at the time. they were buying a Golden Hind 31 in sore need of serious renovation, sold by the marina at Preston for a song.... the latest is that the family are working on her and replacing decks and ply in the hull topsides and are planning to sail her north to the Caledonian in 2015, then the reverse of my 2013 trip back to the Essex rivers. I will be adding a few pictures of her to the website pages shortly. Graham seems to know what he is about, having renovated boats to a high standard before.
Seen the Atlantic Clipper for sale on EBay? I looked, but was distracted by a GH 31 'Chloe' also for sale at a knock down price, search for Golden Hind!
Paul came back to us, re converting his Senior, he is away at the moment but when he returns hopes to join and get a CD and renovate/convert his Senior this year.
We are in the middle of a cold snap here, even had a bit of snow, but nothing to shout about and all melted within hours, however some parts of the UK have had a lot. snow it a particular problem to our sort of boats. do ensure that if your boat is in the open snow cannot blow in. If it does the damage it causes when it melts and refreezes can be so disheartening. I have seen boats loose varnish and paint and cracks open in woodwork that then let moisture and rot run riot. There is a good reason why boats years ago were laid up ashore under heavy tarps over winter, or better in barns!
I hear the temperatures are set to tumble tomorrow for a few days, another reminder that water systems should be drained or in the case of engines, be filled with an antifreeze solution.
Fiddler's Green has empty water tanks and the motor cooling system filled with antifreeze, and she is locked away in a secure barn! Belts, braces and bits of string me!
Off to throw another log on the fire!
John
Thursday 29th January 2015.
10 of us sat down to a great meal at Henri's in Maldon last night, including the Fund manager and an ex WW owner, Eventide owners and friends! We had fun at the 10 pin bowling too, yet again the ladies beat the gents!
The weather has yo-yoed up and down yet again, from 12 degrees, 2 days ago to nigh on freezing this morning! Hoping it is going to be dry and warm enough for me to do some work aboard soon! (if you are still outside hope you drained the water system, going to get a lot colder by the sounds of the forecast).
Heard from Paul with the Senior again, he is sending info and pennies for a CD to help him convert his Senior to the really good extended bilge keel option.
Sorting out more boat gear to go on the site for sale shortly, some interesting gear!
The Steering group need suggestions for a suitable recipient for the Seamanship trophy, any suggestions to us here please.
John
Sunday 25th January 2015.
Amazing how the daylight hours re already stretching out, gone 1700 before dark today, and with me firing on all cylinders again after a slight health hiccup, fitting out time is here!
We had lunch down at Bradwell yesterday and armed as always with treats for the cats we had a tasty lunch and Mike and Anita have agreed to host the Annual Meeting again, 22nd March, see Events page.
Next week a group of us are going to meet up at Maldon for a game of 10 pin bowling and a meal, fancy joining us? Call on 01621 778859 in good time as I have to book it.
Sending a DVD of the Barrier reef drawings out to Australia Monday, along with a DVD with over 3 GB of our photos from the website! That's a lot of pics! Greg sent in a generous donation for them. Many thanks Greg.
Had a very nice surprise in the post this week, a full unblemished set of WW drawings, with every sheet intact, so we can replace some of the faded ones in the folio of drawings we send out to members, many thanks to Peter McVea for these.
Added a nice picture of new member Andy Bussell's very smart looking Barbican, 'Passer-by' she is now berthed in Suffolk Yacht harbour so hope to cross wakes with her at some stage!
Had a note in from Paul Campbell who is a Senior owner. He wanted to do the sensible conversion of his centreboard Senior, to the Bilge keel version. Sent him info about the CD of drawings and the extended bilge keel version, in my humble opinion the best version there is for all round trailing and sailing performance! however there are few fin keel versions out there! the owners of these seem reticent to share the dimensions and drawings of the fin keels they fitted. Why is this one wonders? Did they not work so well? Not what I have heard. However trailing to the water and launching yourself are not options with that keel, so maybe not as clever as it would appear? Prove me wrong someone!
I have had the first couple of enquiries for t Marclear Antifouling again. I have made preliminary enquiries and hope I can keep the prices as they were last year, so that will be 6 years without an increase. Sad news is the Workboat Red has been discontinued. However the Bright Red, Blue and Black all have the same 45% copper content, so should be just as good. The white, light grey and light blue have less copper. Will be taking orders as per the Marclear page from February on.
I am waiting to hear from Ted who was going to view 'Camelot' this weekend. wonder if he is to be the new owner? I have contacted the builder, Roy Lewis for him and Roy is contacting him, great to be able to put Ted in touch with him.
Finally I would like to say a Great Happy Retirement, to our Database Manager John Stevens. He is on leave now and officially retires in a few days. He will have plenty of time now to get that 'Glasstide' his GRP Eventide 26, sorted and sailing in time for some meets this summer. Be great to see him afloat!
Spring is just round the corner, so watch out for snow!
John
Tuesday 20th January 2015.
Just about getting used to the 2015 bit, where do the years go! next month we celebrate 12 years!
Hope to be able to give date for the annual meeting soon. Mike and Anita went off on holiday so missed them for the last couple of weeks. Hoping for Sunday 22nd March.
Have 10 booked in for 10 pin bowling and a meal on the 28th! Could be fun!
Heard from a Seagull customer of mine, Ted Hollaway, tells me he has put a deposit on an Eventide 26, 'Camelot'. Hoping to check her out next weekend. If she passes muster she will be moving to Gravesend on the London River! Then will remove the advert on the pages! Must try and contact the builder for Ted too!
Dave Blackburn contacted us to ask how many G.H.'s were Junk rigged? apart from 'Jua' I could not name one, but bet there is another out there. He is looking at one in France, as 28.5ft G.H.
We had to delete an advert on the site recently as the mail addresses and phone numbers did not work. This is getting to be a slight problem, I add the date the advert was last checked at the end of each advert. So if you see 4/09, it may well be really out of date! Sad thing is many do not contact us to let us know they have sold, honest we are not going to send the boys round to demand a donation, that dear seller is entirely up to you! If you find an advert that cannot be contacted please let us know and we will remove it, nothing worse than out of date web pages! which reminds me I found a link to last years events page hidden away on the site the other day, just got to remember where I saw it.... that could take a while!
With the temperature hovering around 3 degrees for the last few days and down to minus 8 last night in some parts locally, hope you drained that freshwater tank and have antifreeze in the engine (and the loo!). Who remembers the loo! not conducive to work days on board!
Still waiting to hear from Ross in Oz with a small donation for a CD, if you are having a problem Ross contact us.
The forum is up and running, but last I looked I was the only person to leave a message!
The Enrolment page is being replaced, so in the meantime owners and or Friends, please contact us direct.
We are upgrading the computer here again, we have filled it! So many mails pictures and letters!
All for now, off to light the log fire, just 3 degrees outside and just got dark, will be cold tonight again!
John
Tuesday 13th January 2015.
Heard from Peter the webmaster in the last 5 minutes, the forum is back up and running. Now all we have to do is convince people to use it for polite discussions! If anyone needs a direct answer to a query the best way to get a response is still a direct mail to us, we will redirect it if we cannot answer straight away or we might suggest you start a thread on the forum if it is something that others might be interested in chipping in on.
We must stress the forum is only as good as YOU dear reader, make it. If owners and friends do not write anything on there, it is not down to us to bend peoples arms. It is a free facility we offer that quite a few have had good feedback and information from. To the guy who complained it was out of date and rubbish, well, that's down to you. He never came back to make it more up to date, sadly.
Peter working at fixing a few more glitches on the site that we have found. The enrolment form was so complicated and limited, it could not cope with the number of enrolments, so has been ditched. A new one will be up soon. The counters will be restored and there is one page with films on it that have failed, Peter is on that too.
As the Enrolment form is down, we are taking enrolments by mail, the first enquiry came in this morning, from Australia, with a request for a CD of the WW drawings too.!
Had a query in from Marc building a Senior in Spain, re the thickness of some 'panels', hopefully he is sending more information so we can assist him.
After some really unseasonably warm , windy and wet weather, we are told the temperatures are to plummet tonight, snow forecast. then tomorrow and the next day 60knot winds, batten the hatches!
The Snowdrops, crocuses, daffs, and host of other flowers fooled by the weather, are in for a shock!
John
Saturday 10th January 2015.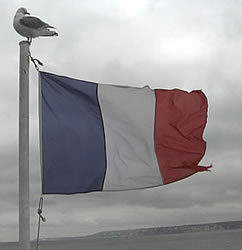 We are sailing with Charlie!
The pen is mightier than the sword!
We have had gale 8 here at the cottage and in Scotland hurricane strength and in the west country and south coast severe gale 9. Hope your covers are secure. Was down at Bradwell today and a few owners were there trying to tame flapping covers! Amazing the damage an eyelet can do if left hammering away all day!
Pleased the boat barn is a modern building!
I was attempting to book the annual meeting, but Mike and Anita have gone off skiing, so will let you know when they return and I can book the date....
Good to hear Helmut in Belgium has already had an enquiry about the GH 31 Charisma. There is no doubt that as a project boat this is going to be one of the more popular! a GRP 31ft GH with osmosis protection and all the gear except a motor, just needs hours of painting and fettling! almost tempted myself!
Had a mail in from South Africa about Brent's Senior, he has already done great things replacing the missing hatch etc. I will be adding his pics to the Gallery. He has ideas about the rig and keel that sound interesting, time and a sea trial will tell!
Met a guy today who removed his keel to change it to a fin, a Halcyon 24, nothing to do with our boats, but when the keel was dropped not one bolt was intact. 30 years of corrosion and only the Sikaflex was holding the ballast on! Frightening. Take a bolt out every now and again, for safety sake!!! More alarming though, his insurance company insisted they be replaced with stainless!!!! The worst material to use in this application. stainless will corrode twice as fast as cast iron. A cast iron keel should be attached with mild steel galvanised bolts; nothing else, trouble with the insurance company is the young broker had heard stainless was good as it did not rust and then has the power to insist the owner fit them or nullify his insurance. When that keel falls off bet the broker will have run for the hills with his Christmas bonus and be fireproof. What ever happened to responsibility and common sense!
I was reading my preparation log for this time 2 years back, the temperatures were rather different, freezing, yesterday it was 14 degrees here, warmer again than some days in the so called summer of 2013!
I am hoping this cold will have left me shortly and I will be back to boat work, but at the moment I have lost my transport. My little moggy van has gone in for a full re-spray, just 6 years after the rebuild. The paint job really has let it down. When I look at the boat and compare, the 2 pack poly paint on F.G. has really performed well! I am preparing the cabin top and cabin sides for the first repaint in over 25 years!
Hoping by launch day she will be gleaming again!
Roll on Spring.
John
Thursday 8th January 2015.
It has been so warm again today the first daffs are out, really daft weather. I have been out in the garden without a coat.! For those who still say our weather is normal, I worry.
Maybe it is the warmth, but I have been really busy with Seagull stuff this past week, not just all my Antipodean customers and those in the sunny parts of the States, but UK too. we shall pay for this later I'm sure!
Peter tells me he has finished tweaking my SOS site and the new service provider has added the anti Hack and anti Spam blacklisting to it. We will see how this gets on as Peter gets the EOG site back up to speed. He is working on the Forum and a new enrolment form at the moment. When all working the Steering group will discuss adding the Anti Hack to that too. (after the fun we had some time back when the Russians hacked it, it will be worth it.)
In the meantime I have been through the site updating and changing all the pages that need altering every January. Have also edited the 'For Sale' pages and added a nice GH 31 project boat in Belgium. For anyone looking for a good GRP GH here is a boat worth looking at!
The steering group are also looking at ways to backup and protect the website and everything on the machine here. The computer is almost full with the thousands of documents and pictures coming in, amazing amount of info! We started off thinking of stand alone USB hard drives to take documents and pictures off the machine for safe keeping, but John Stevens and Peter the Webmaster came up with something not many of us had heard of, NAS. basically it is another box of tricks with hard drives in it that can be automatically set to back up all and all on it can be available to use instantly. All very clever and the costs already dropping to make it worth thinking about. More investigations going on, will let you know how we sort it.
I had a mail from a member the other day asking if we were still there?
Robin had chosen the 3 hour slot that the website was down over Christmas, for the change over, to look in on us and thought we had gone! No chance, bigger and better than before! I mentioned the new logs page and bless him, he instantly sent in a cop=y of his deck log for 2013 and 2014! Will be on the logs page shortly. the more the merrier!
With the Enrolment form down, we have had a request from a Barbican owner to join, so he is sending his info by normal mail and we will welcome him. He keeps his barbican in Turkey!
All for now,
John
P.S. just had to come back and move this text to the top of the page! I had forgotten and added it beneath the last item. With so many people reading this on smart phones these days I'm told it is very inconvenient to keep flicking the finger down the screen to get to the latest entry. (One day I will have to think about re writing the 'fiddling Around' log!)
J.
Monday 5th January 2015
A very happy New Year to all our members and Friends, good sailing!
After a few days juggling with web pages We are nearly there.
Peter has yet to reinstate counters, the forum and the Enrolment page, but he has now gone down with the cold that appears to be doing the rounds in Essex, so we wish him well and hope he is on his feet again soon.
Then he will finish off the work on the site.
In the meantime I have created a new page for 2015 and started it off, I've done the links on the Home page and will be working on the 2015 Events as well.
Sadly I cannot welcome new enrolments with the normal welcome letter etc., as the 2 or 3 who have tried have found, the form is down, however I can say hello to them. Mike Eveleigh has asked about CD's of the GH and Goosander. I have sent him the address for payment. We are collecting enrolment details manually!
Also heard from Clayton in the States with the idea of making a radio controlled model Senior, sent him drawings on a CD, he responded with this picture! That makes at least 2 building radio controlled Seniors!

Made of paper as a first attempt!
Geoffrey Corfield has enquired about Tertia of Leigh, as the ex owner, he wants to know where she is now. We only had a brief mail from an owner 10 years back, and he was about to do major changes to her, never heard again? She is on our restorers pages.. Be great to know if she is still sailing.
Kenneth Gill contacted us to let us know he was the owner of 'IT' an Atlantic Clipper! He says, 'We are moored in Loch Sunart is opposite Tobermory. We live in a small bay near Salen ...Ardnamurchan. We Pull IT out next to the house so refitting etc is convenient. Having sailed near there I am jealous! Maybe cross wakes as I head back to Scotland in 2015!
Heard from Helen last owner of Merrywake, she has sold, so will be editing the for sale pages, also from Ken Marsden who has sold his GH Adienne. Dave Bowen is still searching for information about the Evans designed Sea Rover, we are sure there is an MG connection in the design, but we just cannot tie it down.
We had a Christmas card from my contact at the historic ships people, I display it here! They think of us as owning historic ships! I tend to agree!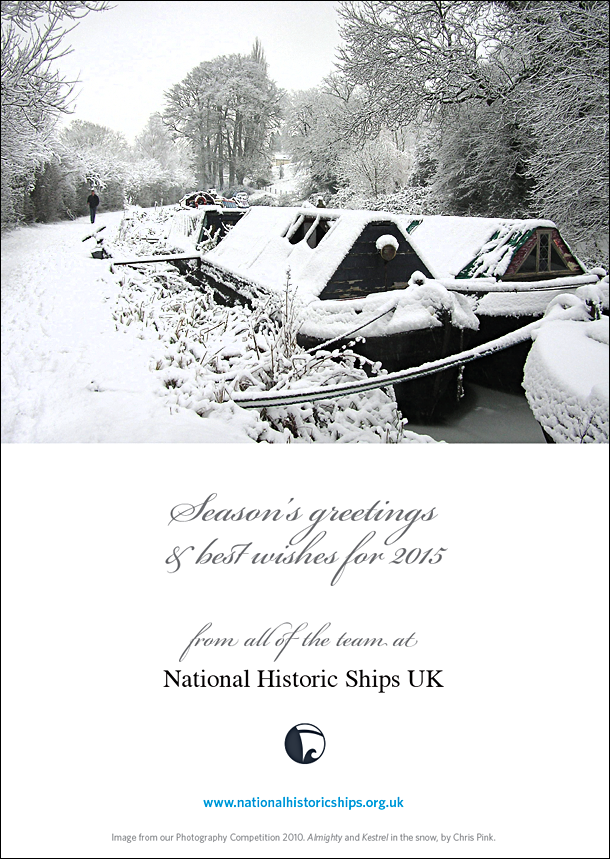 Colin Jones has been in touch with details of his trip in 'Liverbird' from the Mersea to Fleetwood, understand was rather 'interesting' we understand! Some pics to add to the gallery pages. He is starting to tear out the soft bits!
Rod Cahill in Australia has been in touch, he has seen an Eventide 24 for sale and asked if they are safe to sail at sea, I referred him to the log of Borer Bee! I also informed him that the design had been extensively improved since 1957 and later models have sailed all round the world, should be safe at sea! I would not go out in mine if it were not safe!
Helmut Schimek the owner of the GH Charisma, has asked to place an advert for her, will be doing that very shortly.
Looking ahead I am hoping to secure a date for our annual meeting, 22nd March, a Sunday again, 12.30 for a 2pm meeting, lunch and social gathering first. I will come back on that.
Also last Wednesday in January, 28th, 10 pin bowling at Maldon! followed by a meal, either in the new steak house or the Chinese buffet, we will have a vote on that nearer the time!
Off to edit more pages now, including my 'preparation log', yes I managed to sneak away to the barn and have done a few more jobs!
Also added another log to the logs page, Borer Bee!

One last snippet, one of our vessels is missing......gleaned from the pages of PBO. 'Golden Dawn', a GH 31 seen on our pages, left Spain October 29th last year and has not been heard of since. She was believed to be heading for the West Indies. There is a mail address if anyone the other side of the pond sees her. enquiries@mckenzieintelligence.co.uk do hope the owner, Mr Cruickshank, a 28 yr old man, is OK. He is not a member. She sold from our pages in 2013. By all accounts a well found vessel.....
All for now, time to light that log fire!
John
P.S. Read the page late last night and had to come back this morning and correct all the spelling and grammatical errors, I could tell I had been busy and in a rush, slow down John, smell the flowers!