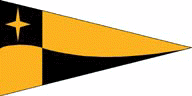 'Stoppress' pages for 2020
Scroll down....
---
---
These pages will be updated on an almost daily, certainly on a weekly basis, from all the mail and information coming in to us.
---
---
Click here to read the 2004 News pages
Click here to read the 2005 News Pages
Click here to read the 2006 News Pages
Click here to read the 2007 News Pages
Click here to read the 2008 News Pages
Click here to read the 2009 News Pages
Click here to read the 2010 News Pages
Click here to read the 2011 News Pages
Click here to read the 2012 News Pages
Click here to read the 2013 News Pages
Click here to read the 2014 News Pages
Click here to read the 2015 News Pages
Click here to read the 2016 News Pages
Click here to read the 2017 News Pages
Click here to read the 2018 News Pages
Click here to read the 2019 News Pages
Click the link(s) above to read earlier Stoppress items
There is also a Free Guest Forum, click here to go to it.
Full Members can post threads and respond. There is also a new 'Private, Members only' section!
You will need the passwords from us though!
---
---
And we have a new page of logs, click here, to go to them!
---
---
Scroll down for 2020 Stoppress pages...
---
---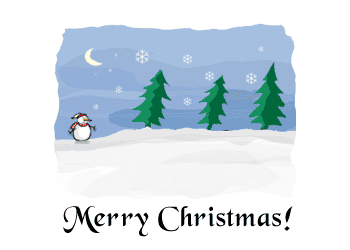 It's time, the bouncing snowmen are back!
Sunday 27th December 2020.
Hello All. Hope you have had a safe and peaceful Christmas. So many of our friends have cancelled all their plans to meet up with family just so we do not risk spreading this nasty WhuFlu. Hopefully in the year to come we will all be still about to meet up with everyone!
A huge thank you to all the EOG members who have been in touch over the year, to share their stories and pictures. It is you that make this group and this web site the success it is! A special mention to all the members of our Steering Group. They assist with all the important decisions, like can I renew the website hosting etc.! Pleased to say the donations are coming in still and out flank the expenses of running the EOG!
We are solvent for another year, or maybe five!
I got a nice letter from Bradwell marina Christmas Eve, welcoming me back after a Covid year off, and true to his word, young Arthur has given me our berth back. One note of sadness though, our friends Mick and Anita have retired from the marina bar. They are a few years older than I had imagined, so a well deserved retirement. Great news from them is they will be spending more time on their boat, berthed next to ours, and they have handed the cooking and bar work over to people we know and trust! So informal meets in the Bradwell marina bar next year, still on the cards.
Hoping that by May 2021 my crew and ourselves here may all be vaccinated and protected and be in a position to be able to get the boat back to the water safely.... Hope all have a safe new year...
So here is looking forward to a great years sailing in 2021 even if it is just local sailing...!
John
Monday 21st December 2020.
The winter solstice.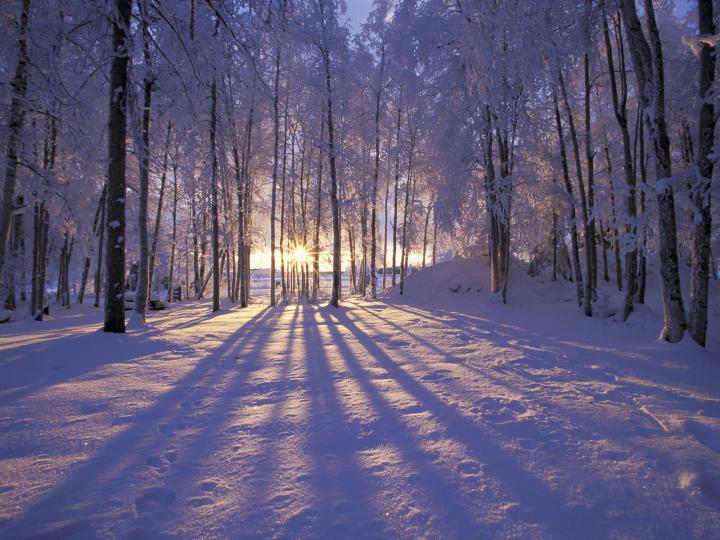 Just when you thought it could not get any darker, on the winter Solstice, the shortest day.... We now learn we may be in some form of lockdown till April! Damned WhuFlu. Is it just me or has it gone very quiet in china after they announced they had got rid of it and had a vaccination???
Like so many others, for some time, I have been trying not to buy anything made in China, garden tools etc.. sadly it appears impossible these days. Find out that even some of my navigation gear is made there too. Even parts of this computer....Grrr.
Please stay safe out there, this nightmare appears to be getting worse!
John
Saturday 19th December 2020.
As I predicted might happen, this part of the country has gone into much tougher COVID restrictions. As I said before, we need another vaccine for 'stupid'! So many being silly it came as no surprise today we have moved into a new 4th Tier, with severe restrictions. We have already restricted ourselves as we could see it coming.
Do stay safe out there, so many here still think it is all nonsense! THIS IS NOT A DRILL!
So while we stay at home and stay safe, anyone fancy a 26ft Eventide? Sat in a garden in Norfolk and the owner is moving house, so it has to go. Offers around £500 would secure it, maybe less! Info from Mat our Senior rep. If anyone interested and wants to know more contact him. 'M.gravener at easynet.co.uk' You know the score, ignore the spaces and insert the @ symbol....
Mat also tells us the WW 'Blackwater Witch' has sold, though not had it confirmed by the vendor as yet....
Our friends at East Coast Pilot have been in touch, though sailing very much curtailed last season they have still been active. Here is an update.
Winter scene at West Mersea!
Our last newsletter to ECP readers, sent a month into the first lockdown, began "First and foremost, we hope that you and your family are safe and well." The same sentiments apply, eight months later, when most of us thought this would all be over.
If you managed to get some cruising done, well done indeed and I envy you, because for various reasons our boat stayed in the yard. Still, I did at least get a lot of jobs done in warm weather for a change! Absence of newsletters doesn't mean we've stopped everything - as ever, we have kept ears to the ground for updates, and the very few that have cropped up this year have been recorded on the website as usual, along with a stream of relevant 'News' items. And as ever, we encourage you to visit the website occasionally to keep an eye on what's happening.
News Items that are still current include long-term over-winter lock closures at Allington on the Medway (the head of tidal navigation) and South Dock Marina on the Thames, and the lack of a full survey at the Deben and Ore river entrances. We 'got round' the latter by asking Imrays to 'tweak' the existing chartlets to at least show the slightly changed routes in and out, and indeed a 2nd edition of the Ore chartlet was needed when the Weir buoy had to be moved. We are hugely grateful to the ECP reader who allowed us to include his aerial photos of the two entrances with the downloads.
We do hope that Trinity House will be able to survey these busy entrances properly this coming Spring.
In the Book Updates sections of our website, changes were few and far between, highly unusually, but include a correction to one of the Lowestoft 'rolling roads' which was highlighted for us by a reader, the loss of Orfordness lighthouse, and a few other minor detail changes. Easiest way to look at the list of these is to go to our 'Summary by Date' page.
We mentioned last time that we
are now on Facebook, with an ECP
Facebook Group page
- feel free to 'Join' us; we have aimed to add any updates or hot news on there as and when they happen, as a heads-up to more details on our website which remains the prime source of information about our Ramsgate to Great Yarmouth cruising area.
The 5th Edition of ECP, published last August, is of course available as usual online through chandleries or direct from Imrays themselves, along with all their numerous other chart and book offerings. If you haven't yet bought one, I should remind you that the 5th is the one that all our updates and additions are aimed at, previous editions now being extremely out of date.
With Christmas upon us, I notice too that Imrays have some special offers for East Coasters - combination packs of charts, ECP and the CA Almanac, which you can find here. Something for your wish-list, perhaps!
We hope that you able to make the best of Christmas this year, and that we will all be able to get back to some kind of normality that allows us to enjoy some quality time afloat in 2021.
East Coast Pilot.

All for now, only a day or two till the shortest day, then the days start to get longer and we can look forward to sailing again, once the vaccine is out everywhere! Heard from Bradwell that they have kept my berth available for me, so with any luck, and a vaccine, see you afloat!
John
Sunday 13th December 2020!
All the village houses are sprouting fairy lights and Christmas decorations, time our bouncing snowmen were back! As it is tipping it down today, again, have not been tempted to string lights outside yet, soon!
This week we welcomed two new enrolments and are awaiting yet two more at least!
Welcome then to Charles with the G.H. 'White Pelican' a rather fitting name for a Golden Hind! Assuming she is painted white... waiting for a photo! Charles sails out of Hayling Island.
Seems an age ago Darian and I took my open 16ft Seagull powered boat on a 26 and a bit miles 'marathon' round Hayling Island. The Olympics were on in London at the time! We were in company with a dozen other Seagull owners and had a great time, starting and finishing at Itchenor Sailing club where they had great accommodation that we stayed in for a couple of nights. All very civilized! Saw lots of good sailing water on our trip round!
Welcome too to Carl joining as a 'Friend'. Carl is in Warwickshire and says he has a set of Eventide drawings. Not sure if he is about to set to with the plane and the saws yet!
Michael in The USA has just sent a donation in for a set of Junior drawings. He is a carpenter and loves building boats! He has a Set of Senior drawings too, but says the Junior will be more suitable for him at the moment. Have a feeling talking to him it will not be too long before he builds one! DVD winging it's way to him, and also sent the drawings by e-mail.
Had a mail in from David Jenner re joining, his interest is that he sailed a 25ft M.G. Medusa back in the late 1960's and wonders where she is now. At the time she was sailed from Walton on the Naze, she was named 'Blue Dolphin' and owned by Eric Reeves. Anyone know her? He thinks the sail number may have been 24.

Medusa 'Blue Dolphin' circa 1970.
David wants to join the forum, to speak with other Medusa owners.
Reminder to all registering on the Forum, you have to have the passwords given out when you join to register on it, then you need to mail us at enquiries@eventides.org.uk after you have registered, so we can authorise you....
We have heard from Terry in Canada. He has got the Senior home that he was given and she does not look in bad order, bit of paint peeling... odd bit of rot to sort... He is yet to investigate further.
Terry's gifted Senior, No 1463. Hope she is salvageable!
Do not suppose the Senior in Lancashire will be advertised any time soon as there are severe restriction on movement in that part of the country.
Visited my boat, tucked away in her barn for the duration, thinking I may have to wash her down again, as she appears to be accumulating dust and dirt from the other activities in the barn! Quite apart from Oly the Owl leaving his mess!
Pleased to say though it does look as though the only job on the fitting out list is going to be a light scrape off of any flaky antifouling, a touch up on the bare bits, then a coat of Marclear and we should be ready. Doubtless I will polish the painted hull again, after I have washed the dust off, and maybe walk round with a cloth soaked in Sikkens to just brighten up the woodwork. Got to make fitting out as easy as you can!
Keith the Senior builder has sent in a couple of photos of the steel centreplate he obtained a month or two back as a result of a note here.
The centreplate before and after sand blasting clean and re-galvanising.
I would recommend allowing it to weather for a bit now then giving it 3 good coats of epoxy. That has worked on my bilge keels, over 30 years on they are as good as the day they were first epoxied. OK I had the boats antifouling sand blasted off 4 or 5 years back and the bilge keels taken back to clean galvanising. The metal was as good as new, so the bilge keels, along with the rest of the underwater area, got 3 coats of epoxy rolled on.... 2 hours per coat, whole area... Does not take a lot of effort to do but pays dividends. Hate seeing red rusty bilge keels!
Time to go and throw another log on the fire and put the feet up. Stay safe out there, we still have a way to go before it will be really safe, vaccinations permitting.
John
Sunday 6th December 2020.
Last weekend I sadly lost a dear friend. Richard. We had been friends for over 30 years, meeting through boating. He sailed a Hurley Felicity out of Tollesbury for some years, but his first love was flying, and latterly gliders. He sailed with me on several occasions and notably when I led a group of Eventiders up to London and St. Katherine's Dock. The photo below was taken from the deck of a sailing barge off Southend, at the end of the annual air show, by our late webmaster Barry. Richard is in the cockpit with me.

Fiddler's Green off Southend, London bound with friend Richard crewing.
Another new member, Terry in Nova Scotia has joined with a Senior he has obtained for a song. Seems to be a going concern, hoping for pictures for the Gallery.
Another new enrolment this time from from Carl in Rugby. No indication of which boat he is interested in so will be contacting him later today to find out more..
John Stevens our Database Manager has suggested the name of the Golden Hind, 'Doumar' seen in that video clip may a play on words. In the Netherlands it sounds like "Doe Maar" which is Dutch for the equivalent of the Nike slogan "Just Do It".
As he says, good name for a boat!
Michael Bebbe in the USA have contacted us, he has the drawings of a Senior, but is contemplating building a Junior instead, or first. His first love is carpentry and he has built many. Hoping he comes back for the drawings.
After the half inch of snow the other night, a reminder to check those covers!
Stay warm and keep safe, maybe 2021 will be a better year if the vaccines work out!
John
Saturday November 28th 2020.
We come out of so called 'lockdown' next week, as far as anyone can see we have not had a 'lockdown', nothing has changed! No advantage gained either. No boats out and about, but then it has been dense fog on the River Blackwater and out to sea, so not many willing to venture forth.
Keith has sent some more pics of his Senior build, he is going great guns! This Selway-Fisher hull construction is proving popular!

Epoxy glued and filled, all faired off!

By the time we are all able to get afloat I should think Keith will be ready to launch! More power to the elbow Keith!

François

came back to us for 6 DVD's of drawings!

- Wild Duck

- 3 Tonner

- Eventide

- Goosander

- Storm 26

and

- Cockler and Bawley

!

Look forward to hearing which one will be the final choice to build! François

sails from Cherbourg area and already has an eye for MG designs locally!

Watched the video clip of the guy from Poole who sailed to New Zealand again, got the name of the GH this time, 'Doumar', we will have to look her up.

GH found in N.Z.

Managed to get a free update to one of the programs I use to protect this P.C., because I bought a 'Black Friday' deal. for my business P.C.. 'Fortnight' would be more apt. Not complaining, saved £40!

Off to toss another log on the fire, cold and damp, foggy, out there!

Stay safe what ever tier you are in. I am determined to hibernate till spring!

John

Sunday 22nd November 2020.

Happy birthday Christine. My sister and the wife of the late first webmaster, Barry.

We have had couple of frosty mornings here the last week, reminder that the seasons, though totally to cock, are changing now for colder weather.

Heard back from François in France, he seems to be interested in over half a dozen of our drawings? Yet to hear which one (s) he would like the DVD's of.

More steps are being made to salvage Borer Bee. Graham who has expressed and interest is now in touch with Steve, whose Eventide 'Fintra' is wintered next to Borer bee. Steve has passed on the contact details for the lady owner, we will see what transpires....

Sent a DVD of the Senior drawings out to Patrick in Germany, he is another building from the excellent Selway-Fisher, Senior hull drawings and instructions. We seem to have several of these in the build at the moment!

Not heard more about the Senior in a barn in Lancashire as yet, early days.

Still awaiting a letter and cheque from the doctor in Wales who wanted 3 DVD's of drawings, he was waiting on getting a cheque book!

I have been taking advantage of the still sunny weather today to collect leaves etc. in the garden, every time I got close to the front of our cottage, looked for sails on the River Blackwater or out to sea... Was not really expecting to see many this late in the season, but there is normally one or two. Maybe the lockdown has stopped people getting to their boats. Not one all day. I know most marinas are closed... But does not seem to have effected anyone going out anywhere else, told the roads are jammed and shops full??? What lockdown?

Paul with 'Driftwood', the Barbican, in Mylor, has contacted us to say he has some drawings that may be of use to fellow Barbican owners. He is trying to get good copies so we can put them on the barbican page, here is a first draft copy.

Barbican hull drawing!
Had a nice enquiry in from Amber, the owner of an M.G. Bawley class called 'Kittiwake'. She is normally moored in Newlyn, since 2018, must have gone there just after I was there with the Grandson, nephew and then our Database Manager John. Sure we would have spotted her had she been there when we were, pretty looking craft.
Kittiwake in Porthleven harbour.

Rounding the Lizard eastbound. Note the leg on the cabin top! Needs a pair of these to dry out upright!
When I was rounding it 2 years back heading west, we saw two Orca!!
Amber tells me she has recently had the keel dropped and the keel bolts checked etc. Wise move! Waiting for Amber's enrolment.
Just starting to get dark here, 1630, days really drawing in, a month till the winter solstice though and they will start to lengthen.
Check those covers, drain those water tanks, and put antifreeze in the engines!
John
Sunday 15th November 2020.
After a day of gales and warm, biblical, rain, we have now gone to light airs and the temperature has dropped by half to just 7 degrees. Time to toss logs on the fire.
The UK lockdown does not appear to be very severe, so many people on the roads, traffic jams and shops buzzing. Time will tell but I have a sneaky feeling Lockdown 2 is not going to help stop the damned WhuFlu.
Very pleased to welcome Atila from Turkey as a new member. He built a Senior in the 1990's and now is about to start on a WildDuck!. We wait to see the pictures.
Welcome to yet another Barbican owner, Andrew from Scarborough with 'Last Barbican'. His is one of the 'long keel' versions and I have asked if indeed it was the last one built. As I type this his mail has come in, she was indeed the last Barbican to be built and has, as I suspected,a bow thruster installed to assist handling! Wise move. Next season she may well be sailing off to Spain... Just about to verify Andrew's Forum membership...
Welcome to Francois in France who is wanting to join to get access to a drawing or two, have yet to hear which design has caught his eye.
And yet another enrolment, from Patrick in Germany, not heard yet which boat he is interested in.
I have heard from the chap in Lancaster with the Senior, dry stored in a barn there. As soon as he is allowed to travel he will send details and i will put an advert on the boats for sale page.
Not had the promised paperwork from the ex leader of the defunct old assoc. Did I really expect to have that information sent??
As it gets colder and we get further into winter hope you all have your boats well covered and protected, snow cannot be far away!
John
Sunday 7th November 2020.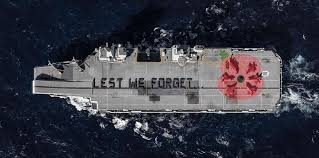 Our grandson's ship, for Remembrance Sunday.
After a few sunny days with foggy nights, as high pressure dominates the weather, we took time out today, after the 1100 silence, to do our 'allowed exercise', walking on Bradwell beach. We spent 2 and a half hours picking up litter and glass. Got a large carrier bag full of rubbish and Darian brought home a small children's sandcastle bucket full of glass! Got quite heavy come the finish. Out on the river Blackwater there were just 5 boats visible all that time, most owners it seems were observing the 'Stay at Home' Message.

Sunday 7th November 2020 about 1320, flat calm, sunny warm and not a boat in sight!
We have heard from Steve with 'Sea Fever' that he has spoken to the owner of 'Right-Eh-Oh', hoping he will step forward so we can return the ships bell to the boat!.
Had another new enrolment, from Patrick in Germany, waiting to get more info before we sign him up! at the moment the enrolment form is rather empty....
John Middleton with the Steel Eventide, the Kesteloo built on, has sent a few pics of his before and after work, still waiting on the promised enrolment. He has told us it is his boat on the Eventide page 'looking a little sad' and has corrected the location. Certainly looks as if John is beginning to make her look a lot better!
Stuart up in Norfolk with the Eventide 'Tarka' has started removing soft timber, looks terrible at this stage but has to be done... She is to be kept covered and dry so work to rebuild can start in spring.

'Tarka' with rotten ply deck stripped off. Wish him well with the rebuild.
Paul has sent a few pics of his Barbican, 'Driftwood' in. He hopes to check the centre plate pivot, if he can find it.... He has also just joined the Forum.
Driftwood before haul out, in the cradle with centreplate dangling and ashore for winter as she was 2018.
Seeing that photo with the plate dangling vertically, you can see the fix one could easily get into with this design if the pennant broke afloat. MG designed a plate that could not do this and the hoisting pennant could be reattached from inside the boat.. See why he withdrew his name what the oat builder fitted this. So many owners have done away with the centreplate, (which incidentally was never supposed to lower so more than a triangle of plate was visible...). Even the last commercial builder removed the plate and called it a long keel version... many owners have followed their example and filled the plate area beneath the sole with ballast and epoxy.... a small bow thruster solved all maneuvering problems! With no apparent loss of sailing ability.
Had an enquiry re the WildDuck design this afternoon , awaiting to hear more from Atila....
Fireworks popping again tonight, it is a very still and mild evening for it, but seems wrong to be letting them off on Remembrance Sunday....
John
Sunday 1st November, 2020.
All Saints Day.
At last the government have stopped pontificating and put us back into lockdown. Sadly I suspect, too late to prevent more deaths and hospital chaos. But we are back virtually where we were last March. This will close marinas again and restrict movement all over the UK.
Maybe though it will be enough to allow families to get together at Christmas.
Just before w e are banned from seeing other people at home, Sharon turned up here today and bought all the sails advertised on the web-site. She is sorting out a 22ft cruiser to sail the Blackwater area. (Sharon you may recall had the 31ft G.H. that dramatically sank at Tollesbury some years back and now has been restored and is for sale on the web-site 'For Sale' pages.)
I now have to remove all these sails from the Bits for Sale pages, £20.00 donation to the EOG!
A week after Graham told us he has a spare set of GH sails we get a plea for a GH 31 mainsail! Hoping to put the members in touch to pass these on!
Heard back from Paul with the Barbican 'Driftwood', (goes where the wind and tide take her, says Paul!) she is a centreboard version and he is investigating the pivot, when he can find it! Now ashore for the winter.
Keith, one of our Senior builders has already been in touch with Rodney and has arranged to pick up that steel centreboard. The power of the website!
Keith says he has bitten the bullet and epoxied the bottom planking, whilst the weather warm!
More power to the elbow Keith...
Reminder to other Senior builders, Those who may be building the extended keel version A shaped deadwood and iron ballast keel for this version still up for grabs in Staffordshire! Go to the boat bits for sale page...
Heard from Steve in Northern Ireland, he is trying to track down the current owner of the historic Eventide, 'Borer Bee' with any luck she may be restored, if it all turns out OK.
The Forum. In the last week or two I have been able to confirm membership for several members, hoping this trend continues as the Forum can be a wonderful way of swapping information without revealing your mail address or contact details unless you wish to and then through a secure private messaging system.
Stay safe out there,
John
Monday 26th October 2020.
Are you one of the many building a Senior? Are you within driving distance of Staffordshire? rather unique opportunity has come our way.
The last leader of the now defunct old assoc. has contacted us and wishes to donate a used Senior centreplate, in 3/8 inch mild steel, and if you are someone building to the most successful extended bilge keel version, the timber infill for the deadwood and the cast iron keel for this version of the Senior. All he would like is a donation to the RNLI!
I will post these on the Bits For sale page, but if interested contact Rodney on 01785 850629.
Rodney is also passing on other writings, logs and the like that may be of interest to members. and another copy of the Cockler drawings, so we can compare them with what we already have, pleased to see he is not tossing them out into the salvage!
Welcome to yet another Barbican owner, Paul from Cornwall. 'Driftwood' is her name, (sounds slow for a Barbican!!). She is Mylor based, lovely part of the world! Waiting to hear if she is centreboard, bilge or sans board, a long keel version!
Whilst I was speaking to Rodney I happened to enquire about the sail number record books I passed to him years ago. Seems he sent them to Falmouth college, along with old plans. (We sent all the updated drawings of all our designs, and many others, not only to Falmouth but also to Lowestoft and the Maritime Museum at Greenwich. All digitised and amended. We did not want them to be lost ever again!).
The Falmouth archivist is looking for these books and will send them to us, they have no use for them and they will provide a useful reference for owners, as well as a chance for our builders to get a sail number issued!
Trying to get a couple of Senior builders to start a 'thread' or conversation on the Forum about their boats, this will mean other owners could swap information on line without revealing phone numbers or mail addresses, unless they wanted to. Hope it all works out.
Reminder that our Senior Rep, Mat has his boat, 'Bethem' featuring in Watercraft this issue....
Good news from Norfolk. Stuart is the new owner of the Eventide 'Tarka'. She had been left for ages with no covers and was half full of water, now drying out and Stuart is assessing the amount of work needed to sort her out, good luck Stuart. He has sent pictures of the amount of oil in the bilge, does not look good for the inboard! Good news in the bilges seem to have retained their paint!
He says he is no craftsman so it is going to be a fast learning curve. He has been asking about preservative treatment. I am a firm advocate of clear Cuprinol, but guess there may be other, perhaps cheaper liquids available.... just have to be over paintable!
Graham with 'Goldcrest' has sent in this link to a rather different Eventide. https://www.gumtree.com/p/boats-kayaks-jet-skis/sailboat-yacht-sailing-boat-project/1387055766
I am sure there can only be one Eventide with the raised topsides like this, I went to her launching up in the north West. Then she was called Jean and Norman the owner was in touch with the EOG some 15 years back when he moved to the island of Luing, not too far from the north end of the Crinan Canal! Coincidence then she is being offered for sale not far from the south end of the Crinan??
Had a mail from Keith who is wanting to build a 3Tonner, he is looking for the drawings, waiting for his enrolment.
Still waiting to hear back about 'Right-Eh-Oh' and that bell, sue he must get in touch.
Also waiting to get more info about 'Borer Bee', the farmers contact details as there is someone very interested in salvaging this historic boat.
After the clocks went back at the weekend it is now dark at 1700 here, very dismal. How long will we persist in switching out clocks back to GMT every winter, everyone enjoys the longer light evenings....
Every year the same arguments and every year nothing happens. Can you remember it being a disaster in 1968 when they tried it? I cannot.
That it for now, too dark to see! Where's the light switch?
John
Wednesday 21st October 2020.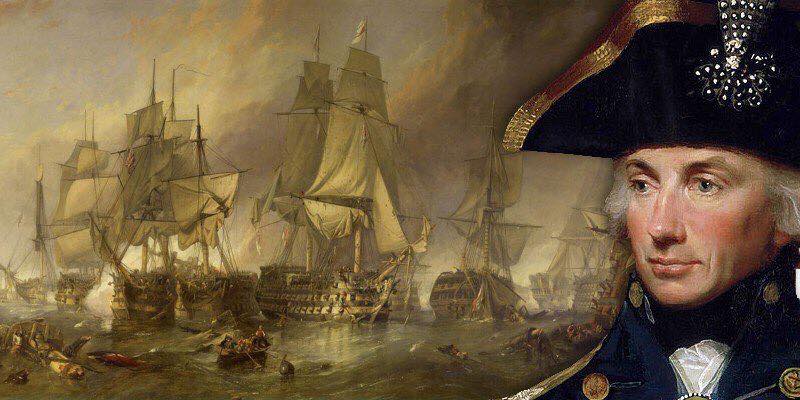 Trafalgar Day.
It is also No2 grandson Sebby's birthday, born on the 200th anniversary and known by me as Horatio!
Most years I aim to have one last cruise, sailing for a few days around the River Blackwater area, normally with my friends, Keith and Phil, the regular crew. Sadly with the darned WhuFlu this is not allowed to happen, even if I had a boat afloat to cruise in!
As it happens the heavens opened early this morning and the wind has blown! So would not have been considering it anyway!
The No1 grandson, Brandon, tells me they celebrated Trafalgar Day early on the Royal Navy's flagship, (his ship), HMS Queen Elizabeth. Not quite sure why, but maybe because it was the only opportunity for the whole crew to remember Nelson whilst they were still at sea. They are now back in Portsmouth.
So the toast tonight will be:- 'To his immortal memory', though I shall be ashore!
John
Saturday 17th October 2020.
Another week has sped by, more rain and the evenings getting darker so much earlier. Leaves not fallen in quantity as yet, but any day now! Just about the last chance to get the grass cut this weekend, before lots more wet weather....
River actually had 3 sails on it a couple of days back, no wind today and cannot see a sail... Really nearing the the end of a dismal season for so many.
Welcome to a returning member! Graham was enrolled with us with another boat some time back, but sadly that went very sideways. Graham and his family were trying to sort out the GH 'Sue of Solway', up in the north west. A little investigation showed there were lots of serious rot problems, but before they could attempt a repair some nasty bit of work got on board and stripped her bare! With all her gear stolen and the prospect of having to replace the lot as well as spend time and money restoring her was simply no longer an economic idea, so sadly 'Sue of Solway' is no more.
However the up side to this is Graham is now the proud owner of the E26 'Goldcrest'! She will be kept at Pin Mill and maybe we will cross Wakes. They have sent a load of photos that I will get on the Gallery pages soon.

Goldcrest E 26.
So welcome back Graham Evie and the 'lad'! Graham did manage to remove the GH sails for safe storage, which he is generously donating to the EOG, more on that later.
I managed to get back to my boat last week, and with the longer ladder, a scrubbing brush, washing up liquid and hose, removed almost all the owl poo from the top 2ft of my mast. I say almost because there is still a trace, got to get a 'scotchbrite' pad and use that next week on the stubborn bits! Amazingly the lime had already marked the anodising. To prevent Oly repeating the gift I have covered the mast with old plastic sacks. Visiting this week he has not left any further deposits and has moved to another perch nearby, so I have not evicted him totally, just not on my boat thanks!
Heard from a member that he was alongside the timber GH 32, 'Right-Eh-Oh' in France. I have asked him to tell the new owner that we can put him in touch with the person that has the original ships bell for her, and who wants to pass it on... not heard yet....
We are waiting on a couple of enrolment still, from the chap with the 'Kesteloo', steel Eventide and the Spanish chap building a Senior hull from the Selway fisher drawings. Always wonder why some do not jump at the chance of contact with the only group of fellow enthusiasts who may be able to assist with queries. Guess boat owners tend to be independent sorts.....
Reminder that the Forum is back up and all updated, when you go on to register though, you must then contact us so we can authorise you...
I am off to run the mower round and take advantage of these last few dry days.
Go and check those covers, winters on its way.
John
Saturday 10th October 2020.
As I sit to write this a huge thunderstorm is raging, just offshore, thunder rumbling in the distance and the rain lashing down.
Reminder to check those covers.
Robin, who owns the G.H. 'WineKnot' mailed to ask about auto bilge pumps. He is having a problem with rain filling the bilges. With our shallow bilged boats it is sometimes difficult to get a pump under the sole boards where it can actually work. Often the water level has to be higher than the sole to make the auto pumps work... Not clever!
I told him about my set up, where a 30 year plus, tall, powerful, 12v ITT pump sits on the hull planking under my 'L' shaped settee, it is in a locker, and against the keelson. There is a raised locker floor. Works with a separate float switch and will pump when there is hardly more than an inch of water. Has a three position switch on my switch panel. Off, Auto and against a spring, Manual. Of course this and the intruder alarm have to be live, when the boat is locked up and left.... Separate fused feed.
Will never suck it all out of course, a sponge and bailer needed for the last bit and that bit of water that gets the other side of the keelson. Has only ever been used in anger once, or twice, last time when my deep Sea Seal leaked off the Isle of Wight! Like to have dust in my bilges, not water! A case for spraying Cuprinol into bilges during layup, taking care to spray it into the ends of the boat too. And I have seven permanently open air vents too, got to have air circulating! Stepped on board too many wooden boats where a musty smell assaults the nostrils!
Rain water is terrible for wooden craft as the droplets of water pick up the microspores of rot on their way down, and once inside, with a little but of warmth, the rot begins! Killer for our boats. Keep the rain out!
Robin mailed again to say he had just found a pump to fit, its called a 'water witch', what a great name!
However I still maintain that a good cockpit cover is the best answer, if you cannot self drain a cockpit. We made ours self drain on 'Fiddler's Green'. So do not get water below. A cover is the only other option if the cockpit cannot be made self draining.. Not the easiest thing to secure and undo from a dinghy, but mine worked well on my first Eventide, 'Bluenose', kept her bilges dry!
We managed to make our cockpit self draining, as 'Fiddler's Green' was built to the later drawings with extra depth in the hull. (To offset the extra ballast later added to the design!). With this added depth of hull, I could raise the cockpit floor, the seats and the coamings, so it could easily self drain out through the transom. You have to make doubly sure all exposed woodwork is sealed of course, we glued and encapsulated all in epoxy, then two pot poly painted, to ensure water tightness. Also the locker lids have to have generous drains, and they have to be kept clear... amazing how little fluff it takes to block a 3/8 drain channel! Works for me though.
Had a thank you from Ramos in Spain, he needed measurements of the spars for a Senior, waiting for the enrolment.
Heard from Bede, the once owner of the only other Eventide I know of that has done the same 'round UK' trip as we did in FG. Maybe a little rubbed off whilst he owned her, because he is now thinking of trying in in his Centaur, 'Vanguard'. Bede is of course enrolled as a 'Friend' now. He tells me he may be retiring in a year or two, this will allow the time needed to prepare the boat for the trip! He did ask if I fancied joining him for part of the trip, but I had to say that in the 2 years since I came back from that round UK trip, I feel I have aged 10 and would not fancy doing it again, you have got to be fit and on top of your game!
We will keep an eye on Bede's progress!
I was down at the boat the other day, had to see the farmer and cross his palm with silver. F.G. can now stay where she is for the winter and as the farmer said, if things are not back to normal, to allow socialising and sailing, she is ok to stay in his barn next summer too... He and I are of the same opinion, this darn WhuFlu is not going away in a hurry!
Whilst patting her transom however I was appalled at the state of the top 2ft of my mast and rigging.... covered in bird lime! Looking under the mast on the barn floor, the large pellets gave the culprit away, a barn owl... so I am off down there soon to take the longer ladder down. Got to set to with the hose, washing up liquid and a scrubbing brush to clean it all off, before it corrodes the mast! Then I have to cover it all over to protect it. I have a tarp ready! Cannot be too cross, our barn owl box here had two chicks that flew this summer, could be getting my own back!
Heard from Mat our Senior rep, he tells us the article about 'Bethem', his Senior, will be in the November/December edition of Watercraft, on sale the 20th of this month. Will watch out for that!
It has just gone 1800 now, the thunder still gently rumbling offshore and suddenly, I see, through my study window, out at sea near the Buxey beacon, there is a vibrant, red hued sky with a rainbow in it, from the last rays of the setting sun, magic!
Maurice would have approved!
John
Saturday 3rd October 2020.
Had more new enrolments.
Welcome to Paul in Gloucestershire who appears to want to build a YM Junior. More on that one later.
Welcome to Chris in Newport , Wales ,who is researching 'boat building' and would like to join as a friend!
I have just sent a DVD of Senior plans to Michael in Texas.
At the same time Keith has been back on with more photos of his Selway-Fisher hull construction, he is steaming ahead! Using this method you can make a strong and stable hull in a fraction of the time, and properly epoxy coated as well as glued, it will last!
Build proceeding at a pace Keith!
Had an unusual request the other day, from someone with a Sadler 32. He was told by his surveyor to withdraw a couple of stainless keel studs/bolts to check the condition and had come across the EOG page on keel bolts and my warnings about using Stainless. Had to explain that we were taking about wooden boats, where so often the timber around the bolts would be moist.
He had also been told by a local GRP worker that the bolts should never be pulled as they would not go back in??? Don't know where he got that from.
I explained that many GRP builders used stainless as they surmised the bolts would always be dry, encapsulated in GRP. For the most part this is correct, but, if a water leak allows water to them.... I suggested he follow the surveyors advice and pull two and see what they are like, if good, great, just replace, if however corroded the source of the water ingress must be found and stopped.
At the end of the day he went away less concerned about using stainless in his boat and understood why we tell owners not to use it in our wooden boats. (shielding corrosion).
Had an interesting series of mails with new member Joseph in British Columbia. He is interested in building a Senior! He had read with interest the shenanigans with the old eoa committee that caused us to form nearly 18 years ago . Exactly the same has happened to two boating groups he was/is involved with. One at least is wanting to reform by using 'our' constitution rules as a basis for their group, to prevent the same hostile take over by non owning members, that we had... Seems boating is no longer a gentlemanly hobby anywhere in the world. We know of two clubs in the UK that suffered the same fate as us, but worse, one club the boating members lost their moorings, the other their access to the water and their clubhouse, (A canal side shack but still a valuable asset to them). Both clubs over ran by non boat owners!
We wish Joseph and his friends well in Canada.
Our membership must be approaching 1700 now, will have to ask our Database Manager John to do a tally up!
Chris in the Netherlands has spotted another Eventide for sale on EBay. Eloise. She is a very traditionally built and equipped Eventide 24.

At just under £4k it could be a nice buy, if she passed a survey... Have look here...
https://www.ebay.co.uk/itm/24ft-EVENTIDE/154111871062?hash=item23e1c88856:g:ELEAAOSwQ~VfdM5~
Whist on about EBay, I have asked the webmaster to check on the EBay page, as I no longer can get it to work.... He suggested changing from Firefox to Chrome, and it does sort of work better, but I still do not see the thumbnail pictures, which is annoying, other times I simply get a 'nothing found' message. Do any others have a problem with it?
I have just managed to buy a couple of bottles of drain/sink cleaner using it, but then the pictures disappeared again, very odd...
After the gales of Storm Alex over the last few days, it is time to sweep up leaves! Check your covers.
John
Tuesday 29th September 2020.
How quickly the evenings are drawing in, seems only yesterday it was light till after 2100hrs! Now 1830 and the light is fading....
Spoke to our webmaster Andrew in Bermuda for 20 minutes today. He has upgraded the Forum to the latest version. When logging on simply click the 'I forgot my password' button and you will be directed to a page where you can do just that. If after doing that you cannot get back in, simply mail me with the log on name you use and I will re-authorise you.
Welcome to two new enrolments.
Michael in Texas who is wanting to build a Senior to sail the many lakes near his home. Considering the Selway-fisher option for the hull, a good move I guess. Costs about £75 for the pdf files now. £90 for printed ones.
Welcome to Joseph, also the other side of the pond, this time in Canada, he also wants to build a Senior. Back in the 1970's he acquired a set of 3 Tonner drawings from Yachting monthly. Sadly he never built her. Today he is interested in the Senior and again maybe the Selway-Fisher hull.
I have spoken to Paul of Selway-Fisher again and sent him some details of the Senior drawings that we share. Seems he is getting a lot of interest in the design still.
Had a mail in from New Zealand, he says... My GH31 'Estere' is an Erskine build and sailed to New Zealand in 1974 via South Africa. 'Estere' is moored here in Orongo ( Maori for round) Bay, Russell in the Bay of Islands at the far North of NZ.
'Estere' needs some TLC but I have plans to get her to a stage where I can safely and comfortably cruise the local seas this Spring.
Within a days sail from Russell are some of the best sailing on the planet and, because our Government bit the bullet over Covid, we are currently on level one restrictions meaning we just have to maintain social distancing so there are no limits to sailing within NZ waters. We have today put our clocks forward- Spring is here!! Beautiful blue skies, a light breeze and 21 degrees- perfect. I live on an oyster farm so the outlook from my deck is somewhat different to the ones I had in the UK.
There is one other GH31 here in this area, a fibre-glass model. I have not seen any other Maurice Griffiths designed boats here in NZ in my 40plus years here- I emigrated to NZ from Coventry in 1980.
Envious not only of your cruising ground but of your positive government, stay safe! Assure you there are a lot of MG designs sailing your waters, they do write in occasionally!
Off to pay for my winter storage tomorrow... and to pat 'Fiddler's Green' on the transom... she is snug in her barn.... Time to plan for the next sailing season, whenever that might be!!
Stay safe, remember, this is not a drill!
John
Saturday 26th September 2020.
After one day of autumnal weather winter has arrived.! Temperatures have taken a dive, barely making 12 degrees today, after 26 degrees last week, Brrr.
Certainly no sails on the water for the last week, F6's and 7's! And cold and damp with it!
Had Paul Selway-Fisher on re the Senior, seems the interest is ongoing. Have two prospective builders coming to us for the drawings in the last week. Sadly one is a Spanish guy with no English and limited computer skills, hope I have been able to assist him, the other guy is in Texas and is having trouble enrolling. Wonder where he would be wanting to sail a Senior, they do get about! Don't know why he is having an issue, , the page has been checked and is working fine... still waiting.
Spoken to Andrew in Bermuda, the new webmaster. He has edited the Forum pages to force you to change your passwords... so now you may have to log on and say you forgot your password, to get a new one. Worked for me, but heard from one or two who had a problem for some reason. I have told Andrew and he is investigating. If you cannot log on and the 'forgot the password' bit does not work for you, please contact us and just give us your log on name (not your password, never reveal that to anyone!!). Andrew or I will then take a look.
Also asked Andrew to look at the EBay page. For some reason it has been playing up.... Hope he can get it going, as it used to pay a small reward to us for directing traffic there and we used to send that on to the webmaster as a thank you..
Nearly time to fire up the log burner, Winter seems to have arrived quickly.... Hoping for a bit of warmer weather in October maybe??
This in during the week, a reminder that some had good weather this year. Eilard our Steering Group member in the Netherlands. Here is his steel vessel 'Odyssee' drying out, in front of the island of Borkum.

John
Tuesday 22nd September 2020.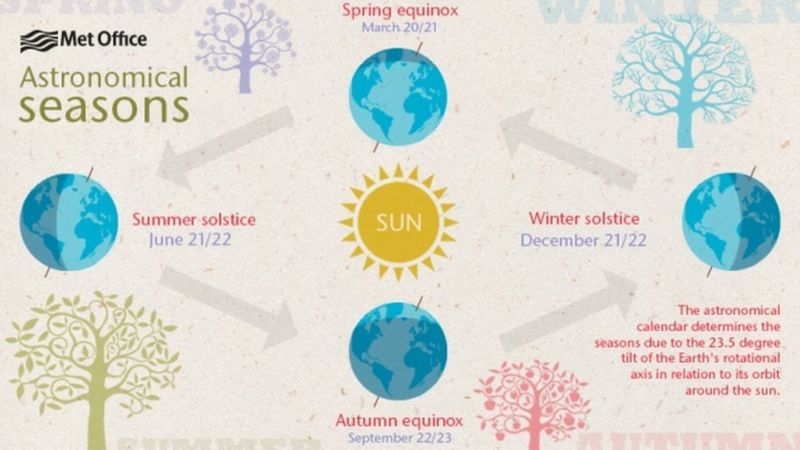 The Autumn equinox.
The temperature here has been in the 20's for days now, but this it the last day of summer, and tomorrow we are officially in autumn and about to get our first real rain for weeks. I have just organised my boat storage for winter, basically she stays where she has been since autumn 2019!.
Many will be thinking of laying up, if they are lucky enough to have been afloat. Doubtless these are many like me who visit their stored boats , wistfully hoping for an end to this dreadful Chinese WhuFlu. Hope you have had your Flu jabs!
Today we may learn the next stages in lockdowns to stop the advance of this scourge. Most of us have seen this day coming.....
Keep Safe.
John
Sunday 20th September 2020.
With the WhuFlu tightening its grip, as we predicted it would do, suspect it is only a matter of time till boating will be closed down, along with pubs and bars etc. A dire blow to those struggling to keep businesses going, but it would appear that my suspicions of drunks being unable to socially distance, and the younger people who think they are totally immune to this virus, partying, are true. We will now have repercussions for everyone. Don't know about you but we are still seeing groups of people gathering, many without any attempt to cover their faces. Not sure if they are stupid, selfish or just sadly misinformed.
Stay safe out there, hope we are all about to enjoy 2021!
Some good news in from Mat our Senior advisor on the Steering Group. Watercraft magazine are doing a feature on his Senior, 'Bethem'. Out later this year, watch out for it.
Heard again from the chap that took on the GRP WildDuck and who has got to part with it due to a vociferous neighbour... If you are anywhere near Preston ( and not locked down!), and are interested in taking it on, I will be advertising it for him on our pages shortly.
Having checked through another 40 Spam mail again today, pleased to say the Steering Group have given me the OK to renew the 'Spam Fighter' program for another 2 years on this P.C. This program has been so useful sifting out the rubbish, saving me much time!
Walked about half a mile behind our cottage with the wildlife officer the other day, carrying a long ladder. We were checking on the two owl boxes we had erected a few years back. This year another two barn owl chicks were raised in one of the boxes. A pair of stock doves commandeered the other! The owls were not in residence, so I was able to clear the six inch layer of disgusting crud from the base of the next box. Good for next year now! With a stiff F7 blowing, the detritus fortunately blew away from me. For the most part, still had to shower.. later met one of our members who had tried to take a boat out earlier that day, gave up and went to the local railway museum instead!
The weather now looks like taking a dive. For the past few days of wall to wall sunshine, albeit with F6's and 7's!!! I have been assisting a young builder replace suspect planking and then paint all my outbuildings. Got to get the last bits finished by the Equinox as the rain starts then. Still the farmers here need it.
John
Sunday 13th September 2020.
The sun has shone for the past week, on and off, and Wednesday we had a terrific evening meal on the Bradwell Marina Bar verandah. The Bosses birthday. The sunset was astounding! More boats out afloat. Wednesday afternoon we spent 3 hours doing a birthday beach litter pick and at one time we could see 12 sails on the Blackwater! Fingers crossed things will be better in 2021.
One of the mails in this week was from Barbican owner Chris, he has spotted this for sale in France.. https://www.port-navyservice.com/en/listings/golden-hind-31/
It is Richard Hare's GH 'Keppel'. Think he is either extremely optimistic of her value or does not really want to sell!
Chris also sent me this link, about Orca attacking boats off Spain! https://www.theguardian.com/environment/2020/sep/13/killer-whales-launch-orchestrated-attacks-on-sailing-boats
My contact with an Orca and her calf, off the Lizard in 2018, was a much more relaxed affair, glad I caught them on a good day!
Tim the owner of the GH 26 Orinoco, (Formerly Golden Mongoose.... I always thought it an odd name for a GH??), he reports he has managed to clean off and coat the very rusty bilge keels with a product called 'Fertan rust converter', this has the effect of coating and converting the rust with a brown coating that then takes a primer and antifouling. Seems to work but the proof will be at the end of the season, to see if it has held out...

'Orinoco' GH 26.
Orinoco's bilge plates cleaned and coated with Fertan, then antifouled. The alternative was to remove and re-galvanise!
Heard from Stuart re the Eventide 24 'Tarka'. She did not sell on EBay but he has been to see her. Sadly she had 2ft of water inside! I had suggested taking a blunt nosed knitting needle to probe for rot, he did not need one, large areas of ply under the stern deck came off in his hand.! Jury is still out on her and Stuart is searching his soul for an answer.... Suppose if the price was right... and you had the time and wherewithal to repair her.... but a big project.... we wish him well, he is now after a set of drawings....
As Stuart says , some proper heavy covers, not the 'Poundland' ones, will maybe enable her to dry out....
Watch this space.
Today I have watched as the builder has replaced the last of many dozens of rotten planks on my workshop, garage and outside stores, the newly cuprinoled boards have now mostly been painted, a few more days work to go yet. Cannot stress enough the importance of treating any timberwork with a wood preservative. I know the stuff is extraordinarily expensive, but when you are doing any sort of large wooden project, be it garage or boat, you really only want to do it once!
We are due for a short heat wave this week, ideal for my painting job, hope you can take advantage of this good weather, afloat or ashore!
New restrictions come in tomorrow, just hope this will stem the rising tide of WhuFlu cases, if not see us back in isolation before long... said it was not going away in a hurry!
John
Saturday 5th September 2020.
Another mixed week of weather, but today the sun is shining and there are a few sails visible on the river and out to sea. Sadly the 'season' is now rapidly drawing to a close and so many of us have not even hauled a genoa sheet! Mixed messages about vaccinations, so we can only hope next season will actually be a 'sailing season'!
A few mails in this week, one new enrolment.
Welcome to Stuart in Cambridgeshire looking at 'Tarka' the Eventide 24 up for sale at Wells next the Sea. The EBay auction seems to have ended with one bid, waiting to hear if that was Stuart.

Hope Tarka finds a good home!
Heard from John Stevens that he may have a series of photos showing the demise and recovery of the GH that has now been restored and is on our 'For Sale' pages. The people involved also seem to know exactly where that errant bilge keel is, though sadly it may well be so corroded now, and anyway the boat has a new one!
Not heard back from John Middleton with the steel Kesteloo, hoping he will be in touch.
Also waiting to hear back from Brian with some anchors etc. to sell.
Nothing from the new owner of 'Right Eh Oh' either, which is a shame, bet the ships bell would look great on board!
And as far as we know no one has stepped in to save the GRP wild Duck up in the NW. What an opportunity! A GRP boat to our designs, just promise to restore it and I bet it could be yours.
O
ff to enjoy the last of the summer sunshine, clearing up the debris after the workmen have finished replacing all the rotten planking on my garage and workshop etc. (The buildings should have been treated by the manufacturer with wood preserver, when new, but they omitted to do so.. over 20 years ago. ) Been replacing bad planks for over 10 years now, every time we repaint, new ones Cuprinoled before painting of course! Soon will have replaced most of them!
Wonder if you use wood preserver inside your boat? Every 5 years or so I sprinkler/spray Cuprinol up into the forward and aft lockers just in case, if there are any bare patches or cracks in the bilge paint it finds bare wood. Any excess finds its way into the bilge where it slowly seeps away. Left for months over winter lay up, the bilges are dry and the boat sweet in spring. Have to believe it must be doing some good.
Enjoy the weather, if ashore or afloat....
John
Saturday 29th August 2020.
The August Bank holiday Weekend.
Happy Birthday to Grandson Rafferty, 5 today!
Would you believe it, after all the lovely scorching days we have had the Bank Holiday arrives and is so typical of British weather. Torrential rain and gale force winds here! Bits of trees in the roads and floods. Sometimes I wonder why we have boats here! Even without the WhuFlu and with most of us 'of an age', being very sensible and safe and not going down to yards, clubs and marinas... the weather then just wants to kick you in the teeth for good measure!
There has not been a sail visible on the river for days, what with the fog (Easterlies always bring fog here!) and the wind. Those I saw on the one day it was reasonable, were under much reduced canvas. Counted 4 boats where on a normal day there would have been dozens if not hundreds....
Today as the cold rain beats against my study window, I have sat and updated a few pages on the site. I have added a GH 31 to the For Sale pages. This is one that a former owner, Nick, bought back after it suffered damage, he could not bear to see it in the state it was in. He has put his all into the restoration, a real labour of love, but at the last moment, after an injury, he finds his health now makes him unable to finish the job... Worth a look if you would like a GH for a silly price!
Likewise the Waterwitch at Tollesbury is looking for a capable new owner to get her back on the water.
Are there so few able or willing to work on wooden boats these days??
Chris of the Barbican 'Katana of Beaulieu', has noticed a French chap who has entered his Barbican into the 'Golden Globe Race, he has sent me this link.
https://goldengloberace.com/skipper/2022/arnaud-gaist/

prénom Feï of Shanghaï

Whilst I admire the courage of those who want to enter these sorts of races, I question the sanity of singlehanded sailing. You cannot comply with the most fundamental of the Prevention of Collision Regulations rules. 'Keeping a good lookout at all times'.....

Time will tell how he gets on, but though the design is a great choice, it is still a very small boat to pit against the worlds oceans!

I would have found my round UK trip much more comfortable in a Barbican, that's for sure, but as for venturing further afield, and without a crew as a watch keeper??

Chris has also highlighted problems on the forum, trying to rejoin or change passwords... Andrew is working on it and we hope all will be back to normal for Full members ASAP.

A mail in from Steve Nichols :-

Hi, Hope you can help

.

I am trying to find out who are the current owners of a sailing boat. My uncle who died last week, he built this boat in his back garden many years ago. I have pictures to prove provenance. I have found the original ships bell. It would be nice to give the bell to its new owners, the boat features on your website, hence this email.

The boat is 'Right Eh Oh' a GH 32, was owned by 'once friends', but they went over to the 'dark side' and were in at the dividing up of the silverware from the old assoc. and now not in touch with us. Shame we thought them nice people.. They sold it some years back and for what ever reason the new owners have never contacted us. Be nice it they did, would like to be able to get the original ships bell back to the boat. If you are out there, get in touch. enquiries@eventides.org.uk

Keith with the Selway-Fisher hull kit has been in touch, he is making good progress...

Keith says he is trying to be very precise, note the laser marker in use.

Keith tells us he is writing an article about his building of the Senior for a gaffers club and will send the finished text on to us to publish. As a retired cabinet maker/woodworker, guessing this to be a very nice boat when finished.

Another nice mail in from Malcolm.

I hope this sheds some light on (the history of ) Kittiwake for Jim. We bought her in 1999 from someone in Burnham on Crouch and sailed her round to Glasson via The Channel and Lands' End.

Had a few adventures on the way, as recounted in our log.

I fitted a later Sole diesel with electric start, converted to slab reefing and generally tidied her up as previous owner had let her go a bit. (The lady owner had been seriously injured in a horrific car crash and sadly could no longer look after herself, let alone the boat.)

Sailed her a lot in the Irish Sea, up to Scotland and across to IOM. Great little boat and a credit to her builder. When I sold her to John Holt I was present when he had her surveyed and the surveyor said she was the finest Eventide he had ever seen.

Gave up sailing due to a new career (thought I'd retired but other people thought differently!)

She is probably still at Glasson Sailing Club.

If Jim is interested I have a plaque for our voyage round from Burnham.

I'll gladly send it if I get his address.

Nice job Jim.

Malcolm .

So Jim if you are out there, reading this, do get in touch!

To finish off, the GRP 19ft 'Scoter', a WildDuck, is looking for a new home.

She is in the NW of England and has been moved from one yard and owner to another, with high hopes of being finished off, sadly the present custodian, Martin Lee has a 'neighbour problem' so wants to move her on...

So if you are up that part of the world, or have the wherewithal to transport her away, contact Martin.

:- martinleeuniversal at gmail.com

Time to go and sit my feet up somewhere cosy and warm now, wild and wet outside.

John

Saturday 22nd August 2020.

After several days of F6's and even F8, today it is still a good F6. No sails on the Blackwater for the past week!.

The emails have been busy though, had a load of photos it the GH that Nick in Rye is selling, from his daughter, but we are waiting for the details of the boat to be relayed to us by Nick through his daughter, some sort of hic-cup their end. We wait to see. If you are interested in a restored GH31, mail us, I will put you in touch. Asking about £4k last I heard.

Another new enrolment, Jeremy from Whitstable with the Eventide 26 Cosmic Wind. Now berthed in Faversham Creek. I knew her many moons ago when she sailed from Hullbridge on the Crouch, owned by Paul, a fellow police officer. Jeremy has fully restored her and kitted her out with new sails too. Looking very smart.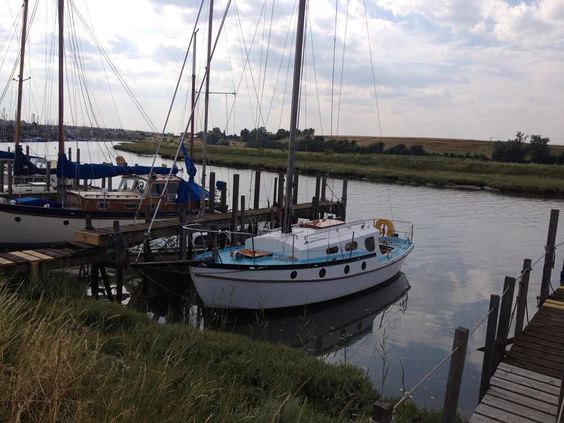 A very smart 'Cosmic Wind' on her mooring in Faversham creek.
Still no takers for the WW 'Blackwater Witch', none that we have heard of anyway... This could be a real bargain for anyone willing to roll up their sleeves and do a little work. A boat that has a pedigree! Many a mile has gone under her keel. A real 'rock stable' cruiser.
Andrew in Bermuda is yet to come back to us and confirm the Forum has been made safer with the needed update, but when he does I have another job for him.. check the EBay page. For some reason it works when it wants to, other times fails...
Talking of EBay, has anyone else seen the Eventide 26 mainsail in Tan that Bede brought my attention to. Seems in good order and knowing the cost of a new main, quite a good price.
Whilst looking for the mainsail I happened across the Eventide 24 'Tarka' advertised on there. The asking price just £400 with no takers after a week. Sad that there does not appear to be people willing to get stuck in and care for older wooden boats, this one I believe is double diagonal hardwood on the hull!
Another message from Steve the owner of the Eventide 24 Misty used as a motor boat on the Broads. He has found an SSR number on her and wondered what it was. The Small Ships Register number is issued to UK owners of UK craft to satisfy the needs of European countries that previously demanded full Lloyds registration. If you are not going foreign you do not need it. Valid for 5 years and not transferable it does not prove ownership either.
I have kept mine going every renewal, but do not really expect to
go foreign again. I like it as it was issued on day one of the SSR in November 1983, with a number of 00086! Not seen many lower than that! I had just started the build that summer, starting from a part built hull!
Writing this the rain is 'falling', almost horizontally. April showers in August. We really have mucked up our planets weather....
Darian has just rushed out for a second time to retrieve the little, brand new, kiddies bike we have put outside to sell. Grandchildren never used it.. Looking across to the River and the sea off here the water is muddy brown, really stirred up! No sails, not even the kite surfers off Clacton venturing out...
Hoping Storm Ellen fizzles out soon.
John
Saturday 15th August 2020.
I managed to sneak in a birthday last week without anyone knowing, when you get over a certain age they tend to have less relevance! One thing about my day every year is I get a free firework display. The Leonid meteor shower! Amazing bright trails this year.... You could still see them if the skies were clear, sadly as of yesterday we have has continual drizzle and rain, low cloud. Yesterday and this morning, fog again enveloped the Blackwater. Always seem to get it with easterlies.
Was sat at the marina bar verandah having a meal when I spotted Nigel and Heidi's boat. They have been members for years, first with a Senior, then an Eventide, then a Barbican. Eventually leaving our designs for a very large, long distance cruiser, 'Bluefin'. Good to chat, socially distanced, for an hour! I had only just turned on my phone to see if a large vessel seen on the move was on AIS, (it was) when I spotted 'Bluefin' on my AIS display. I had been told someone had been asking for me at the bar....
Talking Barbicans, Gary kindly resent the Barbican brochure as jpg files so I could easily upload them, done, see the Barbican page.
Had John with a Kesteloo moored in north Wales get in touch. He needs a little assistance with her, probably needs a set of Eventide drawings to assist.
Send a set of Senior drawings to Joao with the Senior 'Mikros', she was launched the other day and sprung a slight leak, very slight, but he wanted to understand more fully how she was built to try and seal her.
William with the GH 'Hale Kai' that I moored alongside 7 years ago during my transit of the Caledonian Canal contacted us. He tells me she is now moored at Granton. He was asking about tabernacles for the masts... His is mounted on a hinge, but I maintain that is not strong enough to use to raise and lower a GH mast, should be in a substantial tabernacle for safety. Unless a GH owner has one of these flimsy looking ali hinges and has managed to raise and lower OK.... I have seen these break when masts get out of true, with quite serious consequences!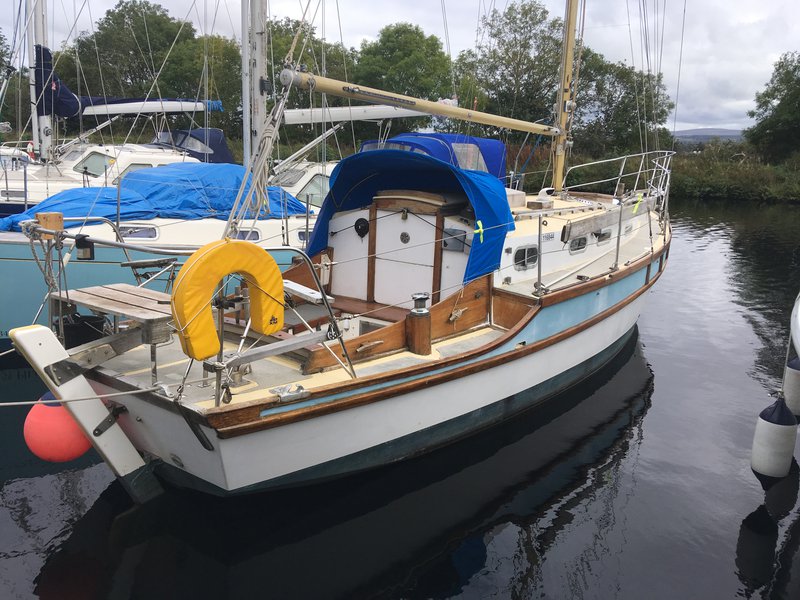 See what you mean about the high antifouling William!

He also commented about the wavy waterline so high on the hull! Seen a few of those! A reel of 3 inch masking tape needed! Sadly cleaning off the antifouling when it has been raised too far, normally means a repaint for the topsides too... difficult to totally remove all traces of antifouling too and it leaches through paint if you leave any on!

Reading William's pages on line, https://halekai.uk/ I have a sneaky feeling she is being converted to a smaller version of Radio Caroline!

This just in from Matt.

I put a post on the Eventides Forum regarding how to set up a spinnaker on my GH31. Just wondering if you have any info, or who I could ask/ helpful pictures etc.

I am used to a modern race boat and I do not have all the fittings, blocks etc that the plastic tub has! It has a downhaul, uphaul, blocks for guys and sheets, more winches and more everything...

Any advice most welcome. Regards, Matt

Anyone help him out here! I have a cruising chute that has not been out of the snuffer in years and have never used a Spinnaker, left that to the racing boys! I still have a track up the front of the mast with a pole that has a halyard and downhaul to keep it level. For the sheets I have blocks right aft on my stern rail either side, the chute is raised on a halyard in the snuffer, that halyard is outside of everything at the mast head and the tack is lead to a block at the end of my sprit. The snuffer has it's own downhaul to pull on when the chute needs 'snuffing'.! As I understand it a spinnaker proper has also to have 'lazy sheets' and 'guys'? and probably a downhaul to get it down. Lots of string to get tangled....

A cruising chute in a snuffer is much easier to tame, and have seen spinnakers in snuffers too...

Can anyone assist him with his post on the Forum?

Speaking of Forums, you may be prompted to change your password next time you log on, if so just hit the 'I forgot my password' to get a new one sent, you can then alter it to whatever you like after... Just done mine!

Good to see more taking advantage of the Forum! Got a long way to go to catch up with my Seagull forum though, that is so busy I am amazed, sometimes hundreds of members on there at once!

Thanks to Andrew, the new webmaster, based in Bermuda, for sorting a few glitches on the Forums, countering any hacking attempts! He is a cyber Security man for the big names! Indebted to him.

Lastly, the smart traditional Vulcan advertised on the site last week, has sold! Sold by a chance encounter with an English guy in the Netherlands as Eric was looking at buying a car! Hope to get an enrolment from him shortly!

All for now, still raining steadily out there, is that summer done and dusted then??

John




Sunday August 9th 2020.

Exactly two years ago, about to set off on the very last leg of my round UK, 'Fiddling Around' myself and our Database Manager John Stevens were trapped in Scotland, literally! A ruddy ship, in this tiny harbour, ( listed as the most difficult to enter in this part of the world, but easy for an Eventide!!), had tried to swing itself whilst secured by the stern?? No control, stuck!

Tom the harbourmaster could hardly believe what he was seeing! Blocked the Lifeboat and all the fishing boats in too!
Seems an age ago now, what with not even being able to get afloat this season! Great to look back on. Our little home built boats are sneered at by some, but we know what they can do!
Had an up-date from Frank with the Medusa 25 I spotted in Mylor creek on my way west that year. He has sent a pic. Just repainted her antifouling, ready to try and get the best out of the remainder of the season...

Looks neat and clean Frank!
Frank re enrolled to update his details. Wish more would.
The UK is in the middle of a heat wave at the moment, with the mercury climbing to 30 plus for the last few days, it will all end in a thunderstorm, always does! Remember that halcyon summer of '76, ended with a bang just after the August Bank holiday.
Yesterday here we had clouds but 30 degrees, but we were cooled by a fresh sea breeze. Could not see how many boats were about as the river was thick with fog rolling in from the sea! The day before 1 solitary boat was seen hurtling downriver in a F6, under a scrap of jib.
Strange thing is when I look at my AIS on the phone, (Isn't technology great these days!), I can see loads of very large private yachts out, up and down the Wallet and in the Blackwater, many 12m plus, but when you look across the water they are the only boats, no small cruisers, are all of us simple sailors still laid up? Speak to many who are. Who owns these big boats, companies, sea schools??
The profusion of AIS transmitters is becoming more of a problem for us small boat sailors, sadly I have had to disable the AIS alarm on my Plotter, as I was spending more time cancelling the alarms than tweaking sheets! The AIS receiver onboard was great on my round UK trip as very often no other small vessels in sight, and you wanted to know what the big boys were doing, but when in a local river....
Another thing I have noticed, very few of those yachts fitted with transmitters, have bothered to upload a photo of their boat so it can be recognised? Do not get that.
In the last week I have received all the details of that smart looking Steel Vulcan for sale in Veere, Netherlands, I will be posting that advert later. Also got the new Barbican details from Gary to post on the Barican pages....
Enough for now, I am off to finish a paintwork repair on our cottage, we had a little patch of paint get water under it... Sat eating my breakfast in the garden today, I mused on how much our cottage looks like a hard chine Eventide, upside down!
John
Sunday 2nd August 2020.
The wheat in the field beside us has been harvested, where has the summer gone!??!
The Blackwater estuary and the sea between there and Clacton has at last been filled with sails, we have had some very pleasant sailing days. Here on the coast we have had some appreciated cooling F4's, inland they have been sweltering. So many like ourselves shying away though, it is still not safe and now the rate of infections is gently climbing again we are maybe looking at more lockdowns and the closure of the pubs and bars. (I thought it was super daft opening them in the first place, after 2 or 3 sherberts no one had any idea what 'social distancing' meant.)
The EOG computer was off line for a few days recently. Nothing wrong with the new machine, but we had one of our too frequent power cuts here and the 'Uninterruptable Power Supply' we have here for the EOG machine, failed. No damage anywhere, but the internal 12v batteries needed changing!
All sorted now, with the speedy permission of Steering group a new set of back up batteries have been purchased and fitted, all safe again!
Had Gary with the lovely Barbican 'Tempus Fugit' back on, he is going to sail from Kemps Quay, Ichenor, nice part of the world, but busy!
He says, 'The keel configuration is the centreboard version, however the board has been removed by a previous owner, and I have no intention of refitting it. I may look at having the keel aperture filled at some point.
' What a sensible man! Quite few have removed those troublesome boards, Maurice would have approved! Filling it with an epoxy and lead shot mix is the standard way to go!
Gary has also send us some scanned paged from the Barbican brochure! These are different to ones we already have so I will be adding them to the pages shortly. Gary is new to sailing, but not boating, having cruised out of Wales for some time, so he is rather sensibly having sailing lessons! Well done Gary.
Had this in from Keith in Wales.
Stack of marine ply!
This is a Senior in the making! A load of marine ply from Robbins to go with the drawings he got from us and the 'Stitch and Glue' hull plans from Selway-Fisher! He is making a start on the building frame, more power to the elbow Keith.
Mat our Senior Rep has been asked to do a write up on the building and sailing of his new Senior. Will go into Watercraft magazine.
So we are now needing an Eventide Builder to step up and maintain the balance!
Peter With the Atlantic Clipper, 'Jessy' in Ireland mailed to say his registration on the forum did not seem to be working?
Sorry, the auto registration has been stopped, since Peter the late webmaster, had to disable the system that sent all new registrations to us to authorise. Some daft hacker managed to get round the security and send us thousands of registrations a day..... Needless to say we were happy to scrap all of those and are still doing it.
Andrew our new Webmaster has been on, now recovered from his nasty bout of the WhuFlu. He is adding a note to the register page, (that hackers won't bother to read I suspect), asking new registrants to contact us after filling in the form to get authorised.
He has also set in place a rolling re-registration so we all have to change our passwords every 6 month. Advises all to change their passwords ASAP. He is also putting a note on the Forum to that effect.
Andrew is also going to update the Forum adding more security. The site is saved daily by Andrew, as well as here and in the cloud.... Belts braces and bits of string me!
Finally this in from Simon our GH rep in Spain, he is all ready to go back in!
Simons very smart GH!
Stay safe wherever you are and good sailing if you have managed to get afloat.
John
Sunday 26th July 2020.
The number of boats out and about increasing daily, but still not back to 2019 levels. Many of the older generation sailors, myself included, still wary, and as it turns out, rightly so. Many areas of the UK and the Contin
ent appear to have a resurgence of cases. Be careful out there!
We have had a resurgence of enrolments too!
Welcome to Gary with the Barbican 'Tempus Fugit', oh and doesn't it! Not sure yet where she sails from, but a good looking boat..

Welcome too to Steve with the beautiful 'Sea Fever' The last GH Mark built. ( And owned!). She is based in France at La Rochelle. Hoping to get a log or two in from Steve, this boat needs to travel!

Notice no EOG burgee as yet??
One of the enrolments I had dismissed came back, seems mails were lost in the Ether! The last one I found in the Spam! (In amongst the dozens of Junk mails from china!). John is asking about the drawings for the Senior, this is a popular design, especially after we got a professional kit hull organised! John is in Jacksonville, US of A!
Another that came back was Robin in Sussex. He is looking to buy an Eventide or maybe a Waterwitch to restore! Pointed him in the direction of 'Blackwater Witch'. (More on her in a bit!). He says he nearly bought 'Wedjit' but was piped at the post!
At the moment he is looking at an old advert for an Eventide, the one in Poole, not sure if she is still for sale. Sadly owners do not always tell us if they sell, sure it is not to get out of sending us a donation is it?
Another who responded was Alan, from Manchester. Welcome Alan! He replied thus:-
Hello John, I'm sorry I haven't posted anything. I am just an interested onlooker. I was employed by Kenneth M Gibbs of Shepperton in 1946, I was 14, and the tea boy., Mr. Gibbs built mainly Thames sailing boats, including Freebooter, I think this boat is still afloat and in Cyprus. Freebooter was a lovely craft, but it sank to the bottom as soon as it was pushed out of the workshop.
In 1947, the Thames was flooded to such an extent that the workshop, which was six foot above the bank, was also flooded to about a foot deep, Mr. Gibbs thought it a good idea to simply push the boat out onto the flooded bank—otherwise some of the workshop roof would have had to be removed as it was pushed out and down onto the bank.
The boat was almost finished, but unfortunately the keel bolt holes had not been plugged, and when it settled on the water, about twenty fountains of water could be seen through the ports, there was panic as the Mr. Gibbs and another man jumped in and tried to seal the holes. but not having the right size of wood to fit, the boat sank, with only the the top showing.
Great Story Alan! and look forward to more insights from the Gibbs boatyard, bet there were some stories to tell, that one is older than me! Just....
And another follow up mail from Peter in Ireland, he found his Atlantic Clipper, 'Jessy' when on a sailing trip in the west of Ireland, says a former owner had stripped her out to start renovation and abandoned her. He has found a former name on the paperwork with her. 'Mollymawk'!! that rings a bell, The GH in Ipswich! Different boats of course, but a popular name! (In sailors slang it is the name for the wandering Albatross!). Tried looking her up in a 1975 Lloyds register of yachts, but she is not in it, she was registered at some stage though... John Stevens looking at our records. Peter is a boat builder, so this one looks to have found a good home.
The winds have picked up today and the rain has been rattling down, all the sails visible this morning scurried for cover, F6 out there now. Figured out the school holidays should have started last week, for the few that were at school, maybe it is why more boats about, well more than a few solitary sails anyway.
Footnote. I said earlier I went to Tollesbury Marina to cast an eye over 'Blackwater Witch'. BEWARE. Tollesbury marina has installed a sneaky camera system and a week after I visited I had a demand for money with menaces! Seems you are not allowed to be on their grounds for more than 10 minutes or you get one of these demands.
Now bear in mind I visited to assist Polly and the Yacht sales guy. I visited at a few minutes to 1900 on a Sunday. The place was deserted.
Apparently you must visit the harbourmaster or the clubhouse and enter your registration to avoid a fine. As both closed.....
I spoke to Phin the harbourmaster the same day as the demand appeared and after several days delay, he assured me the demand was cancelled. Seems it was done by a machine. A human may have figured it was impossible to obtain permission from anyone. I spent 14 minutes motoring round searching for the WW, before I gave up and left. Subsequently found it had been shifted of course.
So beware Tollesbury Marina is not somewhere you can drive in to look at the boats for sale outside office hours... Apparently I was not the only one to get such a demand recently. Just heard another lady got one even after being directed into the campsite there by the harbourmaster, she argued but got nowhere, and had to go to an appeal to get it rescinded! Not a friendly place anymore!
What has happened to boating? So many boats not selling, marinas putting prices up, though they have empty berths and creek moorings emptying fast. Owners priced out... Are they writing their own epitaphs?? Greed... Are we seeing the end of the golden age of small boat ownership and cruising?
John
Sunday 19th July 2020.
After a few hot and humid days, today it is just humid, mizzle as we call it here! Time to retreat indoors from garden chores and catch up on mail etc.
A lot of mail this week. Nick has been back to us, not Ashley's Dad, a different Nick, he was re-enrolling to change his address. Nick bought back the GH 31 that sank at Tollesbury about 4 years back, 'Pengallion'.? You may remember the story, Sharon spend an age and lots of pennies restoring her only to have her sink in just 24 hours, when she caught a bilge keel on a mooring chain and it ripped off!!! Sadly Sharon had no insurance????
Cannot think why anyone would not bother to insure their craft.... for just this eventuality! (Hear some are frightened to have to have a survey done, fearing what that might turn up.... These owners, I believe, are a liability to others. If they take anyone out on their boats or hurt anyone if something fails, causing damage or injury.... OK, 3rd party insurance will pay for damage, but what about the hurt??). Owners who care enough to invest their time and effort, generally keep their craft in fine fettle and would be devastated if their craft sank or was otherwise damaged... so pay the insurance... to me, a survey every 5 years is worth the money, just to double check that everything I have done is as it should be.
Nick could not bear to see the GH he had sailed and loved in such a poor state, so bought her and took her away to restore. Looking at the structural damage alone when she was at Tollesbury, I thought he was on a hiding for nothing, let alone replacing everything on board that had to be scrapped, and I mean almost everything... He says he took feet of mud out and hundreds of dead crabs etc., the whole boat got pressure washed and cleansed, then repaired. Another motor fitted of course and rewired and all. Sadly though Nick is now getting on and has had an accident resulting in him having to give up ownership. Nick thinks the boat needs approx. £1k worth of cushions and bedding purchased and fitted, then it can sail anywhere again. He will be asking just £4k for her! She is in Rye in Sussex. He is organising an advert to be sent when his computer savvy daughter calls round next week, watch this space!
Another boat for sale is the WW 'Blackwater Witch' ex 'D
ougaljo' , now advertised on the 'Boats For Sale' page. Seems there is a little soft hull planking to replace on the port side still, but the stbd side all done apart from fairing off and filling. Again a lot of boat here for the money.
Had another request for drawings, the Senior and several more enrolments.
Sadly I have dismissed a couple of recent enrolments as bogus. If an owner enrolls we always have conversations back and forth to answer queries and help where we can, when a new enrolment ignores all mails we have to assume it is someone playing silly beggars! We have had two recently. It is a bit like all the Spam mail we get, annoying but goes with the territory! If anyone takes the time to 'put themselves out there' on the net these days it appears you have to expect the mindless to take advantage!
Welcome to Joao in London with the Senior 'Mikros', yes Geoff Hyde Finns boat! Joao will sail her here for a while before trailing her back to his native Portugal! 'Mikros' is no stranger to long distance trailing!
Welcome too to Keith in Somerset who is actively looking for a Senior to build or restore. interested in a centre boarder and maybe gaff rig.
Welcome to Peter in Ireland with the Atlantic Clipper 'Jessy', he sails from Dingle, where Fungi lives! you may have to Google him, we've met him!
The other enrolment was not a new member, but a change of address! so pleased to get this.
So many we have tried to contact by e-mail recently have turned out to have changed their mail providers and not let us know, They even move house and phone number, ad not let us know. (Last thing on their minds I would guess when moving house!) We fortunately have sometimes been able to contact them by mobile though.
Good news from our Senior rep Mat. Pete Greenfield of Watercraft Magazine is interested in an article about the building of 'Bethem'.
Mat says he has had some great sailing on near empty Norfolk Broads, till last week, when the 'Hulabaloos' were let out! A friend of mine was up at Potter that week and he said all hell was let loose when 50 hire boats left Woods yard at Potter Heigham that Friday, all at full speed!
Be good to see Bethem in print. Mat has been experimenting with ballast on his centre board Senior and has added two 50lb batteries, one either side of the centre board case. A Solar panel on the foredeck keeps them charged and a 40lb thrust electric outboard makes good use of the stored amps and gives a good cruising speed! (On the Broads!). He adds that for sea use his outboard would be pressed into use!
We possibly have another boat about to appear on our for sale pages, a Vulcan. Owned by Eric's father and moored at the charming town of Veere on the Verse Meer, I will let you know when I put the info on the pages.. She is called 'Witte Raeff' and you can see her on the 'Other MG designs' section of the gallery.
After writing this the mizzle has developed into light rain. No sails visible on the Blackwater nor out to sea. Speaking to friends who sail their cruiser out of Bradwell creek, they say few of their friends are afloat or if they are are they are not on their boats. The sensible are staying home, the WhuFlu has not gone away, it is just lurking to catch the unwary!
Our friends made a trip up the river the other day, and wished they hadn't. Not many sailing, but dozens and dozens of fast, noisy wet bikes out there, far more than normal, with most acting like yobs. Reminds me of the page in one of M.G.'s later books were the peace of the creeks is disturbed by mindless people in a power boat... Sadly with no rule enforcers afloat anymore, the only place to get real peace these days is to go offshore...
Was quite peaceful most of the time during my round UK tip, time to read my log, again! Happy memories!
John
Monday 13th July 2020.
Yesterday for the first time in over 3 months, the river and sea here came alive with boats. I counted 40 vessels of any size and countless tiny canoes and watercraft from my deckchair on West Mersea beach!
We were having our first family get together in 4 months, lots of elbow bumping! The sun shone the F3/4 SE was cooling and we all got slightly sunburnt!
T
oday however only 3 sails out there. And the weather as nice if not nicer with a gentle F2 Westerly. Seems many boat owners still ashore.
Got to take a detour on the way home and check in at a couple of boats at Tollesbury, the Database Manager's Eventide and the Waterwitch , 'Blackwater Witch' formerly 'Dougaljo'. I will be posting an advert for her shortly, selling for just £5k. She has had extensive work on her after someone used her as a caravan in the car park behind the sailing club there, and allowed wet rot to get in, all the stbd quarter hull planking removed and replaced! Looks like a great job but just needs finishing. So if you are in the market for a well tried and tested, loved WW, contact us or watch out for the advert on the 'Boats for sale' page.. Soon.
Still trying to make contact with Nick Butler. If you are reading this Nick please phone, as it looks as if you are having e-mail problems!
Not heard back from 'Dr. John' in the USA either, think that may have been a bogus enrolment. If people do not respond we do not count them as members!
Brian Cox the owner of 'Omrod' the Eventide 24 that was given a Viking funeral some years back, has been in touch, he has sails and bits to sell, they will go on the site on the 'Bits For Sale' pages...
Had an enquiry about wire sizes to use with 100w solar panels. Thicker than you might imagine, that is over 8Amp current flow at full output! Was able to point him towards an on line calculation table to figure it out, depending on length of cable run! As he said, the darn Chines panel had woefully short cables!
All for now. Off to put more 'after sun' on!
John
Sunday 5th July 2020.
Just had to empty the spam folder of another 24 offers from China to sell us masks etc. They never give up!
Welcome to David in New Zealand with the Eventide 24 'Quest'. She is double diagonal teak! Will last forever! The story goes that she was built in 1960 in the far east somewhere and sailed to New Zealand, arriving 1962. Now there's a log that would be interesting reading. David is renovating her now. I have asked about the keel weight, because I had a 1960 built 24 and that only had 560lb, sailed on her ear! Terrible weather helm!. Cured it by almost doubling the keel weight in line with the later drawings!
Welcome to Steve and Fiona with a lovely green Eventide 24, 'Misty', on the Norfolk Broads, they have just enrolled too. Good to have you aboard. No rig, used as a motorboat, for now!
Still no response from a couple of recent new enrolments. Not heard back from Nick Butler, which is sad, hoped he would verify he was Ashley's dad....
Have managed to put the ex owner of Spoondrift in touch with Wim in the Netherlands, thanks to work done by John Stevens on the database!
John is still working on the Halcyon 14!
Had sad news in from Polly who was rebuilding the Waterwitch 'Blackwater Witch', ex 'Dougaljo' at Tollesbury. She is selling her as John has sadly died, our thoughts are with her... The WW is part renovated... Contact David Morris at Tollesbury yacht sales if you are interested in a project. Lovely boat when Doug and Jo sailed her, we have sailed in company for hundreds of miles!
No sails hardly on the river all week, one day saw just two, been breezy mind! F7 today and of course river is empty. Strange times...
Lastly Roger has contacted me re a survey he has done in the Estuary. Lucky chap he is afloat, albeit in a new motorboat, sadly sailing no more.
2020 Update - Re-survey of the SW Sunk Swatchway
Re-survey of the SW Sunk Swatchway
Conditions on Tuesday (23rd June) were about as perfect as I could get. This image is looking west towards the Barrow Deep right in the middle of the swatch. The flood tide through the swatch is obvious. Note the obvious 'workboat' style of vessel. My arthritis has sadly forced me to part with 'Tiller Girl'.

The swatchway was as expected. Very similar to last year and last year's waypoints can still be used. Please download the chartlet on: http://www.crossingthethamesestuary.com/page29.html. It is the first download. The button provides a PDF version but a 'mouse-over' the image will provide a download of the JPG.

Overall depths have reduced but not to trouble us. On the eastern side of the swatch if following the track, the worst at CD is 3.4m. The eastern side was very flat. The western side remains the deeper side: A detailed comparison against last year's survey shows that the bottom does vary but largely remains as before. I always survey on the flood so I can only talk of the tide on the flood: going from east to west on the flood there is a nice boost through the swatch - it is a natural venturi. It might get a little tide rip where tide meets the Barrow Deep but any disturbed water is right in front of the SW Knoll which is well away of the waypoint.

Talking about the detail does tend to raise concerns. Follow the waypoints and it is quite safe. The north-east side remains a nice gradual slope towards the Middle Sunk knoll so always hang on the north-east side of the track.

I was monitoring VHF 69 as usual for the regular tidal height reports from the PLA VTS. Unusually they did not broadcast the reports but that might have been because there was absolutely no traffic in the Black and Barrows Deeps in the 4 hours that I was there. But VTS had clearly monitored me as they called me up for my 'intentions'. No problems. It might be useful to monitor VHF 69 until you have cleared the Long and Sunk Sands.

Overview of other crossings

The Little Sunk: This is adjacent to the Barrow No 2 PHB. I did a survey in the second part of the season last year and the download is on the same page listed above. The Little Sunk is a very stable flat area and it hasn't changed significantly for years. So that will be fine.

The Middle Sunk: I continue to recommend not using this crossing at the moment. It is feasible but needs a 'dogleg' to avoid the unmarked remains of the old Sunk Beacon and to avoid the 'finger' that extends right in front of the route out from the Middle Sunk knoll. Now: DO NOT rely on any chart or chart plotter at the moment for the 'finger'. It is only a very small area of concern but charts show depths over the 'finger' an optimistic 1.1m and 1.9m. A Port of London Authority survey in 2015 showed two drying areas of 0.2m and 0.1m over the finger! A reader went aground at LW Neaps in the area last season.

I was given a copy of the PLA data so I have drawn up an 'amalgam'; the 2015 data is clear. Of course this is 5 years old but the reader's experience suggests it is still 'not good'. Note that the current Admiralty Chart does not include the PLA 2015 data so all leisure charts (Imray, C-Map and Navionics) will not include the change. The point is that the Middle Sunk routes have no advantage over the SW Sunk routes so I continue to recommend NOT going that way.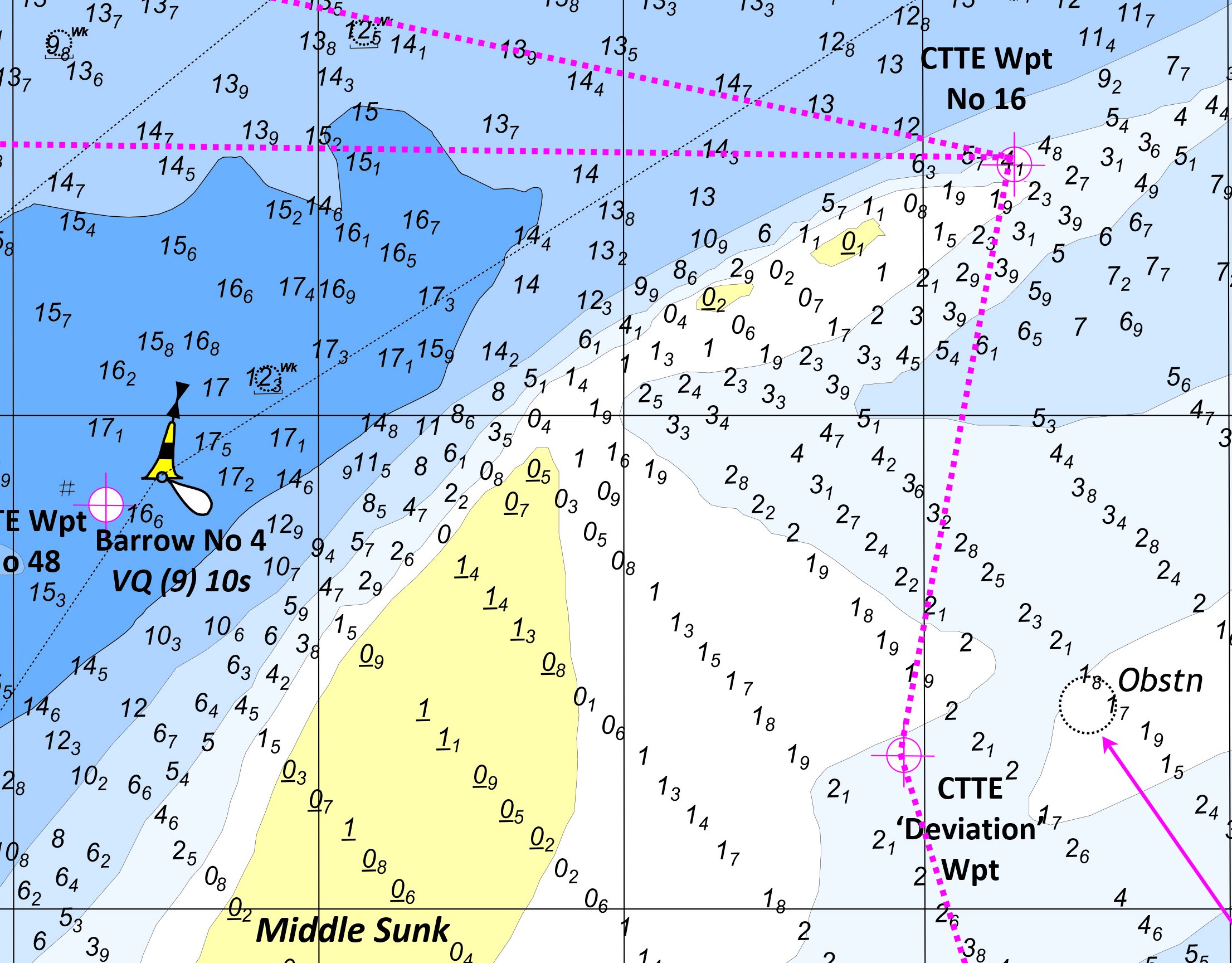 Long Sand: Fisherman's Gat is no different to before. Foulger's Gat did have a long term maintenance issue in Foulger's Gat which did restrict a bit of space but that is now finished and over. London Array continue to ask you to call up any London Array vessel just before entering.

Long Sand Head is a volatile area of change but the buoyage is quite up to date. Indeed the last Notice to Mariners on that was in Week 49 of last year. That notified a small move to the north-east of the North Cardinal Buoy and a continual move of the Head in the same direction. You can look up the last Notice on http://www.crossingthethamesestuary.com/page9.html. Select the 'Mid-Estuary list and scroll down to Week 49 of 2019.

Edinburgh Channel remains unmarked but it is still there. Any Notices have shown little adverse change. Princes Channel remains unchanged.

Season now starting?

It seems it will be possible to start 'officially' permissible to stay overnight very shortly so I hope you get some good weather. Tuesday was really nice for the work! Oh, one other thing. In the lockdown I did some fiddling with the A3 sized Overview of all the routes to improve the quality of the clarity. Some simple colour changes seem to me to make it look better. It is a large file so if you want to download it let me know and I will send you a Dropbox link.

Happy sailing

Roger

Will be a while till we are out afloat again, but I bet Roger will have an update for us by then!
John

P.S. Monday morning, just corrected the dozens of typos! Must have been asleep! No, I had not been down the bar at the Marina! (We are waiting till it is really safe!).
John

Sunday 28th June 2020.

Sorry for slight delay, 10 days since the last entry! We have been a little busy. Formed our social bubble with Darian's daughter up in Suffolk so we could help her move house. Unfairly in the middle of the WhuFlu she had been given notice to quit as the landlord suddenly sold up to a developer. Loads more houses in the back garden, concrete over the countryside, why don't we! Fortunately she has found another place within 3 miles so the youngster can still attend the same school and she can get to her work doing vital grocery deliveries locally. Not what you need though when she is up at 0300 to work. After a few strenuous days work we have retired aching, the heavy stuff being done tomorrow. Then we are the clear up crew! Dodged the heavy rain with big trailer full of boxes of kit, many times!

Nice thing is, her new place it right on the Stour navigation, very tranquil and boatie! But a three story town house and on the hottest day of the year!! Crippling!

F8 ripping through here for a couple of days now, no boats dare venture out! Dodging heavy rain here today too, Shouldn't Wimbledon be on about now? Always reckon on the odd good downpour for that.!

We have heard from Terry, that her family have had a lovely first sail on 'Mollymawk', out of Ipswich. And she has just made a donation for a set of the GH drawings etc. On the way shortly Terry.

New enrolment from Nick Butler, I think I know him, Ashley's dad? Have mailed him but no response so far, years ago he had a Senior and he says he was a member of the defunct assoc. on his application.. so sure it is the same chap... Hope to hear soon. He now sails a GH31 out of Rye on the south coast....

Another enrolment from Alan of Manchester, but no idea as to what boat he either has or is interested in, await a response from him too.

Sent a DVD of the Senior drawings out to Kuno in Switzerland, be interesting to see how fast he gets on with the build!

Elle in Cornwall has been in contact re a Steel Eventide she has seen advertised on the East Coast, she needs more info from the seller before committing to travelling all the way across the country to see it.... Advised a surveyor...

Had a DVD arrive here from Matt in Australia.

He bought a Good Hope design and inherited loads of paperwork and drawings etc. from a previous owner. He has generously had them scanned and sent them on so they will never be lost. (We forward all our updated and correct drawings on to both the woodworking colleges in the UK and the Greenwich Maritime Museum to ensure they are never lost again..). There is some interesting stuff in there. Notes from M.G. about the building of:- The Levanter, Francis Drake 37, Idle Duck, Noontide and Barrier Reef, all mentioned!

Quite a treasure trove. We will add these details to any we already have, to offer to members. Many thanks Matt.

John Stevens is researching e-mails on Spoondrift and the 14ft Gibbs dinghy. Hope we can assist these owners and get them in touch with others that can assist.

Watching the antics of some in towns and cities and on the beaches in that sunshine, I have a dreadful feeling we may be back in lockdown before too long. Hope not, but looks that way to me.

John

Friday 19th June 2020.

Though the restrictions on most of us have been relaxed slightly and many of us are venturing out for the first time in months, there are still very few boats afloat and visible on the river Blackwater, and out to sea heading for the Wallet or the Swin. This WhuFlu is not going away and I for one am cautious that it could well come back to bite us on the backside!

One boat that I missed sailing by was the Waterwitch 'Wedjit', she should have left the Blackwater bound up the Wallet for Ipswich early in the week. Tim has sold her! Sorry to lose Tim off the Steering Group, he has been a valuable member. So for next year there is going to be a vacancy for another owner to join the 'Steering Group'. We already have one WW owner, Nick Lonton, so it could be an owner of a different design or another WW owner, bear it in mind for next winter...

We have had a request from a lady for information about a Gibbs design, the Halcyon 14. She has a very pretty one of these dinghies and would like to know if there are others, there is one on the Gallery. Hers is number 77.

If you can assist please contact her, her mail address is:-... suitably disguised... you know take out the spaces and the 'at' and put in the '@'.

elainejohnston1 at icloud.com

Wonder if Chris King, the owner of the Halcyon 14 on the gallery pages can assist?

Welcome to a new enrolment, Kuno in Switzerland. Kuno is interested in building a Senior. Not sure I have ever seen such a clever mock up made of one of our designs! think you will agree Kuno has put a lot of effort into this so it bodes well for the finished Senior!

Had this mail in from Neil, can anyone assist?

Hello

,

Just noticed on your website a picture of the Golden Hind Spoondrift, looking immaculate, in the Netherlands.

If you know the current owner and he wants to contact me I would be happy to give him some history of her early life. I knew her from virtually new, and bought her in 1977 in a sorry state. I renovated her (I have several pics somewhere) and sailed her for a year. Sold her to a man who had a heart attack and died on her. His son did further renovations and then after a few years sold her, I believe to a S African. I later heard that she ended up in the Netherlands.

Regards

Neil Bradshaw

Contact Neil by mail if you can assist... neilbrads at gmail.com

A few sadly faded pics of Spoondrift sailing years ago...

This mail came in from Shannon, the winner of the Seamanship trophy a year or so back, with the steel WW version by Hacathian. Shannon was sailing south in Portugal and got locked down by the WhuFlu!

Hi John.

I hope all's well.

Kathleen is on the hard having a thorough going over.

Are there any other Hacathian owners on the forum? I have a question about the keel. Kathleen has a hollow skeg keel which has a plug in the top. I can only assume that it's supposed to be filled with oil. The plug was covered with a load of polyurethane foam insulation and plywood when I got the boat, it was only when I removed this that I discovered the plug. Can anyone shed light on this?

Regards, Shannon.

We had a couple of mails back and forth and he has decided wisely to fill the void with vegetable oil!

We know other steel builders recommended filling hollow tubes, often used as chine bars, with oil, but mineral oil would cause a mess if it leaked, so vegetable oil seems a much better idea. The steel box sections of my heavy trailer all had wooden plugs fitted in one end and then oil poured in, and capped off with another softwood plug... sadly the old engine oil I used seeps out over the years through the timber, and leaves the odd oily stain on the barn floor for me to clean off with washing up liquid every year!

Another mail in, this time from a Seagull customer, Michael. Welcome Michael, another new enrolment! With a Senior in the build.

Hello John,

Although I've visited the EOG website quite frequently during the last year I never registered, However, that is now rectified as of a few minutes ago.

I'm up to planking. I've done P & S Keel to Chine 1 and I'm now on Chine 1 to 2.

Basically, I purchased YMS 914 in the early eighties. It was ideal (and great fun) to sail her on my local Rivers Trent and Soar. Having a swing keel you could utilise the full width of the river when tacking against the current without damaging anything when grounding near the bank. It was a fantastic little boat. I've sailed larger boats on the local stretches of the river and it is really hard work when going against the current. Then, for some stupid reason in the late eighties I sold her. With my hand on heart I can honestly sat she was the only boat I ever regret selling - and I've had a few. Soon after the sale I was scouring the boating press hoping to find another. In 1994 I resigned myself to the fact that I'd have to build one, so I purchased a set of plans and was assigned YMS 1671. Fast forward a few years. 2019 found me retired and needing a project. I ordered the wood to build a senior. I opted for utile rather than mahogany due to the cost. Before the wood was delivered I visited my local Redhill Marina which I did once or twice a year just to see what's going on. Low and behold, in the undergrowth with a tree growing in the cockpit, derelict, was the old love of my life, Wanderer 1 - YMS 914. I paid £50 for it much to the amazement of the marina staff. The remaining brass fittings were worth that but my main reason for the purchase was to have it as a pattern in case I got stuck during the build. I've enjoyed building so far. I build in my garage and it is tight - but possible. I stopped over the winter due to the glue (West System) not working too well in low temperatures (Beetle Cement per the drawings being unobtainable). I'm trying to be as faithful as I can to the drawings so it's copper nails and roves, but I have used silicone bronze annular ring nails for the planking - they are so tough. I'm going to have an alloy mast and boom - why? Because my original YMS 914 had those. The colour scheme will be the same. The original had a Seagull Century with a red prop and so will the new one. I suppose I'm trying to recreate an exact replica of the boat I had so much fun with all those years ago.

I have attached a few pictures.

1&2 are of the new rudder.

3 is the new boat in the garage.

4 is sailing the old boat on the Trent mid-eighties.

5 Ah yes. Less said about this the better - engine retrieved after a week on the bottom of the Trent.

6 is the interior.

7 is sailing on the Trent at Trent Lock.

8 is on the mooring at Redhill.

Re 5. Well it was one of those evenings in May in the mid-eighties. A friend and myself had gone to do a bit of sailing after work. There was a shower approaching as we came to the mooring so I opened up and removed the Seagull from the inside and placed it on its mount. We sheltered for a few minutes in the cabin. The shower passed, the sun shone and we rigged the boat and we set off. A gentle motor down the Soar to the Trent and then sail against the current. The first part of the sailing was very gentle but after the two pubs the countryside opens out and the wind was stronger. On one particular tack there was a 'plop'. "The motor's gone" I shouted to my friend. "Mark it" I said as Colin watched a row of bubbles float down the river. I took a rough note of where we were as I completed the tack. We moored up and I stripped off and went over the side hoping to touch the motor with my feet. I dare not put my head under the water in the Trent. There was always some dispute between us about where the engine might be. We couldn't find it and Colin said he would ask a couple of diving friends to look for it the next day. We sailed back to the Soar but Colin had to tow the boat, African Queen style, back to the mooring. We quickly learned not to tow from the stem as this only pulled the bow into the bank. I had to go to Bournemouth the following day to carry out an engine change on an aircraft. It was a week before I was back with a Sea-searcher magnet looking for the engine, the divers having failed saying the current must have carried it away. I was about to give up when the magnet latched on to the engine. It was in about 8 foot of water. In my haste to get the motor on board the little buoyancy that the water was giving it was lost as the motor broke the surface and back down it went. I had seen the red prop and the chrome exhaust, I knew it was there. A few minutes later it was on board and that's when the picture was taken. I took the motor home, drained it, dried it, cleaned it and flushed it. Within half an hour she was running as good as ever. I was really impressed with this sturdy little motor. A year or so later, British Seagull were advertising to overhaul the engine for £32 (I think) so although it was still running perfectly I sent it for overhaul. It came back gleaming. I was so pleased. I had tremendous respect for British Seagull and their product. I even changed the name of my small limited company to Silver Century Aviation Limited which is dormant but still exists today.

Regards, Mike.

PS The reason the motor departed the boat was because in my haste to get out of the rain shower I placed the motor on its mount omitting to insert the retaining pin. Gravity kept the motor in place during the motoring and gentle tacking, but as the wind increased, so did the heel and 'plop'.

Great to have you aboard Michael and I hope the few Seagull parts help to recreate that reliable old Silver Century of the 1980's!

Heard from David with the Atlantic Clipper 'Cidre', sold on EBay, he says he was sad to sell her and she went for a song. Hoping the new owner will get in touch.

That's it for now, been a very busy week or so, made even busier by the 50 spam mail we get every day, mostly from people in china trying to sell us WhuFlu masks... some people.

John

Thursday 11th June 2020.

Hello again, we are back up and running, Microsoft did a patch!

Straight way an enquiry from Switzerland re building a Senior. They are popular little boats! Sending enrolment details shortly.

Another cold damp June day here, no one would want to go out on a day like today so no surprise there is no one visible on the Blackwater, Mersea Quarters up the Wallet or out to the Swin Spitway, all visible from here!

Next week a lot of shops and businesses getting back to some sort of normality, but it going to be a very different world from now on! Still cannot get together with friends to go sailing, not going to be allowed for a long time I suspect. I would be unhappy if they did allow it. As I said at the beginning of this they should have closed down travel much earlier and they are now realising that mistake has cost lives...

So here's to the day we can safely get back afloat.

Stay safe, its not a drill.

John

Wednesday June 10th 2020.

Sorry to say our new-ish computer has had a glitch, still able to edit the site, but cannot receive mail till it is sorted. We think it is the result of a Microsoft auto update, as my other SOS

business machine, a near identical one, has also suffered, in a slightly different way... That has developed a problem with pdf files and Adobe just as the EOG machine has done, but for now the mail is working. Investigating on the net seems a lot have the same problem after an update. Local company coming out to sort it.. will let you know when mail working again.

One bit of very good news, our new Webmaster, Andrew in Bermuda, has recovered from the WhuFlu. He is slowly getting back to work and trying to catch up with his work, he is the head of cyber crime unit at his company and says the amount of stuff happening is filling all his time! We wish him and his family a speedy and full recovery.

Stay safe out there, this is not a drill!

The river Blackwater remains empty, just one law enforcement boat. Not sure if they are looking for, drugs, immigrants or Covidiots, but they are there 24/7.

After the hot dry May, hottest and driest ever, now we watch the rain... still could be worse, could be trying to sail round the UK.

Feel so sorry for the number of boat owners who have contacted me after reading the 'Fiddling Around' log and have had their dreams dashed this year.

2021 here we come!

John

Saturday 6th June 2020.

76th anniversary of D-Day Landings.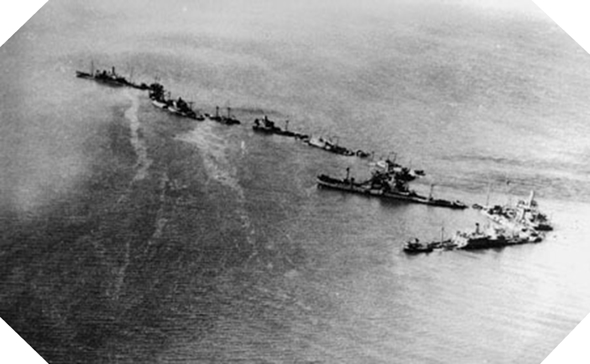 These were the ships Maurice Griffiths was responsible for on the day, his 'corncobs'. The outer breakwater to the D-Day beachhead.
To protect the Mulberry Harbours.
Thursday 4th June 2020.
Not often these days we can announce a new boat being launched, but last week our Senior Rep Mat launched the newly built Senior 'Bethem' on the Norfolk Broads!
'Bethem' tastes the water for the first time!
Launched at Barton Turf where I work.
No leaks anywhere, very pleased the centre board case is ok!
I had left the jibs at home, but we managed to take her out onto the Broad under engine and hoist the main, first impressions is she moves well, is surprisingly stable when moving around, and best of all, the lovely comments from other boat owners, most of whom have never heard of the Yachting Monthly Senior!
There is, of course, bits to finish, but so far both my wife and I are happy.
Mat.
Congratulations to Mat for the building and launching of our latest boat!
Mat has been stuck at home for a while as this dreaded WhuFlu sweeps the land, but he has turned that time to good effect and sped through the final touches to get Bethem into the water. Well done Mat!
Here is a link to Mat's page on the builders and restorers section, so you can read the rest! Click here.
Chris in the Netherlands has been in touch, he noted the Atlantic Clipper we have on our pages has reappeared on EBay, for half the price!
See
https://www.ebay.co.uk/itm/Atlantic-Clipper-36-Live-Aboard-Sailing-Boat/193487155423
a real bargain for someone with time effort and deep pockets, as there is much to do to make her ship shape! but for £3,000!
He also noted a smart 23ft Buchanan on there...
https://www.ebay.co.uk/itm/Allan-Buchanan-23ft/274372201279
Matt in Australia has informed us that he has sent a DVD full of MG drawings to us. some that have never been seen before, look forward to being able to publish these.
Whilst stuck at base here I have been turning out a shed, our 'loft
space' as we do not have a loft in the cottage! Found a box full of bound copies of Yachting monthly that i acquired many moons ago. I am slowly going through them fishing out articles to scan. All date back to the 1960's, already found an article about the WW 'Iota'.
After the hottest
, sunniest May on record, we ventured out for the first time in 10 weeks to Weymarks beach on the Blackwater, a little known bit of accessible shingle beach just east of the nuclear power station as was. A few family groups were enjoying the sun, all socially distancing, 100 yards apart! On the water we saw a local tug doing survey work, an anchored pilot boat and one, just one, sail. A lone wet bike was tearing in and out of Besom fleet. No one else about, eerie looking at an empty river.
We clean this beach on a regular basis and we returned to our car after 2 hours with a small bucket full of broken glass, all edges rounded by the wave action, and a sack full of litter! The litter was recycled and all the glass will be used by Darian to decorate picture frames and the like, an idea pinched from my daughter and her beachcombing crafts! We were also sunburnt!
Did get
to pat the boats transom again whilst we were out. Nearest I will get to sailing this year I suspect.
Two days later, sat typing this, summer is over, it is cold, northerly winds and rain. Still the gardens need it!
John
Thursday 28th May 2020.
The weather has been wonderful recently, and the river and the sea off here empty. Really hoping there is some progress with the big medical firms and a vaccine. Sadly cannot see it safe to lessen the social distancing measures until they have a working one, especially for all of us over 70, and that is over 75% of the berth holders at my marina.
Had a pleasant surprise yesterday, a mail from a Martin Lee. He as acquired the GRP WildDuck 'Scoter'! Sadly the chap who bought it on EBay a year or so back has parted with it.
Martin's first and Oh so very sensible move has been to have it transported on the back of a small lorry and wheeled into his garden. I am always trying to tell owners to get them home or as near home or on a mates bit of garden nearby, if at all possible! Sadly so many projects fall flat on their faces because they are not a 2 minute drive from the owners home. Apart from the expense of storing at a commercial place, the distance involved prevents owners just nipping out to double check a measurement before they grab that bargain on EBay, whether it is a length of rope or the width of a plank of wood!
Martin has never restored a boat before, but willing to learn, most importantly he is not afraid to tackle it and is asking questions already!
Look forward to seeing this boat back on the water. As a bare GRP hull, no engine, not much interior and just a mast, with no rigging, it has a value of nil at the moment, but with effort it could be of great value to the sailor who feels that tiller come alive in their hand. More power to the elbow Martin.
As far as I am aware this is the only GRP WD, and as such if restored, should last decades and when fully back to sailing condition, should have a reasonable resale value.!!
Whilst tossing up whether to break the car out or stay at home, I got to sorting yet another draw out, I came across a nice 1998 photo of 'Ruanna' sailing in the Blackwater. Had I opted to go for a day trip to Durham instead, I could have missed this pic!

Taken by me back in May 1998, 22 years ago...
I seem to recall she was purchased by Brian and Elizabeth and transported to Norfolk, never to be seen again? Wonder where she is now?
I have not been doing anything boaty recently, apart from vainly scanning the horizon for sails.... though pleased to say the torch I retrieved from the quarter berth stowage cradle aboard is now all fully charged and will be put into use at home. Good for badger watching!
Spent more time tending trees than anything else recently, grass cutting and watering trees as the weather here has been perfect sailing weather, warm, sunny F3!!! Spitting WhuFlu bullets!
Hope you are getting to visit your boats if you cannot sail, unless that is you have opted to head for Barnard Castle to catch the fading bluebells!
John
Sunday 24th May 2020.
Whitsun weekend!
Its a Bank Holiday Weekend! Not that anyone would know it, one day merges into another here... After the first few days of the lock down relaxation and boats were seen on the move, along came the F6's and 7's! No one out there today either and the wind has dropped. Figuring the first flurry of boat movements here was due to owners retrieving boats from moorings where they had been stuck when the lockdown started, so most were returning to their home ports. As boat owners have to be back home at night, no one cruising.
I'm t
old the local marina is deserted, maybe because most boat owners are over 70 and therefore staying at home as instructed. Also a bit of difficulty complying with social distancing measures on marina pontoons that are only 1.5m wide, splash!
Very pleased to see that the NHS Hero, Captain Tom, is now 'Sir' Captain Tom! 100 years old, 33m fundraiser and Top of the Pops! You could not make it up, see a film in the making!
Been quiet on the mail front, apart from the hundreds of spam mails, mostly from china trying to sell me a mask!
Make no apologies for the next bit, an advert for my daughter!
If anyone needs a basic, non medical mask, my daughter is making them, by the hundred! Bet a lot of clever people are. If you want to see the stuff she makes, click here... She runs a website making safety covers for the metal bars that children with Clubfoot or Talipes have. The bar connects a pair of special boots used to train the feet to sit at the right angle, whilst the children sleep... the bar is hard and hurts so she has developed colourful bar pads, even embroidered with names or messages! The grandson Rafferty was born with it, turned in toes! You would never know it though, because she has kept to a very strict nightly regime, putting his feet into little padded boots connected with a bar to force them outwards.
He is now nearly 5 and puts them on himself. Not for much longer though, on his birth day in a couple of months he is to stop wearing them. Hopefully forever. Seeing him running or on his bike you would never know! Very clever system. I recall a lad at school who had to wear a special boot all the time, from 11 till forever. That was before they developed this system...
It has taken a lot of dedication, but my daughter has stuck to it. Rafferty is a super fit, lively child as a result!
So if you want a smart mask, with a nautical theme maybe, or anything else, she has a shed full of fancy material! Ours are on the way for the day we need to use one!
She a
lso makes padded covers for seat belt straps in cars too, kids love them!
One good mail in this week was a new member enrolment from Amanda in Cornwall, she is now the proud new owner of 'My Lovely', ex 'Cordelia' the MG 7 tonner on our pages. Built in 1950 and 28ft long she could be mistaken for a Lone Gull, till you realise she has a canoe stern!

'My Lovely', ex 'Cordelia'.

A very pretty boat and a former owner, Adrian has contributed to our hints and tips page with details of a rudder rebuild. Hope to get more up to date photos to add to the gallery pages.

Matt in Australia has found the files he wanted to mail me are too large to mail, so has promised a DVD of all the drawings. With very few planes overhead, (boy that quiet is bliss for us with our feet on the ground), sadly little air mail post, so it may take a while to add these other two MG designs to the list. Will announce it when it happens.

I am hoping to get to my boat today, just to pat its transom.... and to remove the rechargeable torch and bring it home to charge! Has been sat for over 2 months and as it has a sealed lead acid battery 3 months off charge is the limit.

Talking about batteries, again, I had to buy a new battery last week for my little Morris Minor Van. I tried to start her after 6 weeks inactivity and it was flat. Put it on charge with a CTEK charger and though it got it back to 13.5 v, when I checked the next morning the battery charger had died, no indicator lights and no output, battery was down to 10.5v! I charged it up again with another charger but as soon as it was back on the van it died again. Strange thing was the little window on top the battery was always showing green?? How's that work?

Contacted CTEK and requested they look at the charger, but they came back straight away with a claim form and told me a replacement on the way, just cut the wires off the old one! That's good service, but still like to know why it died...

This CTEK charger is supposed to be able to recondition very dead batteries, so a little surprised it failed...

Will be checking the voltage in the boat batteries later, making sure the solar panels are trickle charging the 5 large batteries on board, do not want to have to shell out for all those. Check yours when you can.

Stay safe,

Look forward to 2021!

John

P.S. I braved the outside world today and visited my boat. Farm was all quiet, no one about, but I could get access to the barn. Climbed aboard. Pleased to report all 5 batteries are 95% charged and have 13.5 volts in them. The high sun shining through the roof lights so the solar panels charging ! Removed my 30 year old plus high powered torch and that is now on charge here, it was not flat. A 'Wolflite' sealed safety torch used by the military and fire services, gas tight and floats.

Also removed some stale coffee, sadly past it, went into the compost bin! The through ventilation, 7 vents, has kept all sweet aboard.

Pleased to say 'Fiddler's Green', is safe and secure and apart from a wash down and fresh antifoul, ready to go, come the day.

Stay safe.

John

17th May 2020.

After 8 weeks of lock down the country has gone crackers. Mass parties and total disregard for the social distancing measures. We have had hundreds of bikers tearing through the lanes and congregating at cafes. And the skies full of planes again, the noise! I can see it will all end in tears two weeks from now, when the infections spike and more die. I hope I am wrong.

The last two days, for the first time in 2 months, sails have been visible on the sea near the Swin Spitway and on the River Blackwater. Heard that Bradwell marina is open again, but quiet, as most owners, like me, are over 70 and still isolating. Trying to keep 2 metres apart on a 1.5 metre wide pontoon walkway is impossible of course! So is anyone is adhering to the rules.? We will see.

Been a great weekend to be afloat too, gentle breezes and wall to wall sunshine, topped 25 degrees here today... Good day to relax in the garden!

As I type this, 1845, more manic motorcyclists are tearing through our village at breakneck speed and revving the motors to create effect.... Wow, how I miss the peace and quiet of the last 2 months.

We have had a new enrolment, Martin in Lancashire looking at an Eventide. Don't know which one as yet, have joined him up as a 'Friend' for now.

Had an interesting question in from Paul.. "how much does an eventide 26 weigh normally?"

I see on the site http://www.eventides.org.uk/waterpic.htm that a Eventide is 6 ton, is that true?

I explained to him that the '6 tons' is an archaic measurement of volume, to do with the number of barrels you could stow, going back to the days of the sailing ships. The displacement weight, or crane or weighbridge weight is far less. About 2.5 tons for most Eventide 26's..

Confusing isn't it!

My own Eventide '26', with a slightly thicker ply hull, longer by a foot or so, and with a full ton of ballast, (as opposed to many, with the 1200lb (very early versions), or later 1600lb ballast), tips the scales at 3.5 ton!

She also has 5" extra depth in the hull and raised topsides, to off set the additional ballast weight, all as per our latest drawings. Afloat and alongside an Eventide

24 of the earlier era and our decks are at the same height! (Fiddler's Green is an exception.)

In the water with all the cruising kit onboard and full tanks she displaces nearer 4 Ton. Makes her a very stable and sea kindly.

THE WOODBRIDGE BOATYARD LTD., Everson's Wharf,

River Wall, Woodbridge, Suffolk, have been in touch, they have a Storm Class boat in their yard that has not moved for a while. 'Thunderer'.

They did not know what type of MG

vessel it was and we were able to point them at the Storm class pages for reference. As we also have the drawings available, Matt there may well be back for these...

Another Matt has been in touch, this time from Australia, he has a 'Good Hope' design he is finishing. We helped him with drawings. He has come across the building instructions and plans for a couple of other MG designs we did not have in our folio, till now! These may assist any owners of these vessels with repairs one day. Suppose there is a chance someone might like to build one too, at 37ft a nice roomy vessel! More soon.

Finally a mail from Shannon with the WW 'Kathleen' in Sines marina. Portugal.

Been under lockdown in Sines marina for a couple of months, I've just got clearance to lift her out in Faro at the end of the month.

She's well overdue for maintenance and antifouling. Also there's a fair bit of welding to do above the waterline.

I'll be rounding Cabo Vicente for the first time, which is essentially the SW corner of Europe. I'll try to get some photos or a video if I pass in daylight.

The main issues I have with Kathleen are reducing sail and weather helm. I've rigged reefing lines back to the cockpit, and I'll test them this trip. My headsails are hank on, which is very challenging to change with any kind of weather. I'm considering fitting a bowsprit with a roller jib, this may help with the weather helm. I have no experience in this, so I may get on the forum to see what the old hands recon.

I hope you and yours are all keeping safe and well.

Regards, Shannon.

I was able to point Shannon towards the article on Weatherhelm I wrote decades ago and is printed on our Owners Tips page.

There is no doubt the addition of a bowsprit will lessen and probably cure the problem. Whether to make a steel frame and plank it as a permanent structure, with anchor rollers and rails round it for safety or to try and create a folding hinged plank to save on marina fees will be the next consideration.

I personally would go for the steel tube design with teak slats on top and anchor(s) stowed ready to drop and surrounded by a substantial rail set up, will be interesting to see what Shannon does. Hope he can get sailing again and submit another log!

Not many will be going far this year I suspect. Unless more restrictions are lifted. At the moment we are not supposed to be away overnight!

Stay safe out there,

John

Sunday 10th May 2020.

Very quiet on the mail front this week, except that is for the 30 to 40 Spam mail every day! All filtered off into the 'Spam' folder automatically by 'SpamFighter' thankfully!

One interesting mail in was from Lucy of the GH31 'Katy Louise'. She noted an entry on the YBW Forum and contacted the writer. It was regarding Newsons the firm that last had the moulds for the GH.

The writer stated, Newsons never built a (GH) hull. He had my boat 'S%&£)@%t' in there for major repairs, cosmetically she looked good but it was an expensive job. The amount of rot they left in her (made her) unusable and now she is rotting away. Uninsurable and I am too old to deal with it.

He was sued by so many he declared himself bankrupt. Newsons yard was taken over by MTB 102 trust, who I had a mooring with. The 31 mould was given away to someone in Suffolk, (Anyone heard where it is now??) I was offered the mould for the 26 but had nowhere to keep it and Richard, the CEO of MTB 102 cut it up and sent it down the tip. I was there. So sad. I managed to get some drawings and patterns, the latter now gone. So my sailing days cut very short, a sad reminder to invest in a survey if you invest in a ply hull, left a very bitter taste

.

This was so sad to hear and feel so sorry for the owner of 'S%&£)@%t'. A grim reminder that all boats should have surveys before purchase, especially expensive ply hulled ones!

So now we know that mould for the 26 has gone forever, but there is a glimmer in there, someone in Suffolk has the GH 31 mould.... Wonder if it will come to light.

Also the writer said he still had some of the drawings. He has been contacted by Lucy to see if he will get in touch, we would love to have scanned copies of these drawings to add to the ones we have for the 31. May help someone in the future.

After a very sunny and sadly low key, 'VE Day' and weekend, when so many events were due to be held, the weather has suddenly taken a turn. I only just managed to retrieve my huge Union flag, massive red ensign and all my signal and country coutesy flags from the front hedge before the gales ripped through.

And so many unable to get to their boats to check them!

My little Morris Minor Van has not turned a wheel in 6 weeks, so I decided to start it up and move it closer to the garage so I could run a cable with a battery condition meter, to it. Battery flat as a pancake, so longer extension lead needed and big charger.... Once I get it going I will swap the heavy charger for the clever digital one to keep the battery just topped up. Makes me wonder how many boats there will be with flat batteries when owners get to go back to them...

Even had to put a charger on the bosses car, it started OK, reluctantly, so now gently charging.... Just had the tax renewal through, an though we are not using it, the £20.00 asked seemed a small price to have it available. (For some reason the annual fee has gone down £10.00, not complaining!).

Fortunately I have my solar panels rigged on the boat, and last I looked they were giving a tiny trickle charge, enough to top the 3 banks of batteries , (totaling 500AmpHrs), and all banks were reading 13.8v. Hope your batteries are OK, will be expensive to have to replace them if they are all allowed to go flat, and 6 weeks could do it, let alone the 12 or more we are possibly having to stay isolated.

Stay safe, stay at home and come sailing again in 2021!

John

Sunday 3rd May 2020.

Not the May Bank Holiday Weekend, but who's going to notice amid the WhuFlu lock down!

'VE DAY' is the new holiday, (Friday the 8th), but with everybody at home..... all postponed!

Another week and few mails. Jim in Australia has mailed again and passed this message on. 'P

ass on my best wishes to all members, and stay safe and well.

All the best. Springtime in England. Ah...

Jim'

Jim has also taken the trouble to scan and send 10 pages of an article M.G. wrote for the 1946 Yachting Year book! The articles explains his development of the shoal draft designs he came to specialise in. Click here to go there.

Robin the owner of GH 31 number 12, sent me this comment... about the time he bought his Eventide.... Way back – long before the world changed – in 1987 I bought my Eventide, which I loved a lot, but it was just not big enough (for me). Having jumped in the deep end I then found that the Royal Engineer Yacht Club were selling Jeremy Roger's very first Contessa 32. Oh boy! was I sorry not to have known that earlier! I would have renamed it 'Second to None'! However, there is an old Cowes Week joke about a racing yacht with that name. Overnight the crew of the boat moored next to 'Second to None' renamed theirs in big letters 'NONE'!!

All the best, Robin

Chris in the Netherlands has found an article on a Dutch web page. It is by a chap who is half way round the world and quarantined in New Zealand. (Can think of far worse places to get stuck!!). In the article he explains his interest in sailing started at a young age as his grandfather built an Eventide 26! 'Sparrow'. This is one we know! Wonder if she is still about??

There was also a photo, rather grainy and scanned, from a dog eared black and white pic, but here it is:-

Sparrow, circa 1970.
So strange to look out over the Blackwater estuary from here and not see a single sail, or dot of a motorboat. Pleased to say the majority being good and abiding the rules!
Heard from our friends at East Coast Pilot...

First and foremost, we hope that you and your family are safe and well.
Welcome to all new subscribers, the total now just one short of 1,400. Our previous newsletter was written last Autumn; little did we know what would befall us all this year! Plenty is being written elsewhere about the effects on our normal life and about the heroes who are keeping things going; suffice to say that boating in whatever form is far from the front of our minds right now. In the words of Cliff Mickleburgh of the CA in the south-east in his recent newsletter, "we are well aground, the tide is out", and right now we really have no certain idea when we might refloat.
But, aground as we are, we still have our ears open for changes and developments that will or might affect details in the latest edition of East Coast Pilot, the 5th edition, and these continue to be logged in the News and Book Updates sections of our website, www.eastcoastpilot.com. We encourage you to visit occasionally to keep an eye on what's happening. We are not logging the numerous harbour and marina closures and restrictions, as we assume they will be lifted in good time
We should highlight here a couple of the News items on the site that may affect you in the short term, both being results of the lockdown. One is the reported halt to rectification work at the Havengore and Kingsferry bridges, the Havengore being unable to open at present along with Potton bridge nearby. The other is a delay with new Trinity House surveys of the entrances to the rivers Deben and Ore - we would normally expect to be bringing you new chartlets of those entrances in April, but right now we simply do not know when that will happen.
With all the increased activity on social media during the lockdown there is plenty of chat happening about boating. If you are a Facebook user, can I recommend you connect with Imray Laurie Norie & Wilson, our publishers, on Facebook and watch out for their 'Imray Live' sessions, which started the other day with a very interesting 'off the cuff' chat by Rod and Lu Heikell about cooking on board.
We too are now on Facebook, with an ECP Facebook Group page - feel free to 'Join' us; it's rather bare right now but we hope to develop it over the coming months to partner our occasional use of Twitter. We hope it works out well, just an experiment at this stage.
The 5th Edition of ECP, published last August, is of course available as usual online through chandleries or direct from Imrays themselves, along with all their numerous other chart and book offerings. If you haven't yet bought one, I should remind you that the 5th is the one that all our updates and additions will be aimed at, previous editions now being extremely out of date.
We were thrilled to see a super review of 'ECP5' in a recent Cruising Association magazine, which said "...this edition is second to none..." and that "...Garth and Dick's pilot is a must-have on board." Thank you kindly, the CA!
We wish you all the best over the coming weeks, and look forward to seeing you on the water eventually.
East Coast Pilot.
Header photo: Orford Quay.
Reminder to buy the latest edition before we get back afloat!
Martin, the owner of the Eventide 26 'Tao', that can be seen on the gallery, is converting her to gaff rig. I have sent the gaff rig drawing our friend, the sail maker, Roger Jones, donated and after discussions with mast makers he has found the rig for the Cornish Crabber 21 in Gaff is just about perfect. More on this later as he has promised an update..
Finally Captain Tom has made his 100.. Now a worldwide celebrity! Colonel Tom now! Even got the Freedom of the city of London, that will be handy if he wanted to drive a flock of sheep over London Bridge! his fundraising achievement of over £32m is going to be a world record for years!
All for now, enjoy the extra days holiday and get ready for 'VE Day' Friday!
Stay Safe
John
Post script. Just added a load more scans to the Gallery, the MG designs page and the Senior page, for one of a neat little pram Kenneth designed. Again from Jim the Senior builder in Australia , appreciated.
John
Sunday 26th April 2020.
Capt. Tom has just a few more days to go till his 100th. His charity walk has achieved the near impossible target of £30m.... And to top it all, literally, he is 'top of the pops' in the record charts. The oldest ever, at 99 and by next week he will be 100 and his record will still be at No1!! Amazing! The whole country salutes him!
In these dire times we need some good news! As I predicted early on, this clamp down will go on for a while longer yet, they are hinting at a year, which is roughly what I thought at the beginning.
No mails re boats from any members this week, suspect most, like me, cannot even get to their boats! Only those with them in their gardens can do that!
This is the only nautical flavoured mail I had in, from Chris in the Netherlands:-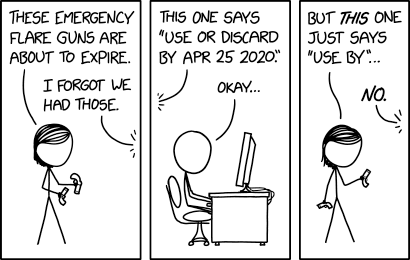 M
ade me smile!
Instead the mail box has been all spam, from China. Just emptied another 48 out of the Spam folder.
Vowed never to buy Chinese again. Bought a Swedish battery powered garden strimmer this week, brilliant bit of kit, powerful and quiet, no messy fuel, nor fumes. Maker in Malmo, Sweden on the thing, but then looked at the small print... you guessed, made in ruddy china!
Can't win...
Stay safe, keep well.
John
Sunday 19th April 2020.
What is it with the Chinese. Since they inflicted this WhuFlu on the world we have been inundated with Spam mail from China! We are getting between 20 and 30 a day on the EOG mail and I am getting more on my SOS mail address. Trying to sell anything from stainless steel to rubber products, masks and anti viral creams and sprays. Is anyone else seeing an increase in Chinese Spam, cannot think it is just the two separate e-mail accounts I have here that are targeted.....
Been quiet on the mail front here this week, but I thought I should put a link to Capt. Tom and his fundraising efforts. I put tuppence in to try and get it up to 10m, and thought when it got there it may get to 20. It has and more. Over 30m now!!! Family and friends trying to donate have found the site overwhelmed at times, but most have manages to add a few pence. Could not go to a more worthy cause.
Capt. Tom has become a symbol of Britain's resolve. He so much reminds me of dear old Maurice.
D
o not suppose anyone has missed it, but just in case you have, click the link below!
https://www.bbc.com/news/uk-england-beds-bucks-herts-52303859?xtor=ES-208-[31318_NEWS_NLB_ACT_WK_15_Thu_16_April]-20200416-[bbcnews_corona_virus_newsuk_corona_virus]
Stay Safe, Keep well,
Sail again in 2021!
John
Wednesday 15th April 2020.
I have just heard from our webmaster in Bermuda, he has the dreaded WhuFlu!!!! He says he is OK, but a bit under the weather, our thoughts go out to him and his young family...
Had a nice surprise on the mails yesterday, Jim in Australia has scanned more pages from magazines etc. this time, having read my comment about my 1947 dinghy that I am wanting to finish restoring, he has scanned that page for me. He has a copy of the same book my daughter found for me as a birthday present some years back and has scanned the page regarding my project boat. 1947 Yachting Year book. Thanks Jim.

The Merron Dinghy!
Designed by Arthur Rob, who worked with Uffa Fox on the Flying lifeboats, it was the first ever moulded ply boat to be made! Mine is one of the very first, 1947, same vintage as me! Not sure how many were ever made, but I know of three that still exist. One is still in the same family that built them, being used by the great grandchildren! Parts of this dinghy were made from sections of unused material destined for the 'Mosquito'! (my favourite plane as a child! Another moulded ply creation, I had an Airfix model of one hanging on fishing line from bedroom ceiling, like so many other 10 year olds!).
Most Merrons were varnished inside and out, but sadly my one suffered hull damage, so after repairing, the hull the outside is going to have to be painted! The inside is all stripped back to bare wood and just needs a lot of sanding then varnishing.
Hope to have time this summer, as we are not going anywhere, to do a little work on it!
Has really been weird looking out from here and no seeing any boats sailing. Do hope it is not too long till this dreadful disease can be beaten. Keep safe, stay well
John
Sunday 12th April 2020.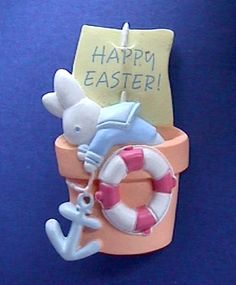 Happy Easter!
Got to be the first time, in peace time that there are no boats visible on the River Blackwater, nor at sea, off of here. Really weird. Third week of isolation and we have just retreated indoors as the heavens have opened, with rolling thunder. Well that's the weather back to normal for a Bank Holiday at least!
Speaking to others, gardens and boats in gardens are getting a lot of attention. Finding so many jobs to do!
Mat our Senior rep has sent more on his recent work on his Senior Bethem , so I must edit his page to bring it up to date!
We have just had a new enrolment From Christopher with the Senior 'Dabbler', some may remember Tony or Nigel and Heidi, the two sets of former owners. Sailed in company with 'Dabbler' a few times over the last couple of decades. Good to hear she is still cared for. Chris tell us that though she is kept in Norfolk, he did the Caledonian Canal last year. (Hope you had better weather than we did during the first leg of my 'Fiddling Around' in 2013, tipped it down!).
Another new enrolment, this time as a 'Friend' John in San Francisco Has a Classic called 'Brigadoon', sails from Annapolis. Welcome John.
Had an enquiry from Cyprus last week, from the son of a Golden Hind owner. He wanted to buy some spare parts? Thought we were a boatyard maybe. Seems dad has a problem with a variable pitch two blade prop. I am betting is may be a Saab one. 50 years old!!! I have directed him towards his local boat yards. Suspect from what they said, they have never had a boat before.... hoping they may join us, the Golden Hind is Number 43.
Do you recognise this prop set up??
Whilst the majority of boat owners are abiding the rules and not going out for 'jollies', there is always the exception.
Chris in the Netherlands spotted this news snippet on the BBC.
https://www.dailymail.co.uk/news/article-8189057/Covidiots-rescued-RNLI-grounding-catamaran-ignoring-governments-pleas-stay-home.html
Looking at the state of the boat, (a Heavenly Twins Cat), I bet they have not got a clue! I mean who sails with fenders hanging over the side.... just not done you know!!
Jim Nicholls, building a Senior, has sent in a couple of pics.
Jim is getting on with the hull. Really solid frame he is building on too.
Jim has also sent in some scans from old YM mags, great to see.
I attach a few here, others will go into the various design sections on the Gallery.
Interestingly, mention of a fin keel Senior here!
Some good articles about Seniors here! Thanks Jim.
Right, I am off to edit a few more pages, I will put links into this page later.
Stay Home, do not want to see any of our members featuring on the Covidiots pages. Keep safe,
John
Post Script. 1900hrs and I have just finished uploading the Annual report and accounts to the Members only page of the forum. My head hurts! I an no accountant!
John
Sunday 5th April 2020.
Another week has elapsed and we are getting into the swing of things in the UK now, we are on week three now. Most seem to be complying and being sensible, but there are always exceptions. Some will not comply, why do some think the rules do not apply to them?.
Sadly we have heard of one fatality within our circle of friends and family, this WhuFlu is deadly.... Be careful out there.
Heard from a few owners champing at the bit trying to get afloat but thwarted. The most frustrating it must be for Terry and family, they got their newly acquired Golden Hind all sorted for launch, the yard put her on the lift.... and there she stays!!!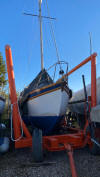 So close but no nearer the water!
Had a big update from Mat our Senior rep. His new Senior is taking shape nicely, looks very smart..
Pics to follow shortly...
Jim Nicholls another Senior man, has sent a lot of scans from very old magazines, I will be adding these to the pages shortly, will let you know which sections as I do them
Been a lovely weekend, albeit a trifle chilly with a cold SE wind. So strange to look out and not see a single sail on the water....
Hopefully all will abide the rules and stay at home, then we may be back afloat sooner.
Stay safe,
John
Sunday 29th March 2020.
March winds are roaring round the cottage here, so much for out like a lamb! With a NE'lys and hail and sleet, it is time to retreat to the log fire!
Very pleased to welcome Chris with the schooner rigged Junk, 'Ivory Gull'. She is an interesting craft. A 28ft Lone gull II design.

Chris sails her out of the Solent, that is, when the WhuFlu allows us to get anywhere near our boats!
Heard that some clown went out in the Blackwater on Friday, in a small boat, fishing and got into trouble, had to be rescued by the West Mersea lifeboat. What part of 'social distancing' did he not understand??
Bradwell marina apparently closed Friday 1700 after the lifeboat towed him in.... From what I can gather off the net, most others closed Tuesday....
Suspect all will be closed till at least June if not longer. As we are told not to travel, no one going near their boats for much of this year.
I have a 72 year old dinghy I am restoring, been on the back burner for 8 years or more..
Maybe this is the year I will get it sorted, finally....
It is a 10ft Merron Dinghy. Made by the guy who worked with Uffa Fox on the flying lifeboats during WW II. Mr. Merron. Uffa went on to design the very similar Fairey Duckling and the Albacore and Atalanta cruisers, all made the same way, Agba strips in a hot mould. My boat has a history, for many years friend Brian had it in his garden and for many more before that the late Dave Wright was custodian. I owe it to these two gents to restore it, they managed to salvage not just the hull, but the centre board and rudder and all the rig, a sliding gunter one. The only thing missing is the sails, but I have the spars and for my 60th some years ago, my daughter found me a Yachting World year book for my year, 1947, and guess what, full page pictures and drawings of the Merron!
I know there are only two others in existence... hoping to make it three.
Keep safe.
John
Friday 27th March 2020.
Despite the lockdowns and isolating, Eventiders are getting cracking on their boats, if they can. Heard from Mat our Senior rep that his company have sent him home but are still paying him, so he can afford to get on with his Senior. Good news.
D
o not get much good news these days, seems Prince Charles and the Prime Minister Boris are both not immune to the WhuFlu.
Stay safe everyone, still got loonies driving miles to go for walks in the countryside or on beaches, instead of taking exercise near to home. Reports in Essex of groups of 10 or more cyclists out on the roads. Where do they leave their brains? Whilst there are those that believe it does not concern them, the elderly and infirmed are at more and more risk... Hope you are ringing round your mates as we are, all OK so far... Early days we know, but we do not want to lose any Eventiders!
Did you see the 'Saving Lives at Sea' episode where the chap on a Lone Gull, was severely injured when another much larger boat poked its long bowsprit into their cockpit? Glad to say he recovered, but a little sadness the other day when we heard that at least one of the joint owners of 'Ivory Gull' has sold.
Hope the new owner, Chris, gets in touch.
Though the sun has been shining the past few days, we have had good frosts at night and sadly a stiff Nor Easterly to contend with. A lazy wind we call it, one that does not go round you but right through! Brrr.
Come on Spring, we need some warmth.
Keep safe , stay home and varnish that tiller.
John
Monday 23rd March 2020.
Amazing, after going into isolation Saturday, the first thing to go wrong was Saturday afternoon when I find the shower/bath is leaking along the edge! So scrape out the old bath sealant and clean all traces of the old stuff, grab the spare tube of silicone.... gone solid!
Always the same when I go to use Sikaflex on board the boat. (Not that this bathroom sealant was anything that special!). Always gone solid in the tube in store!
Matt with his GRP GH 31 is in need of sealant to cure a persistent rain water leak up forward under his deck. But where to put it is the problem as he cannot see any sign of a crack on deck... Maybe it is under the bowsprit?? Anyone else has similar problems with a GRP GH??
So 0900 Sunday morning waiting outside local hardware store, (Dots and Melons), and buy a couple of tubes.. Every one so careful, door handles being wiped and sprayed, distances kept, accept no change.. (tell them put the change in the air ambulance pot on the counter!) .
So much for isolation! Then Monday morning the boss, Darian has to go into work!!! We are supposed to be isolating.... Eventually her firm sees sense and sends her home, they were threatening she would lose her job, looking after the old folks if she did not go in!!!! As all the clients were self isolating.... Think this was all so wrong and eventually they had to admit it was. So now both of us here for the duration.
Hope you are managing to keep indoors or at least at home with few problems. Seems there are a lot of the youngsters who think all this is a hoax, hope they live to regret their actions....
The 'Eye of the Wind' The Black and white pic was from when I went on board her back in the 1980's on the London River!
Isolation was not the first thing on one of our steering groups mind when he signed up for a trip to Bermuda, Eilard is now crossing the Atlantic on the sailing ship, 'Eye of the Wind'! What a trip! He is on the brigantine for an Atlantic crossing to the Azores. Not sure how he will get home to the Netherlands from there with all the planes grounded, suggest sailing off for a few months Eilard!
In the garden, in the welcome sun today, looking at the clear blue sky, it was devoid of planes or traces of them (vapour trails). Not been like that since the volcanic eruption in Iceland grounded everyone a few years back.
No traffic and only a few dog walkers in our lane, an eerie silence..... Is going to take a little for everyone to get used to this.
Time to retreat to the workshop or garage and do those little jobs you had on the back burner. I spent and hour coating timber with Sikkens, it is to be the new tailgate of my little general purpose trailer, my bowsprit will be next for the treatment....
Please take care out there, stay safe.
John
Saturday 21st March 2020.
We are now in lockdown, like a lot of the UK population. If we and others can avoid the WhuFlu the NHS services have a better chance of coping with those that get it. Keep safe everyone.
Good news here. I spoke to the Bradwell marina and young Arthur the grandson of Arthur the owner assured me I could have the year off, as one of their best, long term customers, and I could have my berth back if we are OK and the WhuFlu has run its course by next April!?!?
This was a real pleasant surprise after being sworn at by the new staff member down there a year or so back... (How one man can give an organisation such a bad name and still survive there astounds many of us, rude and arrogant...)
So 'Fiddler's Green' remains in my friendly farmers barn, locked away and under CCTV surveillance, along with his mega expensive farm machinery!
So much preparation over the last week that I missed St. Patrick's Day and yesterday, the first day of spring, the spring Equinox!
Next
weekend the clocks 'Spring' forward an hour and we can take more time in the gardens of an evening.
As we are in lockdown I have organised potato planters, temporary vegetable toughs, compost and bought a load of seeds. Going to keep busy and enjoy some fresh veg later!
Mails have been sparse for the last week, but that is to be expected, these are unprecedented times, I hope you are all prepared and taking all the precautions you can.
We learnt last night that the marina bar and maybe even the marina itself, as a leisure business, has closed.
Here we have been planning for the worst and hoping for the best!
Keep safe everyone,
John
Sunday 15th March 2020.
Just heard the news from the Health Minister that the government here are to announce that all persons over 70 are going to have to self isolate for up to three months! That means Darian and myself as well as many of our boating friends....
So there goes this summers boating, darn good job I have not yet applied the antifouling! Wonder if the marina will still try and take the mooring fee off me! Bet they try. As I have been considering taking my custom elsewhere that would clinch it. Like to see any company try to claim mooring fees if the government makes such a decree!
Seems the UK is about to go into lockdown. Hope you are OK out there and can come through this OK. I will carry on with the Stoppress pages whilst I am able, if the WhuFlu does not down me, but sadly going to find it difficult to send drawings out by post, so may well be reducing all the larger drawings to more suitable sized PDF's to email out! Will still ask for a small (smaller), donation, just to help keep the site going....
So many boatyards and marinas, as well as places like the marina bar, the sailing clubs etc. are all going to feel the pinch. We doubtless will have to close down all pubs and cafes too, and high street shops!
Us b
eing rather self sufficient sailing sorts I think I can predict most Eventiders and boat people generally, will manage to come out the other side of this OK, if a little leaner!
Plan for the worst and hope for the best! (Isn't that a little like practical Seamanship??)
J
ohn
Friday 13th March 2010.
The budget yesterday slipped past one item in amongst all the WhuFlu financing that you may have missed.
The end of red diesel!
I for one have not been using red diesel for normal topping up for some time, I buy my diesel from my local garage, it is cleaner than the somewhat dubious stuff some marinas sell. If I have had to buy red, when cruising, I always have declared 'All for propulsion' and not gone for the 60/40 split that most go for claiming they have a diesel heater on board.
I have spoken about this before, but in case you missed it, if you make the declaration of a 60/40 split, a copy of the sales receipt, together with your boat's name and place of berthing, your name and importantly, your signature, goes to the local Customs and Excise. So what you say.... Well a contact of mine, a now retired customs officer has told me these are all stored, and one day a customs official may call to check your boat. What no heater, but you have signed.... Guess what, they can take your boat for falsifying a customs declaration! So I always declare 100% for propulsion or buy white!
You can read up about it on the governments site.
https://www.gov.uk/government/publications/fuel-duty-changes-for-diesel-used-in-private-pleasure-craft/fuel-duty-changes-for-diesel-used-in-private-pleasure-craft
You may wonder why we got the red diesel in the first place. Many years ago I was a committee member on the now defunct RYA Cruising Committee. ( They disbanded it and concentrated on racing!!) There was a proposal to remove the red diesel from boating use and a lot of the other members were incensed that the government could remove this 'perk'.
I addressed the meeting and asked if any of the members present had any of their members that they represented who had actually been at Dunkirk. Of course no one had and they queried why I asked. They had no idea. Cheaper diesel for private craft was given to owners by the government after the second world war for the sacrifices many went through in evacuating the forces at Dunkirk. I argued that as none of those veterans were likely to be still afloat, we today certainly did not warrant the award. Went down like a lead balloon! However later many confided to me that they felt rather silly trying to justify it for themselves!
The customs then brought in the 60/40 offer.
So in the next couple of years red will disappear from marinas, as they will probably not fit two separate tanks so the fishermen can still use red and have a tank of white for us...
In the meantime just be aware if you may be signing your boat away with the 60/40 declaration if you have no diesel heater!
Time for a little announcement. We have a new Webmaster!. Andrew Laing, a Seagull customer of mine from Bermuda has taken over from the late Peter Webster. Andrew has saved a copy of the site on his personal NAS machine and will be updating it regularly for safe keeping! He is now looking to update and save the content of the Forum. He is also going to assist us updating the security certificate for the site so in future that annoying bit saying 'insecure site' will no longer appear in the address bar when you go to our pages!
All for now,
John
Wednesday 11th March 2020.
Happy Birthday Eccles!
Yes my daughter's birthday, 40 again she tells me!! Have a good one Eccles. ('Jennifer Eccles, pink and freckles', sung by the Scaffold!)
The temperature rose to a heady 16 degrees or more here yesterday, enough to tempt me on board the boat!
I fitted the MG Duff Electro connector attached to my bit of shaped s/s!
As you can see it is mounted on a simple bent s/s bracket, firmly screwed to the port engine bearers and with a wire connecting it both to the anode and to the stern tube. The wire to the stern tube is connected by a large ring end connector to the stern tube greaser where it attaches to the tube, The stern tube greaser is the brass pot with the Tee handle on top. This is a spring loaded device that once filled with grease, pumps it into the bearing. It needs refilling every 10 or 20 hours engine running.. Only refilled it once last year, but almost every day on my round UK trip!
The black rubber fitting on the sterntube is a Manecraft seal, I have used these for 30 years with few problems, simple and clever way to stop the sterntube leaks. I change mine every 7 years or so, before the rubber degrades and cracks.
The large Ali fitting on the back of the motor is a Vetus Flexi drive, an amazing bit of kit that allows for the motor to leap about all over the place on its rubber mounts and transmits the drive with no vibration! Up to 5 degrees flex!
Whilst I was onboard I also tackled the holding tank. I thought I was going to have to break the seal on the float switch plate, but on inspection I realised I had fitted an inspection hatch, forgotten that.... (Available from Lee Sanitation, as were all the fittings..) A quick twist of the central s/s hold down bolt and the cover could be removed, revealing a clean empty tank and no pong! The float switch had a bit of toilet tissue stuck on it! Carefully lifting the dried tissue off with a screwdriver and then lifted the float, the idiot light worked again! (The 'Tank Full' indicator). Job sorted!
Another job I had not been looking forward to ticked off the list! Why is it the ones we put off, thinking they are going to be difficult or unpleasant, as the easiest, once we roll the sleeves up and get on with it!
To round the day off I did the only other job outstanding, reconnect the brake operating cables. Fitted a new pair of cable grips, 5 minute job... been waiting all winter to do that job! Better when its warm!
So now planning to go down and wash all the dust off the mast and cabin top, polish the hull and mast, give a lick of Sikkens on a couple of rub marks on the gunwale and then it is antifouling time.
Have noticed a few bits of old Marclear loose, so will be scraping them off first with my wonderful assortment of long handled scrapers! Dirty job that one, but better than have the flaky stuff come off on the roller when applying the next coat of Marclear. That is so annoying!
The only other job is to re-polish the prop. Got to be mirror finish!
If the WhuFlu does not get me, I am hoping to be afloat in April!
Reminder: Get logs in to us my mail for the Seamanship or Passage log trophies....
John
Tuesday 10th March 2020.
Sadly we have decided to cancel any meetings, until the WhuFlu epidemic is done and dusted. It is the sensible thing to do.
What I cannot figure is why the governments of the world have not seen fit to ban all international travel. Just beggars belief that they think this will go away, or people will not be selfish. I have heard of a chap locally, who has recently returned from northern Italy and has gone to work, even though he has now got a cold! Real idiot. What would he lose by self isolating for 14 days?
I speak from my experience as a former police officer, you cannot trust all the population to 'do the right thing'. A big stick is needed for some! Only if there are real threats of repercussion's will the miscreants toe the line. Sadly as we have seen, even in our small boating circles, there are some that think they are above simple rules and common sense!
Grr. some people...
Get off the soapbox John! No why should I!! It is us, the older generation that are going to suffer the most when (and not if!) we get this!
Would you trust the Chinese government to build our new power stations or to run our 5G communications. It is not just because of WhuFlu I don't trust them... (Its not the first nasty virus to come from there now is it!??) I think those that are agreeing to this have taken leave of their senses. Try saying this in China!
On a happier note the weather is warmer, 15 degrees here today, Magnolia, Camellia and Forsythia out, and other shrubs well on the way. So off to do some fitting out. The marina though is reported as being unusually quiet.... Wondering how many will fork out the pennies for a years mooring up front?? We just don't know....
We have another boat on the 'For Sale' pages, or we will have shortly. An Atlantic Clipper, the owner says 36ft, but this is with the bowsprit I suspect as it looks a standard 1970's boat, with much of the original kit too, selling as a 'Project'. May need to be negotiable on the selling price.... Bit of a sad story...
A bit of frivolity to end on. There is a a new measure of I.Q.. Everyone starts at 150, then you have to deduct 1 for every toilet roll you have!
Keep well,
John
Friday 6th March 2020.
With the dreaded Whuflu taking hold now just about everywhere and the panic that has started to set in, maybe now is a good time to sail off into the sunset for a month!
Sadly very few of us are going to be able to do that, so we are just bracing ourselves for the inevitable. Sad world we live in, what have we done to it, what with climate change and weird illnesses.
A pleas
ant change to get a bit of good news. The April edition of 'Classic Boat' has a double page spread on the Waterwitch 'Wedjit' with a full page picture by me of Tim sailing her in the Blackwater. The Editor, Stefan, a friend of the EOG, has promised to send me a copy, for assisting Peter Poland write it, so I can pass it on to Peter North's family. Sadly Peter, the builder of 'Wedjit' now has advanced Altzimers and is in a care home....
Yesterday we had so much rain here, on top of all we have recently had, that local ditches have over topped and our driveway became a moat around out little cottage! But today the sun is out. And for a change it feels warm. Speaking to a friend or two on my daily walk to the post office, they are sorting their boats out, at last!
Hoping to get to mine and do the couple of little jobs inside, the prop shaft Anode connector and the Poo tank float switch.... where's that peg?
Heard from David Ellis the owner of the Atlantic Clipper 'Cidre', he is wanting to sell. Hope to have details of the boat shortly to add her to the 'boats for sale' page.
Also had an enquiry re the new owner of the Golden Hind 26, formerly 'Golden Mongoose', now 'Orinoco'!! The enquirer did not realise that Tim Baker ha bought her. We believe Tim has had her transported by road to Faversham now, where he is working on her. Hope to get a progress report soon. As soon as the rain stops!
Stay safe,
John
Sunday 1st March 2020.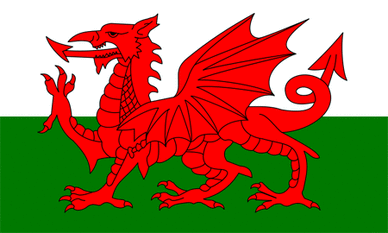 Happy St. David's Day!
March. 'In like a lion, out like a lamb'. Well the first bit is correct! F8 again here last night and this morning! Third weekend in a row with a named storm, this weekend Jorge, pronounced 'Hor-Hey'!
See that February has been the wettest February on record. No surprise to anyone in the flood areas!
Apart from checking the roof tiles, not a lot happening here, though amazingly the temperature is in double figures here at midday... Just does not feel like it in the wind!
Mails quiet again, except for Chris sending in pics of the new engine beds he has glassed into place in his GRP boat to take the new motor. Says he is going to plane a bit off the top to lower the engine beds now they are in...
Fitted nicely in place, but you can see how much he has to lower it... Easier than making the beds taller!
Roll on summer.
John
Wednesday 26th February 2020.
True to form there is snow forecast and looking out the window of the study northward, towards the Blackwater, it looks very much as if snow is falling on the north shore, just missing us here. Forecast is for more overnight. Sadly the rain of late has led to serious flooding in many other parts of the UK, worst in living memory in many places. For the past two weeks the wind has hardly dropped below F6. What Climate change? I heard the ostrich say....
There was another change announced in the local press here, the Orfordness lighthouse is being dismantled, as of today!!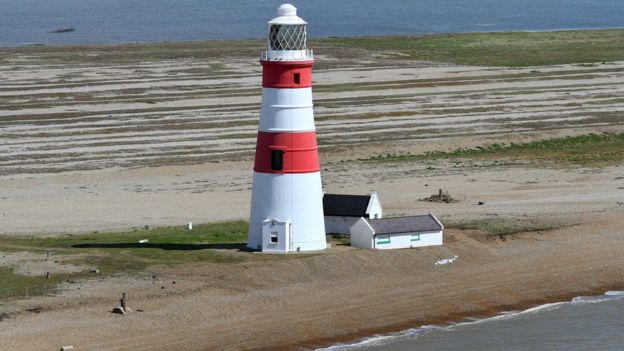 This photo taken a year or so back... the foreshore being eroded alarmingly, despite it being banked up by volunteers.
This photo taken 24th February, now it is a race to take it down before it falls into the sea!
The red and white striped lighthouse has been straffed during WWII and escaped explosions from the nearby experimental army base. However the climate has got it, or the continued movement of shingle along the coast. It is in severe danger of falling down, so it is being taken down to preserve it.
On my sail round the UK (or most of it), see here, it was the first landmark of note. I had never sailed north of it before, always east, south or west! My charts were marked with 'Here there be Serpents!' A shame to lose this northern most marker for the Thames estuary. Doubt anyone will ever be building this sort of structure again. All relying on GPS!
Had an interesting mail from Peter, the new owner of the GH 31 'Audeer', (clever name for a GH!!. Means "to dare, to venture, to risk".) He has owned several MG boats including the GH 26 'Black Sheep'. I knew John Murrisson, an former owner,
who lived in Essex years ago, always wondered about the name.... 'Black Sheep'. Turns out when it was purchased it was bought by two ladies, both with the name 'Barbara'!!! Like the way some name boats!
Had a very pleasant message from Terry and husband Richard, they are the proud new owners of 'Mollymawk'. She is staying at Pin Mill for a season, so maybe we will cross wakes.
Here is another boat that I wondered about the name of, till I listened to one of my folk CD's by the 'Fisherman's Friends'. I half thought it was something to do with sea birds, but in one of the songs, all was made clear. It is the nick name sailors gave to the Wandering Albatross. Very suitable name for a Golden Hind!
As far as anyone is aware the GH still holds the record for the number of trans-Atlantic crossings by a boat of the same design. Record never likely to be broken, that one!
Sadly Clifton, the apparent new owner of the Eventide 26 'Ichabod', has still not managed to fill in the enrolment form. If you are out there Clifton, mail us and we will assist. Will look out for the boat when I next visit Brixham...
We had our monthly get together in Essex last Saturday lunchtime. A departure from our normal last Wednesday of the month. We decided it might be better to meet by day as the dark evenings were no fun to drive home in the wet etc. We were going to use 'The Grange' at Boreham again, but it has changed since we used it regularly and on checking the reviews thought better of it, so we met at the 'Queens Head', Boreham, a quaint country pub. The landlord made us very welcome and the food was superb! Thinking this may be a venue we may well use again. A real ale pub too.
A day later Matt with the GH in Brighton asked when we were going to get together as he could get to a venue in Essex. Sorry Matt, next time!
Waiting to read the Classic Boat Waterwitch article, should be out soon.
Not long now till the clocks change again and the weather may warm up, ever hopeful... Watch out for the snow though!
John
P.S. Go to this site to see what's happening at Orfordness! http://www.orfordnesslighthouse.co.uk/
Wednesday 19th February 2020.
Just back from a rather energetic weekend. Present from the family at Christmas, Valentines weekend, at Centre Parcs. Deep in Thetford Forest, Suffolk/Norfolk border. Walked miles in the woods, swam, played badminton, (badly) and did some 10 pin bowling... (also badly!). Now need a week working on the boat to recover. Amazingly in Suffolk we did not get the rain everyone else has suffered with, though it was windy. Evidence of storm Ciara the week before was plain to see however, a few dozen trees laid in bits after the chainsaw man had finished with them!
Hope you did not get any damage.
Welcome to two new members. Peter of Tenby with the Golden Hind 31 'Audeer' and to Clifton who as just bought the Eventide 26 'Ichabod' and is based in Brixham marina! He is yet to fill in his form but has contacted us. Both will be 'Full voting Members' of course.
Had an interesting mail from Lucy with the GH, she is sorting out her anodes etc. and is also fitting one of M.G. Duff's electrical connectors with the carbon brushes. (As I am). Yet to hear which size doughnut zincs she is using on her bilge plates...
I wonder if others have coated their bilge plates in epoxy to protect them, as I did 30 years back.. When you use a copper based antifouling you have to insulate any galvanised steel from the paint or it destroys the galvanising, as it acts as a zinc anode in reaction to the copper in the antifouling. My bilge keels were cleaned off to bare galvanising a few years back when I had the bottom slurry blasted to remove old paint. They were as bright and shiny as they day I fitted them. Wonderful job fitting the keels, Darian and I got covered in black sticky Sikaflex offering and bolting them up!
I recoated the bilge keels in 3 coats of epoxy after the slurry blasting and reused the unworn 4 inch doughnut anodes, and they are still un worn now. As the bilge keels are coated I get no corrosion and the paint does not react with the galvanising. Give the anodes a quick wire brushing every year and they are good to go. Sadly seen a few galvanised keels where they have lost all their galvanising in a few seasons due to the reaction with the copper paint! It is not poor quality galvanising, just poor management.
With the huge amount of good information at our fingertips these days I am surprised at the number I still see painting copper directly onto galvanised steel.
Mind you there are still loads of boats at Bradwell every year end, with balls of weed and barnacles where the prop should be.. they insist on painting the props. Even with a hard antifouling the prop wash will have it all eroded off in a few weeks. Polish them!
Get off the soapbox John!
Still wet here and chilly today, but see the temperature is due to be up in the 60's old money this weekend! That's warm enough to tempt me over to the barn!
Still time for snow though!
Reminder: the next A.M. reports etc. will be posted on the Forum March/April.
John
February 14th 2020.
Thursday 13th February 2020.
Tomorrow is St. Valentine's day and traditionally the date you have to put up any new bird nesting boxes by. I put a couple of new ones up this morning. However the birdies do not have the benefit of weather forecasts, so they have no idea Dennis the Menace is coming!
After the storm a few days back, when we topped F11 here, we are told this is to be 'just' a F10! My chum has had to re-secure his canvas cover yet again and has given up trying to attach it to the frame, it now just covers his gear under the frame and is weighed down securely.
Hope your covers are secure.
Been very quiet on the mail front for a few days now, wonder if everyone getting busy collecting kit for fitting out.?
It is not that we are not getting any mail, it is just they are not about our boats. Plenty of offers to have plastic mouldings made or stainless boat bits in China though. They all automatically go in the Spam folder fortunately. About 30 a day! Have to wonder, you would think the Chinese had more pressing worries to deal with!??
The Spring tides here on the east coast, coupled with the strong winds of late have caught a few out, a very nice Bentley nearly floated away off the quay at Maldon and cars had to be rescued on the Strood to Mersea Island, yet again. Sad really that people just do not think about the sea and its tides, though they live on the coast... Hope no sailor is caught out!
Spent a mad half hour with a large hammer and a tapered square tool today, experimenting in turning round holes into square ones. Think I have cracked it. I remember doing it so easily with the brother in law Keith over 30 years back, when we shaped the bolt holes in the bilge keels on 'Fiddler's Green' prior to galvanising. I just have learnt that the trick is to drill out the 3/8 and 5/16 holes till they are 12mm, then square them, easy when you know! (The 10mm coach bolts have a 12mm square section just under the domed head, to prevent them turning....)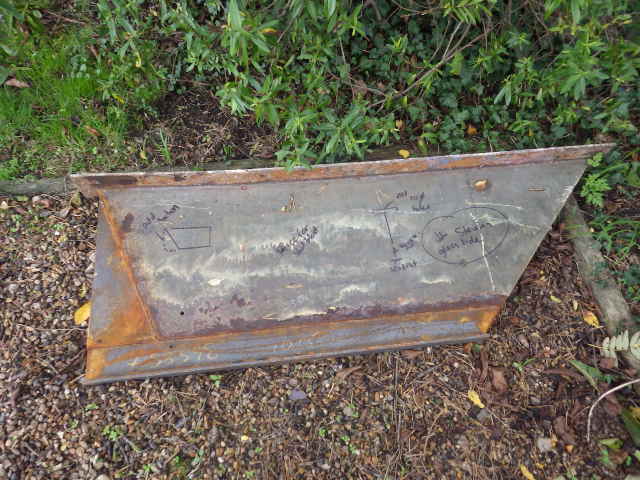 John Steven's bilge keels, or one of them, bottom 3" repaired and modified aft with an extra bit, to reduce weather helm!
These are for the re-welded bilge plates for John Steven's GRP 26ft Eventide. As John was crook I went over to Tollesbury and salvaged them from the steel work engineers before they went out for scrap, and got them back to safety here. As the sun was out this morning I decided to have a little go. Now I have figured out how, I think it will take just a morning maybe to drill out all the bolt holes and square them for the new 10mm coach bolts. Then it is just a case of sanding off the keels with an angle grinder and flap wheel and they will be ready for galvanising.
John has also a tabernacle I have modified for him to re galvanise and various other bits of steelwork too, the bowsprit roller metalwork and an old anchor.. (Though I bet the anchor will have a nose full of lead that will have to be replaced after galvanising to put the weight back in it!!)
Finding a galvaniser these days is not easy, as far as I know there is only one left in Essex now, in Witham. John will be putting a small trailer load of steel bits together for a trip there soon!
Hope you are planning ahead as we are.
Summer is coming.... but not before Dennis the Menace does!
John
Tuesday 11th February 2020.
After some really ferocious winds of Storm Ciara over the past few days, I went to check the boat in the farmers barn yesterday. Felt sure the roof would have been damaged, we had F11, 'severe storm' here, 65knot winds. They must make barns stronger now, not a scrap of damage. Friend not so lucky with a large canvas tent, 12ft wide 10ft tall , that lost its canvas. However the weather gods have to be smiling on him, as he did not get a drop of rain and we had 50mm (2inches) here, 40 miles apart. Canvas gathered up and re-secured! All remained dry!
H
ope your boat covers OK. I have a few of those thin woven tarps here, hanging on the side of my garage lean-to, got a project dinghy there. They have shredded! Cheap to replace though...
All quiet on the e-mails for a few days, apart from someone wanting to contact one of our members that he says he served in the navy with. I have passed the mail on to our member. Of course we will never divulge your contact info to others!
John
Wednesday 5th February 2020.
The sun has been out for few days here, drying things up and fooling the bulbs into flowering, told the weekend is going to be gales and more rain, great!
Have communicated with the Classic Boat journalist again and they are interested in my 'Fiddling Around' log, as the same time the journalist also writes for PBO and thinks sections from my 'Preparation log' will be good for them. We will see.
I have just advertised all my Practical Boat Owner magazines on EBay. Had no takers from our pages. see... https://www.ebay.co.uk/itm/254502438365?ssPageName=STRK:MESELX:IT&_trksid=p3984.m1555.l2649
I have also advertised some kit I am helping a neighbour to sell, it was on our pages but I have decided it needed a wider audience. OK if you search the net with Google shopping it does find items on our pages, but not everyone is canny enough to search the net that way.. (often find better buys using Google shopping than just on EBay!)
Also an Ankarolina Webbing Anchor Warp On a stainless Reel.... See https://www.ebay.co.uk/itm/254504255337?ssPageName=STRK:MESELX:IT&_trksid=p3984.m1555.l2649 Great for boats up to 40ft, cam of his 30ft boat, used for kedge when bows on anchoring in Scandinavia!
Good to see the days getting longer. Roll on summer.
John
Friday 31st January 2020
2300hrs, Britain's Independence Day!
I have j
ust come indoors after a small firework display! Fireworks and hooters going off
all around us here in Essex. A lot of people celebrating. Us included.
John
Thursday 30th January 2020.
We have been contacted by friends at Classic Boat for an article they are doing about the Waterwitch. Affordable Classics. Managed to supply them with a good picture of 'Wedjit' that I took a couple of years back, with a bone in her teeth and very taught luffs! Going to look good on the cover of the March issue of the magazine!
Heard back from Terry re the GH she is interested in, more on that if the deal comes off!
Had a very interesting conversation with Andrew from Bermuda. For nearly an hour! Andrew has been a Seagull customer of mine for years and he has stepped forward to become our new webmaster! At last a safety net! Andrew works in the internet security business for large companies and has all the knowledge needed to look at the workings of the website and the forum, so pleased to have him step forward. Primarily he will be interested in my Seagull website, but has agreed to keep an eye on this one too. He has the ability to save backups of the site to a NAS machine on a regular basis too, so another backup!
Will be talking more to Andrew in the next week or so, at the moment he is moving house, having just arrived back in Bermuda from New York, a work related move. He is born and bred Bermudan and now hoping to stay there with his family for the future.
Just added a sail to the Bits for Sale pages, Steven with Fintra in Northern Ireland is converting her to gaff rig. Primarily because he had to shorten the mast by a few feet when he found rot in it! Steven tells me that 'Borer Bee' is still in a local farmers field and even the farmer does not know who owns her now! This is rather sad, here is a boat with some history that should be loved and sailing!
Heard from associate member Barry Lewis, he is at present globe trotting round the world aboard the yacht 'Risky Business' At present in Agadir, Morocco, about to head for Jamaica, having sailed from Australia and is on her way west to the Americas. Thence through the Panama and back to Australia! When he arrives he is looking to downsize to an MG design to sail on in! Good sailing Barry. He was brought up sailing the Orwell and Thames Estuary in the late 60's!
Lastly a picture from a member in the Netherlands, Leonard Blussé, in Amsterdam.
He found this Kylix, 'Tadaima' (ex Johanna, ex Isola), completely derelict, full of rain water on a quay, but look and behold, here she is sailing again.

Here his daughter Julie is on the helm.
He has repaired and restored her to a very high standard. He has replaced the heavy timber mast with an Ali one which improved her stability and fitted mast raising tackle, so he can raise and lower at will, good idea. I have mast raising kit stored on 'Fiddler's Green', makes for smaller yard bills!
All for now but bet I will be back soon, lots of mails coming in.
John
Monday 27th January 2020.
Apologies for the weeks delay, I have been away to Devon for a few days. And of course it rained. Fell on the way back, difficult driving, took a lot longer than it should have done otherwise I might have updated this page last night.
Welcome to another new member Therese (Terry) with a Warrior 35 that she wants to replace with a Golden Hind. Hope to hear more from her later.
Just sorting out all the drawings and info we have on the Golden Hind for another member, Roland in N.Z. ( He is the chap with Janine and those nicely repaired cockpit lockers!). Drawings on a DVD will be winging his way shortly.
Heard from Chris in the Netherlands today, he has spotted 'Celtic Lass' up for sale on the Bay.
See https://www.ebay.co.uk/itm/283756740622

This boat looks to be in sail-away condition and reasonably priced. Hope a buyer comes along for her.
Sent a DVD/CD of all the senior drawings off to Alan in Honiton before I left Thursday, bet they overtook me on the way to Devon.
Looks as if spring is just around the corner here, loads of snowdrops and crocus out and the narcissi are a foot tall, full of bud. Still time for this incessant rain to turn to snow though.
John
Sunday 19th January 2020.
A really crisp sunny day today, so out in the workshop and garden enjoying the sunshine! At last I have taken the time to fabricate the stainless support for the shaft connector I bought. Took a little head scratching to make it, which bit should I try and bend or drill first, so that later I could model the next section, but it is done and here is the result.
The flat s/s bar will be mounted on the port side of the engine bay, where the previous plain flat strip was fixed but the new bracket has to rise up higher to allow the pair of spring loaded jaws to clamp round the prop shaft. Have yet to take it and offer it up on board but pretty confident it will fit as I had the old one as a sort of pattern. I knew the old one rested on top the shaft so had a datum point. The carbon brushes are 1/2 inch below where the old strip rested on the shaft. The s/s strip is quite strong, but malleable so I can adjust it to get it right quite easily.. I will take a couple of pics once I have screwed it in place. Got to protect that prop!
Hope you are managing to get a little fitting out done too. I have just one other job to do on board, to see why the float switch failed to warn me the poo tank was nearly full, that may be a smelly job! I have drained the holding tank and pumped some disinfectant into it, just got to find a suitable gas mask before I undo the 4 screws holding the float switch to the top of the tank!
Chris in the Netherlands sent a link to an EBay auction he had seen for the GH 31 'Mollymawk'. She is in Suffolk and advertised elsewhere for £19k and £22k, but on EBay https://www.ebay.co.uk/itm/Golden-Hind-31-classic-yacht-GRP-1987/233461876569 the bids had only got to £12k! Hope she sells, she is a nice looking boat and looks ready to sail away. Perfect boat for a round UK trip! Or further afield!! The owner is a member, but as yet has not advertised with us..
It has just got dark here, just gone 1700hrs, and every night the sunset is later, spring is on the way, another sailing season to look forward to!
John
Thursday 16th January 2020.
We had F10 gusts here from that Brendan storm, fortunately minimal damage. A branch fell off a tree and was laid in the track to my barn storage, but barn kept its roof! A few fence panels down in the village and tell me, why is there always one of those trampoline things upside down in a field afterwards? Doesn't anyone anchor these down!
Pleased to say my chimney pot stayed on and the builders have been back today to finish off the pointing, looks to be solid for a few more years! We were concerned during the night though, when it was F10, that the big sack over the lot could have set us off on a spinnaker run to the Blackwater!
Watched the Lifeboat program on the BBC yesterday evening, they showed the rescue of a 30ft GRP boat in the aftermath of that hurricane a year or so back. For some reason they went past Rosslare and headed up the coast into the funneling sands past Wexford. John Stevens accompanied me through there in a F5 gusting 6 and it was hairy, a very narrow channel, ( down to 50 yards wide at one point....) with breaking seas either side. I would not have wanted to be on that boat. They thought they had a 24hr weather window before the storm arrived and would make it to Dublin area.... Don't know about you but if I had 24 or in their case 48 hours notice of a hurricane I would be sat indoors, not chancing in in the Irish Sea! Sure they could have made it into a safe port in time In the program they seemed so sensible?? Takes all sorts as they say! Seamanship....
Sent off the drawings of the Senior and the Eventide to Peter yesterday, thank you for the kind donation to the group Peter. He is now seriously looking for a used one to refurbish, Senior preferred I think.
Heard from Roland with the GH 'Janine' in NZ. He is making good progress replacing the bad timberwork in the cockpit area.
See what you think...
Before and after!

Roland tells me that the bilge plates were removed from her many moons ago, in Tahiti, no idea why, but he is seeking to replace them, so is after a set of GH 31 drawings and the bilge keel info we have.. Bilge keels on the GH were not just there to assist drying out!
Had a communication with Gordon who has Lone Gull II, the one MG designed for himself.
We have had dealings, a few years back now, with a previous owner of Lone Gull II up in Scotland, Adam. A real labour of love to restore this boat, and sadly Adam could not manage it and now Gordon is looking for someone to take up the challenge. Must say it would cost less to build a replica from scratch, but of course that would not be the original. Sadly I cannot see a rich, young, enthusiastic, talented shipwright coming to the rescue. Unless someone out there reads this and.....
Just had my half tide mooring renewal confirmed. I have had this mooring in Woodrolfe Creek, Tollesbury since 1973. Cheap as chips at £60.00! It was only £10 a year back in 1973, if you take galloping inflation into account, it is still a good deal, especially when compared to other creek moorings nearby. Good for boats up to 30ft and often available for members to use, just ask! I only use it to escape the rat race once in a while!
Hope you all came through that storm unscathed,
John
Monday 13th January 2020.
The unseasonal warm weather continues. At the moment I have a couple of chaps sat on the roof repointing a chimney! Mid January!
However they will not be up there tomorrow, as Storm Brendan is on the way, hope to have my stack all secure by then! Winds of 85mph forecast for Northern Ireland and Scotland! Bit less in Essex but still gale 8. Hope your covers are secure!
I had been gathering info from Peter and Sue in California, to assist them to sell their Golden Hind 31 'Windtree'. Whilst I was asking for details Peter came back to say she had already sold! Someone got a bargain, needs a lot of TLC, but she was afloat and the motor ran, $1000 asking price!

'Windtree'
Hoping Sue and Peter will pass our info on.!
Another Peter has apparently sent a donation for drawings.
Thought about the chances of getting up to date charts for an ancient chart plotter such as Bede has acquired with his latest boat, came to the conclusion that he would be far better off ditching the plotter
for a newer model. No point having a plotter that will only take out of date charts! I like to sail with all as up to date as possible and so will shortly be looking to download the updates to my paper charts. Trust you do the same, no point having out of date charts aboard, you might as well be navigating with the AA road map!
My plotter has all the UK charts on it, but is sadly now out of date by a year, but as it is only used as a guide and not for navigating by, ( I have paper charts, in date, for that) I suspect I will defer on the £200 for a new chart card. Not planning to sail round the UK again!
Off to supply more tea to the lads on the roof, they have already stripped off all that needs to be removed and are cementing bricks back in place.! Hoping all will all be sorted before the wind and rain arrives!
John
P.S.
Just has to edit this page as I had placed todays update beneath the previous one instead of above it, sorry!
Wednesday 9th January 2020.
Still not used to the 2020 bit!
Always the same this time of year, changing calendars and updating everything to the new year, or in this case, a new decade!
We have had a few mails in, Greg in Australia has sent a link to a boat for sale. Purports to be a 38ft steel MG, looks like a Good Hope or Barrier Reef design, but has anyone else heard of one ever made in steel?? They were timber of Ferro. Have a look, click the link below.
https://yachthub.com/list/yachts-for-sale/used/sail-monohulls/maurice-griffiths-good-hope/235519
I have never seen an MG design with double spreaders either, so guessing this is a one off, based on....
Greg has also spoken about the horrific fires out there, he has acres of gum tree round him, many of which he has planted. Very difficult to keep them going with the water restrictions they have of course... Fingers crossed for them....
Peter in Welwyn Garden City has been back to us for drawings of the Senior and Eventide, he would like to build a boat small enough to trail. The Senior is ideal, the Eventide pushing it a bit, but I have trailed a 24 and later a 26 (OK she is 27ft!), for 40 odd years, but just to and from the coast once a year, not every weekend! Takes a lot to tow the bigger Eventides!
Have a query someone may know the answer to, Bede a friend of the EOG is asking where can find charts for the Raytheon RC 420 Chart plotter ?? Anyone got a source for these. They were Navionics Classic L charts .....
T
his winter is extremely odd. today we have had temperatures of 13C. So far we have recorded the highest winter temperatures ever recorded for December, and that was at night! What happened to the seasons. Already we have snowdrops, crocus and daffodils and the grass is growing! Feel the plants might get a rude shock if the winter we should be having arrives!
So to that end go check those covers, try and keep driven snow out, but allow air to circulate if you can, to ward off damp!
W
aiting on a response to a query on the GH bilge plates, yes we have the info, and another GH owner was to send info for an advert, still awaiting that, the boat for sale in the USA.
All for now, certainly too warm to warrant a log fire tonight!
John
Friday 3rd January 2020.
Was treated to a run out to the pantomime today, down to 'The Cliffs Pavilion' at Southend to see Robin Hood and his merry men! 'Diversity' on stage with Ashley Banjo as Robin Hood. Great fun had by all, terrific show.
The views from the Cliffs theatre, out over the lower Estuary were brilliant, as the tide rose and covered all the sands, (mud) and the sun set, red in a nearly clear sky, it revealed a myriad of tempting navigation lights flickering on the buoyage across the river...
Sadly one landmark is now missing, the huge chimney and it's red lights, gone from the old power station up the Medway, a great landmark in its day... stood out a mile! We could see it from the Blackwater.... With our low lying coastline any object that could be visible miles away was always a welcome sight! Now sailing down the Swin there is nothing to see ahead.... Reminded me to organise a summer cruise to the Medway and maybe Hollowshore.... Maybe a run down to Ramsgate, but could I stop myself sailing on westwards?? The pull of the Scillies can be difficult to resist.....
Back to reality and the emails brought in more info about 'Kinsman' and our old friend John Perrin! About the time crew Richard inadvertently removed the pin from the back end of the boom and it fell on John, knocking him cold, just as they were entering Faversham! John fortunately recovered quickly and was none the worse for it.
I remember those bronze square pins driven into the end of our booms, they were rather prone to working loose. The topping lift and mainsheet were attached to them... Pleased to say that type of fitting is rather a thing of the past!
Do not know about you, but at this time of the year I am always planning ahead, just about to send off my pennies for my half tide mooring at Tollesbury. At £60.00 I have kept it up for nearly 40 years now. Check it annually, as I laid it, I know it is strong! Do not use it often as I am normally moored the other side of the River Blackwater in Bradwell, but it is a great place to escape to, just to avoid the crowds and once dried out you are stuck for about 6 hours, peace!
Often available to visitors, so contact me if you need a half tide mooring off the Blackwater. Boats up to 30ft. This spring one of the first jobs is to replace the riser chain, with a heavy duty warp... When checked the chain was showing signs of wear.... Heavy warps are replacing chain on buoys locally as they do not rot and fail as rusty chain can do. Mud on a mooring rope is a good UV blocker! There will be a stainless swivel on the top of the buoy and that is attached to the boat with either a loop of chain for long stays or a simple warp if you are staying aboard.
Off to alter a few more pages on the site, a new year and new horizons?
John