Thursday 27th December 2007.
Well this is the last chance for this year , we are off at 1400 and fly this evening.... Will be back in new year.
Delighted to open mail today and find new pics from Ireland of the Eventide 'Chris Hawk', will add those on my return, as I will the pics of the Eventide and GH31 both named 'Wine Knot'! Have also heard from the owner of that superb Buchanan I photographed last August! 'Aelfwyn'. Have a batch of good Barbican pics in to add too. Next year!
Will be loading up the new Belfield tide tables on my return too... Santa's very useful little pressie! I will start to sort out the Events diary then!
Well that is all from here,
wishing you all a very happy new year, with fair winds and lee-going tides!
John
Sunday 23rd December 2007.
This may be the last entry for a while as the silly season is upon us and we are going away for a week straight after. Will try and get back if there is anything of import.
I lit my traditional 'Yule' fire the other night, it's a good excuse for getting rid of all the garden rubbish I cannot compost! ('Yule' celebration, to welcome back the sun, days are getting longer!) Every year I use time expired hand held flares to light the fire. It allow me to practice and it safely disposes of old ones.
All the old rockets go down to the coastguard now, along with all the really old flares that come into my possession from time to time. (The oldest were dated 1969! they were handled very gingerly by both myself and the coastguard!)
Last year I might have started the fire with a couple of just expired white 'anti collision' flares, just as well I did not, as they were recalled as dangerous... They went to Stuart, the coastguard, as well!
This year I had 2 hand held red 'Pains Wessex' 'pin point' reds. They were dated 2002. Neither worked! Not entirely surprising I suppose, but they were still sealed in plastic, so I would have expected better.
I rummaged through my flares box and found 2 more that were dated December 2006, so a year out.
The first fired without a problem and the Yule fire was away, however I thought I might just as well get rid of the other, so banged the firing handle, nothing! I whacked it 3 more times on a solid surface before the detonator fired it... Now this did surprise me. The dates on flares are for 3 year after manufacture, but for leisure use you can extend that a year or two. In theory that flare should have been 100%.
I wonder how many others like me, hang on to old ones for a year or two, even though we buy a new set.. Certainly I will question now if it is worth it.... Have you a new set of flares on your fitting out list?
Back to the mails and messages. I have had a nice contact with a chap I knew many moons ago, he had an Eventide, sold it and bought a Golden Hind. He has contacted us with a view to being in touch with other like minds. glad to oblige! Seems Brendan and John have finished the new members map, we have just to get together when i get back to publish it on the site!
John Dixon has just obtained a CD of the senior drawings from us, I wonder if he will be the first in the UK to build a Senior with the new Selway Fisher conversion!
Again thankyou to all of you who have mailed in Christmas wishes.
Signing off for now, the new page for 2008 is already prepared, be back soon, have a peaceful one.
John
Thursday 20th December 2007.
Tomorrow it will be the Winter Solstice, and from then on the days are getting longer! I will be out there tomorrow night with my bonfire, welcoming back the sun, it must be the pagan in me! I always laugh when people speak of all these Christmas traditions... a great many of them have very pre Christian origins... makes me smile... so what ever your creed, have a peaceful one, starting tomorrow!
I have had a number of mails and cards from members, pleased to be of service to all! One person I was particularly pleased to hear from was Rachel, of the Steel Riptide 'Simunye' build. She promises updates on her building work.
I have had another couple of enrolments in the past couple of days, the prospective owner of a Barbican 33 and the owners of a well travelled Eventide 24 salvaged from the Ribble! The latter are promising pics. Well done to them...
In addition I have added another page to the Tips page. this is as a result of a query and my response. It is all about the use of those rotary battery switches and how to avoid problems when wiring the alternator charging circuit.
I am still trying to add photos and words to various sections of the Newsletter too. I will keep at it while I can.. I am however soon going to be whisked off to sunny climes, (if the baggage handlers don't go on strike!) and will be back about the 5th of January... so advance warning that there will be a little pause in the Stop Press Page..... bet my mailbox will be full on our return, great, love to see it!
John
Wednesday 19th December 2007.
Well the silly season is really upon us, you can hardly go anywhere without piped Christmas music and being offered 50% off everything, everywhere. All makes me a little cross, if they can afford to sell at 50% off, how much were they all making out of us when it was full price? Sadly the spirit of Christmas seems to be lost in a frenzy of profiteering..
I ask you when did you last see a chandler offering 50% off for Christmas? Does this mean their prices are very realistic, as low as they can go, or are they just squeezing us as hard as ever….. Getting cynical in my old age…
Had a few more enquiries this last few days, and another enrolment too. Seems also we are still being found by ex owners trying to track down their old boats. Does anyone recall seeing and Eventide called 'Coralita' in Poole recently, let us know if you know where she is, the son of the owner would love to know she is still OK. She was Iroko planked, so I bet she is! He now sails a Hillyard. Still with the real boats then!
Had a request for the drawings of the GH 28, anyone got any they would care to share with the world? We would do the legwork involved with scanning them if we can offer them on to others…
Just added another section to the Newsletter, the owners tips page. Also adding pics to the first page still, the years washouts! Lots yet to go.
Have the little article about the 'Craftinsure' Seamanship prizes too. Have one prize to be delivered to John Stevens yet.
Speaking of John, he and Brendan seem to have sorted the interactive map, I have to find time to speak to Brendan and see if we can get the MkI version up…. Should be fun.
All for now, back to the wrapping paper!
John
Monday 17th December 2007.
Selway-Fisher have just announced that they have now completed work on their updated Senior drawings! This is as a result of conversations between ourselves and a prospective builder in Australia.
The Drawings offer a properly worked out set of plans to build a bare hull, bilge keel version, using stitch and glue methods. you will still need the CD of drawings to complete the vessel. this is the first time a proper set of worked drawings has been available and could give this little design a real boost. We look forward to watching the first boat build!
John
Saturday 15th December 2007.
We have had a couple more enrolment forms in, but one is known already, Paul and Lorraine from Melbourne with the Eventide 'Quirra' they have just launched after a long refit and are enjoying sailing in the Port Philip Bay area. They extend a welcome to visitors... anyone fancy a little sunshine?!?
The other new member is after a CD of drawings! Maybe yet another Senior builder?
With the crisp clear nights and thick frosts of late, be sure to check the water in the bilge! And in the water tanks!
Mat has send a snippet about a boat he saw on E-Bay, john Stevens has got details. It looks a little like a Bawley to me....
eBayISAPI.dll-ViewItem&item=230203229268&ru=http%3A%2F%2Fsearch.ebay.co.uk%3A80%2Fsearch%2Fsearch.dll%3Ffrom%3DR40%26_
trksid%3Dm37%26satitle%3D230203229268%26fvi%3D1
Bit wordy, but that apparently is the link! Very sad looking boat, sunk in the Thames near Oxford by the looks of it, possibly nothing a high pressure hose might not put right, then 6 months of refitting!
I have had a whole batch of mails from someone about a boat advertised on our site, 'Foreign Affair. I suspect there might be a language problem and he does not understand that it is not actually us selling it.. Foreign Affair is now being offered to anyone who will take it on, not sure if that means the yard bills as well? Sadly she looks to be beyond economic repair... parts only I suspect, but craneage and transport might be costing more than she is worth. Sad but that is how many go.
Up in Cheshire at Hoylake, there is a similar story on an Eventide 24. This one however seems to be in better form and on sailing club ground, so the owner is just asking for a donation to the sailing club. see the For Sale page.
There has been a little activity on the forum, seems to go in fits and bursts... One member has a registration problem, he is a Brit and long time resident in Germany, but cannot fly the German flag as he is not German. we have suggested he register the boat in the UK and fly the red Duster. Jim has suggested Jersey and full registry, bit expensive, but different.. anyone else had similar problems?
I keep seeing copies of mails between Brendan and John, sorting out the Map, looks very clever what they are doing... lots of tweaking having to go on in the background to make this all work.
Reminds me of the stately swan. What you never see are those feet working like Billy Oh, beneath the water!
John
Monday 10th December 2007.
Well the family attended Earls Court yesterday, and though there were not as many electronics companies as I would have hoped, as I wished to compare echo-sounders and logs, I did find it a friendly atmosphere and there was more than enough to interest me. We came back laden with cheap bundles of rope, some discounted books, fleecies, info on inflatables for tenders, and good information from many friendly people. I spoke to a few 'stall holders' and they reported good numbers of 'serious' purchasers. They seemed happy with the location too. Maybe if the electronics and outboard companies can be tempted back it will be really good! Certainly do not think I will be bothering with that soulless Excel again. Nice to be able to just nip outside and get on the tube too!
I was so pleased to find not only one or two beautifully restored classics, 6 metre wooden racers, the Fifie but also wooden dinghies, wooden boats under repair and the Falmouth college with a big stand with part finished wooden boats being worked on. There was also, tucked away behind the inevitable charter holiday crowd, a collection of very historic rowing craft, many wooden. including the wooden ship's lifeboat from the ill fated Shackleton expedition and the boat John Fairfax rowed to be the first to cross an Ocean. Remember that, just a day or so before they landed on the moon. There was an extract from a letter of congratulations from the three astronauts!
The band of the Royal Marines had room to march as they played and the colours ceremony at the end was very nostalgic! Great stuff!
Back to reality.
Sorry if some might have found the website unavailable Friday and Saturday. The service provider was moving our site to a newer, better server. I found out when I attempted to upload some new pics.. They are still in the pending tray, a fin keel Senior and a well travelled Tidewater. Soon....
Have heard back from one of the newest enrolments, Julio from Brazil, seems he was another that had been vainly trying to obtain plans from 'another' group..., he hopes to build a Storm class, after he has finished his slightly smaller 'Sundowner' class boat, that he is working on at the moment. Getting his eye in so to speak! I will be preparing a CD for him! He also might like to try his hand at the 'Kylix', has anyone got a set of drawings we can borrow to scan for posterity?
All for now,
John
---
Earls Court Boat show

Dec 1st to 9th.
Special Discount tickets to members of EOG.
£16 on door reduced to £8.00!
Members Contact EOG for the Discount code to buy online.
To use the code click on the link in the box above, then, on the Ticketmaster page, go to the 'Promotions and Special offers' box. Enter number of tickets required and the code in the box. Then click the blue button below it to proceed. See you there!
OK the show is over now, 10th, but I will leave this here just to show you what we can do for you!
---
Friday 7th December 2007.
Apologies for leaving it nearly a week! I have been up to my ears with the dreaded tax return! All sorted, just got to get it verified by the accountant. I sometimes wonder why I work so hard and have so much paperwork for seemingly so little return. then I wander off and think of the days out on the boat, and I know why! My little SOS business just about pays for my boating. Additionally it gives me and a lot of others, a great deal of pleasure. As I was reminded today, nice to be able to sleep the sleep of the just!
The same goes for the EOG. I have found more nice people in the past four years than enough. I really enjoy doing this and helping others, it's just what I do. So nice to get the letters and mails telling me that you appreciate it too.
John Stevens and Brendan Mason have really been beavering in the background. The database is being 'tweaked' and clever programs written, so this map will work. From what I have seen in the copies of the mails back and forth, you are going to like it.
Another 4 enrolments this week, will be replying to you folks tonight... We have another Lone Gull 'Ivory Gull', another Senior, 'Tavi' in South Africa, one looking for a Riptide and another who has not said why he has joined, but he is in Brazil. Lots of good plantation grown timber nearby! I will be writing to you all later.
In addition we have had another couple of MG boats turn up, the Barrier Reef 'Crystal Voyager', which is now on our For Sale page, at a very reasonable sum. And 'Brego' A Tidewater with many, many miles under her keel! I have added Brendan's WD to the WD pages, sorry I forgot when I started the feature page on 'Tarka'. I have also had a great B/W pic of the WD 'Pochard', that I hope to get on the site later. The pics of 'Brego' and 'Pochard' need a little editing first...
I have also been adding to the Newsletter, bit by bit! There is still a load waiting to go on! Had a good link from Mike Hoban, that I have placed in several pages, it is the new boat construction rules From the 'Boat Safety scheme' that are such a good guide to anyone fitting out or building/restoring. See the 'links' page, latest 'Scranbag', 'Builders and Restorers' pages.
Just taken 10 minutes to check on my boat and the lad's boat, his is still afloat, and looked at the other two MG boats down the marina too. all OK. How often do you check on yours? I have left mine locked, as there are tools etc still on board, but some I know strip the boat bare then leave the doors off and the hatches open under their covers. Loads of ventilation. Very commendable, but watch out in the early spring that you don't get birds nesting in it! Happened to a friend of mine, pair of meadow pipits in his Dorade vent. You should have seen the cabin inside! He actually sailed for odd day-sails with parent birds in situ.. Not sure you could get away with that now. Found bits of eggshell and an empty nest in late spring, when he cleared up the mess, so they must have flown!
Off to the Earls Court Show Sunday, not too late to get those half price tickets, just call 01621 778859 if you are a member and I will give you the code. You do it on line and print your own tickets out, clever!
Heard conflicting reports about the show, we will see. Has to have a better atmosphere than Exel!
Heard from the Skipper of 'Amadis' today. Lily is now living on her in N.Z. and has a new project. See this website! www.oceanswatch.org Lily's MG Good hope class has now gone full circle, back to where she was built almost. Lily comes from West Mersea of course.. Her old website is now finished, but I expect we will be able to read more of her and her young crew's exploits on the new one, I will be changing the links later. Lily contacted me because last we knew 'Amadis' was for sale and she had been seen on our site by a prospective purchaser. Sorry to disappoint you Chris.. But wait, we have another one on the Isle of Wight.... what, a bit far from you in N.Z......??
Heard from 'Iddy' with 'Neptunes Neried'. Not a lot of sailing last year he was laid up. Hopes to be out early next year. Hope to cross wakes Iddy! Love to see her again.. Picked a good year to be laid up, it was 'orrid'.
Also added the Atlantic Clipper 'Solest' to the For Sale Pages. I hope they get as many enquiries as some are getting. And she sells. We have quite a few boats for sale though, if you know of one that has sold or any items no longer for sale, please let us know.
I have had a lot of pics in from a 'Friend' David, ex Eventide owner, he now has a Seamaster Sailer 23. that he is fitting out and has sent in some details of his refit. there is something in there for all, will be in the Newsletter....
Well that is just about it for now, except to Say Santa has sent a nice new copy of the Belfield tide program through to go in my stocking. look forward to planning next seasons events with it, after Christmas!
John
Friday 30th November 2007.
Apologies for this right away. I try to limit the 'C' word till 23rd, but thought one or two might appreciate this as a broad hint for their other halves... (just ordered mine!!)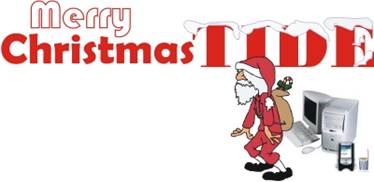 A few ideas if you are looking for some stocking fillers for your friends or relatives.

Also detail of the latest edition of Tide Plotter released this year.

We have included a tidal stream module which displays the chart diamond information. On the current 2008 and 2010 versions.

For details please go to:

www.tideplotter.co.uk/xmas07.htm

Kind regards

Keith Belfield

Belfield Software Ltd

Tel: 0121 777 6756

Having just spent yesterday afternoon emptying my daughter and hubby's boat gear out of my garage I have now found a lot of my gear and it's time to sort that. all my ropes, halyards, sheets mooring lines, go through our washing machine. Easy care 30 is the wash cycle! All I know is my 20 year old ropes look and feel like new every spring! OK so I have replaced a halyard or two, but most are on their 17th season and have been about for 20 years....

Just got back to replying to the three new enrolments, and I have added a couple of interesting boats for sale. a very affordable Senior that just needs a little Epoxy and ply work and a dab of paint to be sailing next summer and a 36ft project boat, an 'Atlantic Clipper' Lots to do and no sailing for a year or so, but an awful lot of boat...

Brendan and John have been beavering away working out how to get part of the new database onto the site. No revealing of information mind, just what boats are where, no names. I have been copied copious numbers of mails betwixt them, most of which were way over my head, but it seems we are very close to getting it all sorted. all very clever.

Well the rain is lashing down and we have wind whistling round the cottage tonight, time to go and check those winter covers! Will be checking the lad's boat in the Marina as well!

All for now, back to editing the Newsletter, lots to go on still.

John

Thursday 29th November 2007.

Last night the meeting/gathering at Danbury was a little down on numbers, 2 were working, 2 in France, another, Doug laid up and recovering with that new hip, so we lost another 4. All in all i thought I might be on my own, as my Darian has bronchitis... but no Mavis and Brian turned out as did Brendan and new owners Norman and Madeline, welcome to them. Brendan showed the new program he had written to sort the map on the site... looks very clever.

Over the past 4 days there have been another 3 enrolments and one of them, a Tidewater owner, was enquiring of the MG designed 'Ionia'. Built and sailed in Egypt before WWII she has not been heard of for years, at 45ft and double ended she was different. She features in '60 years a yacht designer'. anyone any info on her?

All for now, have daughter Jenny with hubby Dave joining us for a day or two, they are taking a lot of their wedding present back to Devon with them... I will have to bring the actual boat in the spring!

Now to make sure Darian has her medicine...

John

Sunday 25th November 2007.

Well I have started to download the new edition of the Newsletter. I have several logs to go yet and a couple of little DIY articles. might take a few days to get it all on the site as I am also up to my ears with my local woodland organisation at the moment. We have our annual Meeting Monday and things are a foot! See

the Twig Website for what we are up to there!

Was down at the Marina the other day, they are putting new pontoons in and Darian's Michael and Karen's boat was being moved, so had to check it out. Was such a nice day I nearly went for a spin, but there is no time at the moment! Their smart new motor boat is staying afloat, we hope to have the odd putter whilst the river is really empty. Have just organised a decent standby motor for it. Whilst I was there I was able to check on a couple of other boats as well.

I later contacted Doug and let him know. He tells me he is now getting about with two walking sticks. Making progress!

Sadly Doug will not make Danbury this Wednesday. However we will be there, as will Brendan and a new member Norman, the owner of 'Eirene'. See you there? Give me ring on 01621 778859 so I can let the pub know to set up a larger table!

My daughter Jenny and her hubby Dave will be dropping in too, they are on their way up from Devon to see us and hopefully take all their boat gear out of my garage! The new boat will go down in spring. That should be fun. Have to set up the rig etc. Sailing out of Brixham for a trial sail before we leave them I hope....

We have had another enrolment in the past week, Norman who we knew anyway, as the owner of 'Eirene'. I have also heard from Elizabeth and Brian, re their log in the newsletter.

We have had an interesting contact from a new sailing group http://www.smallboatclub.org.uk/ Nigel tells me they are a simple group of enthusiasts just interested in boats and sailing. They have a forum and seem quite active. Also friendly! Have a look.

Heard from the owner of the MG Atlantic Clipper, the odd one with the stern cabin.. He is trying to sell her after his father died. She is on our pages, 'Solest'. We await the advert. Needs a lot of work as the whole interior is wood and needs loads of TLC, but she is a big boat with a pedigree.... I will let you know when the advert appears.

I also have the promise of an advert for a Senior. Needs a couple of months work under cover to finish off repairs to deck etc, but you could be sailing for less than £500, with this one! Will let you know went I post it, or just keep an eye on the for Sale page. I have just had a broker wishing to add any of her MG boats to the pages. We are now recognised as the first place to look for these boats! WOW. Of course I said yes!

'WestWater' is still for sale, now there is a nice big MG for a reasonable sum! 'Dido' is also back for sale, hull repaired...

I had a mail from Eilard in Holland, it took 3 weeks for the postman to deliver his Burgee! I know we have problems here with the mail, but 3 weeks! At least he will be able to fly it next summer.

Still got a supply of Burgees here, selling well, so we hope all will be sporting the Gold and Black next season. I have to have a new one, taken 4 years but I have worn mine out! So a nice bright one at our masthead next spring.

Looking through some of the pics waiting to be added I spotted the Database Manager John sporting a bright Tee Shirt he created.. There might be a call for these, see the Newsletter in a day or two, the pics should be on there by then!

Had a nice comment from James May about the new Golden Hind brochure I was sent for the site.. It is his boat features on the back cover. He has sent a log in and that is going on the Newsletter soon.

Really appreciate all the comments and mails from you, nice to know we are appreciated...

Looking forward to my copy of 'Cevamp, Mike and Me' that I have just sent off for. Have to have a decent book to read after Christmas, when we are whisked off to Dubai by the family! 7 hour flight!!!

Lastly We have had another request for drawings and I have been sent the Steel building instructions for the WW. Just need the 3 or 4 extra sheets and we will be able to deal with every request. Anyone got the Steel WW drawings??

All for now

John

Tuesday 20th November 2007.

I have added pictures of another 7 designs to the pages, thanks to all for sending them in. I have added items to the 'For Sale' pages and also tidied up a few old adverts as well. there are a couple more 'mystery' boats too. I have just also been informed that there is a 'Swin' Class for sale on E-Bay.... Will look out for that too. Hope you enjoy the additions, new Newsletter soon!

This came in the mail today, as well as a couple of general enquiries and 2 more enrolments! Thought members might like to see it! Just sending off for a copy!

John

Cevamp, Mike and Me:

tales of romance and adventure in the Irish Sea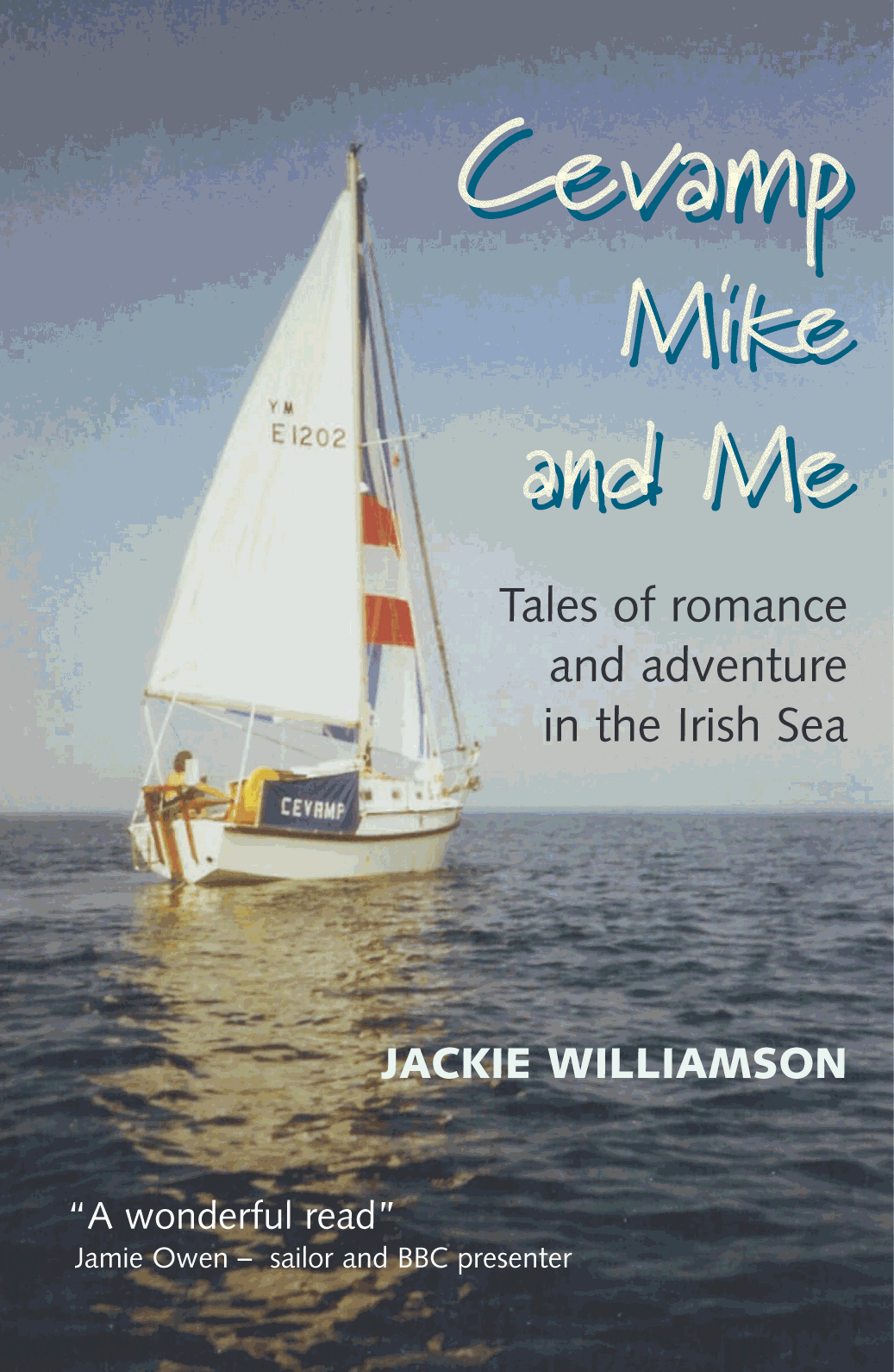 by
Jackie Williamson
A blend of romance and adventure, this light-hearted but passionate sailing narrative tells the true story of a home-built 26-foot Eventide yacht, a police inspector and a journalist, and their sea-borne adventures. Through its pages we visit the harbours, meet the people, watch the wild life and learn the lessons – some tough, some funny, all memorable. We travel with Jackie as she develops her skills as a sailor and captures a husband into the bargain.
The reader is swept along by the drama of storms and lifeboat rescues, a fire in the engine, a disappearing jetty and an exhausting night-time passage with a broken compass. But sailing isn't all about disaster and the couple also enjoy such diverse delights as a Jacuzzi bath in the home of an eccentric fisherman, a magical day's sailing in the company of dolphins, and dazzling evenings under the stars.
Accounts of sailing trips to Ireland, Scotland, Anglesey and the Isle of Man are peppered with practical insights into life on board, sparing no blushes, raising a few smiles and revealing the stark fear that sometimes goes hand in hand with the challenge of being two individuals at one with the sea.
" A wonderful read" – Jamie Owen: writer, sailor and BBC presenter
Cevamp, Mike and Me, will be published by Acorns Publishing on 24th November.
350 enthralling pages.
(would make a great Christmas present)
introductory offer just £7.99 + £2.50 p&p! (after Dec 8th add £1.00)

To reserve your copy, email cevamp@acornspublishing.co.uk, call the author on 01348 831862 or come along to the launch party at The Royal Oak, Fishguard, at 3pm on Saturday, 8th December.
Friday 16th November 2007.
If this appears it will be a first for me, I am using a totally different method of editing this page. It is now done on the saved copy of the site on my computer, and saved to CD and spare hard drive!! Just in case!! This site has become so large that it really would be a disaster if it were lost. The Webmaster, Tim, keeps a copy just in case, the web providers back it up every 24hrs, just in case, and now I will have a working copy on my PC and 2 saved copies. no longer will I be editing live on the server.. All a bit techie for me, Barry would be proud of me. I am now uploading using a state of the art 'ftp' program, the same one that Barry used to use. Thanks to help from Brendan again, I have managed to follow his advice as he walked me through the configuration of it on my PC so it works well. It is so much quicker that using Windows to try and save it every month, that could take 8 hours!
Now only the changed page is uploaded and as I already have it on my PC and backups, no need to go through all that lengthy downloading.. Thanks Brendan.
Today I went onto the link for ticket master, used the magic secret code.. (available to all members free, just mail us..) and booked 4 tickets for the Earls Court Show for half price. Very simple, and at half price well worth it.
I was off to the boat today to clean the stain from the waterline, sadly I could not unearth the magic liquid in my garage. Too much boat gear in there. It will have to wait till the end of the month, when my daughter Jenny and her husband Dave come down to empty my garage of all their boat gear, I will find it then! They will be joining us at Danbury on the 28th.
Mail has slowed down for the past couple of days, just 2 more enrolments and one request for a CD. of drawings. Sent another WW set out 2 days back. We now have the cutting list for the WW as well. If you need the cutting list and have broad band, I can mail it to you.. Was sent to me from Australia, Thanks Paul.
Off to do some more teaching this weekend, a little session on fixes. Now where did I put my plotter..
John
Monday 12th November 2007.
The chill weather has stayed heavy frost overnight, winter is here. Doug rang me from Hospital, he is very much on the mend and I hope, home by today.. Wishing you well Doug. Keep warm!
We were very fortunate last week to escape a serious flood here on the East Coast. The gales in the north combined with low pressure in the south created the ideal conditions for a 'Storm Surge' to sweep down the east coast. Listening to my office VHF I heard the port tidal details, the tide was 2 metres above prediction in the Thames, at half tide! West Mersea Strood was impassable.. 3 hours early. Looking out eastwards toward West Mersea and Harwich from here, the sea looked angry and very much higher than the farm land in between, it was!!!
Further up the coast the surge peaked at 3 metres! Had this happened on the next spring tide instead of this one, it might well have been a very different story. This time there were only a few breaches and minor floods. How long till the next time I wonder? Glad I am 20 metres up a hill, not many about here!
I have only had half a dozen members call or mail me to ask for the discount code for Earls Court.. Either you are not going or have already a discount code from elsewhere... Not too late, have not booked mine yet, will either be going on Sunday 2nd or the last Sunday, not sure yet...
Today I put two wizards together... you can expect startling results... John Stevens the Database Manager and Brendan Mason, computer whiz... together with Tim our Webmaster, they are going to get their heads round the online interactive members map! I look forward to the results!
Just for a change, I spent 4 hours teaching again yesterday.
My old Yachtmaster skills were put to the test to teach Tides again.... Gets the grey matter going... Tidal streams, calculating heights and time at standard and secondary ports, using the tidal graphs etc... add a smattering of chart 5011 (I trust you all have one of those!) Great fun! Sadly not too many people get to use these skills these days, me included! Tend to rely on the GPS and the computer for tides... it is always nice to be able to do it the old fashioned way as well. Must remember to buy a new almanac for the boat next year..... (At Earls Court!) so I can do it if I have to...
I have had another log in! So in the next week or so I will be starting off the next Newsletter. Not too late to send in your items for it...
Have had a few mails in from Warren, he has found several MG boats for sale, plus whilst rummaging, a pic he took a little while back of what looks very much like a Vulcan or similar, I will place it on the Gallery, along with other pics he has sent! Thanks Warren.
I hope to get down to 'F.G.' in the near future, to give the topsides a little extra clean. I washed her all down last week and she is all clean, except for that 4" wide patch just above the waterline... I used a new product last year, From 'Starbrite' . 'Hull cleaner'. It was so easy, wear rubber gloves, apply sparingly with sponge, just wipe on, walk once round waterline. Leave for a few minutes then wipe off with sponge of fresh water. Stain gone! I think it is Oxalic acid, the stuff that is in Bee stings... thus the gloves, works wonders though.
I will than get the topsides polished with 'Mer', the polish with a slightly abrasive cleaner in it. Have used it for years on cars, my old Morris Minor Van and the boat, good stuff. That will mean probably 9 years without repainting the topsides, 17 for the deck and about 6 for the green stripe.. not bad! 2 pot polyurethene.
Hope your laying up is going as smoothly... and if you are just starting your sailing season, don't forget to send in those pics, or if you would like to arrange a meet in Perth or Tasmania, just mail me, I will advertise it!
John
Thursday 8th November 2007.
Very pleased to tell you that Doug had his hip operation yesterday, and today is already up and on his feet, amazing... Jo says he will be home at the weekend. Good on you Doug!
In the past few days I have sent out another three CD's and enrolled yet another member. the numbers keep growing....
Brendan has helped me clear up a few errors on the web pages. Thanks Brendan, and I have added a few bits to the for sale pages.. If you have an 18hp Saab, have a quick look !!! Could be beneficial.
I have been told there are a few boats repeated on the gallery, same boat, different pics, but elsewhere on the page.. I will try and place them all together.. If you see something that is not quite right, please say.. I rely on you out there to pick up on me, I often am too close to the screen to see the hic cups!
Have already had 3 members speak to me about the discount deal on the Earls Court Boat Show tickets.... Have not worked out which day we will be going yet, but it will have to be a Sunday.... (might creep up on my own during the week, as well) really looking forward to going back there. I was on the Marine Section exhibition stands from the first one in 1979, then of course on the British Seagull stand.
Have just heard that our database manager has picked up a nice Yanmar GM10 for his Eventide, and he is threatening to send me loads of pics and words on the restoration of 'Seawitch'. Look forward to it. Another boat on the Builders and Restorers pages.
Mike tells me he is getting on with his boat barn and 'Cirrus' should be under cover soon. (See that on the restorers pages too!)
Have just had the promise of another log for the Newsletter, so now it's time to start a new one and make all the pages, edition 9!
Nigel of 'Otteau' mailed me today and I found out that he imports those Radio controlled sail boats, the RC Lasers.. Now that could be a fun diversion for a meet next year! I also know where there is a Radio controlled Eventide, not quite as nippy as Nigel's Lasers!
Well the weather has closed in now, just after I took my last group of children round the village collecting seeds, (this time it was the 3 yr olds at playschool, a real treat for me!) No sooner had we got back to test and plant their acorns than the wind began to howl and the rain came down horizontally. Temperature is down to 6 degrees now, frost tonight I expect... good time to be laid up under cover....
All for now,
John
Tuesday 6th November 2007.
Well yesterday was MG haul out day at Bradwell Marina, a Barbican, Doug and Jo's WW and 'FG' were all lifted out in succession. The other two are on the hard standing and the owners were snugging them down for the winter. 'FG' was lifted onto her trailer, we lowered the mast and towed her off to her winter storage barn. Doug was telling me that he has had a cal from the hospital and he is in on Wednesday to have his other hip done, he hopes to be back afloat next season! good luck and we are thinking of you Doug.
Last week I started stripping 'FG' out ready for lifting out, but was careful to leave just enough on board so I could nip out if circumstances were right. Saturday we slipped out into an almost empty River Blackwater for an afternoon sail. There were just 12 boats out on the horizon all day. the sun shone, the breeze was a gentle F3 and we thoroughly enjoyed it. We later returned, reluctantly, to the marina and striped out the rest of the gear. Two car loads later she was empty and we had a meal in an empty clubhouse, looking out over a marina full of boats with no one about.?? Where is everyone? Has the weather been so dire this year it has put them all off. The Barbican was out on the Sunday drifting in zero breeze and the skipper said the same, no one about. We would have been out again but we were collecting seeds in a local woodland, helping kids plant theirs up, a beautiful sunny autumn day. Haul out day the cold arrived, so at least we timed it right!
We hope next season will be better. Certainly Mike in the Bar could do with a decent bit of sunshine and balmy breezes. this year has been dire not only for us leisure boaters, but for all those associated with the marine business.. (Though my little Seagull business has had the busiest year since I started, but I do a lot of trade overseas....)
The weather pundits would have us believe we are in for a hard one, will be the first in ten years if it is. We have been in our cottage 10 years this Christmas and have only had a little snow and severe weather, so maybe...
Best place for our boat then is under cover, she in in an open fronted barn, facing to the south, light and airy, but dry. Keeping the wet off our boats is a big help to keeping them going. John and Ann have just recovered their Eventide 24 with a new tarp, over a wooden frame. that is the way to do it if you can. She will be safe till spring, and they will be able to work on her through the winter months as well.
The postbag has brought a surprise this week, a couple of GH plan sheets. If there are some out there that probably means there are more. We are indebted to Warren not only for these sheets of drawings, but for scans of the early GH 31 leaflets. they will appear on the pages soon. the drawings will be scanned and be available to members to assist. there is a drawing of the optional wheelhouse on one of the sheets. We might be able to add this as a down load.
I have just recorded another CD of Eventide drawings, that will go off in the post to a new owner later today and have had another couple of enquiries about CD's. We are so pleased to be able to assist all these owners.
Still looking for the Waterwitch steel sheets if you have them... the last ones in the list... We are hoping to get the chance to scan a set of tidewater drawings soon as well! Are there any more out there we can save ???
Well got to close now, the sun is out and it is time to go and scrub the decks, clean off the smutty marks from the transom and just pat her bottom, to make sure she is OK. ( Matter of habit, but I normal always wait till November the 5th and the fireworks are out of the way before hauling out.. think I am OK this year as all the fireworks went off Saturday and Sunday!)
Just a last comment. this year has been one of the worst for fouling that anyone can recall. The water temperature has been higher, even though it has been a duff summer. (Think this might be partially down to the improving water clarity locally.) However it has meant even our Marclear has struggled to remain weed free.
During the months of June/July, we had a 4" growth of fine weed around the waterline. It wiped off easily with a brush from the deck, I have not even been round in the dinghy to do it. Others have had severe growth, 'Dougaljo' with Marclear was covered with a 4" growth of jellies, but that was on the Crouch... since scrubbing off and being on the Blackwater she has not had the same trouble. Other boats in Bradwell marina are covered in growth.
It was with some trepidation therefore that I waited for the bottom of 'FG' to become fully visible in the hoist yesterday. Not one Barnacle, (except the dizzy one on the prop...) However there were about 12 dangling jelly like growths that we never normally get and a liberal slime cover. No weed. The marina guy said mine was the worst one out, then I realised he had only hauled out a couple of boats yesterday, both of which have been beached for scrubs a couple of weeks back. I will still repaint with Marclear next season. I have already had enquiries from others in the Marina, who apparently have been watching, (through the new clarity of the water), the bottom of 'FG' with interest. Apparently it has still out performed most. Not sure why it did not work on the River Crouch this year though....
Off to wash 'FG' down...
John
Thursday 1st November 2007.
8 met at the Bell last night, when we arrived there were already a coven of witches inside! Couple of local families with all the kids dressed up! Pub all decorated in cobwebs, and they were not real!
We had a great evening again, even better for the return of the chef! Food top notch! We were considering a Christmas meal at the beginning of December instead of the normal last Wednesday in the month, but if we did it would have to be a Christmas type meal, and that was not popular, so we are back at the end of November. We will be a few regulars down as Doug has got the date for his hip opp and others will have flown south for the winter, lucky people....
I have had 3 more enquiries about CD's of drawings in the past 3 days, a total of 8 enquiries of one sort or another and I expect some new members to enrol as a result. Got a nice telephone call l tonight too. The EOG is busy! I have just sold the Aries wind Vane gear from the site and the Yanmar 18 went too. Seems our 'For Sale' pages are found easily on the net. Got anything to sell?
Looking forward to going to the Earls Court Boat Show in early December, be good to be back there... I will see if I can organise group discounts...
Slowly getting the gear of 'Fiddler's Green' ready for Monday's haul out. If it was not for the chap picking the Vane gear up today I might have been out afloat. Leaving vital gear till Saturday in the hope of a quick sail...
Hope others will be taking advantage of this warm calm weather while it lasts too...
John
Tuesday October 30th 2007
Well the Azores high has once again spread across the country and we have balmy weather, shame it could not have dome that in the summer. Was down the boat today removing non essential gear ready for the lift out on Monday, have left safety gear on, just in case I get a chance to nip out later in the week.
I have sorted out my trailer, and will have to cross the farmers palm with silver for my winter berth, but being out of the weather is so good for the winter, I can get all sorts of jobs done undercover....
Am off seed collecting with the children tomorrow, then off to risk the ghosts and ghouls that will be out, to drive to Danbury!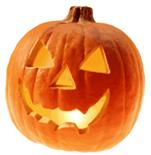 We already have 9 attending so far, could be more....? Dare you come out......... Meet us at the Bell, 8pm on! If you would like to join us for a meal do ring me on 01621 778859 so I can arrange for larger tables to be set up!
Now for something a little diferent.

One of our recently enrolled couples, Anne and Leslie, who are building a WW, run this website of needlework patterns for all sorts of boating subjects, albeit inland waterways for the most part. Very interesting.
If you are in the Maldon area Sunday I also have a Woodland Seed Gathering event organised. Free to come along and take a walk in a normally closed woodland, collecting seeds as you go. we will use any seeds to plant and try grow more trees for our proposed woodland. For more info see my woodland website www.twigs.org.uk and the News page.
All for now.
John
Thursday 25th October 2007.
Well we did not get out sailing, a break in at my sister's meant my brother in law Keith was not going to leave sister on her own, then a family funeral, and the weather turned...
I did get down to pat her transom a couple of times, fill the fuel tank for the winter and generally check her out, but that was all. 'Right Eh Oh' was out on Tuesday, but it was raining in North Essex, so they stayed close to the Backwaters. I met the crew of 'Dougaljo' they were preparing to have her lifted out.... I also saw the boat Jack and Steve have replaced their Eventide 'Serenity' with a Westerly, called 'Gribbin' now there is a name to conjure with. 'Eirene' is still in Bradwell, her motor is giving problems, water in the system, runs for a time then more water gets through. Norman is busy draining and changing filters and fuel... hopefully....
I mentioned a little while back that we must be approaching 600 enrolments.. well John Stevens has been counting, and we have passed that magic number! Amazing. We are now 6 times as large as the old association when it collapsed, larger even that it was at it's heyday when I was president, back in the 1990's. Must be a message in that somewhere, not sure what it could be..... Tomorrow I will get to answer the next 6 enrolments that have come in whilst I was away and have been catching up on my Seagull mail.. I dare not go away for more than a week, takes me another two weeks to catch up!!
Just added a couple of adverts to the 'Boats For Sale' page and also a nice offer from the publisher of 'The Lone Gull files', that is written up on the 'Books' page. If you follow the link to their website and quote 'eog', you will not only get the online discount, but free P&P!
We are promised another set of old MG drawings to pass on, more shortly, but if there are any more sets languishing in sheds or draws, why not lend them to us to scan, so we can pass them on to others on CD.
Just paid for another years webspace. Just over £100.00 with the extra size mail boxes etc...We have enough money in the kitty to keep this site going for years, thanks to the generosity of those selling through our very successful 'For Sale' pages. It has become the place to look for MG and YM designs.
I have recently been donated a small outboard by one our members, I have just tested it out in the Seagull tank and it runs beautifully. It is a 2 hp Evinrude, about 1980 vintage, but exceedingly well looked after. Complete with a manual... It will be added to the pages soon, but if you are looking for a nice clean little 2 horse, for about £60.00 it could be yours....
I am thinking of trying to get out in the next week, before I haul out, but time presses, so many things to do, not least empty the boat. Next week is also Seed gathering time with the local kids, so will be busy. Have even organised a seed gathering event in a woodland locally for Sunday week. Busy, busy, busy! Like it that way.
Enjoy what sailing you can, 'tis the end of the season for lots of us, but for our friends in Australasia, its spring! So send in your pics!
All the best,
John
Sunday 21st October 2007.
Trafalgar Day.
Well we are back from our week on the canals, the Kennet and Avon, great time, did the Caen Hill Flight in 1 & 3/4 hours up and 2 hours down.. The slower return trip because we helped another crew out by joining them, so two narrow boats in a lock at a time. Had a day exploring Bath and the only day it rained we had just one lock, so it was yours truly and Keith standing out aft in full oilies, just to prove how good a buy the Musto's were! Dry as a bone!
I tried and tested the new camera for the week, worked well. (especially in the rain!) Only down side was the Pentax software that I loaded onto my PC before I left, caused it to crash.. I eventually managed to retrieve it today, after a week of worrying about it whilst I was away, and a day of headache sorting it out.... Seems the Pentax program reset the computers date and time, to 1.1.1601?? Very early computer date!! Refused to boot up at all as it said not only were there no computers but no 240volt to plug them into! Removing the offending programs and resetting the date cured it, thank goodness for the new Norton Ghost program installed after the hard drive problem earlier... Don't need the programs anyway.....
I have not turned on the email as yet, will do so tomorrow, bet there are dozens of mails for me. Will get round to them as soon as I can... But as I hope to sneak away on Tuesday for a few days afloat, might be a while yet...
Haul out booked for 5th of November so if the weather stays like this I will be taking every opportunity to get afloat any day I can, as a late bonus!
Will see some of you at Danbury on 31st I expect too.
Good to see the hit number steadily growing, soon be up to 100,000!. Will catch up with the enrolment numbers soon to change the home page, are we at 600 yet I wonder.... Amazing....
Get out sailing if you can, John.
Friday 12th October 2007.
'Eirene' motored out of Bradwell today as I arrived, she has survived with little to show for the trauma. Very pleased to see it!
I was down giving the boats a quick check over as I am off canal boating for a week. Back for Trafalgar day and our grandson's, ('Horatio' as I call him), 2nd birthday! I will have to put a bit of the 'Victory' aside for him! He has already been afloat and loved it, we will see.
Number one grandson's dinghy is still not painted, next year, he will be the right age then, eight. Some members might have seen him over the August Bank holiday on board F.G. We had bought him a new lifejacket for the day, (he chose it!) he would not take it off! Hopefully next season....
Have just replied to another three enrolments, John Stevens is away on holiday at the moment, on his return we will have a count up and see if we are nearing 600!
Good to see another GH in the last batch, we have a lot of owners of these fine craft in our number now. I have just added more pics the the GH page of the gallery too.
I have also added a book review.

'The Lone Gull Files'. you can read about it on the 'books page'. We might be in a position to offer members copies soon, will keep you posted.
I have added some more adverts to the For Sale pages, interestingly 'Little Gull' sister ship to 'Lone Gull'. Also a Senior for sale, with trailer for little money....
Leaving the web pages in the good hands of Tim the webmaster, back on Trafalgar Day. Don't forget we are off for a mid week cruise 23rd to 26th October, just up and down the Blackwater, weather permitting.
So long, gone to 'wind down' on the cut!
John
Wednesday 10th October 2007.
Good news is 'Eirene' is back afloat and in Bradwell Marina. The engine oil has been changed and the Lister run! The interior washed down and de greased, now drying. Amazingly little damage except to fabric and cushions. In a way it was lucky as he had not fitted any electronics as yet....
Sadly it could have been far worse, as it is only insured 3rd party.
See the Craft insure link on the home page..... Through them I pay £150, for £20k fully comp. on Fiddler's Green.... worth it to save the worry.

I expect I will see Norman the owner again this week when I pop down to my boat, and I will get another pic, this time with the new waterproof Pentax!
Thanks to Nigel for putting me on to EBuyer.com. I have just taken delivery of this new digital camera that is already waterproof, so I do not need to fit a divers case on to protect it any longer... It is small and will go everywhere with me again! Will be testing it out on the Kennett and Avon canal next week!
I have just added another one of the last pics taken with the last camera, to the 3 tonner page, a splendid Buchanan design, Samson class I believe. I have yet another to edit, of the tall rigged GH 31 now moored on the river.
I hope to answer the outstanding enrolments tonight and have left a message warning new enrolments that we are away for a week. I have contacted Tim to save the website for me, as I am having problems at the moment saving it, it is so large now... very nearly 1 Gb!
I have just had the promise of another set of drawings to scan, yet another MG! We have just the outstanding steel construction sheet for the WW to find and we have all back available then! Just sent out another 4 CD's!
All for now, got to catch up on the post, now we have some!
John
Tuesday 9th October 2007.
Sad news over the weekend, 'Eirene' sank! she was OK when I passed her Saturday morning, but that night the wind wend SE and she swung out towards the channel, rolled over on the ebb and filled on the next tide... Mooring in wrong place I guess, too much scope or too close to edge of channel and slope. Bradwell Marina staff were salvaging her Monday, hopefully the motor will survive as intake and exhaust were above water...
Talking of floating, this one from YM found by John Stevens.
Crewsaver recall
---
Crewsaver's lifejacket servicing department says there is a problem with the United Moulders' Mk3 Standard Automatc Head fitted to Crewfit and Survivor inflatable lifejackets.

Tests indicate that this component, which was fitted to Crewfit and
Survivor lifejackets manufactured before 1997, is now at the end of its
safe and usable life and should be replaced.

Crewsaver insists it's essential that the head replacement be undertaken by
the company. 'On no account should you attempt to replace this yourself,'
said Crewsaver.

The company strongly recommends that owners of Crewfit or Survivor
lifejackets with an Mk3 Standard Automatic Head fitted should contact
Crewsaver on 44 (0)2392 528621 or email sales@crewsaver.co.uk to discuss
the replacement process.


Yachting Monthly, 9 October 2007
I think I may still have two of those for my big dinghy... will have to check??
I had a great days sail again Saturday, sailed all the way to my anchorage. Sunday was spoilt however by a team of thugs on wet bikes who took exception to being photographed speeding through the Maldon Moorings causing mayhem. At one time I was surrounded by them, shooting water across my bows. I was a hairs breadth away from calling the Coastguard and Essex Police. Up country they call them Birmingham Navy, Collier Row Navy maybe, no I know some nice people there... they were simply middle aged thugs out to spoil anyone's Sunday afternoon. The pics will be on their way to Nigel the River Bailiff, so he can look out for them in future.
We have had another flurry of enrolments and I have also added the Gaff rig drawing to the 3 Tonner CD! I will be adding that file to the 3 Tonner page for al those who already have the CD, you will be able to down load it.
Advance notice I will be away for a week next week. Of to 'wind down' on the Kennet and Avon! So anyone enrolling then will have to wait a week... sorry.
Have had a nice series of pictures in from Debbie, the daughter of John Keene, the builder of 'Tango Two', now known as 'Fram'. I will be adding them to the Builders and Restorers pages soon.
I did briefly advertise my camera and it's underwater case on these pages, sold within 2 days! the new waterproof camera arrived today. Only good to 1.5 metres instead of 40, but that will do me!
Other items are selling fast on the pages too, I have an advert for the Ferro 'West Water' to go on and one in the offing for the old MG boat, 'Little Gull'
Back to the day job now, another Seagull customer just arrived...
Regards,
John
Thursday 4th October 2007.
Well the sun has come back for a few days, so looking forward to a few days afloat... this time of year you have to grab them while you can!
I have been wading through a heap of pictures sent in for the site, I have added most but still have the GH 'Le Corbeau' to edit and add. Hopefully tonight...??? Many thanks to all who have recently sent them in. I have added a Riptide 2 WW,s, GH's, a Finesse, another pic of 'Wind Song', from Max the new owner, and a host of information about some of them. Plus the owners of a Buchanan motor sailer, 'Santiago' have been in touch too, so we could identify their boat on our pages. I have the account of the trans-Atlantic crossing in the GH to publish in the next Newsletter too. Hope to be up to date by the end of the week, not saying which week.....
We have had another flurry of enrolments, another 5! in amongst them is the GH 'Moondancer', once owned and built by Mark Urry, now owned by The Rhodes in France, Max with the MG 'Wind Song', and Sinisa from Croatia with Steel Eventide in building. he also has information about a WW on our pages that was found on the net years ago by Barry. Barry guessed it was in the old Yugoslavia and so it has proven. the others who enrolled are all interested in building and wanted CD's of drawings. Our number are growing faster now than before and soon I will have to take on a secretary!
As I type this yet another arrives, Neil Thompsom has the Eventide 24 'Vieve' up in Norfolk! She dates back to the early 1960's! Good to hear she is in good hands. (Neil is a boat builder!)
Barry and I thought we might be offering what owners wanted, but I am amazed at just how big this has become. Great. Sort of proves a point....
I have been reading more of the 'Lone Gull Files' and will be adding details to the books page shortly.
One of the owners of the Eventide 'Otteau', Nigel, dropped in to see me yesterday, so I was able to present him with the awards for himself and Heidi. (you might remember we had prizes to award for Seamanship exhibited...) There will be a full write up in the next Newsletter.
I am off to the printer to get the Gaff rig sheet scanned now.
Regards,
John
Monday 1st October 2007.
Last week's evening at Danbury was only attended by 7 members, but 6 more sent apologies! Was a good evening and we did actually talk boats for a bit!
Looking forward to the odd days sailing now before the final cruise, a mid week one I think, as I am committed to other events in between.... not least, a week 'winding down' on the Kennet and Avon Canal!
The mail bag has been busy, more queries about the drawings and a big thank you to Jim for coming up with the missing sail plan for the 3 Tonner! I will let all know when it is scanned. I might put a down load on the site for all those that need it.. If I can remember how! (I'll ask Brendan!)
We have had the owners of a few boats come forward with new information, the WW Third Witch, the Alan Buchanan, De Ruyter design, 'SANTIAGO'... also the daughter of the builder of 'Tango Two', with pics to follow and a pic of 'Windsong' from the owner, Max. All these pics and additions to go on the pages shortly, along with pics of the GH 'Le Corbeau'.
We have also been in touch with a prospective builder of the Senior, and the owner of a Medusa, 'Quiet Reach'. Hope to hear more from both of them.
The enrolments carry on apace, I have lost track of our numbers, but soon we will have had 600!! astonishing.
Those who read this column regularly may recall mention of a boat found by one of our members. George, from Malta. It was the MG designed Lone Gull, the first one. she started of just pre-war MG designed her for himself with centreboard and shoal draft for his East Coast Sailing. Over the intervening years she was converted and the plate removed, another lump of iron keel and deadwood added to give her over a foot more draft. she then went on to sail all over the place, Switzerland, !! The Atlantic and the Med as well, several refits later she is now in the happy ownership of one of our members, who rescued her from Tunisia, not a simple task. she is refitted and sailing once more, now in France.
Steve Pickard the owner has written a book about her, the lone Gull files and at present I am reading it. I will add details to the book page later. suffice to say he has got permission to reprint a lot of old YM articles I have seen about 'Lone Gull' and has pieced the story together quite well. the only sad thing so far is the EOG do not get a mention, only that he found reference to 'Lone Gul' on a web site, asking if this was the original..... Maybe a sticker with our web address might be a good idea.... I will suggest it....
OK enough for now, back to the day job! and my bedtime reading!
John
Monday 24th September 2007.
Well as ever the weather ticked us into a false sense of security! We were part way up the coast, 3 boats to meet others at Walton, when the coastguard gave out the weather for the trip home, F 5, 6 and 7 on the nose!
no thanks!
We turned and motored slowly back, against a slack neap tide, into the Blackwater. Hardly a breath of wind.. would have been really cross if the wind did not materialise... It did! We had a very brisk sail in F5's Sunday morning, anchored for lunch and it was gusting 7! Beat a hasty retreat Sunday afternoon. Strangely enough the wind died after dark, to come back with a vengeance later!
Have already had pics in from the others, will put some on here later, and one of mine...
Catching up on Seagull mails at the moment!
See you at Danbury Wednesday, if you can make it, give me a call so I can book table.. good food, good company.
John
Friday 21st September 2007.
Autumn Equinox. Wind blowing and rain in the air, time to go down the boat!
I will be down to F.G. tonight to be ready to leave before 0800 Saturday.
Will be off the Bradwell Baffle at HW, 0830.
Will be in company with 'Dougaljo' and I believe 'Otteau', maybe 'Eirene' and 'Mistress II' as well. Forecast is better, 3 to 4 now, SSW, still a bit on the nose for the trip back, but we can always call on the motors! As it is a neap tide we will be starting back well before L.W. This is the BBC's amended forecast..... If you want to join us 01621 778859, or call me on 16 or 72 VHF.
Saturday

Sunrise 06:40 (BST)
Sunset 18:58 (BST)

19°C

10°C

12

poor

1020

67

Sunday

Sunrise 06:42 (BST)
Sunset 18:56 (BST)

21°C

13°C

13

poor

1018

59
I am hoping that wind forecast is right, if so we aught to have a great sail up the coast Saturday the rain forecast is supposed to be light...
When I get back I will start to down load the next batch of photos etc that I have been collecting over the past couple of weeks. A few new boats to add! the numbers keep on growing.
The dates for the October cruise have been chosen, just 3 days mid week, 23rd, 24th and 25th. Do not intend straying out of the Blackwater, Colne area.
All for now, come and enjoy the last of the weather while we can!
John
Wednesday 19th September 2007.
Here is the long range forecast for the weekend... If the wind strength does not increase it will be OK. I will be watching it like a hawk. do not need F5's and 6's on the nose for the trip back Sunday!
This information is lifted from the link on our site to the BBC weather page.
John
Saturday
<![if !vml]><![endif]>
Sunrise 06:40 (BST)
Sunset 18:58 (BST)

<![if !vml]><![endif]>

<![if !vml]><![endif]>21°C

<![if !vml]><![endif]>13°C

<![if !vml]><![endif]>20

poor

1022

82

<![if !vml]><![endif]>

<![if !vml]><![endif]>

Sunday
<![if !vml]><![endif]>
Sunrise 06:42 (BST)
Sunset 18:56 (BST)

<![if !vml]><![endif]>

<![if !vml]><![endif]>22°C

<![if !vml]><![endif]>14°C

<![if !vml]><![endif]>18

poor

1019

60

<![if !vml]><![endif]>
Tuesday 18th September 2007.
Sorry Vince, 'Mollymawk'! is the name! not Molly Hawk.. Opps.
Had some more pics in, but I need to edit them down to a usable size before they go on, will do that in the next few days.
Here are a couple I took last Saturday, I really was the only sail out there... a real touch of 'Red sails in the Sunset'

In the evening sunshine, looking back towards Bradwell, not another boat on the move.

Approaching Osea Island. At about this time the spring ebb and the dying breeze got the better of me and I was forced to admit defeat and start the motor.... was good whilst it lasted!

The old oil lamp lit and my dinner in the oven, settle back to read my favourite chapter from the 'Magic', 'The silence of the Creeks'.
Hope the weather is as obliging for our sail to Walton next Saturday. Leave the Blackwater at 0800hrs, to sail with the tide to Stone Point Walton Backwaters. Returning Sunday afternoon to arrive in the Blackwater at dusk. Any more takers?
Ring on 01621 778859
John
Monday 17th September 2007.
Thanks to Vince with the GH 31 'Molly Hawk' for pointing out that the 'Owners Tips' page had developed a gremlin. I had not noticed, it was OK last I looked... however I have now removed all the JavaScript buttons from those pages, and with any luck they will work again! Did a bit of tidying and then noticed a lot of the link buttons were wrong too, so sorted them! Now what we need is a few more tips from you to enable me to expand the pages some more!
I had a great sail over the weekend, only saw one other member on their boat, but by then it was blowing 6's and 7's! I was motoring home! I will print a pic of the Saturday sunset in the morning. It is nearly midnight now, so signing off,
John
Saturday 15th September 2007
Well it is a sunny and warm day with light winds, so off to the boat, I am escaping! No crew this time, but cannot let the opportunity pass. So if you are out afloat and see the boat with no one on deck, I have been caught short!
The post bag has been full again, 2 CD's of pictures of 'Athena' the prototype GH 26 for John Snodgrass, they will make another page or seven for the forthcoming Newsletter! Hope to see John out afloat, he was last at Hull and deciding which way to turn North or South!
I have had another enquiry re one of MG's designs, sadly one that is no longer available, but the enquirer may be interested in the ones we have.
The Newsletter has a bumper bundle of articles already waiting, but if you have something to share, why not send it.
We have memories of a trans Atlantic trip undertaken years ago by Holly and her parents, the log of Avocet again, and the write ups on the trips we have made this summer.
We have ideas for an updated Senior, maybe double chine? Leonard has sent in some ideas... will show them in the Newsletter.
Also an enquiry about converting the Senior to proper stitch and glue, or better 'Tab' construction. Due to the imposition of the E.U. Directive, this conversion has to be properly done or there might be legal ramifications. It is not just a case of taking the hull panels and joining the edges, as I have seen attempted once, very badly. This is doomed to failure. A proper 'modern' Senior, would have to have a total redesign, with stiffeners and re enforcements built into the conversion. Maybe it is possible with the right computer program and professional assistance. I know of just such a set up and maybe, just maybe, it might happen. I will keep you posted.
I have sorted out the Seamanship awards for those attending the West Mersea Meet and a reminder that there is also the 'Barry Sturrock Seamanship Trophy' to be awarded at out annual Meeting in spring, so if you know of anyone who might be eligible, for a deed or example set, please let us know.
Very pleased to see 'Eirene' on her mooring in the creek at Bradwell last week, I hope to have pics of her under sail soon, Norman will be out at the weekend and is hoping to join us to Walton next week.
Thanks to Brendan's work, I have managed to tidy several pages that had gremlins, now I have to save the whole site again, less Gremlins!
All for now, time to pack a bag and get afloat!
John
Friday 14th September 2007.
It has just gone midnight and I have been reloading the for Sale pages, Brendan has been here for 10 hours today and has fixed the problems we were having. Or at least found them and I can now edit the pages removing the gremlins! thanks Brendan.
Hope to see a few out this weekend and then for Walton the following week....
John
Tuesday 11th September 2007.
6 years since 9/11, lest we forget.
John Stevens, always alert to news, has picked this up, in case you have one of these...
Mine is in being serviced at the moment, a 'Seago' not a BFA....

BFA marine, a brand of Zodiac International, has identified some overpressure valve failures on liferafts in use, which may lead to a complete deflation of the compartment when broken.

The models affected are: ATLANTIC, PACIFIC, BALTIC, XM/BFA OFFSHORE and the failure is due to what the company describes as a 'mis-assembly'.

In the event both overpressure valves of the two independent compartments happen to break, the life raft would no longer be functional.

As a preventive measure, BFA marine urges its owners to bring back without delay their liferaft to the nearest BFA-approved service station, in order to check and potentially replace those overpressure valves.

The scope of the corrective action includes all BFA liferafts manufactured from 1997 until April 2007. (Serial n° from 10 001 to 50 180 until year 2002 and all serial numbers starting by prefix XDC after year 2002)

Web: www.bfa-marine.com
Email: bfamarinecontact@zodiac.com
Fax: 33 (0)5.46.87.72.22






Acknowledgement to PBO for the info.
One of the very nice side effect of setting up this group is your mail, today I had a cracker.
I'm delighted to find your site and I've just spent many very pleasurable and memory provoking minutes browsing.
As a child, from 1980-1983 my family lived and travelled on our GH31. The four of us, my father, mother, myself aged 10-13 and my brother aged 8-11. We travelled from Plymouth to St Lucia, taking 3 years, stopping to work and earn money along the way!
Thank you for your site, I'll be visiting and taking a trip down memory lane often.
Kind regards,
Holly
Now I love these mails, makes it all so worthwhile. Delighted to hear from you Holly, another GH to add to the records too. Maybe a pic on it's way??
Back to the day job,
John
Monday 10th September 2007.
Not the 11th as I originally wrote! thanks for checking Chris!)
Came home last night, after Darian's birthday party at her daughter's, to find a letter with a donation and a bottle for me, for the selling of our most senior members boat, 'Serenity'. thankyou Jack, very generous. We have enough funds now to consider investing in other projects... sweatshirts maybe? Mail shots using real postage?
Watched the River as I drove out to the party... with some envy, till I realised no one was moving... not a breath of wind! Did not feel half as bad, not going sailing! Instead I had organised a surprise for Darian, and managed to keep it secret until 200 yards before we got there, when she twigged, a trip on our local canal, for her and all the family for an hour. The Chelmer and Blackwater canal. The canal runs from Chelmsford to Heybridge Basin on the Blackwater and is pretty much forgotten, though there are many boats on it, just able to move now the weed has been controlled!
Made me think it was about time we tried again to organise a meet in the canal, at the Heybridge end! One for next year... Last time we tried it coincided with their regatta!
Reading the Forum one of our new members has entered a plea to Senior owners.. can anyone help him?
On my last trip out on Friday, I saw 'Eirene' on her mooring in the creek. she say high and dry on the half tide moorings, but upright. A good advert for bilge keelers!
We also saw 'Dougaljo' on the foreshore scrubbing off. Seems his Marclear had not worked for him on the Crouch half as well as mine has done in the Blackwater, Why should that be I wonder? Now 'Dougaljo' is with me in Bradwell we will see what transpires.. If it does not work for the rest of the season I will take it up with the manufacturers.... I helped put it on, so I know it was OK!
Here's hoping for some more sails in the next week or so and to see as many as possible on the 22nd for the run to Walton.
John
Friday 7th September 2007.
Apart from a few more enquiries and another enrolment, Phil considering building a Senior, it has been quiet for a day or two...
Yesterday I went out for a short sail with my sisters Chris and Sue, brother in law Keith and my Darian. All our generation of my family in fact. We were together to gently place our Mum's ashes into the river. I had chosen a quiet spot where I sometimes anchor, a tiny creek on the south shore not far from Bradwell. Mum had been here with me before. As we sent her on her way, with rose petals from our gardens to cover the water, a seal surfaced beside us... much to the delight of my two sisters... We had slow quiet putter back to Bradwell, in a very warm, gentle, fading breeze, to a meal in the Marina bar, from where we watched one of the best sunsets this year. So still and calm. So long Mum. Nice to know you are out there.
John
Tuesday 4th September 2007.
Once again I have been able to put past owners in touch with the present owner. This time it was the builders daughter, who has written a book about the adventures of the boat, herself and her husband! The book will be advertised again later with details of where you can get a copy.... Out in time for Christmas I'm told... Gosh, that's the first time I have used the 'C' word ! Come on we have still got a lot of sailing to do!
Today I replied to a new member with an Eventide I had never heard of, yet another boat emerges. this one is called 'Quirra' and sails from Australia, The owner has sailed her with this name for the past 17 years, but funnily enough there is another boat just being named 'Quirra' in the same area...? Odd, what does 'Quirra' mean I wonder?
Have just heard 'Serenity' has sold. Only took a few weeks, or was it days! the new owner has already signed up and is only moving the boat as far as Brightlingsea, so we hope to see her about.
'Eirene', the 30ft MG, sits in the Marina at Bradwell at the moment, before moving off into the creek. Good to see her back in the water... Norman the owner is looking forward to sailing her locally. We could have quite a flotilla going up the coast to Walton Backwaters on the 22nd if the weather stays fair!
I have just added a couple of items of the gear for sale page, I think one may already be spoken for... there is a new set of WW sails for sale too. the present owners has had them in store for many years.... Could be a bargain for someone.
Have another GH to add to the For Sale page, when it behaves itself... Brendan is coming over to see if he can sort the gremlins soon.
Found another Gremlin on the Builders and restorers pages just now, but it has not stopped me adding an update on the 'John Humby' page!
We have had some suggestions in from a member for altering the Senior drawings... Like all the drawings they do evolve over the years, so we wait to see the finished boat to see if the alterations work, then maybe we could add them as options on the design..
If anyone else has tried and tested a clever alteration to the designs, we would love to hear from them and see the result. I do have a clever folding bowsprit to add to one of the pages soon!
Hope to get out afloat this week, but first have to shake off a nasty little cold.. Daft, as soon as the sun comes out I get the dreaded lurgie...
Off to bed now, with the hot toddy,
cheers,
john
Friday 31st August 2007
Where has the year gone?!? The end of August already... Can count the good sailing days almost on one hand... Let's have an 'Indian Summer'!
I have had a rush of members wanting the CD's in the last few days, sent another 5 out today! The numbers enrolling are not slowing up at all, I am amazed! we will soon be approaching 600! We are uncovering boats I had never heard of still, and finding old friends, great. The Tuphnol Eventide has just sold we have heard, sadly John Parry had to part with her, very sad after all the work he put in to restore her. I only hope the new owner looks after her.
We have heard of a very smart WW being offered for sale on Boats and Outboards, 'Tellia'. If she is in the same condition as I last saw her, she is a snip at £5,500. On the other hand we have just heard of someone buying a WW for £6k and they have bought a lot of work.... buyer beware, do use a surveyor, see the Advisors page.
Have had some more pics in of the WMYC Meet, This one of me with a surprise cake! a magnificent representation of FG in icing! Was enjoyed by all present! Thankyou to the crew of 'Bombastique' for that! That is one of my grandsons, Brandon with me. He was crew for the day! Very smart in his new lifejacket, wanted to show it off to all! that's the way! Young Horatio was there too!

Pictures courtesy of Nigel.
Nigel also took a few of us afloat, this one shows just how calm it was.. also that everyone was being as seamanlike as possible, you will note the life-jackets! There will be prizes later!

There are still glitches on several pages of the site and I apologise if pictures or boats and articles for sale are not appearing as fast as normal... Brendan thinks he knows what is amiss and we hope to get time to look at the pages in question soon.
Danbury was only attended by 5 of us this month, but then a whole gaggle of us had met at West Mersea just a few days before!
Sept 22nd for Walton BBQ, then October we will see if we can get out for a few days when the weather is OK...
'Eirene' the 30ft MG design that was probably the for runner of the GH, was launched yesterday, so Norman wants to join us for the sail up the coast in September, fingers crossed for decent weather...
All for now, back to the day job!
John
Wednesday 29th August 2007.
Hello again, after a great spell of weather over the weekend I am pleased to say we had a reasonable turn out for the West Mersea Meet. 20 sat down to eat, eventually, more on that later..
The owners of The WD 'Tarka', the Eventides 'Seawitch', 'Jeopardy', 'Otteau' and 'Fiddler's Green', the WW 'Dougaljo' and the GH 'Right E OH', joined with friends with 'Silent Annie' and 'Bombastique' for a meal. A good crowd!
Sadly WMYC could not cope with the numbers, especially as there was a slightly larger contingent of Cruising Association members there as well. we will have to re think next years... I also have a pic of the birthday cake to add when I get a chance!!
I returned home to a real mountain of Eventiders mail, including some pics from an MG admirer, who was moored nearby. thankyou Mark for the pictures.
Yes it was really as good as that! Nigel sent in some pics of us in our dinghy, it is so calm you can turn the picture upside down and still see it!
There will be an announcement of the prizes won, by almost all that attended, for the good sense and seamanship exhibited. good to see.
In the mails I have had lots of requests and donations for Burgees and CD's, but one of the best was from Debbie, the daughter of the builder of Tango Two, now 'Fram'. I was able to put her in touch with Paul the restorer.
We had a similar request from a long lost relative of Tony in France, have yet to hear the outcome of that. We also had a lot of history about 'Windsong', from Mark who took those pictures. He very nearly bought her. Some good pics and the specs. 'Windsong' was the first boat Maurice designed, back in 1928.
All for now, out the door to go to Danbury meet more Eventiders!
John, (still sunburnt from Sunday!)
Monday 20th August 2007.
I have just spent 20 minutes typing out this page for it to disappear into the ether???? Let's try again...
Welcome to all the new members enrolled in the past couple of weeks. Our numbers are up to about 570 or more! I am still astounded at the interest we have created. Today another new GH, 'Swatchways Rambler' (nice name for one of MG's!) She is a 'local' boat and we hope to see more of her later in the year once they have their motor sorted.
For the West Mersea meet we have a special guest. He is the owner of the moulds for the GH and will be joining us Saturday. Also on Saturday will be the maiden voyage of 'Bombastique'. a fast motor cruiser owned by my Darian's son and his wife. It is a special day for them, it is also their wedding anniversary! They have both got their RYA motor boat practical tickets, the VHF and all, but do give them a little room, they are rightly nervous. they will be my shadow all the weekend, till they get to stretch their wings a bit!

Here she is all new and without a name yet, not to be launched till Wednesday!
We have a few vacant moorings at West Mersea... contact me for more on 01621 778859 or VHF 16/72 on the day.
In the past week I have had more enquiries for drawings, sent out more CDs and answered more queries. The one set of drawings I cannot believe we have not yet found is the Steel WW... I had these done from some drawings I found 27 years ago in a box of items from Y.M. They proved very popular. If anyone has an old set of the 'WW in steel' drawings, a lot of people would be very grateful if we could borrow them to pass copies on. The drawings were donated by a Dutch gentleman to YM and should be available to all. So WW in Steel.... Have you got a set?
Dear friend Jack Shenfield, who berths his E 26 'Serenity' alongside mine, is selling up. He has been forced to admit the maintenance of a wooden boat is a bit much.. I wont say how old he is, but I hope I am still going at his age! Anyone interested in a complete Eventide 26, OK a little dated, but all there and sailing, for £3,000, contact either me or Jack on 01621 776051. Jack and Steve, his lad will stay with us, he did after all build not only 'Serenity' but his Senior before that! They will be sailing a GRP creation next year...
I printed a 'Crew Wanted' request from Norman a little while back. I took it as a bit tongue in cheek, when he said 'female crew preferred', but as one gent found out, he really meant it! I am not sure as these pages should turn into a lonely hearts page, so I have left the notice in, with a little warning, and will see what you think.. should we have that sort of advert?
I am still trying to recall all the snippets I placed in here earlier, but have failed to recall them all, I'm sure.
I did publish a snippet about the planet Mars earlier, sorry folks it as 4 years out of date! thought it a little odd.. but thanks to Colin for spotting it and putting me right... strangely enough I have had this again since from another source.. Will have to let them know too.
Oh Yes that reminds me, I will be watching out for good Seamanship during the weekend and asking silly questions too no doubt. Why? Well I have a large, smart holdall, full of goodies, caps, wallets, even a nice jacket. All, including the bag, to be awarded as prizes. Courtesy of our sponsors, 'Craftinsure'. As many of you know I have always tried to spread the Seamanship and safety word. If you have been taking notice, now is a chance to get something back!
All for now, hoping for the weather to improve...
John
Friday 17th August 2007.
Well in the past two weeks we have had a real flurry of new members join us. Am pleased to welcome back a couple of friends from the old association days too. We must be doing something right!
Have sent out another few CD's and there is another on the desk to go! We are still after copies of the Steel WW drawing, if anyone can help and the Gaff rig for the 3 Tonner, though this one is about, just not easily accessible says the owner!
Sadly the meet at the Isle of Wight is not off to a good start, not only is the weather still dodgy, but David's motor has packed up... He may try again later.
Have heard from the new owner of the GH moulds he is taking the first new one out of the mould next week. He says he may join us at West Mersea next weekend.
We have 8 moorings allocated to us, but if more turn up, as I hope they do, Geoff my friend who runs the West Mersea Y.C. trot boat, will sort out moorings.
Hope a few of you will come along by road if you are not afloat... we have lots of prizes to allocate for a quiz I will run.
I am pleased to say I have had a lot of photos in during the last week or two and I am off to add them to the pages now. Iona on the Restorers page, a new lone Gull and some Eventide pics to add too.
Looking forward to warmer weather next week!
Here is the promised pic, showing what we trekked so far to see on my 60th!

John
Tuesday 14th of August 2007.
Well we are back from our trip to the Outer Hebrides and my birthday, do not feel any older! We did not meet up with 'Avocet', when we arrived they were sheltering from a full Atlantic Gale, in the lull before the next one they high tailed it for Skye. due to the poor phone reception we did not get their text, and birthday message till they were there.. However if you fancy a sail up in these beautiful uncrowded waters, we saw just 3 sails all week... ( OK so it was windy!) But there were no moored boats and only a few in the harbours...) See the note that Norman has left, he would love to have a crew for a week to explore, especially if it were a she...... Seriously, it is a great offer....
Whilst we have been away we have been stoned almost every day..... I will add a pic or two later to explain!
In my absence John Stevens has been answering the new enrolments and I will get round to answering the post and the e-mails ASAP. I know we have had more donations in, for CD's and for a Burgee, but until I plough through all the rest of the mail I will not be certain what else there is. I do know the Eventide Redwing has sold, but I still have difficulty editing the 'For Sale' page, so until that can be sorted, some of the adverts will not be able to be updated.... I have tried to amend the page, but it keeps crashing out... local guru Brendan thinks he has the answer, hopefully we will get together to sort it soon.
You have a chance to meet Brendan at west Mersea, he is going to join Fiddler's Green as Crew Saturday night for a sail Sunday! Also on board will be the Database Manager John. I have heard from a few boats so far.. could be a good gathering.. Saturday 25th August 8pm West Mersea Yacht Club. We have moorings laid on, just go on past the landing jetty and you will see us.
We also have a Seamanship quiz planned, we have a bag full of prizes to award, courtesy of 'Craftinsure', the insurance company a few of us have now switched to, (Navigators and General, by another name!).
More later, back to the hundreds of mail coming in, yes mainly my Seagulls not just EOG!
Post script... Thanks to Chris in Holland for checking my spelling for me, no we are going for a sail, not selling things!
John
Saturday 4th August 2007.
Well, this is John, signing off for 10 days, we fly to Glasgow tomorrow, then the next day to the Outer Hebrides. We land on the beach at Barra! We will be island hopping for the week, ending up at Callenish (with it's spectacular standing stones!) for my birthday, the 'Glorious 12th'! ( not that the Grouse are that impressed!)
During the past week I have sent out 5 more CD's, have welcomed another 2 new members and answered a couple of queries... I have also added a special boat to the For Sale pages, 'Borer Bee'! Alan is sadly paring with her, see the advert on the 'For Sale pages for a real bit of Eventide history! The Boat is a Classic in it's own right, even down to the Stuart Turner, immaculately restored. I have added a GH 31 to the Gallery, that I am informed, might be coming up for full or part sale, a boat share idea... But they would have to be members of Parksone Y.C. in Poole, if it is to be a share... more soon. I also have a Freeman 22 motor cruiser to add to the for Sale page, one of our 'Friends' and ex owner is selling her and going back to sail again. He will remain a 'Friend' as his new boat is a Seamaster 23 sailer!
Today I had a call from Brian Platts of Avocet, who is now anchored in a very sheltered bay riding out the gales in the Hebrides! We expect to catch up with Brian and Elizabeth at some time during our stay there! I wonder if Norman will be there too? Pics later!
New enrolments will be dealt with by John Stevens in my absence and the website is in the good hands of Tim of course!
Good sailing,
John
Tuesday 31st July 2007.
Well the post keeps coming in, 2 more requests for CD's and another for a burgee. (I will have them at West Mersea for anyone who has not got one already...) I have had a query regarding building a Senior, and have been able to direct him towards members sailing and owning them, and to other builders, hope to hear from him again shortly for a CD!
I will also have some very nice prizes to give away over the bank holiday meet, courtesy of 'Craftinsure' the insurance company many of us are switching to. (It is the Navigators and General, by a trendy name!)
The enrolments, as we call them now, keep on coming, another 3 in the last few days, so we are well over 560 now! One looking for a Riptide, another for a Barrier Reef and a third just looking! I visited Brightlingsea Sunday, as our lad was buying a boat, he will be escorting me over the bank holiday weekend, a brand new motor boat, a Jeanneau, very smart! It will be their wedding anniversary Saturday night, but they are joining us in the club! Some may remember the very fast motor boat they had before, this however is much more practical and seaworthy a craft and will be our escort for the whole weekend, with their cameras clicking, so when you see them, smile!
Whilst at Brightlingsea I chanced upon poor old 'Galliard', with the GRP sheathing roughly stripped off the hull and some of the bad ply and timber at last being attended to. I am not sure if it is still in the hands of the chap who bought her for 2K and tried to sell her for £18 a few weeks later, I hope not... maybe if they are new owners we will soon hear. Anyway I have loads of close up shots of the repair work in progress, that will appear on the gallery soon...
Tony Sykes the ex-owner of 'Galliard' was 80 a couple of weeks back and his family presented him with one of our burgees, which he has up on his wall now I expect. He has been following our progress with interest and as an ex president, wishes us well!
I am swanning off again soon for just over a week, I am up to the Hebrides for a 'special' holiday... I will be of an age where I will be eligible for my bus pass! Hope to meet up with 2 Eventiders up there who have arranged to cruise in company there, with a promise of a sail too?.... log will be published in the Newsletter of course. In my absence new enrolments will be dealt with but there will be a small gap in these pages....
Back to the day job... my Seagulls are busier than ever, owners have got wind of me being away and are ordering spares in advance!
John
Thursday 26th July 2007.
I have, out of courtesy been checked our booking at the WMYC. I have heard from quite a few members that they are looking forward to coming and have informed the club that we might have more boats and crews than normal, maybe up to 100 attending, should be great! We have free moorings organised as well!
I also had a call from Norman Garnett who has now also joined us. He was the treasurer of the old eoa so rudely dealt with by them, that he resigned. He now lives up in Scotland, on an island in the Inner Hebrides. He has a 24ft Junk rigged Eventide and wishes to extend an invitation to any member of the EOG who might like to consider a weeks sailing with him in this most perfect cruising ground. Call him on 01852 314166. ( Norman said 'female preferred', I thought it was in jest, but it appears sadly he was serious.... be warned!)
With the wind at F5 and 6 again, no boats out on the river and rain forecast, roll on August!
John
Tuesday 24th July 2007.
Sorry for the long .... pause..... but I really have been up to my ears here. I am really pleased to say I have today caught up on the e-mail, and just responded to another batch of owners and prospective owners who have enrolled with us. John Stevens tells me the recent rush has us up nudging 560 !! Thanks to Brendan's efforts, my P.C. is starting to work as it used to, and hopefully I will be able to sort through all the files he has found to relocate some of the pics I had not saved from last May and June.
If you sent pics in during that time, please send them in again... We now have 100Mb of mail space for them, so even when I go off gallivanting again in a week or so's time, it will not fill up, I hope!
Amazing number joining us. The best of it is the variety. From Students wishing to build and sail away to Ocean sailors and to the oldest, or certainly the oldest sail number for an Eventide, number 2! All enrolled this week! I have also heard of another boat coming on the market, 'Borer Bee'! Remember her! More later on that one.
We have sold lots of items off the pages and have a host of pics to add to various pages. I have a log in and the promise of another, for the next newsletter... So where is yours then?
I have just had donations in from Italy for a CD and more enquiries from the UK and Australia for them. I might even have tracked down the illusive steel sheets for the WW. Now that would be nice, a full house then!
I have had calls from several members out sailing, dodging the rain and squalls. The WW Bonita is moving up to Walton and the Riptide Ramillies south to the Crouch. I have spoken to yet another new owner, of the Eventide 24 Windsong, who owns a boat yard and promises to enrol. also in his yard, or on the moorings outside it was Tim's Eventide 24, with it's burgee fluttering bravely. Sold another last week as well.
We are looking forward to the Meets in August now, do not forget if you are anywhere near the Solent, that there is one there this year, Newtown Creek 18th August. Go and show a little support for David. He will be there in his Eventide 'Galatea'
August B.H. and West Mersea will be the place to be. we are hopeful of a bumper turn out this year!
Finally I am looking at the purchase of a 'new' edition of the editing suite I use, 'FrontPage'. however has anyone any experience of any other web editing programs, WYSIWYG types only.... I cannot speak in code yet! The reason is that although FrontPage is a standard system, it is being phased out and a more modern ftp program might be a better option... Thoughts?
Hope to get afloat as soon as the weather improves, feel so sorry for all those flooded out in the West and midlands etc... All we have suffered is a bad summer, not like having 4 ft of water in the living room is it.?
Hope to see a few of you at Danbury tomorrow too!
Regards to all,
John
Tuesday 17th July 2007.
Sorry for long pause, but just to add to the problems I have been having we took a week out to go sailing! you just cannot get the staff these days! It has meant I have had an incredible amount of backlog to fight through in the way of mails, and I am still not back after 2 days at it, so far I have caught up on 4 days out of 8, but of course now the replies to those mails are coming in on top! Forgive me then if you do not get the instant response you once might have done... I should not knock it, not only is my little Seagull business busier than ever with hosts of orders coming in, but I have loads of new people enrolling and shed loads of pics, so much so we have had to twice increase the size of the mail box to be able to cope.
Those who sent pics in late May and June.. I would really be pleased to get them again, sorry but the clever back up failed, my finger problem I guess!!
In the past week or so we have registered sorry enrolled, our 550th person and 500th boat. WOW! This is getting to be a full time job!
I have had a great log and some pics in, for the next Newsletter and several batches of pics and adverts... I hope to get to the adverts pages and amend them soon too.
As for our cruise in company, a WW, a Golden Hind and ourselves in our Eventide, explored the upper and shallower reaches of the roach and Crouch, till we ran out of water! We tried new moorings and eating houses, and will reuse some of them another time. We came across Elizabeth and Brian in 'Sula Sula' or to be more precise, they raced backwards and forwards past us at anchor lots of times, calling out pleasantries each time.. we spotted 'Island of Winds' on the Crouch and 'Ramillies' on the Blackwater! The ladies were not frightened and we all had a great time. We even 'did' the Raysand channel on the way home too!
Have heard from a couple of members by phone since we returned and now we are looking forward to Danbury on the 25th and West Mersea after that. In between I am of on a special holiday, to the outer Hebrides, for my 'special' birthday... And blow me down if another member has rung to say they might be in Stornaway the day before my birthday, so we might have a jar in a local eating house there!
Signing off for now, but still busy, have to check John Stevens extensive list of newly enrolled members for him...
John
Friday 6th July 2007!!!!!
Sorry for the long gap, but my Hard Drive expired!
I really must say thank you to John Stevens for his support, letting the Steering group know what was happening and a really huge thank you to Brendan Mason for realising the pickle I was in and just 'dropping by'. He stayed 24 hours and helped, no did, most of the fixing... then today he has phoned to see how things were going, and in a marathon 3 hour phone session has corrected a dozen little bugs and enabled me to get back to edit the site, and the other 5 I am the editor of!!! Brendan, dinner is on me next time you make Danbury!
I have still a huge backlog of mail to plough through, SOS and EOG, but I have all night to catch up!
If anyone sent pics in during June or even May, and they are not on the site, please send them again as the backup did not extend to the last month or so. With Brendan's help I now have a new hard drive backup system, 'Ghost' that appears to be working, as well as the external hard drive local backup and the web site saved to CD every month or so. Tim our webmaster I hope is also saving it, but he is dealing with a close family bereavement at the moment, and we wish him all the best and send our condolences. When he is back home and up and running again we will have to discuss the frequent saving of the site as well.
Now to boaty things! The Gale today has abated, flat calm here now! after all the rain as well... the weekend looks to be promising for our little cruise in company. 2 WWs and an Eventide so far... We hope to sail down to the Crouch on Sunday and then explore the little creeks and upper reaches of the Crouch and Roach, once round Potten Island anyone? If you wish to join us, either call on 01621 778859 or on the mobile number given if we are out, or VHF Ch 16/77.
Dinner time now, and a huge sigh of relief. boy will I sleep well tonight!
John
Monday 25th June 2007..
Still raining, what a June, Still it's traditional for Glastonbury and Wimbledon!
Have spent the day trying to catch up with my business mails and eventually the EOG mail. I have just replied to something like 8 registrants! WOW. Busy or what! I hope John Stevens is resting his broken foot and might sit still long enough to catch up on the Database. the number on the home page has got to be way out of date!
I also have an inbox crammed with mail with pictures attached, now all waiting for me to save them edit them and load them onto the pages... I will catch up, slowly.
I am and we are much indebted to Tim our Webmaster, whilst I have been away he has been so busy on the forum. he has edited the way owners get registered and stopped the nasties getting on there, well done that man! the number of registrants on the Forum is now over 100, and going up all the time!
Here is hoping the wet weather gives way to warm and sunny with gentle breezes, my ship is calling!
Good sailing,
john
Sunday 24th June 2007.
My Jenny's Wedding!!
As many of you might know, John has been a little preoccupied for the past 8 months or so since he bought a little boat to renovate. The idea was to present it to Dave and Jenny as a wedding present... After some initial doubts, Darian pitched in to assist and the final paint finish is down to her!

As found in Burnham on Crouch, a somewhat neglected Foxcub 18.
Many of those who first saw it, raised an eyebrow or two, doubting if it was possible at all, let alone by Midsummer's Day and my Jenny's wedding!
As they are both very Eco conscious, he being a tree warden with a woodland, she trekking eco trails in the Amazon and working in an endangered species sanctuary etc... It will come as little surprise that the event was to be a green and eco friendly as could be planned. There was no confetti!, at the simple feast in the field later, there were recycling bins for everything!

Her best idea was for the 'favours'. To celebrate the wedding every guest was given a small (recycled) envelope with a certificate, hand made, announcing that a tree was to be planted for every person in the new St. Paul's Wood, Tillingham, and listed the types of tree. There was a nice little poem to go with it! I will be adding details of the day and the 'Favour' to the TWIGS website, go and have a look.. http://www.twigs.org.uk The names of all those attending will also be displayed later.
Attached are a few pics of the boat, before and after, and of the happy couple, who are away in Greece in a secluded villa, on a tiny island, at this moment in time!

All ready to go!
The day was perfect, best was that the predicted heavy downpours all missed us and we had day long sunshine! Interestingly, as the happy couple got into their Jeep to leave, late that night we had 5 spots of rain, then it stopped... they drove through heavy rain all the way to Gatwick! They now have a heat wave in Greece!
We named the boat 'Beachcomber', which if you know anything about them is what they do... with the articles they find they produce the most exquisite items of jewellery and other craft items, that they sell at the Brixham craft fair every week!
We gave the boat the home port of 'Brixham' where Dave and Jenny have bought an old house and are now based! We have their faces captured as the first saw their transport away from the Castle where they were wed. (They asked me to arrange something 'quirky'! )

As they see their transport for the first time!
They were having bets as to what it would be, with Jenny going for a combine harvester, courtesy of Keith, our brother in law's contacts, and Dave figuring on a Rigid Inflatable on a trailer. (they have both done their safety boat courses for the work they do with youngsters in Brixham harbour!)
When they first spot it, as it was hidden round the corner at first, they burst out laughing as Dave says 'told you so!!' Then a quizzical look comes over Jenny's face, (she told me later that at that moment she spotted the port of registry.... Brixham.......)
At this point Darian gave Dave a long parcel and I gave Jenny an envelope to open.

Opening the card and parcel
Dave had no idea still and the odd look on his face when he finds a 'red ensign' on a pole is classic. What the.... However Jenny has now twigged and has found a boat shaped key ring and key.

Jenny has now reads the card to Dave
In tears she reads out the card, 'Bon-voyage, just add water'! The hugs and tears and the look on Dave's face, priceless!

Daves' Grin!
They wanted to ride in the cockpit all the way back to the farm, but were dissuaded... It was not till much later they got on board to open up the cabin, and find the goodies inside, even down to a copy of the designers life story, (Uffa Fox, for those who might recognise the design!) That was donated by dear friend Doug! To say they were speechless is somewhat an understatement. We hope they get a few years fun before moving on to something larger!
They have already rung me from Greece, to say they have already decided the first thing they are to do when they return, is go to the Brixham Y.C. to organise a mooring and enrol for the Day Skippers course! They took the key with them to Greece!!!
Soon I will be adding the finishing touches to 'Beachcomber' and arranging her transport to Devon, after that I suspect normality will seem rather humdrum!
Regards to all,
Normal service will be resumed as soon as our feet touch the ground again!
John and Darian
Tuesday 19th June 2007.
Sorry if I have not answered mail during the past few days and I apologise for not being able to for the next few..... It is my daughter Jenny's wedding on Thursday and I am up to my ears! I will publish pics on here once the dust has settled! Back to reality after the Weekend I suspect.
she marries at Hedingham Castle on Thursday 21st June, Mid Summer's Day. It will be a different sort of wedding........
A quick note to say we have had several new owners registering, one a Seagull customer who just happens to own 'Freebooter' the K. Gibbs 27 footer at West Mersea!!! And some new friends, one in particular with information about working at Kenneth Gibbs' yard just post war! He helped build 'Freebooter' what a coincidence. I will be putting them together of course!
I have received more mails with pictures too and we need to increase the size of the mailbox again to accommodate the number that are coming in all the time. I will sort that next week!
Closing down for a few days, still beavering like mad on my projects, details next week!
Then I hope to have some time for sailing again!
See you on the river,
John
Wednesday 13th June 2007.
I have had many comments by Eventiders re the article on 31st May, re the boats that sailed out into that gale. All were scathing, one even sent me a video clip of a wonderful Monty Python sketch!
However I have another letter of complaint, so I thought I would show it and my response. Make your own minds up. Perhaps we could start a thread on the forum about the antics of others!
To remind you this is the section all the fuss was about. Details from PBO.
'The yacht Playing Around had sustained steering problems and called the Coastguard when they were 15 miles south of the Needles.

A Coastguard spokesman commented: 'The weather conditions were well forecasted yet these yachts still chose to set sail. Anyone not heeding the weather forecasts is putting at risk their safety and the lives of the crew of the lifeboats who invariably have to go to their assistance. All vessels should check the weather conditions for the duration of their intended voyage and if there is any doubt at all, should not put to sea, always err on the side of safety and wait for more favourable conditions, even if it is somewhat inconvenient.'

Where does it say, in the above they were assisted or towed or anything else....?????????
So mail from Tim Bartlett.:-
Re your News entry for 31 May
I stumbled across this item while researching something else.
I see that you suggest that the Coastguard did not say that "Playing around" was "assisted". I'm afraid you're wrong. The relevant part of the text of the MCA press release is quite specific. It said "
The yacht 'Playing Around' had sustained steering problems and called the Coastguard when they were 15 miles south of the Needles. Due to the gale force Northeasterly wind the yacht drifted into Portland Coastguard's area of responsibility. Portland Coastguard requested the launch of the Weymouth lifeboat which subsequently towed 'Playing Around' into Weymouth.
"
It took over a week for the Coastguard PR machine to publish a retraction and apology, admitting its "error" -- but the original press release is still available as of today on GNN (the official government press office website)
I'm sure most of us would agree that a family crew on a 24 footer would be well advised to stay in harbour in the weather we had over the bank holiday. But Playing Around is a 40 foot boat, RCD category A (wind strengths to Beaufort F10) . She's a well-known and successful racing boat, and I understand that at the time of the incident, she had three Yachtmasters on board. And I understand that one of the other boats mentioned in the same press release as having been "towed into Portsmouth" actually sailed in by itself, without assistance.
Not for the first time, it seems that the MCA has issued a press release that turns out to be a pack of lies.
1. Their patronizing "advice" is bad enough.
2. The idea that co-ordinating a couple of minor incidents is worthy of a pres release is laughable. The coastguard were merely doing their job!. Should we expect news items along the lines of "Bricklayer helps build house", "Taxi driver successfully delivers passengers to airport" or "Checkout girl opens till"?
3. The clear implication that any skipper who made the decision to go to sea that weekend deliberately endangered his crew and the lifeboats is bordering on the libellous.
4. But perhaps the most dangerous feature of this, in the long term, is that it is yet another piece of deliberate disinformation, intended to mislead the general public into believing that "yachting is dangerous" and "yachtsmen are fools" and to justify yet more restrictive, expensive, and pointless legislation.
Tim Bartlett
Sorry Tim, but you too seem to have misread the page, I also 'suggested' nothing of the sort! Have another read of it.... and as for patronising advice, well that takes the biscuit! If Common sense prevailed who would need to advise people. Do you think it libellous to suggest it was daft to sail if you did not have to, given the forecast? Honestly.... come on....
And my response:-
Hello Tim,
In our version printed on our site there is no mention of the coastguard assisting them, what might be printed elsewhere is another matter. If they printed false or erroneous information take it up with them, however.......
If this boat was so 'well found' how come it had 'steering problems' ? Even a 40ft racing boat is a small boat in these conditions. Seems to me that there are a few people who now realise they should not have gone out with that forecast and are now hitting out at anyone within reach for any misrepresentation they can find. Don't you think the more they shout, the dafter they look?
I wonder if you might not be questioning the sanity of the crew had the rudder actually broken or some other gear fail and someone had become injured or worse. I skippered professionally maintained, commercial craft, and Sod's law said the best bits of gear could still fail, normally when needed most. Only when lives were in danger did we go out in these conditions, to mount rescues !
I am an ex Yachtmaster, offshore, Yachtmaster instructor, DOT Boatmaster with 40 years professional and private seatime and I would strongly advise ANYONE not to sail with the forecast that was given. Why test the boat and your self to destruction and put the lives of crew or the rescue services at risk.
The RYA policy at the time I was instructing was clear, 'listen to the forecast and do not put your selves or others at risk'. Those who venture out against this sound advice are asking for trouble.
I have had many mails condemning the idiotic behaviour of crews that sailed out into this, following the first letter on this, I wonder what the reaction will be to your missive! I still fully support the stance of the CG when they say 'do not put yourself and others at risk'.
By all means have pop at the CG if they got it wrong, but do not condone the actions of those who ignore good advice. To my mind they got away with it, next time they might not be so lucky.
Regards,
John Williams
Website coordinator
Eventide Owners Group.
I think any further correspondence supporting those who wish to test themselves and their boats, will be consigned to the bin!
Lets get back to more sedate sailing!
john
Tuesday 12th June 2007.
I am up to my ears in a little project that I shall reveal shortly, but have still found time to tend to my flocks of Seagulls and answer a number of mails.
I have just added 'Iona' to the list of boats on the 'Rebuilders pages', Good to see her being looked after!
There is a new advert for an Eventide 24 on the pages as well, a project boat, but she is afloat!
We have had another 4 registrants, one really is a repeat, he forgot his mail address last time, without full details we will not register people, just hold onto information for reference... Pleased he came back.
Another of the registrants is joining as a friend, but it turns out he worked on some of the first Kenneth Gibbs boats post WWII. He has identified one of the boats on the Gallery pages and added more info on others, I will print the letter attached to the registration in the new Newsletter.
Heard from the owner of GH 'Sula Sula', ( not to be confused with the Eventide 24 of the same name!) Ivor thought he was alone out there as he is sadly not on line, when I told him about the number of GH owners in the group he is now looking for a friend with internet access! hope we hear from him again soon.
The weather on the East Coast has been odd recently, we are getting one fine day, followed by one or two foggy ones, with a cold Easterly bringing in the Sea Fog. As I am only a mile across the marshes from the Ray Sands, I feel it here, stops me painting outdoors! Hopefully the weather will improve by the second week in July, as I hope to find time to go sailing by then! at the moment I am so busy with my daughter's wedding preparations I have rather neglected F.G., must go and pat her transom!
Pleased to report the arrival of another E26 on the Blackwater, John Stevens has one at Tollesbury. He will be tending and sorting her for a bit, but look forward to seeing her out and about.
All for now, after all it is 0030hrs!
John
Thursday June 7th 2007.
Boy am I busy here, had to be reminded to fill in the page before a week elapsed! We have had several new registrants in the past few days... hang on in there people, I will get round to replying... I have also sent out 4 CDs and one DVD.
Tony Madden contacted me during the week, his father must hold the record for the longest project build time yet, 31 years and still going! He was amazed I knew about his boat, but them I do have books going back to Noah's time here! Tony had been scanning through the site and found several links that do not work, so I will be checking on these next and updating or deleting them, nothing worse than an out of date or non working website! Thanks Tony. If anyone else notices anything wrong, please let us know.
I have had mails from Tasmania re the renaming of an Eventide there, they are waiting for the tides to be right then they will send us some pics... and from Brendan with the WD, he is hauling out soon for major work , repainting and even contemplating dropping the keel, or at least checking the bolts, wise man.. I have also heard from Bob Telford with Idle Duck, ashore in Faversham, Kent. She is not the one found for sale on the web, she is the original! Bob tells me that the deck is being repaired and he is finishing the keel and centreboard, more pics to come to add to his page. He has told me of a product I had not heard of, water based epoxy!??! I am intrigued and he promises more info. Mark, who lives on a Barge at Strood has a Steel Eventide for sale, he has promised more info in writing so I will be waiting till them to advertise it, but she is a part built 29ft version, no motor or spars and he was looking for over £2.500?
Paul Littler with Maid Moira II is after information about his rudder arrangements on his boat, he has been given the latest transom hung rudder info, on the Hints and tips page, for free.
Bill Booth of 'Coronette' fame has been in touch, he is still trying to sell this amazing restoration. there does not seem to be a lot of interest in real classic boats it seems. He has also sent in a couple more Eventide pics for the Gallery, that I will be adding over the weekend I suspect, along with a load from Arno in the Netherlands, of his GH31! Arno has just this moment registered, welcome!
I have had some very irreverent comments regarding the sailors who went out in that awful forecast, they should not be repeated here, but they were crackers! I suppose it takes all sorts, but it is just a shame they have to be involved in our sport sometimes, get us all a bad name...
I have just heard the forecast for Friday and Saturday and am pleased I got a good days sailing in last Friday.. took the Grandson, Brandon, aged 7, out for a proper sail, he loved it, now have to train him up, could steer a course under sail after just an hour, I think I an going to enjoy having him aboard! I think his young brother, who I call Horatio (really Sebastian, but what a name for a sailor!!) as he was born on Trafalgar day, will be a different story, he is a beast! At just 19months he is the original barrel of monkeys!
Hope you get some sailing in, I might sneak out during the week again, get the river to myself again!
Hopefully July 7th for a week or so others will join in for an East Coast Cruise.... Doug is afloat now, so is Sid.... Alan is sorted out and we now have others, David and Christine, Nigel and Heidi, all local boats....
Good sailing, roll on summer!
John
Thursday 31st May 2007.
Have had a response to the previous entry! Amazing how well read these pages are! I print it here.
I have come across the erroneous report published on your website about yachtsmen requiring assistance in the Channel. You should note that the MCA has now withdrawn the website following complaints from the crew of one of the yachts, who the report claimed had required assistance from the lifeboat. The yacht, crewed by an RYA ocean yachtmaster and two RYA yachtmaster and a full, strong and exceptionally experienced racing crew did not require assistance, although in a very seamanlike fashion they had been in contact with the coastguard. The following report has appeared on ybw.com today. As a friend of the Playing Around crew, I hope you will print a retraction and an apology, particularly given that you have made comments on your website endorsing the critical but unsubstantiated comments from the MCA.
I should add that you probably were correct in cancelling your Eventide event - the crew of Playing Around did comment that the conditions were "a bit lumpy"!
Tom Heyho.

The crew of the yacht Playing Around deny reports from the MCA that they were attended by Weymouth Lifeboat over Bank Holiday weekend, a story that was reported on several news sites including PBO.

Kirstie Johnson, who was aboard the yacht, which experienced difficulties in the gale-force winds south of the Isle of Wight, wished to set the record straight and succeeded in getting the original press release removed from the MCA website.

In an email to PBO she wrote:

'I was a crew member on the yacht Playing Around over the weekend and can confirm that whilst, as a matter of prudence, we notified the coastguard of a potential problem with the steering, and maintained regular updates with the coastguard to report on our progress; we were not at any time attended by the Weymouth lifeboat.'

In a separate email to another news website, Chris Sandison, Watch Captain had this to say:

'Playing Around contacted Solent CG as a matter of prudence due to concerns about the strength of its steering. In the event the steering did not fail. The boat was sailing under storm jib at between 3 and 6 kts throughout the period concerned. It was unable to make significant ground to windward during the worst of the weather, but was able to make slow but steady progress to the NW (against an East-going tide and NE wind - so clearly not drifting) to find shelter in the lee of Anvil Point. The assistance of Swanage lifeboat was offered at this stage, but having found flatter water and reduced winds, Playing Around was able to start the engine and proceed to Weymouth.

'Many of the crew on board were highly experienced and the boat is very well found. Contact was established with Solent CG as a matter of prudence. Should the situation have deteriorated, Solent CG would already have been aware of our situation and would therefore have been able to assist more quickly and with a greater degree of confidence. We believe 1) that this was an appropriate action for us to take in the circumstances and 2) that the coastguard would not wish to discourage other yachts in similar circumstances from pursuing a similar course of action. Therefore we object to being reported as a casualty and to the clearly implied criticism contained in the MCA press release.'


Well there you have it, they apparently did not call for or get assistance, but honestly, would you have gone out with that forecast? With all the 40 years plus sea time and experience/qualifications I have acquired, I know where I would have rather been! I do believe the general comment by the Coastguard was very valid and correct and will print no apology for that comment. If you read the entry below carefully it does not say the yacht 'Playing Around' was assisted.......?? But I have printed the response for you to make own your minds up about the sanity of sailing in that forecast.
*****************************
Last night saw us at our normal monthly meet at Danbury. numbers were well down, just 5 of us, but we were pleased to welcome Brendan, owner of the WD 'Tarka', see the Restorers pages! Some of our regulars were off saving an Eventide in Dartmouth, transporting it back on my trailer to Essex. Others had been afloat and were just back home, John and Ann recovering from John's heart op, yes both of them! Sid has his eyesight back but is not driving yet and several others of our group out of contact... anyone seen or heard of Andrew and Jo? Where are you? The boat needs a bit of attention I'm told.
Weather improving and hope to be out afloat tomorrow for the day, with grandson!
Site busy, sold a few items off the pages during the last week!
Just added another page to the latest Newsletter too!
Back to the day job.
John
Tuesday 29th May 2007.
Remind me now, why did John decide to cancel the event last weekend??

The RNLI launched for three separate incidents involving yachts in the Channel over the weekend as the Coastguard was continuing a search for a Dutch yacht off the East Coast.

Selsey, Bembridge and Weymouth lifeboats were all called to assist separate yachts suffering in gale-force winds south of the Isle of Wight, drawing criticism from Coastguards on the MCA website.

Lifeboats towed the 30ft sailing yacht Bacchus with two crew on board after it had suffered intermittent loss of engine power south of the Isle of Wight.

Bembridge lifeboat towed the 36ft sailing yacht Firebird with 4 crew on board into Portsmouth after she had requested assistance some 10 miles south of Dunnose, Isle of Wight. The vessel was unable to make headway in the severe weather and the crew were suffering severe sea sickness on passage from France.

The yacht Playing Around had sustained steering problems and called the Coastguard when they were 15 miles south of the Needles.

A Coastguard spokesman commented: 'The weather conditions were well forecasted yet these yachts still chose to set sail. Anyone not heeding the weather forecasts is putting at risk their safety and the lives of the crew of the lifeboats who invariably have to go to their assistance. All vessels should check the weather conditions for the duration of their intended voyage and if there is any doubt at all, should not put to sea, always err on the side of safety and wait for more favourable conditions, even if it is somewhat inconvenient.'

The Dutch Yacht, Level Four, was spotted off the north Kent coast on Monday morning having suffered a complete electrical failure. Coastguards confirmed the three crew on board were safe and well.


Mmmmm Thanks to John Stevens for sending this snippet from PBO. I like the Coastguard comment!
John
Monday 28th May 2007.
Forthcoming Events!
South Coast Meet. August 18th. Newtown Creek. (ideal for our boats) near Yarmouth on the I of W on Saturday, There's a brilliant little pub which has won I of W Pub of the year more years than I can count at the bottom of the creek and the views are spectacular.
Good real ale, and close to Yarmouth as well – yet beautifully quiet and peaceful and the sunsets are something else.
Contact Dave. David.Newble at IOW.gov.uk
He will be on board the Eventide 26 'Galatea'. If you are out there call him on the VHF. Ch 16.
Lets see if the first meet can be a good one!
We are hoping for better weather than the South East is suffering at the moment! 3" of rain in 2 days. F6 and gusting F8! Cold, yes a typical British Bank holiday! Events cancelled all over the place. What a shame. Listening to the VHF receiver in my office I am pleased that we had the good sense to cancel and were not adding to the emergency services loads out there.
We sailed Saturday, even then it got breezy at times, F5 and we tested all the gear, including the VHF when we relayed a Pan Pan for a boat with sails wrapped round his mast, cruising chute horizontal at masthead and halyard round his prop, how embarrassing for him, lost his VHF aerial in the mess! He was towed back to Brightlingsea OK!
Has given me a chance to catch up on some site work!
Lots of new mail, enquiries for the drawings on CD and responses to the stack of gear I placed on the 'Bits For Sale' pages, have a look if you have not already, some bargains there!
Just added a few pics to the Eventides page and a bit to the 'restorers page' on 'Tarka', more additions to come, still raining outside!
Now added a WW and a GH and amended the for Sale pages and numbers of boats on the home page and Gallery, we have also had 8 more registrants! Good Eh! Yes and it still blowing a Hooley out there!
John
Saturday 26th May 2007.
Weekend sailing cancelled!
We have decided to call off the Southend Air show sail, the wet and windy weather forecast would not be fun!
I shall be out on the Blackwater on Saturday and on Ch 16 and 77 of anyone is about, but with the weather as it is forecast I doubt any sane person would like to thrash down the Swin in the cold and wet!
We have had a flurry of registrants and I will get round to responding to them all over the weekend, as the rain keeps me indoors! We have also had more requests for CD's. Great stuff.!
Hopefully we will do better with the weather 2nd week of July!
John
Thursday 24th May 2006.
Well it is late Thursday and the weather has been brilliant for a week, now look at it, the forecast for Saturday is OK, but Sunday and Monday is terrible, cold wet and windy! I will be watching the weather tomorrow before making the final decision, but I suspect I will not be going off to Southend if it is as the forecast. Instead I might go out for a sail Saturday, then wait till it improves.
Have only heard from one other boat so far and they were rather tentative, so looks like another non starter!
On the other side of things the mail is flying in thick and fast and boats wise it is busy. A pair of us turned out to help Doug antifoul, job sorted in 2 hours, plus a tea break and today I assisted the new owner of Eirenie to step his masts. The rigging took some sorting! Norman has a long way to go, but is going to get her sailing first and sort her later. She was built for ocean cruising and coastal sailing is a bit different! More comfort needed and lots of updates on gear... Good to see her being cared for again.
We have just received a CD of Drawings of the Mouette. Sent from South Africa. Thank you Pieter. This was the last of the boats to come to light. We have also been sent a great deal of additional information about the design and her origins. I will be adding her to the list after I get back from whatever sailing I do!
Just had a request from Taiwan, from a new registrant, for 3 CD's of drawings, hope he is going to have a fleet built!
Spoken to Mavis and Brian who were out and about in the Blackwater and the Crouch this week, sadly I was not, otherwise we could have met up, but one of the local sailors dropped in on them in Burnham to say hello.
Could be we will be at Danbury next week after all.
Regards,
John
Tuesday 22nd May 2007.
We have had some great mails in, a few pics and a lot of activity trying to save boats by John Stevens.
He also has tallied the numbers, over 520 now!
I have just collected my chart corrections on line, dead clever, try it. click here... http://www.admiraltyleisure.co.uk/ Then simply enter the chart number, or in my case the folio numbers, and you get a down load of Pdf files! That has got to be easier!
Off to help Doug antifoul tomorrow, but sadly he will not be ready in time to sail in company to Southend at the weekend. I am not sure how long we will be away for, things have come up at home that might well mean it will be a shortened trip for me, Down to Southend and maybe back a day or two later instead of taking the week. I have looked at the tides and figure Saturday afternoon will be best for the trip down, anchoring up the Ray Gut for the night and watching the show Sunday.
Those wishing to join, call on Ch 16 or 72 I will be out of Bradwell about 1330hrs Saturday..... I hope.! If the weather looks doubtful it will be 14.30 on Sunday.
All for now
John
Friday 18th May 2007.
Actually it is really Saturday as it has just gone midnight! Just back from 3 days away visiting my daughter and fiancé in Brixham, scorching sunshine and we are bushed, they walked our legs off! Alright for them, She slogs across the Sahara and he has trekked the Himalayas and taken parties into Macchu Pichu 13 times, but my poor old legs were feeling the strain after a brisk walk up Berry Head and back! think it was a test! I will get my own back.! Wedding day June 21st, the summer solstice.
The pile of mail after just 3 days was horrendous. spent all day replying to it, and now the responses are starting to come back!! We have just had a very pleasant letter from Andreas with a donation, another from Keith in N.Z. via PayPal, for a CD. We have had Pieter inform us that his copy of the Mouette drawings, plus extras, are on CD and on the way and that really only leaves the Gaff rig sail plan for the 3 Tonner and the extra sheets for the WW in steel to find! Who would have thought it! Just proves ownership brings enthusiasm!
Another mail, with loads of pics from Malcolm, he has launched WestWater! Very pleased to hear that. Will be adding pics to his page soon! Will also be adding a bit to Brendan's page re his Wild Duck. He has found the traditional boat man in Woodbridge, who is making new rudder fittings for him....
Several new registrants, including the ex owner and the new owner of the E 24 that sold on e-Bay from Wales yesterday! Sadly we have no mail address for the new owner, so if you read this here Stuart, e-mail us so we can keep in touch. We cannot count it as a real registration if we only get a bit of info! Must find out where we are on numbers, got to be up to 520 I would have thought!
The website has whizzed through another thousand hits whilst I have been away, so it is not me just clicking on it!!
Our insurance sponsor has just sent another bag of goodies as prizes and the Yachting press have asked for reports on our events with pic, so camera ready for the Southend and Chatham trip please!
John Stevens is busy saving yet another boat, this time an Eventide 26 that is sound but unwanted, and was threatened with the chain saw, just because they could not easily sell it...
We have also heard that another two boats have sold off the site and I have had a couple of calls re the boat bits too.. seems the site is well used.!
The Newsletter is up and running, will be adding snippets as they come to us, but any more would be welcome!
All for now, busy with grandchildren tomorrow, so sadly not going on Crouch jaunt... but with weather as it is I am not sure many others will be anyway!
John
Sunday 13th May 2007.
Still raining! I have taken the opportunity to kick off the new Newsletter! Edition 8 is started! Need a few more snippets and articles, pics of your cruises etc, but we do already have a really long and interesting passage log from the designer of the Goosander, and all the others in his folio, Colin Faggetter!
Justin has sent in a fascinating short trip log of the sailing around Skye, a place I intend visiting in August! Looks great.
And James has sent in an article about 'Foreign Affair' an Eventide 26 at West Mersea.
I have had a couple of snippets to add to the Scran bag and a few more in the pipeline I hope!
More to come from you dear readers too I trust!
Enjoy the read!
John
Saturday 12th May 2007.
F6 and heavy rain! Great! Amazing how it all changes once the boat is back in the water! time to surf the net!
Several members have picked up on this Eventide 24 on E-Bay...
http://cgi.ebay.co.uk/ws/eBayISAPI.dll?ViewItem&item=190111187029&ssPageName=ADME:B:EF:UK:11
She is in Conwy Wales and is in need of some work, but if the price is right!!
Had a long conversation with John Morgan today, he is out of Hospital, double bypass and a new heart valve! He says he will be taking it easy for a bit!! He hopes to get back to his restoration of his E24 later in the year and also back to see us all at the Bell in a couple of months. We all wish John and Ann well.
More requests for our drawings on CD today, this time from Australia and British Columbia.
We have had another request for help from Australia, for the drawings of the MG design, 'Juliana'. Sadly I do not think these are available, unless an owner has a fading set.... Any chance of borrowing a set to scan so we can add them to the library of those we pass on at cost?
Working on project boat in garden at the moment, in between rain showers! hope to be out on the water next week. The long range weather forecast is good for the end of May Bank holiday!
Enough for now, lets hope the weather improves, but the vegetable patch did need the rain!
John
Friday 11th May 2007.
Well I have my sail repaired and I have now got a new Sail maker, who I shall place a link to on the Links page and the 'What works' page. Lonton and Gray of Burnham, right by the clock tower if you know Burnham. The would not even let me pay for the stitching they did! However I did hear that our Alan Lonton, cousin of the sailmaker Dick, did tell them I might be coming in!
Very impressive set up, large laser cutting bench and computer controlled patterns etc. All the latest whizzy racers stuff, but a lot of down to earth cruising sails too.
Have had a couple of requests to pass E-Mails on, which I have gladly done and two more requests for our CD's and the DVD.
Another registrant too. We do occasionally get registrations in with no address or details, we tend not to register these as members if they will not give their details, but instead just recall what information we might be able to glean, in case they prove to be genuine later. as one of the Steering committee remarked, people might be wary of us because we offer membership and so much help for no reward, which sadly today is a mite unusual!
We are collecting boats for the trip to Southend, Fiddler's Green of course, and Dougaljo we hope, Sid might get Ramillies' out and we have Emma Jane and Otteau as well. We welcome all who would like to come along! Not sure if it will be a Saturday or Sunday run yet, will wait on the weather nearer the day!
No sailing this weekend, foul weather still, but I hope to be out at the end of the week and during the following week, prior to the Southend trip... I hope to visit Brixham in between, see how my daughter is getting on down there and sus out the local moorings!!
John
Monday 7th May 2007.

Pic by Nigel Seary.
Well we had a short sail, me as a bare headed Eventide! No genoa! With staysail and main it was a slow sail up the river in cloudy weather and with a chill wind. We met up with 'Otteau' and sailed in company up river for a while, nodded to a sunbathing seal off Osea.

We saw another Eventide and a Lone Gull, who we later met back at base the next day, he will be joining on later cruises. We heard from a few other owners, none were ready to let go yet, maybe we will see them later in the year....
Saturday was chilly, so we gave up on the idea of a BBQ and cooked on board, but no sooner were the bangers cooked than the sun comes out! So we all dinghied ashore for a picnic. It turned out to be a perfect evening. Heidi and Nigel had with them their two dogs, huge Bassett Hounds, amazed they had room on board! The dogs loved the run ashore, whilst we marvelled at the wildlife in the creeks and the fact that there were just the four of us, with hardly another soul for miles, in every direction. Perfect peace.

Seals swum in the creek and birds of all sorts waded or flew nearby, seemingly unaware of our presence..

We were on the beach till sunset nearly, then retired aboard for the night. It was perfectly still, but a cold night, till 0600 when the wind came back, this time a warm wet wind from the SW. It foretold of rain later and freshening conditions.
We were going to sail up to Maldon to tip our caps to Barry, whose ashes we scattered nearby, but it was not to be, we scurried out of the creek at about 1130, nodding to Osea pier where we scattered the ashes of another member some years ago and crept back, close inshore against the tide, to Bradwell. On arriving the wind was still F5 but the sun came out, so we relaxed on board for the remainder of the day, meeting the skipper of 'Foreland Gull', Malcolm. He wants to join in our events later, so we look forward to seeing him about.
Of course Sunday night the forecast rain arrived and it poured all night. We were pleased to have used discretion and returned to Bradwell when we did.
As ever with a shakedown cruise, we spent a lot of the time tidying and making lists, jobs to finish and items needed on board. That is what the first weekend sailing of the season is about, that is why we chose a local rendezvous. Better that than become one of the many calls for assistance we heard form ill prepared boats over the weekend!
Here is to the rest of the season,
Safe Sailing to all.
John
Saturday 5th May 2007.
All set to go, except the head of my genoa was not stitched to the halyard loop! An oversight on the part of my sailmaker, but it means no genoa this weekend... yes I have got a needle and palm, but I carelessly took a bit out of my finger with my my grinding wheel, daft old b***er! So it will have to go to the sail-makers. I will be having to find a new one, Alan Lontons' cousin in Burnham i suspect.....
Still the weather looks to be better than the last week, at least the wind has dropped, slightly, but it is still a cold northerly!
Only one other boat has contacted me to meet us, Nigel and Heidi with 'Otteau', so we will see them sailing anyway!. This meet is always a rush for me, and for many it is just too soon, Sid is ready though, his riptide is raring to go and Sid has his eyesight back! wonderful operation!. We will see more of him later in the year, hopefully he will be able to find a crew...
Crewing, if you fancy a sail and are boat-less, we can run a crew register. Likewise skippers looking for crew, either for the odd day or longer, let us know we will put you in touch with anyone that comes forward.
One of our recent members has also joined the Forum and left a link to his website, have a look, bit different to sailing! Chris has 'figaro' an Eventide without a rig... Any spare masts and booms for sail, sails, rigging tabernacles..... See the site...chris rudge travel website
Back to sorting the last bits to go in the bags, then off to 'Fiddler's Green ' for the first weekend afloat, albeit mostly under power!
John
Tuesday 1st of May 2007.
Well, I said the weather would change, a lot colder, more like the normal temperatures again, with a cold Nor Easterly to boot! Hope it warms up by Saturday... See you on the river!
The Fitting out season must be upon us, as the Eventide mail has gone quiet for a week!
Will be soon adding the Summer Newsletter, still looking for articles etc....
Tony Scrace has completed the sale of the 30ft MG 'Eirene'' to Norman, we hope to see her afloat later this year. Norman may possibly join us on the water at one of our meets later. Be good to see her sailing.
Back to sorting out the Seagulls, the mails from there come in thick and fast now, they are fitting out too!
Might be back later today with more...
Yes I'm back! I have just spent the last hour or so adding the new Newsletter Edition to the site!
I think you will like it, when it's all there.. do you see what's missing???
Yes, your articles, photos, comments and logs! Come on I know you can help here... I have a few in the pipeline but we need more.....
John
Thursday 26th April 2007.
Fiddler's Green is back afloat! We launched in very pleasant mild weather, raised the mast ourselves in calm conditions before hand. Puttered her round to her mooring no problems, all working 100%. An hour later it is blowing a hooley and freezing cold! It's a bit like washing the car! It always rains after! Hope the season looks up again! We have just had the warmest and earliest Spring in years.... It will rain now!
We were a small band at the Bell on Wednesday, just 7 of us. John Stevens is still nursing a broken foot. Mavis was in Wales, Several other couples were out of the country and Sid is not yet driving again, though his eyesight is nearly 100% again! This did not dampen the evening, Mike, Doug and Jo, Alan and Margaret and Darian and myself had a very relaxing evening. The Bell was back to it's friendly self. We were treated to fine beer and food, and although there was the football crowd in watching some game on the big screen, we were happily ensconced in 'our' end of the pub! The new licensees, Simon and Christine were very pleased to have us there and bending over backward to be nice. Great!
Saw one of our oldest members today, at 87, Jack was attacking the painting on his 'Serenity' with gusto, good for you Jack, see you afloat. Stephen Fryer and his chum sought me out on board as I scrubbed the decks, they will be out on the water in 'Curlew', a Corribee, this year, Stephen's Eventide is making slow progress by all accounts. But he is getting there!
I will be shuttling gear down during the next week or so to be ready for the first EOG meet at Mundon Stone Point, see you there for a gentle beginning of season sail, to see if it all works again and I can remember what to do with it, if it does!
Good sailing,
John
Sunday 22nd April 2007.
Yesterday I added a host of pic of chandlery bit for sale on the Boat Bits page . Already I have sold two items from the list and many will go quickly I suspect. I have also sold the 30 ft MG off the pages and am helping the precious owner and new owner sort her out!
Just heard of another E26 for sale locally, a bit of work to do I hear, but not enough to daunt a DIY man I suspect.... Details on the pages soon.
Have had some nice thankyous and a donation or two for the site too, nice to know we are hitting the right note!
I heard from Chatham Marina last week, they apologise but they have overbooked! seems we will either have to see on the day if they have vacancies, or go round the corner to Gillingham, not a problem!
Spent a happy hour or two yesterday polishing my prop again. yes I could see my ugly reflection in it! I love polished props, so much more efficient. I get no fouling, but slight lime scale deposit, so this year I have taken a note out of the Kiwi's book. I have coated the shiny prop with lanolin... we will see!
Off to put a drop of Sikkens on the gunwhale today, polishing with 'T-Cut' Tuesday and sorting the nice clean, (washed in washing machine) halyards and threading them back into place. Nearly ready...
See you at The Bell on Wednesday, then I'm launching Thursday!
John
Friday 20th April 2007.
If your name is Bruce and you have a GH 26, please get back in touch, we have no contact info for you on the registration. Happens I know, my fingers do their own thing sometimes too!
Yesterday bought a job lot of boat bits from a friend who has swallowed the anchor. I will be placing a lot of it on the Bits For Sale pages soon.
Pulling out all the stops ho get back on the water next week, so if no response, I'm up a ladder polishing!
Forgot to mention.... returned to the Bell Wednesday evening to check it out. Mightily relieved to find we are welcome back on the last Wednesday of every month, food is good, better that it has been and Chris the barman is still there... Our new hosts are Simon and Christine, (Chris) They look forward to seeing us next week, the table is booked! Let either me or Doug know if you can and want a meal, so we can forwarn them and they get enough chairs out!
Cheers,
John
Tuesday 17th April 2007.
I have had this in from Jim Titmarsh, WW and Elizabethan owner! We tried to get a joint meet off the ground last year, but failed as so many of us were out of commission! Hopefully this year it will be different! So for any boats local to the Crouch, this is for you!
Crouch Rally Friday May 18th
We intend to meet at The Crouch Yacht Club at 2000hrs for an informal drink and finalise plans , weather dependant.

Breakfast on Saturday will be at the Sea end of the River Roach , taking our time say 8.30 till 1100. We then will sail together up The River Crouch coming to rest at The North Fambridge Yacht Club on the New Extended Pontoon. We have the use of the Club House for the evening and the use of their B B Q Kit D I Y Style. Although the Ferryboat Pub will be open for meals etc.

Depending upon numbers booked in I will acquire a firkin of fine ale and have it ready to be swapped for donations.

We may be able to set some seamanship tests and races for young ones if appropriate.

Over-nighting on the pontoon or at a mooring we could all meet for a farewell coffee at the club before taking taking our respective leave from each other.


I trust that your members may find the above a pleasant experience and that we can all get together for tall tales of the adventures past and to follow.

Good Sailing Jim Titmarsh 07887581383 "Red Rag " Elizabethan 29

Well I have at last made some progress to getting back afloat, the antifouling is done! I have a long list of jobs I would like to get done in the next week, but have to be realistic. Many will have to wait till I'm afloat. Not a real problem.
Hopefully others will also be making the best of the recent great weather, it will not last! Just wait and see what the weather has in store for us over the first May bank holiday! We hope to be sailing and meeting up with others at the end of Lawling creek that weekend. Doubtless we will still be changing engine oils and sorting out sails, but we will be afloat!
Hope to see you out there, my camera is ready!
John
Monday 16th April 2007.
I was asked for an article about my boat today and on sorting it out came across something I had been looking for weeks ago. A photo of Alan Buchanan! I have duly added it to the 'Designers page', along with a few other snippets I realised I could add! I have posted more CD's off today and had more orders for more.... We are really so busy.
I have had a sponsorship deal pending with 'craftinsure' the insurance company we have a link to on the home page. I have just sent out the 'Events Calendar' to all the sailing magazines again, along with news of the sponsorship. Anyone fancy being host boat in the Solent or in Scotland this August Bank holiday?
We will have awards for Seamanship at these events!
In line with this and bearing in mind the forthcoming anniversary of the loss of our webmaster, Barry Sturrock, I am taking this opportunity to announce the award that was suggested by John Stevens.
'The Barry Sturrock Seamanship Award'
In memory of our late Webmaster and in line with the training work he did as a Chief Petty Officer in the Sea Cadets, we are to award an annual trophy in his name. The 'Barry Sturrock Seamanship Award'.
It will be awarded annually at our Annual Meeting each year, either for an act of outstanding Seamanship or to the person that is considered by the Steering Group, to have contributed the most towards seamanship training for or by young people.
A suitable trophy will be sourced, to award next year.
Off down to paint the antifouling tomorrow, then I have varnishing to do and batteries to refit, bobstay fitting to refit, (we removed it to check the bolts! all OK..) and then elbow grease to expend on polishing the hull!
All for now,
John
Sunday 15th April 2007.
Well fitting out has started here in earnest. the temperature today was 24 degrees! Will be trying to get all the little jobs sorted in next 2 weeks! lots to do!
The mail is still coming in thick and fast.
Had a mail from the ex-owner of a MG Gulfstream 44. He sailed her 20,000 miles in 5 years! he is promising to send in pics.
Have had a girl mail me asking how to get copies of the CD as her father is driving her nuts with his wish to build one... Rather think it is his habit of crooning 'Eventide' to her to remind her to use her internet skills to find us! Hopefully the registration will drop on my mat soon and I can send the CD on!
Got another couple of CDs to go in the post as well, plus a DVD! Selling well. Thanks for the donations folks, all helps to keep this site alive!
Just nipped back to my mail to look up the mails for the last week, and there is Melissa's mail registering her dad! Be right back to you with the welcome letter Melissa!
I have reduced the price of a Riptide on the 'For Sale' page this week, a substantial reduction too, have a look at 'Mystique'.
Had a few nice comments after that Podcast! I think you deserve medals listening to the whole hour!
Lastly The Database is on it's way to the Steering Group and especially the Webmaster, look forward to seeing what Tim and John can create for the website from it!
We have to be so very aware of the Data protection Act here and not publish personal details etc, without permission, we have managed so far to make it work, hope the Map will work too!
Look forward to seeing you all afloat,
John
Tuesday 10th April 2007.
Today I should have been sorting out the boat, getting ready to paint the antifouling and touch up the Sikkens, instead I'm at home with a stonking cold! huh...
Still it has given me time to listen to my 'PODCAST' Wow! really whizzy stuff. I did not realise they would publish so much, they just wanted me to rabbit on and I did. If you really wish to subject your self to it log on to Furledsails.com They first asked about SOS, but when they heard what I used to do, on the London river, it sort of expanded. they were clued up and already knew about the EOG and thus a lot of the interview referred to us too. They even found out about my woodland project... Good research.
Talking about the London River, 10 pm tonight on BBC, the pick of the day is my River Beat. not sure if any of the lads I trained are still serving, will see tonight!
Two more requests for CD's of plans and one from the Philippines where they are hoping to build several Seniors! that should be interesting. will have to turn out the 'how we built our Senior' articles I still have and post them on the site.
Another registrant from Australia with a 28ft Eventide, no raised topsides, very sleek but not a lot of head room I suspect. He thinks he is on his own in Australia, will have to have a tot up and see exactly how many there are.... 35 now! Magic of John Steven's database!
Off to lay down in darkened room for a bit, listen to myself on my podcast again and prepare myself to adventures on the high Seas, well the Thames, at 10 tonight!
Will get round to dusting the boat off before the launch day....
Cheers,
john
Wednesday 4th April 2007.
Today I have eventually got round to adding the accounts agreed at the last Annual Meeting, to the 'Accounts page' and the agreed minutes of the past Annual meetings to the 'Official pages'.
Sorry it has taken a week or two to get there!
Have also added some pics to the MG section of the gallery, John Stevens has been busy again scanning the net for boats and info! Some very nice vessels now appearing on the pages!
John tells me the Eventide up for auction in the Isle of Wight, is sold, for about a grand! Good money for a very old E24, so I hope it is in good order... Certainly a bit of new rigging and a new inboard would be on my shopping list, before I started on the general equipment... Hopefully the new owner will be in touch.
Sending off another CD of drawings tomorrow and had yet another enquiry re the Senior on CD tonight.
The owner of WestWater, Malcolm, has sent some more info in for his page on the 're-builders page'. Hope to see her out this summer. Malcolm is promising pics to round his page off, the launching!
We have another new registrant, with 'Double Dee' she is moving to Hartlepool shortly! Pics are promised. Welcome to Alan and his stepdad.
Had a welcome phone call from an old friend and ex vice president of the old lot. He has followed it with a couple of mails and we hope to meet up with the skipper of 'Wedgit' during the year. ('If it does not fit, wedge it', was the skipper popular phrase! It stuck!!). A nicer turned out Leeboard WW I have yet to see!
Lastly as the anniversary of our late webmaster's death nears, John Stevens has come up with a suggestion, a log or seamanship trophy in his memory, to be awarded yearly at our Annual Meeting. I would be interested in ideas not only on the form of the trophy, I have hoped to come across a bit of redundant Eventide in my workshop, but as yet.... Also ideas for the criterion for awarding it.
Warming up tomorrow they say, about time say I!
John
Monday 2nd April2007.
Over the weekend yet another Eventide has come to light and the owner registered, from the north west again. Must get a meet going up there....
Brian West has sent me this link, for tracing the MMSI of any vessel.. interesting.
http://www.itu.int/cgi-bin/htsh/mars/ship_search.sh#start
I did not realise this information was available to all! Searched on my boat's name, though I have not got an MMSI, there are a dozen 'Fiddler's Greens out there that have, worldwide! I have met a few of them on the internet!, nice bunch! ( they traced me via the EOG and my SOS sites!)
With the weather now on the warm up, i have booked a launch date and am pushing on with fitting out. Heard from a dear old chum today, he has a WW on the Blackwater here. He is to be back afloat this season and hopes to join in with local trips. Be great to see him back on the river!
Just heard from a GH owner who's boat is for sale on the site, a price reduction... to 12k... nice 26 if you are looking for one.
Just deleted load of spammers off the forum, they do not get onto the Forum to be able to do anything, they are just on the list pending approval, but get deleted as soon as we see their website links, don't know why they bother really.... Tim is working on a way of preventing them getting that far.....
Time to sort out the antifouling rollers...
John
Friday 30th March 2007.
Feeling cold and damp again, but next week we are promised warm weather again, just as well my launch date is booked! Got to polish her and get the antifouling on.
Had another registrant, but we already had him on the list, Norman is trying to find the Eventide he built. John Stevens thinks he may have found her up in Cumbria, so have to let Norman know! always nice to be able to put builders back in touch with their creations.

Here is John beavering away at the database at the A.M. last week. All who attended got the chance to check their entries and John could then update them, and he did!
Above a selection of pics taken during the meeting by J. Stevens
We have given them a new burgee to replace the defunct one over the bar!
After the meeting many had to leave, but for the few that remained we had a really good fish and chip supper! Darian had thoughtfully provided the condiments too! And serviettes! No slumming it here then!
Good meeting and I suspect a regular venue from now on. a letter of thanks will be sent.
We have also been invited to call in at other clubs round the Essex rivers, might do that during one of our cruises! Nice to be invited!
Have had an enquiry for CD's and a customer for antifouling in the past few days. Sadly not as many antifouling cans sold this year so less to go in the kitty. however our finances are very rosy at the moment, so it is not a concern. I will be adding the fund managers report and the agreed minutes of the last years A.M. to the 'Official page' soon.
I have added an advert on the boat bits page and some 3 Tonner pics.
Tim has sorted the Forum and we have had a couple of new registrants.. If you want to share info or ask a question for all to read and reply to, if they are registered forum users.. please feel free.
A new Forum registrant is in Tasmania, looking at buying an E 24. Yet another E24 is for sale on the I of Wight.
All for now,
back to the day job!
John
Tuesday 27th March 2007.
Hot off the press from John Stevens, the latest on Red Diesel.
Red diesel to remain until November 2008
Low-duty diesel for leisure boaters will officially be lost on 1 November 2008, the Chancellor announced today.

He also revealed that from 1 October this year, duty on red diesel would rise 2p, from 7.69p to 9.69p.
So after all the scare stories, all that is going to happen is the cost will go up a bit, for now.... what will happen in 2008 is a different story, depends on who is chancellor then I suppose.
Gave Dear old Mum a good send off yesterday, she will be coming out for one last sail on a sunny day later in the year........
Post bag as full as ever, latest item in the snail mail box was the missing 4 drawings for the Steel version of the Eventide! Thanks George. They will be made available to all shortly!
More registrations over the weekend, and another mail re the auction in the Isle of Wight, see the last entry on this page. Will be adding a pic to the for Sale page tonight.
John S. has found a Buchanon for sale in Preston, 29 ft of classic boat for little money on E.Bay, an East Anglian One Design.
We have also heard from Mike Baker who has the iron keel from a Goosander 23 to sell for peanuts, so if you are considering building one of Colin's cruiser racers, here is a good start for £50.!
More later, got to get out in the sunshine!
John
Sunday 25th March 2007.
Well the Annual Meeting went off well enough. Due to the horrific accident on the M25 and it's closure for the day, some were unable and contacted us to let us know, one poor soul drove all the way here to arrive 5 minutes after the official bit had finished, it did only take 35 minutes. 15 attended in the end. We had a very good welcome from the club and an invite to come back, for sailing meets as well. Will take them up on that. We left a burgee to decorate their bar!
In due course the accounts for the year and the minutes of last years meeting will appear on the 'Official bits' page!
all the Steering group were re-elected and it seems all were well pleased with what the group is doing, great! a special thankyou to John Stevens for stepping in to take the minutes, when the volunteer minute taker got stuck in Ilford! He won a small prize for his efforts. He showed off the database to everyone and all had chance to look at their entries and update them. It is very clever stuff!
Next months Danbury Meet hopefully will be on, venue to be decided! will keep you posted!
Yesterdays mail brought this mail in from Wayne,
Just browsing thru my local newspaper The Isle of Wight Country Press and in the boating section is an Eventide for auction (deceased estate)
The Ad reads:

A 24 foot Eventide yacht
Maurice Griffiths design sailing boat with small brit-sprite engine.

The auction is on the 04/04/07 at Shanklin auction rooms 01983 863441/562255

Just thought your club would like to know.
Regards
Wayne Spurge
Thought that a very nice gesture, to let us know.. Anyone interested in a an Eventide 24?
Switching off for a day tomorrow for dear old Mum's funeral, a big thankyou to all the many of you who have expressed condolences.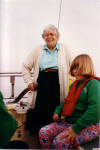 Just to show it was not just the company at Danbury she occasionally enjoyed, here she is at the helm of Fiddler's Green! Loved it!
Signing off for now,
John

Friday 23rd March 2007.
Saturday 24th, Maylandsea, Essex,
Annual Meeting!
Well the post has gone crazy over the last few days! The number of owners who have opened my reminder mail and it has not only prompted them either to say they are coming or cannot make it, apologies... but it has started a small avalanche of other mail!
We have had the CD with the Log of Colin Faggetter's trip to Greece, the restoration project by the lads from a local school on their Eventide, a couple of requests for CD's and one for a burgee.
We are about to start on the next Newsletter, so if you would like to send an article or log and be in with a chance of getting the prize awarded to the best read article, please send it in now!
I visited my sailmaker today, to give him a retirement card and pressy. The end of an era. Valiant Sails of Maldon is no more. An hour ago, John the sailmaker put down his needle and palm and walked out he door! His last job, sewing a sacrificial strip on a sail for me. John, and Roy before he too retired, have looked after my sails for 17 years. They have kept them in pristine order. At the price of a set of sails today, it has been money well spent. For all of my sails to be checked over, stitched where needed and valeted, just £100 a year. A bargain.
One of our Advisors, Alan has a sailmaker cousin, in Burnham on Crouch, he might just have won a customer next year!
One of the mails just I was to try and locate a Senior, sail number 350. She was called 'Sanderling', I wonder if she is still about the east coast? The builder would love to know.
John Stevens is supposed to be having a well earned break, but I think he is working harder than ever on the Database, He will be along on Saturday to tell us how it is going...
That's it for now, see you at the A.M. tomorrow?
John
Wednesday 21st March 2007.
The spring equinox. As of today the daylight hours are longer than the night! Whoppee! Trouble is it is freezing outside still! We have another week to wait, I suspect, till it starts to warm up again!
Hope it is not too cold to put members off coming out on Saturday, but I suspect it will be a bit chilly to be fitting out yet, so come along for the company! Maylandsea, Harlow Blackwater Sailing club, about 600 yards down stream of the Blackwater marina, follow your noses with the creek on your left. Down unmade gravel track, you can see the club and the boats ashore.
See you there.
John
Tuesday 20th March 2007.
Brrrr... Winter is back, snow and ice, mayhem on the roads and the hedgehogs have got their heads down again! After the fantastically mild winter, it has to come back and bite us on the backside just before it really warms up, just to remind us what it should be like!
Now, reminder if you have not already seen it or had the e-mail..
Saturday 24th, Maylandsea Essex, Annual Meeting!
Hope for as good a turn out as we have had in previous years!
Yesterday added a GH, 'St Noeud', to the pages and within minutes of my plea for the owner to come forward he had, welcome Gilles in Canada. In the same few minutes we had a further two registrants, taking us up to about 505 now! Pleased to hear from so many!
The new owner of 'Galatea', David on the Isle of Wight and yet another GH, 'P'tit Bonheur' owned by Wrona Michel in France, Welcome all! I will be replying personally soon.
Tim the webmaster has been having fun trying to make the Forum 'Spam proof'. I like to think he is getting there! apart from the real Owners registering I get 2 or 3 spammers a day leaving nasties. You can only wonder at their mentalities. They do not get onto the Forum proper, just on to the list... We ban and delete them but more come back... We really want to keep this facility open to members, if we can.
Have not had as many takers for the Antifouling this year? Hope the price hike, (£5.00) has not put everyone off. Without the discount we get it would have been a lot more. Fiddlers' Green will be painted with it again in a week or two, hope to be ready for the water mid April.
Heard from Sid, of Riptide fame yesterday, his eyesight is restored!!, hopes to be at Maylandsea and out on the water in the summer! Good news.
See you on the river,
John
Friday 16th March 2007.
We have a new Steel advisor, Rachael Moore, the lady building a Steel Riptide up in the North East has agreed to become our Steel Advisor. We look forward to more on the construction of her boat shortly, to be added to her page on the Builders section.
Have been out working on my daughters boat and mine, but was impressed by the progress Doug was making on his Waterwitch when I visited him at Burnham yesterday. He is a street ahead of me! hope the rest of you are using the warm weather.. Next week it will be snowing, so they say...
Had a nice thankyou from a new member who had just received his burgee and CD of drawings, always nice to get them!
I have added some cracking pics to the MG designs page and the For Sale page. 'Eirene' the 30ft MG one off, forerunner of the GH, is for sale. I have been helping out the owner sort out the interior and cover her over to keep the wet out. For £6,000 she is one hell of a lot of boat. rigged for Ocean Cruising, she could go off anywhere, but with a little work, would make an excellent shoal draft coastal cruiser. She has come through 3 hurricanes OK!
Tim Gibson, our webmaster has updated the forum for us and slowly owners are getting to use it... not as many as I thought though, is it a problem for anyone? do let us know if you find the instructions difficult.
I have had a visit from an Eventide owners today, he owns 'Kandus' on the London river. He is not on line but has registered with us via me direct, how about that! also heard from Malcolm with the Ferro WestWater, he is buying one of our burgees, so look forward to seeing him afloat shortly!
Spoken to yet another who is about to register, has an Eventide in Ramsgate. At this rate we will be taking on staff to deal with all the enquiries! Great!
Have just heard I am to be interviewed for that Podcast tomorrow. will put a link on the site, on this page and maybe Scran Bag! They are not only interested in the Seagulls, but Maurice Griffiths as well.
Time to get back to the Seagulls then!
all for now,
John
Tuesday 13th March 2007.
We have been waiting to say this for a little while now, and after checking and double checking by john Stevens the Database manager, we can now say it......
We signed our 500th registrant!!!!
In just 4 years we have had more than 4 times the number of people join us than I was dealing with before... WOW!
The honour of the 500th goes to Michael Nott, who is fitting out a Steel Riptide he has bought! We have been able to tell him we have the drawings he wanted, on CD and put him in touch with Rachael who is fitting out a steel Riptide as well. Strangely enough she has just contacted us to say she is at the shot blast and epoxy stage and is also looking at a boat to sail while she fits out, more on that when she has the boat!
The Marclear antifouling orders are coming in, this must mean spring is upon us! My Black Headed Gulls have been sporting their spring plumage for a few weeks now, but the weekend and the last few days have given me a rosy glow, Sunburn! Time to get cracking!
Heard from Jo and Andrew with another of these links to the No 10 computer. I thought it was worthy of repeating here!
To All my friends and sailing mates
Please read all of this message
it is serious

I am involved with one of the last Brixham trawlers operating in UK waters.
The attached picture shows her just a few years ago doing what she is good at.
Taking youngsters to sea for sail training.
The ship is the Kenya Jacaranda. Built in 1923
She is the longest serving sail training ship in UK waters

READ our APPEAL FOR HELP and then click here
http://petitions.pm.gov.uk/saveourships

I will be logging on to leave my vote in a moment. I can well recall her on the London River, with loads of happy youngsters, all 'learning the ropes'.
A few more mails re ballast and rigs, and two more requests today for our CDs, they will go out in the post tomorrow! Great to be this busy and have this much interest in our boats.
See the number of sets of drawings we have available on CD's now! Boat Designs
John
Saturday 10th March 2007.
In the past few days we have had a few new registrants and quite a few enquiries. i have added a new boat for sale, a MG 30ft design, an Ocean Cruiser, Designed by MG specifically for the owner, built in Rhodesia and now in the UK. She needs work, but is basically sound. She will need a complete fit out, but would be capable of going anywhere! See the for Sale pages.
I have also just added about 12 more photos to the pages, 6 new Eventides, a Goosander23, a GH pic and a couple of new WWs.!
John Stevens is beavering away at the Database and we are very nearly up to date with that. we hope to be able to get in touch with the Webmaster, who we hope is back from his holidays, and get that map sorted!
I heard today from a member who has a set of steel Eventide drawings and is going to pass them on to us! Great, that just leaves the Steel sheets for the WW and the set of Mouette to collect. we are also after the Gaff rig drawing for the 3 Tonner, but we might have tracked that down in Oz! The power of the net!
Today I have sent off a couple of CD's for a member and have another request in today's mail!
We have yet another boat plan, all scanned for CD, to add to the list as well, will be on the boat designs page soon!
I have some Eventide bits to add to the bits for sale page later this weekend, but I am hoping to get out in the garden and down to the boat as well... spring is most definitely in the air!
All for now, See you at the Annual Meeting on the 24th!
John
Tuesday 5th March 2007.
Well I have been busy as you might suspect, with family matters, but I have also had some great mail in! I have heard back from Chris Keenan again with more tales of old Leigh on Sea and Maurice Griffiths. I thought I had better just reproduce the letter here!
Hey John, thanks for the nice comments. Over the years I have written a lot down. I have kept a dairy since about 12. That's not midnight or noon either, its years of age. Almost every night, a page or a paragraph if I can manage it.

Since I wrote these old memories to you, for the sake of MG and his memory, many more things come to mind.

Did you ever get a letter from MG? I did, the bit I wrote about Tinka on your site years ago, where MG went north to Stanilands, around 1950 cos she was finished in 51, about the big wedge of oak to deepen her, then heavier iron ballast keel to boot, probably why she constantly broke her toes. The
part of the frames that tuck into the keelson. She always leaked like a sieve. Always leaking. Only when she had been still for a week, did the leak slow down to calming proportions..

I digress. MG wrote to me 2 or 3 letters because I asked him details about Tinka whilst I was rebuilding her thru the winter of 85/ 86 in Dauntless, Benfleet, she was too draughty and big for J and J's to handle her, shame, cos then I could have walked up Belton Way, by Leigh station, to have a hot bath
at Mum and Dads.

Anyway MG always wrote each sentence about half inch in from the L margin and kept a perfect straight line downwards. It looked neat and tidy. I adopted the concept and ever since have always written so.

In J and J's, back in 74, in summer, Old Jack Smith the foreman and I were repairing the concrete for the slipway/railway. He was a real war hero. As it was a nice day and no pressure, not that he cared much about that anyway. H, for once, opened up and told me of his pre-war and war time experiences..
I am a bit vague here about my facts so it will need checking. But he said MG came into the yard, [J and J's] to see Jimmy Jago about some designs,. It seems her liked Jimmy. Jimmy was the real working hands on builder of the yard. Len Johnson, whom I knew for a while, had been the Mayor of Southend once, though I don't remember that, too young, Len was the brains and the business minded one. Len told me the night JImmy Jago died, 'he was relieving himself off the back of his little barge yacht, I think he was hanging on the Davits, and a little worse for the drink, slipped in the oggin, with his trousers round his ankles, he could not save himself.' I don't think there was a lot of love lost between Len and Jimmy towards the end.

Anyway MG arrived and park his old ford car in the working yard. [this was always a pain] Jack asked him to move it or leave the keys in it , in case they had to move it as they were moving boats across the yard, and MG obliged. When he came out the office, he found his car half a mile down the lane parked on the 'eaps'. Which is what we called the mound of cockle shells hard by the cockle sheds, 'the heaps'. MG was a bit 'ruffled'. MG jumped in his car and drove down to Seacraft. Most of those workers there served their time in J and J's. Funny eh. So that is how Seacraft got the deal to build to 'Bacarole's' not J and J's.

Jack says 'we wus too busy building 'Linnets and others to his designs anyway'. Jack meant the 'Tamaris' canoe stern yachts. I had a day-sail on one years later, wish I could remember her name now??. Linnets were 2 tonners, I think.

MG was always very friendly towards 'deaf Joe' who taught me most of my trade. But jack taught me 'sparmaking' He showed me how to use a spar makers adze. Showed me the difference between a sparmakers, a shipwrights and a wheelwrights adze. He often used a wheel wrights adze cos it had spike on the back end 'for driving trunnels home'.. I had nightmares about that one for years till I saw him use it for real refastening a cockle boat, 'Reminder' I think, with 'galvanised iron dumbs' . Square galv, nails. It was magic to watch him use it. He had little scars on both his legs, inside just above the ankles, from adzing teak decks. He reckoned and adze was a finishing tool..

One old boy, he was 83, Don Wiggins, was still there part time. Don was a real fine wood worker. Even at that age the yard depended on him to do the best work. Amongst the 8 apprentices, i was the only sailor [the others were there cos it was a job, bit better than a builder and less paid?] Don was the son of the days when J and J's was 'Wiggins, Wiggins, Cole and Wiggins'. Don started working in the yard in about 1912, I think. He was too young for the first war and to old for the second. and spent the war building 'ML's' 'those Admiralty contracts kept us going and still are' he told me. And he was right even in the late 70's.

Don told me he remember the sail-makers from Old Leigh, Frank Turnidge, who's family he lived with for a while, cant remember why. They used to carry the barge sails along from Leigh and stretch them our for 'painting on the red Ochre' That is the field that is now the Leigh station car park on the Saly army land. 'They kept a big bull in that field. One day the bull went mad and attacked a brand new sail and ripped it up. Scared the living daylights out of the sailmaker, I can tell you', he told me. Don thought was hilarious.

One day I was hauling out a little tug on the slipway. The wire broke and snapped, whip lashed up in the air and swipped across the HT cables over head for the railway. It wrapped several time around the HT wires. I ran like hell in my waders up to Leigh station 'stop the trains, cut the power'' I explained to the station master. He replied by looking at his watch and smiling said 'don't worry son, its bound to be late anyway''....

Do you know where the name or phrase 'happy as a sand boy'' came from.?? I was told that barges used to pull into the Ray, beach on the South side and boys from Canvey, Leigh and Chalkwell, would walk out and dig and load sand, by yoke and wicker basket, into the barge. And sure enough there is, or was, an area of soft and out there today.


Chris.

Priceless memories! I had always wondered why the Barcaroles were built at SeaCraft!.
Enough for now,
John
Saturday 3rd March 2007.
I am beginning to sort things out here, all takes time, funeral arrangements etc. Not a lot more to do at the moment so i have turned my mind back to boating for a while!
I have had yet another new registration, welcome Brendan. he has purchased a WildDuck. She is presently on the Medway, but Brendan has plans I think! I hope to be able to devote a page on the restorers section to 'Tarka'. Look forward to seeing her join the fleet.
And what a fleet, we are just a few short of 500 registrants. amazing in just 4 years! I know David Reilly is going to register, new owner of Emma Jane, again in Kent, but at Ramsgate at the moment and I think Anthony Sluce will too, he has just lent us his WD plans to scan! Who will be member 500??!
I have had a request in from Chris the ex owner of MG's 'Tinka'. He is coming to the UK in June and July from Venezuela and would like to charter a boat, suitable for east coast cruising from Ramsgate to the Deben. He wants to revitalise his Essex mud blood! If anyone is interested in doing a deal with him, contact him on 'tinka48 at hotmail'
Another recent registrant is the owner of a smart looking Eventide at Maldon. I have wondered who it belonged to, we now have an owner, welcome John, and a name for the boat on our gallery, 'Malaika'.
We have also heard from the new owner of Galatea, hopefully he too will be registering with us shortly. Have to remove 'Galatea' from the for sale pages, another one sold!
Will be watching the Lunar Eclipse tonight, I can see the full moon as bright as a searchlamp through my office window as I type this! Two and a half hours to go, bet the clouds roll in!
Have just ordered the first batch of antifouling in, the sun is warm and it's time!
It's fitting out time.
John
Thursday 1st March 2007.
We went along to the Anchor last night, but I have to admit I was not too impressed with the place nor the service, however I did not let on to the assembled company that sadly my dear old Mum passed away yesterday. Thanks to those who have already contacted me.
My family have thought that TWIG our village woodland charity might be the charity that donations might be sent to by the rest of the family, as Mum was one of our first donors to this project. I thought it maybe fitting if we could plant a small group of trees in her memory with a bench nearby inscribed to her. She loved the outdoors, was a keen walker, in her day and loved the idea of a wood beside the St. Peters Way. From her of course I developed my love of the outdoors, and contacts with forestry and general farm and land work as a young lad. I shall miss my sometimes twice weekly visits to her, doing the shopping and buying the hundredweights of bird food I had to weekly distribute. I look forward to the day when we can hang bird feeders in the trees in our wood.
I will be back into editing mode in a short while.....
John
Sunday 25th February 2007.
Next Wednesdays Danbury Meet!
Due to change of managers at former location, for next week,
we have moved to
The Anchor, Runsell Green, Danbury.
If approaching from the A12, carry on past the old meeting place, the Bell, up over the top of Danbury hill and the mini roundabouts, straight on for 1.5 miles, past the Esso garage, then on the bend, take the turning on the left (sign-posted 'Timber Yard') and you will see the Anchor in front of you!
This location is a small, quaint, but busier pub, serving food mainly, so we need to know exact numbers to be able to use it. We have eaten here and the food is excellent.
Please, Please, I have booked a table for 8, we can increase this to 22 if we wish but I do need firm bookings. I will be phoning regulars today.... Doug is away, so I am doing the booking. 01621 778859
If you cannot get hold of me, (unlikely I know!), the Anchor's phone number is 01245 222457, just say you want to join the Eventiders! Malcolm the guv'nor knows us!
Hope to hear from lots of you, and meet you on Wednesday.
I have also just added a new page to the builders section, the building of 'Contaro' the Ferro Eventide!
All the best,
John
Tuesday 20th February 2007.
I have just finished sorting and uploading all the new scans. I have added the details to the designs page, to Colin Faggetter's page and the specs page. We have updated the prices to cope with the cost of the scanning and hope they can stay at the same price for many moons.
CD's containing all the plan sheets of most designs are available, each CD with a design saved as 'Pdf' files. Available 'At Cost' to registered members for £5.00 UK or £6.50 overseas. The Colin Faggetter designs are up to an extra £10.00, a royalty to Colin. Contact us for details of how to get them.
The WildDuck and Junior are added , as is the round bilge version of the E26 that was built in Ferro. you could adapt these for strip plank as well.....
And one late item, I have to go and collect a set of MG drawings for one of his larger designs Thursday, hope all the sheets are there! more later.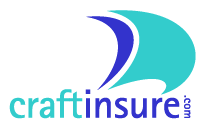 Try this company for an online quote! Click on 'Eventide' and the WW or Riptide etc will come up. I have saved £100 on my renewal with them! In addition if you use the link and insure with them, the EOG site will get a small bonus! We are also hoping for some sponsorship items for the summer meets!
John
Monday 19th February 2007.
During the past week I have been a little busy and have had all the Colin Faggetter drawings scanned to CD as Pdf files.
I will soon be adding details of all these to the 'Designs ' page of the site.
In addition I have also scanned the Junior and the WildDuck, and the round bilge version of the Eventide that I will now add to the other Eventide drawings on that CD! All generously sent in by members.
We have also been offered the 3Tonner drawings and now the additional sheets for steel build of the Eventide 26. I have yet to see these, but as soon as they arrive I will have them scanned and add them to the list.
This just leaves the WW in steel and the Mouette? anyone got a set they can lend us for a couple of weeks?
In addition we have had several new registrants, at least 2 of the recent ones resigning from the former group. We welcome you all!
The mail bag still bulges! when I find a spare hour or three I will copy all the hundreds of mails received in the past year into the next letters page!
John Stevens is still beavering away with the Database, he has all the members up to the end of 2006 in place now!
The next Danbury meeting will be at either the Griffin or the Anchor, both in Danbury... will announce it soon!
That's all for now, back to sorting drawings!
John
Wednesday 14th February 2007.
Valentines Day, hope you got cards too!
Also in the mail today 3 more pics of the Senior in New Zealand, Nancy Blackett, name due to change we think! i have added them to the Senior page of the Gallery.
Oddly also from New Zealand, new registrants Dave and Dawn with their Eventide 24, 'DnD'! Welcome! I am rapidly losing track of our numbers here! I wonder if we have topped the 500 yet....?
I am trying to organise the Annual Meeting venue and date, but keep just missing the Secretary of the sailing club I am negotiating with! News soon.
Will be investigating alternative venue for next monthly meeting too... Pub at Danbury shut for landlord changeover....
Off to get dozens of copies of plans and drawings scanned tomorrow, hope to have loads more to tell you on that soon!
Spoke to Mike Wolf down in Leigh on Sea, he is still battling on with his restoration of his Eventide 'Lady Anne' hope to have pics and progress update soon.
Looking for warmer weather here to start work on my boat soon, hopefully back in the water early this year!
All for now,
John
Monday 12th February 2007.
Just had news in from Steve the owner of Lone Gull I. A well done to Steve for the Ocean Cruising Club Award!
Generally good news on all fronts. LG 1 is doing well in Beaucaire and despite being afloat is generally so dry inside that I have to add water to stop the timbers drying out!
Book is coming out Christmas. The OCC appreciated the effort in getting the old girl out of Africa and awarded me the Rose Medal for "the most meritorious short handed voyage of 2006". Standards are slipping everywhere it seems...
We look forward to reading the article about the trip and will watch out for details on the restoration!
I have just noticed that the counter on the Boats for Sale page has gone beyond the 30,000 mark! Just shows how many boat people look at our site pages! Were it not for the input from the hundreds of you who support this site, it might be different!
John
Sunday 11th February 2007.
Anyone fancy paddling their own canoe? Well there is a very nice one just placed for sale on the Boats For Sale page, if you feel like a bit of exercise!
Apart from one other member enquiring after a CD, been remarkably quiet for a weekend.
Regards to all,
John
Saturday 10th February 2007.
We have had a very generous donation in from Roger and Kathy, the owners of 'Jua' up till very recently. We helped them sell it on the site to Owain, who now has her back in the UK. So we have to look out for her. Owain has not yet joined us but we expect him to! Roger and Kathy have swallowed the anchor for a bit, they are concentrating on growing their olives and hazel nuts halfway up a mountainside in Spain. Idyllic! They have sent a couple of nice pics, we really wish them well. They lived the dream, well done them. They will probably get themselves a small rib to explore the local river Ebro. Bet they eventually get a sail boat again!
We have had a couple more registrations, one from Idaho in the states says the temperature had gone berserk there, 32 degrees, then I realised he was working in Farenheight!
Another registrant again from America, has signed up with a stout defence of our stance for owners groups, thanks Chris.
I hope to get Colin Faggetter's drawings scanned next week, then we can add them to the list!
Well the snow has melted and the chaos in the UK over the last few days is amazing. You would think some never expected winter to be cold.. Maybe in the future it won't be, but I would not be so sure.. They say that with global warming it will be warmer, but if the truth is known, we are on the same latitude as Canada, and they get it a lot colder than us...
Why, simple, we have the benefit of the gulf Stream... At the moment. However if the cold Labrador current fails, as it is predicted to do, when all more ice melts from the Greenland ice shelf, then the other half of the circuit, the Gulf Stream will ultimately fail, and there are indications it is beginning to. When it does, we will lose it's beneficial effects. Brrrrr.
Can anyone design an icebreaker bow for my Eventide?
All for now, keep warm,
John
Tuesday 6th February 2007.
We have had yet another registrant in the past few days, welcome Andrew! He is looking to build a WW in steel and has already sent in for the CD of drawings of the wooden WW, plus the film... We need a set of the Steel drawings to scan.. There were 4 sheets from memory, anyone lend us them? There are a few wanting to see them, though I have to say that the sizes of the steel work and the methods of construction in steel are all reasonable readily available on the net or in books. Andrew has a welding friend who makes boats, so he will have no problem! We also have a Rachael!
Another Request for CD's in today from another recent registrant, he and a friend want to build Eventides in Africa! Great!
Mike in Australia has just sent in some great pics of his 3 Tonner being built, strip planked.. also a PDF file of one of his sheets of his drawings.... Anyone out there with a set of 3 Tonner drawings we can scan... we nearly have a full set once we have them back!
We promise to pass them on to members at cost only!
On a totally different subject I heard last week that my insurance company have sold up and were transferring me to another company. As the renewal was so cocked up I queried it, they had me in Tollesbury creek still... they replied back today saying they had no record of my boat being in BRADFORD marina?!? Where? I got a small discount for being in Bradwell, so I know they knew... Seems the staff at The Southend company now have little boating knowledge... I am ringing around and have already found one big name company that will reduce my bill by over £100! WOW. I will let you know what transpires. They have also offered to pay for an advert in the 'what works' section!
My local paper here has just published a little snippet about wildlife on the Blackwater. It seems the bittern has made a comeback! So as well as the Egrets and the Avocets, we will now be able to listen out for the boom of the bitterns, without having to go to Norfolk!
And thinking of Avocets, Elizabeth has just sent in part 3 of her log! See the latest Newsletter.
With the snow forecast for the next few days and the temperature falling outside, time to plan those summer cruises and get out the charts for updating! Look on the 'What works' page for a link to the Admiralty for these vital updates....
All for now,
John
P.S.
Industry News
Last week saw a controversial news announcement that a rival boat show to the main industry show Excel would happen at Earls Court this December. For the last couple of years the marine industry has been divided over whether the move to Excel in the Docklands of London was the right move or not. With visitor attendance figures dropping each year a rival organisation to National Boat Shows launched exciting plans of a new show at Earls Court, headed by ex National Boats Shows chief Paul Streeter early last week.
More information about the new show is here.. http://www.earlscourtboatshow.com/
The team here at BoatsandOutboards are interested to hear what members of the public think about the possibility of a rival boat show. We have set up a user poll in our forums here http://forums.boatsandoutboards.co.uk/Topic336-16-1.aspx
And don't forget we are giving away a free BoatsandOutboards T-shirt for the best posts in the forum that we use in our monthly magazine - so get writing!!!!
Thought that might interest a few of you! Says what most of us said about Exel, a washout!
John
Sunday 4th February 2007.
Danbury was attended by 8 members, a few rang in with apologies, but a good night was enjoyed by those attending. the pub is changing hands and there is no food on for the end of February night, so an alternative venue nearby will be found.... Reminder that our Annual Meeting will be at the end of March or April, date and venue to be circulated...
*****************************************
I had this in from one of our members and thought it worthy of including...
Why include it? well we sail in the environment and I hope our grandchildren will continue to be able to, sadly with the climate now predicted to change far more in the next decades, I wonder if our government has the same concerns... I'm all for windmills me!
************************************************
To more light hearted stuff.
More people wanting CD's of our drawings and joining us as well. we have been applauded by many ant this weeks mails have brought in more, thanking us for the site, for our stance on owners groups and for passing on the plans to others at cost. Very pleased to be of assistance.
At the moment we are organising the scanning of all of Colin Faggetter's plans, to pass on at cost, plus a small fee to the designer.. we expect them to go for £15.00. I heard this week that someone, who should remain nameless, is still trying to sell plans of MG boats for hundreds of pounds.. I also heard he has not sold any... what a surprise...
The Steering group have been busy behind the scenes and mails have been flying all round the globe, regarding the scanning of these drawings of Colin's and also the need to increase our post box size to 100Mb, as we are getting so much mail! The improvements will come into effect later this year.
I have this moment had Chapter 3 of Avocet's ambling come in. They are now on the newsletter, just Chapter 4 to go, Brian's Solo venture! Click here to go to the 7th Newsletter.
Having spent a rare day tidying my garden, in balmy temperatures, I am reminded to say, ANTIFOULING! If you need any get in touch, similar offer to last year, see top of the page.
Regards,
John
Tuesday 30th January 2007.
Today I have a different sort of story to relate. It is in regards to my Seagull Outboard business....
Gold and Treasure!
I had an interesting phone call earlier in the month, from a researcher for a TV company. They were searching for a Robert Groves, and stumbled upon him on my SOS site. Robert was the artist who supplied British Seagull with many a fine drawing for their adverts....
His son was in touch with me re his fathers work some time back, and it was he they wanted to find. I was able to put them in touch, nothing to do with Seagulls though.
The story that un folded was instead one of treasure, gold, pirates and kings, of treasure maps and wills!
It seems Mr. Groves for many years had an old parchment framed on his wall. It related to a will of a pirate, one 'Eli Fleete'. It seems this pirate probably nicked the treasure, in gold, of bonny Prince Charlie! The will was found in a chest, a real pirates chest no less! It had also contained a map, and Mr Groves had written about this in a Scottish newspaper years ago, the 1930's. This is how the researcher tracked him down... Seems Mr Groves mounted an expedition to try and find the treasure, but the map led to a spot just off Ireland, where the land had been reclaimed by the sea, so the sea probably took the gold!
All will be the subject of a TV program, and when I find out more I will give the date of the program. In the meantime I have a couple of files sent me, a copy of the will and an explanation of sorts too... I reproduce them here. What Robert's son is after now is the whereabouts of that old framed will? Must be hanging on a pub wall somewhere!
All stirring stuff!
John SOS
I wonder if there is anyone out there in Eventide land who knows more of this story... you never know! different anyway!
The last few days have brought in as many mails as ever and a couple of new registrations, except they were not new, one was an update the other we cannot verify as his mail address was duff, so I have resorted to snail mail to contact him! Still nudging the 500 mark, not quite there yet!
I have had yet another request for a CD of drawings, which will be winging it's way to a registrant in New Zealand in the morning...
Still waiting for volunteers to host a meet in the SW or NW? Any takers, just chose a date and a place, we will send out the mails etc...
As it was a nice day today I went down to pat my boats bottom, started writing the jobs list... fortunately not too long a list.... If the weather stays as mild as this I will be varnishing soon!
Danbury, last Wednesday night of January, tomorrow, the 31st. the table is booked... heard form a few, hope to se a few more.
Sid of Riptide fame, called me yesterday, he had just spotted the article in 'Sailing today' by John Goode and Colin. I hope to see it shortly.. Sid tells me he is going back in for his eye operation in February and hopes to be out on the water, with his new vision, this spring.. Looking forward to it Sid!
Once again we have been able to put owners in touch with others, without breaking the Data Protection Act guidelines and I have also answered a couple of general queries re our boats.
Had a nice note back from Jonny in Hawaii, who promises to keep in touch as he restores the GH and sails off into the blue! Good on you!
All for now, see you at Danbury?
John
Friday 25th January 2007.
Burns Night....
We as a family had a Haggis dinner in memory of Barry last night.
Had some sad news in from the owner and re-builder of 'Neptune's Neried'. Iddy tells me she was badly damaged by another boat in the creek and now needs the topsides repairing... Hope it does not take any of the sailing season away Iddy, we were hoping to meet up with you and a few more of the Kent contingent in May/June!! thanks for the donation as well Iddy. More power to the elbow! Hope you are well insured!
Those that know me will probably know I do not get involved in politics.. I have dealt with so many I know how true that little adage is about how to tell when they are lying. (Their lips move!).
However this is a link to a government web site where you can add your name to an e-petition, against the further reduction of our naval forces... If you agree, take 3 minutes to sign up....
Every so often we, the people, have to let the government know that there is a point beyond which we will not let them pass. In 1908 it was "We want eight and will not wait" - a plea to build more dreadnoughts to counter the threat from Germany - just as well and just in time, too!

Last year the Government sold 8 more destroyers and frigates off to Chile, Romania and other foreign governments. Some of them are just over 10 years old. What is going on, you may ask? Who knows, but it is not well publicised and the Navy is in grave danger of being less able to cover it's commitments since the 1930's.

Believe it or not there has been a petition set up, through the Prime Minister's Office, to gauge the public concern on what is going on. If few people respond, then the Government will be able to say the public are not worried.

I would ask you to click on this link, or copy and paste it in to your address box at the top of the page and proceed to the web page to register your concern (Petition closes on the 5th April 2007). You will need to provide your name, email address and postal address and then confirm through an email they will send to you. (Heaven forbid that people might vote twice - it's not a postal vote in a General Election, after all).



http://petitions.pm.gov.uk/savethenavy/


I hope you will take time to register your concerns. The government are playing around with the security of the nation and the next generation. We are due to have two new aircraft carriers built and they are keen not to do it. We are an island nation. Our future will increasingly return to the sea as we realise that flying carrots in from California damages the ozone and is wildly risky as well as uneconomic.
If you believe that we need a strong Royal Navy, please add your name to the petition and send this e-mail to all your contacts.
I have added my name and if you are quick you will see it in the last 500 on the list. If we send this to enough sailing and boating friends, or concerned UK citizens, maybe there will be a change in heart. At the very least they can see whose votes they will never get!
Bit slow on replying to the new registrants this week, weddings and funerals... just to add to the trauma of settling dear old mum down in her new home... and clearing out her bungalow.. Not what anyone wants to have to do...
With the snow settling here for a few hours, then thawing and freezing, I hope you have those covers in place! F.G. cosy in her barn!
Paul Usher has volunteered to host a South Coast Meet in Portsmouth Harbour! We will work out the when and where's and get it posted on the 'Events' page ASAP! Well done Paul! any more takers for elsewhere? We have nearly 500 members all round the world, many in UK waters, the NW, SW, Scotland, etc, how about a few more regional meets, over a Bank Holiday maybe to extend the event ????
Jonny Blake has been in touch, Jonny was the chap who took the risk, flew to Hawaii and took on 'Zingara' the GH offered to anyone wo would sail her..... He is busy fitting her out at the moment and was asking about cleaning out old plastic water tanks... I suggested 'Puratabs' or 'Milton', anyone any other suggestions? I also suggested the use of a water filter, the carbon cartridge sort.... keep the taste sweet....
I have added a couple of boats for sale in the last week and added another to the gallery. Still they come to light!
Keep warm, See you at Danbury, 31st Jan!
John
Monday 22nd January 2007.
Well winter has arrived heralded by the storms of the last week! Hope you did not suffer any storm damage... Temperatures are at last near the seasonal norm and snow is forecast! Well it is supposed to be the most depressing day of the year today!
On the bright side we are still having more enquiries and registrants, I am in contact with more owners and prospective owners, and able to put more of them, in turn, in touch with others, than I was ever able to do in the old days.
We, as a group, the E.O.G., are now four years old! We now have four times as many registered as in the last days of the former association. This move has been the best thing to happen as far as the owners seem to be concerned. At least that's what they are telling us! Thankyou to all the hundreds who have supported us and still continue to send items in for the group.
As a result of contacts made at the boat show, we have a small stock of Ramsgate harbour guides that will be available at the Danbury Meet on Jan 31st. I hope by then to have others for Harwich!
West Resins, the best epoxy on the market some say, have given us kind permission to add their manual to our site, you will find it on the 'What Works' page. does it work? Well I think so. I would not even think about 'cheaper' alternatives, you only want to do this job once! We are working on West to see if we can get a discount deal....
At the moment I have lost my voice! A nasty little cold, or so I thought, has left me barely able to squeak, to if you call the mouse is me!
Time to check those winter covers, the coming snow will do more damage than enough if it gets in, thaws, then re freezes!
Wrap up warm,
John
Wednesday 17th January 2007.
passed the 75,000 hit mark!
Tuesday 16th January 2007.
Very pleased today to be able to send a free CD of the Senior plans to David in the West Midlands who is deputy head at a special school and who has acquired a Senior for the children to work on and hopefully sail. Nice to be able to support this sort of project!
The past week has brought more registrants, David was one, and another is the Eventide Chala and her new owner. the boat was owned for many years and built by Larry Coghill, who I was in frequent correspondence with. He wrote the section about casting lead keels on the hints and tips page...
I have been able to add a section to the for Sale Page. I had been asked to do this a while back and have eventually gotten round to it! We have two 'for Sale' pages now, one for boats, one for bits! I have added some items to the bits page and deleted a few from both that have sold....
I have also got permission from West Epoxy to not only link to their site, but to be able to use their user manual. It is on the What Works page as a downloadable pdf file, all 56 pages of it!
I have also added others to the What Works page... Have you have a good experience with a company or product, if so let us know and we can tell others.
John Stevens is still battling away with the Database, he is trying to make it simpler to update and use so the Steering Group can easily navigate it and it can be simply modified, trouble is with nearly 500 registrants and almost as many boats it is getting large and needs simplifying. Hopefully when Tim comes back from holiday and the database is ready, we can get the long awaited active map going!
All for now back to my Seagulls.
John
Thursday 11th January 2007.
Well I had a very interesting day at the London boat Show. Whilst I met so many good old friends and made so many new contacts for the group, (and my Seagulls), the show was otherwise very disappointing. Sadly the feeling of the old Earls Court is now lost.
We wandered round trying to find our way to all the interesting stands, but I still feel we must have missed some exhibitors, even with a good guide it was too easy to step off in the wrong direction as the halls are still somewhat bland and anonymous.
We found most of the people we wanted to see, and enjoyed the social side, but you had only to realise the sponsors were a city 'stock broking' type company and to see the huge plastic boats, draped with dolly birds (but with no punters), who seemed only trying to appeal to the City traders on large bonuses. Sad.
Most of the stand 'owners' I spoke to were also disappointed with the show. Brian shopped around and got the solar panel he needed and I met so many people my head was spinning, Brian began to wonder if there was anyone I did not know! I even bumped into a former police colleague, I never even realise who it was at first, as I approached him, he was in full uniform with one of those new baseball caps. I loudly remarked they were not a patch on the helmet or cap. He turned and said 'Hello John, Still got Fiddler's Green!' It was one of my trainees of yesteryear, now left Thames and got promotion, small world indeed! Brian jaw nearly dropped through the floor.
Look out for the 'Sailing Today' article on bilge-keelers, John Goode told me he had added a few pages to it! John and I met many years ago on a Yachtmaster Instructors forum. Good man, with sound practical advice! Sailing Today and Classic Boat were the only 2 magazines that seemed to actually have editorial staff there, all the rest had 'dolly birds' trying to sell subscriptions.. Oh Dear.
Back home, with the 50 mph winds whistling round the cottage today, it was no surprise to lose the computer, when the power went off and on all day. I have just caught up with the e-mails and updates.
Added a new firm to the 'What Works' page and there will be another batch to go on as a result of all the contacts renewed at the Show!
I have added a load of pics to Veterata's pages, sent off another Burgee and answered another CD query and a new registrant. Busy old day!
John
Tuesday January 9th 2007.
Well the mail has been coming in thick and fast. I have heard from our webmaster, he is camping on a beach somewhere in Australia and can still send me Emails! clever!
More registrants, more enquiries re CD's of drawings and lots more pics. Veterata pics! I will be adding these soon to the Restorers page!
Had a nice thankyou note back from Neil Beaumont who won the prize for the best article in the last Newsletter, says he misses all the string on the MG he sold! now sails a fast cat.... still hankers after the classics I guess.
I have been invited to do a 'Pod-cast'??!? be interesting to see how that turns out, others include Chay Bligh and leading lights in all sorts of areas of boating, can't imagine how they came to want to interview me... Will be on Furledsails.com in the near future I guess, unless it ends up on the cutting room floor!
This dropped in the mailbox today, thought some one might find it interesting, if they are feeling flush this soon after Christmas!
Dear John

I believe that the following items are in your area of interest.

Please note prices do not include postage and packing.
If you would like to order using credit/debit card, please click on this link: https://www.stellasecure.com/prod/secure_order_form/index.php


Stock Number: 990365 40.00 GB pounds
Author: Griffiths, Maurice
Illustrator: Ill. by Griffiths, Maurice
LITTLE SHIPS AND SHOAL WATERS
Published by: Peter Davies
Edition: 1st 1937
Book condition: Very Good
No dust-wrapper
Brown cloth, gilt titles. Designing, Building and Sailing Shoal
Draught Cruising Yachts, With a Cruise or Two in Blue and Sandy
Waters. B/w frontis by the author. B/w scale diagrams and photos.
Book: Inscription in ink to front endpaper.

Kind Regards

Rosemary Hanley

Stella Books
Monmouth Road
Tintern
Monmouthshire
NP16 6SE
United Kingdom
Tel: 44(0)1291-689755
Fax: 44(0)1291-689998

Our Fund Manager has just given me a ticket for the Boat Show, so I am off to the 'smoke' to have a look at the exhibits and meet old friends! Will drop in on all our Yachting Press pals. Might even get to see a preview of our article in 'Sailing Today'
That's enough for now, back to the Seagulls!
John
Thursday 4th January 2007.
Text of mail in today from Peter Poland of Sailing Today. I have send loads of pics and info abnout our boats for them....
Many thanks for the assistance you have given over this article.
It will appear in the March 2007 issue of Sailing Today (out in February). The Eventide features in the text, a nice drawing and a couple of photos.
I hope your members will find it interesting.
Thanks again,
Peter
I have had more mail in today, more boats discovered by John Stevens and see the forum is getting more entries on it too...
All for now,
John.
P.S.
I have also had pics of the GH 31 'Cricket' from Brian in Malta.

If you fancy a break in Malta sailing her, Brian is offering her to members... terms to be arranged. Contact Brian on
barrakka2003 at yahoo.com
With cheaper flights to Malta now Ryan Air are going there it could be a nice holiday....
John
Wednesday 3rd January 2007.
Already more registrants and just posted 2 CD's and another one to do tonight. I have added a load of pics to the boat restorers section, 'West Water', there is a boat that has been transformed! I have some more to add to 'John Humby' soon as well.
Decided not to bother with the Boat show this year, has got all a bit 'samey'. I'll save my pennies and use them to buy the few bits and bobs I need locally!
Have just got the new prices in for the antifouling! Yes the price has gone up, but as the company is offering me a larger discount now I can pass this on to you. A 2.5 litre can of the popular 'Workboat Red' will set you back £50.00 this year instead of £45.00 last. As the retail is now over £100, I think you will agree we are getting a bargain. I can only sell to members at that rate, and there will still be a very small cut going to the EOG!
All the colours as last year, I will update the link in a moment.
See thoughts of fitting out already, just 3 days into the new year!
wishing for blue skies,
John
Monday January 1st 2007.
A very Happy and healthy New year to all our readers and members!
Who would have thought that 4 years after forming we would have very nearly 500 registered members! over 7,000 visits to last years stop-press pages alone. the support and assistance the group has had is heart warming, long may it continue. We look forward to an active and friendly sailing season, see you on the river,
John