Thursday 22nd December 2005

The days are getting longer again!

A quick note afore I go! Yes the Equinox has passed and my Yule fire is still smouldering in the garden! Too chilly for any naked dancing! The days are getting longer and we have had our first three requests for the calendar of events for 2006! Promise to sort out all the dates on our return from sunny, we hope, Gozo!

We have received more mail and pics, this time an Eventide to add to the gallery. Advice sought and hopefully given re weatherhelm etc...

Tim the webmaster is working away in the background to remove any last gremlins lurking on the site after the notorious upgrade.... Thanks Tim.

Thanks to all those who have sent or e-mailed in information, pictures and the like over the past year, the group is still expanding and is as active as ever, if not more so.

We look forward to the Annual Meeting in February, anyone with comments, ideas or suggestions, please send them in, but remember to vote on anything you have to be registered for a year! (Sorry but after our dealings with some, that safeguard was deemed necessary!)

We are still searching for old sets of plans, the Wild Duck and the 3 Tonner plans are now needed, if we can borrow a set for a week or two it would be great.

I actually went to my boat yesterday, to measure up for a new handrail I want to fit... she is ashore in a local farmer's barn, dry as a bone and sweet inside, best place for her. I noted that really she needed very little work to sort her out again. Epoxy and two pack paint, wonderful stuff. I am trying to recall the last time I actually painted any of the boat... It has to be at least 4 years for the green stripe, and the cream round the cockpit, 16 years for the cabin top and 8 or 9 for the cream hull Now it has to be worth using these modern paints! Just don't linger over the price tickets......

Looking forward to 2006,

all the best to all

John

Monday 19th December 2005

Well the post bag has been so busy we have had to increase it's size to 20Mb! That tells you something!

I have had some great info in from our Steel Riptide builder, a complete, 'How to Do it' from lofting on! We look forward to more instalments as the build progresses.

There have been additions to other pages too, another Senior for Sale and more boats added to the Eventide, and Senior pages of the Gallery. the GH pics have also been amended... We have had another new page added to the Builders and restorers section, for the Eventide 'Celtic Lass'. that is now three new pages in a very short time! You can see we are up to 16 restorers or builders now!

Our new Webmaster Tim has been busy I see removing more 'Java Script' pages that we had missed.... Yes we are aware there are a few others, if you see them let us know where they are, as the site has become so vast, thanks to you, that some of these pages might have been over looked!

Heard from the chap who bought the Eventide on E-Bay, Michael, he is collecting bits and getting his head round the build of the boat, we have been able to supply him with a set of very early Eventide plans he can refer to! If anyone else needs Eventide plans, old or the later '73 edition, we have them to give away, just a small donation for post please. Same goes for the Riptide and the Senior. They are on CD!

John Stevens is still tracking down boats on the net, some of whom we know, others we sometimes can mail, many join! The Database numbers are still rising! We look forward to the day when John and Tim can get some of the info on the website map pages...

As Darian and myself are away at the end of the week for some belated summer sunshine, I might only get this chance to say this,

A very 'Peaceful Yule' to all our readers!

Back in the new year!!

John

Wednesday 14th December 2005

Thought I would just say well done to Rachel, who has converted the Riptide for steel construction... I have started a new page for her on the Builders section, see 'Steel Riptide'. Rachel will share her steel conversion plans with us later.

Have had more pics in on the MG pages and so much so that I have had to double to size of the mailbox to cope! thanks for all the pics and info. Have you noticed how the pictures totals are rising, there are now over 250 of our boats on the site and we are creeping towards the 1000 pictures of them!

Note the hit counter too, over 50,000 and rising fast! The more the merrier.

I have added a letter to the 'Cirra' page of the builders section too! From an ex owner who was moved to write in... thankyou, good advice.

I had a another nice letter in re the Ferro Eventide plans, hope to pick them up in the not too distant future.

Heard from another member who is fitting a holding tank this winter, see the hints and tips page, it was not too difficult... Should be nicer swimming round our boats next summer!

John

Monday 12th December 2005

Well over the weekend I collected a van full of batteries from a friend of dear old Barry to pass on to other Eventiders... As I thought, they were all sold before I loaded them into the van! They were advertised on the site for a few months, sorry all now taken. I have also recycled a Senior mast and sail, I hope.

I was thinking the other day that we were getting rather good at this boat recycling, but that in itself is an indication that quite a few of our boats are disappearing. Being a little attached to my wooden boat, I am going to have to train the next generation to look after my baby!

I heard a disquieting story the other day about a man who bought one of our designs as a wreck and then tried to sell it on for thousands of pounds... unrepaired! I heard an even more annoying rumour that he had done this before but the boat that time had mysteriously been destroyed by a fire and a large insurance claim had been made on what everyone said had been a wreck....

Being a former police officer and a marine one at that, I am waiting for one of my colleagues to call me if this character tries this with one of our boats... to give evidence on the condition I found that Eventide to be in, before it sold from our pages, .. If anyone out there hears of a 'large' Eventide for sale at any price, I would like to know. So would my colleagues in the Essex Marine Police. I take it as personal, when one of 'our' boats is used in a scam.

On a happier note I have just been promised the complete set of Ferro concrete Eventide Plans. The latest Registrant built one and still has all the drawings. We will have them digitally scanned and made available, FREE, to all as the other plans we have. Need a page from the Eventide, Riptide or Senior to finish a project off? Just mail and ask, we can send them!

Another registrant this weekend is Senior that has never come to light before, yet another one, welcome.

Hope you like the silly bouncing Snowmen! If you have found a good seasonal greeting pic or cartoon, send it in, we might add it! It will only be on till 12th night, honest. I will remove my Pagan one on my return from sunnier climes after Christmas. And yes I will be lighting my bonfire to mark the winter solstice, but no, I will not be dancing naked round it, would scare the pheasants!

Keep warm, and to those in warmer climes, good sailing!

John

It's that time of year again!
Friday 9th December 2005
The Annual Meeting.
The notice for the date of the above meeting, Wednesday February 22nd 8pm
at the Bell P.H. Main Road, Danbury, Essex.
'Notice of every AM and its agenda shall be displayed on the website for not less than 28 days prior to the meeting. ( except the first meeting.) The notice shall invite nominations for the steering group from any owner who has been registered for at least a year prior to the AM. Nominees must also be registered for 1 year. Nominations should be to the web site manager at least 7 days before any meeting.'
Above is an extract from the 'Constitution' Please have a read regarding who is entitled to vote etc...
Send nominations to the normal mail address.
mailto:enquiries@eventides.org.uk
John Williams,
Web site Coordinator,
Eventide Owners Group.

Thursday 8th December 2005
Well nearly a week has passed since I updated this page. I have updated a few others though! The for sale page has had a few alterations and the postbag has been bulging with general enquiries... I have just answered a couple of queries on the Forum too. I hope people are not being put off by having to enter a password every time, but it has stopped the nasties! We have had three more add their names to the forum, many and varied!
We are getting more registrations, poor John Stevens asked me to send him the mail relating to the last 3 month entries on the database... We have sent in a St. Bernard to see if we can trace him under the avalanche of mail I sent.... I don't think he appreciated how many I got, and this was only a fraction of it! As he had to print it out I'm off to plant another tree somewhere to make up for all the paper! Sorry John.
Tim the new webmaster has come up with e-mail addresses for all the advisors and the steering group.. Apart from register or registry at Eventides, I think John is going for SG1 as well, for the Steering Group. ( anyone else hooked on Stargate!?) Darian would have that one if she could!! We will add the mail addresses to a new page off of the official bit!
I hope I have put two sets of two members in touch with one another to their mutual benefit, parts for sale and wanted! That's before it hit the webpages!
I have tried to trace several boats for ex owners and friends, I have managed to put one or two in touch, that's always nice...
I go to pick up a load of new lead acid batteries Saturday, I think they are sold before I pick them up!
Doug and Jo send their regards from Singapore way, bet it's warmer there Doug!
I spoke to a Medusa owner yesterday, a 25ft GRP version of the Eventide. He might place an advert with us. A restoration project for £3,500! Another restoration project is the Eventide 26 for sale on the site. someone has offered £50 for it, but the owner would rather burn it... shame as it is a new build, double diagonal hull..... No fittings or fittings, but if the hull is well done there are three wrecks I know of for sale that could supply most of the bits you might need... anyone fancy a 3 year project, lots of work but a very rewarding project.... see the For Sale page, she is in the Manchester area.... Make the man a sensible offer, add a '0' maybe, it has to be worth it!
Have a look at the GH page, there is a new one on there, a cracker!
I have had more requests to see copies of our boat plans recently and we have only been too willing to oblige. Has anyone a set of Wild Duck plans we can have a look at?
I'm pleased to say our Kylix king, Richard has come up trumps for Y.M. I think we could get another mention in despatches....
all for now, back to the day job!
John
Friday 2nd December 2005
The pictures keep coming in! New 3Tonner pics, and Buchanon pics. A friend of mine from way back, with a beautiful craft, reveals that this too is a Buchanon, 'Floray'. Pics to follow, courtesy of John Stevens.
I have had Y.M. and Classic Boat mail me in the past few days. Y.M. are very interested! So impressed with the website and our ideals. The man from C.B. wants to buy one he has found on our site. I see an article coming up.
The website is now over 450Mb, that's big! It takes forever to download and save, which I did last night... just in case! I do it every month. Tim our new Webmaster is going to look at the pages where we have realised there is still 'Java script' ... There are so many pages that we missed them!
I keep hearing of very sad neglected Eventides and others that are really too far gone... the best they can be is donor boats for gear, ali masts, sails etc. It is inevitable that some will go this way, but maybe if a few are tracked down and we had somewhere to safely dismantle them and burn the remains, more would stay in the fold, to keep others in the group going. It is always sad when the yard scraps them, as they rarely save the bits we might need, bilge keels, ballast etc...
I have put the date of the next Danbury meet on the page, 2006! Where has the year gone?
Listening to the radio and reading the papers, I hear news I have long foretold, and have been dreading. the Labrador current, part of the heat cycle of the Atlantic has slowed and there is a great danger of it failing.... so what I hear you say, but what goes up must come down, and in the case of ocean currents there is always a flow back.. this 'flow' is our saviour, the 'Gulf stream'.. It gives us mild winters and a good climate. without it, and I am pretty sure we could well be without it, we will have winters the like of Newfoundland, who's latitude we share. What price now a windmill or 3 on the horizon, all those 4x4s guzzling fuel.... We have heard the warnings and I have heard so many here telling me it's all propaganda and they do not need to reduce, recycle or conserve.... Will bring the pains on if we have to lay on permafrost to antifoul.... Brrrr turn the heating up!
So on that cheerful note, lets do some planning for next year, after all it will not happen over night will it, lets leave our grandchildren to sort out our mess..... We have a weekend early in the spring on the Blackwater, the Southend Air show with a small cruise up the Medway, to meet several of our members there. A Dutch Trip! A Walton on Naze Trip and a return invite to West Mersea. If you have an idea for meets elsewhere, please give us a location and a date, we will advertise it and if one other boat turns up, you have a meet!
We also might have a working boat restorers meet or two. Brian and co organised one or two last spring, giving a much needed hand to others... We might try the same again.. They supply the brushes and the paint, we turn up in overalls to lend a hand. Great fun. Good incentive too.
All for now, off to catch the post, will add another GH to the gallery later!
Keep warm,
John
Monday 28th November 2005
Hello All,
just back from a long Weekend away, dodging snow showers!
The GH Cirra is in Buckinghamshire, Saved! I have started a page on the Builders page for her! Whilst on there I noticed the buttons were acting up. I see now they are 'Java script', so some of you may not have been able to get that page working... This will have to be rectified. I will speak to our new webmaster, Tim Gibson.... Isn't it great having a webmaster on the other side of the world!
The mailbox was jammed full again, please forgive a slight delay whilst I get back to you all....
Just before I left on Thursday I managed to edit the following pages, Home Page, Stop Press, For Sale Page, Owners groups, News 5-6, ( latest Scran Bag!) Builder 12, builder 3, Gallery, WW, eventide, Senior GH and MG page, what works and Featured boat- 'Filandera'. Have a few more entries to go. thanks to all of you who have troubled to send in info, that's what sets us apart!
Hope to see a few of you on Wednesday night, I'm told the threat of snow will have gone! Let me know if you are coming along if you can, as I can tell them more in advance, but if you cannot, no worry, it's a pub, just turn up! We tend to all try to sit together for a meal, but just join us for a pint and a chat! 01621 778859
Back soon,
John
Thursday 24th November 2005
Back again, good to be able to get back on the site just by touching the button! Had this in a little while ago from Iddy who is restoring 'Neptune's Neried'
'Our friend has brought an eventide 26,her name is 'Calamante', built in Plymouth 1964 by Hartwells, I will have to take a photo.. Also we had SEA BREEZE on the hard at Ramsgate harbour , having a makeover. kind regards Iddy'.
I learn there are more Eventides about too, so many are coming forward, now the Register with us page is working again, I hope to hear from even more.
The owners of 'Lorelei' and Kandy have just joined us and this week I have heard from the ex owner of Eventide 'Perfect Pitch' ex 'Patricia' and also later the Golden Hind 'Lady Louise' The new owner of the GH is a member too. Chris has sent a very useful article for the Hints page. To be added soon. He also converted the GH to Junk, very successfully!
John Stevens, the creator of the new Database now has the reigns of that. This frees me up to catch up on all the post that needs placing on the site! thanks John.
Thanks indeed to Tim Gibson. He will become the new Webmaster, to be confirmed at the A.M. in February. I cannot express deeply enough the relief this has afforded! Well done Tim.
To finish off, I thought I would add this from our man in Holland Chris: Just click to enlarge.

It tickled me!
Here's another, as a result of the Trafalgar Day invite.
So,
"England expects everyone to sail to Essex."
Thank you for the invite but:
"I must down to the mud again, the lonely mud and the slime
To check my blocks and fix the slings , cos Wednesday's crane-out time"
Yours
Pete Smart
Grayvella. Aberystwyth
Here is another one that I felt you might like to read:
Hi John
Pleased to hear you had a good time at the meet, and the weather was kind for the weekend.
I have been away in the North sea for the past two weeks, watching 10m seas crashing about, glad I was on a drilling rig and not out there in MJ!!
Have ordered Briony down to the moorings a few times to check on the boat after seeing weather reports forecasting 90kn gusts for the Hebrides, but she has stayed put on her mooring and come to no harm (Molly Jade, not Briony!!) The only casualty has been the dingy which was pulled up ashore and blew away onto the rocks.
We have a week of settled (but cold) weather forecast, so I think a final outing is in order for the weekend before we haul out next week and start work.
The keel on MJ is hollow, have not taken accurate measurements to work out the thickness of plate, but all the ballast is removable at the moment. She is carrying 720lbs plus the engine. I am planning to add as much more steel as I can get in (probably around 300 lbs) and then cement it in place which should add another couple of hundred pounds. Current displacement is around 3 1/2 tons.
I will see how she behaves next year and if I feel she needs more ballast I will have to weld 1" plate to the bottom of the keel.
Now we are at the end of our first season, I would like to thank you for all the help and advice you have given us over the year. It has been really well appreciated and welcome. I am very glad we joined up with the Eventiders, although we have yet to actually meet anyone I feel we have made some new friends.
I am proud of our wee boat, I like the fact that she is 40 years old and a bit quirky in some peoples eyes. I am proud of what we have achieved in learning to sail (a bit). I am looking forward to next season already, now that we can actually sail the boat, we might be able to actually get somewhere.
What do you think the chances are of a Scottish meet in the future? Also, if anyone is planning a Hebridian cruise next year, it would be fun to meet up with and sail with another Eventide. Please feel free to pass on our e-mail to anyone who might be interested.
Once again, thanks for everything.
Cheers
Justin
Now isn't that nice!
Regards to all,
John
Monday 21st November 2005.
Well I have managed to get on this page again, but not the home page or the for sale page... Sorry to all the many dozens of you who have sent amendments or entries, I will place them on ASAP.
Today I sent the ultimatum, to our service provider. 1 week or we ask for our money back!
I have also taken up Tim Gibson's kind offer of help. I hope he may well become the new Webmaster... He is having a look at the site....... Tim and Kylie own the WW Jo Jo in Australia. See the WW page of the gallery...
I am away for a few days as of Thursday, good luck to John Stevens and Mike Hoban, transporting the GH 'Cirra' back home, I was hoping to be there, but one must obey.... Off to visit Darian's sister! There is a story behind that, that I might tell again soon, some close friends will know. It is very touching!
The mail does not slow up, congrats to Simon the new owner of Tarka. I knew just what he meant when he looked at her and thought she just 'looked right', said the same thing myself when I clapped eyes on old Bluenose.
Keep warm and plan a meet for us, lots of room on the calendar at the moment....
Regards,
John
Friday 18th November 2005.
After days where I have been unable to get on any page of our site, tonight I find I can partially access this page. We have resolved to close this site and move to a new service provider, unless a miracle happens and the full editing ability is restored in the next few days. We will be claiming our money back if this happens. Sadly I have not even been able to save the site as my editor is blocked. I have tried accessing from several locations, even from our late webmasters machine, to no avail. I am so determined that Barry's work will continue. We have a volunteer in Australia who has offered to look over the site. A WW owner, Tim. Thanks Tim, I expect I will be back in touch soon!
Fortunately I have a version saved from September. I have logged all the pages I have managed to gain access to and change since then, and saved what I can of the changes by the old copy and paste method... laborious but sadly essential. I have over 60 mails to add or alter items on the For Sale page alone! Pictures and articles from owners all round the world... most will have to be reloaded or they are saved because I cannot access the page they need to go on... And this was sold as an upgrade!
On a brighter note Fiddler's Green is safely ashore, in a friendly farmer's barn, washed down and checked over, all the kit in the dry warm shed for the winter too. I have already started checking out the fittings and the ropes will all go through the washing machine tomorrow.
John Stevens and Mike Hoban are up to their necks in the salvage of a very worthy GH from Bristol. With a lot of TLC I hope to have pics of her sailing the Blackwater in the foreseeable future! Pics on the GH page. Hopefully she will have a page of her own in the restorers section, when I can get in to make one!!
With a hard frost over the past couple of nights, thought turns to the diary for next season, sailing dates and venues. Mike Wolf rang tonight with a good location for a meal next year, over the West Mersea weekend, plus the added attraction of B&B for those wishing to come for a sail on the Sunday, Capital idea!
My Woodland project I am heading in our village got a very pleasant boost from an Eventide owner today, instead of accepting a payment for a service to the EOG, he has donated £20 to TWIG, the Tillingham Woodland Interest Group, for children to plant more trees! I am rather over whelmed by his generosity, Thanks Mike!
I am pleased that we have digital copies of some of our plans now, so instead of lending you a sheet, we can send it by e-mail, very clever. We are collecting all the sheets, so if there are any of you with sets still, that we can digitise and send back to you, please get in touch. I will see if you have any we do not have.... We hope very soon to have a full set and are sending them all over the world, for free! This has already been a great help to Riptide, Eventide and Senior restorers/builders. Contact us if you need a copy of a sheet.
As always now my e-mail and phone line has been red hot with messages of support and thanks for the website. A very nice mail from the Isle of Skye and the crew of 'Molly Jade'. If anyone fancies cruising the West Coast of Scotland, be in touch, we have a resident sailor there. See the latest Newsletter for their great log!
Hopefully we will be able to salvage the website intact and as the cold dark nights draw in, comfort yourselves that the EOG, with well over 320 registrants and many of them very active, we will have plenty of new material to see on the website, once I can get it on there!
Looking forward to 2006!
John
Saturday 12th November 2005.
50,000 hits!!
It has taken less than 3 years, for what is a rather specialised website, to reach this number if openings! It would appear we are reasonably popular!
We would be even better if I could get onto the site to update the pages that need it, especially the For Sale page. I have been informed they are on the case, but so far I have not seen any progress.... I will be writing to them again later!
We haul out this week, the sun is out and the wind has relented, time to get the sails off!
Hope to meet up with a few of you at Danbury on the 30th,
Regards,
John
Friday 11th November 2005.
Well I thought it had all been sorted. The registration page, Feedback and Advice page are working, as is the search facility, we have had more registrants..... however I have over 60 E-mails on my desk requesting additions, changes or deletions from the 'For Sale' page, I give you three guesses which is the ONLY page on the site I cannot Edit!!
Easyspace say they are on the case, but I really do not think they have a clue! If the site is not 100% in a very short while we may have to take drastic measures. It cannot be allowed to continue as it is.
Yesterday I spent a long and frustrating day trying to recover a 28ft GH from Bristol. John the new owner had taken my trailer down the day before and we were to tow his new boat home. he had done all the right things, emptied it all out, prepared it for the tow etc. But the yard let him down by giving the wrong measurements. It simply would not fit the trailer.
They also tried to tell him his stripped bare 28ft boat was nearly 6 ton in weight! I know my 27' 3" version is 3.5 tons fully laden with cruising kit. A GH 31 is 5.5 ton in the same order, a 26 ft GH is 4 ton, the latest one, with the heavy keel, so there is no way a 1965 Hartwell's built boat, with none of the frames and extras that mine has, is anywhere near 6 tons. Sure she looked big, but all boats do out of water, never mind, she now will be transported back to Essex by lorry. I would love to get her on a weigh bridge...
Anyone got the write up on a GH 28 to hand, with the displacement?
We have had an odd entry on the Forum. I have been alerted by one of the Moderators, Chris. So now all who look at it will have to be registered to leave a comment and maybe even read it... Sorry but we know there are nasty people out there, we have met them.. We have to protect our site. Sorry if that means you have to log in to read it, but it is well worth protecting!
Enough for now, got to catch up on the work from yesterday, have just spent the morning collecting acorns with the playgroup, great fun, but really have to get back to real work!
Regards to all,
John
Monday 7th November 2005.
Well this afternoon the 'Editing' mode appears to be back!
For some reason, instead of using the edition of the site I supplied, from the end of September, they have reloaded another version, from the end of August.... So if you added anything, or sent in an article that has mysteriously disappeared, like all that stuff in the latest 'Scran bag' did, please tell me and I will try and find it and re submit it!
We have had another 3 registrants over the weekend, welcome to you, I will get round to writing to all of you in the next day or so!
I will hopefully get round to updating the database too, before I pass it back to John Stevens, the creator, who will be running it from now on... Tim in Australia has offered to assist with elements of the site, many, many thanks Tim, hopefully he and John will get the 'Where are all the owners' page up and running, probably behind a password system! All clever stuff!
John Stevens and a few helpers are going to be busy salvaging his new acquisition, a 28ft G.H. Hope it is dry on Thursday! Then I set to to recover F.G., busy busy!
Well Enough for now, I'm off to the dentist!
regards to all,
John
Friday 5th November 2005.
Seems I spoke too soon! Although the search facility, along with all the pages that one can submit, are all working correctly, I am having trouble getting onto pages to edit them.... Hello, this is where all the fun began all those months ago with my other site.... (SOS). I suppose we will just have to wait till next week to get a response again... Hey Ho.
Have started unloading F.G, prior to hauling out. All those tins of food unused! she floats a lot higher now!
One little thing I have to report, I purchased a Solar Panel, joint birthday pressie from the family. I rigged it up two weeks ago, Nice to go on board yesterday and find the batteries with more in them than when I left her! If it works so well in the autumn, in the rain etc, I think I shall be pleased with it in the summer! I have padlocked it to my sprayhood. With the boom hauled to one side it is not at all shaded and faces south. Marina berth! When I lower the sprayhood it lays flat on the cabin top, still chained down, but the forward edges secured still with shock cord. It does not get in the way at all so far. As it is a flexible one, it drapes down the starboard side between the cabin windows, quite happily with the hood down. I will add couple of tiny hooks to the cabin side to secure it. Pleased with it thus far!
Will be back to adding items and editing etc, If you have lost an advert, sorry, send it in again and I will place it back on, not my doing, the service provider....
Mind out for the Fireworks tonight, no flares of course, unless a very long way from the coast!!
Regards,
John
Thursday 3rd November 2005.
Well we have the site back. As of today I am going to start clearing my desk and all the folders in my E-mail inbox! I have a bundle of stuff. It is going to take a while, so browse about and you will find new entries all over the place!
Gales rattling the tiles today, was down at the Marina yesterday to check warps and covers on another members boat. Got to speak to one of the old eoa, Rodney the friendly vice president. Seems he and some of the others had little real knowledge of the situation 3 years ago within the eoa, it was kept secret from them! I tried to open his eyes. I was told that many of those who caused all the trouble have faded away... what a surprise. I suggested an apology to the members who were so rudely treated, and to myself and Barry's widow, might be in order. Only then we can talk of a reunion... It was not dismissed out of hand. We will see.
We are off to help salvage a GH next week, hope the weather is better than today!
All for now, I will be in serious Editing mode tonight!
Regards to all,
John
Friday 28th October 2005.
I forgot to mention that we are grandparents again, Darian's daughter had a boy, on Trafalgar Day, but I do not think his middle name will be Horatio!
After the hottest 27th October on record today, 21 Centigrade, it's pouring again! Well it's Britain! Good news is the website is being fixed! The Membership registration page now works again and the only page outstanding, last I looked, was the search facility. I am not sure how many actually use that, so if we cannot get it fixed we will ditch it for the time being!
I have now a HUGE pile of correspondence to add to the site, loads of pics updates etc. when I am certain, next week I hope, that all is OK, I will save the site before embarking on a monster session of updates, then save it again! Thankyou to all for your patience, it has been a trying time. Oh how I miss Barry! I often think he is behind me as I struggle to learn new elements, probably having a giggle at my angst! Talking of Barry, I have been sent a few more pics from his childhood days in Scotland, Glasgow.... Every time I contact Easyspace I hear his voice! they are based in Glasgow!
All for now
Regards to all,
John
Monday 24th October 2005.
Well Trafalgar night seems to have gone down well, though I must learn the tunes for some of the songs! Today through the post dropped a Shanty Song book! From a Seagull customer from Sheringham, one of the Sheringham Shanty-men!
After a great night in the bar with 19 or more owners and a friend, present, we went on to have a superb couple of days on the river, tying the 'figure of eight' as I promised, round Northey and Osea, meeting up with 2 Seniors, an Eventide, a Riptide and a Vulcan!
I really cannot believe the weather! Log to follow!
Again I have been promised that these pages will be fully functional this week.... I know they are working on it....
I have even been sent a different version of the site by one of the registered owners. A slightly different version that Tim is working on.... interesting. Tim is in contact re the problems we have had and may be helping with the site in the future. John Stevens is also studying FrontPage soon to sort out another element. John is also to become our database king of course! That's if he can find the time, with 2 Seniors and a GH to his name now!
My postbag is literally overflowing, I have a host of mail with pics, logs, articles and items for sale. Hopefully by the end of the week I will get them onto the site, assuming EasySpace have sorted out their mess!
I have also saved these pages to re enter if they are lost during the reloading....
All for now,
John
Thursday 20th October 2005.
Well the web space firm 'EasySpace' in Scotland, have started looking at websites. They have started with my business one, (SOS) to try and correct the errors on there, sadly they have not got off to a good start, as they reloaded it OK, but promptly the guest pages on that site went awry!! I do hope this is not the way of the future, for if it is I will transfer our site (and mine) elsewhere. I have them backed up on disc of course!
Tomorrow is TRAFALGAR DAY Sadly I have no clue how many will be coming along.... I have heard from several who have said they cannot now make it, including some that normally come to Danbury... Also heard from the rep from the other group, they have cried off too. I hope the fact that it is a few miles further on is not putting you off.. Nelson sailed thousands in our name! We shall see. Perhaps it was the suggestion that the song sheets might come out!!!
The sun is out and the wind is dying down a bit, so maybe a sail might still be on at the weekend.....
I have had so much post in the past 3 weeks it is going to take a month to put it all on the site when the site is reloaded! No point doing it before hand, as it would be lost, together with these comments...... Lots of new for sales, letters, photos and articles. Many new registrants, who are contacting me direct, as the registration page is not working...... I will have to tot up members, we must be nearly at 325 by now! And still more boats coming out of the woodwork. I hope 'Tarka', for sale on the pages, will have changed hands in a week or so, the new owner is on board already!
All for now, remember these latest entries on these pages will disappear when the site is reloaded.
Regards to all, hope to see a few of you at Bradwell.
John
Saturday 14th October 2005
Another entry that will be lost when they repair the site. However too long has past without a comment so I will place this here in the knowledge that it will disappear shortly.
I have told our web service hosts that we have decided to seek alternative hosting, if the site is not restored in the next few days. Magically, I have a mail stating they will do it Monday, if not, we will find another host. It seems there are a lot of firms out there willing to take our business.
I had an interesting conversation with a very long time friend the other day, It seems the old eoa would like to get together with us!?! Well it was only a matter of time. I said that if we received an apology from those involved with the affair, including the death threat made to myself and the late Barry Sturrock, I was sure we could take them on board.
A matter for the steering group to decide though, not me. It would have to be on our terms and they would have to accept our constitution. At least the plans would come back. We shall see.
However, it has become apparent that the plans were now out of copyright and should be public property. Very few are building, (having said that, I can name several! ). But the plans are much used by restorers. If you would like to see a copy of a sheet, ask us, we have copies!
Recently I was made aware of an advert for Galliard, sold from our pages in July for less, far less, than £3,000. In the new advert she was up for sale at £18,000, yes Eighteen! As I surveyed her and know just how rotten she had become, I thought this a real scam. In reality 8k would be over the top! The seller has now admitted the price was not realistic and claims he did not advertise her. He also claims to have had a team of his employees working on her, repairing all the rot and refitting her with all the latest fittings. He also claims she was not rotten! What, I put my hand through her!
If you see a 30ft Eventide for sale in Essex, look very closely at her!!
On a brighter note I have had a CD of pics from Michael Wolf, some more from Rachael, a promise of an update for the table of offsets on the Riptide from Rachael Moore, (another Rachael) I have had messages from several new Eventide owners, an ex eoa man, WW and MG barbican owners, and have not yet counted the mails and new members! We seem to grow like a rolling snowball!
Happy days, even got out for a sail yesterday and received a very cheery wave from Rodney Leaper, the nice Vice President of the other lot! (Those who attended will recall he was the one who somewhat distanced himself from the others.) He now sails a MG Barbican, the centre plate version... see the MG page of the gallery.
Enough for now, fogs lifting, time to get out the push bike and exercise my back!
Regards to all,
John
Saturday 8th October 2005
Quick entry today.... This will be lost when the site is reloaded this week, so no point putting much on this entry!! Suffice to say have had another great sail yesterday. Well more of a drift really, but good to be out again. hope weather holds for Trafalgar weekend!
See you at Bradwell on The Friday night, 21st, Trafalgar !!!
Lots of mail, saving it for next time!
John
Sadly we have lost some entries here due to site being wiped and reloaded....... JW.
Sunday 28th August 2005
Last night I attended W.M.Y.C. and met the crews of three boats that turned out for the meet, a fourth was on way, to arrive today. We were welcomed by the club and not only did we enjoy a pleasant evening on the lawn, but a great meal as well! I was very pleased to say all the crews had an excellent sail, for some the longest yet, all the way round the estuary in ideal conditions. Not only that but a perfect night in the creek and a very sunny and gentle breeze for the Sunday. Instead of going elsewhere, it was decided to go out for a sail maybe, but return to the moorings laid on for us for Sunday night as well, spending some time exploring the quaint Mersea 'City' area. I think the seafood restaurants had something to do with that too.
Listening to the VHF at home I heard all manner of boats being turned away from Bradwell Marina from midday on Saturday. It was full. Didn't help that I was still on my berth there. Sadly F.G. will not be going far. It seems that this weekend has got all manner of people afloat, some for the first time in months. I hope the good weather persists.
Those who regularly scan the pages may have already noticed the additional button on the front page of the site, a 'donation' button. There is another on the 'Accounts' page. We felt this would be a good way to enable overseas registrants and guests to send any small donations to us.
On the mail front we have had our first houseboat added to the 'For Sale' page! I have heard from the owner of 'Lyekka', and five other 'members', most with bits to add to the site, some just with good wishes, for instance Ian and Carolyn Clay and Sandra and Geoff Hyde Finn send their regards to all.
As a result of Rachael's mail I have added another tip to the owners tips page. I have also been busy with the latest Newsletter. I have added my article about the installation of the holding tank. Brian and Mavis did the same last year. I hope to get details of an even cheaper tank maker from them soon.
Had a telephone call today from someone looking for a Senior, I directed him to the 'For Sale' page. Trouble is things are selling, but the sellers are not letting us know to remove the adverts.... Have you sold an item? Please let us know if you have, we will not badger you for a donation, honest, it's up to you.
all for now, off out into the sunshine!
John
Wednesday 24th August, 2005.
Well the August Bank Holiday Storm has arrived early this year! With any luck that will mean the weather predicted for the weekend will be as good as the forecast! F3 to F4, sunny and warm.... that will make a change!
I will be at West Mersea Y.C. Saturday evening, courtesy of Darian, my driver! No, my back is not a lot better.
The last week has brought in a few more mails, but no more registrants yet. However had you noticed we have broken the 300 mark! John Steven's new database has had several reincarnations, and between versions we have added the backlog of registrants! He is making this the best ever!
We Also have had more than 45,000 hits on the site, not bad for less than 3 years. I bet it will be well over 50,000 by February.
Y.M. have been on to me, which is nice, sending enquiries our way. We had also had a couple of enquiries re plans, that we have been able to deal with.
I have had an enquiry about Eventide 24 rigging, and another from an owner trying to trace the design of his boat, he thought it might have been one of ours, but sadly no. I have sold another burgee and also had news from Cristiano in Italy. 'Rosy' his WW has arrived safely in Tuscany from Bradwell and he is starting to refurbish the paintwork on the exterior and then fit her out. She has always been a little on the spartan side, Cristiano liked that, as he could put his own mark on her. He promises to send some pics in as he progresses and when she is sailing again. Rachael has contacted us with an update on 'Lyekka', her Eventide, more updates for her page on the restorers section.
I have to start the next Newsletter off, we already have some great articles rolling in, thanks to all who have sent items. The Findlay family story is a good one, lots of great pics too! More articles wanted too, so if you have a cruise in the log, write it up, we will publish it for all to enjoy! Any pics welcomed too.
The website has now been upgraded to 1Gb, but may go off line for a while whilst it is transferred to a new server, to give better editing facilities. If we are missing, just come back later, hopefully the wizards will have us reinstated on the 'all singing and dancing' server shortly!
At least one of our GH members will not be at West Mersea, he got stranded in Ostende earlier in the month and will be on his way back to Walton over the weekend, however I have hopes that there will be quite a few boats turning out, don't forget we have moorings available to us, ring me if you have any enquiry about the venue. 01621 778859.
All for now, I'm off to lay on the floor again, roll on 2006!
John
Wednesday 17th August 2005
SITE UPGRADE
Today I have paid for the site to be upgraded. We are due for renewal soon and we have just topped the 300Mb size for the site! I have upgraded the site to 1 Gb! In addition The site will have more functions and be moved to a different server. This however, will mean a short period off line. We hope it causes little inconvenience and if you find the site unobtainable, simply wait a short while and it will be back. I saved the site to CD yesterday, as an additional back up to my normal ones. In future it will be backed up automatically every day!
The nice thing about this is it is now going to cost a lot less too! The fee has dropped to less than £100.00. We therefore have enough in the kitty to ensure the site runs for another 3 years! Not that we would ever close it now in any case!
Just a brief update on the other things happening.... John Stevens has sent me the new, finished database to play with, I have a pile of new registrants to add.. Another two today! It will take a little while to enter all the registrants outstanding, but when I do I will be able to update the 'membership' numbers on the home page!
Hopefully a few owners will get to West Mersea. we have moorings available again, for a small donation to the RNLI. Hope to see as many as can make it for Saturday evening in the W.M.Y.C.. ring me for more 01621 778859. Cruise in company and anchor for the night in a nearby creek Sunday, back home Monday!
I have had enquiries re a very expensive Eventide seen advertised on the web, (not on our site, though there is a pic of it, on the gallery). The price jumped from 6k to 12k in two adverts! I think the former price was more realistic, but it did not sell at that, so is back on for 12!! Now that does seem like a little sharp practice to me, what say you? No he is not a registrant, nor a 'friend'......
John Parry has given me a little more for his page on the restorers page and I have had more on possible MG boats placed on the site last week.
Paul Usher has sent more pics in of 'Fram' under restoration and details of a product called 'Zinga', which we have added to the links page.
A GH owner has been on about bowsprits, we hope we were able to help him, and the Senior that was offered for sale recently has been collected from Devon, by another owner who borrowed a trailer from me! Another project!
Enough for now, don't forget the Upgrade may mean we are off line for a while.
Regards to all,
John
Saturday 13th August 2005
Another busy week for the site. I have had many mails in and calls.
We have added another Storm, another Riptide, an Eventide and a couple of mystery boats too!
I have been able to help owners with keel queries and one prospective buyer looking at a very pricy boat! We have had a new Riptide added to the for sale pages, plus updates on a WW on the site and the offer of an Eventide Hull. I have also removed a couple of boats as they have sold.
There has been a steel Eventide back on E-Bay, in the Bournemouth area, any fancy going to have a look see what it's like. Last I looked the price was £200!
John Parry the man instrumental in the design of our burgee, has sent me those pics and I have nearly updated the Tuphnol boat page. It is now a feast of photos! I have yet to update the total on the home page, but I have added about 20 pics to that page alone!
There is a new link button on the home page to Barry's page, an idea from John Stevens of the Steering Group.
I have banked more donation money for the sale of a boat from our pages and had another burgee request in, it's on it's way David!
I have had a visit from John Stevens too, to show me the latest version of our data base. We found a bug in the thing that will take him a day or two to correct, then I can resume adding members. I will give you an update on numbers ASAP. We must be well past 300 though!
Had one enquiry I could not help. He wanted plans for the G.H. 31 in timber, I guess these must be with Terry Erskine, anyone know.
Enough for now, good sailing, if the sun comes out!
John
Saturday 6th August 2005
Have heard today from a couple of members of boats for sale or sold. Andrew has sent in a nice pic or two of his M.G. Swin, about to be launched and afloat. Looks very smart. I have added one to the 'Boats For Sale' page and removed another. I am also told there is a sad Steel Eventide on E-Bay at the moment, No. 7172531001 Thankyou for that one David!
We have also had another registrant today, giving us an owner for one of the many boats on our site that we had pics of but little more, the WW Jo Jo, Welcome Tim.
One of the biggest mails I have had for a while has come down from Justin and Bryony in Scotland. It is a great log and will be in the next Newsletter. Lots of great pics, mountains and sea!
Sadly one of the messages I had yesterday was regarding 'Petina', the WW for sale in Nottingham. Unless a new owner can be found, she is to be scrapped.... Seems a shame. Lots of work to restore, or could she be a donor boat for a builder?
John Parry has promised to send the pics in of his launching, the 'Tuphnol' boat, now named! See the builders and restorers pages.... and whilst on the same pages I have had more from Malcolm regarding 'Westwater'. He thinks he will soon be ready to go back into the water. Must look out for her!
I am so miffed at being laid up at the moment, there are more and more boats locally and our events could turn out to be large gatherings!
I have had a lot of pics for Barry's memorial page just sent in, some great shots in there, I will be working on that slowly in the next few weeks...
Lastly, does anyone know where spares for BMW marine engines are available? If you do let us know, we have had two enquiries now, be nice to put an address on the links page.
All for now,
John
Wednesday August 4th 2005.
Forgot to ask yesterday, does anyone have a good working knowledge of FrontPage out there? I have a guru, but he is away doing charity work in West Africa at the moment, driving one of the food convoy lorries to a children's home he helps to run. (I want to find a way to save the site different from using XP and it's ftp)
The combines are in the fields next to the cottage, the sun is out and I can see sails on the Blackwater. It's that time of year that the water beckons... and the kids are on holiday.. Normally I would avoid it, but being cooped up I would rather be out there on a busy Bank holiday than sat here watching..... If you are out there, tweak a sheet for me!
All the best, to all,
John
Tuesday August 3rd 2005
Hello folks, yes I am still laid up, (me not the boat!) but here is another boat with owners Andrew and Jo, launching to see if there is going to be a summer this year. It's Mistress II now with bilge keels restored, proper fuel tank and a load of other sensible mods completed.
August Bank Holiday Meeting... We have moorings provided again at West Mersea, for the cost of a few bob donation to the RNLI, ring me for more details 01621 778859. I am endeavouring to be there Saturday evening in the club, see you there.
See the for Sale page for another Eventide bargain for sale... this time it is a hull, solid timber, Iroko, double diagonal. What a good start for a prospective builder!
We also have an e-mail address to contact the donations manager if you feel you would like to donate, he will give you bank codes to enable you to do so.
I am very pleased to say that Tony Sykes's boat 'Galliard' has at last found a new home. We are hoping Aaron will get in touch as work progresses on her to bring her back to her former glory. she is not far away, on the Colne now.
John
Saturday 30th July 2005.
Well it seems my optimism regarding my back was misplaced, I was told yesterday that I would probably have to have an operation to correct the problem.... Sadly we have now had also to cancel a family holiday in September and I am not sure what sailing I will be doing this year... Hey ho!
Well at least the fingers are still working and I can get to the P.C. I wonder how many of you read the item in the last Newsletter in the 'Scran Bag' regarding Tornados??? What happened in Birmingham and again the next day in Peterborough??
You read it her first folks!
I have also started a memorial page to Barry, lots to go on that in the future!
Had lots of nice mail in in the past few days, enquiries from several people wanting to rebuild, they say they are going to register, a story of a cruise round a Scottish Sea Loch and an offer of a gift from a firm for adding their details to the 'What works' page. This could be a prize in a future log competition or similar, something for the Steering group to sort out.
Whilst on about them, John Stevens has sent me the first draft pages of the new database, what a wonderful bit of kit this is going to be... All singing and dancing! We will be able to enter every known boat and registrant and look them up in any way, by sail number name owner, rig, and print out lists of owners anywhere, or their mail addresses and import them into mail books. Great stuff, well done.
I have also had enquiries about prop sizes that I am hoping to work out a solution for with a set of special tables I have... Yesterday I had a broker commending us on our site, offering to donate if we can reach a buyer for a Riptide, in Canada! Hope that will come through in the next few days and it will appear on the For Sale pages of course.
It's all go here!
Good sailing, when the sun comes back out.
John.
Thursday 28th July 2005
Hello again, just to say I am pleased to report that Danbury went ahead without me! I really am getting a bit better, but no way could I have done it, next time maybe.
We have had yet more pictures in in the past 24 hours, this time from the owner of an M.G. cockler, 'The North Star', another new registrant. Pictures will appear in the gallery ASAP. I have asked the owner if he would like to join the growing number of owners with their own page on the builders and restorers section, we will see! Some of those we have given pages to have been brilliant in supplying pictures and information, some others I might drop a line to to see how they are getting on, as we have not heard????
The following came in from one of our 'Friends' it may be of interest to anyone with a family or friend with a visual impairment, worth a mention:-
RNIB Information day for families
_________________________________________________________________________________________________________________________
This day is aimed at families with children and young people aged 0–19.
Come and find out more about RNIB London & South East family services at
Judd Street.
Date: Thursday 18 August 2005
Venue: RNIB, 105 Judd Street, London, WC1H 9NE
Drop in any time between 10.30 and 3.00pm
You will have the opportunity to meet with RNIB staff, visit our children centre and look around the resource centre and research library.
For further information please contact:
Alice Mussen, Course Co-ordinator, RNIB London and South East, 105 Judd Street, London, WC1H 9NE Tel: 020 7391 2245 E-mail: alice.mussen@rnib.org.uk
That's all for now,
Regards to all, it's still pouring out there but I hear summer is on it's way back, good sailing,
John
Wednesday 27th July 2005.
Danbury
Sorry folks but contrary to my optimistic thoughts, I am not fit to travel so will not be there. Have not heard from anyone who is going, yet, but do not let it stop anyone just going along to see who else turns out. I like to try and have some idea who is going to turn out so I can book places, as those who sometimes attend will know it is very informal and we often drag a few more chairs and tables in to increase our section of the pub! Most have a meal, and good they are too, but others will just turn up for a chat over a pint, so if you are jut mindful to do that drop in, if you fancy eating, it is better to at least ring Doug or myself, see the events page for more.
If you go have a good night. We should have been on our way back from Holland today, wet and windy out there!
I heard form Keith Ashby last night, the Senior 'Clair', he was in the Bradwell Creek sheltering from the weather, he has already met up with Tony Showell in his Senior and hopes to hang about for a week or two, and meet up with more of us, so watch out for him if you are out there. I also had an invitation to sail on Roger Giles newly acquired Barcarole, 'Meriel', sadly I am in no fit state to do so, but he is on the Blackwater too, so look out for him.
Cheers,
John
Monday 25th July 2005
Well if we had gone to Holland we would be on our way back at the moment and very wet! the weather over there for the past two weeks has had more than a sprinkle of rain in it! Perhaps the fates did not want us to get wet!
I'm sorry I have not updated this page within the week as I normally do, but then if we were in Holland I could not have done anyway.... I have had quite a rare old time with the slipped discs, a member or three have dropped in to see me, and very welcome they were too, to find me either in bed on on the lounge floor.! Today is a good day and I am able to get to the P.C. to work much more easily. I have been limiting myself to business mail and EOG enquiries otherwise. Nice to get some Seagull business sent my way from the old eoa, are they softening their attitude and waking up?
I have had some good ones, the prize for the best must go to Neville Jones in N.Z. He has just bought an Eventide and needed some help.... to say the least. I will be starting a new page on the builders and restorers pages for him! I showed the story to Darian and she was dumbfounded, this is one boat we have to help! wait till you read about it.!
I have had a few changes of address come through this week, must be the time for moving. Then I wondered how many of our registrants move and don't tell us, we have little way of knowing without trying to e-mail everyone or post out letters to the others off line..... Still I guess they will still drop in to see the Newsletter or have a peek at the pics...
I am hoping to make Danbury on Wednesday, transport might be a problem as I normally drive in, meeting Darian there, I am hoping she can get off earlier so can come and get me, otherwise I might be a little delayed arriving. The good thing is all those diversions have gone!
We have had a few additions to the For Sale page and today someone has offered a hull! I am finding out more about that before putting the advert on.....
We have had a couple of appeals for help from Senior owners, that have been diverted to the advisors, I hope they can help these guys. they have already gleaned a lot from our pages and we have had some high praise for the work done and the articles printed. Keep them coming folks!
Looks like an unsettled week, but after that I hope the summer comes back and I can get a crack at it too!
All the best and thanks for all the good wishes, John
Sunday 17th July 2005
Had another registration, an Enterprise sailer looking to move up to our sort of boats, welcome to him.
Heard that Misty2, the Swin Design is in use and performing well!
Some of the would be Dutch sailors had an impromptu meet in an Essex Creek last week, and the sun shone for them.. Looking at the weather in Holland we would certainly have been wet for a day or two last week in the area we hoped to be in , and it looks like the same for next week, so perhaps its as well we are still in Essex!
According to my MRI scan I have not done a disc, no I've managed to do two! Relaxing potions seem to be working, I can get off the floor for longer now, but not if I over do it!
Hoping to slowly work my way back to sailing fitness before all this great weather goes!
Have heard from Graeme of 'Mackerel Skies, that she is back sailing in Suffolk, we hope to see her about later in the summer, she is an MG Finesse design.
Had a great letter from the current owners of 'Tikiti' with more on the name, look for her on the WW pages! Been able to add quite a few new pics recently!
We have another registrant with a Riptide, another Steel one. Photos to follow.
Am waiting on a bit more info on a compass that Dave Bullock wants to sell, it's different. I'll say that much.. Have also added some more adverts too....
When John Stevens has the new database sorted, and I can get my head round it, we will be in a position to fill in another page on the site we have been holding back on, the locations of all our boats and our registrants! Lots of them, I have lost count as I have not got the info to hand here, but we must be over the 300 mark by now!
Good sailing to all you lucky people sailing out there, and more power to elbow for the builders and restorers,
John
Tuesday 12th July 2005.
Well a lot has happened in the past few days! For a Start 'Dorothy May' has been launched! Congratulations to John Parry for the restoration of one of the most unusual Eventides we have ever come across. You can read about her on the restorers pages, the 'tuphnol' boat! We are promised a load of pictures to finish off that part of the story!
I have been in close contact with the ex coxswain of the Fleetwood Lifeboat. Ian swapped a boat he had some years ago with another friend of ours, Jim Bell. He took on Jim's Eventide 'Sula Sula'. Sadly Iain's poor old knees have had enough pounding from the heavy seas and he has now decided to swallow the anchor. We are advertising 'Sula Sula' on the 'For Sale' pages, at a very reasonable sum. Ian admits there is a little work to do on the raised topsides on one side, as he varnished her and can now see the water damage, but to a keen amateur it aught to be a piece of cake. We hope we can find a good home for her.
Myself I am more active than I was last week and yesterday had an MRI scan to see the damage and ascertain the best form of treatment. I'm hoping it will get better as I exercise more, so the bike will be coming out more often! Hope to see the boat soon too!
John Stevens tells me the new database is all but completed, and we will soon be in a position to add every boat we have ever known to it, providing a valuable asset for the future.
We have had some great information sent in regarding one of the WW's on the gallery, and I have added the whole letter! We are so pleased to hear of so many owners and ex owners getting so much from our efforts, makes it all so worthwhile.
I have another handful of new photos to add to the gallery and can report that one of our local boats, owner by Roy Lewis, is looking really good again after an extensive refit. We are very grateful for William Roche taking the time to send in a copy of a letter from M.G. regarding 'Banjo'. the new owner, Antonia is so pleased to get that!
We hope that although our Dutch trip did not get off the ground this year, due to my back problems, we will still hear from some of you who have ventured far and wide, logs needed for the new edition of the Newsletter!

We have had a card from the Trafalgar celebrations and a lengthy letter from Malcolm the Lone Gull rep re his travels, the more the merrier.
Good sailing everyone, the weather looks fair for a bit,
Regards,
John
Thursday July 7th 2005
I should be half way to Holland, instead I find I am just able to sit at the P.C. again, a slight improvement over the past week.....
We have a launching of an Eventide to announce!!!! John Parry has finished the restoration of his Tuphnol built Eventide 24 and this Saturday at Halstow Creek, Kent, is launching. We so dearly would have liked to be there to support him, as he has two of the other group that were no unfriendly to the rest of us as his neighbours there!
(Despite the fact that they had admitted they were 'not given the whole truth' by mcnasty, they still have not sent any of the promised apologies, posthumously in Barry's case.) We sincerely hope these despicable characters do nothing to mar John's day.
John will be sending a whole batch of pics to complete his restorers page on the site. Well done that man. ( Incidentally John is the gentleman who designed the new burgee!) We look forward to seeing what the boat's name will be!
J.W.
Monday 4th July 2005
Hello Folks, have managed to crawl to P.C.!
Glad to hear from a few of you that you got to the Danbury night OK! Have have another new registrant, and some more good pics in, have not the energy to sort them at the moment, just managing to do this from the floor! Will have a bumper bundle of great pics to add when I am mobile again.... Sorry the Dutch trip is off, was really looking forward to that, the new charts arrived last week too!
Thanks for all the good wishes and the cards too, very heartening!
Have you looked at the bit I added to the Newsletter page last week to 'Scran Bag'? Re Windmills.... If you sail the Thames Estuary anywhere, you aught have a look.
When I was feeling really low the other day, I had a really great call on Friday from a local organisation, It seems like I am going to be very busy and doubtless be featured in the national press with a huge local project soon, patience and honesty wins every time!
OK, enough for now, back to the laid flat position and more knock out pills!
Regards to all,
John
Tuesday 28th June
The Danbury meet is still on!
However, John will not be attending because he's flat on his back and up to his eyeballs in painkillers. He hopes to be up and about in a few days when he'll be able to update you properly.
~Esmée~
sorry folks, Sunday 26th
Expect this to be last entry for a bit, am on knees back gone really bad, looking for stand in... this taken ages to write...
Am trying to get medical assistance Monday in form of ambulance to local hosp ..
back as soon as I can
J.
Saturday 18th June 2005
The sea breezes have picked up nicely today, at the moment it is a F4 SE at the cottage. 'Why are you not out on the boat', I hear you say.
Well sadly John's back injury has resurfaced. This is why I left the Marine Police all those years ago, and I had been OK for the past 5 years, but this week I am on all fours! It's getting better, that's for sure, but at the moment the only place I can sit is at the computer! Otherwise I lay on the floor!
I go back for more physio on Monday, and if things keep improving the Dutch trip could still be on. I would be foolish to set off and end up crocked. It would not be fair on my companions too. One of the skippers coming to Holland was round to discuss it yesterday, we will see..
In the meantime I have been able to add lots of pics and info, a new bit to the Scran Bag section of the last Newsletter, an interesting bit of information to all those who sail the Thames Estuary! Plus another Senior pic added today! Another new registrant, we have to be well over 300 strong now!
Doug has found a log of his Mediterranean trip and I have a new link to yet another owners group who thinks as we do!
To all those out there, I'm green with envy, good sailing,
John
Wednesday 15th June 2005.
Just an update, I have been laid up for a couple of days with a bad back, so now have the opportunity to spend a little extra time on the site. I have added a host of pics to the Coronette log and Coronette page of the latest Newsletter.... Bill has sent in a CD full of great pics, thanks Bill.
I have been busy on the e-mail too, a couple of new registrants, no, three! Two enquiries from others, one a prospective purchaser of an Eventide.
Amazing the reaction I have had in to my presence on the Classic Boat stand..... lots of Seagull calls as well of course.
Have just received the new paying in book for our Lloyds account. We will be looking at adding a 'Paypal' button as some have requested.... for donations.
In the post today a book from a Golden Hind owner, Tom Edwards. I will be reading it avidly over the next week or so, A review will appear on the books page. Suffice to say Tom has sailed from England to Australia, thence on to south Africa and back to Oz. The adventures on the way are remarkable! We hope to advertise it for him.
All for now, back to the book.....
John
Monday 13th June 2005
What has happened to the summer? Last week was a mixture of cold and occasionally warm, mostly damp, the weekend a disappointment.
The postbag has been just as full however, best mail in was one from an irate member demanding to know when we would reply and what had we done with their subscriptions!! You guessed, they thought we were the other lot! When I explained who we were and why, they said that all made sense and they would register, for free, with us at once! She was quite cross with them! Join the club, you are not alone! We must be up to 300 registrants easily now, over 200 of them voting owners!
I spent yesterday at the 'Wooden Boat Show' at Beale Park. I was a guest on the 'Classic Boat' stand, with my Seagulls. Classic boat have done a feature on Seagulls this month.
Classic boat also support the EOG, and so it was interesting to speak to so many prospective owners and builders, and some actual owners with the Classic Boat staff listening especially to get their comments about the eoa, who had a stand opposite! After anyone saw the eoa we were almost next, so they saw the pics of the Eventide, our logo and name and asked ....Needless to say we won another clutch of friends! This is the first time the old eoa have put their heads above the parapet for a while... I was informed that some of the hierarchy were 'Deeply Embarrassed' regarding their conduct to Barry and myself, and to the owners generally, after falling for the lies they were spun... There have been statements and broad hints about an apology, so at some stage during the day I was expecting a delegation to approach me. I had made my presence known by congratulating one of their number for launching their boat, her shocked face was a picture! Needless to say not one of them came across to say sorry.
Rodney and Elizabeth Leaper knew I was to be there and I knew he was to exhibit 'Pau Amma'. Martin Lewis's old Senior. Rodney has spent a good deal of effort removing all those superb modifications that made 'Pau Amma' so good, and that was so widely written about, the extended modified keels. He has instead converted it to a centreboard..... On the Classic boat stand with me was another good friend of Martin's, he also thought it was so sad to see all Martin's research and experimentation thrown out. Not 'Pau Amma' anymore. Never mind, at least it is still in one piece, for before I took the trouble to salvage it, it was to be scrapped.....
I had the chance to catch up with friends at 'Sailing Today' too, they are contemplating doing a feature on us! More supporters! The OGA were nearby and I had a chance to chat to them about our group. they were appalled at the prospect of non owners taking posts, and have resolved to amend their constitution to prevent unscrupulous persons inflicting the same damage on them..... The Lysander Owners have had the same problem it seems! We are not alone in losing our assoc!
In the post bag this week are more Eventide pics for the page, another new Eventide, an update on 'Lyekka' for the restorers page and a plea for help from a wooden GH owner, the boat not the owner, which I have circulated to a few of the local members in Kent.
I have had a new MG boat, a 'Bacarole' design, to add to the pages too.
This week I have to catch up on a bit of planning for our Dutch trip... Don't forget if you are planning to join us, we hope to leave the Essex rivers on 6th July for Ramsgate, weather permitting. Ring on 01621 778859 or e-mail/
John
Monday 6th June 2005.
We are just back from the Air-show weekend and the trip to St. Kats in London. all went very well, we met new friends and 5 boats plus one sailed to the air show. Three eventually went on to London. We were made really welcome at my friends club, Erith, my friend is Commodore!
We spent a couple of days sheltering from stiff breezes in tiny creeks and had a good sail back Sunday, more later on the trip, loads of pics!
The mailbox is crammed full! forgive me if it takes a day or two to get round to answering you all, but I will. More pics in the mail and even a book on the voyages of a G. H. I will update this page again soon.
In the meantime we are now preparing for the Netherlands trip. We leave the Blackwater and Crouch on 6th of July, to Ramsgate, thence up the Belgian coast to Holland. At the moment there are a few of us, but the more the merrier, so if you fancy a trip to Holland in good company, get in touch.
Good Sailing,
John
Friday 27th May 2005.
Well Guess what, summer seems to have arrived.!! We have had a couple of scorching days here in Essex now, hopefully it will hold for the Air Show.... I have heard it threatens to tip it down but hey ho, at least those cold old winds are gone...
Danbury was a little down on numbers this month, only eight of us, a lot phoned in to say they could not make it, thanks to all who contact me, it helps with the seating arrangements. We were pleased to welcome back Linda and Graeme, who have stayed away for a while.. They are wanting to join us as friends, he left the other lot when, or actually just before,it really went pear shaped, having sold his Eventide.
They are joining us for the Air show weekend. Sadly a couple of others have cried off at the last minute with problems, we hope to catch up with them later.
There may only be three boats going on up to St. Kats, never mind. A couple of boats have to return by Tuesday....
Since last Sunday we have heard from Liam in Ireland, who has traced the owner of a nearby Eventide, his boat pic is on the site, 'Ceol na Mhara' We are hoping for more pics.... We also have a translation too!
John Stevens has printed a flyer, this is for the wooden boat show, but will also be down loaded onto the site, so anyone can print it off to give to another owner, great looking flyer too! Next time I promise I will ensure there if another boat on it! Not just 'F.G.'
The Database is nearing completion, by the time we get back from the London river trip, I hope to see the latest version... Rest assured, we will not disclose anyone's details with out their permission, it is just to be used for tracing boats and putting owners in touch with others via us.
Bill Booth is back in the UK from his aborted cross Atlantic trip, a story in that one I'm sure, he has sorted all those pics and hopefully, when I return, I will be able to do justice to his pages.
Good sailing over the weekend, wherever you are, and to the builders and restorers, keep at it it is worth it!
Will catch up in a weeks time, on our return.
John
Sunday 22nd May 05
With the wind once more howling about the cottage and not a sail in sight, it is another good day to do the garden! I have been so busy with mail and calls this week, a chance to catch up with housework on the site!
We have a new page for the latest Newsletter with a lot of pics and write up on the restoration of an Eventide, 'Lyekka' This is one that has never before figured on any of my records. The owner Rachael is doing a grand job, but then I think she dabbles as shipwright on the quiet! We are well over 280 registrants, another two in the past few days, admittedly both come under the friends category, but welcome all the same. We hope they like so many will contribute something to the cause, a few words, a pic etc... One of the new registrants is trying to track an M.G. Cockler by the name of 'Pine' ?? anyone heard or seen anything of her?
A little birdie told me that the old eoa are trying to pluck up courage to apologise, wouldn't that be nice... I still believe we should be selective as to whom we have on board though. There are some we could mention that would never be welcomed by some of us....
The new pics of 'Crishawk' from Liam were appreciated, another new registrant, with quite a different Eventide, ketch rigged! more about her later we hope. See her on the Eventide Gallery.
Malcolm Bell has sent in a whole new raft of pics of West Water to add to her page, A Ferro boat, she is not the first I have seen, but we hope to keep track of her as she comes back to life, unlike the poor Barrier Reef that has ended up as a house boat in Essex...
Tony Deal has been on re his rudder problems, hope we have helped him out there and the results will appear on the site. His inboard rudder is partially seized, I have 'steered' him towards a transom hung one!
We have also had a cheery message from Kathy and Roger of 'Jua' fame, they have given me the origins of that name, see the GH gallery!
John Stevens his guru and I have had a quick conference on the new database and when John is back to work after nursing his poorly wife, recovering well, we hope, he will be in a position to complete this mammoth task.
I have heard from a couple of owners that they are no longer able to come on the Air-show/London jaunt, never mind, more room for anyone else to join us, two Eventides and maybe a GH are setting off from Bradwell next Sunday morning, picking up at least two WW's on the way, maybe more. I have 7 berths reserved in St. Kats and moorings to use overnight on the way up and down if needed! The more the merrier. We have Graeme Leaper, ex eoa committee, joining in on this cruise, in his new plastic creation, as far as Southend anyway, as a 'Friend' too! Do we get the feeling his brother might like to come aboard too?
Looking forward to the warmer calmer weather promised for later in the week and into next.... Are we hoping for too much?
Heard from those globetrotting owners of Mistress II, they hope to catch up with us soon.
Danbury next Wednesday! Sadly John and Ann cannot make it, they are away again, but they tell me that their Eventide 24, the old 'EverJoy', is nearing completion, engine to go in soon....
Another boat ready for launching in July is John Parry's rebuilt Tuphol boat. We were hoping to get a rally of boats along to wish her well, but a large number of us will be off to Holland on the 6th, so it will have to wait till later, sorry John. You can see how John is getting along on the builders and restorers pages.
Fair winds and Lee going tides to you all,
John
Saturday 14th May 2005.
Things are slowly getting back to normal now. Christine has asked me to thank all the dozens who expressed their kind thoughts by e-mail to us. The site will go on as a memorial tribute to Barry, who never got the promised apology for the lies spread about him and the death threat issued against him by the other organisation. To my mind this was worse than the lie in the first place. Having admitted they lied, not to rectify it as promised by more than one of them, is totally reprehensible. Understandably Christine is particularly angered by this. We have decided to put our faith in our honest friends, and let the others stew.
Classic Boat magazine have approached me to be on their stand at the Wooden Boat show coming up in June. That should be interesting!
If you try to place an advert on our 'For Sale' page now, the advert will no longer appear instantly. Sorry. Almost every day for the past few months we have had to edit out pornographic site, gaming site, and other nasty rubbish web site information from our pages. We set a trap last week and the culprit fell into it, we changed our web button's actions. The submit button went to our service providers investigation site and they now have their e-mail addresses.! Chances are they will be unable to use their e-mail shortly! that might cause a few red faces!!!
Now if you submit an advert it comes direct to us on e-mail, porn and the like is filtered out and we just get your advert, which we will place on the site, adding graphics and the like. If you have pics to go with it you can send them separately as before.
We will be sifting through the adverts again shortly, to check if they are still valid. Many items have sold, and if yours has please let us know so we can remove it.
We are pleased to say that one of the Steering Group, John Stevens has got to grips with the database and has all 280 registrants documented and hopefully this will become a huge asset in the future. We are able to add to this all the data we have accumulated from all sorts of sources, on our boats, to be able to bring all our information right up to date! It has been a mammoth task, from the seed Barry sowed, and John is to be congratulated for his efforts.
We have managed to get a CD made with my plans on it! I will do copies free for anyone who would like a set, just mail me on enquiries@eventides.org.uk We hope others might donate their sets of plans so we can save these for posterity. Any offers?
We have had more pictures of our boats and pictures of new (to us!) boats too. The log of Coronette and the new pages added to the builders and restorers section are superb. the photos are in the pipeline. I have just heard from Bill he is on his way back to the UK from Florida, where he has been involved in a boat crewing exercise.
More pics of 'Pegrim', and 'Penny', plus info from other associations re meets. New pics of 'Mackerel Skies' and promises of pics and text from Rachael with 'Lyekka'. Dave Mann has identified our unknown GH and one of the new registrants has been back in touch for information on how to make his boat good for youth training, great stuff! We hope to be able to help there.
On a personal note my winter project, the holding tank, seems to be a success, more details in an article soon, plus another on replacing duff batteries in hand held VHF's, that was fun! More hints and tips wanted from others though! Thankyou to the owners who have asked us to re print their old articles in our hints and tips, will be done! And all for free! That is the true spirit of the Eventiders!
After a windy start to the season we are hoping for better weather soon, but I am a little concerned that the truth about our weather and what we are doing to our climate, might take a long time to get out. Holes in ozone layers, and the sun burn factors on weather forecasts are now being supplemented by the government with the latest warning leaflet about a heat wave.... Is it safe to go out there! They say you can tell a politicians lying when you see his lips move!
Regards to all,
John.
Sunday May 8th 2005.
Just returned from a very vigorous sailing weekend! F6 gusting 8! Thankfully we were well tucked up in Lawling Creek, in the Blackwater, by the time we got the F8s! absolutely no chance of a beach BBQ!
At least it gave me a chance to test the motor, the rigging and some of the sails, a little! We tested the new plumbing on board, and so far so good! (More of that later!) I found a few more little jobs to add to my long list.... Well not so long now, managed to tick quite a few off over the weekend.
The VHF was busy, with shouts for help from all over. A very blustery week end! Good one to do the garden!
Things have gone quiet on the Forum and on the new registrants front for the past week, but we have had another pic come in, of 'Saluki', John Roxby's boat, spotted in Eastbourne by John Stevens and Roger Giles, who were bringing Rogers MG boat back to Essex waters... We hope to see more of her at our meets in the summer.
The P.B.O. magazine has advertised our 28th May meet, from Bradwell to Southend, then after the air show, up to London, so far 6 boats signed up for this week, should be fun!
Got to catch up on the Seagulls now, spent the day with Classic Boat on Friday, look out for a mention in July edition... or later , maybe!
Regards to all,
John
Friday 6th May 2005
Today we have passed another milestone. The website has clocked up 40,000 hits in just over two years! A credit to you Barry!
John
Thursday May 5th 2005.

Barry's Funeral yesterday, was attended by so many, it was standing room only in the big chapel at Chelmsford crematorium.
The Sea Cadets, did him proud. a most impressive guard of honour.
There was a reading by his son Gordon, of one of Barry's favourite quotes from M.G., the one that he put on the front page of the site.
His daughter Esmée, read a moving poem, 'He is gone' by David Harkins.
I was honoured to be asked to present a tribute.
The committal was accompanied by a very poignant playing of the 'last post' by C.P.O. Wordley on bugle..
We hope Barry would have approved of the way we saw him off, we did discuss it with him, so recon we got it about right.
It was very pleasing to see representatives of the EOG in attendance. Sadly John Stevens had a slight 'contra temp' with a heavy and a crash barrier, on the way, but still managed to be there!
In the fullness of time we will construct a page to Barry's memory on the site.
A very big thankyou to all the members who mailed and for the cards and letters of condolence. All the mails were collated and given to Christine.
We go on, as Barry requested, to keep this the best and biggest website and organisation catering for our boats.
John
Sunday 1st May 05.
Well We had our monthly meeting, and though a lot rang or mailed to say they could not make it 11 did!
We discussed all from the 'Care Bears' to holding tanks, Macmillan Nurses to renaming the group and washing rabbits!
We launched Fiddler's Green on the next day, despite dire warnings on the weather front it was dry. We are loading and sorting the gear, and after a slight hic-cup, the new holding tank seems to be working smoothly!
This afternoon, with not hardly a breath of wind, and it being a bank holiday, we are cutting the grass and sorting the website today, finishing off the sails later tonight. We will be ready for the Mundon Meet next week.
In the meantime we have Barry's funeral on Wednesday. I have been asked to say a few words, so have been putting my thinking cap on... He is being cremated, with full naval honours by his local Sea Cadet unit.

Barry Jan 04.
We understand the Hospice has already had some donations, thankyou for that.
John
Tuesday 26th April 05
The Danbury meet goes ahead as normal, Barry would have insisted! Beware though the dreaded cones! The A414 has road works and you will be diverted via Sandon to get to the Bell. Not too far out of your way....
Table for 12 booked, extra chairs available as ever! Hope to see as many familiar faces as possible!
John
Monday 25th April 2005

Barry's Funeral. The date has been set as Wednesday May 4th at 3.30pm. Chelmsford Crematorium, Writtle Road, Chelmsford, the large chapel.
Christine has requested no flowers, instead she has asked me to give the following details for those that might wish to make a small donation in memory of Barry.

As Barry and Chris received so much welcome and needed assistance from the local hospice home care workers, who allow cancer sufferers to live at home for as long as they can, she suggested donations be made to that cause.

If you would like to send a few shillings, please make a queue payable to :-

'Farleigh Homecare Fund'

Send it to:-

Farleigh Hospice,
212 New London Road,
Chelmsford,
Essex.
CM2 9AE.

If you can mark you letter, 'in memory of Barry Sturrock' the hospice will be able to inform Christine later of any amount so collected.

Many thanks to all who have contacted us with messages of sympathy for Chris.
On a brighter note I am so pleased to say Barry's work continues and we have had another three registrants with more photos to add to the site!
John


Saturday 23rd April 2005.
Christine has asked me to give the following details for those that might wish to make a small donation in memory of Barry.

As Barry and Chris received so much welcome and needed assistance from the local hospice home care workers, who allow cancer sufferers to live in the familiar and comfortable surroundings of their own home for as long as they can, she suggested donations be made to that cause. Having met some of the hard working and sympathetic staff and seen their work, and how much it meant to Barry, I can only say they deserve medals too!

If you would like to send a few shillings, please make a queue payable to :-

'Farleigh Homecare Fund'

Send it to:-

Farleigh Hospice,
212 New London Road,
Chelmsford,
Essex.
CM2 9AE.

If you can mark you letter, 'in memory of Barry Sturrock' the hospice will then be able to inform Christine later of any amount so collected.

Many thanks to all who have contacted us with messages of sympathy for Chris.
Christine tells me a date for the funeral has not yet been arranged, but it will be after the May Day Bank Holiday. I will announce the date ASAP.
John.


Friday 22nd April 2005
A big thankyou to all who have sent in messages of condolence for Christine. I am saving them to pass on.
We have no date for a funeral as yet, but today hope to have dates and details. Christine is also giving thoughts to the suggestion of suitable charity donations. I will publish all details ASAP.
John
2200hrs Tuesday 19th April 2005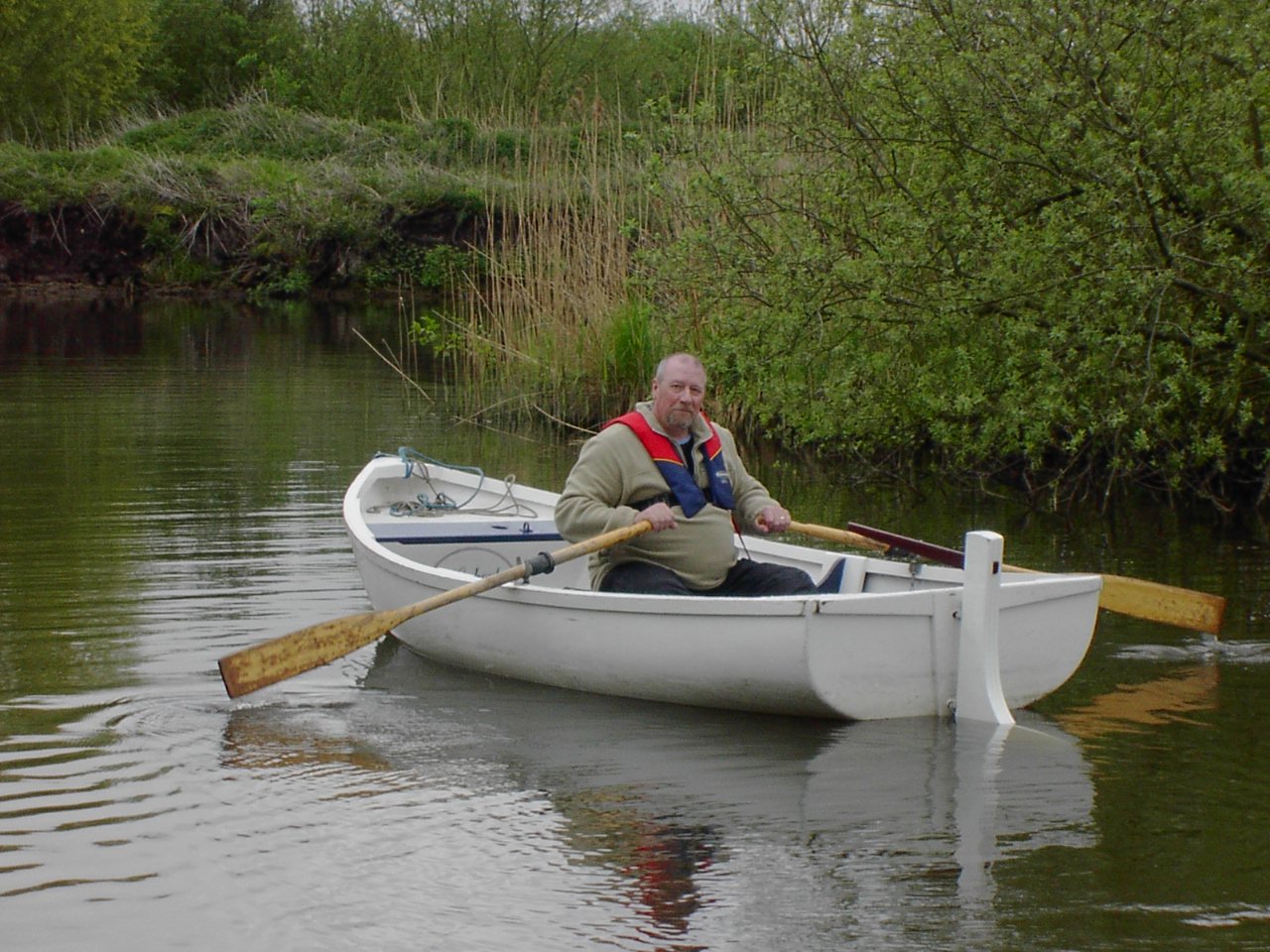 It is with great sadness I have to report that Barry Sturrock, my brother in law, my friend and our webmaster, passed away peacefully in Broomfield Hospital, Chelmsford at 2200hr. He was 55 years old. Christine was with him. He was recovering from the operation to set a broken leg, an injury sustained in his home, the day before, from a fall, as a result of the cancer he was fighting. For two years his disease has progressed, making it increasingly difficult to do even the simplest task, yet at no time did he ever complain and was always willing to try and pass on his vast depth of knowledge to anyone willing to learn. We are deeply indebted to him and our thoughts and condolences go to Christine, his daughter Esmée and son Gordon. He will live on forever in our thoughts, and on these pages he created.
John Williams.
Tuesday 19th 2005
I visited Barry in hospital today, he has had his leg pinned but was very tired and having trouble breathing. I have just heard that at 9pm. his wife Christine was called into the hospital.
John
Tuesday 19th April 2005
Sadly I have to report that Barry our webmaster, was taken in to Broomfield hospital last night.
As you probably all know Barry has been fighting Cancer for two years now. The Prostate Cancer having spread to his lungs and bones. He has been having increasing mobility problems and had a fall on Sunday.. Yesterday he was taken for X-Rays when a broken Femur was diagnosed. Today he is going to have an operation to pin his leg.
I will post an update ASAP..
John
Thursday 14th April 2005
Another week flown by, another 4 registrants up to 274 now, and loads of letters and enquiries.
We have had enquiries re plans to sell and for sale, from France, a mail re MG boats generally, boats found for sale on E-Bay, where we have contacted the owners to offer our services. One member has contacted us to say she knows the whereabouts of a quite unique boat and she has offered to get some pics and speak to the owner, we look forward to sharing that with you, 'Tara Blue' ring any bells!?! We have had a nice note from a WD owner, who has placed his boat for sale with us, see the 'For Sale' page! Today I have had a lengthy mail re sheathing in GRP, and the recommend not to! The boat in question was sheathed years ago, and just like my old 'Bluenose' it had parted company and was being removed. the owner is opting for an epoxy treatment, so I have suggested making sure there is no movement in the timber, as it is double diagonal built. If there is it might be safer to go conventional! Bluenose is still OK 30 year after I stripped off the offending GRP and got the pink primer on her!
Pleased to say we have had yet more pics sent in and more boats we had not heard of before. With the launch dates ever getting more imminent the weather has not been kind. we put off a work day last week hoping it would be warmer this, well it was just, but it poured and brought the temperature down a treat. Still we managed to polish the hull, (great these two pot paints!) get the varnish (Sikkens satin stain!) on and clean up the bottom ready for the antifouling, even do a spot of touching up on the anti fouling to make the paint finish smoother! the rudder is off to replace the tuphnol bottom bearing... lasted from 1990, so not bad, and once I have fought the new pipe work into place, the holding tank will be in commission! Looks like a plumber's nightmare at the moment!
Had a couple of phone calls too, one from a new member who wants to join us in May for our cruise in company to St. Kats, the more the merrier!
Here's to happy antifouling weather!
J.W.
Thursday 7th April 2005.
A week has rushed past since I last updated this page, so busy! Believe me, the enthusiasm for the group is terrific, we are getting so much feedback, all good too! If you peek at the latest Newsletter you will see we have received not only the rest of that Scottish log, but the pics to go with it! I have put them on full size instead of thumbnails, is it worth waiting for the page to load? Let us know.
John Stevens, Steering Group Member, has volunteered to tackle the growing database. It is getting unwieldy now and we would like it to be able to do more. As it is a Microsoft based program we believe we can make it dance! I have to send him the CD today!
Have heard from lots of you in the past Week, the owner of the Junior, Scotty has signed up and sent in pics, see the Junior page. A WD owner has send pics in, and we have dealt with an enquiry from the owner of Eventide 25, yes 25, (built double diagonal), named 'Serena'. He had queries with the rig and the ballast, which we hope we have helped with. A few pounds of lead to be made into ingots there... He is joining us too. The owner of eventide 'Lily C' is hauling out for a refit and we have spent a time discussing paint finishes etc. Photos to follow.
Mind you we have given up outside as it has turned so cold again, varnishing in the garage is OK though! Turn the heating up!
We have had enquiries about the MG hatch from Rachael, the owner of Eventide 'Lyekka', a double diagonal built boat. This is another of the Eventides that I had never heard of before?? We guess she was built overseas and shipped back to the UK, or do you know different? Photos to follow.
We have had mails from a couple of members directing us to E-Bay, for different boats, an Atlantic Clipper and the Ferro Bluewater design. The new owner of that has now joined us too!
We have managed yet again to put those wanting plans in touch with owners of plans who wish to sell.
We have added another recommended insurance company to the 'What works' page.
Some more details have been added to one of the mystery boats on the Photos page, is it an Eventide?
Our friends at PBO have advertised our first meet, and we are all trying to get ourselves organised to be there. the Calendar of Events is looking good again, but we need a South coast meet, and maybe one in the North West, so how about it folks! We hope to have a working meet around a Senior soon, get you hands dirty helping for a day! Could be fun!
Lastly we have had even more registrants, I have yet to type them into the database, but I guess that brings us up close to, if not over, 270!
And to finish off, a pic from John Stevens, his Senior now with Mike Hoban's Eventide, ready for a work day! any volunteers?!

John
Thursday 31st March 2005.
Last night we had yet another good evening at Danbury, 12 turned out, from all over, and we had apologies from another 10 at least! We will take over the whole place soon! Talk went from telecommunications to high finance, from antifouling and holding tanks to cod and chips!
Plans were being made for fitting out and for sailing, John Stevens is trying to organise a day around his Senior, for a few of us to get out hands dirty, an 'Eventiders Encouragement Meet', just to help him along.
The name of our group was questioned by Mavis, she did not like it that much! Sadly not even she could come up with a better one! It was always a problem under the old empire, what to call it, and the Eventide name has always been seen as the most logical, mainly as it is the most numerous of all the designs, but also because it is known for it's close association with M.G. If you look at the gallery you will see how many Eventides there are in comparison to others....
Now if you have a better idea, then we would love to hear it. Having said that we thought that opening up the pages for discussion on the 'constitution' for the months we did, aught to have been enough for everyone to have a say, certainly dozens did, and as a result the draft copy was somewhat altered by the time we had the meeting, it was slightly modified again on the night, as we had the benefit of Andrew Wallace attending. He writes constitutions for the charity Commission, (and I did not know!).... But it is not set in stone....
One odd thing that has occurred to us, is that a few are still supporting the old eoa, by paying them money?? The slush fund? After what they did, we find this strange.
On the other hand we have also had yet another join us after resigning in disgust from the old eoa. He paid and got nothing!, so why are people still paying through the nose to an organisation that cannot help them?? Are we missing something here?
Plans. We are getting a healthy trade in old plans, we have had many contact us requesting a place to sell their old plans. Thus far we have simply directed them to the Forum pages and this has worked for many, however there is a call for a swop shop page, so we might try it. So far we have been able to help almost everyone that was seeking a page or a set!
Another page that needs to be sorted is the 'Where are our Boats' page. It is sadly out of date, we have over 200 boats and over 260 registrants, so if you tally up the boats on the page it is way out. we have to sit down and sort the owners into areas and add them, we will get there. What we would like is someone who is a whiz with Microsoft Access. We have started a new Database but it needs expanding and we would like to be able to do more with it, like extract all the boats in Essex for a mail shot, or Cumbria or anywhere else, (We have so many in Australia now too!) To be able to get e-mail lists or phone no lists easily would be great. So if you know how to make it sing and dance, you could lend your skills..
I have many written records of owners and boats, that I am able to search to track down old owners or history, it would be great if one day this could all be put on one big accessible database... Any takers?
Before signing off today, just a little plea for snippets for the new edition of the Newsletter, anything, no matter how short or long, all accepted, Thanks, hope you enjoy reading it....
John
Saturday 25th March 2005
Well a week has flown by! We have had one of the promised logs in and loads of photos promised, some for that log!
There have been a couple of interesting boats come on the market, Westwater, the MG boat on the builders and restorers page has suddenly appeared on EBay, Simon now has a house and the boat has to go! It is still for sale at the moment, he has also added an advert to our site.
A WW, the one we saw up in Norwich last Spring, has been bought and is now up for sale again! See the for Sale page. Sadly there is a lot of work to be done, but it could be the bargain that someone is looking for.
Some one called at my place last night and got a bargain. Her old dad was looking for very early copies of PBO, and set her a task to find some for his birthday present. I'm pleased to say she found 8 very early ones she was looking for, and got about 200 others as a bonus! the power of advertising on our pages! She now has enough for birthdays and Christmas's for a few years!
Just before these old PBO's left, I quickly scanned a pic and added it to the WW page, amazing what you turn up in old mags!
We have had more registrants, well over 260 now and yet another two boats I have never seen mentioned in any of my records. It does make me wonder just how many are out there.
I noticed an update to the article about the SS. Montgomery featured in the Scran Bag page of the newsletter, so I've another snippet to add. Talking of the Newsletter, we are now on our 4th Edition and articles are coming in quite well, thankyou.
In response to a mail shot to non internet registrants last week, a couple of owners have been in touch, one to order antifouling, (still for sale if you want it!) and another just to say thankyou, which I though was nice. We have had yet another join us after hearing nothing from the 'others', not surprised, must be really difficult to keep the enthusiasm going once you have moved away from our boats!
We have heard from John Parry of Tuphnol boat fame, that he was hospitalised for a while, glad to hear you are on the mend John, keep out of those cold winds mate!
We have also had mail from an owner wishing to sheath, discussing the pros and cons of GRP and Epoxy. Epoxy won hands down!
Look forward to seeing as many as can make it next Wednesday at Danbury, Brian our Fund Manger will be along this time, just to say hello. I am trying to get him to get his boat ready in time for Holland in July!
Off to try and catch up with boat work tomorrow. New holding tank to fit, washing down and polishing the mast deck and hull first! Watch the temperature plummet!
Don't forget to send in those pics and logs, articles etc, plenty of room.
John
Saturday 19th March 2005
Well spring has sprung! The butterflies are out and the lawn mower has been in use, more pressure on my time as the boat calls and Seagull owners do as well, wondering if I've finished their beloved outboard that was in for service. Busy, busy!
Had some great mail in this week, nice pic of a Senior, 'Tuppence' from Nick Vass, who is now on the Advisors page, as he is a surveyor!
Heard a sad story about a WW I saw a year ago on the Broads, it is now offered on the 'For Sale' page.
We have had several mail enquiries, that we have replied to and comments on the Forum too. We have also heard from yet another owner who has given up with the ''other lot' and joined us...
We have started the next Newsletter off, but are waiting on several owners who have promised articles and pics, hopefully we will see them soon. Is your log one of the promised ones?
I have picked up yet another MG book, a fine copy of Yachting on a Small income, complete with clean dust jacket, quite rare.
We have sold a few items from the web site pages, a few more pennies to the funds, and there are a handful of new adverts. Had a few takers on antifouling, but not as many as I thought, still waiting to hear what you have found that is cheaper and works as well??
Ron Pimm had an article in PBO and I contacted him, he has an MG Levanter, nearing a complete refit, photos promised.
Alan Chin has sets of plans he would like to sell and will be letting us have details soon. We have thought of setting up a 'Plans Swop Shop' as there appears to be a lot of you with sets no longer needed, or ever used, in some cases. It seems a shame to let them go to waste. We will probably use the Forum for this.
The number of guests on the site is rising, we have over 100 visits a day now... Got to be doing something right!
All for now, more lawn to cut, Seagulls to service, holding tank to install! etc etc
John
Monday 14th March 2005
I heard from the man making my holding tank Saturday, it's done! That was quick! price £200! Cheaper by far than the other quotes and local too!
I have to measure up for the pipe today and order it, ready for fitting next week. At last the weather shows signs of warming!
Antifouling. I have had orders from only 5 owners, maybe you can all find cheaper more effective antifouling? If you can will you share it with the rest of us, this stuff is the cheapest stuff I know of that actually works! I can get it at the same price in small or large quantities, so it is not a problem, I just wonder what others are using?
We have had another 3 registrants since the 3rd. One from the USA, and another contemplating buying from Cumbria, but one from Kent with a boat that has never ever been on any former registers and certainly unknown to me. They report there are three Eventides slowly disintegrating in Hoo Marina! I know of at least one of them, but hoped it was being restored! Enquiries are in hand!
John Stevens has offered to host a meet round his Senior, he want a bit of help, date and venue to be announce, a chance to get 'hands on' with some rusty keel bolts! If you fancy doing the same, why not contact us and we will put the word out!
Looking forward to seeing all at Danbury on the 30th, hopefully by then we will be well into the fitting out!
John
Thursday 3rd March 2005
Hello folks, sorry if the site has not been available on and off for the last few days and the feedback, registry pages etc have not worked. not down to us, they apparently had a power problem in London where the server is situated, lots of files got jumbled and it has taken till today to fix them. (No Easyspace is not in India as some would have you believe!)
Still getting great mail in though. Simon Bishop tells me he is in contact with the builder of his MG boat, and guess what, John got it right, it is a 'Bluewater' design. Also heard from Alan Wells, looking at an MG advertised that has sunk and needs TLC, and another boat sent to me purporting to be a modified GH? I've never heard of a 30ft GH with triple chine and reverse sheer, could be a first if it does turn out to be an MG, I have grave doubts on that one!
Got the first crate of anti fouling delivered, Spring must be in the air! Have sorted a few more of the prices, so will add it to the page. Next crate full on order!
Have more promises of pics and another log!. PBO has pipped me to the holding tank article, but as they are a bit vague and I feel we can do better, we will write it up anyway! Also in PBO, Ron Pimm writes a bit about his Levanter, did you spot it? I am hoping to prise more out of him for the next Newsletter.
Snow slowly clearing, so back out to the workshop! The Seagulls call!
J.W.
Saturday 26th February 2005.
As a result of the Marclear Antifouling test I did way back in 1997,and my ongoing use, to good effect, of their product, (I have long been singing it's praises!), I have been offered a quantity to sell at a special price!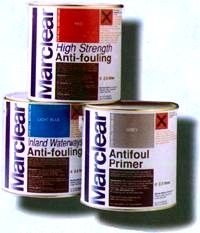 The Marclear 'high strength', in Work boat Red, that I and most others use, is normally sold at £69.99 for 2.5 litres, in the Chandlers. It has no biocides but up to 50% high quality copper content! that is why it works so well!
I think I may be able to sell it on to you for £45.00! The EOG will get £2.50 from every can sold!
You will have to pick it up from me either at Tillingham or maybe at Danbury, or I can have it sent direct to you either for the cost of carriage, £9.00 for 2 cans or even better carriage free if you order 3 or 4 2.5 litre cans. so if a couple of you get together, even if live a distance from me and the Essex crowd you can still get it for the same special price.
I will be getting more details next week, but tell you now in case you were considering buying some in the near future.
There will be other colours available in high strength, but they are not as potent as the Workboat red and cost more, I will publish details ASAP.
Advert done!
Back to the site.
Have had some great pics in from Bill Booth. Bill bought a M.G. Tringa class boat 2 years ago and has been beavering away in Cornwall ever since. The boat was just on the MG page of the photo gallery, but after the last lot of pics, she has a page of her own on the Featured boat section, and the Restorers section! Bill has also promised the log to go with the pics!
We have had congrats from a few members re the official formation of the Group, thanks to all of you.
We have the minutes back already, thanks Mike, and once they have been agreed by those that attended, we will publish them.
I will be amending the constitution and finding a page for all the 'official' stuff!
Still getting lots of enquiries in, today about a boat for sale near me, believed another MG design.
Number of registrants, up to 259!
Snow gone, Holding tank ordered, all the bits arrived, roll on a few warmer days,
John
Thursday 24th February 2005.
Last night at Danbury a small number of owners attended and a larger number mailed in, their vote on the constitution. It was approved, with very minor adjustments, and will be published ASAP.
The Steering group and the other posts were agreed. we are now in compliance with the Charity Commission of UK directions and after two years, are official.
Who would have thought that two years ago, with just 25 owners, we would have so quickly gathered strength and owners till we are in the position we are today with 258 registered with us, 200 of whom are owners! We are so pleased that our initial ideals have been supported by so many.
We owe a large debt of gratitude to Barry Sturrock, the webmaster. He was sadly too poorly to get out last night, but an official vote of thanks was made for his unstinting efforts, even though he has not been well.
We hope that in years to come, more owners will share information with us and all on the website, making it truly the font of all things Eventide, Y.M. and M.G.!
J.W.
Wednesday 16th February.
Well the snow I had forecast for Valentines did not amount to much. It snowed as I predicted, but never settled. Still far too cold to work on the boat though. Ordered a Poo Tank instead! Will do a photo shoot for the hints and tips pages, on it. An interesting project.
Had an ex eoa committee man call to see me today, could he put an advert on our website? Of course, see the for sale pages for a pretty little gaff rigged dinghy.... Graeme has kept in touch and we are very pleased to see him.
The post bag is still bulging, two more boats found. Plus more pics sent in by owners. The numbers just keep rising.
We will soon be looking for items for the new Newsletter, so lets have details of those winter projects! still no sign of those three promised logs.....
We have been able to put even more owners in touch with others, this is an advantage of registering an interest with us. so pleased it seems to work.
We have had our first volunteers for the steering group, which is great and another member has drawn our attention to the scam highlighted on the For Sale pages, it was in our letters page! I must get round to updating that too!
The donations page has been up dated, thanks to the generosity of J. Morgan and S. Moore another £50 is in the coffers. we look forward to seeing progress on Sheila's steel Riptide! A big thankyou to both of them. anyone else got any unused plans they would like to sell through the site?
J.W.
Friday 11th February 2005
Well we have our 200th boat on the site, a stretched WW from Tasmania! Now I am not complaining, but the owners have not registered with us, but are very happy to give us information and let us use their photo, great. There are many, seemingly are willing to do this and not want to register? We do not want their addresses for nefarious purposes, indeed we promise not to divulge information without their consent. Registering will give you voting power as a 'registered member', if we call for a vote or poll on anything. We wondered what other incentive we can give, realistically to get more owners to register an interest. We are building up a huge folio of boats, their history and owners, we feel this alone is worth while.... otherwise this information may be lost.
In the last few days I have been able to put two sets of owners in touch with other owners, using the database. so far we have helped quite a few this way.
Barry is working on the PDF file print outs, the experimental one is the donations page. we hope to do the 'Constitution' page next, so anyone turning up at Danbury will be able to bring a copy of their own!
Have you looked at the links page, we have added one to the RNLI.
We have also added a whole page of information re 'Lone Gull's' to the M.G. photo page. thanks to our Lone Gull II advisor for that.
I am progressing with the winter project, a holding tank, yesterday I ordered all the pipe fittings and a 'Tank Full' warning system! Can you feel another article coming on!
Had a mail from a 'Friend' the other day with a useful tip. If your compass has a leak, if, once you have cured the leak, you cannot find anything to fill it with, try BABY OIL! It works!
J.W.
Monday7th February.
Well done to that plucky girl, Ellen MacArthur, who smashed the round the world record at 2230 to 71 days!
Whilst taking nothing from her achievement, isn't it a shame that this is what so many people think 'yachting' is.?
J.W.
Sunday Feb 6th.
Wow! Have really been busy with mail etc here! Have had two more generous donations and the promise of more, been able to allow one member to contact another and swop a set of plans. Have had a donation in for the printout of the Newsletter, more pics, another MG boat to go on the unidentified page and we have made a Film! A DVD actually.
We have been donated the video of Neptune's Neried's building, by our friends Jim and Esther.

This DVD is now available to registered owners/members only at the reduced price of £7.50!!. It is a 45 minute film with a commentary, showing the building of an Eventide 26 from laying out the site building frame and lofting, to launch! all proceeds to the EOG!
Contact 'The Eventiders' via the contacts page for how to obtain your copy.
I have met a new member with yet another MG design and had calls from someone who is starting building in steel and will document the progress and we in turn will make a new page so all the steps along the way can be seen. As the Riptide was not drawn for steel the conversion data will be made available to all, in case there is anyone who would like to build in steel too.
We have had details of the Portsmouth Meet and a complete list of all the known Lone Gulls about, well done Malcolm, also a copy of the Harwich Harbour plan and details of how to get your free copy, a must if you are visiting Harwich. Details will go on the links page too, along with the pilotage plan for the Deben! If you want a copy of the Harwich plan, ring 01255 243030.
I visited a member last week who had a work team round, other owners, to help fit a new rudder bearing, another friend turned up to eat the cake and between us we offered encouragement and held the other ends of things whilst the real workers beavered on!
It was suggested that similar 'Eventiders Encouragement Visits' be arranged to help a few that are struggling on their own, against the odds... Seems like a good idea, so long as it is not the same people putting in the help all the time! any volunteers to host one or participate?
We have also had the sad news that an Eventide, Shamwah, E. 750. was destroyed in the gales recently, when it was blown off it's trailer!! Some gust of wind! David the owner, we hope will be contacting us again to advertise some of the parts, that may well help restorers.
These pages are getting so long now we will split them into years! It is great that there is so much interest and activity! we are already collecting material for the next Newsletter, we never got the logs promised though, come on they all want to hear about the Scottish adventures, the sail round Wales an the west country, the trip across to Holland.. You know who you are, Do I need to despatch the Eventiders Enforcement Team to bend your arms???
Registrations up to 254 now!
It will soon be getting warm enough to get on with those jobs, I'm collecting bits, antifouling, holding tank parts, etc ready for a slightly warmer day... More articles for the site too!
Regards to all,
John
Tuesday 1st Feb. 2005
Nearly a week gone by! so busy here.
Had you noticed that this site is now getting a hundred hits a day! We have to be getting something right by all the nice comments we are receiving, thanks to all of you who have sent contributions in, and a big thankyou to those who have donated, we had another two sizable donations this week.
I have received photos of yet three more boats that have been added and had more registrants. the forum continues to grow. I have had a particularly good selection of photos of 'Neptune's Nereid', that are heading for her page on the 'Restorers' section.
Never a day without contact in some form or other, yesterday a letter from an old friend who had been contacted by another who found their address in an old book.
With the sun shining, many have turned their attention to the for sale adverts. We have had an odd tale related to us of a boat owner selling on E-Bay and being banned for conducting a mock auction, he bid against himself apparently. Do be wary of E-Bay.
I have spent a lot of time recently on a little project that shortly you will see on these pages, hopefully. A film! It features friends of mine building their boat.
Don't forget the first Annual Meeting this month!
J.W.
Wednesday 26th January
Have just returned from an excellent evening at Danbury. 17 owners sat to the table! We feasted and chatted, Ideas and stories were swapped. Best wishes were sent to Barry, who was sadly unable to attend. The owners expressed their thanks for all Barry has done and is still doing for the Group. The latest will be the ability to print out any page as an pdf file, or Adobe file. Barry is working on this and soon we will have it in place.
Next month the Danbury meet will be the 2nd anniversary. Who would have thought the 25 members then would have swollen so quickly to over 250. We are to have our first 'Annual Meeting' next month, the steering group will be formally voted in and the constitution agreed, we hope. don't forget you can only vote if you are a registered owner! No wrecks on trailers either!
We were able to welcome two new members to the group tonight. Roger who is contemplating purchasing either an MG classic design or maybe an MG Eventide, and Sid who has purchased 'Jeopardy' the Fin keel Eventide seen on the site. She is to make her way up to the Blackwater soon! we hope both of them will be registering soon!
Off to add more pictures,
J.W.
Monday 24th January.
I have added seven more pics today of a boat had none of It is the Senior 'Shelduck', belonging to one of our advisors.
I have also added info to the mystery boat section, sent out another Newsletter and received more MG boat info, to be processed and go on the MG pages. We have had several enquiries, re sheathing, ballast and cruising abilities of the Eventide! Yet another owner contacted me to buy a Seagull! the postbag grows! the number of registrants has passed the 250 now and carries on growing. We have many thank you's for the site, which without your input, would be nothing, thankyou to all of you. We have also received a generous donation from the new owner of 'Neptune's Nereid', for the tape we organised for him. we have the content of this tape on CD now, and hope to hone it into a real film by adding the voice over and sound.
Barry has been hard at work sorting out 'pdf' file conversions, to enable you to more easily print out pages from the site. we will start with the Newsletters and the more used pages, hopefully the whole site eventually. 'pdf' is the free on line Adobe file for printing pages.
Hope to see a few of you at Danbury on Wednesday, table for 12 booked, more welcome!
Notice of First 'Annual Meeting'. this will be held at the Bell last Wednesday in February. we hope to approve the constitution then.
J.W.
Thursday 20th January.
This dropped through the letter box, thought you might like to see how much our little donations have added to the Asian tidal Wave Disaster fund.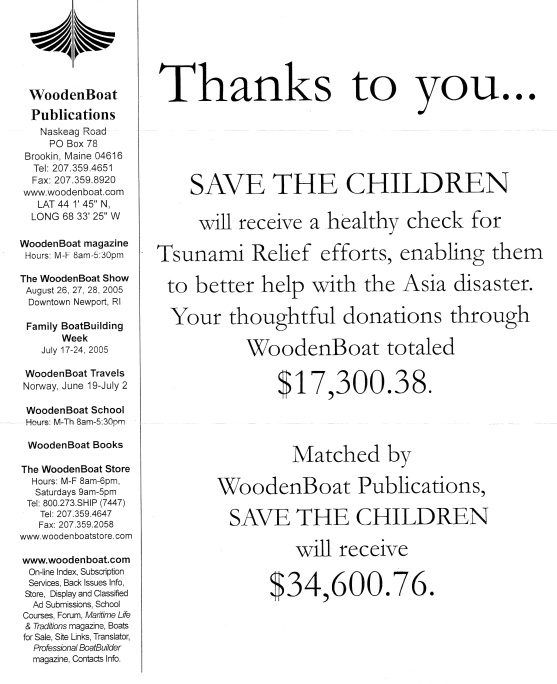 Well done to all who helped.
JW.
Monday 17th
I have heard from Holland that the Senior has only suffered a broken mast and bent rails. It could have been far worse. Bad news it the insurance company devaluing the mast 5% per year! Daft. Hope you get it sorted Chris.
My post bag in the last couple of days has brought another load of registrants. From Australia a new MG boat has appeared, 'Charon', she now has her own page, see the MG designs on the photo gallery.
We have also had the offer of another Goosander advisor, having just finished his boat!
Some one has contacted me after seeing the pics of his boat on the site, updating and correcting me, thanks Scott, he has registered too!
The advice line is working well, everything from trailers to masts and ballast keels.
I am working on my boat at the moment, the foc'sle is cleared out and measurements for a new holding tank have been made. I am drawing it up and sending off for quotes. I feel another article coming on... Three other owners are talking holding tanks too!
As normal up to my ears in it!
John
13th January 2005.
I visited Burnham today to see another member, when I arrived yet another member was with him and had traced the annoying leak the owner had been suffering from for several years. It was only because the rudder bearings needed replacing that the gas locker had to come out. The outlet on the locker had been scooping up water and draining it into the bilge hidden from view. You could have looked forever to trace where it was coming from. Add to this the lack of access to the area under the cockpit floor, making detection difficult. When I left there was a huge hatch going in in the cockpit floor, the gas bottle locker was being modified to drain out of the stern and the rudder bearings were off. It is so nice to see this sort of cooperation and friendliness, that's what we are about, helping others. Well done Brian and Alan
When I got home there was post in the box and on the computer, more pics and more members. Have a look at the last Eventide I have added, at the moment, on the Eventide page. I have never seen anything like it.
As an aside to that, did you know the Eventide started life as a 19ft boat? It stretched on the drawing board first to 21ft, then 24. now have a look at those Eventide pics. I had this from both Jack Coote and M.G. himself.
We have more interest in our Dutch trip, yet another is expressing an interest. to get a taste, look at the logs page on the Newsletter.
All for now,
John
January 11th
I have just finished the log of the EOG Dutch trip and put it on the site. Where are those other logs promised then, the Scottish trip, the Welsh one and the west country trip? Still room top put them in. We are also waiting on news of 'Rebel' and the book?
We have had CD's of pics of a couple of boats, that have been added to the builders pages and the gallery. Also we have the promise of the video of the building of one of our boats, to pass on to the new owner who is restoring her. A few enquiries, one of which is now on the MG pics page as well as unidentified... can you figure out which one she is?
We have just past the 245 registered members, with more in the offing. There is no doubt we seem to be providing something owners want. We would like to say a big thankyou to all who are sending in little donations, it does not take much to keep it going, less than a £ a head but realistically the off £5 or £10 goes a long way. we are really enjoying doing this, the encouragement and the mail is great, keep it coming,
John and Barry.
January 8th 2005
As the Wooden boat offer to double donations has expired we have removed it from the home page. We have had a tidy up on many pages and the webmaster has version 14 I think it is on the stocks at the moment! We are trying to make the site easy to navigate without losing it's image.
I have added another boat to the Eventide list, look who it is! We also welcome the new owner of Rosy! A MG design is in limbo on the unidentified page at the moment, but we will shift her to the MG page soon. We hope to be able to identify her positively when we get the full measurements from Simon the owner.
We have many e-mails and letters from owners who do not register with us, we hope to encourage more to fill in the form, so we can keep track of all the boats. we will not divulge your information to others without your expressed consent. We hope this archive will be of use to many now and in the future, if you have not registered on the website, please fill in the form on this site, access from the yellow and red box at the top of the home page!
John
January 3rd 2005
I have just added a selection from my mailbox, no way could I print them all, the letters page is about up to date.
In the past few days I have been laid up with the bug that's doing the rounds, OK now, just feel like I have done a few rounds in the ring, takes me back to the days when I was Flyweight champ in the police, many many moons ago, I always seemed to come out of a sparing session feeling like this!
We have added some new boats to the pages too, and updated the for sale pages. Keeping on top of this is fun! Noticed 105 registrants on the Forum and now 244 on the site! A couple of new and interesting boats, Rosy and Kinsman have come to us! Some will remember who they used to belong to!
Don't forget the next item, the Tidal Wave Fund. I have just used it again for my old Mum, she, like so many others has been very upset at it all and wanted to do something.
John.
forward to another good year.
John.