T

hanks a lot for the information and the links, we've studied thoroughly all possibilities and have some ideas, which need your consideration!

The first thing is that we are terrified by the challenge, which is the shaft removal, since we have to take out not only the shaft, but also the steering first! (see the pictures on steering). What kind of job is it??? Could you give us a short description on how the steering is removed and how then we take out the shaft? Since we don't understand this process and suspect that this can be a tough job, we are looking for other ways to renew the bearing.


And thanks to your last message we had the following thought. What if we leave the old bearing as it is and just buy a new bearing housing instead of our current holder, which only houses the sealing ring, with a cutless bearing about 5 cm long? What do you think, how it would affect the performance of the system (the bearing will be relatively short and located at the very end of the shaft)? Will it work for some reasonable time? Is it reliable?

And one more idea. We've just heard from a friend, that in case you cannot remove the shaft or the old bearing, so called "liquid metal" can be used.

This is some kind of mixture based on epoxy tar, and they say, it can be filled in between the old bearing and the shaft and in 15 minutes it's hardened, but it does not stick to the shaft. So in effect, it will act as a new bearing. Have you heard anything about that???

Kindest regards,

Victor and Olga

<![if !supportLineBreakNewLine]><![endif]>

Hello Victor,

That steering arrangement looks pretty permanent!

I would have expected to see a way of removing the rudder to service it. I am not familiar with the Atlantic Clipper steering. Very often boats have a bottom bearing that is bolted to the skeg, and removal of this enables the rudder to be un bolted inside the boat and dropped down. Some may have a flange just above the blade and the rudder shaft has a matching flange and 4 bolts, there is nothing like that on yours.

There has to be a similar stuffing box and bearing arrangement on the rudder and that has to be 100% before setting off on a trip such as you contemplate so it does all need checking out.

However unless there is some means of removing the blade that I cannot see it rather looks like it was put in place and a boat built round it, most odd!

The only other way of removing the shaft would he if there was a cut out in the rudder to enable the shaft to pass, seen than on some boats. Failing that the shaft has to be extracted by moving the main engine and taking the shaft inside!!! A major job.

If the shaft rotates OK in the tube and that 'bearing' cannot be withdrawn and replaced you will have to look to an alternative. A new outboard bearing holder with either a cutlass or tuphnol bearing may be the answer, just leaving the old 'bearing' in the tube. ( I would be very interested in knowing how that bearing was fitted and how the maker thought it could be serviced!!) Without drawing the shaft it is impossible to know….

I have not had any experience of the epoxy bearing material, but I would suggest that unless all scrupulously clean you may find difficulty getting the epoxy to stick to the bearing holder. Sounds as if you may have to take local advice on this one!

I wonder if anyone reading this has any suggestions.

John

October 2013, freshly repainted!
<![if !supportLineBreakNewLine]> October 2013. Victor has another problem....<![endif]>
The major thing we've been dealing with during the last 2 days is the steering mechanism, I've greased and painted all the important joints and added 2 more rings of graphite rope (picture 94, 95)
.

<![if !supportLineBreakNewLine]>

<![endif]>
However I encountered an unexpected problem when I tried to get inside the column, which holds the steering wheel (picture 91). I decided to go inside, since I hear some kind of slight rattling when I turn the wheel. So when I tried to remove the wheel holder plate by unwinding 4 screws, it didn't move. I tried to move it slightly with a small screwdriver and a tiny hammer from the side, since I thought that the metal is just old. But it suddenly went off and I saw that it broke up, leaving the inside part of the plate in place. This detail is on the picture 92. So on the picture 91 you can see the rest of the broken part, which is marked by the red arrow.
I had a cowardly thought that maybe I can leave it that way, but probably it's not a good idea, because it might hold some kind of a protecting ring, same as I had on the propeller shaft.
In this respect we are now guessing whether there can be a threading inside and we should try to unwind the rest of the broken part, or it does not have any threading at all? Do you happen to know this?

Thank you very much in advance for any of your ideas!

Victor.
Hello Victor,
The steering pedestal looks to be very corroded at the point the shaft emerges. It is going to be quite difficult to remove the remains of the cover plate, but I bet you are going to have to, just to ensure all is safe…
I do not know this gear but imagine there must be a way of lubricating it and a seal of some kind there. Without a makers name it may be difficult to find out what make it was. Maybe one of the other owners may able to assist with a makers name!
Steering pedestals often have gears at the top and a shaft drive, but some have a cog and a special chain drive, either way I would like to see what was in there and what condition it is in. It is every skippers nightmare to lose the steering. Is there an emergency steering arrangement?
John
November 2013.
Hello, John!
Writing to you with our updates – we were able to pull out the stuck part with some homemade device!
Now I can see all the mechanisms inside and can service them properly. There were indeed some places much prone to water ingress, which I treated with epoxy filler. Now just have to grease everything and order a new bronze part instead of the broken one, and believe this steering is to be reliable for some more years. At least I know now, how it's all organized, this is the most important thing I believe.
We also made a new housing and placed there a half of the cutlass bearing, it is now screwed on the outside of the shaft. Maybe can make something with the old inside bearing as well. Have to think about that!
We hope everything is fine with you and wish you a beautiful and peaceful winter!
This is the only time of the year, when one can sit in front of the fire and spend some time thinking of who he really is and what this life is all about!
Kindest regards,
Olga & Victor
Very pleased to hear that Victor managed to take the steering gear apart and is now able to check and service it, a very important issue when setting off on a grand trip such as he is intending. all in all every part he has attacked has been restored back as new, Very well done Victor a high standard indeed! We must thank him for sharing all this with us as now other clipper owners facing similar problems will have most of the answers!
John
June 2014.

Dear John!

We are happy to say that finally we are sailing! The boat of course needs more attention, however everything vital is almost done and we are enjoying our time among waves and wind!

We promised to write to you in case we find solutions for the windvane self steering, and we did! We have investigated thoroughly all the types and manufacturers of this gear in the market and were absolutely charmed by the Windpilot company. The owner and general manager Peter was absolutely perfect in all aspects, from initial consultation on the type and design of the unit specifically for our boat to the moment of installation and fine-tuning, which are as simple as that, because everything is preassembled, and all you need is just fix a couple of bolts and fasten a couple of blocks. Peter advised to fit a servo-pendulum system called Pacific, it is rather light and convenient for our boat type and size. What is interesting, a lot of producers turned away from us, saying that windvane won't work with our boat because of the protruding mizzen boom, high aft cabin and central cockpit, but Peter just laughed at our concerns and said that our boat is absolutely not a challenge. And he was right! We didn't need any special parts to be manufactured, he sent us standard parts and everything is working perfectly well. The delivery was prompt and smooth. We admired on how beautifully and precisely all parts are done - it is really a piece of art and a product of high science at the same time! Earlier we were thinking about "do it yourself" variant, but after we had Pacific in our hands, we were glad we didn't start - it would take us months and the result would never be the same! The device is so complex and simple, all in one!
Here's a small video with it, and we also attach a picture. the steering lines need to be trimmed, but even with that the pilot is functioning very effectively, when the speed is 2,5-3 knots!


https://www.youtube.com/watch?v=ZmK3X-FiCGc&feature=youtu.be Edited link now works!

Maybe it all looks as advertising, but it's really so and we want to share our happy experience!

As for the leaking water tank, we still haven't solved the problem, but we have a number of ideas, as soon as we decide for something, we'll write to you!

By the way, now we are passing on to the next step of our boat conversion, we want to fit an electrical motor instead of our old diesel. Do you know any European companies who manufacture such motors for sailboats, or maybe you know people who already did such kind of conversion?

Would be happy to hear from you!

Your Olga&Victor

Have a great day!

:)
Victor posed an interesting question. Now he is afloat he is considering replacing the aging inboard diesel with an electric motor? Any one have any experience of these? To my mind I always worry about electrical items on board, they have to be so well made, (and therefore expensive!) to resist water and the associated corrosion. On the other hand I bet we have all seen inboards mouldering in rust and exposed to the elements and still plodding on many years after they should have been consigned to the deep as mooring weights! (properly degreased of course) . I think I would always rely on a diesel and if based on a common motor, say a Ford, parts will be available anywhere.
A more pressing problem, for anyone contemplating a long ocean cruise as Victor and Olga and family are, would be that water tank.
Can it be cut out and replaced? Can he get to it? I would be inclined to remove it, even if it meant cutting it up, and replacing with either a ply and epoxy built tank or tanks or purpose made smaller multiple stainless ones. That way you could plumb them in to be separate in case there was a contamination problem, or another leak... Sure Victor will sort it!
John
September 2014
Hello dear John!

It's been a while and finally we get back to you! We hope you had a splendid summer and wonderful sailing!

We have some things to share about the boat, which is Atlantic Clipper 36, as you remember, though we don't have the pictures right now, maybe the info will be useful anyway!

As you remember, we had problems with the leaking stainless steel water tank. And we could not think of anything better than remove it by pieces and replace by two separate rubber tanks (those simple ones, which look just like plastic bags...). Actually this idea did not seem reliable to us, however we met a guy, who uses them for already 6 years and says he's quite happy. The next positive trait of this choice is of course the price, as well the convenience. However later it turned out, that the volume of these tanks is about 20% less than declared. Maybe this is because we did not distribute the tanks evenly in the locker. Anyway, the system works pretty fine when it doesn't suck in the air - the tanks are emptied to the last drop. And there doesn't seem to be any problem during the rocking at sea. So far this seems to be a nice solution. Time will show!

Also we had engine problems, which resulted in major engine breakdown due to the following reason - the original exhaust system in the boat is not on the safe side. With the exhaust far below the waterline, the exhaust funnel passes just an inch above the waterline and goes directly to the exhaust manifold without any water locks or valves. That turned out to be fatal when we loaded the boat with much more stuff that it was used to carry during the short coastal cruises with previous owners... The water was leaking steadily into the engine, coming inside the cylinders, and finally the rings got rusted and the engine was seized. We had to dismantle and fully overhaul it, and it was quite an expense! However we are happy to have done that, because there were a lot more aspects that we have taken care of, including the wiring and other things, so the engine now works perfectly fine. So we would like to warn all owners who have the original exhaust system, to change it before it damages the engine!

We now also have come to the point when the standing rigging should be changed, especially in the view of high loads that the boat may encounter in the ocean. And we are also considering folding mast steps. ( I can recommend these!)

As for our cruising this summer, we had a lot of plans to visit many Mediterranean islands, but due to the engine saga, we had to stay motionless for 2 months in Malta, waiting the workshop to finish their job in high season. So we had an express trip from Malta to Barcelona, where we are now, preparing to slide down to Gibraltar!

We wish you a wonderful day and hope to hear from you soon, because it's always such a pleasure for us!

Olga and Victor
:)
Well done to the pair of you, and the family, we look forward to the log to add to the new logs page.
Your problems with the engine are sad, there must always be a loop in the exhaust to take it well above the waterline, before it falls to the outlet, however it is sailed and a water lock for the water in the first part of the hose and an anti siphon in the water injection. These are basic ways of installing a motor but sadly often ignored. A dear friend and member of the group has had the same problem with one of the two new 10hp motors in his catamaran. All the pipes were fitted correctly, I know I fitted them, but sadly the anti siphon was blocked as it was one of the Vetus auto siphons and it leaked.... will cost him dearly. I suspect he will be removing the auto part and replacing it with a plastic hose, the end left in air draining into a cockpit drain. I have this set up having removed my auto siphon years ago, it dribbles into the cockpit drain by my feet when I am motoring and am on the helm, a good indicator that the water is flowing, as well as the splashes from the exhaust outlet...
We look forward to seeing that log!
John
Hello, our dear John!

We haven't been with you for a while and during this time we have been enjoying our family cruising at its best!

Upon completion of our Mediterranean voyage we skipped to the Canaries and spent a couple of enjoyable months there. In December we started our transatlantic voyage and after 29 days in the ocean we landed safely on St Lucia island in the Caribbean. The voyage was fantastic! And we THANK YOU for that! Without your help everything would be much more difficult and puzzling! John, thank you so much from the bottom of our heart for being so caring and responsive! You are a wonderful person!

Since then we've been here exploring the islands (we have travelled through the Lesser Antilles, Dominican republic, Netherlands Antilles, now we are in Curacao) and studying information about further routes and making further plans.

Finally we weighted all the pros and cons and decided to take a break due to the fact that the kids are still very small to make their parents cruise with no worries - teeth growing, naps during the day and jumping all over the rest of the time sometimes makes us crazy! Moreover, now we have a very nice job opportunity, which is always good for the budget of the cruiser. And another thing - we will probably need a bigger boat. This one is absolutely marvellous, however for living aboard as a family sometimes is too small. So we are thinking about putting her on sale. What do you think about this?

We are sending you our most good wishes and look forward to hearing from you!

Kind regards,
Olga&Victor
<![if !supportLineBreakNewLine]>
Great news from Victor and Olga, they really have done well and like so many others that get the cruising bug and looking for a larger boat. I said to them that so long as they could still handle it themselves! So pleased I have been able to help in some small ways, to you achieving such goals.<![endif]>
J<![if !supportLineBreakNewLine]>ohn<![endif]>
<![if !supportLineBreakNewLine]><![endif]> Hello, John!

So great to have your prompt reply!

Plans in sailing cannot be small, and even in one island you can find the whole universe to explore!

So far we have a lot of job to prepare the boat for the lay up, so don't have much time to make a nice reading for your pages, but promise to do that later on!

In brief - we were very pleased with the boat all the way and in all respects! After these chartered clone Bavaria/Beneteau/Dufour and whatever this boat was a bliss! She is very smooth and at the same time very stable. We had her going in very high swell and strong winds with absolutely no worries. Central cockpit is very safe and comforting. She is so light that even in weakest following winds we could make her go with only a medium sized genoa poled out. In strong winds she is racing at stable 6 knots almost fully reefed down. And thanks to the fact that she's a ketch, the sails are combined and handled very easily single-handed. The interior is perfectly designed to keep everything (including sleeping bodies) in place, when the boat is rocking.

As for the repairs we've done, everything is perfectly fine:
1. Engine - the overhauling was worth while every penny - now we don't have to worry about anything, we got a new engine for the price 2 times less than it would be if bought really new. Moreover, during the overhauling we spent a lot of time in the workshop and acquired much knowledge about how this all works. This engine is simple, reliable and cheap to fix. Now it's working like clock, does not consume oil and acts as a perfect helper in strong counter wind or current, or if we have to manoeuvre in a small marina. Powerful diesel is really a great thing, especially for such a light boat! As you already told us:) We are so happy we didn't go into the idea of an electrical motor - on the boat at sea everything gets rusted in one moment and we had all our electronics (small electrical motor for the dinghy, phones, tablets, computers) going just crazy, should they have even the least contact with salty water.

2. Windpilot is a miracle! It works! At first we could not believe our eyes - the device is so precise, but you just cannot understand, what is going on! It is very simple to install and very easy to operate, Peter Foerthmann is very helpful with any kind of advice at a blink of an eye, Windpilot is not the most expensive on the market, still the quality is absolutely impeccable. We are very happy to have it, and we cannot imagine our journey without it! In strong following winds electrical autopilots just have no chance - they can steer for several hours, but for them this is a really tough job and very energy consuming. We could not even steer by hand properly! But Windpilot was fantastic - timely and tiny movements of the wheel - and the boat is perfectly on course for days. It needed very little treatment, so we are quite happy. By the way, Peter was the only one who told us that selfsteering for this kind of boat will not be a problem (all the others told we would have many problems because of the high aft cabin, long steering lines and too many blocks and an outstanding mizzen boom). We had correspondence with every company on the market and they either told us that selfsteering for our kind of boat is impossible, or came up with expensive individually tailored variants. Peter just told us - I have a number of pre-manufactured parts, we'll make a combination that will perfectly suit your boat. And so it was! Peter is a great man, we mean it! He seems to be the only one who understands what he's doing and cares for the sailors.

3. Steering - we didn't change the original steering system and were quite happy with that - the system of shafts and reduction gears is very robust and seems to last if cared properly. We always made sure that every connection is nicely greased and have never had any problems. The only headache is the steering column. It just gets rusted and we cannot stop it with anything - all sorts of paints and primers and epoxy fillers and marine Sikaflex are just a temporary treatment. Maybe you have any ideas about that?

4. Water tank - we replaced that by a rubber one and it didn't give us any worries!

5. Centreboard - we never regretted about it being out, we still could sail quite close to the wind, close enough for our purposes, though we didn't have to do it often!

Shallow draft is wonderful - we were happy many times to have it!

Solar panels - work very effectively in the tropics! We don't have a wind generator and still didn't have a thought to place this on, because there's always enough energy on the panels for our needs.

So everything is just great! It's a pity we will have to part with her, but leaving her unattended for a long time is much sadder.

Here's one of our latest pictures from the Canaries, we call it "Existence racing team":)

Best wishes,
Olga&Victor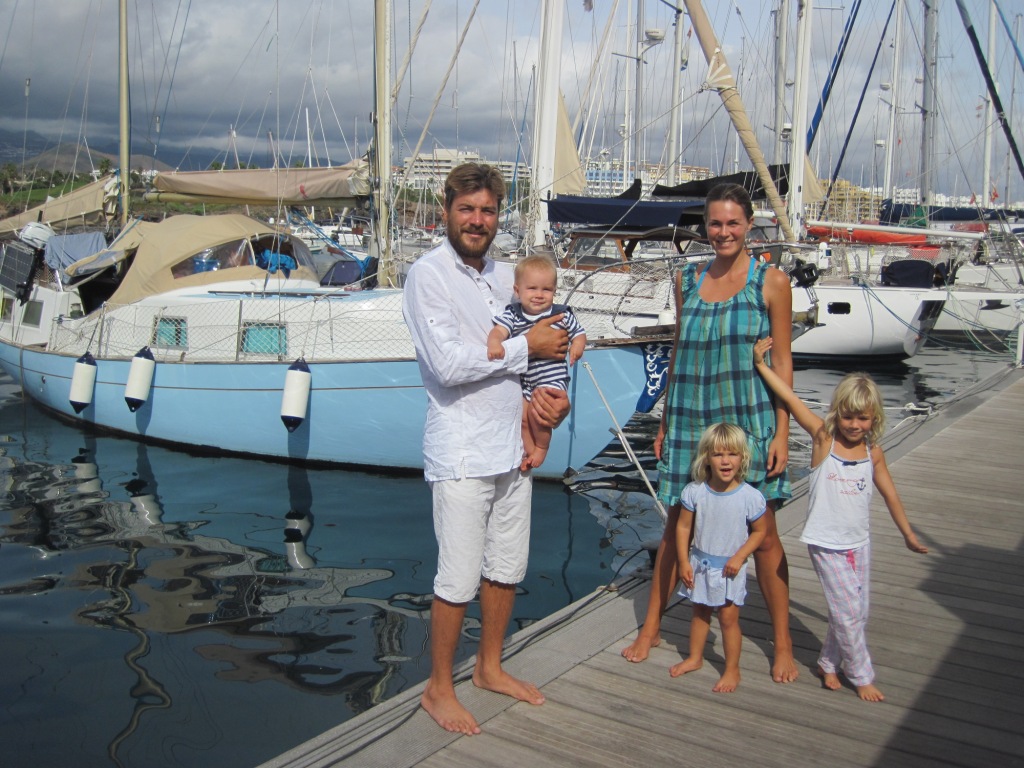 Congratulations to the Existence racing team, transatlantic sailors!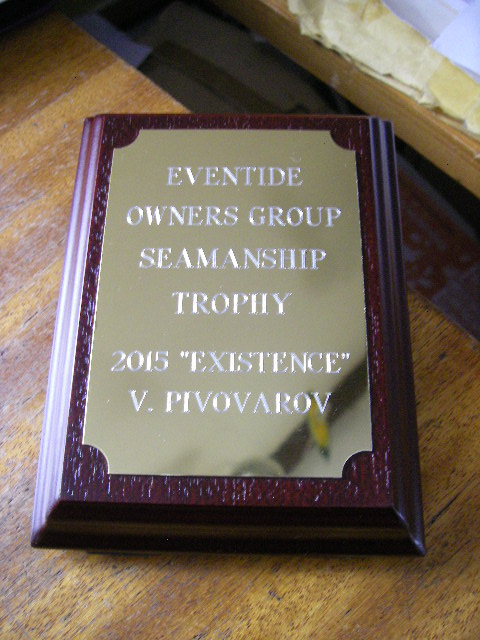 John

March 2013 and she is up for sale as they look for a larger craft to carry them further!

SOLD December 2015.

And we hear they have given up boating and gone to Russia.

I make no excuses for showing every one of these great pics of her, Ed.

'Existence' is an Atlantic clipper prepared by victor and Olga and family over the course of several years and sailed by them from their home in Serbia across the Mediterranean and then across the Atlantic. the preparation for this trip can be viewed on the Restorers pages, click here.

We have just completed a check list for the brokers here in the West Indies with the most full description of the boat.

The most wonderful thing about her is that she is just ready to go right now, because we were preparing her for ourselves and did not yet use even a fraction of her potential. That's why, as we've mentioned, we don't want to leave her unattended for a long time, because everything that is new today, will not be that new in some years. She has to sail on!




<![if !supportLineBreakNewLine]>
<![endif]>

SOLD

asking price was. USD 39,000.

We under stand she has been sold to a Canadian couple, as we had this in.....

Hello John
Victor said you might be interested to have an update on his old boat, Existence.
We've only had it a short time so there isn't much to tell yet. We bought it in Curacao, did some maintenance then sailed her to Bonaire now to the Dominican Republic. We are aiming to travel down the chain towards Trinidad and Tobago this season.
That's all I can think of to tell you at the moment.


Regards
Dave Johnstone


3/15

April 2017.

We have just heard from Andrew in Florida that he is the new owner. He has just joined us, and the Forum!

He has sent an intriguing enquiry.. have the keel bolts been replaced?
Had to refer him to this page and there is no mention of this. Then I had a thought. Does the Atlantic Clipper, (or the Barbican, come to that..) have an external ballast keel?? Many production GRP boats have internal encapsulated ballast. And the only fastening are normally bonded in studs that are then secured to frames or other strong structures within the boat to assist supporting the weight.
So what do Atlantic Clippers have? anyone let us know....
John