The Reunion
by Jackie Williamson
Last summer my husband Mike and I set off in our Westerly Tempest for a six week cruise from our home port of Fishguard for the most ambitious sailing itinerary we had ever tackled. Starting with an overnight sail to Holyhead we carried on to the Isle of Man, up the west coast of Scotland and the Inner Hebrides, over the top of Scotland and through the Pentland Firth before heading home via the Caledonian Canal and the east coast of Ireland.
But what, I hear you asking, does a cruise in a Tempest have to do with the Eventiders website? The answer is, everything. If it wasn't for this website, the cruise would never have happened.
Rewind a year, to late Autumn 2007. I was about to publish my first book, Cevamp, Mike and Me, the true story of an Eventide yacht built over two decades by my late father-in-law, Alex Williamson. It was his dream to build his own ocean-going yacht but, sadly, by the time Cevamp, sail number E1202, had completed her first sea trials Alex wasn't really fit enough to sail her. So Mike and I became her caretaker owners, sailing her around the coasts of Wales, Ireland, Scotland and the Isle of Man for four years until work commitments forced us to sell.
But nothing is ever straight-forward when you're sailing and almost every time we took the boat out we had an adventure, survived near disaster or inflicted damage on the boat – all of which provided me, a former local newspaper journalist, with just the material I needed to achieve my life's ambition to write a book.
A light-hearted mix of drama, romance, adventure and humour, together with the fascinating story of how Alex found the time and materials to build the yacht, the book was all set to go to the printers. All but one thing. We had no idea where Cevamp had ended up or, indeed, whether she was still afloat. The person we'd sold her to had sold her on to another man, who had sold her on to someone else. All our enquiries drew blanks. Until my 13-year-old grandson, Charlie, came up with the obvious solution.
'Why don't you just Google Cevamp?' he said.
And that was how we discovered the Eventiders' website and, through it, Cevamp's current owner. We emailed the website and John kindly passed on the email. Before we knew it, we'd heard from Ron Billing, the proud owner (for the second time) of Cevamp – now Gipsy Maiden.
'I always knew this boat had something about her,' Ron wrote. 'Why don't you come and pay her a visit?'
We live in the far south west of Pembrokeshire. Ron couldn't live further away – he's in Port Gordon, Banffshire, in the far north east of Scotland and keeps the boat a few miles along the coast at Findochty. But we'd always fancied sailing round Scotland and needed no second bidding. Ron sent us his Scottish charts and we spent the winter poring over them, making plans.
We left Fishguard on the night of 20th May and finally sailed into the warm spring sunshine of Findochty's little harbour just eighteen days later, on Saturday, 7th June.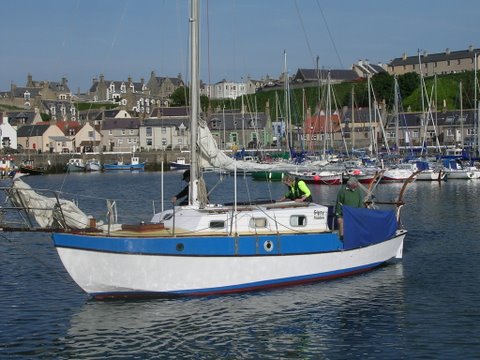 Gipsy Maiden (formerly Cevamp) comes to greet us in Findochty Harbour.
It was heart-warming for Mike and me to see Alex's dreamboat chugging through the water towards us, as brave and sturdy as we remembered her. We were heartened, too, by the warmth of the welcome over the next couple of days from Ron, his wife Mary and their family, not to mention Gipsy's sailing crew.
Ron has worked hard on Gipsy over the years, and made an enormous commitment in time and money to restore her as close to Alex's original as possible. Some things have changed, which is to be expected after nearly twenty years, but there is still so much of Alex in the boat and I am sure that, had he been with us, he would still have been as proud of her as ever.
But what really impressed us was that Ron and Gipsy actually take part in races. Cevamp? Racing? And, even more incredible, winning them too!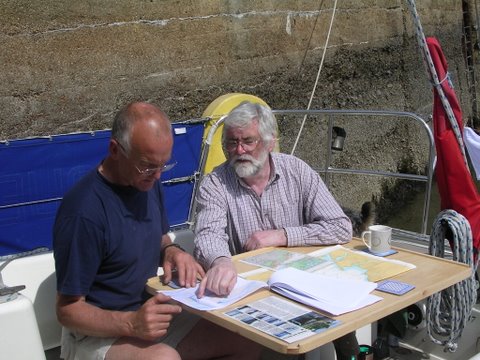 On board our Tempest, Mike and Ron peruse the charts for the Caledonian Canal.
As for us, after two relaxing days of soaking up the sun, Mary's home cooking and Ron's Scotch, it was time to point our noses into the stormy Cromarty Firth, ready for more adventures as we headed south for home.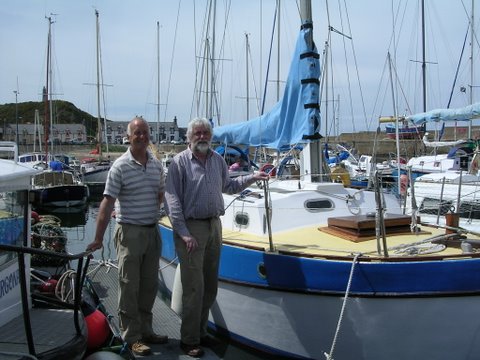 Ron, Mike and Gipsy Maiden (formerly Cevamp) on her Findochty mooring.
* * * *
Cevamp, Mike and Me by Jackie Williamson is published by Acorns Publishing at £8.99 (plus £2.50 p&p). To order your copy, please email
As a little post Script, Ron has kindly sent this pic and article in with a few of his plans for the year as well.
Moray Firth Flotilla. Summer 2007
It was way back in December 06 that the first hints of the Moray Firth Flotilla were first made known. I signed up for it which then gave me the incentive to get old Gipsy Maiden well ready for the task ahead.
The start at Wick on 23rd June meant a day sail from Findochty on the 22nd. It was foggy, no wind so the old Yanmar diesel had to do sterling service for 13 hours to putter us to Wick. There were three of us on board, me an old greybeard of intermittent sailing experience, Tina, a young fifty something who had sailed just about everything, and Richard a transport mogul (bus driver) who had been dragged afloat kicking and screaming on the promise of a pint when we got there !
We had on board two GPS's and two compasses. I felt that as long as they all agreed with each other we shouldn't be far out on the navigation. As it was when we did eventually see the coast we were about 5 or 6 miles south of Wick. By the time we got in tied up to the grand new pontoon, all the welcoming parties were over. A chinky meal for`ten `sufficed and afterwards the three of us crashed to sleep the sleep of the Gods.
Next day , Saturday, the whole of Wick turned out to put on a great show with stalls of all descriptions and even dancing girls from Buckie for a foretaste of what was to come later in the week . About 30 boats of a great variety were there ranging from light Shetland yawls and Viking boats to the magnificent three 100yr old fishing boats, The Swan, the Reaper and Isabella Fortuna . Sadly we had to say ta ta to Tina who had let work commitments get in the way of her sailing. So that Richard and I had to drink her share as well. Shame! On Sunday we attended that blessing of the fleet of thirty or so boats of all descriptions thinking we would need all the help there was available.
The sail to Lybster was hairy, a strong nor easterly but blowing right up our chuff but getting shelter from the Caithness coast, it was fantastic sailing until we realised it was too much for the old sails and the main started to tear in spite of being on the first reef. In Lybster licking our wounds over a few jars of amber nectar and a Ceilidh the like of which only Lybster could do, it was agreed that possibly we should have had maybe two reefs instead of the one.
So next day, still the same strong nor easterly, two reefs, and the staysail, and still old Gipsy was flying along, seeing 7`s and 8`s on the GPS. At one stage leaping off a gigantic wave going our way, 8.3 was held for what seemed like ages. I had bought Gipsy Maiden from Helmsdale, our next port of call, about five years before and one of the highlights of the trip was to find a local postcard with Gipsy Maiden depicted thereon. She was called just Gipsy then but the Harbour master recognised her and since the `Maiden` had been added he wondered when she had got her virginity back. That nor easerly continued to blow even wilder so it was decided at several skippers meetings that the spare day should be spent in Helmsdale instead of Cromarty. We had already `endured` a night of jollifications and here we were faced with another. Oh! The pain !
Leaving Helmsdale next day in the middle of the pack we found that the wind had eased a little but just to prevent any complacency creeping in a few jolly seas leapt aboard going round Tarbet Ness. Still we sped on clocking 7`s and 8`s. Then we realised there were no boats in front of us, we were quite unintentionally leading the pack. It wasn`t a race but old Gipsy was just performing better than she`d ever done. On the phone to home I was hearing of torrential rain but here we were sailing in bright sunshine. There was one heavy shower just as we entered Cromarty Firth but Richard was on the helm at that time whilst I was in the cabin calling up Cromarty Harbour. At each port on the way down there had been tremendous interest in the Flotilla but here in Cromarty the interest was even more so. The new pontoon was packed with visitors and at one time there must have been a dozen or more on Gipsy, all armed with amber nectar. In the midst of it all old friends from the past appeared and Tina escaped from work again to rejoin us. An evening of much laughter and great food with one or two drinkies rounded off the day very well.
Thursday we set off for Buckie. Bonnie day but no wind to speak of so the little Yanmar had to come on watch again. Off Findhorn the weather was positively tropical and ganseys were discarded and a whole lot of Dolphins came out to play keeping with us right on to Hopeman. This is where we had the full ringside seats to watch the magnificence of the Reaper, Isabella Fortuna and the Swan under full sail when a bit of a breeze filled in. Arriving in Buckie about 1600 we were treated to more receptions and a tremendous show organised by the Buckie Festival. Even the rain storm didn`t dampen their enthusiasm. We should have gone off to Portsoy on the Friday to join up with the Boat Festival,but in the interests of safety and the limitations of the smaller boats an extra day saw us tied up in Buckie.
But full of fun and game for anything now we sped of to Portsoy on Saturday morning. But alas their organisation was such that after an hour of tying up and then moving again and again we chickened out and went back to our comfy berth in Findochty.
All in all it was a great adventure with terrific camaraderie between all the crews. I was disappointed that we were the only FWSC representatives because it was for classic boats of which there are several in the Club. The next one is going to be in 2009, Gipsy Maiden will be 25 and I`ll be 75 so I feel a centenary coming on. Come and join us.
Ron Billing.
I'm not a die hard racer but rather take part to cause `chaos` to the really keen lads. On Sunday 17th May we entered a wee passage race when the southerly 5/6 was perfect for Gipsy. She just flies in these conditions and although we made a cock up of the start we won on handicap ! But it seems I went the wrong side of a mark so they disqualified us. Now I know I must be getting old because I became magnanimous in defeat. But there's another race tomorrow with similar conditions predicted so stand ye by !
Our big cruise this year is to Wick for the Harbourfest on 26th June followed by the Portsoy Small boat festival starting on 2nd July. We did the Moray Firth Flotilla two years ago and I attach a cleaned up version of that little bit of fun.
Keep up the good work.
Kindest regards
Ron Billing.