Annual Meeting 2008 and the new Award.
The 4th annual Meeting of the Eventide Owners Group, took place yesterday the 5th of April 2008. The E.O.G. has now been established for over 5 years. In that time the initial membership of 65 has increased over tenfold! We have new owners from all four corners of the world enrolling with us and pledging their support, many in highly practical ways, donating plans and literature.
We have been able to reunite owners with boats they built, put fellow owners in touch and there are now several groups of members forming their own local or class groups.
The generosity of members has resulted in funds to enable us to ready the CD's of drawings to pass on and will keep the website going for years to come. With our promotion of our classic designs comes the wish to also promote the sort of safe sailing and seamanship connected with them. At the annual meeting it was agreed that we might donate a sum to a youth charity that promoted seamanship. We will announce the charity and amount, after the Steering Group has discussed it. We will then hope for an opportunity to present a cheque and promote the cause further.
Associated with this was the presentation of a new award in memory of the work that our late webmaster, Barry, undertook at the local Sea Cadet unit where he did volunteer work as a Petty Officer in the Sea Cadet Corps..
This award is to be presented annually, from now on by the Steering group, for any act or work to promote seamanship, primarily with any of our boats, or our members. Practical seamanship involving youth work to be commended.
The Barry Sturrock Seamanship award.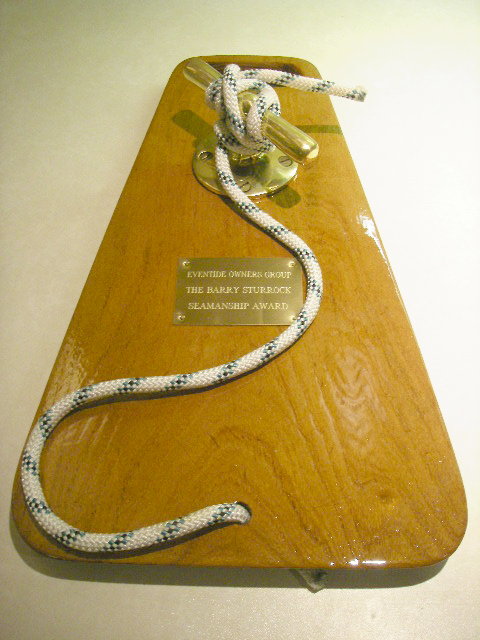 In April 2008 the new seamanship award was first unveiled and awarded.
Announced at the Annual Meeting on 5th April 2008, the first to be presented with the award was Brendan Mason, for his passage making plans for his maiden voyage in 'Tarka' his WildDuck.
I believe Seamanship starts as a frame of mind and Brendan clearly showed this with the preparations he made for his first trip. Other aspects are learnt from others and from reading or watching. Brendan has clearly demonstrated his willingness to learn.
The trip was not of epic proportions by any means, less than 10 miles, but it was made in very cold conditions in February! It was also his first time off the mooring and with a totally untried boat, and he with very little experience. He had wisely taken the helping hand of another member, John Stevens, as a crew, but the preparations and gear taken left little scope for a mishap. Well done Brendan.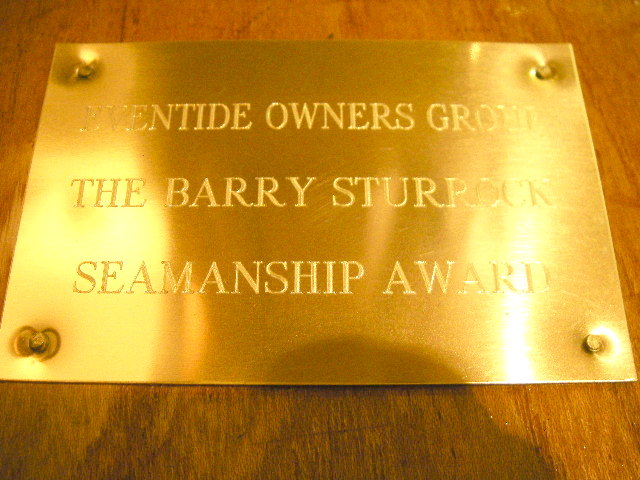 Brendan was also presented with a small plaque as a permanent memento.
John