---

This Lone Gull II seen for sale on Boats and outboards site by John Stevens 01/07. which one is she?
---
'Mary'

Wooden hull, black raised topsides.

Home port Chichester Harbour.
---

'Lonestar' GRP, dark blue hull with conventional coachroof. Owner John Banks summer harbourmaster of Newtown I of W who has collected much of this information. Thanks John. Pic by Mike Millard.

Home port Cowes, Isle of Wight.

SOLD:- Lone Gull II 'Lonestar'

"Lonestar"

Lone Gull ll Class Bermudian Cutter

Designer

Maurice Griffiths GM 1960

Built Geoffrey Arter, "Cruising Boats", Axminster, Devon. 1990

Composite construction with Dark Blue GRP triple keel hull moulded by Brue Marine, Highbridge, Somerset with marine ply/teak decks and superstructure. Deck and coachroof epoxy coated from new. Aerofoil section bilge keels.
Dimensions LOA 28' 00" 8.5m
LWL 24' 00" 7.3m
Beam 9' 00" 2.75m
Draft 3' 9" 1.2m
Displacement 4.5 tons 4581 kg (Light)
5.5 tons 5550kg (Cruising trim)
Ballast 2.0 tons 2000kg (steel punchings in centre keel encapsulated in resin)
Sail Area
Main 200 sq ft 18.6 sq m
Genoa 187 sq ft 17.4 sq m
Staysail 77 sq ft 7.1sq.m all Graham Caws Sails, Cowes 2003 in cream 6 oz material
Cruising Chute with Snuffer 350 sq.ft 32.5 sq.m (approx) Sea Teach 1993 (red, white and blue)
Storm Jib I00 sq ft 9.3 sq m Spare Main and Genoa by Jeckells 1990
Engine Yanmar 2GM20 18 SHP Direct sea water cooling, driving 3 blade bronze propeller. Approx Maximum speed under power 6.5 knots Fuel consumption at 5 knots approx 2.5 ltrs per hour. Volvo Penta maintenance free stern gland (overhauled 2008) Vetus Single leaver control on stbd side of cockpit. Starting panel and voltmeter in saloon. New cylinder head, valves and top overhaul 2007 Injectors serviced 2009 Various spares (Belts, filters, impellors). Access to engine via watertight hatch in cockpit and hatch in saloon after bulkhead.
Fuel Diesel 22 gall 100 ltrs. In steel tank, starboard cockpit locker with remote shut off valve Sea Cocks Brass / Stainless steel ball valves on all fittings 2 cockpit drains Engine seawater cooling inlet. Galley sink outlet Heads inlet and outlet Heads washbasin outlet. (All valves replaced from original gate valves over past ten years)
Water Capacity 55 Gall 250 ltrs In three flexible tanks under saloon bunks and forward bunk with separate shut off valves and filters on galley

supply tanks.
Mast Square section hollow built spruce with stiffening at hounds etc. Stepped in Stainless Steel tabernacle on coachroof.
Solid spruce tapered boom with worm roller reefing 2 x Spinnaker poles (1 alloy and one GRP).
Rigging Forestay, Inner forestay, 3 shrouds each side, twin backstays. Stainless Steel 6mm & 5 mm (Cap and after lowers replaced 2005). Stainless steel rigging screws. Bulldog Furling gear on forestay for genoa. Running rigging – Main, Genoa, Spinnaker & staysail halyards. Topping lift, burgee halyard, signal halyards to spreaders, lazy jacks. All pre-stretched polyester of appropriate sizes – Main halyard, main and genoa sheets replaced 2008. Stainless steel jack stays P & S along side decks.
Deck Gear Laminated Wooden Horn davits on transom to take 8ft dinghy. Chrome Lewmar sheet winches on cockpit coamings. Snubbing winches on after end of coachroof for staysail. Chrome Lewmar halyard winches on mast. 10kg Delta Anchor with 30 fthm (55m) 8mm galvanised chain. 35lb (16kg) Fisherman's anchor stowed on foredeck with 10mtrs 8mm chain and 40mtrs 16mm nylon warp. 7kg Danforth type kedge anchor with 8mtr 6mm chain and 25mtr 12mm anchorplait warp. Davey Anchor Weight Traveller shackle and 8kg "Angel" lead weight to fit over anchor cable. SL Hyspeed Double Action manual Windlass.
Stainless steel pulpit, pushpit and guard wires with alloy stanchions between. Quick release pelican clips fitted to guard wires. 2 horseshoe lifebuoys with sealed MOB lights (2008). High Vis floating rescue line. Man overboard dan buoy with flag and reflective tape.
Assorted mooring warps – 4 at 10mtrs, 2 at 15mtrs plus others. Acrylic cockpit canopy with clear plastic panels, Acrylic cockpit dodgers with name. Acrylic mainsail cover.
Henderson hand bilge pump worked from cockpit, Whale electric bilge pump with automatic float valve.
Laminated oak/iroko tiller, Spare oak tiller. Mahogany Ensign staff and ensign with socket on davits. 2 boathooks.
Plastimo Contest Bulkhead Compass. Firdell Blipper Radar reflector on mast. Anchor ball, Motoring Cone, Stainless steel boarding ladder on transom . Wooden boarding ladder, 8 fenders – 4 with fender socks, Pressurised gas fog horn
Electrics 2 x 100 AH heavy duty batteries with change over charging selector switch. Charging from engine alternator,
12 watt Uni Solar FLX 11 solar panel with battery charging selector switch Aerogen 2 wind generator, Tri coloured navigation plus anchor light at masthead, Bi coloured light on pulpit. Wandering lead inspection light. Portable stern light to fit on davits. 10 watt electric light over galley. 2 x 10 watt reading lights over saloon bunks, 10 watt light in heads, 2 x 5 watt reading lights over forward bunks. Red / white flexible light over chart table. Spare light bulbs. Cooling fan fitted to cold box under chart table. Switch panel with fuses over chart table. Pilot Gas detector and alarm.
Electronics Raymarine ST2000 tiller auto pilot (2003) Raymarine Ray 54E DSC VHF (2009) Appelco GXL 1100 GPS
Nasa Target Pro Plus 2 channel Navtex (2009) ICS 4 Navtex (no aerial but gives print out of position from GPS at user programmed intervals). Brookes and Gatehouse Focus log / echo sounder
Fire Fighting 2kg dry powder extinguisher in fore cabin. 1kg dry powder extinguisher in saloon. 1 Kg Automatic dry powder extinguisher in engine room. Fire blanket adjacent to galley. 2 buckets and lanyards
Domestic Conventional MG layout with galley to port, chart table to starboard and two upholstered bunks (P & S) with cushion backs in saloon in fawn material. Lockers behind bunks. Scatter cushions.
Table with two drop down leaves.
Pressurised "Victory" paraffin heater on forward bulkhead. Two gimballed brass oil lamps in saloon. Two upholstered berths in fawn in forward cabin with upholstered infill to make large double bunk.
Plastimo Neptune 2000 Gas cooker with two burner hob, grill and oven all with flame failure sensors (New 2004) Gas shut off valve in galley. 2 x Camping Gaz 905 cylinders with regulator and valve in gas tight cockpit locker . Cold Box with electric cooling fan. Audioline Long wave, medium wave, FM stereo radio and cassette player. Blakes Lavac Sea toilet to stbd amidships (new pump2010) with change over valve to pump out shower tray. Hanging locker to port. Plates, cutlery, saucepans, kettle, teapot, etc.
Sundries Monartex winter cover with three section ridge pole and deck supports. Templates for cockpit dodger name letters. Some spare standing rigging, shackles, rigging screws and blocks.
John has just sent these pics in February 2011, sadly he has also sent in an advert for her. She was sold and sadly john is no longer with us.
March 2011.
THE commodore of the Cowes Corinthian Yacht Club has died, aged 64.
John Banks, of Noke Common, was born and brought up in Hythe, Hampshire, in a family with strong connections to the water.
He spent his childhood messing about in boats and roaming the New Forest. On leaving Totton Grammar School, he enrolled at Warsash School of Navigation, going on to become a navigating officer with P & O.
In 1969, he joined Hampshire Police and very quickly was posted to the newly formed marine unit based in Cowes, becoming the youngest sergeant in the force at the time.
After spending almost 30 happy years patrolling The Solent, firstly in the Ashburton and then in charge of the three new Seaward police launches, he took a part-time job with the National Trust as assistant harbourmaster at Newtown — one of his favourite anchorages — where his cheerful readiness to help and his extensive local knowledge always endeared him to visitors and locals alike.
Shortly after moving to Cowes, Mr Banks joined 2nd Cowes Sea Scout Group as a leader and more recently as group scout leader, bringing the group to its present position of the largest Island group and only Royal Navy-recognised group on the IW.
He was recently presented with the bar to the Silver Acorn award.
At much the same time, he joined the Cowes Corinthian Yacht Club, serving on the site committee as flag officer, contributing to and editing the club magazine and for the last two years as commodore, overseeing the development of the new marina facility.
A life-long cruising man, he built his first boat, a 19ft Lysander in the garden, progressed to a 24ft Eventide and for the last 16 years cruised The Solent, West Country and Channel Islands in his immaculately maintained 28ft Lone Gull II Lonestar with his wife, Liz.
He leaves a wife, two daughters, a step-daughter and step-son and granddaughter.
His funeral will be held on Wednesday at St Mary's Church, Cowes.


We are sad to lose John, He was a contemporary of mine, serving in the Hampshire Marine unit while I was in Thames Division in London. We met only once at a conference.. His boat is for sale on our pages and is reportedly, by one of the Steering Group, in perfect order....
---

This picture was taken by Mike Angus and if the current owner is reading this and would like to get in touch with him his mail address is here... pleasecontactme at talktalk.net
Would be nice to know who the owner is after the previous owners sad death.
---
'Cousin Jack' 31 ft wooden hull with counter stern, completely rebuilt and unique.

Home port, Poole Harbour.
---
'Risga'

29ft Wooden hull.

Home port Poole Harbour.
---
'Moonfleet'

Wooden hull white raised topsides and loco cab cockpit shelter. There was an article about her in Classic Boat Spring 1987. Update March 06. Hull repainted Dark blue 1999/2000. Owner Ian in touch, boat at Wells next the Sea, Norfolk, ashore for winter... built 1975 at Highbridge, Somerset. On visit recently Boat yard could not be found ....

March 2010, we have just been sent this picture, of a painting, the one above!

William Tottle the owner has had it on his wall for ages, his father won it in a raffle at YM in 1975, they owned 'Moonfleet' at the time... might be up for sale soon.....
---

'Brue Gull' Wooden hull, Gaff yawl rig.

Home port Mylor Cornwall. Thanks to Warren Stevenson for the picture. as a bonus there is also 'Wisp' the MG designed 'Medusa' design in the background!
---

'Mew Gull'

Wooden hull and deck .

Y.M. reviewed the vessel in August 1991 'Classic yacht supplement'.

Home port Shoreham but currently in Turkish waters.

When the owner gets back to UK waters or anywhere they can call base, we hope they contact us, as Bob Doe of the Trident Owners Assoc has sent a nice print that we can forward!
Mew gull ashore on a Trolley
Mew Gull under sail...
Currently on the River Guadiana (Portugal) and celebrating 16 years of live aboard life. 2015. See Chris's Face book page for loads of fantastic pics etc.
www.facebook.com/lonegull2/timeline/
Chris Painting the owner has sent in an article about his rebuilding of the cockpit seats etc. to make them waterproof. It will be appearing shortly on the hints and tops pages.

Mew gull in Portugal summer 2023. M ay be up for sale soon....
---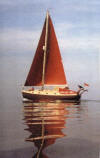 'Foreland Gull'

GRP, brown hull and cream raised topsides, with loco cab cockpit shelter. Owner Lone Gull Advisor. Home port Walton Backwaters.
---

'Little Gull'

Wooden hull, a Lone Gull I? raised topsides. Current owner not known. this boat is for sale, 09/06 see the For Sale pages. She is still in her home port of Langstone Harbour.

August 2008 the new owner, Peter Harrold has just sent this and a few other pics in.

Like the steps

A little TLC needed to bring back her shine, look forward to the pics of her sailing!

January 2011 and Peter has sent in a few more pics of the progress to date. Bad timber removed and replaced. Replaced cabin front, foredeck deck beam and a couple of planks, working on transom.

The front of the cabin replaced.

Now the primer is on and the rush is about to start. Aiming for launching this year.
Love the web site.
Plan is to launch in Lincoln and take her to Brancaster via Boston.
Peter.

2012. All restored and back in the water, she has her own page on the Restorers section Click to go there.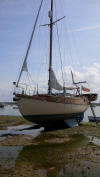 Here she is on the ground at Blakney. 2013
Also saw Peter and 'Little Gull' on Fiddler's Greens long trip in 2013.

Peter was nominated to Classic Boat as the restoration of the year last year, he did not win the prize, but just to be nominated was accolade enough!
She has her own page on the Restorers section Click to go there for the full story!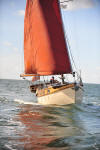 These magnificent pictures of 'Little Gull' taken off Yarmouth Norfolk on a good sailing day. Peter says that seeing them though has made him realise he needs new sails!
---

'Ivory Gull'

GRP, White raised topsides. Junk rigged. Owner and home port U/K. September 2008, Gerry O'Brien, the new owner has just joined us and sent in this pic, of the last owner sailing her.

Gerry asks what is the displacement of this design and has anyone got a brochure with sail areas etc for the cutter rigged version...

Can you contact us if you have a brochure and we will publish it on this page for all to see, with acknowledgement to you of course!

August 2013. Gerry has been in touch to sadly let us know he is having to sell for health reasons, there is an advert on our 'for Sale' pages. Since then, it is now 2018, she has been bought and sold again. will the new proud owner who bought her from Clive and James please step forward!

As she was in 2018 when sold by Clive and James. Clive tells me she is indeed the same 'Ivory Gull' that was rescued by the lifeboat in 2017, when James was injured aboard. See the i-Player for 'Saving Lives at Sea'

March 2020. The new owner Chris has joined us and sent this picture in. Sadly due to the WhuFlu epidemic neither he nor anyone else will be doing much sailing with marinas and boatyards closed and travel restricted. Here's to a brighter 2021!
---
'Lundy Gull'

Wooden hull currently in build at Penarth, Wales.

See Classic Boat Dec 2003.
---
For further details and to contact any of the owners, please contact the Advisor, Malcolm Jolly, 01255 813144, who will take your details and pass them on to the owner for them to contact you.
J.W.
---