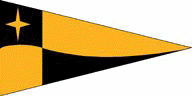 'Stoppress' pages for 2021
Scroll down....
---
---
These pages will be updated on an almost daily, certainly on a weekly basis, from all the mail and information coming in to us.
---
---
Click here to read the 2004 News pages
Click here to read the 2005 News Pages
Click here to read the 2006 News Pages
Click here to read the 2007 News Pages
Click here to read the 2008 News Pages
Click here to read the 2009 News Pages
Click here to read the 2010 News Pages
Click here to read the 2011 News Pages
Click here to read the 2012 News Pages
Click here to read the 2013 News Pages
Click here to read the 2014 News Pages
Click here to read the 2015 News Pages
Click here to read the 2016 News Pages
Click here to read the 2017 News Pages
Click here to read the 2018 News Pages
Click here to read the 2019 News Pages
Click here to read the 2020 News Pages
Click the link(s) above to read earlier Stoppress items
There is also a Free Guest Forum, click here to go to it.
Members can post threads and respond. there is also a new 'Private, Members only' section!
You will need the passwords from us though!
---
---
And we have a new page of logs, click here, to go to them!
---
---
Scroll down for 2021 Stoppress pages...
---
Sunday 18th April 2021
After a rather somber week, with the Dukes funeral and all the media coverage, today the sun came out and things began to look better. I even got to pat the boats transom! However I have been working hard clearing my old shipmates bungalow for a couple of days now and rather bushed, so was not about to set to and spend a day beavering, need to rest. Also want it to warm up a tad! Was only 14 degrees at the barn and that a mite too chilly to be washing all the accumulated dust and owl poo off. Looks good for later in the week though!

The emails have been buzzing back and forth here and we have had one or two good bits of news. I was approached about an Eventide called 'Pegasus' some time back and was able to put the enquirer in touch with the owners, long time sailing friends, who have long since swallowed the anchor. They had carefully stored their pride and joy, waiting for the right person to come along. Enter member Nigel. Heard this week that the deal is done and 'Pegasus', the red Eventide 24, so well sailed by Bruce and Viv, is in new hands and about to be transported to Cumbria for some restoration work!



Pegasus sailing well!

I have more news of a similar story to share with all soon, once the deal is done. This one may make headlines!

Another member, Marco in Italy, has sent a few pics of the restoration of his Eventide 24. 'Nausicaa'. Found in a sorry state, Marco has been beavering away at the woodwork and hopes to complete this year. I have been trying to convince him to check the keel bolts and increase the ballast, as this looks like a very early 560lb keel version, 1960 vintage. Maybe next year he says. I can bet if he sails her as she is, he will scare the pants off his crew and that keel will be off to be beefed up, next year!


This is just a sample pic showing progress, I will be posting more on the Eventide page of the Gallery

Had a nice request last week from Peter North's grandson, Simon. Peter as some will remember built the magnificent leeboard WW, 'Wedjit', ( if it does not fit wedge it!) Peter at 95 sadly is in a care home and very poorly. Pleased to say I was able to put Simon in touch with the man Peter sold to, Tim Fenner and Tim has contacted the new owners, who although they have not as yet enrolled, they have been in touch with Simon to offer him a look over the boat in Ipswich when we are able to do so. Had a very nice 'thank you' back from Simon. That's what the EOG is about!

Finally I have had two contact us re sails, one looking for a set of Senior sails for 'Sandpiper' and another with a good mainsail for an Eventide 24 for sale. I will be posting wanted and for sale adverts shortly!

Stay safe and hopefully soon we will be able to get afloat again.

During the past week only two sails seen on the Blackwater..... Hoping we can get out there soon!

John

Friday 9th April 2021

After the sad news of the Duke of Edinburgh's death, I dug out my old Silver D of E badge!

I was 18 when I attained mine. 1965. A wonderful scheme. I did 'public service' at a hospital in North London, an eye opener.

I did my adventure training, planning and leading a group of 4 over a 50 mile hike for 3 days and nights in the new forest! I learnt so much doing it and met so many nice people.

Later in life I met the Prince himself and his off the cuff 'navy humor' and easy going nature, made everyone warm to him, he will be missed.

John
Monday 5th April 2021.
Easter Monday and it has snowed! Not for long and it did not settle, but what a contrast to yesterday, when we had family round for a garden picnic and we all got sun burnt!

So pleased someone has responded to the sponsorship plea for my sister's charity efforts. Thank you Keith. My sister is very grateful. Sadly my niece is not too well at all at the moment as the bowel cancer has spread and yesterday she broke her arm... another side effect... Want to donate? See the link in Saturdays Stoppress...

Good news regarding one of our senior members though, Doug who turned 90 recently has recovered from the WhuFlu and is home again. He had a slight relapse last week when he had his delayed dose of vaccine, and was whipped back in for a day.... but he is home and recovering now, had a long chat with him yesterday..

Raf in Belgium has just sent a donation for the Eventide drawings, and is looking hard at the steel version! Promises to let us know when the keel is laid!

Rob has sent a couple of photos of his late father's Eventide 24. sail number E705 under construction in Hoylake on the Wirral in the 1960s. His Dad served in Sicily in the war and liked Italy very much - hence the name 'Andiamo' - which means 'let's go!'

See below. I will also add these to the Eventide page. Anyone know where she is now???




Would be great to track her down for Rob.

All for now, off to stoke the log fire, with the F6 northerly wind chill it is only 2 degrees out there!

John
Saturday 3rd April 2021

Very nearly wrote January! Blessed cold here, not made double figures today, Sunday supposed to be warmer, but Monday talk of hail and snow and minus temperatures!

Not fitting out weather, yet. Easter weekend is early this year. Looking out over the Blackwater and Colne rivers and up the coast towards Harwich today, still not a single boat visible out there all day!

In the last few days we have had yet another new member enroll, Amber with the pretty Thames Bawley 'Kittiwake'. Amber berths her in Newlyn , great place to wait for a fair breeze to the Fortunate Isles.... Wish I was off there again in my boat!



Now you just have to admit that is a nice looking transom! Amber tells me she is hoping to get all painted and ready to launch for the 5th May!

She's shown here in undercoat, ready for her first coat of fresh cream paint. Her tiller is in her front room with its third layer of varnish and its all starting to come together.

More power to the elbow Amber!




Tim Baker has been back in touch with a couple of photos of his finished fold/swing away cabin table. Looks neat!




Tim's table in place.


I have just come in from a walk around my neighboring farmers field, good excuse to check the owl boxes and get some well needed exercise. Don't know about you but I have got to do a lot more to get fit after this last lockdown. And don't mention the waistline!

Some may know my sister Sue, her and Keith are often aboard F.G. Her daughter Lucy is very poorly, so Sue has committed to doing serious exercise every day in April, to raise money for Bowel Cancer UK. I attach the link here in case you feel it is a worth cause.

https://www.justgiving.com/fundraising/s-heywood?utm_source=Sharethis&utm_medium=fundraising&utm_content=s-heywood&utm_campaign=pfp-email&utm_term=4466ced35fb14b07a350c70a4ec4f182.

Would be great to see the donations rack up for her. Would love to see her top £1k!

Time to throw another log on the fire, chilly here.

John

Tuesday 30th March 2021.
Released from lockdown yesterday!

Yesterday got out for the first time in months, sadly was too busy to get to my boat, assisting emptying my old mate Richards house, lots to sort!

Hoping to get to my boat to wash off the dust of the last year soon, and assess how much touching up of the Sikkens I have to do. I know I have to polish the mast and the paintwork, remove any more owl poo!! I will not need to be repainting hull and cabin top for years fortunately, but then the antifouling always has to be done. Suspect I will be scraping off any flaking antifouling first and then keying the epoxy coating to make the fresh paint stick.

Do not expect to launch till mid May when it hopefully will be safe for my two gallant crew to assist rigging and berthing her. If the relaxation of the rules can carry on without too many covidiots forcing us back into anther lockdown.... so antifouling can wait a while yet.

In the last week we welcomed Mike with the GH 'Thane of Lochaber'. Mike hails from West Lothian, so suspect her cruising grounds will be the East coast of Scotland area, or through the canal to the Clyde, brilliant cruising area! After a false start Mike is up and on the Forum, already put a question up about self steering gear. anyone with any knowledge of these please answer him on the Forum.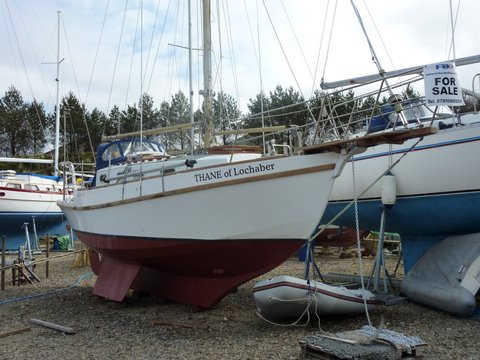 Waiting for more up to date photos...

Had a few mails back and forth from Simon in Australia, we have sorted the mail problem, there was a letter missing from his mail address! Simon asks if his Senior is built stretched slightly, will it still qualify for a sail number? Of course it will, many of us end up stretching the designs a little, with the designers blessings I might add. My Eventide stretched by just over a foot! Proud to have the YME sail number!

Raf in Belgium is almost decided on which design he will be building, or having built, a Steel Eventide?, waiting to hear from him, then we will send some drawings.

Keith with the new Senior build is contemplating adding some foam buoyancy to her. Not a bad idea as it also offers sound and heat insulation. My own Eventide has most of the unusable voids, the cabin sides against the hull and the spaces beneath lockers, filled with closed cell foam blocks. May not be enough to stop her sinking without pumping up the inflatable in the cabin, but it is cosy! I did calculations 30 odd years back and figured out I would have to have a pair of huge flotation bags, CO2 inflated maybe, stored in little boxes, either side of the cabin table and bolted to the keelson, never went that far!

After a couple of beautifully warm days here in Essex, I heard mention of snow in the forecast again! Not down here, but up in the frozen north of the country! Easter, and snow, great! (Remember the camping holiday one Easter and waking to 2" of snow! Brr! Long time ago.... 60 plus years....).

Look to your covers if the snow may get to you.

Roll on Summer, and hope for a healthy one!

John


Tuesday 23rd March 2021.
Happy Birthday Doug, 90 today!





Click to enlarge



Doug on board his WW, returning from London via the Havengore!

Saturday 20th March 2021.
The Spring Equinox!


Hello All, its the first day of real spring, but the weather is not playing ball, grey and cold here! The mails have still been coming in despite the grey weather. Just had a couple of pictures in of Rob's father building his Eventide,

'

Andiamo

.' Still not found her though. Guessing she may have had a name change and not everyone lets us know what their sail number is.

Pieter in the Netherlands has sent a link in to a magnificent Kylix Class for sale there. https://kroesbootbouwers.nl/zeiljacht-te-koop/




This is a cracking photo of her!
We are inching towards summer and I'm hoping the idiots still ignoring the rules will not force us back into another lockdown. Seeing the beginnings of a third wave in othe r countries and just hoping we do not relax our grip too soon.

The antifouling brush beckons!
John
Wednesday 17th March 2021


St. Patrick's Day!

Asgard II
The Irish sail training vessel sunk in the Bay of Biscay 2008.
Believed she struck a floating container.
No injuries but she now lies in 80 m upright on the bottom!
Happy St. Patrick's Day. Just had to be in green again today! Sadly for many the WhuFlu is going to make celebrations more muted than normal!

When John Stevens and I sailed the Irish leg of my 'Fiddling Around' trip in 2018 ( http://www.eventides.org.uk/FG%20log%202018.htm ) we stopped in Arklow for 10 days and were welcomed by the members of the Arklow sailing club. One of the first people who welcomed us turned out to have been crew aboard Asgard II that fateful day. The ship had been built at Tyrrells boatyard, Arklow in 1981 and had a large local following. They were disappointed she had not been salvaged, as, for a long time, she was in fair condition. Sadly not now, so a campaign has been started to have a replacement built. In the meantime Tyrrells' yard has gone, so not going to be built there like the first two Asgards!

For any of you that have never read 'The Riddle of the Sands' (shame on you!), the first Asgard was the authors own boat and played a large part in the Easter Uprising of 1916. The Irish failed then and Erskine Childers sadly met his end later for possession of a gifted, cased, pistol, donated by grateful followers! Of course Ireland won its independence from the UK later, peacefully in December 1922.

Have to say if you get the chance go there, the sailing is great and the people just the best!

During the past few days we have yet another new enrolment. This time as a friend, as his father built and sailed an Eventide 24. He would like to know if anyone knows of her. She was called

'Andiamo'

but of course that name may well have changed.


E705 on the water off Hoylake on the Wirral, probably soon after her launch around 1970. Do you know where she is now? Has she been renamed? She may even already be on our pages! Built by a Harold Elles in Manchester in the late 1960's. Would be great to be able to put the son in touch with the boat again.

Another mail in this week from Alan.. Can anyone assist with location of GH 147?


In 1983, four of us sailed across the Atlantic in Sunne Rising, GH147. Her erstwhile owner/skipper, Neville Moray, died in late 2017 and In August 2018 his widow and daughters hosted a gathering of family, friends, colleagues and crews at his home in the S of France to celebrate his life - it was a wonderful occasion.

Back in the UK, I decided to dig out my copy of the ship's log which Neville had typed and copied to the crew back in '83 and I got to wondering whether Sunne Rising/GH147 survives. Neville made his last professional move back to Europe in 1997 and sold the yacht before leaving the USA but none us has information about the subsequent owner(s).

I should appreciate any suggestions you might have about how I might track down GH147. I don't have any particular purpose in looking - we had good experiences with her, before, during and after the Atlantic trip, she always looked after us very well, and whether she survives or not - and I certainly hope she does - it would be good to know.

Alan W.

Hope to see a copy of this log soon!

Chris the owner of the Barbican

'Katana'

has been back in touch with a correction to the text accompanying his and

'Tide Times'

photos I just added, he acted as escort along the French coast, not from the UK. however he promises to look out the log of his cross channel trip and passage through the French Canals for the Logs page. Look forward to adding that.

From the Irish poem:-

May the wind be always at your back,
May the sun shine warm upon your face.

John


Saturday 13th March 2021.
After a few chilly but relatively dry days the weather is beginning to improve, made 10C or more for a few days now, so my thoughts turn to antifouling.... As of the end of the month we are officially allowed to leave home, so already making lists of places to go and jobs to do. No meeting of families indoors allowed yet, and limited out door contact with one other... but it does mean we can go to and work on our boats in the open at last. Just so long as the Covidiots don't mess it up and put us back in Lockdown!! Again!!!

The Annual Meeting reports on the 'Members Only' pages of the forum have now been updated a couple of times, with additional details. For one thing, we now know the number of enrolments has exceeded 1700!

There is also a new thread on the main forum for comments re the Annual Meeting reports. I have asked the Webmaster how we can make this available on the 'Members Only' pages. Hopefully in the near future members will be able to make comments etc. in the 'confidential section of the forum. remember if you write anything in the main body of the Forum ANYONE can see it!

Heard back from Ed in the Gambia with the GH 'Moondancer' he is figuring out how to get her dragged ashore with a winch, like the local boats maybe, so he can attack the bilge keels and get them treated, as well as replacing the soft timber backing pads.

Sadly not heard back from Simon Broad in Australia... if you read this Simon, check your e-mail address and get in touch.

The enrolments are coming in thick and fast. Another Four this week.

Welcome to Eugene in Waterford with the GH Chloe, wonderful cruising area!

Welcome to Robin with the steel Waterwitch 'Zareba' he is rebuilding in Plymouth, lots of work but he seems to be tackling it the right way!

Welcome to Emil in Canada, he sails from Silva Bay, John Stevens recommended I look it up. Great sailing area and there was even an 8 acre island for sale there for a cool million! Heavily wooded with room for a jetty and a nice house or two!! Emil has a 34ft steel schooner but is considering a Wild Duck in steel, stretched to 23ft again... that size seems popular!

Finally Welcome to Nigel in Tonbridge who was the owner of the Eventide 24 Kandy for many years, sold it for a GRP creation, but as he says, Eventides get to you... so he is looking to buy and restore an Eventide we know. Thanks for the donation Nigel, a set of Eventide drawings on a DVD posted to you.

He mentioned he had a copy of Classic Boat with 'Pegasus' featured, his dream boat. I happened to have spoken to Bruce and Vivian some time back an knew they still had 'Pegasus', tucked away somewhere. Turns out she was in an aircraft hangar in Suffolk. A couple of phone calls later and Nigel is arranging to go look at her, as soon as we are allowed to. Would be great to see her restored!

Also had someone ring re a boat for sale on the site, sadly he looked, from a distance but has not bought, so the Starship, 'Enterprise' is still for sale.

Reminder, still looking for a Senior owner on the Steering Group...

All for now, off to water a freshly planted tree.
John

P.S. just added another 12 pictures to the Eventide, Barbican, Golden hind and Waterwitch pages! Several boats not seen before!


Sunday 7th March 2021..

Our Annual Meeting is now live on the Forum!!!

We do need a new Senior Rep on the Steering Group as Mat has sold his Senior. Any takers??


Hello all, spent the afternoon sheltering from a cold North Easterly and working on the website forum pages instead.

I have started off the 2021 Annual Meeting on the 'Members Only ' section of the Forum with my report of the last year and with the accounts. If you are a member and are not on the Forum yet please contact us to get the registration code. Only full owning members can then get the further password needed to get to the 'Members Section'.

Will be adding info re the Database from John Stevens shortly!

Members are encouraged to add their thoughts, you will find a new topic for replies on the General page of the Forum. Let us know what we are doing wrong!

Of course our accounts are published there only for 'Full Members' to read.

Had an interesting series of photos in of a Steel Waterwitch that was converted to a motor cruiser. Reg, the present owner has cut away a lot of the superstructure and is re-welding the back end, a lot of work. Will be asking him to enroll and getting more info from him.

Heard back from Ed with the GH 'Moondancer' he is contemplating removing the bilge plates to re galvanise them but it may have to be done in another port as where he is now there are only very basic port amenities...

Keith with the Senior 'Dipper' (Sail number 1801!!), has asked if we know where to get stainless track suitable for a sliding gaff fitting he has. Needs C section, 5/8" internal, 4.5m long, stainless sail track. Anyone any ideas? I suggested Classic fittings at Woodbridge and Davey's, maybe I.Y.E.??

That's about all for today, time to rest the fingers, I have been tapping away all afternoon.

John


Friday 5th March 2021
St Piran's Day!


St. Piran's cross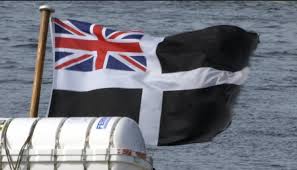 The unofficial Cornish ensign!

Do not often hear of St. Piran's Day, but it is a thing, especially in Oggyland! Sadly no celebrations in Cornwall this year....

We had another enrolment in the last few days, Simon Broad in Queensland, Australia. Simon if you are reading this please get in touch as your e-mail bounces back. Now this does happen occasionally, but in this case it is a Yahoo address and not Yahoo Australia, tried converting it but still bounced.... So try again Simon.

The EOG have started a new chapter, after 18 years we have started issuing sail numbers. The first to Keith's Senior, it is now going to proudly display YM S 1801 on the new suite of sails.




I have added these of the hull upturned, What a finish! 'Coppercoat' antifouling and superb paint finish. Note the little steel bilge keels! Not on the plan but a clever addition, weight where you need it too. The plates will help with directional stability when plate is pulled up, also let her dry out level

Keith has now turned his Senior over and she now has a name 'Dipper'. Keith has used the excellent Selway-Fisher hull construction method and as you can see it has turned out a very fair boat!


We were asked about this a while back and after realising the old sail number books were 'disposed of' by the old association, we realised we had all the records of all sail numbers issued, so we could if we were requested to, issue numbers.

for many years Yachting Monthly never issued sail number until the keel had been cast and asked for the certificate of weight from the foundry as proof. This method was used for a decade or more, but then numbers were issued with every set of drawings, and as we were well aware buying a set of drawings and launching your own boat were two totally different stories. so many sail numbers were never used. Gave a false idea of the number of boats built. In the case of the Eventide the sail numbers topped 2000 some time back, but in reality we can only find about 900 that were actually built.

So if you are one of those building one of our designs, from drawings obtained in the last 18 years without a sail number, simply send info on your boat, photos etc., to prove she exists and members will be issued with a sail number free of charge!

John Stevens, our Database Manager has agreed to keep the sail number records. At the moment we have just started with the Senior, as we know of quite a few that have been started, all over the world. but we hope to extend this to all the popular YM designs, next one would be the Eventide, as it is the most popular set of drawings we send out!

And talking of sending out drawings, a thank you to Nathan in the Azores for his donation. Sent him the Steel Eventide drawings last week.

We have had more interest in the possibility of constructing a Wild Duck in steel and 23ft long. We know this has been done, met the boat in the Netherlands 20 years or more ago. Hoping that one of our members actually gets to update the 19ft WD drawings and build in steel. Time will tell.

Also had an enquiry re the steel Waterwitch, from Tomasz Borowski in Poland we believe. Waiting for his enrolment.

Anther enquiry was regarding the mast track and gaff on a gunter rigged Senior. We were able to supply all the info he needed, but it turned out he did not actually have a Senior, but liked the way it was rigged, happy to help him out just the same!

Had a mail in from Ed with the GH 'Moondancer'. She is still in The Gambia. Ed is doing some maintenance and has found corrosion in a s/s fastening! OK first lesson, never use s/s under the water to secure anything, his screws were holding the seacocks on. Bronze seacocks should have bronze bolts! Then he showed me a photo of the bilge plates. A sorry state. All the galvanising had gone a long time back and as far as I could see no Zinc anodes. Recommended removing and shot blasting, ideally regalvanising, but in Gambia this may not be possible, so as an alternative, shot blasting and instantly coating in Epoxy, 3 coats! So many galvanize, then paint copper antifouling on them... The electrolytic corrosion eats the zinc. Insulate with 3 coats of epoxy before applying copper!!!. It works, mine are like new still after 30 years afloat. Ed is sorting this out before he sails her further!

Lastly we have had a series of mails from Martin Hubbard, the owner of the Levanter 33 'Cailin'. He has only had her a couple of years, some members will remember she belonged to Ron Pimm for many years. Sadly Martin's circumstances have changed and he is having to sell and downsize. I will be placing the advert for her on the 'for sale' pages shortly.

That's about it for now, been cold and foggy overnight the last few days, but sunny during the days, cannot wait till we are released from the 'Stay at Home' rule at the end of the month, need to go and pat my boat's transom.... And clean the dust off and antifoul!

John



Sunday 28th February 2021.


After a few sunny days, today we are enveloped in fog and the temperature struggling to get above 6 C. However tomorrow is the first official day of Spring and the cold wet weather seems to be behind us for at least a week, and every few days into 2021 gives the prospect of better weather for fitting out, when we are allowed to move about, at the end of March. That's when the 'stay at home' rule ends. Can't come quick enough, so long as the WhuFlu is on the retreat....

Nick Lonton has agreed for me to put some details of his fathers funeral on these pages.

Alan Lonton's funeral will be held at Forest Park Crematorium, Hainault. Tuesday 9th March at 13.30hrs. Alan survived WhuFlu but succumbed to cancer.

There will be a webcam broadcast as is usual in these times.

Go to www.obitus.com

Username:- Bozu4435

Password:- 307071

Many will Remember Alan from his beautifully turned out Waterwitch 'Bonita'. He and his chum Doug Hoadley, built their boats side by side in the old school, Collier Row, Romford. I remember visiting them there under construction. They built both together and tossed a coin to see who had which one when they got to the stage where they wanted different internal layouts.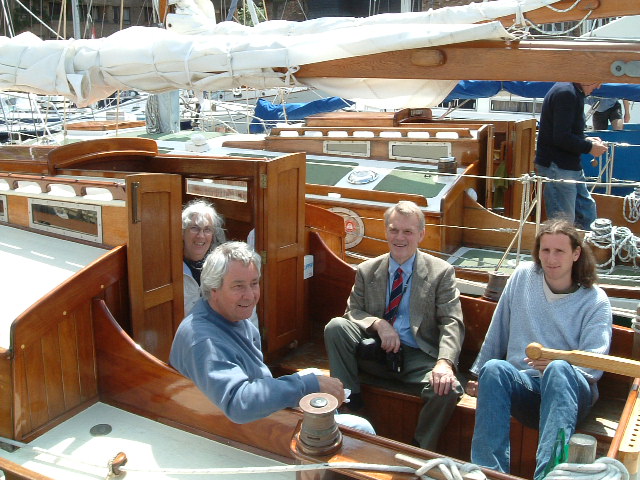 Margaret, Alan, their brother-in-law and Nick on board 'Bonita'



'Bonita' being followed by 'Dougaljo', motoring out of the top end of the Pyefleet, where we had all spent a quiet night back in 2010.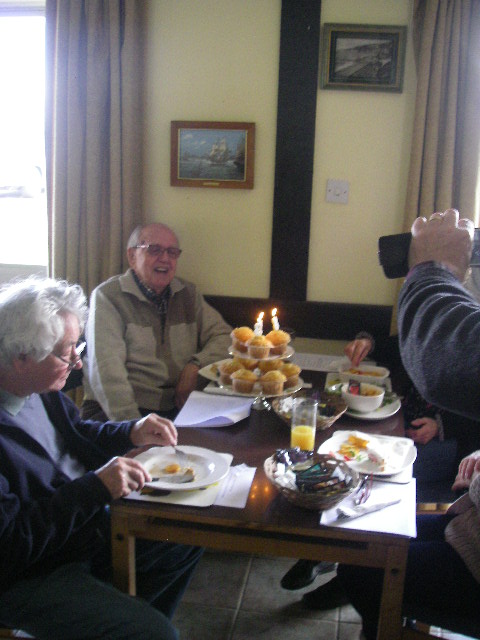 Alan tucking in to his lunch with Doug behind with his birthday cakes, at an EOG Meeting..


We will miss Alan's dry wit and his expertise, a real craftsman. Fortunately his son Nick has the same skills and is our Waterwitch Rep. answering the queries.

Alan's friend Doug, who has been in hospital for 5 weeks with the WhuFlu has at last been allowed home and is slowly recovering. We wish him well.

John
Sunday 21st February 2021.
At last the ice and snow have melted and we have temperatures into double figures. We need a bit of warmth and a drying wind as the ditches are full still! with the National Lockdown still in force none of us can (legally) get to our boats for the time being, so when we are able to resume fitting out, there is going to be a flurry of activity!

Send 4 DVD's to Richard in Wales, he is contemplating having a steel boat built! Looking at Eventide 26 in Steel, WW in Steel, Riptide as Noontide in Steel with the GH 31 drawings as a guide maybe! Thanks for the donation Richard and good luck with the choice of design.

Nathan in the Azores is also contemplating building in Steel, he is still deciding but is leaning towards the Steel Eventide 26.

Sail numbers.... The Steering Group are looking at restarting the sail number books for the most popular designs. The idea is that we have had quite a few boats built to our drawings in the last 18 years all without a sail number being issued.

Years ago Yachting Monthly would only issue a sail number when they had seen a copy of the keel casting, weight certificate. this ensured the sail numbers did not get out of hand and give a false idea of the number built. However after a while, maybe 10 years, they began issuing numbers with drawings and of course there are many who start off with good intentions, but for one reason or another never build. There are also some I have known who collected one of every design?? Maybe they wallpapered the den with them, who knows, but we do know many sail numbers that were issued will never actually be marked on sets of sails.

So when asked by one of our Senior builders about a sail number it set the cogs in motion. Incidentally we had previously been promised the old sail numbers books by the last member of the old defunct eoa, but sadly as I suspected at the time, nothing ever came of it and all those records are apparently destroyed, shame on them.

So the Steering Group are debating the issue at the moment and with the assistance of the Database Manager, John Stevens we are coming to a consensus re the Senior numbers.

The idea will be to make sail numbers available to members, free of charge., on receipt of proof that the vessel exists! John Stevens will then start new sail number books for every YM design, based on the sail numbers of the latest known existing craft.

More on this soon.

Just added a few pics of the Barbican drawings to the Gallery page. whilst no one is ever going to build another it will help owners restoring or repairing their boats I suspect. Thank you Paul.

I have a fun task ahead of me this afternoon, I intend to finish off my new mooring buoy and the spliced rope riser... pull the finished re-spliced rope through the centre of the buoy.....

This multi-plait nylon rope has a safe working load of 19 tons, more than enough for my boat! The rope will not rot like the galvanised chain, so looks as though it will be a job I should not have to repeat for years, if ever. Slight snag was learning how to splice 32mm 8 plait rope! Bit of a steep learning curve! I will publish more about this when all done!

All for now, off to wrestle with a mooring buoy!

John




Sunday 14th February 2021.
St. Valentines Day.

Hello All and Happy Valentines Day!

Hope you got or gave flowers! This is traditionally the day the birds start making nests, but the ones here just busy eating to survive, been very cold till late today, now the temperature risen above freezing and the thaw started. A heady 4 degrees C at the moment!

We have had a new enrolment, from Nathan in Portugal, we have tried to contact him to find out why he has joined as he has put scant information on the form, so far he has not responded. Wait to see if we hear from him, hope he comes back so we can enroll him.

Paul Harrison has sent in a load of pics of the Barbican drawings. We will put some of these on the gallery section. Will be of interest to other Barbican owners. Paul has asked if anyone knows how the rigging eyes on deck are fastened, as he cannot see how they are. Anyone know?

John Hopthrow, a friend, has sent a snippet from the Walton and Frinton Y.C. newsletter. 'Twizzle Tattle' A bit about MG and his first sail, in winter! If you know the 'Magic' you will know the story..



We'd been beaten up by the Beast from the Baltic. Walking home from the Frinton clifftop, where I'd squinted through the blizzard thinking: "What a great day for a sail," I was reminded of Maurice Griffiths' maiden voyage aboard his first boat – a converted 17ft ship's lifeboat – as described in his Magic of the Swatchways.

For a chap who was to become editor of Yachting Monthly, designer of 140 different yachts, author and war hero, he chose a rum time for the trip from Woodbridge to Ipswich…a January snow storm. Let's join him off Felixstowe. He's already run aground on the Deben bar, escaping by the skin of his teeth thanks to his crew getting out and pushing…

"…That was the coldest and most miserable passage I have ever made. We were able to stand only short spells at the helm, and I well remember the agony of aching hands as one sat in the bucking cabin, trying to get back one's circulation in the brief spell below, while increasing bilge water surged up on the lee berth.

By the time we had brought Landguard Point at the entrance of Harwich Harbour in sight through a break in a sleet squall, the ebb tide had eased, and another board allowed us to fetch through the shallow swatchway that used to lie in those days between the end of the jetty and the deadly Platter Sands.

Here an unexpected cross sea suddenly rose above us to windward, tumbled over and fell with a thunderous crash on our deck, seething over the cabin-top and surging into the well. For one sickening moment, as the water boiled around our feet and burst open the cabin doors, it seemed that the little boat had filled and was going down under us; but she slowly shook herself free of the water, lurched on and rounded the point into the harbour, very much down by the head with the weight of water inside her.

While we raced up the smooth water of the harbour I bailed with a bucket until the bilge water was below the floorboards once more; then I lit the Primus and handed out a mug of steaming Bovril to the mate, who had so unselfishly risked his life for the sake of my boat.

An hour later, when we lay snugly on my moorings at Ipswich, with the gear stowed and a hot meal under way, we sat in the cramped little cabin, drying ourselves, and declared that, now it was over, it had been a great passage and the boat herself a 'wonderful sea boat' to have stood it. And the joy of ownership that I felt then, the mounting enthusiasm that swept over me like a flood, glossed over all its trials and hardships, its dangers and miseries, and wanted to do it all again, to go and explore other rivers and estuaries in her – for she was mine. My boat!

The joy of that moment lingers still…"

A heart warming end to a numbing tale.
In later, and warmer, times. The Eventide, one of Maurice Griffiths' classic designs



Must say I would not have fancied being out sailing for the last week or so! Roll on Summer.

He also sent a few nostalgic pics of craft on the Norfolk Broads in the 1950's, seems an age ago, innocent times. (I was not even a schoolboy then!)

I do maintain our 'generation' have had the golden years. For the most part from the 1960's we have had jobs, and with Maurice's assistance were able to build our 'Dream Ships' and sail them. We developed skills that today no one seems to want to have, from carpentry to engineering, to navigation and seamanship..

From the 1960's, till about 20 years ago, these were magic times. Sadly it has seemingly gone downhill since then, with fewer able to have the time, inclination, expertise or finances to follow us. Thus recently so many are finding it difficult to pass on or sell their boats and resorting to even giving them away. As a result they do not seem to be as cherished and are not going to get the TLC we have endowed on them, and many of our wooden creations will not survive.

(Loads in boatyards, not our boat designs necessarily, mostly more modern GRP creations, but many abandoned, as the owners could no longer afford the storage....) So enjoy them whilst we still can! Hope to have a few years sailing, gentle local sailing, before I pass my boat on!

Roll on summer
John






Wednesday 11th February 2021.

The threatened 8 to 12 inches of snow never materialised here, we did get 5 inches or so and plenty of drifts in the strong wind, but is was the wrong sort of snow for snowballs and Snowmen, fine and so cold it was dry, so just went to snow dust! Snag is that its the worst for getting into places you might not welcome it.... hope your covers....

Had a donation in from Matt in the States. Sent drawings... He is interested in maybe trying to emulate what the Dutch designer and yard did to the WildDuck when they converted her for steel construction, stretching it successfully to 23ft. He promises to keep us informed of progress.

Had Lucy identify the Gulfstream 45 already on our Gallery. She had spotted on line for sale in Kent, the pics of her on the Gallery taken some time back in Conyer. She looked to be ready to go to sea then, now she is more of a houseboat...

The UK had its lowest temperature for over 20 years last night, very cold in Aberdeenshire! At minus 2, it was 20 degrees warmer here!

Got a few more days of slush to endure yet, it is still not that cold here, our pond has not even half frozen over, and it is due to thaw today... It has not frozen now for the last five years.

Just heard from Bradwell they have let my berth of 25 years to someone else, and re located me a few berths away.. Humph! So got to make up new fixed mooring lines I suppose! Have got the promise of being able to return to the berth if the other people don't like it.... without even paying a promised retainer I feel slightly cheated.. Apparently now let to a couple of really old gents, who cannot walk far.... So fair dos. I am promised it back if they give it up, but I have had promises before.... I have a sneaky feeling I am now to get charged for the 3ft 6 inch bowsprit! Because I had the most difficult berth to get in and out of in the marina, with a large post in it, that they could never rent to anyone over 20ft, they 'forgot' the sprit!

Heard on the news yesterday that it was far too early to consider booking holidays here in the UK and overseas is likely to be out of the question for a long time, so like many, looking forward to days afloat this season instead. Just hope we get some good days for gentle sailing...

John.




Saturday February 6th 2021.
It has been a rather sad week, as we have lost Captain Sir Tom Moore. An inspiration to many and responsible for a record breaking near 33million pound collection to support our NHS staff. He will hopefully be remembered for a long time.

We also have had two friends and members in hospital, one just transferred to a nursing home now... the other may be well enough to go home shortly. Sure many have similar tales. My Darian lost a dear friend and work colleague suddenly today. This one not WhuFlu related though...

With the number of vaccine sites being progressively increased, and more staff being recruited, my step daughter Carol has volunteered and is now trained to give these shots, so we hope all the targets will be met and we can begin to get back to some form of normality, what ever that might be. Certainly not as it was a year or so back.

I have plans afoot to get back afloat in about May. Mooring confirmed in Bradwell....

In the meantime, here on the east coast of Norfolk, Suffolk, Essex and Kent, we are bracing ourselves for storm 'Darcy'.

Now normally we escape the worst of the cold due to our proximity to the sea, it's about a mile away, eastwards... But this time a narrow coastal strip, barely 20 miles wide, has been warned to expect up to a foot of snow, on Sunday and Monday. Hope those covers are tight, with NE F7's and snow, it can get in everywhere. Sadly, but rightly, with the national lockdown, travelling to our boats on the coast, to secure covers, is not classed as essential travel....

Bit of good news, a welcome to new member Andrew in south London. He is actively looking at a rather nice WildDuck. He contacted us to enquire about their sailing abilities. We were able to assure him they were excellent. He also wanted to know if the design would be happy in a soft mud berth on the Medway! Affirmative to that one too. More information on the boat when he has acquired it! It looks to be one of the best we have seen!!

Another new member, Attini in the Netherlands, has send more information about his 40ft steel, round bilged boat. We have managed to establish it is indeed one of the 'Bay Class' of vessels built in Conyer in Kent and designed by the design team of Spears, Hundy and Griffiths! He has sent a few photos we will add them to the Gallery.

Sadly we can find little on the 'Bay of Islands' class vessels on line. I thought I had a handout here from Conyer Marine, with them all listed, but cannot find it. Anyone got any info? Designed by Spears and Hundy with assistance from Maurice.

As far as we can tell the 40ft and 45ft Bay of Islands Class were round bilge, (but there was also the 'Gulfstream' vessels

in steel, solely

designed by Maurice, also from the same yard, and these were double chine). I listed a 45ft Gulfstream , spotted for sale in Kent by Lucy, in the last page of the Stoppress..... Others on the Gallery. The same yard produced the only Noontide to ever be built commercially, that boat I inspected at the East coast boat show

decades ago

and wrote a report on . That report resulted in Maurice donating the pencil drawings of the steel Noontide and the wooden Riptide to me! Had a friend redraw them in ink...many built!

So time to batten the hatches, especially if you are on the east coast. We have the generator ready and the logs are in!

John






Monday 1st February 2021.
Ridiculously wet still, incessant rain has turned most people's gardens into mud baths. Hope the covers OK on your boat, if in the open!

Sadly not heard any more from South Africa about that Eventide 26 aground on the sand bar. Not sure if we can figure out which one it is from our membership list....

Member Lucy has sent in details of a 45ft MG designed 'Gulfstream'. Was bought and sold a couple of times and had reappeared for twice the last selling price at a marina in Kent. Leave it to you to figure out if this is a 'bargain' or not...
https://www.preloved.co.uk/adverts/show/120338132/


We do have a nice boat for sale on our pages, see the
'Morag Morgan' advert..
The price has just dropped drastically....

Keith building the Senior mailed us this week with an interesting enquiry. Could we give him a sail number? Seems he fancies his chances racing her! (I think our boats were more designed for safety and comfort than speed !)

We were promised the old sail numbers books by Rodney, the last president of the defunct assoc., but of course they never materialised. To be honest I never expected them too!

So having got most of the records from earlier days, we think we should be able to work out where we are up to and than start a new sail register. That will keep our Database manager busy for a while!

On a positive note, good to see the evenings staying lighter and the dawns getting earlier.. Snowdrops, crocus and Narcissi out in the garden. Roll on spring.

John

Tuesday 26th January 2021.

I am pleased to say one of the two members in hospital is responding to treatment and may be allowed out at the end of the week! So very pleased to hear this today. Sadly the other member is not doing as well and at the moment he is still in the best place.

Welcome to yet another new member, Jonathon in Derbyshire. He joins as a 'friend' or associate member. He is looking to acquire a Senior. Because of the WhuFlu and lockdowns not been able to do much more than look on line, or read magazines. He saw the article in Watercraft and looked our site up. He found us and we were able to put him in touch with Mat the Senior rep. In the meantime bet Jon is reading every page of the site.

Had a mail yesterday from Joey in South Africa, he sent in several photos of a sad looking scene. a fin Keeled Eventide 26 hard aground on a notorious sand bar. Hoping for more news later. We do know the young man onboard managed to get ashore safely...



Thought it will be of interest to you. I sail a small Flamenca 25 on the South African west coast.

A young man, 20 years old, left Cape Town bound for Port Elizabeth. Last week during the night he ran aground some distance past the Cape Agulhas bank . Very sad to see the boat stranded like this. Young man is safely on land.



Think you will agree this is a sad picture, do hope they can get her off.

I have spent most of this afternoon editing the links page. I added a link to the rope seller the other day, with a discount code... and whilst doing so noticed a number of links did not work! That is not on! So I have found new links for some, others sadly have been deleted, as the companies have ceased trading etc. I hope now all the links work again.

At the moment the rain has restarted, our little spinney behind the cottage was so wet recently we have started to call it the 'swamp'! It was just beginning to dry out a little but seems more rain on the way. (I am often likened to Shrek!).

One last comment, neither Darian nor I have had any adverse effects from the vaccination thus far, it was the Pfizer one. Hope you get yours soon.

John
Sunday 24th January 2021.

Pleased to be able to tell you that one of our senior founding members, who has been very poorly in hospital with WhuFlu, is on the road to recovery, he is a fighter! Sadly another founding member is still in intensive care. Our thoughts are with all who are suffering or have family suffering from this damned WhuFlu.

See the chinese are now blaming the rest of the world for giving them it! Could not make it up could you.

One really good bit of news last week from the other side of the pond, was the new president, Joe. Hopefully America can get back to some normality now, see one of the first moves was to rejoin the climate conference, good move.

We had a phone call out of the blue Friday, 'could we be ready at a moments notice to travel to have the vaccine'! To save vaccine going to waste because of cancellations... Yesterday at 1303 precisely I had mine, the first one anyway. Makes the future look so much brighter, hope it is not long till all are in the program...

We have had another new enrolment, Annie and Will in Derbyshire, with the M.G. Bawley 'Pearl'. She sails from the Essex side of the Stour.

Hope to cross wakes with them next summer, reminder to all to keep your luff's taught, the roving camera may spot you!

We have had an article about shoe horning a cabin table into one of our designs, clever. We will be publishing the pics etc. on the Owners Tips Pages.

Also had a rope manufacturer asking to put a link on our pages.
I will be doing that in a little while. their website can be seen here:- https://www.buyrope.co.uk

The Steering Group authorised repayment to me for the hosting of the website for another year and despite the WhuFlu lock down I am pleased to say the cheque has got back to me, posted during a period of exercise by John the counter signatory. Amazing how the simplest of things get so difficult it we are applying the rules correctly!

As I was passing my boat on the way back from being vaccinated, (Well almost passing), I was able to visit the barn, briefly, (whilst doing my press ups!) and pat the boats transom again... Not too long now. Had you noticed how the evenings are getting so much lighter, longer! 1700 last night and still just light.

However expecting snow this evening, already had a few flurries and heard from others west of here that they have had a few inches already. That will make it darker earlier..

All for now, stay safe out there.

John
Saturday 16th January 2021.
Had nice mail from Terry who used to sail out of Tollesbury many moons ago. He had some old drawings and other correspondence he wanted to give to a safe place, gratefully received Terry. He also sent a couple of photos that I am able to reproduce, after a little editing.

To my surprise one of the photos shows him on board

'Gil Gilad'

motoring past my mooring buoy in Woodrolfe Creek. Trying to ascertain when the photo was taken as I am not on the buoy.... Sadly the boat was vandalised some years back and eventually broken up, sad...





'Gil Gilad'



Looking hard at the photo on the right you can just make out a yellow blob by Terry's elbow, that's my mooring. Bradwell power station in the distance!


At the moment I am gathering kit to re-lay that mooring. I have a 'new' large mooring buoy and to go on top a very strong s/s swivel. It will stay out of the water.... To secure the buoy to the mooring ground chain, I am going to use a 7m or 22ft length of very heavy duty nylon, 40mm with a 12 ton safe load!

Up till now I have always used a 22ft length of 3/8 inch galvanised chain. Strong but corrodes gently, so needs replacing every 5 or 6 years. Mine is overdue! Got this idea from a friend, Dave the rigger! He has been splicing up mooring risers in nylon for over a decade now for use on the Crouch and all have survived OK.

Once the rope is beneath the surface it attracts weed and of course mud, if like mine it dries, this also protects the rope from UV. So long as you take care with thimbles etc. to protect it from chafe it will out live chain! I had noted years ago, that Tollesbury Marina have been using heavy rope for risers on the marina 'waiting' buoys just off my creek mooring. Made a mental note for the future!

Will report back on the effectiveness of the new set up..


By the way, talking of promises of paperwork, never did hear back from the ex president of the eoa with all the drawings and logs he promised us, somehow I never expected him to keep his word.....

Had a couple of people concerned about the new rules for boat in the EU, after our exit. Good thing for one person is that they are never planning to return the boat to the UK, so they are safe, till someone moves the goal posts again! Two others at least must now be wondering, what to do... If I hear any more from the Cruising Association I will let you all know.

Had Michael mail us from the other side of the pond, in Texas. Sent him a DVD of the Junior drawings by air mail, as well as sending them by e-mail, the DVD took over 2 months to get there! Not really surprised, what with staff shortages and planes grounded due to the WhuFlu, it is amazing any post gets through!

Had a prospective Senior owner read the write up in 'Water Craft', about

'Bethem'

Mat's Senior. He contacted us to ask Mat's advice, pleased to be able to pass his mail on and await Jon's enrolment.

Had Nick in La Rochelle contact us regarding the Golden Hind

'Right-Eh-Oh'

. He is berthed near her and has not seen anyone near or by her so is tending the lines for the owners. We do hope they step forward and enroll as we have someone who has the original ship's bell for her. would be great to reunite the boat and bell!

So if you know who owns

'Right-Eh-Oh'

now, get them to get in touch! If you do not want to speak to us, we don't bite, honest, Get in touch with Nick direct:-


msvp74 at hotmail.com



Heard back from Raf, in Belgium, who was deciding which of several of our designs he was going to have built in steel. Says the choices are difficult! Go for the biggest one you can afford, will be a more comfortable ride if you are off ocean voyaging!

After adding some pictures of

'Running Wild'

a 3 tonner based in Suffolk, we have sadly still not had the enrolment. Are people shy? Cannot think they are if they own designs from our stable as we do tend to stand out in the crowd of white GRP!

We had snow here this morning, just a half inch, and as it turned to rain after a few hours it was all gone soon enough, but a timely reminder if you can legally get to your boat, check the covers.

Hopefully the vaccine roll out will get to our senior members soon!

John


Saturday 9th January 2021.

After a week the news just gets scarier. So many in our little backwater were ignoring the rules all last year and now the country is paying. Having spoken to many here refusing to wear masks, and getting verbal abuse for my concern, I wonder if any of them have any regrets.

We can only hope they may have learnt. Heard just yesterday that a friend and EOG member and owner was in hospital for another reason and has now contracted the virus, at the moment he is OK but as he is in the very high risk age group, there is great concern.

Trying to think positively, I was taken aback by a bit of news about the EU. and the Tax man in the UK. Seems as we left they have now decided in Brussels to punish us. So many silly regulations coming out of there to upset out trade, but yesterday they hit below the belt. Seems those who want to sail to the EU for extended periods are to be taxed! Only allowed to be in the EU for so many days or have to pay VAT again! If your boat is already in the EU it has to get back, (in a pandemic???), or lose it's VAT paid status! I gave up going to the EU to spend my holidays supporting their tourism when they got silly over red diesel, so I am not that surprised at more digs at Britain. I am grateful to a member for sending in this précis promulgated by our friends in the Cruising Association.


<![if !vml]> <![endif]>

I am writing to you about an issue that will affect most CA members. Her Majesty's Revenue and Customs (HMRC) has decided that UK-owned boats returning to the UK post-Brexit, i.e. after the transition period ends on 31st December 2020, will be deemed to be imported and VAT will be payable unless a relief from VAT payment is available. The main relief available is the Returned Goods Exemption. This requires that goods (including yachts) are re-imported within three years of export.

To make matters worse, HMRC decided in September that the rule would be applied rigidly from the end of the transition period on 31 December 2020. This would mean that yachts that have been out of the UK for more than 3 years on 31 December 2020 and yachts bought in the EU which have never been in the UK would lose UK VAT paid status. Given that it was announced in September this year, this was farcical. HMRC has now relented to a small extent and a period of one year's grace has now been granted for yachts that have been located in the UK at some point but yachts which have never been located in the UK will still lose UK VAT-paid status on 31 December 2020 which is ridiculous. We think there are up to 30,000 UK boats scattered throughout the EU at the moment, many in Greece and Croatia.

The least we are asking of HMRC is that the three year period should start from 31st December 2020 and that the Relief should be available for yachts which have never been located in the UK, but even that is unsatisfactory. Hitherto, in practice boats could leave the UK and sail for as long as they wished, for example round the world, to the Caribbean or just in Europe. HMRC were not interested when they returned and in the vast majority of cases there was no suggestion of additional VAT being payable as long as it was the same person returning the yacht and the yacht had not been significantly improved. We would like to maintain the status quo.

The change in attitude by HMRC is unacceptable. The CA is fighting it but I would like you all to write to your MP expressing your extreme disapproval of HMRC's new policy.

Julian Dussek
CA President

<![if !vml]> <![endif]>

The Cruising Association, CA House, 1 Northey Street, Limehouse Basin, London E14 8BT
Registered in England Number 05838052

Seems an age ago I was on the RYA Cruising Committee and fought off the EU regulators re the Recreational Craft Directive, to get a clause inserted, exempting our home built boats from having to have the full £5000, certification. eventually they agreed it was OK, provided we kept them for 5 years after their launch date. Worked for most, but in a couple of sad cases where owners, or their families, were forced to sell before that 5 year date and they had to obtain certification at huge cost, before they could legally sell!

When the RYA abolished the Cruising committee I realised they were not as interested in us the common cruising owners, more the Olympic racers and the sponsorship deals...

Hope this will not apply to many of our members, but I know it will apply to those with boats abroad now, and there are a few of them...
Our member wrote:- In a nutshell, apart from being extremely unjust, for the purposes of you excellent web-site, it means that boats remaining in the EU will have a limited marketability. But, to those who would like to cruise in the EU27 for an indefinite time, such boats will be of particular interest. So, some boats already in the EU, should appeal to anyone wishing to cruise in mainland Europe indefinitely. The EU accepts that VAT has been paid.
Cruising will also be harmed by non-EU visitor status that means no one can be in the EU27 for more than 90 days out of any 180 days.
Also contemptible is HMRC's 'generous' grace to exempt us from double VAT payment, so long as we make it back to the UK by the end of this year. Given that we can only be away for 90 days - and then there's pressure/problem of Covid - folk as far a field as Greece and Turkey don't have cat in hell's chance.
Lets hear from any members who may also be effected by this and maybe we can lobby the CA to speak on your behalf...
Lastly before I sign off, Go to the For Sale page if you are hankering for a nice Golden Hind. Price drop!
Pleased to say the snow did not settle and it was warm enough today to plant 10 new hedging bushes on our little spinney boundary hedge. Supposed to warm up shortly, just so long as it is dry, had enough rain! Check those covers..
John

Tuesday January 5th 2021.



Yes we are back in Lockdown!

Some would say, and I am one of them, not before time! The Pseudo Lockdown we had before Christmas was a farce and of course with so many ignoring the most obvious dangers, cases have rocketed.

Good news is the new lockdown appears to be being obeyed, at least round here. Less traffic and schools closed. During the phony Lockdown I spoke to a local marine engineer working out of Bradwell who told me loads of people ignoring the rules and mixing with others, doing 'important safety maintenance ' on their boats. Apart from an occasional pat on the transom, my boat has been in her own isolation!

Hoping with the vaccination being rolled out maybe it will not be too many months till the antifouling brush can come out! If we are careful!

Using the EBay page shortly to buy a new water filter cartridge for the water system in my galley, to fit when I can get back to her, that is about all she needs apart from a wash down and polish, did it all last year.

Hope your boats are safe and secure and almost ready to launch.

The Steering Group have just authorised renewal of the web hosting for the year, so all paid up. also the domain name renewed, for two years.

Welcomed 'Orinoco' to the Forum, pleased to see more owners taking advantage of it. You registered on there yet? You will need the password you were sent when you enrolled, lost it? Just mail us and we will check your membership and send the password!

John
Friday 1st January 2021!!!




Welcome to a wholly different New Year!!






The photo I took in Dover during my round UK trip in 2018

.
We welcome in 2021 with a couple of great reasons for real enthusiasm.

As of 2300 last night we officially are an 'independent sovereign nation' again and a British made vaccine is being rolled out, not only to protect us, but available to the whole world, for a fraction of the cost of other vaccines! Britain can really lead in so many fields...

Really hoping 2021 will be a different year to the last one, which we would like to forget asap!

I have the forms on my office desk to fill in, to be able to return to my berth in Bradwell marina!

I also have the half tide mooring at Tollesbury to pay for and one of the first jobs I will have to do next season will be to change the riser chain on that mooring and fit a new mooring buoy! It is a strong enough mooring to take a 30ft boat, so long as you are OK drying out at half tide, available to friends and members, if you are visiting this beautiful part of the Essex coast and need a temporary mooring.!

I was in some doubt I would be able to get back to my berth at Bradwell this year... As a berth holder at Bradwell for 25 years, I was fortunate to be allowed to 'have a year off' with the promise that I could return to my berth, when it was safe to do so. Pleased to say the grandson of the owner, Arthur, was good to his word!

Last year it was impossible to get my boat out of the barn, transport her back to the marina, step the mast and rig her etc., without breaching all the rules in 'Lockdown 1'. I always rely on my two good friends and regular crew, Keith and Phil to be able to do all this, as well as the local farmer for the tow from his barn back to Bradwell.

Looking forward to Darian and myself and all of my crew getting the new vaccine, so we will be able to launch late spring....

As 'Fiddler's Green' was nigh on ready to launch back in April last year, all jobs sorted, all she needed was the antifouling, so it will be an easy job to finish the fitting out. (Unless of course I find a few more 'little jobs' to do!)

Hoping all can have the same positive outlook for sailing this year... For some it has been very difficult.

Finally a welcome to Raf in Belgium who joined us a couple of days back, as a 'Friend'. He is deciding which of our designs he is going to have built in steel for a rather long voyage he is planning to undertake. He is hankering after the steel Eventide 26, but is also considering building a steel Riptide!

So a toast to '21 and we look forward to crossing wakes with many friends.

John and Darian