Click here to go back to our 'Boats for Sale' page
There is also an older For Sale page, click here to go there.
from Dec 04
Contact us at enquiries@eventides.org.uk
Place your adverts here for free.!
This page is being updated almost daily.
(Small Donations after you have sold, to keep the site active, always welcome.)
Please ensure you give a full (and honest) description of what you are selling. Please include price, location (roughly)i.e. Cumbria, N. America, Wales etc! and a means to contact you. We need your e-mail address or a telephone number. You can write 'at' instead of '@' if you are cagey about your mail address being on here... (With a good anti spam on your P.C. it does stop most of the garbage!) We will mark the adverts with a month year code and review them after several months. Those with a '?' beside them are ones we have not heard from the sellers, and they may be out of date.
To add your boat or boating bits here, simply mail us at:-
---
Note all mail addresses will be disguised to prevent Spammers, unless you say otherwise. So instead of
blogsjoe1@gmail.com
it will read
blogsjoe1 at gmail.com
a human can work it out a web-bot cannot!
---
CAUTION. Sellers should be aware they should not part with goods until cheques or money orders have been cleared and should not enter into agreements to 'ship', prior to being paid, as a precaution against the fraudulent! Click here to learn more about the sort of frauds tried!
You will notice a number of items donated to fund the Web Site. Many thanks to those people. If you sell something from here, a small donation would be appreciated to keep these pages open for you.
For these pages to work properly you must inform the us if you sell something. We will then mark the item "SOLD" and/or remove it from the site.
A New page has been added, detailing many of the items that have sold from these pages during the past years. It will give prospective sellers an idea of what does sell through these pages. Lots! Click Here lots more added recently, as there have been so many, we have only left some on here, the other adverts now are simply being deleted once the item is sold......
If adverts are left on here for over a year they may be removed by the webmaster, so if you have an article for sale, and a year passes, let us know every now and again or you may have to start again. When we hear from others that an item has been sold we will check with the seller, and if no response it will be removed.
Date of posting of advert, or the last time we checked with the is printed below the advert, i.e. 11/09 If it is a old advert.......... it may not still be available.. (if the seller forgets to tell us it is sold!)
---
For SALE : New EOG Burgees
New burgees available again ,see Burgee page for details.
J.W.
---
For Sale, or rent
Wrecked Senior on trailer, good for shifting from person to person so you could pretend you were a real 'owner'. Contact eoa for your chance to have it in your backyard and get your name in lights!
'John, I have a brand new 2" No.8 Bronze, Flat Head screw from an Eventide - does this constitute ownership?'
Sorry Folks, yes it is a joke, this is what the ex owners in the old eoa committee actually resorted to, to stay in charge! Sad Eh! Maybe by placing this here we can shame them into either restoring them or passing them to someone who is willing to!
---
The real adverts start here!
---
FOR SALE: Ex British Naval Telescope, 48 inch long fully extended, mounted on Tripod. C. 1916
This is a beautiful British Naval Telescope. Admiralty issue!
48 inch long, brass, leather bound, a top quality telescope, dated between about 1914 and 1920, by the manufacturer's details.
It is the sort of telescope that was mounted in a bronze socket, on the bridge wings of ships at the Battle of Jutland! This one has a tripod with a wooden and brass/bronze set of adjustable legs. The woodwork in excellent condition.
All fittings original. It even has the original leather strap to keep the legs together in storage. The Leather on the scope is in good condition, treated with saddle soap, and all the optics have been cleaned and are in good order. It has a huge 3 inch object lens.
I can identify the boats entering the Blackwater easily from 3 miles away!
Similar scopes, though exceedingly rare, fetched £1000 at auction.
Offered for £950.
Telephone 01621 778859 or 07850 286607
1/18
---
For SALE : New EOG Burgees
New burgees now available, see Burgee page for details.
---
Barbican 33 GRP locker lids.
I wonder if any Barbican 33 owners would be interested in new GRP locker lids.
Our 1987 'Viking Lady' had wooden locker lids which leaked badly, they were warped and had hinges.
The vertical part also hinged back against the horizontal part to improve access but this was also a source of leaks.
We have now made brand new one piece GRP lock lids for port starboard and stern lockers and we are going to cover them with 'looks like teak' or Treadmaster.
It was quite job making them. We had to make a template out of MDF and wood from that a GRP mould was made and from the mould the real thing was produced.
If anyone in the group who has a B33 would like a set of locker lids I could put them in touch with the makers of our lids, who would be prepared to make more sets.
Regards
Peter Hull & Ray Jackson
Owners of B33 'Viking Lady'
peterhull418 at btinternet.com
---
For Sale: Wooden boom
Wooden boom 9' 11" and 3" x 2". Would suit boat between 18 and 22 ft long or could be cut down for Senior...
Boom sound. and fitted with roller reefing at gooseneck.
For sale £15.00. ono
Location:- Thaxted, Essex.
Contact Richard on:- 01376 330220
mail rboyton at talk21.com
01/18
---
For Sale: Mainsail.
White mainsail with batten pockets, good condition. £25.00 ono.
Ex Hurley Felicity 20 ply sailing cruiser, sadly no more. Stored for last 20 years in barn, time to move it on.
In store in Tillingham, could post for £8.50 UK.
Contact John 01621 778859
or mail:- enquiries@eventides.org.uk
1/18
---
For Sale: Canoe paddle. Hot Tuna
This is rather a specialised item as anyone knowing their paddles will no doubt be able to tell, suffice to say it is an ali and GRP paddle, approx 6'6" long with blades set at 90 degrees on the shaft.
£5.00, or donation.... collect from Tillingham, Essex.
contact John 01621 778859 or mail on enquiries@eventides
01/18
---
For Sale: stern tube bearing.
For 1 & 1/8th inch diameter prop shaft, inboard bearing housing and stuffing box.
Used, but bearing can be easily replaced, standard BSP pipe thread for tube.
Donated to Group for sale.
£10.00
Tele John on 01621 778859 or mail enquiries@eventides.org.uk
Collect from Essex, or can post.
1/18.
---
For Sale: Pairs of oars.
Ex Mirror dinghy Oars, 5ft 3 inch approx. need a tidy up and coat of varnish.
£15.00
collect from Tillingham Essex.
Contact John on 01621 778859
or mail on enquiries@eventides.org.uk
01/18
---
For SALE: Practical Boat Owner magazines.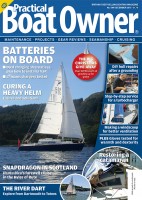 Every copy of PBO from No 1 to date!
I have a the complete collection of magazines for sale All except the last couple of years are in PBO folders, with their indexes.
Were used for research into boats and gear for years, now surplus to requirements and taking up valuable space, so offered for sale.
Collect from Tillingham in Essex, will fill the back of an estate car!
Offers around £200.00
(Have sold elsewhere for £400.)
Contact John on 01621 778859
or mail via enquiries@eventides.org.uk
1/18
---
SABB G10 inboard for sale, for spares only
I removed the head and the exhaust valve seat was burnt , so sent away for new valve insert, the machinist sadly cut into the water gallery.
The engine has the Sabb feathering gearbox and 450 mm feathering propeller.
All was working ok apart from the cylinder head problem.
Motor now ashore in Southampton.
Am looking for best offer around £400.
I also have spare set of propellers and will also be removing the bronze prop shaft
Please give me a call on :-02380907564
or mail me :- brian.brownsea at gmail.com
6/16
---
For Sale:
Hurth 150-2.1 rv gearbox, same as ZF 15 miv
L
ightly used and not needed for my new system, only the gearbox is for sale and not the yellow Farymann engine!
First two photos are of the actual item, 3 & 4 are webfotos ebay
Best offer secures!
In the Netherlands but post/courier can be arranged.
Contact Chris:- syncrogolf2 at zonnet.nl
9/16
---
For SALE:- Set of Eventide 24 sails, main, Staysail and jib.
Set of well used sails, white, mainsail needs a little stitching on a tear on luff and on a batten pocket, (no battens with it..). ali slides on luff.
No makers name,
Luff 23' 10"
Leech 25' 6"
Foot 10' 9"
Staysail, Cranfields of Burnham, in good condition, some slight marks, hanks, mitre cut. wire luff.
Luff 18'
Leech 16'
Foot 7'
Jib, Cranfields of Burnham, good condition bronze hanks mitre cut, wire luff.
Luff 14' 6"
Leech 12' 10"
Foot 6' 4".
The lot £50.00
Collect from Tillingham or can send courier for £10.00
Contact John on 01621 778859
---
For Sale:- Eventide 24 mainsail and roller reefing genoa..
A lightly used, white Eventide 24 mainsail and genoa by Dart sails, main in bag with 4 battens. Very good condition . New 2009, both only on boat, almost unused, for 3 years max, boat laid up...
Luff 23' 10"
Leech 25' 10"
foot 10' 9"
Cat not included!
Photos and details of Genoa to follow... White, cut for roller reefing with blue sacrificial strips.
Sell for £295 the pair!
Also Staysail, Cranfields, VG. slight stain near top.. S/S hanks, wire luff rope.
Luff 18' 6"
Leech 15' 10"
Foot 8' 8"
Sell for £30.00
Collect from Tillingham or can send courier for £10.00
Contact John on 01621 778859
---
For Sale: Ali mast boom spreaders and rigging
A local boatyard had for sale the complete set of spars for a 24ft Eventide sloop rig. July 2017...
They are to be put on EBay for sale but we have first chance.. It is 20th July and I suspect we will only have a week or so to jump in.
They are situated in Maldon Essex.
He wants £200 and this is an excellent price for this rig! So anyone with a sad wooden mast contact me quickly for details. This is a chance not to be missed!
John on 01621 778859 or mail :- enquiries@eventides.org.uk
Still there April 2018!
4/18
---
For Sale. Golden Hind 31 Furling Genoa
Offshore Headsail in HOOD PREMIUM woven Dacron 5.8G, Cross-Cut design and Chestnut 3 step stitching. Leech line with clam cleat in concealed pocket, footling exiting at tack. webbing reinforced Clew ring. Reef calibration markers on Furling Headsails, and sheet lead indicators. UV protective panel applied on Leech and Foot. All in a robust sail bag.
When new this sail cost £1080 (original invoice available) in 2011. Since that date it has been used for 90 hours sailing across 27days. Maximum wind strength in that time Force 4. (Log book available). It was last used in 2013, and has been cleaned and dry stored since. It is in excellent condition for such little use. The was bought to replace on earlier identical sail which served me for 17years until being sold with the boat. It is still in service today. This is a top quality sail, that will give years of service
Any enquiries or inspection welcome to appreciate this sail. Located Lancashire. £300
Contact; pwightman at hotmail.co.uk
Paul Wightman
Former Golden Hind 31 owner
4/18
---
For SALE : EOG Burgees
New burgees now available, see Burgee page for details.
---
You can see a sample of the sorts of items selling here by clicking here...
Contact us at enquiries@eventides.org.uk