Friday 16th March 2018.
The Easterly winds are set to bring more snow to much of eastern and southern Britain again this weekend, hopefully though it will be short lived. With temperatures in double figures today and the spring bulbs all showing, they are going to have a shock!
Had more calls to say members will be coming to the Annual Meeting on the 25th at Bradwell, which is a relief.... Be great to see you there! Remember first drink for all attending, on me, as I do not have to travel far! Also a special gift for the first 6 members or member family groups to sign in! Further incentive!
Had a nice mail from Norman with the Kylix 'Jemima' down in Bideford. I will be adding pics and words to the gallery shortly. He is doing a great job of giving her a facelift! Also taking the bold step of converting her to Junk Rig! hope to see much more on that...
Hello and Welcome to another new member, Matt in New Zealand. Matt has just joined the forum and is looking for the drawings for a pair of steel bilge plates for his GH 31.
Sadly someone removed them some time in the past.... We have another owner who is having one made for his GH31. So maybe we can liaise? Nick who bought the GH at Tollesbury.... His missing bilge keel is still in the creek, no one recovered it for him....
Finally we have been invited to a Classic boat event in Suffolk in June this year, anyone up for it??
With beautiful meadowland and rolling banks, it would be hard to beat the stunning view around every corner while sailing on the River Orwell. For classic boat owners undoubtedly the best opportunity to take in this gorgeous Suffolk scenery is the always popular Classic Regatta at Suffolk Yacht Harbour, held this year on Saturday 9th and Sunday 10th June.

Now in its 17th year, returning participants and newcomers will head to the Levington-based marina for two daysí of coastal racing in Dovercourt Bay, Harwich Harbour, and the Orwell and Stour estuaries.

The Classic Regatta is expected to attract a fleet of beautiful classic boats of all abilities across Fast, Slow and Stella classes. The weekend event has a reputation for being relaxed and offers an opportunity for classic boat owners to come together and enjoy sailing on the Suffolk coast.

On Saturday, competitors can often be found socialising at Haven Ports Yacht Club and enjoying the regatta party onboard the HPYC lightship with live music and supper. Itís a great way to catch up with old friends, make new acquaintances and have a marvellous time.

After the racing has finished on Sunday, competitors are invited to a prize-giving in the Harbour Room, where they enjoy a cold beer or two and find out more about the services available for classic yachts at Suffolk Yacht Harbour.

With spring on the horizon and the regatta season fast approaching, itís a great time to secure your place at one of the seasonsí calendar highlights. If you would like to find out more information about this regatta, please contact Jonathan Dyke at jonathan@syhabour.co.uk or 01473 659465.
<![if !vml]>
<![endif]>
Suffolk Yacht Harbour boasts a 550 berth marina with access to all states of the tide and is fully committed to the classic scene, with specialists in classic boat restoration and repair available on-site in our newly refurbished workshop.
For more information visit
So that's it for now, go and check those covers again, then give it a week it will be antifouling time!
John
Tuesday 13th March 2018.
I spent some time last night in the District Council planning meeting, preparing to stand up and fight ruthless developers, only for them to throw the towel in without a fight. Disappointing, would have liked to have given them a bit of a public humiliation! Just shows you that determined small groups can win, if you have the truth on your side! Reminds me of the eoa/EOG debacle!
Had some good mails in over the last few days, at least one trying to get to the annual meeting by sea! Richard with the Eventide Cameroon. Still hearing from those who cannot attend?? Surely someone can join us???
Peter the webmaster is working out how we can do a lot of the official business on line, in a members only page.. More when we have something concrete.
Good news about the GH that sunk at Tollesbury. Nick has it washed out and partially repaired, sadly no one could be bothered to recover the missing bilge plate from the bottom of the creek for him though... He also had to scrap the motor too, thought he would have had to, although it was got going again after the sinking, without loads of attention and regular running it was inevitable it would rust up. He has an air cooled Lister to go in her. Trying to bend his arm to join us and to send pictures. I do know though the name of the boat is back to its original name when he sailed thousands of miles in her, 'Cedeihe'. I owned this boat for 10 years & sailed thousands of miles in her around the Med & the South coast, and was caught in a force 9 on a trip from Le Havre back to Rye where she behaved beautifully.
Heard from the owner of Jemima again, he has done a great job in restoring her, a Kylix 29. I will be adding pictures and the story to the Gallery shortly.
Nick with the GH has sold the Eventide 'Ashani' and the new owner has asked after us. Joining soon I hope. Another for John to add to the database.
And speaking of our Database manager he is at home convalescing after an op on his foot and settling down to catch up on all the database entries he has outstanding so we are right up to date! Mammoth job that has been ongoing for years! Get well soon John. Hope we soon have a working database of all our 1650 members!
Sent out a few reminders re the Annual meeting last weekend, and noticed immediately the owner of the smart Barbican 'Avalon' responded by signing up for the Forum!
All for now, weather getting warmer, but see snow forecast again for Saturday, not time to antifoul yet!
John
Sunday 11th March 2018.
To all the Mums!
Just off to take my lady (a mum of course), out to lunch. Hope you are looking after yours if you are lucky to still have them around!
Heard from a lot of members re the forthcoming meeting... March 25th Bradwell. Sadly every one telling us they cannot attend for one reason or another and sending apologies! Could be a different sort of annual meeting if only 4 of us get there!
With that in mind and with all our 1650 members spread out, not just all over the UK, but all over the world, we have been toying with a different way of allowing all to get more involved. Early days as yet and we will have to alter the constitution in order to do it, but I thought an owners only page on the website, where the reports from the Annual meeting could be published and a comments section, so that enroled members could have a say. Then if we needed to vote on anything we could have say a 30 day voting period, where 'Full owning and voting members' can log in and say Yes or No!
Running this past the Steering Group at the moment and waiting on a feasibility response from the webmaster.
So it did not come back to one person, it was imagined that every member of the Steering Group would be in the loop, all the time, that way if I was away or unavailable, comments would still be heard....
Lots of ifs an buts to sort out but thought it may be a good way to make the EOG more available to far flung members...
I belong to a motorcycle owners club and only those who own can belong and make comments on their private pages. Heard of other boat owners groups who have similar password protected pages, so why not?? One suggestion from John Stevens was to reinstate the location map on these hidden pages, with some details of where a member was and what type of craft and a method of contacting them...
Your thoughts? Could be a bold step in the right direction....? Or not?
John
Monday 5th March 2018.
Only Three weeks till our Annual Meeting at Bradwell. Looking forward to seeing a few members there. Remember this is your chance to question the Steering Group, the Fund Manager, or the Database Manager or myself, and to put forward ideas for the future.
We have not as yet had any logs or seamanship stories in, remember we have a trophy to award.....
For the first 6 members or family groups of members that sign in on the afternoon, there will be a special prize.!!
Also as normal I will buy everyone that first drink, coffee, beer or what ever, no champagne though!
We are looking for a new Barbican or Atlantic Clipper rep and Steering Group member, fancy coming aboard?
No guest speaker this year, official business after we have lunched, at 1400, normally takes 45 minutes! Then a chance to chat again as the bar will remain open for us.
Just heard from a few of the Steering Group that they are willing to serve again, but if anyone else wishes to get involved, (Full Members!) please contact us. enquiries@eventides.org.uk
John
Saturday 3rd March 2018.
Eilard our Netherlands Rep has just sent in this picture of his boat, moored in the Netherlands!
Being mostly freshwater the inland waterways of the Netherlands are often ice bound!
Here the snow is beginning to melt. However tonight's frost will bring more chaos as the roads will be sheet ice... Hopefully back to the normal damp and dismal soon!
Happy Birthday to our Database Manager, back hope after his op and recovering!
John
Friday 2nd March 2018.
And still it snows! and to add to it freezing rain, nothing moving here, amazing how many slopes there are in our flat county of Essex, all with heaps of cars at the bottom! Hoping for a respite soon.
Heard nothing back from Craig Ackerman so we assume it was a phoney application. Amazing how many duff ones we get! Craig if you are out there and reading this happy to enrol you once we get more info, maybe have a chat on the phone?
Had a nice mail in today from the builder of the fin keel Eventide 26, 'Sarane'. Brian is hoping she is still about... We we know she was in 2011 as she was seen in the channel islands, but where is she now?
We have just had a mail in to remind us that we have to renew domain names we own. As we do not use these other than to have a link to our main site we will have to consider if we still want to pay for them. Interestingly we were just offered 'Eventideownersassociation.org', No, that is nothing to do with us, it was them and now they are dead and gone!
Sorting out buying some ink for the database Manager, John so he can print out and sort all the outstanding entries on the database. Hopefully he will be home later after a visit to hospital and can convalesce doing the updates, nothing too strenuous though John!
Hoping this white stuff gently disappears now, it was fun for a bit, getting bored now! Wrong sort of snow to make snowmen from too!
John
Thursday 1st March 2018.
St. David's Day, the first day of spring?
We are officially snowed in! Not only has our road a 2ft snow drift across it that we have managed to clear, but there is a 5ft one a mile or so away that no one is getting past for now. Warned you about checking those covers! Wind blown snow....
All our Daffs for St. David's Day are buried here and only just in bud when they were last visible! Cold easterlies delay spring flowers here and last night it was minus 6! Gale 8 winds caused all the drifting! Been snowing on and off since 0800 again today and adding to the 5 or 6 inches on the ground. Though the weather people call it the first day of spring I prefer to wait till the equinox! All this snow should have long gone by then.
Just seen the local farmer go past with a 'mini snow plough' like plate fixed on the front of his tractor, that may clear at least our road...
Been over 20 years since this village was cut off.
Another two new enrolments. Martin Dooley with the Eventide 26, 'Tao', has joined us and today we also welcome Craig from Chichester, as a friend or 'Associate' member. Not sure if he is contemplating buying or what, I will hope to find out...
Enrolments are still coming in fast, we have to be doing something right... If you agree or disagree Sunday March 25th, be at Bradwell marina bar at 1230 lunch time to have your say. Remember only 'Full' members have a vote, (after 1 year of membership), but comments from associate members always welcome!
John Stevens and myself have corrected and re corrected a very long log for inclusion on the logs page of our site. Great reading! Sadly the cruise took place a while ago.. What we need before the 25th is a recent log or two or a story of a feat of seamanship for the trophies... Have you a story to tell?
Had a power cut a few minutes ago. Happens a lot here, but the EOG has a backup power pack to protect this computer! Clever stuff. Means I can keep working and nothing at risk.
Time to throw another log on the fire! Cosy here.
John
Tuesday 27th February 2018.
Three inches of the white stuff here overnight, with more promised for the next few days, will get thicker before it melts away.
Had a mail from the owner of one of the Eventides on the Gallery, 'Tao'. Martin has it in his boatyard in Lancashire. See his website. http://www.characterboats.co.uk/
He specialises in gaff rig day boats and is thinking of converting 'Toa' to gaff. Will be an interesting rig change. We do of course have the gaff rig on one of the drawings in our CD of all the Eventide drawings on the CD, available at cost to members.... hoping to get a completed enrolment from from him shortly!
Wonder how many know that Calor gas hoses and regulators have a 5 year life? They are actually dated. In use the interior 'rubber' parts rot, even when not in actual use. Can you risk a leak?
See my preparation page for what I have just bought for Fiddler's Green.!
Tomorrows meal is cancelled, the temperature has not risen beyond zero today and spent a lot of time at minus 2! Better safe.. We will meet another night.
Or not, as the Annual meeting is less than 4 weeks away, so we may just skip this one. See you all at Bradwell on the 25th March.... As ever, I buy everyone attending their first drink!
John
Monday 26th February 2018.
Winter has arrived!
We have cancelled the Essex meeting for the end of this month.
As I type there is a blizzard outside, for a moment the horizontal driving snow left visibility down to 100 yards, but a moment later the sun is out! Forecast for today is showers, but for the next couple of days heavy and continuous. Prediction is a foot of the white stuff! Just along the coast here. That will be fun. Most of the family have never driven in real heavy sow and don't want to, years ago we had to and it was fun, once mastered. today, even if you have a 4x4 most have the wrong tyres and great fat wheels not best for snow. Remembering letting the air out of tyres and then having snow chains, back in 1973!
Hope those covers are tight, snow is terrible for getting under covers and blowing into boats. The snow today is so dry and it is so cold outside it is not melting but blowing about like dust. If it gets under covers, then thaws and freezes it will lift paint and varnish!.
At the moment we have blue sky and sunshine, but big black clouds scudding across the horizon dumping more white stuff 10 miles away to the north!
Definitely time to throw another log on the fire!
John
Saturday 24th February 2018.
John Stevens had his op cancelled, so common in today's N.H.S., but with any luck this morning they will have done the op and his toe will be repaired. Hopping he will be home soon!
He He! Told me he was fitting crampons to his crutches for next weeks snow!
And it is due to snow heavily here in the east, for a week at least, so be prepared.
John has been assisting me correct a lengthy manuscript that will be appearing shortly on the logs page, amazing how many times both of us have read and re read it through and are still finding errors! Its a 2,000 mile epic!
Just over a month to go to the Annual Meeting. should have gone by then!
Sunday 25th March at Bradwell Marina bar!! Be there to be part of this group. Your chance to have a say... Remember only 'Full ' Members can vote though. Input from 'Associate' members always welcomed.
Last night was a cold one, pond frozen solid, that has been rare this winter.. Got down to my boat yesterday and managed to load back onboard all the 'gear' I had brought off 3 weeks back, will be totting up the weight shortly. At least I can now get my old van in the garage out of the cold! At 50 years young this year she needs her creature comforts!
Heard from Eilard our Netherlands rep, he tracked down the son of the chap who used to build Wild Ducks out there, in steel of course. Sadly all the old drawings have long gone, but it was a valiant effort, well done! If anyone has any info about the 23ft version in steel of our 19ft WildDuck we would love to follow it up.
I have moved on to plan 'J' now re my 'Fiddling Around' trip. I have been thrown a lifeline so I may be able to do the dream trip through the Falkirk wheel yet! See the preparation page.
Lastly a warm welcome to Tim Lipington who has just joined us. Tim is interested in the WW CD. Interestingly he was a member of the now defunct eoa.
Heard from another organisation last week promising to promote the EOG, nice of them... The Cruising Association!
So just time to make sure those covers are snow tight if your boat is in Kent, Essex, Suffolk or maybe Norfolk...
John
P.S.
Oh dear, 1000hrs, poor old John's op was cancelled just as he was to be wheeled in the theatre, an emergency. Trouble is because of the emergency there was then infection so the lot closed down! So he is on hold again... Time to put the feet up for a few days shipmate.
John
Monday 19th February 2018.
Good wishes to our Database Manager, in hospital today having his foot fixed! After a nasty accident with a car being chased by police, culprit apprehended! Won't be able to call him 'hopalong' shortly.
Members have seen that the chap with an old set of paper Eventide plans, torn and tattered, is still trying to sell them on EBay. I am loath to inform him they are not good to build from! Only the ones we advertise are corrected, tried and tested!!
Since the news of the demise of the old eoa, it is interesting to see the interest in the EOG from the yachting press and other clubs and organisations. It is as if they were just sitting back waiting for them to fail. All who have contacted me have said the same, 'what were they thinking of, allowing non owners to run it'. One club told me they hurriedly altered their constitution in 2003, so that non owners did not have the power to do what the old eoa committee and their hastily elected cronies, did to us!
May have told the tale before, but when news of the nasty AGM leaked out, and none were more alarmed than the CA staff who hosted it and listened to the shenanigans... We subsequently heard from them of two clubs that suffered a similar fate. One was at Gt. Yarmouth where non owners voted the owners out of their own moorings! The sailing side of the club were forced to move away, leaving it as a drinking club for locals!
The other was a small but enthusiastic dinghy sailing club, deep in the Fens. All they had was a port a cabin and a dinghy park and slip. They allowed immigrant workers from nearby farms to join as social members (thinking their spending would boost the coffers!) and at the next AGM the farm workers closed the sailing side down and now the club is a working mans club!
Funny old world.
We are waiting to see if the eoa do the morally right thing with the regalia they hold, all freely donated to them by individuals for the benefit of owners, some even by me! Will be a lasting blot on them if these items do not somehow find their way back to the real owners.
Hoping to be able to add some pages to the builders and restores pages soon, the weather is improving and heard from at least one builder who is itching to get going. (new build!!).
Looking forward to checking in on 'Blackwater Witch', ex 'Dougaljo' soon too. Repairs soon to be started!
'Moondancer' in Africa is still sailing and Ed believes the damage he sustained was no more than a scratch along the hull maybe. He is to haul out soon to repair her, but says epoxy is difficult to get hold of in Africa??
'I have cruised 150 miles up the river Gambia and will soon return to the coast. The journey was through beautiful Mangroves, palms and jungle with monkeys, chimps, crocodiles and hippos which was very special.
My plan is to sail north to Dakar in the next few weeks where I plan to get Moondancer hauled onto the beach where we can do a proper repair. It looked to me as if it was just the sheathing and not the wood that is damaged but I will sand it back and take a proper look when high and dry with the wood time to dry out before we cover it.'
More news shortly as it comes in!
John
Wednesday February 14th 2018.
St. Valentines Day!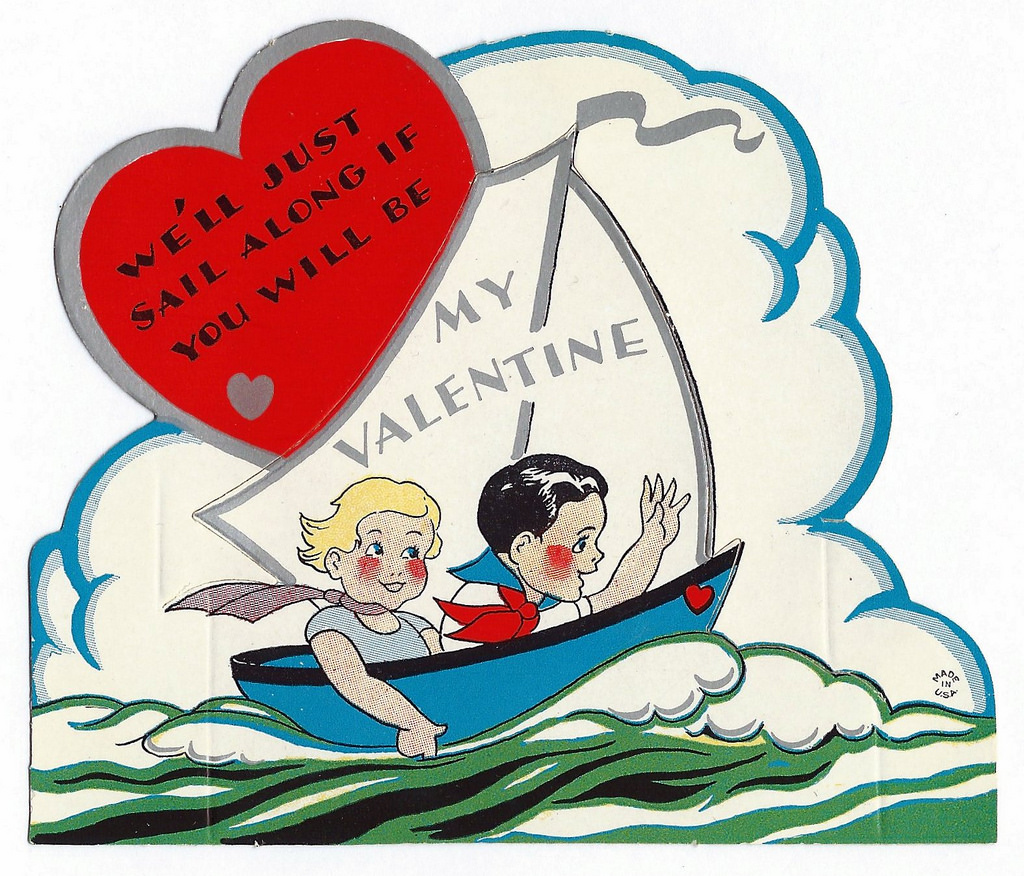 Love this corny card cartoon!
Do hope you will be looking after the other love in your life today, as well as checking the covers on your boat!
T'was a year today that my love and I stepped out on a great adventure. Today, a year on we have trees! Will be a while before we can harvest enough to build a boat though! One day someone may, for chances are we will have run out of oil and plastics and will be back to timber boats in 100 years!!
Back with more news as it comes in,
John
Tuesday 13th February 2018.
So busy has it been for the last week or two I forgot to wish the Eventide Owners Group a happy anniversary! We formed on the 9th of February 2003, so we are now 15! In our 16th successful year!
Sadly we have now had it confirmed that the former eoa has folded. We heard first from Yachting Monthly, then from another owners group and it has now been confirmed. Sad they did not make it to the 55th anniversary. We were approached a couple of years back and asked if we would like to BUY their assets! We declined, as these were donated to the owners and if we paid the old assoc. for them, we had grave doubts as to who would pocket the proceeds. We did offer for them to join us and share our success, sadly they chose not to respond. We said it was only a matter of time. If the people running a group are not committed enough to actually own the boats, it was just bound to happen.
We are now welcoming our 1650th member, or there abouts, John S. has the exact figures, but Welcome to Mustafa in Turkey who is very interested in having a large steel or Ferro MG built!
We are investigating the Wild Duck that was built at Kesteloo, the 23ft version. You may recall we took photos of one we met in Goes in the Netherlands. Chances are the drawings may be lost, like so many, but it was felt it was worth a try so Eilard the Netherlands rep and Chris the ex rep may get together to see what can be found out... We will let you know.
With temperatures down to freezing again and snow yet again in the forecast, winter has not let go as yet.
But hope is on the horizon, tomorrow is traditionally the day when the birds start looking for nest sites and we have just found that the first of the 500 woodland daffs are showing their noses in our new spinney.
Roll on spring and summer! Soon be time to roll back those covers and get back aboard. I am one of the few fortunate ones in the UK, who has a barn to winter in. In the Netherlands it is really common practice and that seems to be how they can all be ready to launch early on as they have been beavering away in the warm and dry!
Hope to be ready early!
John
Monday 12th February 2018.
Had an enquiry in from Turkey today, for a steel Wild Duck?? Of course they were made in steel in the Netherlands, but only by one company who converted the drawings for their own use. We have seen stretched versions of the WD in steel. Sadly we, nor anyone else, has the drawings for these now.
We heard from the Trident Owners Association today, they are celebrating their 50th anniversary. They have kept going all these years because they stayed as an 'owners association' and did not water their constitution down to allow non owners to run the group. Well done them! Had the old eao done the same they today may have been as successful as the TOA or ourselves....
Weather has been cold enough to freeze the gold fish pond for a few days, makes a change... But today was bright and sunny so I was off to the boat barn to start loading the kit back aboard...
Had a mail from a member to inform me about 'Shiply', for getting F.G. back from Scotland this season. Yes I know this website and there is already a link to it on our links page. but thanks for the thought! I found last time that you needed about a week to 10 days advance notice to be able to book anything, return loads work up to 3 months in advance sometimes... Cannot afford the marina fees in Scotland waiting for that amount of time! I was lucky last time 5 years back, I waited less than a week, just slotted in beautifully with 'Galt Transports' plans!
John
Friday 9th February 2018.
In black today, as yesterday my plan to sail the Scottish canals all the way to Edinburgh via the Falkirk Wheel was shot down in flames! We took the boat to the weighbridge and I quickly realised it was not going to be OK to tow her home to Bradwell from Scotland. Full story on my preparation page....
Yesterday we had one of our members ask after the CD of Senior drawings, preparing a CD now ready to post!
Heard from another member who told me what the all up weight of his 28ft Eventide was, his is stretched to 28ft, just slightly longer than mine...
Should have realised then that mine was going to be heavier than I anticipated, his is 5000Kg.
Another mail commented on the fact that the Bawley and the Eventide 24 on EBay have not shifted as yet. Suspect the prices will have to come down to get a bite... but then strange thing about selling boats, is you can never tell.
Recalled the story of a guy I met on the London River back in the 1970's. He had an old Thames sailing barge, no rig, it was fitted out as a diving boat. He took her round the coast in the summer and hired her out. Lived aboard. He had decided to move on and wrote out an advert for that famous paper that we all used then, the Exchange and Mart. The advert was supposed to end with an £8k price tag, somehow it was printed with an extra zero. When I met him a day or two later he was very cross and waiting to put the advert in again. A day later he was elated, someone had made him an offer close to the 'wrong' price.
Last I heard he ran a diving school in the Maldives. Funny old world.
John
Monday 5th February 2018.
Heard from Ed in Africa with the GH Moondancer. He had suffered some damage to a bilge keel and we have been able to give him some advice. We are hoping it is not as serious as the damage that sunk the GH at Tollesbury. It may be just sheathing damage... He has also sent a nice pic of her .
Moondancer in Africa.
Welcome to two new members. I will be responding to their enrolments shortly...
Barrie, with a Springtide, in Southampton Water. This 26ft GRP boat built by Kenneth Evans and 'Partners' has a lot of MG about it, we have included the Springtide owners as 'friends', awaiting the day we can prove MG was that partner!
Welcome too to Bob Shaw, looking to buy a Senior. Suspect we will soon be changing Bob's membership status from 'Friend' to 'Full' shortly! Bob hails from Wembury in Devon, beautiful area.
George in South Africa sent in another nice pic of his Eventide 'Valerie'. She is a heavyweight stretched Eventide, coming out at 28ft and 5000Kg Same size almost as the first GH's.

Pic also added to the Eventide page of the Gallery.
This morning we had snow, just a dusting, but with temperatures just hovering above freezing the forecasters have indicated we may have more tonight. Hope we do not get a lot as we are planning to roll Fiddler's Green out of her snug secure barn on Thursday and take her to be weighed, can do without a layer of snow on top! Bets on how much she weighs in at??
John
Friday 2nd February 2018.
A small but select group met at Boreham on Wednesday and enjoyed a jovial evening. Looking forward to the next get together at the end of this month.
I have been somewhat distracted over the last week with the fate of a group of wooden, classic craft... The situation with these is so similar to that of our old classic wooden boats, If they fall into disrepair their value plummets and like out boats they are often scrapped, consigned to the bonfire. I have been fighting to preserve about a dozen of these grand craft and with the assistance of the internet I am hoping to have found a solution to the problem of their future, time will tell. What are they? Gliders!!!
I wish it was as easy with old Eventides... often we find out too late to be able to get the rescue off the ground... With the gliders I was involved early....
Maybe one day I may get a short flight in one? would have loved to have done it 30 years ago, but alas no money nor opportunity. Am I too old at 70 to try?
Learnt that our Database Manager had a glider pilots licence for some time! Man of many talents!
Still chilly here but dry, heard snow in the forecast again, but heck it is only early February.
Roll on summer.
John
Monday 29th January 2018.
The Essex group will be meeting in Boreham on Wednesday, 1900hrs at 'The Grange' for a meal. If you wish to join us please ring 01621 778859 so we can get a larger table!
We have the grandson staying with us for a few days, strapping 17yr old! Has been a real asset unloading kit from the boat, see preparation log, as well as assisting me clear fallen dead elms from the edge of the new wood. Not our trees, but neighbours, some that should have been cut down 40 odd years ago when they succumbed to 'Dutch Elm' disease.
We were at the boat again today and loaded another full load into my little Morris minor Van. Off to te weighbridge next week we hope.
Do you know how much your boat weighs in at? We have been amazed at the quantity and weight of the kit that is never normally removed. Recall the weight of an early E24 was supposed to be 30cwt! (old money!).
When I weighed my old Eventide 24 'Bluenose', many moons ago, she came in at just over 2 tons and add the trailer nearer 2.75... Was a bit of a shock at the time as the trailer was only good for 2 tons max! We rebuilt the trailer with beefier 1.5 tonne units! Total all up weight limit 3 ton. Well inside trailer limit.
Later we had to add another axle when we converted a similar trailer, built for the fund Managers E24 and later sold to me for use under my E26 and a bit.. (actually 27'3"!). Having shocked ourselves by weighing the boat and trailer...... We had to beef that trailer up so the suspension could take 4.5 tons, we did it by adding an extra axle, to make 3 and each pair of units was upgraded to 1.5 tonnes (new money) per axle.
After we launch the boat this spring, we will return to the weighbridge and weigh the trailer, to see exactly how much a modern Eventide 26 weighs in at!
Finally a reminder.. Wednesday, meal night in Essex!
John
Thursday 25th January 2018.
Mailstore Maldon are having a sale! 15% off till Jan 31st! Not to be sniffed at! Do take advantage, just add JAN18 in the offer box, when prompted. If you order more than £75's worth then post is free too!
Mailstore already undercut every internet shop I have ever found, support our local chandlery! Friendly Folk!
I have, see my Preparation log. Just bought the last bits I was having to buy for my trip!
Talking of Jan 31st.... The Essex area group meal night. We are going to be in Boreham Essex, just north of Chelmsford. Call me on 01621 778859 if you would like me to add you to the table reservation!
John
Tuesday January 23rd 2018.
I spent a happy couple of hours editing the site last night. We have had that many new pictures of different boats send in or found. There is a new addition on the Friends page of the Gallery, a 'Springtide', dare you to tell me MG had nothing to do with this one!
A new boat a Barrier Reef, found in Walton by John Hopthrow this winter, just added to the 'Other MG designs' page of the Gallery. Do not as yet know the owner of this beauty.
Also added to this page a Thames Bawley 'Kittiwake' found for sale on EBay, though oddly advertised as a 'Thomas' Bawley! We have been in touch with the seller! She deserves a new caring owner.
Loads of pictures of the Riptide 'Mystique' added to the Riptide page.
I managed to lay out, measure and mark the new anchor chain, the skinflints sent it short by half a metre!. Not going back though and now all marked every 5 metres. Another job ticked off the list on my 'Preparation' page.
Hoping to get my boat to a nearby public weighbridge shortly, be interesting to see how much the boat and trailer weighs in at! Read the preparation page to see why I am bothering!
With temperatures suddenly in double figures one could be excused for thinking we are over the coldest bit, but it is just a blip, so keep those covers on for a bit yet!
John
Saturday 20th January 2018.
Cold wet and 'orrid here! Sleet and rain with occasional snow flakes, just 3 degrees... Still I did get to my boat yesterday to check the barn still had a roof after the last blow and bring a few bits home. See my 'preparation log'. Planning is getting serious now!
Took a run down the road to look over the river the other day , no one out there and white tops as far as the eye could see. Not inviting! Heard from one of our members, Bede, that he had a sail round the Isle of Wight last weekend, cold and a little breezy at times but on a well found 33ft boat, a good trip. Think Bede is made of 'strong' stuff! Looking at it out there I think I will wait till it warms up!
Only two months till our next Annual meeting, 25th March. Hope it will be a little warmer by then so as many members as possible can turn out. Good to get feedback from the membership. We hope we are doing what you would like us to but without your input we are just guessing.
Bede told me about an App and a chart pack available through www.visitmyharbour.com Worth having a look.
If you get an android tablet and the charts and app you can carry the lot in the cockpit (in a waterproof case) or wherever, with AIS on it as well, very clever. Sadly does not work on an iphone or I may be tempted, for less than £35.00!!
Hope your winter work is progressing well and your boats are safe, roll on the season!
John
Sunday 14th January 2018.
We have had a succession of grey winter days here, and today is another. Certainly not conducive to work outside! (Not that my nurse will let me out into the cold yet, after the bug I had!!). So I have been downloading chart corrections for the 20 odd charts I have here as part of my folio for the second part of my round England, Wales and part of Scotland, hopefully taking in a visit to Ireland along the way! Some have Three A4 pages of corrections, that will keep me busy though the next month or so!
I have updated the 'Preparation Log' pages as well, I have been busy on our EBay page again!. Scroll to the bottom to get the latest. This morning I downloaded the directions for navigating and obtaining licences etc. for the Forth and Clyde Canal! More reading material.
Had a request in from a new member, welcome to Tom, with a Golden Hind in Wales. He would like to get in touch with other GH owners. Contact us to be put in touch. He has GH 63 a sheathed ply version from 1968. Formerly known as 'Blyth Andora' now renamed 'Catrin Glyndwr' Any relation to the other 'MG', the Welsh one I wonder??

GH 63.
Michael with 'Mystique' was in touch last week and has sent a load of interior shots of his boat, interesting decor! Also a couple of pics of her without the junk rig as a motor cruiser. Looks good.
Mystique
I will be adding the pics to the Gallery later.
Hope the armchair sailing is going well, I have worked my way along most of the south coast already this week!
John
Sunday 7th January 2018.
Popped into the marina bar last night for a meal, we were the only ones there! Arranged our Annual Meeting date. 25th March at 1400, bar meal beforehand, 1230. We have the exclusive use of the marina bar dining area, lets fill it!
Storm Eleanor wreaked a little damage here last week, several very old dead elm trees came down near our boundary falling in among our newly planted trees, but thankfully missing them all, though a few bits of fence suffered. The dead elms were 'Cornish lock elms' a variety planted widely in the area as hedging, not the enormous English elms! At just 15ft tall and no more than 5 inches diameter, they are easily removed! Firewood!!
(I am protecting a few elms of this variety in our hedge. By keeping them trimmed back the elm beetle cannot get access and therefore not spread the virus that decimated the other native elms here...)
The boat barn unscathed thankfully, hope your boat ok.
We had an interesting enquiry from France yesterday, asking about our drawings and seemingly wanting to use some of our drawings to experiment on re stability curves? Interesting.
I had the stability curve and the rating for my Eventide worked out by my surveyor 27 years or so ago, was an interesting exercise. Proved that MG knew what he was about, my Eventide is supposedly suitable for offshore use, what a surprise!
Keeping warm here, as I am still recovering from a nasty bug that left me squeaking like Pinky and Perky, so chilly outside, wind chill temperature is minus 2!
John
Tuesday January 2nd 2018.
Happy New year to all our readers!
Start the year with the news that at least one other boat is to join 'Fiddler's Green' next summer, at least to see us as far as the Swin! 'Wedjit'! Do hope we can kindle a bit of interest with others to get them to sail further.
We are hoping to spend 2 months approx sailing the 800 miles or so up to Troon, to complete the second half of our trip. When we get back to Scotland we then have a few options, sail on, through the Clyde and Forth eastwards to Edinburgh, then south, or trail back with our own trailer or piggy back home on an artic. Others, if they join, may decide to peel off and go further north, to Skye and the outer Hebrides maybe. Perhaps retracing our route through the Crinan and the Caledonian canals...
We met others last time who loved it so much in Scotland's waters they arranged moorings up there and went back the next summer! I really can see why!
Heard from John Hopthrow, he has found a MG Barrier Reef in Walton, in lovely order too. Pics to be added to the gallery. Hope to find out more about her....
Do we know this one by a different name maybe??
Not the boat I thought it may be, Crystal Voyager, different number of wheelhouse windows!
The Eric Manners mention in December has brought a couple more comments. The late Gerry Loveridge's family, Wendie and Sally have sent more info, they knew Eric! And Chris in the Netherlands has turned up more, he designed big cats and tri's too! Also a story of shipwreck I am going to bend his am to write up! (in an Eric Manners cat!)... I will be passing all on to the enquirer. So good the network of Eventiders stretches so far.
Had a nice note in from Peter North's daughter Val, after we sent a card. Peter sadly has severe memory problems and cannot remember a thing, a nautical card every now and again is the least I can do for all the assistance he gave me 40 years back!
This greeting to members has come in from Silvano in Italy!
So the first entry for 2018 ends.
Hoping it is a good, happy and healthy year for all of us.
John