20.July 2005. Awake and use the facilities, just as good as they were 12 years ago! Breakfast and clear up, it is the first night with all four of us aboard and Darian is a little apprehensive, she need not be, we slot into a routine and everyone gets on fine!

1000 walk into town do the shops, find the supermarket and buy a few interesting bits and bobs.

The girls captured in the shops!

The fabulous 'Guildhall', the clock is great!
1400, we leave Middleburg and head north up the canal towards Veere. The weather is sunny and bright, we enjoy a slow putter to the lock.
1530 into the Veerse Mere. Gently sail eastwards up the meer and pick up a near empty stage pontoon. It is not attached to the shore, no facilities, just wildlife.
The only boat on the pontoon, a Dutch boat, waves. Jan and Marta come along to say hello. He sees the name ' Fiddler's Green' He knows the song! Turns out he is a retired Sea pilot from Vlissingen still lives there and is a member of the Pilot Choir!
We sunbathe and soak up the atmosphere. Darian rustles up a magnificent pasta meal.

Evening falls on the Verse Mere, voices are being honed!
That night we have a great singsong. All aboard 'Right-E-Oh' Jan has brought his song book, all in English, and they are ones we know. We have renditions of them all with the highlight being Mavis with a nod to her home. An inspired 'On Oakley Moor bar taat!'
The night is silent apart from the songsters. The local scouts on an island nearby were no match for our singing!
We stagger the 3 yards back to our ship!
21st July We set off with all good intentions, but dally on the way, it is too nice to motor, so we slowly sail in a sunny F2 then we have a slight mist of rain to prevent overheating!
We sail on very slowly. There is a call from Doug. His Engine will not start. He sails to the edge and drops his hook. We come back and raft up. 'Right-E-Oh' drops her hook nearby. We have chosen one of the narrow bits, and soon there is a procession of craft passing close by. We find the trouble, a wire off the solenoid, no the solenoid has fallen off the wire…. We make up a by pass. Motor starts, then stops again, more concern, no it's just the stop switch that John has pulled too hard! The Jury starter is waterproofed with a couple of poly bags and it lasts all the way home!
We drop in at Woolharstsdijk to see an old friend. She is not around but another familiar face is, the Haven master. She says she will pass the message on. We met friends here 12 years ago and kept in touch till just recently, we are relieved to find she is well so hope to hear from her soon.

The sluice at Zandcreek, this is under the motorway, traffic is stopped and diverted as the bridge lifts.
We sail through the huge Zandcreek sluice and out into the Oostershelte. It is a just a short hop to the Goes Canal. We crowd into the lock with loads of Sea scouts Girls and boys, great fun. We slowly motor up the tree lined canal, past the pretty little houses, to the lifting bridge, then turn into Fairyland!
Goes Marina. We are berthed up under the mini light house. We party under it all afternoon, meeting a Dutch Wild Duck, 'De Struise' She is steel and was called 'Wild Duck'! We have another Dutch WD of that name. The owners Dice and Irena join us. In perfect English they tell us about their boat. It is 25ft long.

Dice and Irena's Wild Duck
We later walk into Goes to have coffee in town over looking the quay. Back to the boat to a Cheese and Wine party in the cockpit. A perfect day.

22nd July. The crews like it so much they want to stay another night, so we arrange for a BBQ for that night. Chris Sinnett arrives and Alan Howells and his partner. We have another pleasant walk around town, Doug and Brian break out the bikes and go in search of a starter Solenoid, they are unlucky.
We have a great BBQ, joined by others in the marina. All around are old boats rudders, sluice gates nautical bric a brack, all converted into picnic tables!
In Goes, fairyland moorings! BBQ!

Val then drops her specs overboard. I fish for half an hour, but with the help of a net, fish them out, a hero!
We have a great evening, then history repeats itself. I notice a change in the weather, although we are hemmed in by trees and buildings, the sky overhead shows the change. Then lightning splits the sky. We have a firework display for a while, then after we have all turned in, torrential rain! Cools the air somewhat.
Chris gets a berth on Dougaljo and will sail with us to Middleburg.
23rd July,
Up and awake all damp outside. Rain stopped as suddenly as it started at 0230. Use the facilities ready for the off by 1045.
It's a bit tight for the others in here, the larger boats find it difficult. Having extricated ourselves, we motor off down the canal in a huge flotilla.
We have a bit of excitement in the Goes lock, when a large yacht gets a line caught on a cleat as the water drops. A knife is found, but not before there is a certain amount of shouting and running about!

In Goes lock, just before the excitement. The boat that got into trouble is just out of shot to the left.
We raft into Zandcreek Sluice, We are alongside a very pleasant chap in a Belgian boat, turns out to be a merchant navy officer, single-handed, makes it look oh so easy! Turns out we stayed at his club in Ostende. Not next year he says, they are closing the club, the commercial side is taking over….
We motor out into the Verse Meere into a rising breeze.
I have chosen a different spot for tonight, an island with a small enclosed lagoon, Bastilaan de Langeplaat. We have a perfect mooring, just enough water, 1 metre!
We raft up either side and after a coffee, set off round the island, or at least the girls do. I pump up the dinghy, as Chris has a change of plan and I arrange to ferry him ashore. Trusty Seagull gets to come out of it's bag!
The swans cannot resist having a close inspection.
I run him over to a local canoe centre, where he is met by a friend who takes him on to Middleburg.
We have a very relaxed evening, all quiet, till the trip boat comes past at 2200, disco in full swing! We all hear them singing and realise it is 'Yellow Submarine' in Dutch!
I top up the tank, another 10 litres used, will fill up in Middleburg tomorrow.
24th July Darian has found a quiet spot on the island, to do a set of her Tia Chi.
1000, we leave our island and gently sail and drift, motor and drift, down the Meere towards Veere.
We have to admit defeat and get the motors on, the girls all want to get to Middleburg before the shops shut!
1330. into the fuel jetty and fill up the cans, we carry two 10 litre cans, plus about 40 in the tank.
On arriving at Middleburg harbour we are met by the two lady harbour masters and I find myself the centre of a photo call, because of my hat! We berth in the inner part, under the little lifting bridge, in 'Boxes' stern between two posts, bow onto jetty. Not all that easy to get in and out of the berth, nor off the boats! Need to be a little nimble, or have a set of steps.!
We walk into town. It is 'youngsters Day'. All the 15 to 19 year olds have taken over the town, carnival floats and costumes are everywhere, the music is varied and loud! We soak it up. Find the Cheese shop! Stock up with cheeses that are to last for months, great!
We come back later for showers and then return en mass to have a last meal all together in Holland . What to eat, the choice is large, we end up in a Greek restaurant. A good time was had by all.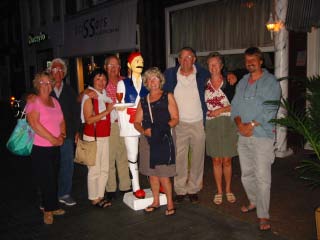 We repair aboard 'right-E-Oh' for a nightcap. Phil and Val, our crew, have bought us little gifts, chocs for Darian, (and John), and a very swish pair of metal towel holders for the boat, to replace the rather disreputable rubber ones I fitted 15 years ago!
25th July. 0800 up and busy, sorting and washing. The showers are too busy for me, I give up and go back later.
Phil and I check round the boat for the trip back, I find a duff cell in the fridge battery and change it. That's why the fridge packed up during the night! I carry spare cells on board of course! The girls are sorting their clothes away again, we brought their bags over on board, they are packed back into the corners of the boat for the return trip.
1200. We are off to the station and at 1233 on the dot, we wave the girls off on their way back to the Hook of Holland and the ferry home. The Dutch trains are great. You can get a timetable on the web, thanks to Chris for this, all the times, all the connections etc, in English! And the trains are clean and punctual.
What a difference to the UK.

After seeing the crew off, we make a quick sortie to the supermarket, then are ready for the off.
1430, the bridge lifts and we are away, motoring slowly down the canal. The drifting between banks is off to a fine art now as we wait for the bridges. Sometimes we take a turn on a post or lean on a jetty, most times we drift.
1645 we are in the last lock. We feel the sea again, it's lumpy! As we leave the lock the mobile rings, it is Darian and Val, they are on the ferry and it is rough there too.
1800 we moor up in Breskens. We have crossed the Shelte, no traffic about today. We are to set off from here in the morning, not too early, to catch the tide!
0900 awake after a good nights sleep. Huh, there were squeaking fenders and knocking tiller, swell and a breeze. It is a stiff Westerly now.
1130. Darian Calls, they are at home, got in yesterday evening, good trip. They slept well and are having a leisurely day in Chelmsford, shopping. Val will jump on the bus there which will take her home.
We set about filling water tanks and stowing all for sea.
1150, we are out, it is rough! NNW 4. We motor sail into it, for about 2 hours we bump along, then we can ease sheets as we turn with the coast.

Off Belgium on our way home.
1420 we are off Zeebrugge the motor is running at 1200 revs and we are doing 6.5 knots over the ground! Whizzing along. The other two boats are a little inshore of us and right-E-Oh has to detour to clear the harbour breakwaters. We head on down the coast, easy trip, keep Belgium on the left!
1530 We enter Blankenburg. There is 3 m in the entrance. Not a problem. What a massive complex of yacht berths. It is like a huge basin full of pontoons. We eventually find three vacant reasonably close and get alongside. The hose pipes are out to wash off this mornings salt! The mooring is cheap enough, but the showers are a bus ride away! Might make do with a damp flannel! When I get back after paying the dues, I can smell what I am thinking is a very swish restaurant nearby, turns out to be Phil cooking our dinner! Wonderful evening, we walk to the front and along it eating waffles!

When I get the phone to work I get Darian, she is hot, cutting the grass…..
I try and work out a plan for the return crossing. Dougaljo and FG will coast. Right-E-Oh is going to make it in one.
I want to make Dunkirk tomorrow, then with an early start, we will be able to cross in daylight.
27th, 0900, late to rise, I was kept awake half the night by noisy youngsters climbing over the gates. Had they checked it did not lock! Phil tries to get another teaspoon of grease in the greaser!
1300, leave with a W2. motor out then turn left to follow the coast again. Few navigational problems in this area. They start off Dunkirk.
1500 we pass Neiuport, next time maybe. We are under full sail, even got the staysail up, 5.5 knots over the ground, great sail. Speed increases till we have 6.3 over the ground.
It never lasts, the wind dies a little and the motors go back on.
1615, cup a soups I am turning the gas off after every use, as we have found the new hose cracked and a smell of gas!
1710. the Belgian coast with all it's seaside flats, sunbathers and boats, gives way to France's industry. What a change in just a few miles. Dismal.
The French buoyage leaves a little to be desired too. We are trying to weave through a maze of sands, with only a narrow channel, but where are the buoys. The chart is up to date, but bears no resemblance to what we have. E11 buoy, what is that supposed to be ? It has a conical green top mark, that's all, it is just a cage.
E10 is not on the chart, but it does have a red can on top, so small y0ou can only see them when close. It has now become murky, pollution?
Just to add to the problems the GPS goes off, on, off again?
Doug's does the same. We have heard there were problems. Could it be all the power cables we are sailing over? We pick out the channel and the GPS settles down again.
1820. we are in the approach to Dunkirk. The smoke and pollution gets thicker. The beach has a few huts, but there are the remains of ships and obstructions everywhere. The tide is slowing, we are taking a long time to close Dunkirk.
1900, we are in the pier heads.

1930 alongside. A very surly French lady, escorting the Harbourmaster, takes our money 15.20 Euros inc showers. We find they are shut!
We sit in the cockpit Jo has the cake, we have the tea. We decide on a 0500 start. We are not impressed with Dunkirk.
0415, we are knocked up with a cuppa! Thanks Doug.
0455, ready for the off, it is dark but a clear morning, lots of fishing boat activity. We ask permission on VHF 23, we have to wait. Ahead I can see the steaming lights of a ship entering., that's why all the activity half an hour ago, they knew!
0530, leave Dunkirk, get a cheery greeting from a fisherman, the only smile we had here. I speak to Dover CG and give out ETA as 1400 Ramsgate. As we slip along in the dark there is the French version of the Olympic flame, lots of them. The breeze is offshore, fair for England, but I can see we are going to cop all the smoke soon. We do. It is choking. Jo disappears below, don't blame her.

We watch a watery sun rise astern. A Red ball climbs up the sky! I hoist the main to increase the speed, we need our best to make far enough before the tide turns. We move out of the main channel to avoid shipping heading for the commercial port of Dunkirk. We figure that only half the buoys listed are in place, there are enough, it's just they are not marked as per the chart either….

0745 I reach in to turn off the navigation lamps and switch off the log and echo sounder by mistake. Lose the log reading, never mind.
Another hour and we will be heading back to England.
0915 the Sandettie light vessel bears 270 degrees. We are on a course of 320 to cross at right angles. Good visibility, loads of ships in sight. We keep taking bearings on them.
0930 we are in 'no mans land' NE of the Sandettie. The French flag comes down.
We cross the Northbound lane. We have to slow and stop for ships. There is not a cloud in the sky. 1040 we are clear of the lanes. We hear the CG quiz a pair of fishing vessels nearby, they are going the wrong way in the zone!

We have to avoid a large container ship, outside the TSS, close to the edge of the Goodwins, where is he going? North to the Thames maybe. We then stop for a further two, it is busy out here.
1155 We are 3 miles from the Goodwin knoll, 286 degrees. A pair of dolphins surface off our bow. They dive under the boat. Where is the camera! the dolphins play round Dougaljo! Much to Jo's delight!
It is scorching hot, we have just 5 miles to go. There are racing boats everywhere, it's 'Ramsgate Week' As the racing boats pass we wave, we barely get a grunt in return! A different sort of sailor!
At the N. Brake one of the new Trans Europa Ferries passes.
1350, we are alongside, 10 minutes ahead of our estimated ETA, I book off to the CG.
That night we have a fish and chip dinner! Very good it was too.
Report in to home!
29th July 0700 Doug delivers 2 mugs of tea on deck again, what a gent. That's the good news, bad news is it is thick fog again!
We breakfast and by 0745 We are off. I figure the worst fog is south of us and with the sun it aught to burn off, at least it is worth going out for a look. Out we go. We have a mile viz. very lumpy though. We motor sail with the tide towards the foreland. SOG 6.2 knots.
0900, having rounded the Foreland, we are playing with boomed out sails, the wind playing with us, now a S1 or 2. the wind then drops to nothing. Sails stowed and we slowly plod on under motor.
0950 we have the S. Margate abeam, the flood taking us nicely into the Thames. Viz still about a mile.

I book on with Thames CG with an ETA at the Whittaker of 1500. 1030. Dougaljo is surrounded by dolphins again! They dive and surface all round them, we can see them clearly, then they swim off westwards. There have been sightings of dolphins, or are they harbour porpoise, here for years. Near to Pudding Pan sands. Its' a bit like the seals in our creeks, they are often there. the press get quite exited about them every once in a while, I cannot really understand it, if they speak to the people who use these waters they will tell them that's where they live..
I remember a porpoise up at Cannon Street Rail bridge once. we got a 999 call to it. I had too say to the people who were so concerned, 'you live on land, the porpoise lives in the sea, he's hungry and there's plenty of fish here, when he's full up he will get bored and got back to the sea', he did! but they still expected me to call the RSPCA! We often had seals for the same reason, why some people cannot grasp a river is where you might expect to find them, I could never fathom.
We head across the Thames. We have to watch out for ships using the Princes channel. The sun is out but there is little wind. SE perhaps, maybe we will be able to sail once we have crossed…
1200 we have to wait for ships in the river.
1230 we are at the Black tail Spit and altering to carry the tide north up the Swin. Sadly there is not enough wind to sail, so we motor slowly on, in close company. The sea oily calm.
1440. We part company with Dougaljo. They head into the Crouch. We are 20 mins early on our ETA. We hoist sail and begin to sail. The wind has gone right round and is now E3 to 4 We roar. We sail all the way back to Bradwell arriving off the creek at 1735. We take our time, letting the tide work for us, sadly there is not quite enough to get us to the creek, so we resort to motor again for the last mile.
1810, moored in Bradwell.
I book off to the CG. Doug hears me and phones. The tide has turned and he is fighting the ebb in the Crouch. They will stay aboard tonight and get their launch ashore tomorrow.
A great trip, we all want to do it again, but for longer next time!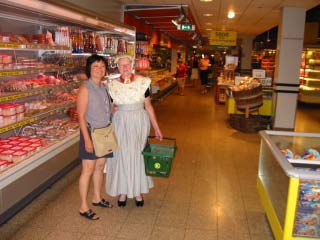 Jo finds a dear Dutch lady in full National costume,
complete with what looks like a pair of gold 'rear view mirrors'
I remember this from 12 years ago, sadly we missed the market ,so
hope to see them in costume this year when we return,
because I'm told I have to 'do' Middleburg Market!
John Williams,
Builder and owner, Fiddler's Green,
(photos by Doug and Jo, Brian and Mavis, Chris Sinnett & John)