Emergency in the Lock!
In Holland this year we witnessed a nearly nasty incident. We were all locking out into the Oostershelt at Goes. There was a lock full of boats, just ahead of us and on our starboard side, was a 45 ft motor-sailer with an elderly couple on board. As the level dropped the skipper was so busy giving instruction to his crew he allowed a turn to get trapped under the aft cleat. The level carried on dropping... Half a metre later there was a lot of arm waving, a boat at a crazy angle and the skipper still pulling frantically at the line.
Fortunately this was one of the few manned locks and the sluices shut.
The skipper dashed below and came back with a knife. One sweep and the boat crashed upright, bouncing off the lock wall.
Disaster averted.
It gave me food for though, what if?
When Darian asked me what I would like for my birthday in August, I replied 'A really nice sharp, big knife'. Now Darian already has doubts about me when I 'camo' up and creep out with the gun to hunt vermin, so I had to qualify this.
'No, not a Sylvester Stallone Rambo job, just a sharp divers knife, with a blunt point too!'
You would have thought this an easy task, just pop in to see my friend at the big chandlers and a easy birthday pressie, but no. All sorts of folding blade jobs, even a miniature sheath knife, but no 'proper' knives.
It was not till we were in the channel Isles on holiday in the autumn that we chanced on a Divers Centre. In the security cabinet were all manner of gleaming stainless steel monsters, and in amongst them just what I wanted.
Here it is alongside the old sheath knife I had hanging in the companionway.

It came in a plastic sheath with a pair of straps to enable it to be strapped to the leg or arm, with a little though I realised it would strap to the companionway fire extinguisher. the extinguisher is still instantly available for use, with the added advantage of a sharp knife to cut through thick smoke!
The knife is handle down, and has not fallen out yet, to release it you just need to press the button on the sheath.
Cost? less than £25. Less than most of the 'marine' knives in the chandlers! I have since found another Dive Centre on a trading estate in Chelmsford, just down the road, same prices.
J.W.
---
Historic Wrecks found
Last month the Port of London Authority gave a press announcement that they had accidentally uncovered and now raised, the remains of a wreck. It was believed to date from the 15th Century!
A brief news item on local television showed several large sections of a wooden vessel of some size being lifted onto the wreck lighters. Investigations are in progress to tell us more.
The vessel was discovered whilst dredging was being undertaken in the new Princes Channel on the Kent side of the Estuary. This now is the preferred route for ships in and out of the Thames.
On the Essex side, for the past year or more, investigations have been ongoing to find the remains of H.M.S. Beagle, the ship that famously carried Darwin on his travels.
Not much if anything remains of the ship on the site where it might have lain, on the banks of the River Roach near Paglesham, but many of the timbers may have found their way into local buildings, where they still reside! there are investigations by Dendrochronology, to ascertain if indeed the timbers are likely to be from the Beagle. The Beagle ended her days as a Coastguard Watch Ship, a lonely existence, in a remote Essex Creek. Many ships of the line were used this way. On the London River some were used as prison hulks and as police stations in the 1800's. In my museum at Wapping Police H.Q. are early photos of the ships company on the shore in front of one such ship on Blackwall Point. The ship was broken up when the police station opposite was opened in 1906. I served many happy years there!
J.W.
---
Call for the Experts! OOpps!!!!
These pics were sent to me recently, scanned from the net no doubt. There is little clue where the location is as though the writing on the vehicles is in English, the pictures are captioned in German? Did a German tourist witness this and take the pics maybe? do you know where this is?
Well it did not take too long for Chris to tell me it is in Galway, Ireland. He also sent me a link to a website commenting on the lack of safety etc. Can you count the number of hard hats? And how many Garda officers are there, keeping the crowd back!
There follows a series of three pictures to tell the story!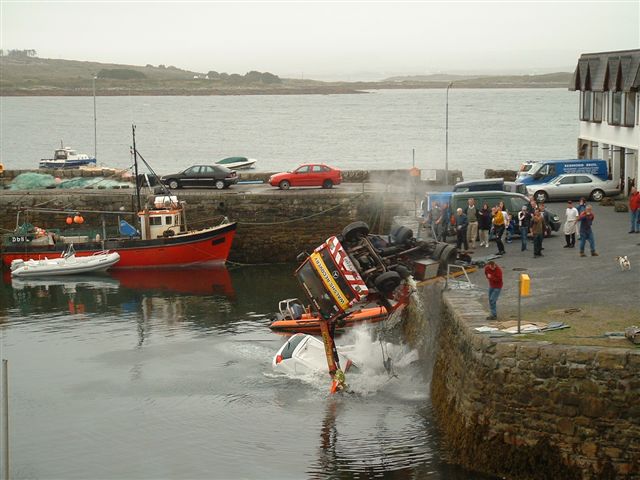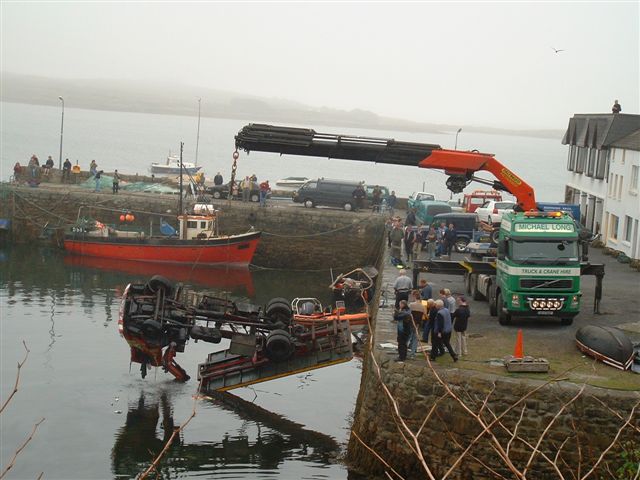 Oh Dear Oh Dear!!! (There is even a spoof picture of the big crane going in as well, but that was a bit much!)
JW.
---
2004's Meets and Events, a review.
Saturday 8th May. Mundon Stone Point, R. Blackwater. Afternoon/evening BBQ on the beach. Spend the night at anchor after being rafted up in the creek. F.G. is going to take a 'rain cheque' on this one, we are not yet sorted, (I'm getting it in the neck again, as I seem to spent too much time helping others to get our own boat done!), but don't let me stop you going. Darian's lad's fast powerboat is ready, so I might pinch it and blast up to you at 30 knots, just to say hello!

Here are some of the group on a beach in the Blackwater last summer, at one of our BBQs, great fun!
Saturday 29th May, Bradwell Meet. Guests of BCC in the Bar at the Marina.
Sunday sail in company to Southend. Air show Weekend! Anchored in Ray Gut for the night.
Monday or Tuesday, sail in company to London, St Katherine's dock. Stopping off to savour the delights of Erith or Greenwich on the way!
(Above are a few pics from last years London cruise. See Newsletter for more.)
Return to Southend/Medway following Thursday/ Friday.
Southend Air Show
Barry (the webmaster) was on 'Hydrogen' the Thames Sailing Barge to watch the air show and to photograph boats.

Fancy testing your download speed?, try the picture above. 444Kb at 2048 x 1536 - enough to make the fastest connection wince.
Note this trip was a great success, see the Southend air show page.
Saturday 3rd July, Tollesbury creek crawl ! Bring a dinghy! (should have been bring a brolly!) We intended to potter up to the top of a couple of the local creeks in search of Avocet. Yes they are back! Sadly this week end has been blown out, F6's and torrential rain, well it is Wimbledon Week! Should have known better. As it was some of the parties that were to meet us afloat, turned up at Bluebell Cottage, so we had a meet here instead! Hopefully better weather for the Dutch trip! 3 boats setting off from this end, how many are going to Meet us we wonder?
Thursday 15th July. Cruise in company to the Netherlands.
We hope to have three boats sailing from the Essex Rivers, via Ramsgate, to Middleburg. Arriving by Sunday hopefully. Some of the crews will be joining us in Holland by ferry, for a week in Dutch waters. We hope to meet up with at least a few of our growing Dutch contingent. EOG Meeting in 'Goes' on Wednesday evening, 21st July if all goes well. Followed by few days to allow for the return trip. We hope to be back by Wed 28th. Approx.
Well What a good cruise this was, we all made it to Holland, we met up firstly with our crews in Middleburg, then liaised with Dutch members. We sailed on to Goes where we met another WD and two of the Dutch group joined us. On our trip back we got to see Jelle's nice Eventide too! A fantastic, friendly week then off down the coast in company, for a great run back. Looking forward to next year already! We hope to stay for longer!!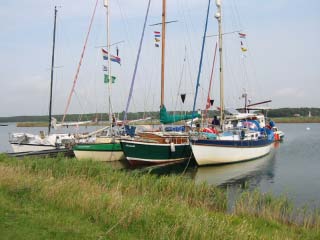 Have a look on the Forum pages for a link to some of the pics taken! Full write up in the Newsletter of course, later!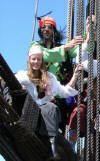 Our Friends in The Netherlands! Ria here was unable to attend Goes, as she was taking a group of 160 'under privileged' children on a Pirates camp! Here she is getting into the swing of things! So typical of the nice things our group members get up to!

August Bank Holiday, 28th August.

We are to meet in the West Mersea Yacht Club again on Saturday evening, nothing special, just as visiting sailors. There will be a dozen free moorings for us as last year, courtesy of Tony Nelson. Contact me for further details. 01621 778859.

A launch service is available courtesy of Geoff the W.M.Y.C. boatman. Geoff can be contacted on VHF channel 80 as Y.C.1. contact us on our mobile no. 07850 286607. or call on VHF 16 'Fiddler's Green'.

Sunday we have in mind a sail in company to a nearby beach for a BBQ, then Sunday night anchored in a nearby creek, a favourite haunt of M.G. We might need dinghies for Sunday, Guests by road welcome, by arrangement.

We have the promise of a number of craft this year, WWs, Eventides, GHs and other MG Designs, plus maybe, the first trip out of the newest boat 'Ramillies' the new 32 Riptide! I am pleased to say we have heard from about 5 boats now, so look forward to a friendly weekend.

The new burgee will be available for those who have not got one!

Post script. West Mersea Meet.



The last one just to show how rough it got on Sunday!!
Wow what a weekend! 2 Eventides and 2 WW's plus 1 friend, turned up at West Mersea. The Riptide, a GH and another Eventide had problems. Next time... The club welcomed us with open arms again! We made new friends too. The moorings were great and a donation was given to the RNLI. We sailed to the beach, but the conditions changed drastically as we got there, so we rode out the F7 in Pyefleet.!! Next Day was a boisterous bash to Bradwell. All boats safely in. Wednesday 3 remaining to return to home moorings. Full write up in the Newsletter, loads of pics!

Tony and Meg at last years meet.

Next Meeting:-

18th September, Walton Backwaters Meet, Cancelled! Due to the bad weather forecast for Friday, when most of us would have been trying to make the trip, we have cancelled this one for now! We might get out for a sail on Saturday, locally, we will see what the weather dishes out! . Call me on 01621 778859 to find out where we are going, or call on VHF Channel 16/72., 'Fiddler's Green' of course! J.W

A successful meet in 2003 with 4 boats, great location and perfect weather! Do come and join us next time, we are a very friendly crowd ! We hope to tow a dinghy, so we can cross the Wade!

Post Script to this weekend!. the Friday brought F6 and Rain, Saturday F7! Sunday was the best of the lot with F5 gusting F6, Monday F7 and F8!! What a windy weekend and were we not right to cancel it.? Sorry to all those who were looking forward to it.... The sail in the Blackwater on Sunday was boisterous enough for me!. However I did get to meet a new owner with a totally different M.G. boat! Photo on the MG designs page. J.W.

18th October. Cruise in company,

We are back after just 2 days. With the weather so unsettled it was not surprising that we were on our own... Was was surprising is we snatched two great days to sail in! moored in Pyfleet we had one of the stillest nights afloat and one of the best sunsets I can remember. On the return trip we clocked a genuine 6 knots under reefed sails, a great sail. Guess it will be just day sails till haul out time!

We had a creek crawl around the Blackwater, during the last week in October last year, weather was kind, but we cut it short by a day when we had F6 and F7 forecast, with heavy rain! So we had 4 days. No long distance, or night passages, just exploring the little places our boats can get to, Round the back of Northey, or up the top of Salcote, great fun and good company. Long evenings with a glass of cheer and an oil lamp, in remote places with just the call of the birds....... Real M.G. stuff. All it needed was the wildfowling gear! Next time it could be the Crouch, Colne, or maybe further afield, venue to be fixed nearer the time.
---