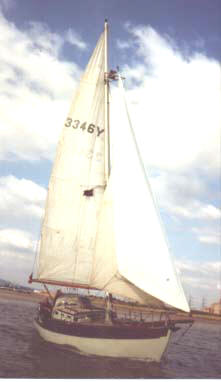 The front cover picture of the summer edition of the Pennant is the beautiful "Sula", loved and maintained by Doug McCloud. Love them or hate them, nobody can deny that a wooden boat looks good and a well kept one looks better. Lots of yachties admire wooden boats but few of us have the courage to take on the work required to maintain one. I asked Doug to write a few words about Sula, here is what he had to say about her:
Sula is a "Barcarole" class cruising yacht from the board of Maurice Griffiths, who regarded the Barcaroles as one of his most successful designs. Sula differs from the rest of her class in that the raised topsides are continued to the stem, giving her extra buoyancy (and windage) at the bow. She was built by Seacraft of Leigh on sea in Essex in 1957. I have been told that Sula was the last boat built in this yard before it fell victim to GRP., or "frozen snot", as the new material was known by traditional boat builders, confidently asserting that it would "never take on".
Maurice Griffiths was for many pre war years the editor of "Yachting monthly", an east coast yachtsman, author and a prolific designer of cruising yachts. He studied local working boats; smacks, shrimpers, bawleys, oyster dredgers and the like and used their hulls as a basis for his own designs. "Sula" with her full bow, fine run to stern "cods head mackerel tail", full round bilge and long keel is of this tradition.
Originally designed as a centre boarder with a long cast iron ballast keel, some time in her past the centre plate was removed, her hull strengthened at the turn of the bilge and bilge plates fitted enabling her to take the ground. This modification was approved by her designer who claimed that it did not affect her windward performance - it remained modest.
Off the wind, given a brisk breeze she will go, several skippers have been astonished to look over their shoulders to find themselves being overtaken by "old Sula". Her Bermudan cutter rig is easily handled, well balanced and not needing powerful sheet winches. She is built of mahogany planking on oak frames, with teak topsides and an Afromosia deck, good materials that explain her longevity.
TIP - if you are tempted to buy a wooden yacht? - look for a cruising design built by a yard with a reputation, don't be tempted by a lightly built racer.
Elish and I have found her to be an admirable cruising yacht and have been comfortable and at home in her for many months at a time. Enjoying the benefit of early retirement, we have sailed her north to Cape Wrath, south to Gibraltar, west to the Blaskets, east to Barcelona and scores of interesting places in between. She has been equally at home in a short Bristol channel chop or long Atlantic swells. On one memorable occasion we ran for hours with a scrap of mainsail before a full Biscay gale, surfing down the slopes, touching eleven giddy knots, with a destroyers bow wave, she held her course without any inclination to broach, I did not allow myself to look astern. With the wind abeam or a little before she will happily sail herself for hours on end, we have crossed the Irish sea with a bit of string on the tiller. I have made a wind vane for her but it is really just decoration.
She was originally engined with a Stuart Turner, the yachtsman's curse! When I bought her a neat 13hp Yanmar had been installed, although small for a thirty footer it pops her along very nicely. Sula's shoal draft does not seem to detract from her sea keeping qualities and has the advantage of opening up rivers, canals, estuaries and quiet anchorages denied to deep keeled yachts.
Down below she is traditional and snug, the gimballed lamps give a soft warm glow and just enough light to read by. In deference to our maturity we have installed a heater, the better to enjoy the northern waters that we enjoy most.
Of course she requires maintenance and I have spent many hours each spring scrapping, scarfing, stopping, caulking and painting in order for her to take the water looking tidy and shipshape. We love old "Sula", here's to the next season.
By Doug McCloud.
Thanks to Doug for the excellent article. As a matter of interest a Barcarole is a Venetian boat song sung in 6/8 or 12/8 time. Maurice Griffiths wrote a number of books including "Sailing on a modest income", "The magic of the swatchways" and "swatchways and little ships" During the second world war he was responsible for producing the recognition silhouette's of enemy ships and planes. Many thanks to the 'Pennant' for this article. J.W.