Foreland Gull (Owned by Malcolm & Cynthia Jolly)
She is G .R.P .construction, heavily built by David Blake Boatyard at Highbridge, Somerset in 1978. British registered No. 377987/78 at Plymouth, reg. tonnage 6.02 & V.H.F .call sign M.A.J .E 8 She has the full width raised topsides with loco cab cockpit shelter & wooden davits, brown hull, cream decks, sloop rigged with tan sails.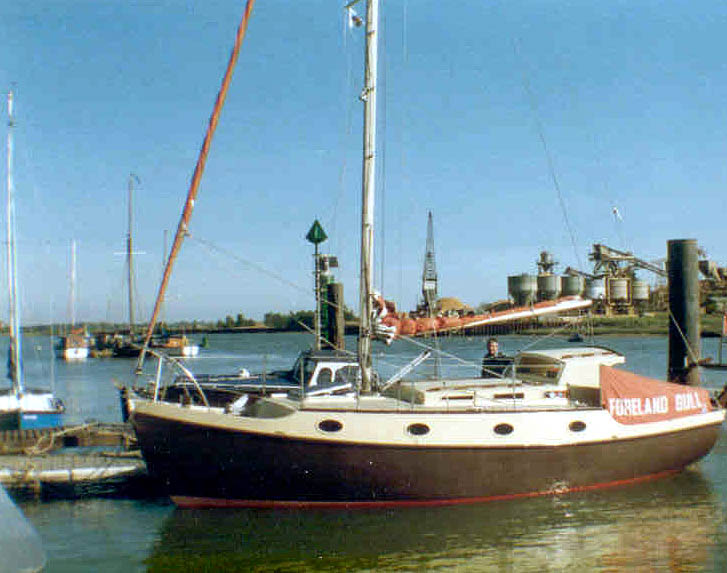 She is in good condition with a recent 29 hp diesel and is my idea of a tough and practical East Coast cruiser Mind you its a red letter day when we manage to overtake '- anybody -speed not being her strongpoint, neither is going to windward in light airs.
She can get a move on when conditions suit her -my best days run being Calais back to our mooring 76 miles in 10 hours and a bit. Being safe at sea, easy to manage single handed and a bit of comfort are more important attributes for me.
Don't mention the East Coast!
By the way, please don't mention the East Coast to other yachtsmen & yachtswomen as its still relatively peaceful, unspoilt and uncrowded, with plenty of free traditional anchorages. We're still in recovery from shock and horror of being charged for anchoring on the South Coast. "Foreland Gull is actually berthed at Twizzle Creek, Titchmarsh Marina, Walton Backwaters, Essex, where I come ashore every winter and relaunch about the beginning of April.
We've owned Foreland Gull 8 years now and have visited France, Belgium, Holland, the South Coast & Channel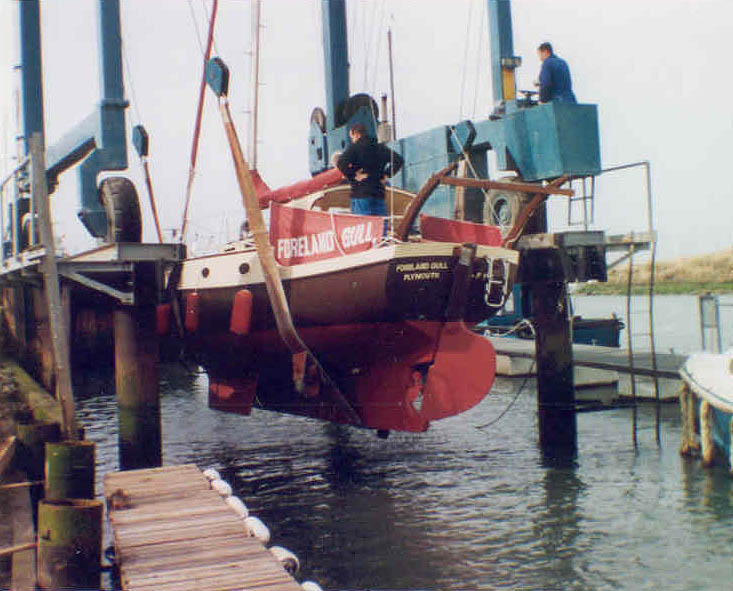 Isles but the East Coast is really the centre of our universe& last season we never went abroad at all but were perfectly happy visiting practically everywhere between Lowestoft and the Broads and St. Katharine's Dock in central London. Now there's an interesting trip upriver with all the sights and where else can a boat load of people stay in central London for £ 12 a night!?
My wife Cynthia and I are retired, but are as busy as when we were working but doing what we wish to do and never before had the time.
Well, we have met up with II Lonestar II at Portsmouth, and how immaculate she was, read about II Mew Gull II in a Yachting Monthly classic yacht supplement of Aug. 1991, there was an article in the Spring issue of Classic Boat magazine in 1987 about a wooden Lone Gull called Moonfleet of Falmouth -I wonder is she's still afloat ? and that dear reader is the extent of our knowledge of the class.
Where is Beachcomber?
Mind you there is a pre-war Lone Gull One called Beachcomber in Walton Backwaters
All the other wooden Lone Gulls sound fascinating craft and all so different for the same design. Anyway, we are R. Y.A. members, belong to the Nottage Institute at Wivenhoe, Walton & Frinton Yacht Club.
Malcolm & Cynthia Jolly