Home Magog The Wild Duck Filandra
---
Welcome to this section of the Eventiders web site.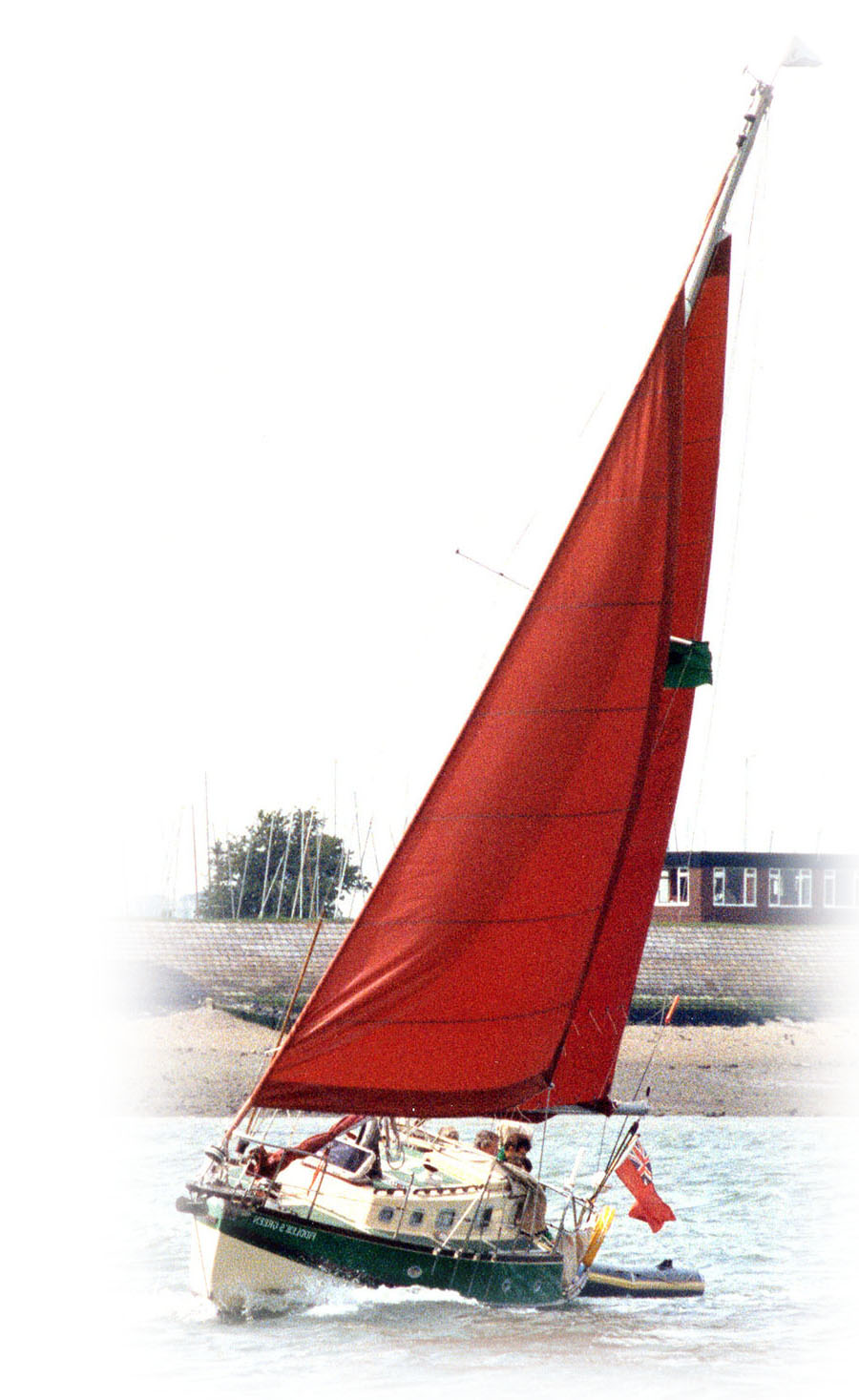 This section will feature a design and one particular boat from that range of designs.
The idea is to show all other owners of the same type of boat the many variations of interior and exterior modifications that can be carried out, after all, it's one of the features of these boats that no two are the same.
It is intended that each boat will feature for about 12 months then another boat will be featured. Previous 'featured boats' will still be available through a link.
So, get taking those pictures and send us copies.
<![if !vml]>

<![endif]>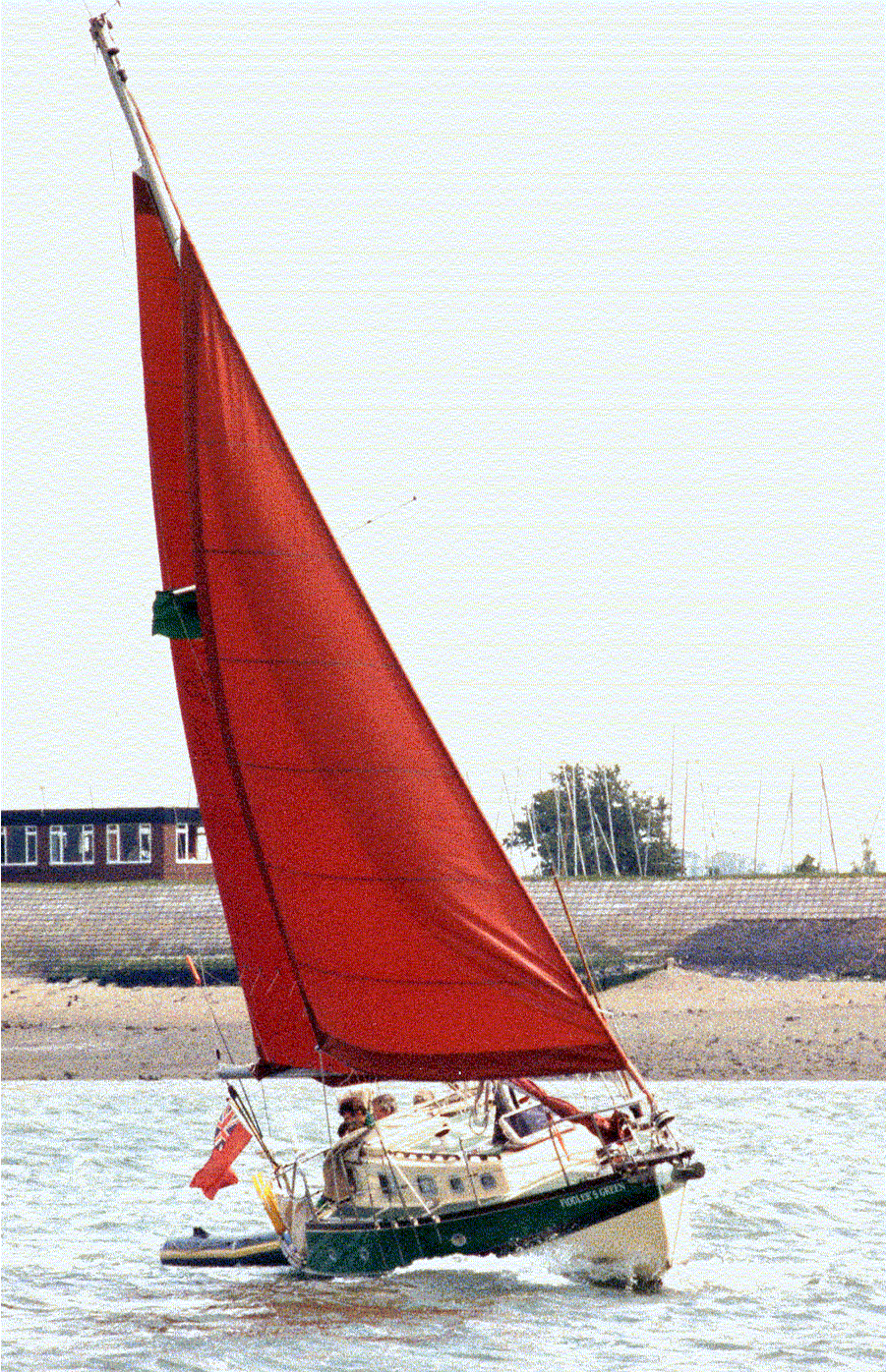 'Fiddlers Green' is a 27' version of a 26' Eventide
All the pictures below can be enlarged by clicking on them.
Navigation area, all to hand. ( Old Decca set visible, now GPS of course) VHF, Half admiralty chart area,. Table folds up against hull. Quarter berth underneath.

Galley, Fridge with top pic show the old fridge with 'Davey Lamp' safety device operation. Now removed and replaced with modern electric job seen in the lower pic. Oven and safety rail. Oil lamp (just visible) Present to boat for Dutch trip.

Chart table folded up to reveal quarter berth. Note interior alarm sensor to left.

Fiddler's Green has her own 'house flag' a fiddle on a green backdrop. she flies it always!

Looking down into the engine bay. The engine is a Beta Marine 17, 3 cylinder Kubuto diesel.

Offset companionway, opening window to cockpit, spray hood.

Stern deck showing detail of home made stern rail. Note: Decca, now GPS, mainsheet, stern light, outboard, life sling, auto pilot, Dan buoy, life buoy.

The next six pics are of the cockpit area, showing how the seats are higher than the side decks. The higher coamings are topped with a flat area to sit on, canted slightly to be more comfortable for the bum!

The coaming is hollow, with the cubby hole lockers giving access to the bolts for winches etc. Note also the outside of the coaming is curved to match the deck, but the inside straight so it is easy to hinge locker lids

Above the wardrobe space opposite the loo.

Rudder Close-up

Rudder Stock

Rudder Blade

Top Bearing

Bottom Bearing

Bottom Bearing

Extended Heel Bearing

Heel Bearing

Prop Close-up

Prop

Rope Cutter

'Fiddler's Green' seen here off Steeple in the Blackwater, reefed in a fair breeze. John and Darian on board.

Here John and crew, Keith and Phil, are returning from a weeks cruise to the Deben, sailing dinghy in tow. Stays'l up as well!

Spring 2005, pictured leaving the Blackwater on way to Southend for the Air Show, then up to London. The little flotilla consisted of 5 boats.

And just to prove we got there! No I had not just come through the bridge, rig too tall!

'Fiddler's Green'

About 2001, sailing in the Medway. the skipper jumped ship and took these pics, leaving the crew in charge!

Visitor Alan on the helm with Phil watching Keith getting the pole organised!

'Fiddler's Green'

The pole is out and she is goose-winging at a fair old speed!

Keith and Phil aboard, I was on another boat with the camera!

A raft up in the Medway, 2 Eventides and two WW.s about 2001. F.G. in the foreground.

I went off sailing in Fiddler's Green in May 2013, see the 'Fiddling Around' link to the right.

In 2018 we are about to set off again, the opposite way, to complete the circle!

In 2018 we weighed Fiddler's Green and found she displaced 3.75 metric tonne as a bare boat, over 4 tonnes with full cruising gear aboard.
E-mail us at enquiries@eventides.org.uk