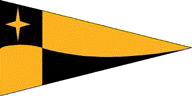 Logs

The Log of the GH 28 'Pecarus'
---
'Pecarus', a GH 28 ' 6" version was sailed across the Atlantic then on round the World, by intrepid crew Lindy Couch, her husband Mike and brother Mark Temple in 1975.

We are indebted to the current owner of 'Pecarus', John Wilson, for finding, then forwarding on these newspaper clippings published in the 'Leicester Mercury' at the time. Thinking about it, it must have been difficult to keep the newspaper updated as there was no simple means of sending updates home in those days! No email then!

Sadly we do not appear to have all the log, there are some gaps and it has been very confusing to try and get what we do have into chronological order. Do hope you will forgive me it the narrative leaps about a little.

One thing I read in the log was there was an extra member of crew. Only mentioned once and then not by name. They took a cat with them as some stage... Wonder what happened to that?

I make no apologies for the quality of these pages, we are just so darned lucky they have been preserved. When I think that this boat is just 1ft longer than my Eventide, 'Fiddler's Green' that I did the round UK in a few years back and often wished along the way that I had built something a lot bigger!

John
Website Coordinator






These pages from The Newspaper are a great record of their achievement. So pleased that 'Pecarus' is still sailing and being cared for by John Wilson.
Maybe John will add a postscript to these pages with his own log soon!
John

'Pecarus' today, October 2021. Awaiting antifouling and launch.
---
Copyright © 2001 [

Eventide Owners Group

]. All rights reserved.
Revised: 10/03/21.