The Boat
Aurora is a 50 something wooden Eventide yacht of 24 feet with bilge keels, ideal for shallow water ocean cruising, whose original builder envisaged cruising in the Mozambique Channel, a dream that faded when his son died of leukaemia.
When she came into our possession 8 years ago, I had similar plans for her and, indeed, we have sailed her twice from Beira down to Bartholomew Dias (BD) and environs with various crew combination (always with Helen plus various kids and friends)
Dock fees in Beira have increased though, thus I became curious as so how possible it would be to launch at Rio Savane, where sheltered water, pleasant accommodation, car park and fresh water are all at hand. The lack of slipway and full immersion of the trailer in salt water created my only doubts, but it seemed worth the effort (risk).
Accordingly, in early August we dragged her out of her shed, dusted her off, dabbed red oxide all over the trailer and were soon ready for the Adventure, hopefully to sail south again back via all our old haunts Chiloane, BD, Sofala, and ultimately to 2 mile reef, Bazaruto.
Towing
As tow vehicle, I used our Nissan Elgrand van, one ton of vehicle towing 2 tons of brake free boat, so caution was thrown to the wind right from the start. Nothing risk, nothing gain!
Picking up Theresa from Peterhouse on the way (she would stay at the camp site with her mum, Maria, and Bernice Guthrie, returning early with them while we adventured) we made Chimoio by 5pm to sleep over in an indigenous establishment offering good value and very thin mattresses. No plug in the bath but no hot water anyway, so the poolside shower was the preferred evening refresher, the pool itself not being an option. Food portions huge and smiles all round as we were at last "on holiday".

Launching
Rio Savane was easily reached next day by 3pm, at high tide. Sadly, eager as ever, I saw the opportunity to launch straight away, as there were plenty of "willing hands". What a shambles! Over inflated tyres and over-zealous peasants can only lead to one thing, thus the poor old lady spent an inelegant night, half on her stuck trailer (rudder damaged and a fair sized leak) until she could be floated off again at high tide next day.

That night, spent in the campsite, was not unpleasant, prawns, palms, and pleasant ocean breezes, but a severe case of "boat anxiety" spoilt it for me, making me less charming than is ordinarily expected of me. Still, by the next evening, she was off the trailer, mast up, glue and silicone rubber daubed everywhere, and sitting nicely on a low tide sand bank just by the pub.


Boat anxiety lessened, and she looked great, high and dry on her bilge keels waiting to be loaded up with fresh water, supplies, and bedding.
Helen took on these tasks, while I took time to bond with Aurora, contentedly lying in the little fore-cabin, gazing up through the hatch at the mast-head wind-vane dancing in the freshening evening breeze." Boat anxiety" replaced by "boat contentment"
Big Sigh!
Helen also gave a big sigh when she compared our respective tasks!
I told her one must never compare.
Preparation
That evening, Bernice had made me promise to take her and the others sailing up the lagoon, for a short sail into the mangroves. Down they traipsed, full of anticipation, but when they saw some athleticism was required to clamber aboard, they lost interest and waddled off again.
Well whatever! I will go for another lie down in the fore-cabin.

Pre cooked stew that night, in the campsite by our Barraca, with Isobel, the Portuguese manageress joining us. We lamented to total lack of other Zimbos in this once heaving resort, but she is not a "people person" and seems perfectly happy (or unhappy more precisely) not to have them. Or anyone. Difficult to see how the place manages, though facilities are still good there, and as each Barraca come with two beds with sheets, blankets and pillows, all for $16 and as camp fees are about $12 per person, it still makes for a fairly cheap and delightful holiday venue.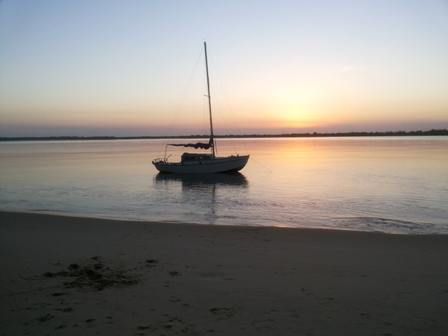 The next day, Sunday, was spent on last touches on Aurora, and marking the low tide deep channel on the GPS. It is a hairy passage at anything under half tide, but knowing where the sand banks are not, at all tides, is a comfort.


Beach day, bikini day, boat day, and to end off, barbecue day as evening sets in and with tums full of braaid chicken and boerewors, the three kids, Helen and I scramble aboard for an early morning departure. This is easily done, as the tide is high, and Aurora pulled in to the pretty little beach behind the pub/restaurant, after which we motored out in the moonlight to our favoured sandbank, to sleep high and dry as the tide ebbs.



Departure
Lifted gently on the incoming tide at 4 a.m., we are soon ready for a sunrise exit. The weather is frisky however, and the pleasant adrenaline rush as we plunge through the swells fails to dissipate on encountering the southerly breeze and subsequent waves. Our destinations (Sofala, 70km, Chiloane Island 120 km, and B.D. 200km) lie to the south, and it is seen that a long slog is ahead, hard on the entire crew, who, tearful, are already suffering from sea-sickness. The thought of a whole day of this causes me a moment of reflection, and to score valuable short-term points with the family, I turn back.
Safe Savane, civilisation, showers, Mum and Royco are overwhelmingly alluring.


I look for my GPS markers in the now ebbing tide, but see a short cut with no breakers which will allow me to sail freer of the wind. Blunder!
They do say that life's best lessons are the most painful ones. None as painful as the ones reinforced by the shaking of the wife's head.
That not unpleasant crunch of soft sand on hard keel brings a disproportionate lurch of dread.


Ebbing tide! Hard aground! No chance! She would have to lie at the mouth of the inlet all day.


After throwing out the anchor and securing everything, we traipse the four km or so back to the others.
"Surprise!" Theresa is pleased to see us. The others look aghast. A day in Beira is planned, perfect for the rainy day ahead. My only criterion was to be back by two o'clock in order to be with Aurora as she is lifted up, and before the breakers do too much damage.
Beira

The little oases of splendour amongst all the squalor make this trip a worthwhile one;
The grubby fishing harbour where future contacts for launching are made,
The Riviera café, where the worlds best pastries and pregos are found,
The old cathedral and beautiful old houses on the tree lined avenue to Macuti,
And finally Club Nautico, (the yacht club), a delight for a beachside light lunch, and whose launching facilities look like they could save a lot of time and trouble for "next time", for probably less cash. Here I also made friends with the Dutch harbour master, Wouter, who will be oh so useful when we really get ambitious with this sailing malarky.
Our route back to Savane takes us past the huge shiny Chinese Resort "The Golden Flamingo" A great eyesore whose motto is "Cheap but Nice". Maybe we should just go there next time.
Boat at large
I am pleasantly relaxed as we arrive back, only an hour late. Aurora is not relaxed though. She is bouncing around in the distance like a filly that has had a hot chilly shoved up its rear. Boat anxiety floods back like the tide, as I urge the ferry driver to get pro-active. Timing is perfect though, as Aurora's anchor rope parts, and she is swept in to the bay, to be rescued just in time by Helen and me after bribing the driver to take a small detour.
Motor starts all right, but all is soaked, inside and out, spinnaker pole, charcoal, kiddies' lilo, and anchor all lost forever.
Cheap at the price though, on hindsight.
I have gained so much wisdom with all these lessons you could pickle my brain and use it to provide inspiration for generations to come in some teaching laboratory somewhere!
Luckily, we carried a spare anchor and luckily, we still had chorizo sausages and Portuguese rolls (pao) for our supper before soggy beddy byes!
Joined the others at the camp site for breakfast next morning, then spent a pleasant day looking for anchors and clams in the sun.
Meculine
Another tearful farewell that evening after delightful sundowners among the casuarinas and palms by our own private beach within Savane Estuary. An early night bobbing a little offshore spoilt a little by Theresa anxiously yelling to inform us that a couple (the other couple) staying at Savanne had disappeared. Sure was difficult to sleep after that! Actually, before we set off next morning, I ran back to learn that they had fallen in love and stayed overlong frollicking in the dunes before returning at midnight to a worried campsite.


We set sail and headed north. No disasters, no tension, no tears. My only interest in northern destinations were Sengo and Tama bays, which we have previously explored, but Meculine looked interesting on Google Earth, and I wanted to explore its potential as a jump off point for Zambezi Delta, Chindi, Quilemaine, Nacala, Isle de Mozambique, Pemba , Querimba Archipelago, and finally Madagascar. Whew!
So it was very important!


A delightful sail on a broad reach, some motoring early on and with dunes and fishing villages all the way. Other boats were taking advantage of the pleasant conditions, fishing trawlers and people carriers and, overall, it was a convivial cruise.
Edward did most of the steering, so long waited relaxing for me.


Gaining the entrance of Meculine Bay, we were able to see, for the first time, that a low tide entry would not be as simple as we hoped. Accordingly, we spent an hour or so tacking off and on and plotting the best heading for an entry when the tide came in.
Nevertheless, in my impatience we entered a little too early and grounded fairly impressively. This is never too much a disaster (unless the keels are torn off) in a flooding tide but it does require some getting wet and pushing towards deeper water, in this case assisted by "bystanders". The only trauma was to Helen, as a large wave caught us broadsides and flung her, with Dillon in arms, painfully onto her bum. That did not damage the boat though, so I considered this a fair entry, as we finally sailed deep into the bay behind the large dunes now shielding us from the sea.
Anchoring amongst the dugouts by a small village, I patted myself on the back whilst Helen rubbed herself on the bottom. This was a fine place and our fish-trading friends in the motorboat used it as an overnight stop too, and even had on offer ice-cold Manica beer. Livestock bleated amongst the reed huts, so a case of goats, boats and hotel sites with great potential! A "guide" lured me to the nearest village to buy prawns and pau (bread) and whatever else was on offer at the local kiosks



It turned out to be a 12km round trip past a pretty fresh water well, along the lovely beach and dunes but , at least, tired as I was on returning, triumphant (except for the pau). An abundance of fish, lula (squid) and prawns. Actually, we had too many prawns because the villagers by the boat had found us a kilo or two and at $3/kg, I couldn't say no.



For me the quickest and easiest way to cook them is in boiling seawater and, with rice and tinned peas (I had hoped the tin contained sweet corn but all the labels had been washed off), an easy and delicious meal for all that sufficed for breakfast too!
As the moon was now waning, the phosphorescence in the water became interesting and the boys and I took great delight in widdling over the side and creating scenes from a Disney cartoon.

Aurora settled gently that night and a wonderful night's sleep was disturbed by neither settling nor lifting. It was only important to remember 10 minutes of bilge pumping whenever we did wake, either for Dillon feeding or calls of nature.
Homeward
Our leisurely exit, after breakfast, was incident free except that we relied for too long on the motor before getting all sails up. As a big swell is reached, the motor becomes ineffective as it plunges in and out of the water, providing little drive and, unless the sails are drawing well, you have little control of the boat even though you are being rapidly ejected seawards by the tide.


Another wonderful and leisurely days sailing, as we head back to Savane. A light offshore wind to begin with and then drawing ahead, off the port bow later in the day as it freshened. This was the sailing we had signed up for and, with tiller lashed, Aurora steered herself for hours at an impressive pace.
A phrase I picked up somewhere comes to mind;
"She's a fat old lady, but when she picks her skirts up, she can still run" Aurora to a tee.
Peter and Edward took turns in the serious business of holding the motor tiller arm (even though the motor was raised) for hours, and this doubtless helped our course to remain steady.



We sail, as a rule, about 3 to 4 km offshore but are always astonished to see, far to seaward, tiny dugout canoes on which fishermen haul out the nets which are later dragged in by those on the beach after hours of toil. Nice work if you can get it!
As we reached the mouth of Rio Savane, a little early for easy entry (high tide is about 7pm) so headed out to sea for an hour before risking it. Our entry at 4pm was still dramatic however, as, strictly following the waypoints on the GPS, we were, none-the-less lifted on a big roller and literally surfed into the calmer waters within. Helen clung to the mast, language controlled, and there was a small flotilla of fishing boats accompanying us, all on board cheering us, so we felt like the winning crew of the Oxford/Cambridge boat race.

We are home again and sail across, as the water rises, to the car park where the trailer sits, to ensure there will be no problems extracting the boat on tomorrow's high tide. All seems in order so a final night on board on a sand bank just nearby, a new batch of fresh pau from the beachside traders and some melancholia at the end of our adventure.



Of course there is a sense of disappointment that we never got south to Sofala, Chiloane, BD and, it had been hoped, Two Mile Reef, but much had gone right too and Aurora had been able to show her strengths. We had also saved a fortune in camping fees, though there were some charges for car parking, so they did alright out of us too.
Exit
Boat extraction the next day was relatively hassle free, so another $20 spent on those numerous necessary but annoying "willing hands". My big worry was a bad weld on the tow hitch so another pleasant and successful trip to Beira took up the rest of that day and provided us with even more friends and useful phone numbers. Club Nautico is a very friendly place.