Building an Eventide 25
Nigel Vaughan
Introduction
In 2013 I commissioned a boatyard in Bristol, Star Yachts Ltd., to build for me a new Eventide 25. On these pages I am going to write about why I decided on this, describe the design decisions made, provide a lot of pictures of the building process through to eventual commissioning of the new yacht, and finish with some lessons learnt and musings on the practicability of building wooden boats at affordable prices in this day and age.
PART A – WHY BUILD A NEW EVENTIDE?
My Experience of Sailing an Eventide
Why on earth would anyone spend a lot of money building a very old fashioned design of yacht when there is so much choice of modern production boats or, if one really must build in wood, of attractive modern designs?
In the 1990s I was looking for a small cruising yacht to replace my open boat sailing and an article in Practical Boat Owner about an Eventide 24 called Pegasus caught my eye. The Eventide 24 was designed for amateur building in 1957 by well known and prolific East Coast designer, Maurice Griffiths. Many were built, mostly of plywood but some using double diagonal planking (one or two in teak) and some in steel.
In 1996, having looked at a number of Eventides, I bought one called Odden, named after a Danish Baltic port, which her owner was so pleased to make in a full gale that he instantly renamed his boat after it! She was build of pitch pine strip plank on oak frames, the planks glued and edge-nailed. I re-named her Niarbyl (Manx for "the tail"), after a beautiful rocky cove in the Isle of Man near where we used to live. I did her up, replaced soft wood, installed a modern diesel engine and bought a fabulous set of sails from Jeckyls. I then sailed her for many years, during an era in which my boys grew from toddlers to students, all over the Bristol Channel from Gloucester at one end to Milford Haven at the other.
Niarbyl ticked all the boxes in terms of what I wanted from a boat – safe and seaworthy, shoal draft, spacious and cosy accommodation, and traditional and pleasing to the eye. She drew compliments from owners of plastic boats wherever I went, and I was proud of her and loved her. But having turned 50 years old, she developed never-ending deck leaks and was pretty maintenance-intensive. At every refit soft wood would be found – never in the hull planking, but in places like the plywood sheer strake and cabin sides and ends of deck beams. I patched her up with epoxy filler and scarfed in new wood and I could have kept her going like that for ever. However, I owned a company and was extremely fortunate to sell it. With money to burn and little interest in posh cars, I decided to look around for a new boat - something more modern, yet still "traditional" in appearance.
Requirements for the New Boat
My basic boat requirements and rationale for them were as follows.
1. Requirement: A sailing boat of between 24 and 26 feet length on deck.
Rationale: Big enough to provide a feeling of security in a seaway. Sufficient accommodation for three or, at a squeeze, four (I generally sail alone, sometimes with a friend and very occasionally with two others). Small enough that harbourmasters of small drying harbours are content for her to be left inconspicuously in a corner, perhaps for a couple of weeks – I love small harbours as opposed to sticking with marinas. And small enough to take up little creeks and rivers.
2. Requirement: A strong, seaworthy boat with robust rig and reliable, modern diesel engine of adequate power.
Rationale: Ability to sail offshore and safely deal with rough weather, to Force 6, but always bearing in mind the possibility of being caught out in worse weather still. Reasonable ability to punch against tide and waves by engine.
3. Requirement: Shoal draft – less than around 3 feet (0.9 metres).
Rationale: I enjoy exploring small creeks, rivers and harbours and sailing in interesting, shallow areas.
4. Requirement: Able to take the ground and remain level. This implies bilge keels as I don't consider bolt-on beaching legs to be sufficiently robust to be left in a "bouncy harbour" and they are a hassle to mount, dismount and stow.
Rationale: Provide ability to dry out comfortably in small drying harbours.
5. Requirement: A traditional and pretty appearance.
Rationale: Part of the joy of boat ownership for me is the aesthetics and having people coming up to you and saying "what a pretty little boat, what is she?"
6. Requirement: Traditional and cosy accommodation.
Rationale: There is nothing as satisfying as eating a meal washed down by red wine and retiring to bed in a traditional cabin.
7. Requirement: Easy to manage single-handedly.
Rationale: I mostly sail alone! This requirement breaks down into two important sub-requirements, as follows:
a. It shall be easy for one person to safely set, reduce (reef) and remove sail, including when bouncing around in a lumpy sea.
b. The boat shall manoeuvre well under power – shall be able to turn virtually in her own length even with the wind tending to blow her head off, and shall be easy to steer when coming astern.
No sailor wants a boat that is a sailing slouch, but sailing performance was not high on my priorities list – I have never been fond of racing and the ability to get from A to B in a safe and seamanlike fashion in adverse conditions as well as fine ones is what I look for in a sailing boat.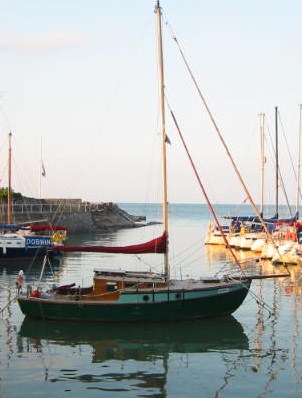 My old Eventide in Porlock Weir
Production Boats that Come Close
I looked at lots of boats but two excellent designs which caught my attention were the Yarmouth 23 and the Cornish Crabber 26.

The Yarmouth 23
The Yarmouth 23, pictured above, is small, pretty, shoal draft and so seaworthy that she has crossed oceans with single-handed crews (read about David Matelicani's transatlantic solo voyage in Eileen of Avoca). She was designed by legendary designer David Freemen, renowned as a yacht designer who started as a ship designer and co-designed the famous Fisher range of strong, seaworthy motorsailors. The boats are built to a high standard by Neil Marine in Sri Lanka.
In terms of meeting my requirements, the Yarmouth 23 is demonstrably strong and seaworthy (RCD Category B), has a modern, well powered diesel, is shoal draft (0.89 metres), there is a bilge keel version which takes the ground level, she is pretty and traditional and she has cosy accommodation. That she is easily handled under sail by a lone skipper is apparent from her single-handed open sea voyages. How well she manoeuvres under power in very confined spaces, I do not know – she has a long keel, which generally means restricted ability to turn tightly when going ahead and difficulties in steering when going astern, but also has a large, transom-hung rudder which will mitigate against these factors.
But the Yarmouth 23 is a bit smaller than the Eventide 24, and you really feel that the accommodation is a lot more confined, not only because she is a foot shorter but because she has a heads compartment, which the Eventide did not have. You cannot have it all in a small boat, and if you want a separate heads compartment, you will sacrifice spaciousness of the general accommodation. I asked myself, do I want to spend some £69,000 (including VAT) to get a boat which is smaller inside than the one I owned that had originally cost me 1/23rd of the price!

Cornish Crabber 26
The Cornish Crabber 26, on the other hand, has plenty of accommodation. She has a separate fore-cabin with small access opening, creating a nice two-space accommodation plan. Because the coachroof continues forwards, the forecabin does not feel confined. The main cabin is ample in size despite there being a separate heads compartment. Cornish Crabbers are well built and everything is good quality – the deck and spar fittings, for example, are substantial and well made.
The Crabber 26 meets almost all my requirements. She is strong and seaworthy – RCD Category B with a modern, high power diesel, and she is shoal draft (0.91m). The design cleverly manages to deliver substantial, well thought-out accommodation whilst retaining traditional, pretty looks.
My first reservation was that she is not designed to take the ground on hard shore on the level, although it should be possible to add a modification by bolting galvanised bilge plates on to the GRP stub bilge keels. Whilst she looked easy to sail and handle for a couple, I felt that she would be more difficult for the single-handed sailor. As with the Yarmouth 23, her long keel hints at inability to execute very tight turns going ahead and possibly difficult steering astern, although, again like the Yarmouth 23, she has a large transom-hung rudder to help with these aspects. Finally, she looks like a much larger boat than the Eventide 24 (which she is), and would be less acceptable to leaving tucked away in the corners of small drying harbours.
The Crabber 26 costs about £90,000 including VAT.
So, there we have two lovely production boats that came close to meeting my requirements, but they still gave me some reservations.
My Interim Plastic Yacht
After much deliberation I decided not to take the plunge by spending some £70k to £90k on a new boat, but to find out a bit more about what I really wanted by buying a second-hand boat built of modern materials. I won't name the boat type, because I don't want to enter into argument with owners, but I will outline the boat I bought and her strengths and the frustrations I had with her.
She is a 25 foot, traditional GRP boat built around 1990. She looks lovely, especially under sail, and members of my sailing club express envy. She sails well and she is strong and seaworthy. She is shoal draft and takes the ground on the level by virtue of her bilge keels.
And yet ….. like a man who has left his wife to take up with a new girlfriend (not that I ever have), I kept making disgruntled comparisons with the good attributes of my old Eventide.
The biggest issue was manoeuvrability under power. The boat had a small diesel engine and could not be steered astern until she had proper way on, and even then with some difficulty. Her long keel gave her great directional stability under sail but a large turning circle under power – I was unable to spin her round in my narrow creek to approach my mooring. One day I was in a marina. It was a lovely sunny sailing day with a fair breeze blowing on the starboard beam. On backing out of the pontoon, there would be a very large, expensive, shiny yacht to port. I realised that, single-handedly, with a boat that would only steer to port as she went astern, there was no way I could extricate myself from my berth. With two people on board one can do these things by warping and fendering, but not on your own. I would have had no problems with the old Eventide, but with this new boat of mine ….. I didn't go sailing that day. And I thought that this was ridiculous.
Her gaff rig was heavy to set sail and reef on your own – possible but difficult compared to the sloop-rigged Eventide, though I could see that there were potential modifications that I might do to make it easier. Running backstays didn't help single-handed sailing either. Her accommodation, whilst well thought out, was "open plan" and "plasticky". Some people thought it really good and "modern" but after the cosiness and woodiness of the Eventide, I found it hard to love.
To my surprise, there were some really poor ergonomics issues as well. Engine access was very difficult and you had to have the body of a small boy combined with the arms of a tall man to access the rear of the gearbox, prop coupling and stern gland through a tiny round hatch in the cockpit sole. Switches were mounted in glassed-in mouldings, accessible for replacement or re-wiring only by taking a jig saw to sections of the moulding. The run of the berthing lines from Sampson post to fairleads was such that you could not open the after lockers (one being the gas locker) without slackening off the berthing lines and then re-making them afterwards. I was really surprised to find such basic maintainability and ergonomic difficulties on a modern production boat.
Many of these issues could have been partially mitigated with modifications. I could put a modern, powerful diesel in which would have assisted with manoeuvring under power. I could see various possible rig modifications to make her easier for the single hander. And I could solve many of the ergonomic difficulties with modifications to access, etc. In time I might even, by use of curtains and wooden trim, convert the open plan, white plastic accommodation into something more cosy.
But I was cheesed off, really, and kept coming back to the point that the Eventide had been the perfect boat for me.
Why not just build a new version of your old boat, then?
My wife was also cheesed off - with all my moaning. "If you liked the old Eventide so much, then why don't you just build a new one", she said. So I did, aiming to replicate all the good attributes of my old boat, but using modern methods of timber construction, thus producing a boat that was lower maintenance.
Of course there are lots of lovely, traditional-looking modern timber boat designs available. To name but a few:
Roxanne (30 foot) and Romilly (22 foot) designed by Nigel Irens
The North Quay 22 and North Quay 24 designed by Ted Spiers
The Golant Gaffer (19 foot) and Golant Yawl (25 foot) designed by Roger Dongray
Méaban (22 foot) designed by François Vivier
Kite (21 foot) designed by Andrew Wolstenholme
Beautiful though all these boats are, none of them ticked all of my requirements boxes and, after my experience with my GRP boat, I was in a mood of "why take the risk". I knew that the Eventide suited me down to the ground, so I began talking to a local boatbuilder, Dutchman Winn Cnoops of Star Yachts in Bristol, about building a new one.
*******************************************************************************