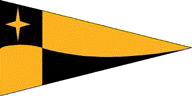 <![if !vml]>
<![endif]>
---
Biscay Log 2018

Kathleen is a steel Maurice Griffith Waterwitch based design, probably built in 1964, though the documents say 1962, sheís ĎHacathianí class.

( Ed's note, the Hacathian was a professionally built, slightly stretched Waterwitch, only built in steel, with an inboard rather than transom hung rudder.) My plan was to cross the bay of Biscay to A Coruna before August, then slowly sail down the coast of Portugal and spend the winter in the river Mira, at Vila Nova de Milfonts. Milfonts and the surrounding coast I know quite well from surf trips, itís a sheltered estuary next to a beautiful small town, with a tricky sand bar entrance.

Kathleen had been moored in Gweek, on the river Helford for the last two years where I had been happily coastal cruising and semi living on board. I spent the month of June preparing for the voyage including building a wind vane steering system from kit. The weather had been fair for weeks: sunny, warm and blowing light NE. I worked hard, knowing that these conditions werenít typical and wouldnít last forever. By late June all was ready and I was anchored at Helford, fuelled and provisioned and excited to be off. A friend from Gweek had agreed to crew to Galicia, and my plan was to go wide of the shipping lanes and make the voyage in one.

After a great send off at the Ship Inn we set off on the morning of the 28th of June. There was a light Easterly, and we motor-sailed out of the Helford river and south towards the Lizard. After an hour or so, as we were passing the rocks known as The Manacleís, the engine cut out for no apparent reason and wouldnít restart, I checked for air in the diesel system, or a block in the lines, but to no avail. As we had a lee-shore, there was limited time for messing about and my crew was looking distinctly nervous. Although the idea to continue without motor crossed my mind, sense prevailed, and I went about, sailed back to the Helford and dropped anchor.

Having done this, I regarded my unhappy-looking crew and said: ĎYou want out, donít you.í To which the fellow nodded glumly. The engine problem turned out to be an engine cut-off solenoid in the injector pump, a new one was ordered and fitted in a few days. Whilst I waited for the next weather window I used the time to test and tune the wind vane steering system.

On the morning of the 9th of July I set out again, this time alone, I had thought of finding another crew, but after reflection I decided to do the trip single handed with a stop in Brittany, then crossing the Biscay 20-30 miles East of the shipping lanes.

Allowing myself 24 hours to reach the Chenal du Four to catch the south bound tide in the morning, I set out from Helford at 08.00 h. With a light NE I set course due south motor-sailing, by afternoon the wind had dropped to calm, in the course of the day I only saw two or three vessels. By 22.00 hrs I reached the West bound separation zone off Northern Brittany. As it grew dark I realised that it would be challenging. I could see from the AIS that there was a continual flow of ships moving at 25-30 Kn with not much in the way of gaps to pass through at 5 Kn, it was like the M25!.
By the time I was at the separation zone it was dark, I could see the green starboard lights, and had right of way, but didnít expect a container ship doing 30Kn to stop or turn for me. I bided my time waiting for a big enough gap to get through, when suddenly there was a red light! I was so confused I did an about turn, wondering what the hell was going on, when the tanker lit its self up completely and I realised that it had altered course to starboard to pass behind me. Quite disconcerting! I passed the eastbound lane without incident, and with the dawn saw the coast of Brittany on the horizon.
I passed through the Chenal du Four motor-sailing at 10 Kn, sweeping past the light houses with the 6Kn tidal stream. Late afternoon I passed the light houses of Saint Mathieu and Vieux Moines, into the Avant Goulet de Brest with a brisk Northerly, round the Point de Grand Goulet to Camaret Su Mer. I dropped the anchor in the attractive bay amongst several other sailing vessels under a magnificent sunset, and opened a beer. I had been on the helm 36 hours non stop.

11th of July I sailed to Brest to buy fuel, then returned to Camaret su Mer. On the way back I noticed a helicopter buzzing some yachts and could hear on Ch16 the navy asking them to clear the way, at the same time two navy launches approached, I was getting curious when I saw the conning tower of an enormous submarine break the surface and head towards Brest.

I spent the afternoon ashore at Camaret su Mer, where there is a graveyard of old wooden fishing trawlers, a sad, but also beautiful place.
12th July, forecast for Biscay NW for the next few days, so I set out, well rested at 15.00 hrs to catch the tide through the Raz du Sien, I passed the jagged fangs of rock at 9 Kn motor-sailing. 18.00h turn off motor and connect wind vane steering which keeps a steady course SSW at 3-4 Kn with a 7-10 Kn NNW breeze. Iím on the main and genoa, I canít use the mizzen with the wind vane. Dolphins at dusk.
At 23.00h I lower the main and run on the genoa at 3Kn.
13th July, managed to get a couple of hours sleep, AIS alarm set at 8 miles, wind NNW 6-8 Kn. Mainsail and genoa, sunshine, average speed 3 Kn, wind vane holding a steady course.
14th July, NW 4-6 Kn, sunshine. Saw whales this morning, not sure what type, wind dropping in afternoon, start motor-sailing, boat surrounded by whales, every time I try to film them they disappear, when I eventually gave up they stayed around! Hook on safety line just in case one of them has an itch.
15th July, got a few hours sleep, slow progress at night 2-3 Kn, very light NE, motoring. One of the alternator brackets has broken, same place it was welded a couple of years ago, holding for now, but not ideal. Tried to rivet a bracket across, but no room to get the drill in. I figure that if it goes, I can sail into A Coruna and drop anchor, maybe five minutes of motoring before it overheats. 17.00h, wind picks up NW 7-9 Kn, turn engine off. Good sailing. 20.00h, wind increasing 12-14Kn take one reef in on main. Clouding over. Sailing well; 5 Kn.
Saw a sail on the horizon at dusk, first vessel Iíve seen since Brittany, called on Ch16, German yacht heading north from A Coruna, asked for weather check, said Nw 12-15 Kn.
16th July, wind increasing to 12-15 Kn, due West, has pushed me off course to east overnight. Later chop and wind increasing backing to SW 15-20 Kn, cloudy, bit of drizzle. By afternoon Iím way off course for A Coruna, close hauled into 2m chop, two hanks on the genoa break, lower the genoa and start the motor to go closer to the wind, Iím worried about the alternator.
Both my Imray charts and my pilot book start at Cabo Ortigal, and Iím going to hit the coast east of that now, however my Garmin chart plotter should show the coast as I get closer. Afternoon; squalls of rain and strong gusts as the Galician coast comes into view, motoring directly into wind and waves. I decide to head for Viviero, which Iíve heard is a good, sheltered port.
Much to my distress, I find that the chart on my Garmin echo-map ended just south of Brittany, nothing in the manual about that! Iím motoring into a solid 20Kn WSW, spray and rain, the Galician coast looks grey and ominous, Iím really hoping that the alternator bracket holds, if it breaks the only option is to head back out into the Biscay. Iím very tired by this point, and the idea isnít appealing.
As I get close to the coast I get signal on my phone and find Viviero on Google maps, I manage to get into the estuary with the fading light. Great to be in port. I moor alongside some French guys and we go out for beer and seafood, the ground is swaying disconcertingly.
I spent four days in the town of Viviero in chilly drizzle, whilst England enjoyed 30 degree sunshine. Got the alternator bracket welded, and ordered a Garmin card for Spain and Portugal. Sewed the hanks back on the genoa.

20th July. I set out from Viviero in a light NE, I round the headland of Cabo Ortegal, with the dramatic Aguillones rocks. Motor-sail to Celedro, where I anchor and spend a peaceful night.

21st July, grey day with drizzle, WSW 8-10Kn Motor along the coast to A Coruna. Not much fun. !9.00 h take a pontoon, go for a fish dinner and bottle of wine.
22nd July, fuel up, set out 11.30, some mist, lifting. NE 10-15 Kn, increasing to 20. Great sailing, 5-6 Kn, hundreds of dolphins! Impressive scenery passing the Islas Sisargas at 6Kn. Enter Ria de Corme, wind is stronger in the Ria, too much canvas, very sporty! Drop anchor Corme 20.30h, wind drops with sunset.
23rd July, 09.30h set out from Corme, light SW, motor-sail. After about an hour I see a fog bank ahead, I consider turning tail and heading back to Corme, but figure itíll catch up with me. I motor into an apparently solid white wall, visibility about 30í. Very disconcerting. Thankfully fog thinned enough to see as I entered Ria Camarinas. Drop anchor 15.00h.
24th July, set out from Camarinas to round Cabo Finisterre, light NNE, unfortunately visibility was too poor the see this dramatic landmark. Goosewing in 8-10 Kn, enter port of Muros 18.00. Muros has an efficiently run, friendly marina in a pleasant Galician fishing port. Fish dinner and a bottle of red. Kathleen stayed on the Pontoon at Muros for the next two months while I returned to UK for work.
I returned to Galicia on 30th September and spent a few days in Muros relaxing and stocking up in provisions. Warm and sunny, light winds.

3rd October, set out from Muros, and spent the next week exploring the Rias Baixas of Western Galicia. Although this coast is known as La Costa de Morte (the coast of death), the four estuaries, or Rias, provide perfect protected sailing and a myriad of wonderful anchorages, though many are dotted with hazardous rocks at the entrance. The weather was excellent and many days were spent on beaches or swimming in the clear, though rather chilly, water. I caught sea Bass, sea Bream and of course Mackerel.

On the 10th of October the weather clouded over as I entered the Ria de Vigo. I sailed in a brisk Westerly past the Islas Cies, into the Ria passing two beautiful square riggers flying British ensigns. I took a berth in the marina of Bouzas, Vigo, which was pricy and not particularly nice.
11th October, low cloud and strong SW, the forecast was looking grim, so having got supplies I sailed up the Ria Vigo, under the large suspension bridge, and into the large, shallow lagoon of the Ensenada de San Simon. This lagoon provides a perfect sheltered anchorage with dinghy access to several villages and an island. The weather was not good, and I took advantage of this to wait it out.
14th October, I check the weather, and to my surprise and distress, thereís a full-blown hurricane heading for the coast of North Portugal. Hurricane Leslie was the strongest tropical cyclone to hit the coast of Portugal since 1842. Just my luck! I didnít have much faith in my anchor in 150Km winds, so I headed for a large unoccupied buoy and tied on with three lines, I then proceeded to thoroughly tie everything down. When I had battened down I saw someone approaching in a rib, who turned out to be the owner of the buoy and an attractive 40í ketch moored close to the shore.
He confirmed that there was indeed a hurricane on its way, said of course it was fine to take the mooring, and assured me of its solidity. As it happened the epicentre of hurricane Leslie made landfall 150 miles south of me at Figueira de Foz, causing havoc and two fatalities. I guess I had winds of 40-45Kn, and spent a very bumpy night.
Over the next days the proprietor of the ketch told me about the history of the Ensenada de San Simon. In the mud around my boat there were the remains of 36 galleons sunk in the battle of Vigo. On the third of October 1702 there was a massive battle fought in the Ensenada between the Spanish and French against the British and Dutch. The battle was won by the British, but the tons of gold and silver, retuned from the New World, has already been off-loaded and we left virtually empty handed.
20th October, the weather has finally cleared, and I set sail in a brisk Northerly to Baiona where I drop anchor.
21st October, 09.00 set out from Baiona, wind variable 6-8Kn, motor-sail, arrive Viana de Castelo, Portughal 17.00h. An English mate who lives in Portugal arrives to crew down the coast. Pleasant evening out. Viana de Castelo is a very nice town with a large protected harbour, in which anchoring is forbidden.
22nd October, set out from Viana de Castelo 6-8 Kn NW, sail on main, genoa and mizzen, average 3 Kn. Arrive Povoa de Varzim 19.00h. cook sea Bream and go out for a drink. Good marina, not such an interesting town.
23rd October, set out from Povoa de Varzim 10.00h. 10-15 kn ENE. Arrive Leixoes 19.00h drop anchor.
24th OctoberSet out from Leixoes 07.30, 18-22 NE backing E, sunshine, all sails, great sailing. Crew suffering from sea sickness, at least had the good sense to clip on and vomit over the side. Arrive Sao Jacinto, Ria de Aviero 15.30h, drop anchor. Ria de Aviero is a large inland water with strong tidal flows at the entrance. Sao Jacinto provides a perfect anchorage close to a pontoon with access to beach and restaurants. Also the holy grail for sailors/surfers, easy access from anchorage to good surf break. Spent a couple of days surfing and exploring the Ria de Aviero by rib, strong tidal currents. The town of Aviero is lovely, with some fine examples of Portuguese architecture and canals with gondolas, it also has the best flea market Iíve ever seen.
29th October, set out Aviero 07.30 N 10-12 Kn, there was a 3m swell, which was very noticeable crossing the bar at the harbour entrance, crew sick again. Wind drops in afternoon, motor-sail, arrive Figueira de Foz 16.00h.
Spend three days in Figuiera de Foz waiting for good weather, crew leaves. The evidence of hurricane Leslie is everywhere, trees knocked down, facia boards ripped from the seafront hotels, broken glass and several yachts damaged in the marina. A 4m swell was making the entrance tricky, and the harbour master advised against leaving. I watched a 45í yacht with British ensign leave, looked very sketchy, glad it wasnít me.
1st November, set out from Figuiera de Foz 07.30h, NW10 Kn, dropping. Afternoon, light wind on the tail with considerable swell, motor-sailing, annoying conditions, eventually drop the sails and motor. Arrive Nazare 16.00h.
5th November, lift out onto hard.
Portugal Log 2018
On the 8th of November I flew to the UK to work, I returned in my van on the 16th December.
During the last weeks I had noticed a small amount of rusty water in the bilges, I wasnít sure if it was condensation, but it looked like it could be seeping from the centre keel, this was the main reason I took Kathleen out of the water. When I inspected it I saw a trickle of rust coming from a spot on the centre keel, there were some welded patches around it, which could have been there for decades. I cut a section out, and to my horror, it revealed some soggy rubble instead of cement ballast. I cut several other sections to assess the condition of the keel, and to my relief, the rest seemed solid. I drilled some holes to drain the water, and let it dry. I then set about sanding the hull for antifouling.
I found some suspicious looking rust spots, and pushed a screwdriver right through the hull. Not a nice feeling that I had crossed the Biscay with a bit of rust and antifoul keeping the water out! Kathleen is constructed from 3mm steel, and when I bought her four years ago, she had a hull survey, stating that the hull was solid, either it was a poor survey, or a lot of corrosion had happened in four years. I made a thorough investigation of the hull, and found half a dozen spots of serious through rust. These I cut out along with a few spots on the deck and coach roof.
In Nazare boatyard there is a welder/engineer of British origin working and living there on a semi-official basis. I approached him to do the welding, and he assured me that he would do so. I cut the inserts from 4mm steel, and prepared the cut-outs, I didnít want to do any over-plating. However, weeks passed without any sign of welding, the fellow saying he was too busy.
After six weeks I went to a local steel fabricating workshop, who had made up a section of chine with the steel frame tube, which had also rotted. When I asked them if they did outside work, they said, no problem, they would come and do the welding next week. They sent a couple of guys on Monday who set about the work quickly and efficiently. Unfortunately the Englishman who had not done any work took offence to this, and laid into them with his fists! The local police and the maritime police were called and charges made against the English fellow. What a fuss! The Portuguese welders returned the next day and completed the work proficiently, quickly and cheaply. I gave a substantial tip to the poor guys who had been punched.
My two months in Nazare had not been an entire waste of time as its one of Europeís top surf spots, however I was very happy to see Kathleen back in the water, with the knowledge that her hull was good for years to come. I had not intended to sail the Portuguese coast in winter, but I was running three months behind my planned time. I knew that the weather forecasts could be quite far off the mark that time of year, and that the Atlantic in February could have wild moods.
14th February, 09.00h set out, strong wind 25-30Kn, but offshore with no swell, sunny. One reef in main, small jib, making 6-7 kn, heeling hard, very strong weather helm with the gusts. Shipping some water, seems to be the bilge pump outlet on starboard side which is submerged, will have to investigate. 17.00h arrive Peniche, take berth.
16th February, set out 07.00h, N 8-10Kn, overcast. Motor sail to Cascais, arrive 16.00h, anchor in bay next to square rigger ĎKrakení.
17th February, set out 09.00, NE 8-10Kn, overcast, motor-sail to Sesimbra, Cabo Espichel very ominous looking, caves like gaping mouths. arrive 17.00h, take berth. Good marina, well protected.
18th February, set out 09.00, E 20kn, overcast, one reef in main and genoa, sailing well. Afternoon wind backing NE, increasing to 25-30 Kn, 4m swell. I know this coast reasonably well, and I know that off Cabo Sines the sea can get messy, so I take it wide, Iím on a run by now, but donít want to goose wing in such extreme conditions. To do this I have to do two controlled jibes, not much fun considering. The first one went well, and I headed west for a few miles, then jibed again to head south, the jibe went fine, but I had to leave the cockpit to tie the preventer on the cleat. Somehow I found my legs tangled up in the safety line and the preventer, with waves breaking over me. I managed to get myself untangled and the preventer on, though my safety line was still wrapped around my legs, afraid of another jibe, I crawled back to the cockpit and unhooked the safety, I then noticed that the sheet had come out of the block and was flapping over the side, I reached out and grabbed it and managed to grapple it in, then suddenly realised I had no safety line on.
At that moment I had a strong desire to get into port. I continued round Cabo Sines the wind increasing and large breaking waves on the stern, I noticed that I reached 14Kn whilst surfing the waves. I was very impressed with Kathleen, being a bilge keeler, and really designed for East coast England, she handled these trying conditions gallantly. As I came in sight of the harbour entrance I had to head NE to get past the breakwater and into shelter, this meant going directly into the wind. I turned the engine on, but I had no chance to take down the sails as I was broad side to the swell, and was having to dodge breaking waves. With the sails flogging horribly I motored towards the harbour mouth, suddenly there was a terrific crack, like a pistol shot, and for a moment I thought the engine had blown, then I saw that the genoa had ripped clean in half.
Arrive Sines marina 17.00h very tired. Go out for an excellent fish dinner and bottle of wine.
Shannon De Connick.
Ed's Note.
Shannon had also sent a few videos but sadly they were too difficult to get on here and as he said, not best. But where to from here in 2019 we wonder? Look forward to reading more of Shannon's adventures.