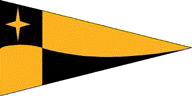 <![if !vml]>
<![endif]>
---
Maiden Voyage.

Burnham-on-Crouch to Mediterranean

via French Canals & return

Yacht "DOUGALJO" of Burnham-on-Crouch.

*********************************************************

Waterwitch. Sail No. 813.

Length 30ft Beam 2.56 metres. Draught 3ft 6in

Launched 18th August, 1993.

Owner, builder, Skipper: Douglas Hoadley

Crew: Wally McLarty, Ian Finney, Jo Hoadley and Barbara McLarty, but not all together!

*********************************************************

Sunday 15th May 1994.

High water Dover 0249hrs – 1404hrs.

From Burnham-on-Crouch to Ramsgate.

0510hrs left mooring at Rice and Coles, Burnham on-Crouch.

0625hrs autohelm put on log reads 146 N.M.

0704hrs changed course 115' towards the Barrow Buoy.

0745hrs altered course to 220' to Barrow No.8 Buoy.

0850 left Burrow No.6 Buoy to port. (158 N.M.)

0945hrs left Barrow No.8 Buoy to port, Course 240'. (162 N.M.)

1000hrs passed Knock John Tower. (163 N.M.)

1038hrs Barrow No.15 Buoy, course to 180' (166 N.M.)

1053hrs Knock John 7 maintained 180' (167 N.M.)

1105hrs S.E. Knob Buoy (168 N.M.)

1120hrs W. Girder Buoy, altered course to 105' (169 N.M.)

1200hrs (173 N.M.)

1230hrs N. Tongue Buoy altered course towards Margate Buoy. 095' (175 N.M.) G.P.S. fix N151-28-55 E1-13-12.

1320hrs East Tongue Buoy, altered course to 120' (179 N.M.)

1415hrs N51-26-54 E1-22-42.

Steering by eye to Ramsgate arrived 197 N.M. Wally V.TS. Ramsgate Channel 14 for permission to enter.

Crew: Wally McLarty, Ian Finney and Doug Hoadley.

Commenced trip weather quite cold, later turned quite warm and sunny. Turkey sandwiches served by Ian during trip.

Arrived Ramsgate 1700hrs. Charged £9.90p. Walked around the town, no pubs open. Meal taken on board.

Days run: 58 N.M. Total 58 N.M.

Travelling time: 0510 - 1700hrs.

16th May 1994.

Remained in Ramsgate Harbour, weather very poor, wind 25-30 Mph. N8, later gale force with heavy rain.

A yacht named "Sadness" called for assistance - no engine. Managed to enter harbour, then towed to mooring. Evening meal taken in Harvey's Fish and Chip shop - quite good. The rest of the evening was taken in local pub, then back to "Dougaljo" and to sleep. Got up at 0300hrs because of wind causing securing ropes to frap against hull, no remedy, back to sleep, severe wind and rain all night

17th May 1994.

Weather still poor, attempted to sail to South West Goodwin Light Buoy but decided visibility was too bad to attempt crossing. Managed to get heating to work, cabin much warmer. Wally and Ian fixed shackle to foot of sail and untangled rope which had been blown around the radar reflector. Had shower etc., then meal consisting of steak and kidney pie, peas and potatoes, sweet consisting of peaches and evaporated milk taken on-board. Hoping weather will improve, still blowing and raining at 1015pm.

Diesel consumption; 4.8 gals = 12hrs. 58 N.M.

Stern light glass cracked by fishing boat "Bejon" R76 at 0850hrs when it pulled into pontoon to collect bait, skipper promised to bring back a lobster - but did not?

Crew: Wally McLarty, Ian Finney and Doug Hoadley.

Started engine at 0945hrs moved to top up with water, then topped up with diesel - purchased 4.8 gals at £5.55p.

Left harbour - course 170' towards S.W. Goodwin Light Buoy. Weather and visibility so poor returned to mooring at 1110hrs. Engine off 1115hrs.

18th May 1994.

Ian Finney decided to return to Wales because of poor weather and loss of time crossing to Calais.

Sailed part of trip at times 6+ knots showing on log, very windy boat performed quite well. Channel very busy during crossing at one time there were nine vessels in view, several super tankers passing at speed. We followed ferry into Calais then had to wait for bridge to open at 1842hrs. Tied up alongside "Arathus" carrying East End kids, then moved to another pontoon mooring. Went to Calais Sailing Club and had a couple of beers. Went to bed early, very tired.

Crew; Wally McLarty and Doug Hoadley.

1045hrs passed S. Brake Light Buoy to port, altered course 185'

1053hrs Downs Light Ship, altered course 175'towards S. Goodwin.

1203hrs passed S. Goodwin Light Ship. Altered course 125' to Calais. Weather rough F.5

1630hrs entered Calais Harbour.

Days Run: 34 N.M. Total 95 N.M.

19th May 1994.

Weather very fair, quite warm, made arrangements for mast to be un-stepped at 0800hrs on Friday, 20th May, 1994. Slipped main and foresail, bagged and stored in forward lockers. Had a look around Calais. Paid mooring fees FF94 for two nights.

Days Run: Nil. Total 95 N.M.

20th May 1994.

0730hrs in position under crane ready for mast to be un-stepped, removed pins etc. Mast un-stepped at 0810hrs, charged FF61, very reasonable. Returned to pontoon for breakfast and prepared mast fixings ready for trip down the canals. The young crew of another British Yacht came aboard, Sam, Jason and baby son aged 8 months old. They are on route to Majorca. Very pleasant family, Wally informed them of route etc. After securing mast we walked to the Bureau du Affretement de Calais and obtained our Canal Licence costing FF725 for 45 days but we were informed that the 45 days are travelling days and the stationary days do not count.

Returned to "Dougaljo", meal taken consisting of sandwiches. Then went to a supermarket collected 50 bottles of beer and food

Gave spare pieces of timber to Sam and Jason, took a cup of tea on their boat –very nice boat.

We left the mooring at about 1915hrs and passed through our first lock, moored at the side of the Canal de Calais, Wally complained at the chiming of the Notrodam Church every 15 minutes, he can't silence this one. (He stops my clock at home when he visits.)

This lock is in fact Ecluse de Carnat into the Canal de Calais.

The barometer dropped back to 990'.

21st May 1994. Journey: canal de Calais to canal Neufosse.

Left mooring at Canal de Calais at 0950hrs, at 1012hrs we passed through the first automatic bridge, then through Hennuin Lock (log 249 N.M.) the first of many locks to come, sailing in company with "Kent Petra".

At 1310hrs we stopped for lunch at new Au Rivage Restaurant (log 251 N.M.) we did not purchase a meal but had cheese on toast on board- Heavy thunder and lightning and very heavy rain. Resumed voyage at 1435hrs when the weather looked a bit better.

1755hrs we entered another lock which let us into the canal Neufosse. (Log 262 N.M.)

Later entered very deep lock witch lifted us up about 50ft, Fontinetts Lock

Weather alternating rain and a little, sunshine, we used the umbrella whilst steering. We moored at the side of canal at 2030hrs, cooked meal consisting of steak and kidney, new potatoes (from a tin) and a tin of mixed carrots and peas. All in all it was a very wet day, we were wearing our sea suits and using the umbrella. Rained during the night, where is the French sunshine?

Locks: 3. Days run: 35 N.M. Total: 131 N.M.

22nd May 1994. Journey: Canal D'aire.

Left mooring at side of Canal D'aire at 0945hrs, rain fell heavily most of the day but there were a few sunny intervals.

13:30hrs entered the Cuinchy Lock.

1340hrs we left the lock (log 287 N.M.)

1445hrs entered the Canal De Deale, (log 292 N.M)

Continued along Canal D'Aire until 1555hrs, entered the Douai Lock (log 307 N.M.). Exited lock, everything went very easy, this was at 1805hrs.

At 1830hrs, as we approached the Courchellettes Lock it opened on our approach which quite surprised us. (Log

309 N.M.)

At 1910hrs we entered the Gouelzin Lock which was also already open. Wally detected a sinister sound from the rudder area, (log 311 N.M.) this lock raised us 5.6 metres. Continued motoring, we became aware of vibration and juddering on the rudder at 1945hrs, we moored alongside the canal where we checked the rudder and propeller and discovered a 3ft length of 2 strand sisal rope around the prop shaft. At 2010hrs I put on my swim trunks, climbed down onto the rudder and with my rigging knife cut free the sisal rope (log 313 N.M.) We then decided to stop for the night and we had dinner consisting of tinned mincemeat, pots and beans. We did travel up and down the canal prior to this looking for somewhere to moor, Wally made his day by using our new search light, we also phoned home.

Locks: 4. Total: 7. Days run: 45 N.M. Total: 176 N.M.

23rd May 1994. Journey: Douai to Canal Saint Quentine.

0830hrs cleaned engine filter, checked water and oil levels.

0905hrs started engine and cast off from canal bank and at 0910hrs. I spotted a young deer in the canal and it was unable to get out of the water, it was very exhausted. We stopped the boat Wally held it to the side of the canal as there was nowhere to tie to and I rescued the deer, gave it a rub down with one of Jo's vests and after it had recovered we carried it in among the trees, we then continued on our journey at 0925hrs.

At 1130hrs we turned into Saint Quentin Canal which was so very overgrown that we doubted that we had taken the correct turning. It was so narrow that we turned around and asked one of the locals which canal we were actually in; as it turned out we were right, Wally went ashore and bought 2 French loaves from a baker's van and we continued on our trip. (Log 324 N.M.) We passed through 3 locks and then stopped for lunch. 1325hrs - 1425hrs.

Continued trip, passing through another 15 locks making a total of 18 locks today.

At 1945hrs we approached the lock at Honnecourt, it didn't open as it was closed for the night so we moored for the night in the approach basin. The log showed 342 N.M. but it had been stuck between 4 of the locks but eventually I had to free it.

2000hrs stopped engine.

Locks: 18. Total Locks: 25 Days Run: 27 N.M. Total 203 N.M.

24th May 1994.

1030hrs, engine maintenance then started engine (log 342 N.M.), at 1035hrs entered Lock Honnecourt then motored to lock Lafossie at 1050hrs. Carried on to Lock Bosquit entered at 1100hrs. Then to Maequincourt Basin, moored to canal bank and waited for a tow, raining most of the time with occasional sunny intervals.

This tunnel is passed through by being towed behind an electrically operated tug which travels on a chain, we were in fact the second in line behind a very large barge, we switched off engine and entered tunnel at 1215hrs. We travelled at about 1 knot and left the tunnel at 1400hrs (1.75 hours) it was quite cold and damp. It was still raining as we left the tunnel. We motored through another tunnel under our own steam and passed through another 5 locks but were now descending.

At 1700hrs we entered St. Quentine Marina where we had our first shower since leaving Calais, it was most enjoyable. We went into St. Quentine and purchased 2 loaves of French bread, returned to "Dougaljo" and were cooking dinner of pasta and tinned tomatoes when an Englishman tapped on the side of the boat, he invited us to his Dutch Barge for drinkies. He turned out to be Judge Felix --- the top judge of Kent. We had dinner on the barge with him and his wife, it was a very interesting evening, we eventually got back on "Dougaljo" at about 0100hrs. Wally was a bit tiddly as was the Judge.

25th May 1994.

Engine maintenance carried out, went up into St Quentine and did washing in launderette. Also purchased food and drinks. Filled up with 39.4 litres of diesel and also filled water tank. Paid FF51.40 for our two night stay, we are now ready to continue our journey tomorrow 26.05.94. Weather fine all day.

26th May 1994.

Left mooring at St. Quentin at 0940hrs and entered the first lock - Lock FountainJes- Cleves at 1020hrs (log 359 N.M.). It was raining as usual. At 1050hrs we entered Lock Serancourt-la-Granot (log 361 N.M.) We continued motoring along the St. Quentin passing through a total of 13 locks, until we got to Lateral-al-Oise Canal at Chauney Bridge. We then passed through another 3 locks all descending and eventually moored against the bank of the Lateral-al-Oise Canal at Thouratte.

We had some very wet weather including thunder and lightning. For dinner we had fresh potatoes, peas and carrots and rump steak for sweet we had fruit cocktail and evaporated milk. We saw quite a lot of barges on the canals today plus a couple of hired boats.

The barometer has risen about 5 Millibars, so we are hoping for better weather tomorrow??

Locks: 16. Total 41. Days run: 37 N.M. Total: 254 N.M.

27th May 1994. Journey: Thourotte to Huon.

Engine maintenance carried out and then cast off at 0845hrs, the barges were passing by quite close and causing us to rock about quite a lot. We passed through our first lock at 0930hrs, this was Janville Lock No.4. We passed through 11 locks altogether, the last being St. Andebert and then we tied up alongside of the canal.

There was a trace of diesel in the bilge water so I cleaned it all out as best I could, it appears to be seeping down the side of the filler pipe as we filled it quite full yesterday.

We saw what appeared to be 2 beavers as we came along the Asine River. There were a lot of dead fish in the river and a lot more obviously about to die, this appeared to be due to chemicals or something similar being discharged into the river, the smell was quite horrible. The birds were singing all day, for the second day so far it did not rain although it was quite chilly. We did our first double staircase lock today, we are now ascending again.

Locks today: 11. Total locks: 52. Days run: 44 N.M. Total: 298 N.M.

28th May 1994. Journey: Huon to Rheims.

0930hrs, engine maintenance, detected a diesel leak 0945hrs, started engine and commenced travel along the Canal Lateral-l-Aisne until we got to the Canal De-l-Asnea- la-Marne. We travelled through a total of 14 locks, ascending most of the time, we eventually had to stop at lock No.12 which was the Huon Lock as there were no lights showing, this was at the outskirts of Rheims. We saw a dead deer in the canal at one stage.

Locks today: 14. Total Locks: 66. Days run: 31 N.M. Total: 329 N.M.

Travelling time: 0945 - 1935hrs. Log reading 468 N.M.

29th May 1994, Journey Rheims to Chalon.

Engine maintenance, then started engine at 0845hrs. We then passed through 5 locks one of which we had to call the lock keeper because we had 2 red lights against us. Then at 1315hrs we got to the Mont-de-Billy Tunnel, the red light was against us because there was a barge coming through the tunnel towards us, so we scrubbed the deck down. We entered the tunnel under our own power at 1345hrs and came out the other end at 1402hrs. We carried on along the canal through another 8 locks and then turned left into the Canal Lateral-a-la-Marne, we continued through another 3 locks until we got to Chalone, when at 1730hrs we were about to turn to go back to a mooring, when we went aground in the middle of the canal. Several French lads fishing on the bank offered to pull us free, we tried throwing them a line but without success. Then we pumped up the dinghy. I lost a rowlock over the side, I managed to take a line ashore. A fisherman did cast his line to the boat before this including hooks and everything, a rope was attached but the boat was firmly stuck in the mud. A rope was attached to the boat and a man tried to pull it free with his car but without success. Wally tried to winch the boat free when we tied the rope to a tree but again no good. The car driver then went and got a lorry which eventually did pull "Dougaljo" off the mud. We gave them all a bottle of beer, thanked them all and made our way up the canal to a place called Sarry once again the lock was closed, so we moored up against the side for the night. At one stage during the day we spoke to a man that had collected a hand full of ordinary snails for his tea.

What a day????

Locks today: 16. Total locks: 82. Days run: 26 N.M. Total: 355 N.M.

Travelling time: 0845 - 2045hrs.

30th May 1994. Journey: Chalon to Frigni Court

0945hrs, sunny day, first since we left Burnham. We carried out engine maintenance and did utmost to cure the diesel leak.

1100hrs we went through Lock 8, Sarry, where we had stopped overnight, we are still ascending.

1145hrs Lock 7, St. Germain, 1235hrs Lock 6, Chaigee-sur-Marne. (Log 500 N.M.)

We stopped for lunch by the side of the Canal Laterat-a-la-Marne and went into the village La Chaussee Sur Marne and bought telephone cards at Poste. The weather was still very sunny and warm.

At 1440hrs we took off again passing through another 7 locks, the last three of which were manually operated. We stopped by the side of the Canal-de-Ja-Saone for the night, had Beef bourguignon etc. for dinner.

Today was the best weather so far.

Locks today: 11. Total locks: 93. Days run: 19 N.M. Total: 374 N.M

Travelling time: 1100 - 1915hrs.

3lst May 1994. Journey: Frigni Court to St. Dizier.

At 0815hrs we discovered that "Dougaljo" was aground again, the water in the canal having dropped about 4" during the night we tried motoring free but without success. We then tied our lines together and managed to get them across the canal. Wally fought his way through the stinging nettles and tied his end to a tree, I then managed to winch us free. This took until 0925hrs. Wally got back onboard and we set off on our way again. All of the locks are now manual except for the odd one or two. When they are manual the keeper is usually a very large female and Wally assists them to operate the lock.

We travelled as far as St. Dizier where we moored and did some shopping, we had a safe mooring so we stayed for the night. This lock is much below the previous standards that we have become accustomed to.

Very hot sunny day today 90' in the cabin.

Locks today: 11. Total locks: 104. Days run: 10 N.M. Total: 384 N.M.

Travelling time: 0955 - 1445hrs.

1st June 1994. Journey: St. Dizier to Joinville.

0800hrs engine maintenance, engine fuel filter leaking underneath, taped margarine box underneath to catch diesel.

0845hrs started engine and started day's journey.

At 0913hrs we passed through lifting bridge Marnaval.

At 0925hrs we passed through lock Marnaval then we passed through another 6 locks and another 4 bridges.

At 1245hrs we stopped for lunch and we had to drop the main anchor because it was too shallow to moor against the side of the canal.

At 1425hrs we started again following a Dutch motor cruiser, we passed through another 4 locks and 2 more lift bridges, we travelled behind the Dutch yacht - "New Golden Dream" from Antwerp. The owner went into the locks before us and then held our bow line until Wally could get up and take charge of it. We stopped at Joinville with the Dutchman and also a large English Yacht named "Shambhalla" of Falmouth. We moored for night and had chicken salad and 2 cornetto's for dinner and our first bottle of wine.

Measured the diesel tank 21" x 20" x 26". We needed to know how the volume to work out how much it held, 10920 Cu" = 178.94674 litres! Then we could calibrate the dip stick, and prevent us over filling when fuelling. We had a walk around Joinville which is a quaint old French town and is way up in the mountains above sea level. We saw loads of Frenchmen dressed as Yanks and driving Yankee lorries and jeeps. The noise of the frogs almost unbearable, no wonder the French eat them. We bought 8 gals of diesel (FF140).

Locks today: 12. Total locks: 116. Days run: 18 N.M. Total: 402 N.M.

Travelling time: 0845 - 1645hrs.

The barometer is dropping the further we go up the mountains, it is now dropped to 970.5.

2nd June 1994 Journey: Joinville to Gudmont.

Engine maintenance, then at 0840hrs we moved off with "New Golden Dream", entered first lock No44, Joinville which was operated by a lady who will be looking after us for the next 9 locks. We passed through 6 locks and then she got a puncture in the rear wheel of her moped, some men turned up in a van and changed the wheel for her. By this time it was raining quite hard so it was arranged that we would stop for lunch by a bridge which we did. It rained so hard that the lady who had gone home arrived back in a car, it

was obvious that she did not want to carry on in the rain, so we arranged that if the weather did not improve we would continue at 0900hrs tomorrow. It hasn't improved so we are here under the railway bridge for the night. We have still been ascending and we are now well up in the mountains, we had chicken salad - again- for dinner this evening. There was a funny smell under the sink and it turned out that our fish fingers had gone off!

The diesel leak may be the return over-flow pipe to the tank. The Vetus diesel filter seems to be leaking at the pipe joints, I can't tighten them anymore, have now fixed an ice cream container to catch the drips!

The barometer has dropped to 967'.

Locks today: 6. Total locks: 122. Days run: 8 N.M. Total: 410 N.M.

Travelling time: 0840 - 1200hrs.

3rd June 1994. Journey: Gadmont to Chaumont.

Having spent the night moored under the railway bridge which was about 2 kilometres from Gadmont we started the engine at 0830hrs, having carried out engine maintenance the previous evening. We entered the next lock No.38, Villes, with "New Golden Dream". We are still ascending. We continued our journey passing through a total of 14 locks ascending at each one, the last being No.25 Reclancourt. We then moored at Relais Nautic port de Maladier Chaumont where there is a shower and washing machine and a dryer. The boat in front of "Dougaljo" is from Rochester and is a Snapdragon, the couple aboard from Fleetwood and are on their way to the Med. They are leaving at 0800hrs tomorrow. Started raining again this evening, surprise, surprise.

Locks today: 14. Total locks: 136. Days run: 17 N.M. Total: 427 N.M.

Travelling time: 0830 - 1600hrs. Barometer now 969.

4th June 1994. Remained moored at Chaumont for the day.

Walked up the hill to Chaumont town, very nice place but it started raining again. We bought some more tins of food and potatoes, managed to get back to boat without getting wet. We washed and dried our washing last evening, all clean once again. It has continued to rain quite heavy all day today.

5th June 1994. Journey: Remained moored at Chaumont.

Remained moored at Chaumont, being Sunday the locks were closed. We carried out engine maintenance and changed the oil and the oil filter. There was a fete or something similar on the field adjoining the moorings, miniature boats and side shows. We had a look around and then in the evening after the fete had finished we were invited by the staff for a drink with them and then a meal in the tent plus more drinking. We sang English songs and they sang French songs. Our side included John and Maud the Belgium couple, Nick and his wife from the big sailing boat "Shambhalla" which is an English boat. Wally, myself and an English speaking French lad doing his National Service, a good time was had by all.

The weather was quite good including some sunshine.

6th June 1994. Journey: Chaumont to Chanjugny.

0840hrs, started engine, then with "Greta" another Belgium steel boat we commenced our journey. We entered the first lock No.24 Val-des-Choux, there after we went through a total of 22 locks, the last being No.3 Moulin Rouge.

We have moored for the night between a Prout Snowgoose named "Snowqueen" and an old boy from north of England in a Canal Barge with a large sun umbrella on top. We walked up to the supermarket and bought some more supplies. We had steak, egg, new potatoes, carrots and peas for dinner, followed by fruit cocktail and evaporated milk.

I injured my left shin this morning when I tripped over and nearly fell overboard when we entered our first lock.

Locks today: 22. Total locks: 158. Days run: 25.5 N.M. Total: 435.5 N.M.

Travelling time: 0840 - 1735hrs.

The log did not record very well as it was continually blocked with pine needles.

Actual mileage covered 38 kilometres. (25.5 N.M.)

7th June 1994. Journey: Champigny to Dommarien.

Started engine 0848hrs, moved off to lock No.2 Moulin Chaceux then to lock No.1, Batailes Summit, this is the last ascending lock in this part of the canal. We then travelled to a very long tunnel which was not blessed with lighting, we entered at 1005hrs and reached the other end at 1044hrs. We then passed through 15 descending locks, the last being No.15 Dommarien, as it is a lovely sunny afternoon we decided to moor up and enjoy the sunshine. We moored under a bridge as most of the banks were quite shallow and we don't want to go aground again if we can avoid it. We had a couple of shandies in the cockpit and relaxed.

Dinner consisted of potatoes, cucumber and sardines, sweet was mandarins and tinned milk

Engine water filter filled with pine needles.

Locks today: 17. Total locks: 175. Days run: 14 N.M. Total: 449.5 N.M.

Travelling time: 0840 - 1500hrs. Log: 584 N.M.

8th June 1994. Journey: Dommarian to Oisilly.

Started engine 0830hrs, a very bright sunny day, entered our first lock at 0848hrs, No.16 Choilley, after which we passed through a total of 13 locks, the last being Povilly. We tied up under a bridge at Povilly-Sur-Vingeanne for lunch, this was at 1240hrs. We started again at 1330hrs and passed through another 9 locks. The weather was so warm that we put on shorts but by the time we stopped again under a viaduct the sky was black and there was severe thundering and lightening, hail stones fell the size of your thumb nail and there was a very heavy thunder storm for quite some time, after it stopped we had dinner and then walked into the nearby village which was Oisilly, no pub and no shops. Phoned Bill in Dorset and returned to "Dougaljo" and just as we got on board it poured with rain again, then to bed.

Log choked with pine needles again.

Locks today: 22. Total locks: 197. Days run: 19.5 N.M. Total: 469 N.M.

Travelling time: 0830 - 1645hrs.

Log: 599. Barometer 967.

9th June 1994. Journey: Oisilly to St. Jean-de-Losne.

0830hrs carried out engine maintenance, started engine at 0845hrs, entered Oisilly lock at 0905hrs, weather chilly but dry. We continued journey passing through another 6 locks and at 1145hrs having passed through lock Hevlley we entered the River Saone which was much wider and deeper than the canals. We carried on down the River Saone and at 1600hrs we purchased our diesel from a barge which was moored near to the entrance of the marina.

We entered H20 Harbour and moored at 1620hrs. First thing we did was to have a shower and change into clean clothes. I prepared dinner and Wally went to the supermarket and got some wine. There are a lot of hire boats in the harbour.

The cost of 54.68 litres of diesel was FF222.

Locks today: 9. Total locks: 106. Days run: 27 N.M. Total: 496 N.M.

Traveling time 0845hrs - 1620hrs. Log: 626 N.M.

10th June 1994. Journey: Moored St. Jean-de-Losne.

Remained moored at Jean-de-Losne, walked around the town and along the canal, large dry dock there for barges, this seemed to be the busiest spot. Bought some screws from a chandlers which was in the hold of a barge. Had a roll of film developed and printed which cost FF151 for roll of 36, this price is around about £18.

We intend to stay another night and start off in the morning. The port captain is married to an English lady, Michael and Caroline. A very nice couple.

11th June l994. Journey: St Jean-de-Losne.

0845hrs engine maintenance, ready to go then Michael and Caroline looked over "Dougaljo" and showed us photographs of various army vehicles that they had bought and renovated, there is one at Bovington museum. Eventually left mooring at 1145hrs. Sky very cloudy and very windy. All of this part of the journey it was threatening to rain. We arrived at Chalon-Sur-Saone, tied up and the rain poured down, lucky again. We passed through 2 locks which were very large and both were descending. Once again we had chicken salad for dinner and then we went into town, We purchased our first drinks in a French Bar named Cafe-du-Midi, the owner France et Bruno spoke good English having been to England for 6 years. He asked if we knew an ex-London policeman named Brian WALLACE who had drunk in his bar. The name is familiar, Wally thinks that he worked with him at New Scotland Yard. - small world.

Locks today: 2. Total locks: 208. Days run: 29 N.M. Total: 525 N.M.

Travelling time: 1145 - 1750hrs. Log: 655 N.M.

12th June 1994. Journey: Remained moored at Chalon-Sur-Saone.

Got up 0930hrs, had breakfast, showered and then had boiled egg. Went into town. There was a large Sunday Market! We bought potatoes, cucumber and bread. The wind is blowing quite hard and is fairly cold, talk about sunny southern France?

Took photographs of a very large hotel barge, which is about twice the length of an ordinary barge. We met a New Zealand couple on a yacht today, they came aboard for wine. They are traveling to Holland and the UK possibly calling at Burnham-on-Crouch, his name is Michael and their boat is from Wellington a very nice couple, they have been all around Malaysia and the Far East.

13th

June 1994. Journey: Chalon-Sur-Saone to St. Romain Desiles.

0830hrs engine maintenance. 0930hrs started engine and commenced journey. Weather bright but windy, we made good mileage and at 11:50hrs passed through Lock No.3, Ormes lock. The weather got very warm this afternoon so at 1640hrs we tied up alongside a disused building, put on our bathing costumes and had our first period of sunbathing until about 1900hrs. We then had salmon salad for dinner followed by pineapple for sweet. During dinner another English couple tied up in front of us, they are from Ipswich and are traveling north, Mark and Lesley. We had a drink with them. Today is about the warmest day so far. Mark's boat was "My Constellation".

Locks today: 1. Total locks: 209. Days run: 34 N.M. Total: 559 N.M.

Travelling time: 0930 - 1640hrs. Log: 689 N.M.

14th June 1994. Journey: St. Romain Desiles.

0930hrs, carried out engine maintenance.

0935hrs started engine and at 0940hrs moved off.

At 1015hrs we got to lock No.4 but had to wait about because the lights were red, eventually we got into the lock which was very big and we were the only boat. Continued on until we passed though Lyon, we didn't stop, kept going and at 1505hrs we got to lock No.5, Couzon, the lights were red again and we circled about until the gate eventually opened, once again we were the only boat in the lock which was huge. We continued on until we got to Vienne.

At 1950hrs we moored against the quay by the traffic lights and had dinner. We had a look around the town which appears quite small but very pleasant.

Locks today: 2. Total locks: 211. Days run: 44 N.M. Total: 603 N.M.

Travelling time: 0940 - l950hrs.

15th June 1994. Journey: Vienne to Tournon.

0930hrs carried out engine maintenance.

1045hrs started engine and commenced journey. Now travelling on River Rhone,

1100hrs waiting outside Lock No 2. Vangris with 3 other German and one French Craft, eventually entered lock which was very large and left it at 1159hrs.

At 1430hrs left lock No.3 Sablons which had a drop of 15 metres.

At 1625hrs arrived outside lock No.4 Gervans, entered at 1635hrs and left at 1643hrs. Continued on until 1725hrs when we moored alongside the road at Tournon.

Had to stand off a bit because the bilge keel kept touching ledge. Had salmon salad for dinner, walked around the town and had a couple of drinks outside a bar.

Locks today: 3. Total locks: 214. Days run: 25 N.M. Total; 628 N.M.

Travelling time: 1045hrs - 1723hrs. Log: 758N.M.

16th June 1994. Journey: Tournon to Viviers.

0800hrs, carried out engine maintenance.

0830hrs started engine and got underway.

1020hrs we arrived at Lock No.5, Bourg-les-Valence.

At 1140hrs got to lock No.6, Beauchaster but didn't gain entrance until 1225hrs and left it at 1245hrs another very deep lock with floating bollards.

At 1407hrs arrived at lock No.7, Le-Logis-Neve, left it at 1510hrs. Entered lock No.8, Chateannene, left at 1730hrs. Travelled to Viviers and moored against the quay near marina but went aground, eventually got free and moored against an old yacht. Went aground because water dropped about a foot in a short time whilst we were having a cup of tea. Had corned beef, pots and beans for dinner, then helped another boat that had also gone aground. We travelled quite fast today because of current although we spent about 2hrs waiting for locks.

Locks today: 4. Total locks: 218. Days run: 32 N.M. Total: 660 N.M.

Travelling time: 0830 - 1730hrs. Log: 790. Barometer: 987.

17th June 1994. Journey: Viviers to Avignon.

Maintenance carried out to engine, leaking diesel from filter, emptied back into tank. 0935hrs left mooring and started down River Rhone, tide quite strong averaging about 12 kilometres per hour.

1110hrs outside lock No.9, Bollene, entered eventually at 1215hrs - left lock at 1238hrs.

At 1440hrs arrived at lock No.10, Caderousse went straight in, left at 1454hrs.

At 1630hrs got to lock No. 11 Avignon, could not find a decent place to moor so carried on to Avignon Marina FF71.50 per night.

Had shower and then meal in town costing 310 Francs - very pleasant The town is very old, streets very narrow, a walled city big castle/fort, home at one time of the Pope.

Locks today: 3. Total locks: 221. Days run: 30 N.M. Total: 690 N.M.

Travelling time: 0935 - 1745hrs. Log: 820 N.M.

Saturday 18th June, 1994.

Remained moored at Avignon, looked in the town and took photographs. Inflated dingy and washed the sides of "Dougaljo", made it look a bit cleaner, noticed a couple of 'digs' on the sides. Fitted ropes to awning and put it over the mast, it makes life a bit cooler.

Wally shaved off his beard but left a moustache. Witnessed a memorial service in the town with a band and the local Mayor, etc.

Sunday 19th June 1994.

0830hrs engine maintenance, filled up water tank and then filled up with diesel. 0915hrs continued journey, still down the River Rhone, current quite strong. 1125hrs arrived at Lock 12, Beacaire waited at entrance until 1149hrs, entered and left the lock at 1200hrs.

At 1320hrs moored at Arles Quay, mooring, electricity and water all free. Had tin of fish in tomato sauce, salad for dinner, then walked around the town which is very old Roman.

Locks today: 1. Total locks: 222 Days run: 17 N.M. Total: 707 N.M.

Travelling time: 0845 - 1330hrs.

Monday 20th June 1994.

Did shopping at local Casino, 1030hrs carried out engine maintenance and moved off at 1100hrs, this time it was upstream, against the current and although the log was showing 5+ knots we were actually moving at about 1 knot. It took nearly 1 hour to cover the trip back to the junction which yesterday with the current took 10 minutes. Eventually we turned left, back in the right direction to Sete, via pebit Rhone.

At 1340hrs we arrived outside lock 1, Saint Gillies, we eventually entered the lock and left at 1415hrs.

At 1540hrs we moored alongside what appeared to be another abandoned wooden sail boat at Pont Galician.

Locks today: 1. Total locks: 223. Days run: 20 N.M. Total: 727 N.M.

Travelling time: 1100- 1540hrs.

Tuesday 21st June 1994.

0830hrs engine maintenance. Diesel leak from filter seems a little worse.

0910hrs started engine and cast off.

At 1225hrs saw flamingos in water, the other side of the canal bank. Lots of rabbits along the canal bank. A very hot day and quite windy. We kept going until we got to where there was a bridge which opened sideways, floating, and driven by something that looks like an outboard motor. We went to the beach on a little free roadway train, this made Wally happy because it was free and there were nudes on the beach. We went back again in the evening and had our first dip in the Mediterranean, the water was very cold. Sete is just a short distance away now. We are moored at the side of the canal free.

Locks today Nil. Total locks: 223. Days run: 22 N.M. Total: 749 N.M.

Travelling time: 0910 - 1355hrs.

Wednesday 22nd June 1994.

0830hrs Engine maintenance. 0845hrs started engine and underway.

1020hrs moored alongside at Frontignan awaiting lifting bridge which we understood was at 1900hrs. Had a look around the town and on return to 'Dougaljo' another boatman told us that the bridge was due to open at 1300hrs. A hire boat pulled in front of us to moor and managed to catch onto our anchor, this pushed us aground, at least we found out when the bridge lifted and we couldn't move, we managed after a bit of manoeuvring.

At 1210hrs we tied up outside of Sete bridge which again was due to lift at 1900hrs. We had a couple of beers in a local bar. Bridge eventually opened at about 1905hrs. We passed through and then moored again for another bridge to open, we had to wait until a tug boat pulling a gasometer arrived, then we got through and moored at the visitors Pontoon. The next but one boat to us was an Oysterman with Terry Erskine on board. He rebuilt it in Malta and was awaiting a crew to arrive to travel back to England with him.

Locks today: Nil. Total locks: 223. Days ran: 13 N.M. Total 762 N.M.

Travelling time: 0845 - 2030hrs.

Thursday 23rd June 1994.

Very rough night when the fishing fleet left the harbour at 0300hrs.

Mast raised at 1030hrs, spent some time adjusting the mast and sails, returned to visitors mooring and tied up. Had a look around Sete, drew cash from bank. Had shower and did our washing. Diesel still leaking from filter, tried to cure it but without success, so joined pipes and bypassed the filter, fingers now crossed. Purchased three charts FF354. Much dearer than England and not so much detail.

Locks today: Nil. Total locks: 223. Days run: Nil. Total: 762 N.M.

Friday 24th June 1994.

1030hrs, filled up with water and stowed tyres that we had been using as fenders. Engine maintenance carried out. Paid FF202 for two nights mooring and FF280 for raising the mast, then had sandwiches. I took photographs of Terry Erskine and his boat.

At 1235hrs we left mooring and made our way out of Sete harbour. Set course 230' for Agde. Sea quite lumpy, arrived Agde and moored at 1630hrs. FF101 paid for mooring. This is a real holiday harbour and town, many high quality yachts and motor launches moored here, we are about 15ft from the harbour street, plenty of eating places and music quite loud.

Finished 1st bottle of Gas - lasted 40 days altogether.

Days run: 13 N.M. Total: 775 N.M.

Travelling time: 1235 - 1540hrs.

Saturday 25th June 1994.

Weather not very bright, walked to nearby Naturist Village, entrance to their harbour only dredged to 1 metre so too shallow for "Dougaljo". Walked back along sea, quite warm. Walked around the shops. Weather forecast not good, wind 5/6 later today, decided to stay tonight paid FF101 for another night's mooring. Visited Chandlers, quite good, bought additive for diesel. Started to blow and rain quite hard during the evening, more like English weather.

Sunday 26th June 1994.

Very strong winds during the night and heavy thunder storm weather very dull and quite cold this morning, not at all like one would expect in the Mediterranean.

Monday 27th June 1994.

Went to the beach whilst waiting for our clothes which we took to the launderette. 1300hrs engine maintenance, filled water tank, 1310hrs started engine and left mooring. 1340hrs set mainsail with one reef inside entrance of harbour. 1355hrs set course 250' for Port Narbonne Plage. 1400hrs altered course to 210'. 1420hrs altered course to 180', wind quite strong, very warm. Continued until 1700hrs, altered course to 028'. Arrived Port Narbonne at 2000hrs. Mooring free.

Days run: 28 N.M. Total: 803 N.M.

Travelling time 1310 - 2000hrs.

Tuesday 28th June 1994.

0940hrs engine maintenance. 0955hrs engine started and we left mooring. Very little wind, let out foresail and at 1010hrs engaged autopilot, we sunbathed during voyage. Course 200' until 1130hrs then 205', at 1320hrs altered course to 210'.

Entered Port Leucate Marina and tied up at mooring 34 on pontoon 9. Mooring Charge FF80.94 + FF15.06 tax. Total FF96.

Days run: 21 N.M. Total: 824 N.M.

Travelling time: 0955 - 1435hrs.

The prop shaft managed to slip back about an inch so I had to put on my swimming trunks, get over the stern, sit on the rudder and push it back into place with my feet.

Wednesday 29th June 1994.

0945hrs engine maintenance. 0955hrs started engine, left mooring. 1020hrs outside of Port Leucate Harbour set course for Port Vendres on 175'. 1100hrs sails set, motor sailing at 5 knots. Fishing boats in area so altered course +10', autopilot used. 1150hrs course altered -20' to regain original course. 1200hrs altered course +10', wind right on the nose. 1620 entered Port Vendres, moored on pontoon C, No.30. Cost: FF92. Went to local Supermarket and bought provisions.

Days run: 24 N.M. Total 848 N.M.

Travelling time: 0955 - 1620hrs.

Thursday 30th June 1994.

Stayed at Port Yendres. Wally had a touch of the sun from yesterday. I removed the Navtext aerial from under the davit because of damage, I removed the damaged piece of cable and re-joined it. I then telephoned Navtext in England to check that it was OK, they said yes. Also they said we might be too far off to receive weather forecast!! Put it all back together, still no reception. Had a walk around town again, then drinks at 1830hrs on another English sailing boat, very pleasant.

Days run: Nil Total: 848 N.M.

Travelling time: Nil

Friday 1st July 1994.

Engine maintenance carried out yesterday. 1000hrs started engine and left mooring. 1035hrs course 275', 1130hrs course altered to 180'. At 1145hrs stopped engine and put up sails. At 1305hrs we were enveloped in fog, made Port da la Selva at 1345hrs. Met at mooring by Captanerrie, no wonder when we found out that the mooring charge was 3,950 Pesetas (nearly £20 per night).

Quite a pleasant harbour, walked round the town and sent some post cards to England. This is our first Spanish Port.

Days run, 12 N.M. Total 860.N.M.

Travelling time: l000 - 1345hrs.

Saturday 2nd July 1994.

0930hrs engine maintenance checked diesel tank still 2/3 full.

1000hrs we left the harbour for Augublara.

At 1035hrs stopped engine and sailed, wind very strong, hard going, boat over at quite an angle. Course 193', trip 30 miles. We kept going but eventually the wind was F6/7 and it would take 6hrs to get to the next port or 2hrs to return, so we turned about and with the wind behind us and only the mainsail up, which was reefed, we touched 7.1 knots, sailing only. Very uncomfortable. We anchored outside the harbour, close by the mountain, the wind was still blowing. Eventually returned and anchored in the harbour, we didn't want to pay another £20!!

Days run: 27 N.M. Total: 887 N.M.

Travelling time: 1000 - 1930hrs.

Sunday 3rd July 1994.

0900hrs, engine maintenance, top 3 sail slides which had come out of the slide were re-installed by Wally, engine would not start, negative wire to alternator needed re-crimping.

0935hrs engine started, raised anchor and left harbour of Port de la Selva.

1000hrs mainsail and engine, wind on the nose as usual.

1140hrs course altered to 190'. 1115hrs autopilot connected 280'.

12 noon, quite misty, vision about 3 miles. 1300hrs mist cleared, 1400hrs misty again. 1500hrs altered course to 210'. 1556hrs course 150'. 1606hrs wind quite high, foresail taken in.

1730hrs anchored in cove, very many boats present, not happy with anchorage, moved and anchored again. Pumped up dinghy ready to row ashore, checked anchorage, boat very steady, everything O.K.

1815hrs went ashore for provisions and to meet Wally's daughter and son-in-law.

I later returned to "Dougaljo" and was informed by a lady and gent on a yacht that our boat had moved, I couldn't really understand their language. Then two young harbour staff came to "Dougaljo" in a dinghy and informed me that my boat was damaged on the starboard bow, I examined the bow and found that the bow was damaged. They signalled for me to get into the dinghy, which I did and they took me to the next boat which was "Xemar" No.7aBA5-70-94. They pointed out damage to the wooden stem and the port side wooden bollard. They spoke little English but alleged that "Dougaljo" had swung round the anchor across the front of "Xemar" and the damage to both boats had occurred. I gave them my name, address, name of boat and Insurance particulars. They could not assist with the owner of "Xemar". I told them I would stay overnight until the 4th for details. I moved "Dougaljo" to a fresh position. By this time the harbour was much clearer as lots of the other boats had left and gone elsewhere. Depth of anchorage: 9.5 metres. 28 metres of chain.

Days run: 34 N.M. Total: 921 N.M.

Travelling time: 0935 - 1730hrs.

Monday 4th July 1994.

1000hrs took photographs of damage to "Dougaljo" and the other boat and spoke with the man on the other French? boat trying to establish what happened re: cause of the accident but it was impossible to understand the boatman. I painted over the damage to "Dougaljo".

1100hrs carried out engine maintenance.

12 noon left Aiguablava Harbour. Course 20' under engine only, wind on the nose as usual, although we are travelling northwards.

1400hrs Islas Medas bearing 301'. Mist all

around.

1620hrs +10' towards Carbo Creces 1730hrs. Turned corner at Carbo Creces at 1800hrs towards Port de la Salva.

1910hrs anchored in harbour at Port de la Salva, this was our 3rd visit here. Rowed ashore in dinghy. Wind got up during night otherwise everything O.K.

Days run: 30.9 N.M. Total: 951.9 N.M.

Travelling time: 1200 - 1910hrs.

Tuesday 5th July 1994.

1030hrs engine maintenance, started engine, raised anchor and commenced trip. 1050hrs left harbour towards Cap Carbrier. Wind on the nose near enough. 12 noon closing Cap Carbrier. 1215hrs rounded Cap Carbrier course altered to 330'. Sea very calm but wind right on the nose, engine only. At 1502hrs stopped engine and tightened the engine mountings as they had worked a bit loose. After leaving mountain coastline the beach is now very flat and appears sandy, hundreds of holiday makers and each harbour seemed very full of masts. Wind quite high as we reached Port Baecares. Gale force 6/7 forecast for next 24hrs. Looked around town could not find a bank.

Days run: 31.6 N.M. Total: 983.5 N.M.

Travelling time: 1030 - 1730hrs.

Wednesday 6th, Thursday 7th and Friday 8th Ju1y 1994.

Moored in Port Barcares because of bad weather forecast: -

6th - Wind 6/7 gusting 9/10. Changed engine oil.

7th - Wind 7 gusting 8/9.

8th - Wind 4/5-6 evening forecast 6-7 sea very agitated.

Each day is very sunny but the wind very gusty, same most of the night excepting night of 6/7th but wind got up again this morning. Each day wind NW down from the mountains. Customs officers say that it should be over by Sunday (we hope) The Customs officers did come aboard to see our papers and wanted passports, this was on 6th.

Sent letter to insurance company re the accident on 3/7/94.

Checked diesel, just over half a tank on 8/7/94.

Days run: Nil. Total 983.5 N.M.

Saturday 9th July 1994.

0545hrs preparation for departure. 0605hrs left mooring, wind beginning to pick up again. Direction Agde 035'. 0700hrs passed Port Leucate on port bow. 0900hrs passed a sailing boat going south, wind still NW. 1000hrs full sails, engine off, making 5+ knots on occasions, single reef. Later put in second reef and shortened foresail, wind quite strong, sailing at up to 5+ knots. One of the best sails we've had since arrival and the last because mast etc. coming down at Agde. Wind quite strong on arrival at Agde at 1435hrs. Still, we've made it after being stuck at Barcares because of the strong force 5-7 winds.

Days run: 36 N.M. Total: 1,019.5 N.M.

Travelling time: 0615 - 1435hrs.

Sunday 10th July 1994.

Moored at Agde, hoping to get mast down tomorrow. Went shopping this morning, then washed silt off boat with hose. Weather very quiet today, no wind.

Days run: Nil. Total 1,019.5 N.M.

Travelling time: Nil.

Monday 11th July 1994.

Moored at Agde, 0900hrs went to make arrangements to take mast down. Returned to boat, took down boom and got things ready for mast to be taken down. Then went and took boat to the crane and mast taken down. Everything made secure. Returned to Capitanierre, went to bank. 1215hrs set off for Marsullow Plage. 1320hrs entered Marsullow Plage harbour, unable to get through to canals because of low bridge that did not appear to lift. Set course for Sete, very pleasant cruise, weather hot, sea blue/green as we expected the Mediterranean to be. 1535hrs arrived Sete, unable to get diesel because today is a holiday.

Then spent 3 hours waiting for bridges to open, eventually got through last bridge at 1900hrs. Entered Etang then at 1930hrs entered Canal de Sete, Rhone. At 2015hrs we moored at Frontignan. The bridge here opens at 0700hrs, 1300hrs and 1900hrs.

Removed blue plastic bag from propeller today whilst waiting at one of the bridges, this was causing vibration to the rudder.

Days run: 21 N.M. Total: 1,040.5 N.M.

Travelling time: 1215 - 2015hrs.

Tuesday 12th July 1994.

Walked around the town, not many shops, bought groceries (not many). Looked in wine cellar quite a selection. Waiting for bridge to open at 1300hrs. Bridge opened at 1300hrs, we passed through bridge and had to moor the other side, very hot and trains passing overhead about every 5 minutes. The reason for having to stop was because of red light on the canal showing dredging was taking place further along. We remained moored until 1905hrs when everyone ignored the red light and we all moved on our journey. We arrived at Maguelone and moored against the bank, the wind was blowing quite strong and the smell from Etang was like a sewer, but this is where the nude beach is!!

Days run: 7 N.M. Total: 1,047.5 N.M.

Travelling time: 1905 - 2040hrs

Wednesday 13th July 1994.

Went to the beach for the day, very hot and still quite a breeze blowing. Quite a few more boats arrived in the evening and moored for the night. Tomorrow is a National Holiday and the evening sky was alight with fireworks.

Days run: Nil. Total 1,047.5 N.M.

Thursday 14th July 1994.

0830hrs, engine maintenance. 0915hrs cast off and commenced day's journey. Arrived at the walled city of Ayes Montin, stopped and bought diesel from a garage about 75 litres filled the tank and added some of the diesel additive, couldn't find a place to moor so continued journey to Port de St Gillies. Arrived at 1800hrs and moored against the bank to a couple of trees. The pathway at the side of the canal into town was locked by Police at about 1930hrs although the notice said open 0600hrs to 2000hrs, it was not unlocked until 0900hrs but there was a back road into the town. Spent the evening watching fireworks display and having a couple of drinks, a very entertaining couple were performing at the bar.

Days run: 33 N.M. Total: 1,080.5 N.M.

Travelling time: 0915 - 1800hrs.

Friday 15th Ju1y 1994.

0930hrs engine maintenance. 1015hrs left mooring. 1105hrs arrived outside lock at St. Gilles. Left lock at 1130hrs, very little rise in water level. 1607hrs at K268 Port Tarascon. 1654hrs at Lock Beaucaire. 1945hrs moored at Avignon and had a shower. Went into town after meal, very crowded with holiday makers. Lots of side show entertainers, quite interesting.

Days run: 44 N.M. Total: 1,124.5 N.M.

Travelling time: 1015 - 1945hrs.

Saturday 16th July 1994.

0900hrs engine maintenance, 0950hrs cast off. 1100hrs entered Lock Avignon, left 1120hrs, we are now ascending again on our way back to England. 1350hrs entered. Lock No.9. 1345hrs entered Lock No. 9. At about 1820hrs having left Lock Bollanc we noticed engine appeared to be working very hard so over the stern onto the rudder and managed to free all of the weed that the prop had collected (thank goodness M.G. designed the rudder so that the prop can be reached by sitting on it). A very, very hot day, 102' in the cabin with the fan on.

Arrived in Viviers at 2130hrs and it was 2145hrs by the time we had moored. Very late dinner this evening, temperature still 90'.

Days run: 53 N.M. Total: 1,177.5 N.M.

Travelling time: 0950 - 2130hrs.

Sunday 17th July 1994.

0930hrs engine maintenance and pulling ourselves away from mooring, the water had dropped 1ft during the night and part of the port bilge keel was touching the bottom of the canal. Away at 0945hrs and entered first lock at 1005hrs, left at 1020hrs Lock Chateaunduf. 1330hrs Lock Le Logis Neuf (7) waited until 1400hrs. Wally called lock on the radio and told him the lock would open in 15 minutes, it opened after 13 minutes but nothing came out, entered and water was let in very fast and we were out in about 15 minutes (a record) 1720hrs Lock Beauchastel (6). Passed marina as there was no indication of depth, moored at town quay alongside the A7 main road to the south, very busy.

Whilst travelling the canal we saw a big fire on the side of the mountain, 4 seaplanes turned up collected water from the Rhone and put it out. We photographed the planes picking up water as we passed.

In the evening we walked into town and had a cold beer. Very noisy night with loads of traffic.

Days run: 42 N.M. Total: 1,219.5 N.M.

Travelling time: 0945 - 1930hrs

Monday 18th July 1994.

0915hrs engine maintenance, 0940hrs left mooring. 1028hrs Bourg-les-Valance lock. 1040hrs left lock having shared it with a very well laden barge, water came in very fast. 1250hrs moored at quay at Tournon to get supplies but all shops shut at 12 noon so we were out of luck.

1305hrs restarted trip.

1352hrs Lock No.4, Gervans, lucky straight in and tied up.

1404hrs left lock.

At 1530hrs wind got up very strong and we had to take down the awning.

1605hrs started to rain, wind on the nose as usual.

1700hrs poured down with rain, oilies on, as we would at sea.

1740hrs entered Lock No.3 Sablons, left at 1755hrs, weather better, arrived Marina at Port Des Roches-de-Condrieu at 2025hrs and moored on pontoon.

Beef

Bourguignon for dinner and then a shower, most enjoyable.

Days run: 48 N.M. Total: 1,267.5 N.M.

Travelling time: 0940 - 2025hrs.

Tuesday 19th July 1994.

Got up early with the intention of making early start, Wally was hanging out some washing when his back suddenly went, he was in terrible agony. He had to spend the day laying on the bunk. Looked to see what tablets Jo had supplied, found some strong anti-pain tablets and this made him drowsy. At lunch time made chicken sandwich he sat up took one bite and nearly passed out. Had to put cold compress to forehead and neck, felt a little better but had to lie down for the afternoon. Tried to check with Jo on the phone but the blasted answer machine replied until John Lonton picked it up. Did a bit of shopping in town whilst Wally slept. Had chicken salad early evening,

Wally ate a little. Heavy thunderstorm with large hail stones which lasted quite some time. (Weather is either too hot, too windy or too wet). Hope to continue tomorrow as we are meeting Jo at weekend at Chalon- de-Saone.

Carried out engine maintenance ready for the morning.

Days run: Nil. Total: 1,267.5 N.M.

Wednesday 20th July 1994.

Port Des Roches-De-Condrien, 0730hrs moved to another pontoon and filled up the water tank. Went into shopping area got fresh bread and more butter.

0825hrs cast off and commenced day's trip. Entered first lock at 0930hrs left at 0949hrs. Wally still suffering from his back so I had to perform on my own. Weather terrible, raining and very misty, at one stage I had to put on cruising lights it was that bad. There were a lot of pieces of trees in the water due to previous

night's storm. Went through another lock, Pierre Benite, and then travelled through Lyon. Looked for place to moor but all seemed only suitable for speed boats, went through another lock which had very poor securing points. Then moored overnight in an old lock called Lock Benalin. I feel very tired having performed steering etc. on my own all day.

Days run: 47.3 N.M. Total: 1,314.8 N.M.

Travelling time: 0825 - 1950hrs.

Thursday 21st July 1994.

0800hrs engine maintenance, engine water filter full solid with rubbish. 0825hrs cast off, Wally still suffering with his back but says that it is getting better. 1245hrs Lock No.4, Druce. Kept waiting outside until keeper walked back from his house, water let out very quickly and another English yacht came out. We went in and the water was let in very, very quickly. 1530hrs we stopped at Macon Quay so Wally could go ashore to phone his mate in Wales to send some flowers to Barbara for her birthday. At 1735hrs we moored at Tournus Quay for a free night's sleep.

Days run: 51 N.M. Total: 1,365.8 N.M.

Travelling time: 0825 - 1935hrs,

Friday 22nd Ju1y 1994.

0800hrs engine maintenance, 0910hrs cast off entered Ormes Lock No.2 and left at 1014hrs. The lock was open waiting on arrival so we were in and out very quickly. Carried on, not many boats on the river and we arrived at Chalon and moored at 1255hrs in almost the same place as we did on the journey down. Went ashore in the evening and had a drink, saw some actors performing in the street and a big march come pageant that went on until well into the early morning.

Days run: 18 N.M. Total: 1,383.8 N.M.

Travelling time: 0910 - 1255hrs.

Saturday 23rd July 1994.

Chalon-de-Saone. 0830hrs went to Casino Supermarket for bread and cornflakes. Jo should arrive today. After breakfast cleared off her bunk and put down carpet in main cabin, tidied up generally ready for her arrival. Jo arrived about 1300hrs. Later went shopping at Casino Supermarket.

Days run: Nil. Total: 1,383.8 N.M.

Sunday 24th July 1994.

0900hrs engine maintenance filled up with water and 90 litres of diesel (FF388.) Set off on journey home via Centre Canal went through 10 ascending locks, eventually moored between locks at Forges - Deperieal locks. Very hot day.

Log out of use due to not being able to remove dirt blocking it and numerous locks.

Days run: 19 N.M. Total: 1,402.8 N.M.

Travelling time: 1030 - 1900hrs.

Monday 25th July 1994.

0830hrs engine maintenance 0900hrs through first lock still ascending, canal quite narrow most of the way. The locks were very close together and most of them seemed very faulty, either waiting for them to open, close or let us out. We went through 14 ascending locks all quite small and the bollards were not very well located, the water came in very fast and the boat took quite a bit of controlling. We then started descending, this was much easier although the bollards were still awkward when we had a narrow barge with us. We went through 12 descending locks and then at 1930hrs we moored against the side of the canal by the roadway. Several of the locks caused problems and at one where we were held up Jo washed her hair at the water hose.

Days run: 18 N.M. Total: 1,420.8 N.M.

Travelling time: 0900 - 1930hrs.

Tuesday 26th July 1994.

0830hrs engine maintenance. 0900hrs entered first lock. Up to 1500hrs we had been through 8 locks all descending and with about 20 minutes wait at each one, hence the very slow mileage. 1915hrs moored against side of canal at Coulanges, cold water and toilet supplied, had wash down, in open building, very cold but refreshing.

Days run: 29 N.M. Total 1,449.8 N.M.

Travelling time: 0850 - 1915hrs.

Wednesday 27th July 1994.

0845hrs engine maintenance, morning very foggy. 0900hrs cast off after getting bread from local shop. Then travelled a few kilometres and after first lock moored and bought potatoes etc. from village shop. Weather very hot. We got behind a very slow hire boat, three to each lock. I had to get down on the rudder and clear grass from the prop. We left Canal Lateral at Decise and took wrong turning for the canal off River Loire and went aground, so into water again and with the help of 2 French fishing lads managed to push the boat back into deep water, gave them some beer then moored for the night. Spoke with English couple on boat "Kiwi Lady", who persuaded us that the route we were taking was a bit shallow, so we decided to go back on the Canal Lateral.

Days run: 31 N.M. Total: 1,480.8 N.M.

Travelling time: 0900 - 1915hrs.

Thursday 28th July 1994.

0900hrs engine maintenance, 0930hrs cast off and went with "Kiwi Lady" back through 2 locks onto the Canal Lateral, they turned left and we turned right, they were going south and us north to Paris. 1545hrs down on the rudder again to clear prop of grass and thorn wood, some spots of rain but still very warm. At 1629hrs we entered Guentin double staircase lock and left the second part at 1654hrs, a very deep descent. At 1845hrs we moored at Marseilles-Les-Aubigny, a very small quiet town, showers and toilet, all new and available.

Days run: 32 N.M. Total: 1,512.8 N.M.

Travelling time: 0930 - 1845hrs.

Friday 29th July 1994.

0800hrs filled greaser and carried out engine maintenance, bought bread, paid mooring fees FF25. 0925hrs cast off waited for lock 25 then lock 26 and then on way. A very warm/hot day, passed through 14 locks, all descending. At the end of the evening travel heard funny noise from engine locker, the air filter had worked loose and dropped off, soon screwed back into position. Moored against pontoon for night, had dinner and looked around the town which was quite big. Chatillon-sur- Loire.

Days run: 37.8 N.M. Total: 1,550.6 N.M.

Travelling time: 0925 - 1925hrs.

Saturday 30th July 1994.

Chalillon-Sur-Loire. 0830hrs, engine maintenance, cast off, night's mooring no charge, filled up with water etc., all free. 0920hrs passed over River Loire via Briare Aqueduct, 663 metres long. Had to wait at Lock No.7 because of trouble with the gate. We passed through a total of 28 locks, ascending and later descending. We moored at 1748hrs after passing through Tuilerie Lock. At one stage there was a little rain so on with the oilies again but still very warm.

Days run: 29.3 N.M. Total: 1,579.9 N.M.

Travelling time: 0830 - 1948hrs.

Sunday 31st July 1994.

0845hrs engine maintenance, 0900hrs cast off, went through Montargis part of which looked like a miniature Venice.

At 1010hrs stopped by the side of the canal, Wally and I held the boat against the side, nowhere to moor whilst Jo went to a supermarket to get bread, chicken etc., supplies a bit low. Entered Canal du-Loing at just before noon. Passed through a total of 19 descending locks, moored by Episy Lock No.16, had chicken dinner and melon for sweet. Walked around the village and had a couple of drinks in local bar. Rained very hard during the night.

Days run: 26.6 N.M. Total 1,606.5 N.M.

Travelling time: 0900 - 1925hrs.

Monday 1st August 1994.

Lock Episy. 0900hrs engine maintenance, changed engine oil, tightened engine mounting bolts that had worked loose again. Entered Episy Lock but had to wait 20 minutes for another boat, left lock at 1029hrs. At 1225hrs moored at Moret- Sur-Loing. 1510hrs cast off after visiting bank and supermarket. Then went wrong way along the river until we met the boat "Capri" which had been in the locks earlier, we both went into lock together. It was then we realised we were going the wrong way, we turned the boat around whilst still in the lock, then went back the way we had come. When about 20 minutes downstream there was a loud noise from the engine, we stopped engine and after dropping the anchor and waiting awhile we started the engine again and there was a loud bang and the engine stopped.

We dropped anchor again, a large barge going up stream stopped and took us in tow, eventually taking us through the lock again, where we had turned around and on to Montereau where we moored against another barge being converted at a boatyard. The local engineer will visit us at 0900hrs tomorrow.

Whilst being towed by the barge we touched 7.5 knots just about the fastest "Dougaljo" has ever travelled The skipper of the barge refused payment so we gave his daughter a litre bottle of brandy for him in appreciation, I don't know what we would have done without his help.

Days run: 13 N.M. Total: 1,619.5 N.M.

Tuesday 2nd August 1994.

The engineer visited us, the engine is seized solid, so it has to come out Wally and I disconnected the engine and had it ready to be removed by 1330hrs. We had a look around Montereu. It was decided that we would lift the engine out of the boat by hand. The yard owner's wife came aboard with a large iron bar, rope and two men. She got at one end of the iron bar and three of us men got at the other and we lifted it out of 'Dougaljo' , carried it across the two commercial barges and onto the bank, some woman, she was as strong us the three of us!!

Engine taken to the workshop and now we must wait until it is stripped before we know how much damage there is.

Wednesday 3rd August 1994.

Engineer due to look at the engine this afternoon, they seem convinced that it is the starter motor but we don't agree. Saw the engineer this evening and he agrees much more serious than the starter motor, if it is not too serious and the parts are available, then it will be ready by Friday.

Thursday 4th August 1994.

0800hrs called at the workshop, engine head off and worst fears confirmed. Due to a manufacturing fault in connecting rod, it has broken causing a piece to break off at the bottom of the cylinder, engine appears beyond repair without replacing the engine block, cylinder, piston rods etc. Prepared a Fax to Lister-Petters, Gloucester, listing findings and the fact that the engine has only done just over 470 hours, awaiting reply, now 1130hrs French, 1030hrs English Summer time.

1145hrs sent fax to Lister-Petters on 0103 31 04 53 884800.

1200hrs Phoned Lister-Petters from call box, girl said she would phone back. Waited 10 minutes - no reply.

1210hrs phoned again the girl had taken down the number wrongly. She phoned back and I was connected to a Mr. Ellis who listened to the copy of the Fax that I had sent. He said that the marine side of business was no longer dealt with by his office, gave me another number and ask for Mr. Allbright or Mr. Don Asher. He would pass my message on to them and said that the Paris office would probably deal with it. I gave him the telephone numbers of the workshop where I could be contacted. 1350hrs Mr. Don Asher phoned me at the Post office stating he had received the Fax and phone call from Mr. Ellis. He was trying to trace an engine to transport to me, part of the company was on holiday but thinks he has traced a basic engine. Not many 2 cylinders kept on shelf, Paris is also looking. Doing utmost. Stated my engine was 6 years old, I told him I purchased it at the London Boat Show 3 years ago; apparently his department of the company have only been dealing with the sales of the engine since last December.

1525hrs received a Fax from Don Asher stating that he had found an engine and that he was checking for a way of getting it to us. He requested confirmation of our location.

1720hrs I spoke with Don Asher, he confirmed that he had an engine available and was trying to arrange transport which would probably be on Monday 8.8.94 with usual load to Paris. He described the engine which appears to be a later model than mine, I will have to fit my own starter and alternator. He will confirm time and date of delivery when known by Fax, expected to be Monday.

Friday 5th August 1994.

1610hrs phoned Lister-Petter, Don Asher not at work today, I spoke with a female who apologised for not sending a Fax but said that the engine had left the factory at 1045hrs this morning and would arrive at Montereau location late Monday or early Tuesday. She asked that I phone again on Monday for the actual time of arrival. She said the engine had been sprayed and necessary parts were with it.

Spoke with the owner of the workshop, he asked about the disposal of my engine. I then sent a fax at just after 1500hrs local time (1600hrs English time) to Lister-Petter requesting their wishes re the old engine and asking for them to send a return Fax.

Monday 8th August 1994.

Phoned Don Asher at 1155hrs waited for him to phone back but no reply by 1215hrs so phoned again. I was put through and he called me back, said engine on way and would arrive today or tomorrow. I discussed the fact that he said the engine was manufactured 6 years ago and he would like to know the name of the salesman. He said that a man named John Day would call to see my engine and arrange for transportation back to England for it to be examined to see cause of the breakage and decide cost etc.

1530hrs engine arrived by lorry from England, starter alternator and gearbox to be changed over, work started by lady, Mrs Crettier.

1710hrs Phoned Dan Asher informed him engine had arrived, thanked him and told him that I would contact him on my return home.

Tuesday 9th August 1994.

0855hrs went to workshop, engine ready to be fitted. Moved boat to inside of barges, crane lifted engine aboard. Then we connected gear change, fuel pipes etc. There was no fixing for fuel return pipe, the two Lister-Petter men from Paris, John Day and Francis Boisleve who had arrived were very helpful, they supplied rubber tubing and after lunch managed to find a second-hand fitting for the return pipe. I had to cut a hole in the engine compartment to refit the wet exchange box and rubber hose which was supplied by Mrs. Crettier together with larger jubilee clips. Water and engine oil were put in and the engine started at about 1400hrs. John Day and Francis were present and took photographs. We left the mooring at 1445hrs and restarted our journey to Paris.

Cost: Labour - FF1,400. Oil - FF120.93s. Distilled Water FF35. (Antifreeze??)

Total: FF1,555. (£194.37p)

We travelled from Montereau to Melun and then moored for the night.

Days run: 20.9 N.M. Total: 1,640.4 N.M.

Travelling time: 1445 - 2005hrs.

Wednesday 10th August 1994.

0835hrs engine maintenance, attempted to get the engine to run a bit slower by adjusting the throttle control wire. 0915hrs cast off and resumed journey to Paris. 1020hrs Lock 4, Vive-Eaux. 1200hrs lock 7, Coudray. The countryside along this part of the river is quite a rich area with nice houses and gardens. 1331hrs lock 8, Evry, moored alongside river and had lunch whilst waiting for 9 barges and 2 boats to come out of the lock.

Lock 9, Ablon in at 1515hrs, out 1546hrs, this lock had sloping sides so we were in the middle not tied on at all. At 1550hrs had usual look at the engine and saw that the bilge water had diesel with it, realised that the end of the return pipe which goes to the tank must have come off, this was due to the pipe stretched to its maximum to fit the new engine. Replaced the pipe and all appeared OK again although strong smell of diesel in the cabin. Jo cleared all of the bilge water/diesel out of the bilge. 1822hrs moored outside entrance to Canal where marina is. 1922hrs moored in the Paris marina. Wally went off to meet wife Barbara.

Days run: 28.7 N.M. Total: 1,669.1 N.M.

Travelling time: 0915 - 1922hrs.

Thursday 11th August 1994.

Moored in Paris Marina, FF119 per night, shower etc. available. Had a good look around Paris, travelled on the Metro. We now have four crew aboard, Wally, Barbra, Jo and myself.

Friday 12th August 1994.

0845hrs engine maintenance, 0955hrs engine started, 1010hrs through lock into River Seine. We had to wait for green light to proceed, this is an alternative one way system, very interesting trip through Paris, saw most of the sights from the river, very interesting. Passed through locks during day's trip and at 1950hrs we moored in Port St Louis Marina which was an old gravel pit, very quiet and no charge, no facilities.

Days run: 40.5 N.M. Total: 1,709.6 N.M.

Travelling time: 1000 - 1950hrs.

Saturday 13th August 1994.

0730hrs, engine maintenance, 0740hrs cast off and started day's trip, weather misty and quite cold. 1000hrs weather brighter and sun starting to shine. 1135hrs waiting outside Lock Mericourt, left lock at 1205hrs. 1600hrs into Lock Notre Dame Du La Garenne out at 1645hrs. At 1900hrs moored outside of Lock Amfreville having completed a record mileage for the day.

Days run: 59.4 N.M. Total: 1,769 N.M.

Travelling time: 0740 - 1900hrs.

With the help of the current we actually logged 65 N.M.

Sunday 14th August 1994.

0910hrs engine maintenance. 0915hrs cast off and at 0930hrs entered Lock Amfreville which is the last one on the trip. At 0945hrs we left the lock and moved into the tidal Seine. At 1119hrs moored at Elbeuf for bread etc., cast off 1155hrs. 1400hrs passed through the town of Rouen an industrial dockland, then back out into the country land on the River Seine. 1800hrs moored at Dualare and went ashore where we had an excellent French meal.

Day's run: 38 N.M. Total: 1,807 N.M.

Travelling time: 0915 - 1800hrs.

Monday 15th August 1994.

0930hrs, engine maintenance, 0945hrs cast off,

Royal Viking passenger ship passing. 1200hrs passed by the town of La Mailleraye-sur-Seine. 1400hrs passed oil refinery apposite Quillebveauf-sur-Seine, 24 kilometres to Honfleur.

At 0540hrs this morning the boat rocked about violently, this apparently was caused by the nearby ferry boat starting up, we all jumped up got dressed and adjusted the fenders but it did not happen again, we went back to sleep for a couple of hours.

1500hrs the tide is now against us, very slow travelling. At 1725hrs we moored at Honfleur Harbour.

Days run: 39 N.M. Total: 1,846 N.M.

Travelling time: 0945 - 1725hrs.

Tuesday 16th August 1994.

It is our intention to have the mast stepped this morning, it was arranged with a firm with a crane but on casting off, we found that the bridge would not open until 1815hrs, so we had to moor again and wait for 1815hrs. Weather very sunny and warm. At about 1730hrs we spoke to a man who was going to put up our mast and he told us there was no crane driver available and that he could not promise anything definite for Wednesday, so having waited all day there was no hope of getting the mast put up at Honfleur. At 1810 the bridge lifted so we motored to Le Harve, the sea was getting quite rough by the time we arrived. At 2045hrs we moored for the night. Had a very nice evening meal in local restaurant.

Days run: 12 N.M. Total: 1,858. N.M.

Travelling time: 1810 - 2045hrs.

Wednesday 17th August 1994.

Blowing a gale and raining. At 1100hrs we raised the mast under very difficult conditions but we could not 'tune' it, returned to pontoon and moored again, gales forecast for next couple of days. Went into town to get cash from the bank. Raising mast FF480.50 plus FF164 for 2 nights mooring. Weather very bad all day, waves breaking over the harbour wall.

Days run: Nil Total: 1,858 N.M.

Thursday 18th August 1994.

2nd bottle of gas empty changed over to third and last bottle of gas, this one lasted 56 days.

Tuned the mast and attached sails. 1230hrs started engine after maintenance and cast off for Fecamp, sea quite "lumpy". At 1730hrs we moored in Fecamp Harbour, trip quite rough. Showers available. Dinner taken in local restaurant, FF67 each plus wine and tips FF100.

Days run: 26.3 N.M. Total: 1,884.3 N.M.

Travelling time: 1230 - 1730hrs.

Friday 19th August 1994.

Very wet and windy night, quite rough even at the mooring. Much too rough to continue trip today. Walked around Fecamp. Visited the bank.

Days run: Nil. Total: 1,884.3 N.M.

Fecamp mooring: FF102 per night plus FF1 each per shower.

Saturday 20th August 1994.

0730hrs went with Jo and girl Elaine to bus for Dieppe, saw them off. Jo has to get back home for work, she has been on board a month when two weeks had been intended.

Had shower and breakfast, etc. 0945hrs engine maintenance. 1000hrs engine started and left mooring. Sea a bit rough on leaving the harbour, but not too bad once on course for St. Valery. 1250hrs moored to buoy at St. Valery whilst waiting for lifting bridge to open. 1305hrs moored to pontoon inside harbour. A very pretty, clean town. Had lunch and then looked around the town, very pleasant. This is far better mooring than Fecamp.

Mooring: FF92 including shower (3rd night free!!) First opening of bridge on Sunday - 1015hrs.

Days run: 13.7 N.M. Total: 1,898.7 N.M.

Travelling Time: 1000 - 1305hrs.

Sunday 21st August 1994.

0930hrs engine maintenance, 1015hrs cast off, went through gates and lifting bridge. 1020hrs left harbour. 1040hrs engaged auto pilot and set sail to Boulogne. Very reasonable motoring, wind on the nose all the way so couldn't use sails. Got to Dieppe at about 1230hrs decided too early to stop, so decided to continue to Boulogne. 1708hrs used Sat-Nav to check position and did so every hour. Nothing unusual, arrived in Boulogne in the dark at 0145hrs 22/8/94, a very big entrance to the harbour, but very little room at guest moorings. One Englishman got from his bunk as we were about to moor next but 2 boats to him and complained about having small mooring ropes. We could not get a satisfactory position so we tied up by the fishing boats, had a meal and cup of tea and then set sail for Dover.

Days run: 74.8 N.M. Total: 1,902 NM.

Travelling time: 1015 – 0145hrs.

Monday 22nd August 1994

0240hrs started engine, cast off and set sail for cap Gris Nez. 0400hrs changed course to 360' for Dover, we very soon saw the glare of the Dover Harbour lights. Wind N.E. and tide on the way out so we had a very rough crossing. Quite a number of large ships in the traffic lanes but got through without too much effort. Got to Dover Harbour at 0800hrs, tied up alongside a Swedish yacht until 1100hrs then entered inner harbour, very pleasant under Dover Castle. Cost without electricity £1.00 per metre, £1.20 with electricity. Had a sleep, something to eat and then a walk round the town, quite nice, worthy of a trip from Burnham.

Days run: 26.2 N.M. Total: 1,928.2 N.M.

Travelling time: 0245 - 0800hrs.

Tuesday 23rd August 1994.

1115hrs purchased 29 gallons (132 litres) diesel (£31.32p). Returned to mooring. 1235hrs left marina but had to wait for ferries to come in from Ramsgate. 1305hrs left harbour, 1400hrs passed Deal Bank Buoy, altered course to 030'. 1413hrs passed Dover's Buoy, altered course 005'. 1421hrs South Bank Buoy altered course to 350'. 1515hrs arrived Ramsgate and tied up at mooring. Walked around the town. A very pleasant sail on this short trip Dover to Ramsgate.

Days run: 12 N.M. Total: 1,940.2 N.M.

Travelling time: 1235 - 1515hrs.

Wednesday 24th August 1994.

0715hrs, engine maintenance. 0735hrs left Ramsgate harbour.

0745hrs course 030'. 0817hrs course 355'. 0930hrs course 320'.

1018hrs 335'. 1112hrs course 330'. 1320hrs course 040'.

1358hrs Black Deep Buoy No.3. 1425hrs Black Deep No.1.

1441hrs course 408'towards Kings Channel. 1455hrs course 245'.

1650 Gunfleet Spit Buoy, alter course 250'.

1900 Whitaker Buoy travelled on course 245'.

2130hrs dropped anchor to wait for tide to rise to reasonable safe depth.

2225hrs Wally called Thames Radio and I spoke with Jo, on Radio Phone call. Also called Bradwell Coast Guard re: a stranded sail boat called "Mud Lark" which had gone aground.

The weather started out quite warm but during the trip changed to very, very windy, 40 knots, very rough trip.

Days run: 70.5 N.M. Total: 2,010.7 NM.

Travelling time: 0735 - 2130hrs.

Thursday 25th August 1994.

0140hrs started engine, lifted anchor and left the Whitaker Buoy, set off very slowly on G.P.S. heading for Burnham-on-Crouch. Very difficult trip trying to identify various buoys, eventually found Buxey No.2 Buoy and then the Outer Crouch Buoy, thence up the Crouch to Rice and Coles, the weather was wet just as it was when we left on 15th May 1994.

Days run: 16.1 N.M.

Travelling time: 0140 - 0605hrs.

Trip: 15/5/1994 to 25/8/1994 (103 days.)

Locks Total: ???? Total Mileage: 2,026.8 N.M.