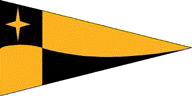 <![if !vml]>

<![endif]>
---
HOMEWARD BOUND WITH BORER BEE
Voyage from Singapore with a standard Y.M. Eventide bilge-keel sloop. February to October, 1959
By EDWARD ATKINSON

(reprinted by kind permission of the Yachting Monthly)
The Author Lt-Comdr E. W. Atkinson, R.N., with the help of another naval officer, built Borer Bee to a set of YACHTING MONTHLY Eventide plans during the time he was stationed at the Naval Base in Singapore. Except for the omission of deadlights in the topsides, the boat was built exactly as designed with marine ply planking, iron ballast keel and mild steel bilge-keel plates. LOA 24ft and DWL 18ft. Borer Bee has 8ft beam and draws when upright in normal trim 2.lft. Loaded down at the beginning with tinned stores, for her entire voyage she floated between 2in and 3in below her marks, but it did not appear to adversely affect her performance. On the contrary the authors observations indicate a better performance to windward when loaded. Sails carried were all cotton as not too much was known about chafe on stitching in terylene at this time. Large and small foresails, standard main, R.N. cutter trysail and storm jib.
At 16.00 on 3 February, 1959, the great moment had arrived. With stores for our voyage home stowed beneath the fo'c's'le floorboards and cabin bunks, under the cockpit floor and in lockers, with 52 gallons of fresh water in her tanks and eight gallons of petrol for the Seagull outboard motor in jerricans stowed on the after deck, Borer Bee stood away down the Johore Straits.
My crew, who was to remain with me throughout the voyage was Fred Fisher, an able seaman from the destroyer H.M.S. Cavalier which was recommissioning in Singapore shortly before our departure. Aged 23, he had some experience in sailing the new 'three-in-one' Naval whaler, including one voyage of over 100 miles. His knowledge and ability increased rapidly with experience and he was to prove a good companion on our long voyage.
On the 5th a squall. blew up in the dog watches and we logged 6.4 knots. An almost full bottle of whiskey had inadvertently been left standing uncorked on the cabin table. It was still standing there; its precious contents intact, when the wind died down. A stiff boat the Barer Bee !
Penang was reached on the 11th.
The north-east monsoon was nearing an end and, despite generous hospitality ashore, we had to press on, and on the 15th Borer Bee was once more at sea, heading westward for Colombo.
Winds were again light variable and on Sunday, 22 February, one week out from Penang, we had done 150 miles and were beginning to wander what had happened to the monsoon. We had the answer at 16.00 that afternnon when we picked up a moderate north-easter, and by 07.00 on the 23rd were through the Malacca Passage and in to the Bay of Bengal, steering west with a fresh wind on our starboard quarter.
During that afternoon I sighted a long line of white tops stretching across our course from horizon to horizon. A quick look at the chart and pilot book gave no clue as to the cause, so we raced on towards them. It turned out to be a tide rip. Large waves, concave on both faces, were tossing plumes of white water into the air. We hurriedly closed the fore hatch and sailed on. This was our first experience of rough water with Borer Bee in her heavily laden condition, and the result was reassuring. By afternoon the wind had increased 'to Force 6 and we were planing on wavetops. At one time we logged 7 knots, rather higher than the maximum theoretical sailing speed for a hull of this WL length.
Ships' routine was by this time well established and was based on the normal system of watch and watch, splitting the dogs to ensure a change of watches and chores daily. The morning watch below would cook the breakfast and take his salt-water bath on the foredeck before taking the helm. The forenoon watch below would wash up the breakfast things and do the morning chores like any housewife. A snack lunch was taken by the afternoon watchman before going on watch and by the forenoon watchman when relieved. The first dog watch was relieved at 17.30 instead of the more usual 18.00 to give him more time to cook the supper. Many people have asked me why we did not rig some self-steering device. The answer is that we did not expect, neither did we ever get, winds sufficiently steady and free.
Our food was mainly tinned, of course, as fresh fruit and cabbage rarely lasted more than a week. However, potatoes kept on the coach roof in an open crate lasted very well and onions several weeks. Eggs greased with Spry and individually wrapped in grease proof paper lasted through our longest spells at sea. These items provided us with variety. We often had spaghetti and occasionally a rice meal. Although we seldom used fresh water for cooking and never for washing, rationing was resorted to only in the Arabian sea.
On 5 March Borer Bee brought up in the harbour at Colombo, having sailed 1,100 miles from Penang in eighteen days. The 960 miles across the Bay of Bengal had taken just under ten days.
The Royal Colombo Yacht Club made us welcome and we enjoyed the hospitality of many of its members, but, always haunted by the fear of failure through losing the monsoon we could only stay long enough to get stores and do essential maintenance work. At 10.00 on 10 March we were towed out to a good offing by the Resident Naval Officer's launch, and with a light north-westerly wind on our starboard bow we ghosted away close-hauled to the westward.
At 23.00 the wind veered to the north-east and remained with us for 24 hours. We were beginning to entertain hopes of a fast passage to Aden when, on the 11th, just before midnight, the wind fell light : it remained light variable and on the 16th and 17th we were becalmed for two whole days.
I became very worried about our water supply. We were rationed to a gallon per day which was drawn daily and divided into one-third of a gallon each and one-third for the galley for tea and coffee-making. We also had some beer and tins of fruit juice as well as a solar still. In strong sunlight this still, designed for life-rafts, was said to be capable of making one pint of fresh water per day out of sea water. It seemed to me, however, that we might have to spend something like another 60 days at sea waiting for the early stages of the south-west monsoon.
It was therefore obvious that we would have to top up our tanks somewhere, and Minicoy, between the Maldives and the Laccadives, was the only place within motoring range. By my reckoning, we were about 85 miles away.
Minicoy is actually a small atoll, roughly elliptical in shape, the major axis lying in a NE-SW direction. The island forms the south-eastern side and a barrier reef the north-western. Enclosed within these natural barriers is a lagoon five miles long and varying between one and two and a half miles wide. The entrance at the north-eastern extremity is about two cables wide. A heavy swell rolls in over one-fathom patches. The land is narrow and low-lying but coconut trees grow to a height of about 100ft. There is a lighthouse on the south-western extremity of the island. The current sets in a southerly direction, very strongly at times.
As we came into shallow water the swell increased, and ahead of us the gap in the breakers looked very small. As we approached, the water over the dark coral patches looked perilously shallow in the troughs. Then, suddenly it seemed we were in calm water. On our port bow we could just see a number of large sailing ships anchored near the beach and we headed for these.
The natives of Minicoy, small and dark, are Muslims and were at this time observing the fast of Ramadhan, so wine, women and song were off. They were extremely friendly and the head man took us to his house and gave us coconuts to drink. Having entertained us a while on his veranda in front of a large audience, he took us to the back of his house where there was a large Moorish-style well, and here we enjoyed a cool fresh-water bath. In the afternoon a large number of men and boys turned out and watered ship for us, wading out with four-gallon cans of it on their heads. In the cool of the evening the elders proudly showed us round their island, returning with us to be entertained on board Barer Bee.
The next morning, with a deck load of coconuts as a parting gift, we sailed. Once more we had that dreadful entrance to go through, this time beating into the wind with help from the outboard. Once clear we ran down the east coast in fine style, keeping well to seaward of the roaring surf. Alas, the wind was soon to fall light again and it was not until the 23rd, two days out, that we put up our first 100 miles.
These calms in the tropics were very unpleasant, especially for the afternoon watch on deck. He was usually tired, having had a maximum of four hours' sleep during the night ; the sun beat down from a cloudless sky, and sharks could be seen beneath the glassy surface. Under these conditions the slatting of sails is extremely irritating.
Easter Sunday dawned as so many other days had done with Borer Bee close-hauled in a light north-westerly wind. During the day the wind strengthened sufficiently to keep us continuously under way and freed a little to the northward. At 16.00 it increased to Force 4 and we caught a fine bonito for our supper. Twelve miles were logged during the dog watches and another twelve during the first. Morale soared sky high.
By noon on the 30th the wind was north-east, moderate to fresh, but decreased during the night until half-way through the morning watch when we were again becalmed. It picked up again rapidly, however, and remained with us for ten wonderful days, occasionally falling light but never calm. During this time we caught several fish and Fred cooked his first loaf of bread, which was a great success. Our position had so far' improved that we put the solar still into operation and were then able to make a pot of tea every afternoon.
During these ten days, the wind being mainly northerly, I was unable to make as much northing as I would have liked without pinching. On the other hand, it was essential to make as much westing as possible while the heaven-sent wind lasted. At noon on 10 April the wind fell light and we started tacking to the northward to avoid the strong east-going current that runs southward of Socotra. Most of the following day we were becalmed and abnormal refraction reared its ugly head, making my sun sights very unreliable.
Light airs and calms again beset us until the 16th. Occasionally we sighted Sacotra, only to be set back to the eastward. At one time, heading west, we thought we were south of the island, when it suddenly appeared to port. There was no wind and in the evening it appeared that we were being set southward towards the island. At 19.00 I therefore started the engine and steered north-west until midnight, when I considered that we had a safe offing.
At 02.00 a south-westerly sprang up which increased slowly throughout the morning and by noon was Force 4. We had at last got clear of Sacotra.
<![if !vml]>
<![endif]>
Native "Welcoming Committee," Minicoy.
The wind backed southerly and steadily increased, until at midnight we deemed it prudent to take down a reef, which was shaken out again at 03.00. It blew southerly Force 6 most of the day on 18 April. The sea became rather rough and there was a big swell. We reefed again at midnight and Fred called me at 02.30 to shorten sail further. Borer Bee was going like a train, but she was taking a terriffic hammering under her weather chine from the beam seas which looked really menacing in the dark. It was very wet, with sheets of spray being whipped across our decks. Fred was quite right to call me, as reefing single handed under these conditions can be difficult and hazardous. We had previously taken the precaution of making safety harnesses from heavy canvas for just such occasions and were often glad we had.
The wind dropped quite suddenly at 07.30 and we hoisted the main, shaking out the reefs. The seas were still mountainous and we had little way on. Suddenly, only 50 yards away I saw two large whales lying athwart our course. They appeared to be courting, so, thinking that they might object to being disturbed, I tactfully put the helm up and we just managed to squeeze past. As we passed they turned head on to us and I thought `now for it', but we lost them in the rising morning sun.
We were now in the Gulf of Aden and could expect easterly winds, but there were light airs for the rest of the day and we even enjoyed it after the rigours of the past two days. At 22.30 we spoke to the survey ship, H.M.S. Owen, and asked her to report us to the Resident Naval Officer, Aden. Light airs persisted throughout the night, but at the end of the morning watch we had an easterly wind, Force 2. `Look out Aden' we said, `here we come.'
In the afternoon the wind freshened to Force 5 and at 15.00 we made a landfall on Ras A1 Kalb. The monsoon here was abiding strictly by the rules, far, unlike other ports of the Arabian Sea, it was still fresh during the latter part of April and it had gone round to the east.
The excitement of the previous day had made us forget to wind the chronometer and at that time we were not receiving any radio time signals. At 08.00 on the 21st, therefore, seeing an enormous tanker quite close to us, I called him up on the Aldis lantern and asked him for a time signal. His reply was `at the next flash the time will be . . . ' We never did discover what the time would be because signalling abruptly stopped. The tanker then started to make a turn which seemed to take up most of the Gulf of Aden, while I backed my foresail and hove-to. He then headed straight for us.
He is going to pass close astern, we thought. As he came nearer it became clear that it was going to be a close thing. His bows seemed to hang over us and then his part bow monopolised the scene and I realised that he was going to cross our bows. He did. What seemed like miles of towering grey steel topside slid past at a distance of about 25 yards. As we came abreast the bridge a voice boomed at us. `When I say "now" the time will be . . . ' By now I did not think a time signal would be of much use to us. As we cleared astern the tanker's logline almost touched our forestay. To my great surprise and joy, I found that Fred had taken the time signal.
The next day at about 17.00 we turned north, and with the wind abeam and lee rail down we streaked into Aden Harbour. A naval launch came out as we entered the lee of the headland and towed us to a berth at the Naval Base. We had made it There were handshakes and congratulations and, above all, a fresh-water bath. The last one had been at Minicoy, 32 days before and 1,700 miles away.
We spent fourteen days at Aden. Rest was needed and Borer Bee's topsides were as green as grass. Fred and I had done 68 days of watch-and-watch with only ten days in harbour. Apart from one day in Minicoy, we had been living for 42 days on only half a gallon of water each per day. Both of us felt very tired and I was suffering from septic sores which I was anxious to get rid of before facing the Red Sea.
The time sped by and on 6 May, with our larder more than replenished and with 28 gallons of petrol in 4-gallon tins (with the compliments of BP) on board, we sailed for Perim at the southern end of the Red Sea. Winds were light north-easterly and we arrived at Perim at 17.00 on the 8th.
Two days were spent in tidying up the hasty last-minute jobs which were done in Aden and cleaning ship and at 14.00 on the 10th, with the storm foresail set and five rolls on the boom, we tacked out of Perim Harbour. It was a wonderful bit of sailing with a wind of Force 6 or 7 and Borer Bee making large strides on each tack.
By nightfall the southerly wind had dropped to Force 3. The sea was smooth and the weather fine as we plodded steadily northward with Port Sudan as our next port of call. Daylight revealed Little Hanish and Great Hanish to port and later in the forenoon we were off the coast of Zuqar Island. At 14.00, going through the Abu Ali channel, we encountered the Strathaird, outward bound. They sounded their siren and dipped their ensign to us. We were deeply touched by this kind and friendly gesture.
Shortly after this encounter we lost the wind again. I now feared the worst. The southerly winds which earlier in the year might have taken us all the way to Port Sudan, and even farther, had deserted us only 100 miles north of Perim. There would be a period of calms and then north-westerlies. My fears were well founded and we were almost becalmed for six days. It was very much hotter than in the Arabian Sea, but unrationed water made all the difference.
At noon on 12 May, as I was getting out the sextant to take a meridian altitude, we saw the troopship Oxfordshire. Latitude by troopship is just as good as latitude by meralt, so I put the sextant away and reached for the Aldis lantern. Oxfordshire obliged and altered course to come very close to us. They wished us the best of luck and the troops gave us a tremendous cheer-the second heartwarming encounter in two days. We had with us an 80 amp hour battery and a smaller Aldis battery which was recharged at Colombo and lasted to Aden. Navigation lights were only switched on if ships were near enough to see them. The radio receiver was used far time signals and weather forecasts only and the small petrol charger we carried was never used at sea.
<![if !vml]>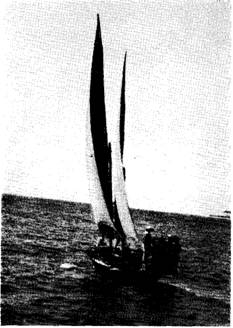 <![endif]>
"All hands will muster aft."
On the night of the 17th an alarming discovery was made. At midnight it was blowing strongly from the north-west with a steep breaking sea, and Fred, going forward to reef, found that the wire main halyard had jumped its sheave and jammed. Ah well, it was not essential to reef and, according to Sailing Directions, this was the close season for gales. The next morning, with the wind fresh and a nasty sea still running, Fred went aloft in an effort to clear the trouble ; but when he got above the level of the cross-trees the ship became tender, began a rhythmic roll, and I had to call him down again.
In the early afternoon it started blowing hard and Borer Bee under full sail was beating into it like an ocean-racer. Barer Bee could take it, but our nerves were not quite so strong, so in extra heavy gusts we lowered the foresail, eventually setting the storm foresail. The wind increased during the night and daylight revealed several merchant ships all anxious to rescue us. Equally anxious to avoid rescue, we were forced to go about rather than sink one of them by ramming.
Shortly after going about, we took a whopper over the lee cockpit coaming. It poured through our non-watertight cockpit and flooded ankle deep over the cabin sole. The time for drastic action had come. I transferred the twin topping-lifts from the boom end to the clew thimble, cut away the foot lacing and clew earrings and brailed the sail up to the mast. Spare halyards were passed round and round the mast from deck level and the foresail was lowered. Warps were streamed over the stern and we ran.
Seas were mountainous and we were occasionally pooped, but the high backboard we had fitted to the cockpit in Aden kept out most of the water. Borer Bee gave us very little cause for anxiety. On the 20th at 05.00 we were able to let her lie beam to wind while we rested, cleaned ship, and ate a hearty breakfast.
A rope halyard was rove and the mainsail set and we headed westward for Taclai with the intention of tacking up the coast inside the reefs. Navigation was difficult. Sun sights were unreliable and the desert sand in the atmosphere restricted visibility. The foreshore was low, flat and featureless and once I found myself taking a bearing on a camel (conspic).
The 24th of May was known for long afterwards as Black Sunday. We lost our log spinner. We went aground on a reef. Fred fell overboard and we failed to reach the Gulf of Aqiq, where we had hoped to find anchorage and a rest. Space permits me to tell of only one of these momentous events. It happened during the afternoon watch and Fred was sleeping below. Tacking up the coast in shallow water I thought I saw the entrance to the gulf. Vigilance was relaxed while I took bearings and studied the chart. Suddenly there was a bump underneath. I looked up and saw a line of waves breaking slightly on the top. There was not much sea running but, nevertheless, the swell lifted us clear and dumped us with a sickening crash on our port side on what I could now see were coral rocks. Fred shot up through the hatch to find Borer Bee hard aground and lying on her port bilge keel. The next swell floated us again and I did my damnest to get her sailing, but there was not sufficient time before we struck again, this time making considerable leeway, and I thought the bilge keel would be bent or wrenched off. Another swell and we were over the reef and in deep water again, sailing off shore on the port tack.
A big advantage of bilge keels had been demonstrated. Without them the planking would surely have been badly damaged, if not holed, and the ship would possibly have become a total loss. Later examination of the bottom revealed no signs of the grounding on the bilge keel plate and no movement whatever to the bottom stringer through which the bilge keel is bolted.
On the 27 May at 21.30 we entered the harbour of Port Sudan and were taken to a comfortable berth by a British pilot.
As a port of call for cruising yachtsmen I can thoroughly recommend Port Sudan, for though now independent, there is a large British colony there. On our first morning Capt. Jim Coles, R.N.R., the assistant harbour-master, came aboard and offered to put us up at his house, an offer we gladly accepted.
We now had little hope of anything but north-westerly winds to Suez and rather bad sailing conditions. Moreover, this would be followed by a hard slog to windward against the westerlies all the way from Port Said to Malta. Being on unpaid leave, we therefore decided in the interests of economy to thumb a lift. Mr. Gibson, a shipping agent and British Consul, very kindly arranged this for us at a total cost of £15 and on 6th June, with Borer Bee stowed on the deck of S.S. Martand, we sailed for Suez.
As minor difficulties arose in the matter of landing Borer Bee in Suez, we stayed on board for the Canal transit and were lowered over the side in Port Said. Berthed alongside the Yacht Club at Port Fuad we re-erected our mast, stored and watered ship, and sailed an 11 June.
Charts were a major problem. We did not have enough space to stow charts for the whole voyage in Singapore, and at Aden and Port Said had found the chart agents very poorly stocked. On leaving Part Said we had only one small scale chart of the Eastern Mediterranean, and as peace had broken out in Cyprus I decided to call there and stock up.
On leaving Port Said we encountered northerly winds, some times fresh, with short, steep seas reminiscent of the Red Sea. On the port tack we remained until noon on the 12th when, having gained sufficient northing to clear Damietta, we went about and steered a course of 300. As this was a good course for Malta, we changed our minds about going to Cyprus. Had the wind then been north-westerly it would have been worth while going to Cyprus, not only for charts and provisions, but to give us a good slant an the Gulf of Sidra, where we might find a modification of the prevailing north-westerlies to our advantage.
The wind backed to the westward and we decided to try our luck off the south coast of Crete. Repairs' to the mainsail were completed and on 26 June the mountains of Crete were sighted. Most of the night following we were becalmed, but in the morning the wind was west-north-westerly and we could only lay a course of 250.
Daylight on the 28th brought with it a strong westerly wind which waited until we had finished breakfast before gusting to Force 7 and tearing our large foresail. It blew hard all night and at 03.20 we shipped a large green one over the head. The man on deck hove-to, pumped out, reefed and got under way again without waking the watch below. It says much for the seaworthiness of Barer Bee that events such as these are rare enough to warrant mention.
The next two days saw us tacking along the African coast. On 2 July the large foresail started to tear, but we got it down just in time. In the dog watches, being very tired, we decided to heave-to for the night. After reefing the main and backing the storm foresail we cooked ourselves an excellent supper and washed it down with a bottle of Egyptian red wine and turned in. Next morning bright and early I went into the cockpit feeling much refreshed. It was a wild looking morning, blowing hard, but Barer Bee was lying very snugly on the wind. Then I felt a few drops of rain. It was the first we had had since leaving the Malacca Straits and my first reaction was to tear off my clothes and grab a piece of soap. Since then I have learned the motto `trysails before trousers'. Suddenly a terrific gust hit us and Barer Bee lay over on her beam ends. Fred was through the hatch like a Jack-in-the-box, but before we could do anything the mainsail had degenerated into three white flags.
flapping wildly from the luff rope in a token of surrender to the elements. As we gathered in the remains the waves increased in height and started breaking.
We lay a-hull under bare poles, but soon the sea conditions became very bad indeed and we were frequently caught in broken water. When this happened Borer Bee would move rapidly sideways to leeward with the wave, and water would pour over the weather side into the non-self-emptying cockpit. I am quite sure that, had our 2ft. 6in. draught been a foot or two greater, the lateral resistance of the keel down in the unbroken water, acting like a drogue underneath the boat, would have resisted this movement and much more water would have been shipped.
In the middle of pumping operations the bilge pump got blocked and had to be stripped ; but even during this operation the water never rose to more than an inch above the cabin sole.
Throughout the forenoon we sustained several direct hits, but in the afternoon, though the general situation did not look much better, we encountered no more breakers, though there were several near-misses.
Next morning with the wind north-west Force 5 we set the trysail and storm jib and resumed our beat to windward along the African coast. We had decided to go into Benghazi in the hope of being able to get new sails there. At 18.00 Apollonia appeared temptingly 5 miles to the southward, but we did not go in because we had no large-scale chart and not much daylight left. Benghazi was about 120 miles away and we had petrol for about 80 miles. The large foresail was again repaired and set and the storm foresail was set on the upper forestay and hoisted to the masthead. With this rig and assisted by the Seagull outboard we reached Benghazi at noon on 8 July.
There is a delightful little sailing club in Benghazi supported mainly by the large British community there. It is, in fact, their main social centre. Having learned that it was not possible to have new sails made here, we laid the sodden and tattered remains of our mainsail before a horrified sailmaker. In a day or two both large foresail and main were returned to us. The main had two new cloths sewn in and looked as though it might get us to Malta.
A pleasant surprise awaited us on departure. The club's fleet of G.P. 14s turned out to escort us out of the harbour. The wind was still north-westerly, mainly light, and we made frequent use of the motor. Whenever the wind freshened we handed the main and set the trysail, and on 23 July entered Sliema Harbour, Malta.
We had now completed the hardest part of the voyage and knew that we could take Borer Bee anywhere. We had made good a beat to windward of 1,000 miles, actually sailing over 1,200 miles. The time taken, 42 days, is hardly a record-breaking time, but I know of no other 5 ton yacht of cruising type which could have equalled it in the conditions we encountered. Borer Bee was loaded with 52 gallons of water, 20 gallons of petrol and food for two men for three months, yet in spite of this she handled like a dinghy, never missed stays, and survived some really appalling weather.
The factor governing the length of our stay in Malta was, of course, the time required to make a new suit of sails. Arrangements were made for this to be done, while Fred and I worked on the boat, did essential shopping and rested.
In Malta we had made it known that if anyone would like to join us for all or part of the voyage home he would be welcome. The only volunteer we got was Leading Wren Roma Stokes. She obtained leave to come with us as far as Cagliari, from where she was to find her own way home. It was very pleasant for us to have for a while a charming companion and to be able to go into three watches.
We left H.M.S. Ausonia at 10.40 on 5 August and were cheered on our way by many of the officers and ship's company. One of Ausonia's boats towed us clear of Tigne Point and with a fresh wind on our starboard quarter we laid our course for Porto Empedocle, the port of Agrigento. The wind left us with the sun to freshen up again a little in the morning and at 21.30 we entered the harbour of Porto Empedocle.
The next day we sailed in the afternoon after a very quick visit to Agrigento. Cagliari was our next objective. The wind was light easterly to south-easterly and the going very pleasant indeed. On the night of the 8th the wind blew up to Force 5 and we bowled along nicely all night, bringing the light on Maratimo Island abeam at 04.00 on the 9th when the wind fell light. On the night of the 10th, as we were entering the Gulf of Cagliari, it started blowing hard, but as we were in sheltered water the sea was quite smooth. Then came the rain and a spectacular display of lightning illuminating the mountain tops. The rain increased and the wind blew stronger. This was not the best sort of treatment for a new mainsail, so we decided to take it in and try out our new sea anchor which had been made for us in Malta.
I have never been enthusiastic about these devices, but Fred was keen to give it a try and a strong wind and fairly smooth sea conditions seemed to be a good opportunity. The results of the trial were not convincing and the warp and tripping line got twisted together. I think that for a small boat like Borer Bee the tripping line could be dispensed with.
At about noon on the 11th we entered Cagliari. Roma left us on the 13th after a pleasant lunch-time encounter with H.M.S. Ulysses, and we sailed. The wind was light southerly and by nightfall we were out of the Gulf and heading north up the east coast of Sardinia.
At this time the weather forecast warned us of a mistral, the strong north to north-westerly wind for which the Gulf of Lions is notorious. We therefore abandoned our original intention of going through the Bonifacio Strait and up the west coast of Corsica in favour of the east coast and a visit to Bastia, the most northerly port in Corsica. If the mistral was still blowing when we got there, it would be a good place to wait before rounding Cap Corse and entering the Gulf.
At 16.00 on the 15th the island of Molara was abeam and the wind light south-easterly. About an hour later we encountered short, steep seas against which we could make little headway. The coast in those parts is very rugged, but with many rocky inlets and anchorages for small craft. I decided to find anchorage for the night in a little bay between Molara and Tavolara. To make sure of anchoring before dark we set the outboard motor on its bracket and started up, and with sails drawing half-heartedly we crept towards the fourmile-long steep-to coast of Tavolara. Soon the wind shifted suddenly to the west and increased to fresh. Borer Bee under sail and power started going like a bomb. Then abruptly the wind veered and we were on our beam ends. We hastily reefed and then found ourselves in a flat calm. All around us, however, we could see spray being whipped up off the calm surface.
We kept the outboard running and continued, experiencing spells of calm and frequent wind shifts. After being knocked down a second time we decided to get out of it. I don't think we would have found a very comfortable anchorage, and all that night we drove northward well reefed with a strong wind on our beam and a short uncomfortable sea.
By morning we had crossed the strait and were able to shake out our reefs. The wind fell light in the afternoon off Porto Vecchio and we started the motor. Winds were light all next day and we did a lot of motoring. Africa Rock was sighted and, further away,
the island of Montecristo. Pianosa was seen later in the afternoon and at midnight we identified the Bastia light and in the small hours of the morning we entered the harbour.
The next day, 19 August, we left under sail, nearly going on the rocks when becalmed in the harbour entrance. Cap Corse was rounded early in the morning and we steered a course of 300. In the morning watch of the 21st a light breeze sprang up from the north-east, gradually increasing to Force 6 and at 08.30 we sighted the European mainland. All afternoon we motored down the Italian Riviera coast wondering how many Britons there were ashore enduring the cold cloudy weather at great cost while England was enjoying the best summer for fifty years and entered Toulon at 05.00.
Toulon was not the friendliest port in France, so at 10.00 the next morning we sailed and early in the evening of 25 August entered the vieux port at Marseilles. Here we were given a good berth at the Societé Nantique, where bathrooms, restaurant, and lounge and bar were available.
In Marseilles we had to settle formalities connected with our entry into the French inland waterways. This done, on the morning of 28 August we sailed for Sete where we were to enter the Canal du Midi.
The next day being Monday, I presented myself at the Bureau National de la Navigation and was relieved to find that my Permis de circulation had come through from Paris. That evening we lowered the mast and moved the heel forward so that it just overlapped the stem by about a foot and laid the upper part on the standing gallows. The cross-trees were removed and tied alongside the mast.
Our progress was not spectacular as. we passed through only three of the 65 locks the first day between Sete and Toulouse, but we did better next day and on 7 September we reached Toulouse. From here frustrating delays occurred because of repair work to some of the locks at Agen, but we had the pleasant company of the bargees and their families who were also held up, and finally erupted from the enormous lock at Castets into the swift-running Garonne River and a blanket of fog.
After securing at the yacht club in Bordeaux we did some shopping, buying sea boots, a knife, a barometer, and a foghorn, which I tried out in the shop to the delight of the girls.
Midday on 26 September saw us under way from Bordeaux and we carried the ebb stream as far as Pauillac, where we anchored. Weighing at 02.30, we entered the delightful little harbour, Port Bloc, on the south side of the Gironde Estuary on Sunday, the 27th.
We both wanted to send telegrams to our families in England letting them know when we expected to arrive, and to do this we had to delay our departure to high water on Monday. Because a Sunday would be a good day to get all our friends and relatives dawn to Emsworth, we gave 4 October as our ETA.
At 13.30 on the 28th with the wind moderate north-easterly we tacked out of harbour, cleared Pointe de Grave in short tacks and reached across the estuary to the Grande Passe de L'Ouest. At noon next day Ile d'Yeu was abeam and we were going nicely. Then the wind let us dawn. The wind on the 30th gradually veered to south-east, but was seldom above Force 2.
October 1 saw us groping our way round Chausee de Sein and Ushant in thick fog. At night it looked as though the beam had been sawn off about 3ft. away from the business end of our torch.
The fog cleared on the 2nd and a sun sight confirmed that we had cleared Ushant. With the wind in the south-east, we now had no hope of making Emsworth on the 4th, so when, on the morning of the 3rd we sighted the Eddystone lighthouse, we decided to go into Plymouth and telephone a revised arrival time.
We went alongside H.M.S. Salisbury at about four in the afternoon and were most hospitably entertained until eight, when we left on the ebb tide. Strong easterlies were encountered and on the 5th we called at Salcombe. The passage up channel against Easterlies was a rough one, Barer Bee then not sailing so well as we had eaten through most of our inside ballast. In this condition she was a vastly different boat to handle than the heavily laden vessel that had crossed several thousand miles of ocean. I would go so far as to compare the 24 hours beat against Easterlies from Plymouth to shelter under Bolt Tail with the solid achievement of a thousand mile beat to windward from Port Said to Malta.
The Needles passage was made in the A.M. as the wind veered to the S.E. A very fast reach to Cowes was put in before the tide turned foul and the wind fell light. With the engine misbehaving, our hopes of reaching Emsworth faded away as rapidly as the press and radio people awaiting our arrival when it became obvious time was running out. They left to cover the General Election ! !
We passed the night in Wootton Creek and next day again faced a beat up against a strong Easterly to a quiet reception by families and friends. Finally, Borer Bee entered Chichester Harbour and sailed up the Emsworth channel on the afternoon of 9 October. Having sailed about 8,000 miles in a little over eight months, Barer Bee was as sound as when we started, and so were we.
After Thoughts
Borer Bee was eventually sold to R. B. McEwen in 1967 and after that to a man in Scotland. Her present whereabouts are unknown to me but I hope she has a good skipper.
As far as improvements are concerned and with considerable hindsight I would unhesitatingly take terylene sails including light ghosters. Apart from that there is little that I would change.
I would not attempt the Red Sea route again, given the chance but would favour a passage round the Cape of Good Hope. Another observation I would make at this time when the yachting press contains so much criticism levelled against bilge keel boats, same of it purporting to be well informed, is that this type of criticism might be fair enough if directed against all shallow draft and roomy boats. The disadvantages are not peculiar to bilge keelers.
Our good passages to windward when heavily laden seems to lead to the conclusion that perhaps displacement is the answer and that the reason that boats with even greater beam of the past made ground to windward was by virtue of their heavier displacement.
Edward Atkinson.
Eventide development
As a result of the experiences gained on this the first long distance cruise in an Eventide, Maurice Griffiths increased the weight of the ballast keel immediately from 560 to 780lb, and later more owners experiences made it 1020lb. The rig was altered to include a bowsprit for larger headsails (Terylene of course) and the space between the rudder and the skeg filled in as well. Today, 2008, Eventides are to be seen in any harbour anywhere in the world and have circumnavigated the world. Borer Bee lives on, she is in Ireland at the moment and cruising Scottish waters next season we are told.
John Williams