Many thanks to Bill for sending this log in and then supplying the photos so we could add them. A brilliant log and we hope he will send in more as he extends his travels. See the Coronette page for the amazing restoration he has done on her.
John
Coronette's 2004 CRUISE
Tue 29.06.04 Cawsand - South
So, the vessel vittled and readyish for a few days at sea then went off to Cawsand Bay for the evening. Next morning - headed generally due South for France. It got dark and there were lots of pretty lights all around moving - some green, some red, and some white. A few hours later whilst on walkabout, it was noticed that the mast was bending more than a comfortable amount backwards in the middle. Also the staysail tended to 'suck in' the jib distorting its shape and reducing its performance. It was concluded that, as the Staysail boom nearly touched the mast, there was no space for Forward Lower Shrouds - so we didn't drive the rig too hard and planned to leave the staysail out of the equation ufn and fit a jury baby stay when tied up alongside. A container ship was on collision course with us, and I frantically got into action stations, lifting up the floor to start the engine - which usually took a while due to it's vintage. Looking up from inside the engine bay to notice the ship had gone around us to our relief. 'Look out of the window' I said to the snoozing crew - her face was a picture as the vessel slip closely by.
By 2000, the sea was compared to a tranquil lake of blue mercury, wind force 2. By 2200, we were beginning to cross the other shipping lane with a beautiful gentle swell.
Wed 30.06.04 English Channel - Brittany
It got light again, By 0600, we were under engine due to light winds which steadily rose until 0800 when the jib went down, and the staysail went up, 1 reef in main. Averaging 4 knots now. Bombing along!!!. I estimated that we'd gained enough windage to allow us to bear away a little to make it into Port Blanc. This was a mistake as later the wind and tide teamed up and Port Blanc was definitely not on the menu any more. 3 Reefs in by now, a bit disorientated by tiredness, the rough grey sea, strong wind, poor visibility, drizzle and land on both sides of us. 2 waypoints were put into the GPS to give us a rolling road through the rocks into Lezardrieux. Watching the fish finder was interesting. Another yacht seemed to follow us for a while then took a longer route around and in to the channel and up the ebbing river. The wind was really blowing now, the tide was strong from Starboard, and under engine we were averaging 2 knots whilst crabbing up the ebbing channel. Eventually we reached the pontoon and easing ourselves gently into the only available slot - slipping in gently.
A familar face took our lines - a guy I had met in Dartmouth, Dave from Neffertiti. We both stood there doing the 'don't I know you from somewhere' thing. Welcome to France I thought. Another friendly head popped up from an adjacent boat asking if we would like to come for supper. Err, ok, I said - do we have to do any talking? - 'Not if you don't want to she said . . . how long have you been travelling?? Dunno - about 32 hours I think . . . . . This was received with amazement. Food and company was good and it was nice to sit inside a shiny plastic veneered thing with all mod cons. Everyone had a jolly old time. We retreated to our snug den and fell into a deep comatozed state of thankful relaxation.
Next day went up to town and came back to find the paddle off the self steering had been smashed off by a bloke who professed to have been a sailing instructor for a hundred years or so. Not something I would have had admitted if I'd just rammed somebody. I eased the notes from his wallet and disappeared back into town for some glue , came back, fixed it and painted it a nice traditional flourescant orange to ward off any other blunderes. We took a walk to Paimpol around the coast to the West and were invited to sleep on Neffertiti (as Dave had moved round for the festival there) which was a pleasant evening. The next day, we cruised back on Daves boat on the full tide to Lezardrieux.
We then found out from our influential alcoholic Brittany neighbours that there was a festival upstream at Pontrieux and they were waiting for the tide to take them up river to the lock which would then take everyone through into the canal system, up to a small town for some jovial fun. The tide came and up we went - an event that I can only compare to whacky races as each boat grounded out, another would overtake until it was a battle that only the shallowist of draughts would win.
Everyone was in good spirits as we all bumped our way into the lock. It seems the French are less particular when it comes to paintwork. There was a definite 'no problem', 'who cares' feel to the whole bonanza.
We moored up next to the alcies and outside of us was Pierre an Heidi who were in a small plywood boat and were excellent company. They'd had the same boat for years and had been all over the place. he was a scientist and rather interesting (I thought). Being with them made me realise that folk in small boats have more fun and were generally not preoccupied with fussing over their 'investments'. Yep, a good old bunch of boaties.
05.07.04 Lezardrieux - Roscoff
As usual, wind coming from direction we want to go, motored most of the day with the tide around Les Sept Isles and into Roscoff. Lots of changing current on entry, the sea seeming to boil. There were folk in there talking of the next great blow that was coming.
06.07.04 Roscoff - Brest
Interesting time trying to purchase diesel at Roscoff but very cooperative in the end. Strange system. Beautiful day, 3-4 westerly, engined for 2+ hours. Overtaken by Cutter with three sails up who got close enough to tell us that he wasn't on engine. Thanks mate. Speed 7kts at times with tide. Approach to L'Aber Wrach - Channel de la Malouine a little unnerving - very close to large rocks. Picked up buoy eventually after passing through busy entrance. A boat passed us and did a double take as he'd passed us on the way - but now we were in front again - he couldn't seem to believe it. There was more than one entrance to this place.

07.07.04 L'Aber Wrach
Gale warnings meant staying on a buoy and waiting for a bit of a blow. It came, rather rainy and windy. - stayed on buoy all day. Pressure dropped right off to 980. Decided to try out rainwater collection system aka Nick Skeets - worked a treat and subsequent acknowledgement for idea was transmitted and received ok via a modern personal communication handset in 'texting' mode. "Good Innit" was the reply. As some may know, Nick designed and built his yacht 'Wylo' based on MG's lines (allegedly). NS reported he was en-route to Brest with three other Wylos. Sent a message to Liveaboard Lee who was 'stuck' in his paradise come hellhole in the Scillies but no reply. Assumed sunk. Passage plan now in formulation to get down Chenal do Four at the right? time of tide. Checked mooring ropes - one had chafed on buoy. Larger rope attached with loop. Fish, chips mushy peas for lunch. Rice and gruel for supper.
08.07.04 L'Aber Wrach
Rope chafed through again on rusty buoy ring. Went ashore in inflatable dinghy and saturated ourselves in alcohol. Hard row back against wind. Weather calmed right off in evening.
09.07.04 L'Aber Wrach - Brest
After being stranded on a buoy for 3 days due to the weather, a break allowed a mass of vessels of all shapes and sizes to exit around the coast through the Chenal de Four to Brest. The Chenal was like a sun baked millpond and the sandy islands to starboard looked idyllic and serene. This passage did not do the pilots scare stories justice. A grand old sight was the old yachts all around en route to Brest.
There was no welcome party at Brest so we just snook in where we could - which happened to be next to a Wylo. So then there was a weeks bonanza of old boats of all shapes, sizes and nationalities, and I found it a bit overwhelming given that I'd just done seven months in solitary.
It would have been ideal to have had a longer lead time, but I don't think it was something that can be prepared for. Unbelievable. - but there you go - I enjoyed being rafted up 12 boats - odd side by side and all the goings on with boats wanting to leave from the middle or inside, ropes everywhere and the constant foot traffic around the temporary ever changing flotillas.
We raced a couple of days and were placed both times having an experienced chap on board made for lots of learning of tactics, sail handling, reading the wind, and collision regs. - the last of which I feel , due to its complexity, will be in constant development in my mind until the days I donate my body for compost. Is there really anyone out there who knows, understands it and 'lives' it when out there?
One race we went through a 'zone de militaire' as it was inconvenient to tack before it, and right on queue - although a tad slow ( as I guess they had to get their camo gear on and fire up the rib) they speedily came to say hello and give us a bollocking. I must be getting old as all soldiers nowadays look like boys. I had two hands on the tiller fighting the weather helm and they waved us to carry on. Anyhow, two bottles of wine gratefully received for finishing in two races and a bit embarrassed having to give a sort of acceptance speech.
16.07.04 Brest - Dournenez
Departed - never seen so many boats - amazing spectacle. Funneled down with traffic & gave up on waypoint in favour of an 'hour glass' procession through a gap in the rocks - called 'the plate of peas' - recognised a few revellers on the way from Brest. Cheery smiles all round. It was was wall to wall with vessels in all directions. It's a shame there was no wind but we all pushed along by burning lovely old fossilised fuel. An envigourating experience especially going through the plate of peas with headland covered in people - it gives me shivers just thinking about it now.
Picked up buoy after being advised 3 times in 5 minutes that two boats on one buoy was too much. Got the bunting out making Coronette look rather spanking.
17.07.04 Dournenez week
We met up with folk from Brest and entered for a couple of races but when there aint no wind, she don't wanna go - so we went fishing instead. I got a ride on a Looe Lugger called 'Reliance' from Penryn with a character motley crew straight out of the film, "The Pirates of Penzance." That thing certainly shifted downwind with the gunwales sloshing. Marvellous stuff!!
24.07.04 Douarnenez - Pointe du Raz
Attempted to round Pointe du Raz but current too strong - making 1.5 knots with engine on. Extremely lumpy sea. Anchored in Baie de Trapasse near beach but Atlantic swell was becoming steep due to shallowing water so we got out of there rapidly and anchored among some fishing boats near the cliffs. Spent a long rolling night aboard with waves beam on - some of it, I felt was the wash from ships in the shipping lanes. Crew couldn't agree with that and didn't think ships have that much effect over long distances. Since read that Pointe du Raz (the pass or race) is one of the most dangerous in Europe. Great.
25.07.04 Pointe du Raz - Audierne
Sunny, warm and hazy day - after studying pilot, and tidal stream atlas, we left the anchorage in order to get round the Raz. Took the inside inside inside inside track squeezing between two rocks, leaving the cardinal marker and lighthouse a long way to starboard. The fishfinder gave interesting viewing.
TUE 27.07.04 Audierne - Benodet
Left anchor under sail and attempted to move along proper style but not much pace in a force 0, three miles in two hours so the old engine was fired up. The millpond had a vast silky smooth greyness underpinned by deep blue. Then Dolphins!!!! - 1st time for Coronette - that I've noticed anyway. By 4pm there was a bit of wind but not enough to trust he self steering vane to be responsive to feint changes in direction. Since found that some follk have a vane made from spinnaker cloth on a wire frame - looks a bit like a dragonfly wing. Followed fishing boats into Benodet to find they weren't going there. Shouldn't assume eh? Must get a pilot when ashore. Phoned Liveaboard Lee who was in Scillies to see how things were. Make it quick he said as calls are £2 per minute and don't expect any texts as they're £1 each. Fair enough - so you're enjoying yourself then? Won't be a problem now as I dropped the phone in the bilge and seawater had the better of it. Ho hum.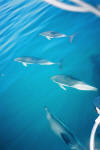 THU 29.07.04 Benodet - Iles de Glenan
Benodet was a cheesy old holiday place with lots of overweight scarlet people on the beach. A bit surreal having just come by boat from Brest to be surrounded by a mass of pink pie eaters. Not a great deal of wind so left under engine. Onboard, we only had a chart for Benodet and Iles de Glennan - so set a course direct to - assuming there couldn't be anything in between. Only to find - another island, which we had to skirt around, then went wrong side of a North Cardinal marker (just) thinking the frenchies leave a gap between their markers and the rocks that they depict. The crew was asked to look over bow whilst we passed the marker. All I can say is that it was a good job it was high tide. Her face was a picture. Essential lesson learnt. Found an uncrowded anchorage then explored by dinghy the various channels plotting a route into a secluded bay on the new days tide. Went ashore for Rose and a look around.

FRI 30.07.04 Moved boat closer in, rowed ashore. Hot day playing in water. Moved boat around to Ile Cigogne & passed over kelp bed which showed a depth in minus figures on the fish finder. Moved again and anchored up on the west beach of Ile de Penfret. Went ashore for a look at the contorted wreck that had broken its back poor thing. Had an eye on tomorrows beach - Ile de Guiriden - a beautiful sandy expanse at low tide and a tuft of grass at high. Watched the tide retreat until only 2 feet of clear water was under the keel. Good job it was calm and there were no Vedettes about creating wash
SAT 31.07.04 Up early and moved over to Guiriden - a beautiful deserted island beach, went to Ile de St. Nicolas for lunch then back to Guiriden on high tide, beaching Coronette side on in front of a now crowded array of people - which slowly dissipated as the day wore on. There was another boat doing the same further down, a couple of Parisians. Antifouled most of Stbd side and half of port.
SUN 01.08.04 Up early ready for tide to lift us off but seemed to move more up beach? Anyway, stranded for day which was spent digging out under the keel, antifouling and the setting of three anchors down the beach ready to pull us off on the evening tide (eventide?). A six to one pulley was rigged up back to one of the winches and a considerable amount of tension put onto the anchor lines. One anchor being a fisherman's which was hooked securely around a rock. The sand here can be a bit mushy and not give the best of grip - lots of shell like stuff in it. A crowd of happy helpers helped rock her as each wave came, as I winched in the slack. Eventually we were off and the anchors all retrieved without drama. The lesson learned here, was that if we were to beach again for whatever reason, best to do it an hour or so after high tide, not at H.W. This may be obvious to those born into this kind of palaver.
Motored back to Concarneau - looked into Marina but busy and too scary with an audience. Anchored off.
MON 02.08.04 Dropped crew back off to catch bus to Blighty. Long row back to mothership after absorbing some of the town including a huge fishing industry set up. Crates of dogfish carcasses lying around. Good to know someone knows how to skin / gut them. Interesting Chandleries here as supply all industrial sized bits and pieces for the fishing industry including wines and spirits by the crate. Moved anchorage to get into lee of land as wind blowing strong from South (yet another blow). Changed engine / clutch housing oil. Tidied around boat after previous few days eventualities. Moved out into deeper water and spent evening studying tidal calculations / twelfths rule. Would I hit the bottom?? I doubt it as the Fishfinder offset was set in favour of nil grounding not vice versa.
THU 05.08.04 Departed midday motorsailing out of Concarneau bay. Wind picking up. Downwind heading for Ile de Groix. Headsail flapping / boat rolling - need boom out poles making up. Throwing cooking around the place (twice). Rolling like a pig - however that may be. Nicely goosewinging - jib set at last. Great sail, Ile de Groix abeam to Starboard, went around a dive boat at their request. Chugging up Le Blavet river - jolly lovely evening, wish I had my pipe with me. Bit like the Helford here, but with boat graveyards on the outside of each bend. Anchor away in natural spot after quick look around town. Trip so far since Cawsand now 517 miles.
FRI 06.08.04 Moved upstream nearer town, anchored both ends, rowing out a kedge to prevent swinging on turn of tide. Character Town with castle and a rail connection. Moved back down close to a boat graveyard where lots of skeletal remains of wooden vessels were dotted around. At high tide, one can row in and around their carcases. Found Hansel and Gretals House in the woods. Shame about road noise as this is bordering on perfection. Fish sploshing about, kingfishers and lone white goose honking around the two boats anchored here.
SAT 07.08.04 Lazy day on anchor, fishing, anticipating heavy weather which never came. Barometer steady.
I met Martin and Roma here again from Wylo 'Apple' but don't remember much of it apart from a stonking hangover the next day.
SUN 08.08.04
Up early and motored downstream, a quick look around the old concrete submarine shelters.
From there, I navigated way into Port Louis where I spent a couple of days walking end exploring what seemed to be an old military gun testing ground and dump. Quite interesting getting close to 15" guns lying around abandoned as the politics of war had obviously moved on / or maybe new bigger better guns in service now.

Tue 10.08.04 Port Louis - Belle Isle
Clutch tightened up, engine on, water + fuel tanks filled, departed - out along the coast again with the wind on the nose marvellous. I still don't learn that boats will not go to windward. Decided on Belle Isle as bored of engine noise and found it easier to motor sail off the wind on a starboard tack. The sea was a hefty black with metallic silver tints in the waves. They marched in from the starboard side. It was quite dramatic, and with the self steering doing its job, I went for a walk up front and stood in the shrouds. The sea didn't seem so powerful from up there, just friendly and not aggressive.
1600 Reefed the jib. There was a heavy rainstorm with huge blobs of warm water falling from the sky which flattened the water. It's a mad place the sea - very raw and changing. 1800 anchored up in lee of Belle Isle outside harbour wall and was greeted by a superb thunderstorm of thunderstorms with bolts cracking closely all around. Big flashes + bigger bangs - more like 'blams'. Rained a lot.
Cabin looked like I'd been burgled. No gas, not much food, all clothes damp and salty, Not washed in eons. Boat / sails / engine all ok. Engine a lot more thrusty since clutch adjusted. Confident now that the boat will handle a bit of 3 metre swell / roughish sea. I was beginning to realise that everything has to be serviceable and ready to hand, stored in its place. No point putting things off and living in a tip as situations tend to escalate faster depending how unprepared one is for what. Just a realisation now, good job no real drama had happened so far.
Wed 11.08.04 Sauzon - La Palais - Sauzon
Set off around coast to La Palais hoping to get a better anchorage out of the swell, or maybe into the marina where they have Gaz of all things. Beaten back by wind and tide around Pointe de Taisummut. Worried that I'd use all the diesel and not be able to get back to civilisation without a lot of learning / bumping around other boats. Stayed on anchor back at Sauzon. - another windy, bobby night with rain.
Had a go earlier at finding a spot inside the crowded harbour to anchor both ends and dry out. poked my nose in upstream but the wind blew it off so tried a couple of times to turn around in the narrow channels but after a while lost my patience and anchored back outside the harbour wall in the swell. The engine controls on Coronette are rather clunky and it's not always obvious if we're in astern, neutral or what. Something for the winter refit to do list.
Thu 12.08.04 Sauzon -
Woke more than three times in the night to the sound of wind in the rigging - decided to go to Vannes later to dump the boat and escape to England for a while. Very blustery again and the key snapped inside starter switch which had been expected - due to its protruding nature so changed that. Looked like weather was beginning to break - blue sky now in between huge ominous cluds - maybe front has gone through - may do one more night bobbing around then push off. Need to interface with some sort of regular reality including family. It says in the Pilot that Vannes is a good place to leave boat so it was decided to leave in the morning. Went ashore for a few groceries + plucked up the courage for some human contact.
Fri 13.08.04 Sauzon - Vannes Take II
10 x Waypoints put into GPS taking us all the way into Vannes. At 0820 it was time for the off. Not many entries in log that day apart from:- Anchored up after Bumpy Blustery Trip. Sailed all the way into The Morbihan through the channels - which was enjoyable. Took sails down then motored upstream to waiting pontoon to go through swingbridge / lock up into Vannes. Hadn't been there 2 minutes when I heard NO NO NO NO from behind before being rammed by blind skipper with a boat full of lazy lookouts. Great.
The bridge finally opened and while the lights were still on Red, there was chaos as the yachts entered in a sort of January sale fashion. The yachts inside were coming out and what a comedy ensued as they all met each other. Meanwhile a coaster had come up the channel and was turning just where all these yachts were. A Frenchie waiting on the pontoon with me said now was a good time to go then laughed. I waited until last and tootled in. Finally a spot was allocated and I tied up and guess what? - Yes ABSOLUTELY FLAT WATER!!!!!!!! But what a performance . . . Marina Madness with a funky town to explore.
Fri 03.09.04 Morbihan - Out to Sea
Ten days in the Uk, then returned to escape from Vannes for a few days mooching around the shallow waters of the inland sea.
Got bored and was in need of some action again, so went in search of diesel which doesn't exist in the Morbihan but does just outside the entrance. There was an extremely strong ebb current at the exit which spat us out. Fuelled up. Big Dolphin in harbour was playing with wind vane gear and pushed paddle up out of water. People laughing on quay side. 1630 Just passed through Passage de Benignet. Wind on the nose as usual - motor sailing. Next mission was to go around the Belle Isle which seemed to have taken ages. 2000 Sundown and cleared Belle Isle finally. Getting sixty degrees of leeway - couldn't understand why? Heading west was definitely not on the agenda - dead slow ahead only. Caught lifejacket in engine. The wind finally came at 2300 and we were moving along at last. This was my first solo night sail and the moon was welcome company. At midnight there were two reefs in the main and one in the jib, blackness all around and the feint shore lights miles away to starboard.
Sat 04.09.04 Out at Sea - Audierne
0200 Found centreboard jammed in up position - maybe answers the leeway conundrum?? I think it happened on anchor in the Morbihan - when a Vedettes' wash caused us to hit the bottom. 0300, wind abating, reef out of jib. Slight detour to Port as Isle de Glenan seemed to have been getting closer on the nose. 0500 Finally got Glenan out of the way so could relax a little. 0600 Nearly run third gannet down, don't suppose they expect boats out here?
At 0700 sunrise there was an amazing natural sight not usually seen from the lookout of a centrally heated domestic armchair. It was the sight of a squadron of gannets circling tightly and closely to starboard. Dive bombing birds rained down in a constant array, plummeting neatly one by one into the water where dolphins were encircling whatever attracted them. I suspect a school of Mackeral were getting the treatment. David Attenborough stuff this an all just by the boat.
By 0800, the wind had died back, France is a big country and there's no fast way back to England. I estimated at least 60 hours + from here. 1000 still blasting along wishing the planet would shrink for a while. 1100 Chug chug. 1200 Chug a chug chug. 1300 Bored now. 1400 Still motoring along a vast blue oasis, vapour trails in the sky, dolphins and the thump of a prehistoric diesel. Where's the politics then? There is none out here. There was a huge swell but no wind - quite a powerful empty expanse of hazy sun baked water. The dolphins came to play in their masses staying with the boat for ages playing at the bow. 1500 Anchor away!!!!
Sun 05.09.04 Audierne - The English Channel
1000 After consulting Pilot / time tables this time - I chose a time to leave to get around the Raz de Sein at the right time - ie - not pushing against tide, or no ridiculous overfalls. There was another boat ahead with whom I had spoken with at Audierne and were doing the same and had chosen a precise time to cross, so when approaching, being an hour early, they went into a 'hold' position waiting off for the tide to be correct for safe passage. As the water was flooding towards us from the North, I decided to take a closer look, thinking that I couldn't be washed onto the rocks given the tide direction. I got close and all seemed ok so I nipped on through.
Headed north up towards the Chenal de Four. Looking back, the other boat was miles away by now. 1500 log states perfect sailing weather!! Glorious!!
1600 Approaching Cd4 , 2 reefs in main, one in jib. Blowey. 1730 Lumpy, changed route, sea was doing strange things in the shallow channel. Nearly out of Cd4 - only the ships to deal with now then home(ish). There was a High over the Uk and a low over France which meant the wind was funnelling down the Channel constantly from NNE. This meant I was either going back to North Brittany or the Isles of Scilly / Ireland /America. 1913 Storm jib up / 3rd reef in main. Must get a roller reefing for more control of jib. Definitely one for the to do list. 2000 Lumpy sea and a fair old breeze. Expect to clear shipping lane by sunrise. 2100 Nearly became part of a Trawler - 100 metres abeam to port. Those wires looked spooky. 2200 Coronette, Me, the sea, The Milky Way including surrounding stars + a pounding sea to boot. 2300 Wind dying - boat veering off West due to tide change.
Mon 06.09.04 English Channel - UK Mainland (stbd)
Another day but it was still night and the relentless NNE wind kept the same direction all day. But it was only midnight and I didn't know that yet. Blowing around a 3. 0100 Ship Ahoy!!! - a cross channel ferry went around the back of me thankfully. 0200 Shipping lane ahead - not happy about direction we're heading - 300 degrees which gives about 60 degrees leeway. 0300 in the shipping lane and the boat's heading for America - Great. 0400 Engine on and hardened up sails to punch through. 0500 Blitzing through last part of shipping lane - hope tide turns soon. 0600 Engine off, now try for a kip of sorts. 0700 Sun up, boat banging a bit - lumpy sea, fast waves. 0800 Sea lively with wind and fetch from way up channel over a few days. Fast waves marching relentlessly in from the Starboard side. Even though the Force sixes and sevens presented a rather boisterous scene, one got rather used to it to the point of relaxation. I could feel when a certain type of wave was upon us and hung on - ready for the bow to smash it into a million sparkling crystal particles. Ka -booooomschhhhhh. Then duck from the spray. Great stuff.
0900 Refilled fuel tank from jerry can, engine back on or we'd have hit the Scillies. 1000 wind still Force 6 -7, hoping the fetch will lessen the further we get into the lee of the UK. 1100 The sea has many phases and states. 1200 This is where I would like crew to watch for boats while I kipped. 1300 Heading Penzance or Gweek? Wind direction a problem. 1400 Penzance it is, straight on in approximately 8 hours. 1500 Scorcher of a day, so tired, the vast openness is relentless. Sea a bit calmer now. 1600 Come on land - where are you??? Just spilled oil all around cockpit. Great. 1700 Singing 'Bring me sunshine' as it's a roasting day. 1800 Nearly between the Lizard and Lands End. . . . which reminds me of the tales of the Armada when they said they had the Lizard in sight. A sight no different to the one of today I expect? - Except old Francis and his gang weren't waiting for me. 2120 Inside the inner wet basin Penzance - aaaahhhh, and there's a few jolly Brits to talk to. Oh how good it is to understand what folk around me are going on about once again.
Ended up staying 9 days here exploring and avoiding wave after wave of blustery weather. A lovely summer eh?
Wed 15.09.04 Penzance - Upper Fal
Feeling thoroughly rested and vittled, a potential break in the weather meant me and my new chums could escape and get around the Lizard. We set off at 0500 under engine, pushing on to get around the Point at the best state of tide. 0815 Lizard abeam to port. 1010 What a magical place - unknown to so many. 1300 Tacked up Fal, spent night on Pontoon at Woodbury point. Very Peaceful sunny evening. Stayed two nights here having a very windy day followed by a very wet day. Collected a gallon of drizzle from the decks during my stay.
Sat 18.09.04 Woodbury Point - Truro
Thought I'd go to the extreme and see where I could get to so Truro for the night it was. Not much a destination for pleasure but good for stocking up with food.
Sun 19.09.04
Paid £18 for washing clothes. Great. Do I look like a millionaire? Few beers then escaped back to Upper Reaches.
Mon 20.09.04
Tried Mevagissey but not really set up for visitors, so went up past Fowey and picked up a buoy, waiting for the tide to take me up to Lostwithiel. Spent a few hours cooking. Lovely to be on flattish water again, used fishfinder to feel way up channel, went aground twice on mud banks but ok. Feeling way in dark around twisty route through grass banks. Ducks and Swans trying to settle for night while searchlight swings over their heads. Arrived through the meandering marshes in the dark and tied up alongside a wall with 0.8M under the keel at HW Springs.
Spent a few days up there neaped, exploring and talking to dog walkers - including one elderly gentleman who told me he had sailed across the Atlantic in a race many years ago. Out of seventeen boats, he came seventeenth then laughed. He said he hadn't seen a boat of this size up there for some considerable time. This was reassuring that there were other places just like it.
Moved the boat for the last couple of days downstream moored up against a mud bank on the opposite bank - where cooking on an open fire was the order of the day. It is hard to believe that huge ships used to come up here until it became silted by mining activities.
Mon 27.09.04 Departed for Millbrook and had a mediocre wind behind us all the way which meant for a lot of swearing whilst trying to get the boat to settle into the dreaded downwind goose wing. Now understand it is more practical to 'tack' downwind. Cruising Chute onto the to do list. Arrived at Millbrook to welcoming committee of - Roger and Shaun's smiling faces - which just about finished off the loop. Approx 1000 miles in all since departure, a bit of experience, a few lessons learned, lots of interesting folk met, and a refit agenda looming - Oh no not again.
Coronette's CRUISE 2005
Was going to head back to Morbihan for a festival in May, as this is where I left off. Probably head off up to St. Kilda instead at the recommendation of Tom Rees, so maybe a lap of the UK is in order? - taking in Ireland. Better get a move on with stuff then as it's April already. Not looking forward to trying to pay off the credit card. Got a couple of folk lined up to share this years eventualities so we'll see what's in store for ourselves as time itself unveils itself . .
WELL,
Well done to all readers who got this far. You may want to apply your qualities of stamina to getting your boat out and about. Good luck with your projects and sailing adventures - all you have to do is cast off the ropes or weigh the anchor - it's as easy as that. (Said Shrimpy).
Best Wishes, Bill Booth 14.4.2005