<![if !vml]>

<![endif]> <![if !vml]>

<![endif]>
Steel Version to be available soon! See below.
---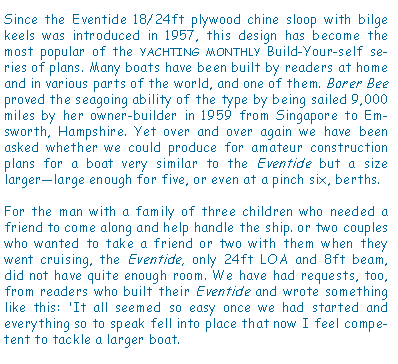 The Waterwitch as we now have was designed in about 1962 as a shoal draft leeboard boat. a MkII version had main ballast and bilge keels akin to an Eventide.
Both versions are popular, but the MkII bilge keeler more so. Serious cruises have been undertaken in both types, including several circumnavigations!
A far cry from the appearance of the first Waterwitch at the London Boat show in 1963, advertised as a shoal draft Estuary cruiser!
Click the plans or images to enlarge
CD containing all the plan sheets of this design saved as 'Pdf' files. Available 'At Cost' to registered members for £5.00 UK or £10.00 overseas. Contact us for details of how to get them.
Below are the three extra sheets for Steel construction, you can down load them from here! They will be included on the next batch of WW CD's, as jpg files as here and pdf files, once they have been scanned.
We are indebted to Luke for sending these in for the benefit of all.
Additional notes for WW in Steel.

By Walter Mills and

John Williams

Frames made from steel bar 50 x 6 mm, Spaced at 2 foot.

Drilled every 6" for internal joinery.

Chine 18mm steel bar, will take shape without kinking.

Hull plating 4 mm, for topsides. Cabin 3mm

Keel box 15mm for the bottom, 6mm for sides of box.

Notches cut in keel box to fit round frames, for welding. Frames cross keel box.

If adding wheel house 25mm steel frames with 2 mm steel, lined with polystyrene and ply to give rigidity and keep weight down.

(We recommend Shot blasting and epoxy coating, prior to insulation either by spray foam or glued closed cell foam. Only bilge un insulated.)

Steel skin tanks can be incorporated for Engine cooling, as well as fuel and water storage. (Keep weight out of stern)

Topsides should be increased 3" to 5" on original timber version, for additional headroom below without increasing cabin top.

Conventional side decks, 18" wide and conventional cabin top could also be built as an alternative, for aesthetic purposes, but there will be a slight loss of interior volume. Access to foredeck considerably enhanced though.

EOG September 2008