<![if !vml]>

<![endif]>

---
The Senior is largely a blown-up version of the 13ft 6in half-decked Y M Junior, with only a few minor alterations necessary in a larger boat designed for a cabin with two sleeping berths. Construction with double chines, to avoid the constant-varying rabbet angles necessary with single chine, is intended for 3/8in mahogany marine plywood, as shown on the plans, or with aluminium alloy sheets substituted for the plywood if intended for the Tropics.

Each set of plans consists of seven sheets fully detailed for the amateur builder. On them is included a complete schedule of materials and fittings, so that a local timber merchant could, if need be, supply the timber already cut to size. In addition. Sheet 7 gives details for building a Mk II version, if desired, with a 160lb cast iron ballast keel and shaped bilge keels in place of the centre plate. Alternative Bermudian sloop and gunter rigs are included.

The Senior is a bonny little boat designed so that the beginner in boat building can build her. For a hull only 16ft long by 6ft beam there is a surprising amount of useful space inside her cabin. The cabin length from the stem is approximately 9 ft 6 in and under the hatch about 5 ft. Yet the cabin top and hatch do not look oversize: in fact. the little boat looks thoroughly well-proportioned.

With its pleasant little cabin and cooking locker, there is a large sliding hatch where one can stand up to dress. From the cabin sole or floor to the underside of the closed hatch measures 3ft 1O in, and sitting headroom over the berths gives 3ft 3in. The accommodation opens up unlimited cruising possibilities for two people.
Kenneth Gibbs made one additional design change at the request of Martin Lewis, for his boat. The 'Extended Bilge keel Version'. This does not appear on the drawings. It is easy to reproduce however. The wooden bilge keels are replaced with 6 " deeper mild steel galvanised plates 3/8th inch or 10mm thick. They are fitted with a 4" flange on the top, shaped to the hull and through bolted with 3/8" galvanised coach bolts, to a timber backing plate or support, 6" wide and 1 & 1/2 " thick, spanning the cabin from mast to cockpit. The main ballast keel is also dropped by 6" as is the rudder.
This enables the boat to point and sail better whilst still retaining the ability to dry out or be loaded easily into a trailer. draft increased by just 6".
Click the plans or images to enlarge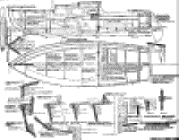 A CD containing all the plan sheets of this design saved as 'Pdf' files is available 'At Cost' to enrolled members for £5.00 UK or £10.00 overseas. Contact us for details of how to get them.
We have also heard from André in Belgium of a clever modification he made to his shallow Bilge keel Senior, it is another option! See a write up of his idea in the 11th Newsletter.
NEW BOAT DESIGNS & CURRENT
DESIGN WORK
Click the logo to go to Selway-Fisher's website. they are offering a proper conversion of the Senior to 'Stitch and Glue', as a result of conversations we and a prospective builder have had.

The panel shapes etc are not given full size (too big for any paper) but full instructions are given to draw them directly onto the ply using computer faired dimensions.
The plans come with details, notes etc.
The stitch and tape version will be as strong as the original and lighter - slightly more useable cabin space due to less framing.
The plans are recent and we have already sold several sets.
The cost is now about £70 Sterling UK including airmail postage.
Paul Fisher
SFDesign
---
YACHTING MONTHLY SENIOR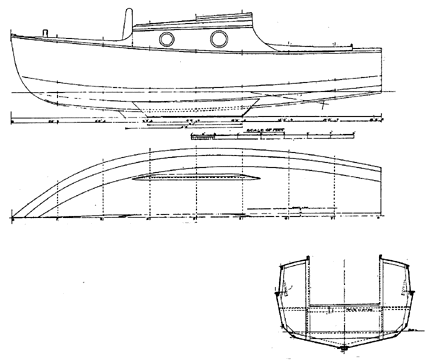 The YM Senior is a lovely little pocket cruiser design by the late Kenneth M. Gibbs. Ken Gibbs designed some lovely ply sailing boats many of which used to feature in the original Yachting Monthly magazine. I had much pleasure in sailing a Senior many years ago on the Thames. For her length, she seemed to accommodate a good sized cockpit and a useful cabin.
Life turns full circle and l have been asked to produce the hull construction details for a modern stitch and tape version. I did this for the Yachting World Heron to rekindle interest in the wood version and l am very happy to do the same for the Senior.
The details we have are for the hull construction only and for the bilge/ballast keel version and the builder would need to purchase a copy of the original plans (presently available on CD from the Eventide Owner's Group (www.eventides.org.uk).
LOA 16' (4.88m); Beam 6' 0 1/2" (1.84m); Draft 1'2" (0.356m); Approx. Wht. 1050 lbs (476kg).
These Cad 3D drawings have been put together by Lorenzo II, one of the members of the
Philippine Home Boatbuilders Yacht Club (PHBYC). They are hoping to make a fleet of them!
***********************************************
Louis Torres has sent these pictures in of the 10th scale model he has built as per Selway-Fishers stitch and glue instructions. I think you will agree the cross bracing built into the design makes for a well shaped and stiff construction

***************************************************
Selway Fisher offer a set of hull construction drawings,
fully converted and worked. All other details are on our CD.
YM SENIOR HULL PLANS COST