<![if !vml]>

<![endif]>

---
"Old Harry may have hung up his boots, but his genial ghost will haunt our cockpits for many landfalls to come. For me, and I suspect many readers, Des will be out there, looking over our shoulder whenever trouble appears over the horizon"
---
(Supplied and reproduced by kind permission of Yachting Monthly)
Des Sleightholme, born Lincolnshire, 28 September 1920, died in Devon 11 June 2003.
Des Sleightholme's funny old life.
Two years ago Des Sleightholme gave his last in-depth interview to YM's Dick Durham who recalls that summer day and looks back over his long life.
There were as many tracks on Des Sleightholme's weather beaten face as there were rhum lines on his charts of the southern North Sea and the English Channel. His long, tough face, had been stuck out in the wind and rain of a thousand passages in simple boats on complicated voyages and try as he might to impart his knowledge in a self-effacing way, his appearance told a different story. The joviality of JDS on paper is deceptive: although a genuinely humorous and original writer he was not a wise-cracking comic in the flesh. Instead he was a thoughtful and modest man. He pondered deeply on all matters of seafaring. He knew that on the ocean man was more fallible than on land and used his literary gifts to entertain as he forewarned. But Des was no admirer of computerised sailing - which he felt alienated the seaman from the sea - instead for him navigation was 'compass, log and leadline and you made your own guess at what the weather was going to do.' He felt many of the old ways of seafaring were lost to the modern day yachtsman who sails from 'marina to marina.'
He told me how he would wander up on top of Bolt Tail near his home in Hope Cove, Devon and despair at the yachtsman, who instead of using the tide, battered against it with diesel engine and rolled foresail. 'Such things have killed the art of cruising: people who sail like that are only half reading the messages to be read,' he said, as we sat down to spend a day talking about 80 years - his years. Born in the county of Lincolnshire, Des had moved 14 times by the time he was 15, to addresses scattered throughout Yorkshire, Somerset, Devon and Hampshire, as his father, Percy, was alternatively fired from jobs he was not suited to, or walked out of jobs he hated. Des's mother, Kathleen – known by the nickname Hicky - dominated as her husband shut down and withdrew into his own world. Nobody ever questioned her judgement. 'Somebody had to be the skipper,' said Des and aided by their Catholic faith the family struggled on.
Des was given a home-made easel by his father and a 30-year-old, incomplete correspondence course on how to become an artist – one which had not worked for Percy! But it did pay off as Des went on to draw his own cartoons both for his books and in the magazines he worked on. Des like to say he had only two certificates, one for swimming 50 yards and another for taking third prize in a guinea pig contest. 'It was not the documentation with which to face the world,' he said. His first glimpse of the sea was at Redcar, Yorks when he was taken there with his sister on a family outing. But it was to be many years before he got some sailing in, at the age of 15, with boyhood friend 'Spoofer' Murray.
Des got a job in a boatyard on the Isle of Wight and soon became known as someone who enjoyed his grub. Every device known to man was used to try and put him off his tuck but all failed until one of his colleagues 'sneezed' a large jellyfish he'd picked up off the foreshore into his handkerchief. It was Hogarthian, so vivid. I loved it. At last I had contemporaries, money in my pocket, peers..it was dynamic,' said Des. With Spoofer (so-named because he was such a 'lying bugger') Des started exploring the creeks of the Solent in leaky old dinghies. Soon he was delivering yachts as well – though only the 'cheaper' ones. Despite their eccentricities the Sleightholme tribe had great virtues – it was a very 'literary' home, both parents read a lot and discussed books and Des found he could write – he is the author of many books on sailing including Cruising: A Manual for Small Craft Cruiser Sailing, Anchor's Aweigh, his 'nautobiography' A Funny Old Life, and many humorous/instructive books on sailing based around his much loved invention 'Old Harry'. His mother was musical and Des also learned to crush a melody out of a squeezebox and breath a tune through a harmonica.
Des progressed from his boat-yard job and his occasional delivery trips to becoming an instructor in seamanship at the Outward Bound Sea School in Wales. From there he became a charter skipper and a founder member of the Island Cruising Club (named after its location on Island Street in Salcombe, Devon). With them Des skippered the 50-ton Edwardian schooner Hoshi, and the Brixham trawler Provident. It was aboard Hoshi that he met Joyce, editorial secretary for the East Coast based yachting journal Yachts & Yachting. She had been sent down to the ICC to 'learn how to sail' by her editor, Bill Smart. The pair hit if off immediately and were married in 1951.
In these heavy craft Des, with Joyce as mate, took charter parties around the Channel Islands, across to Brittany, Normandy and into the Bay of Biscay, through the Chenal du Four and the Raz de Sein. Des lived for sailing and loved every minute of it, but then Joyce fell pregnant with their daughter Michele and Des had to find ways of making regular money. He tried writing articles for journals right across the spectrum from Men Only to Strand Magazine, but 'as the typewriter was sliding around the cabin table' he was forced off the charter scene to find a 'proper' job. Joyce introduced him to Yachts & Yachting and he landed a job in their Southend-on-Sea, Essex office 'as the lowest man on the totem pole' and swapped the deep water of the West Country for the shoals of the Thames Estuary at neighbouring Leigh-on-Sea.
I had never worked in an office. I was a caged bird. It would take more than a little mirror and sprig of millet to comfort me,' he said. But for Y&Y Des signed up as a stand-by crew with the RORC and soon was at sea on the Harwich to Hook race. He went on to sail in six Fastnets.
Des – known as JDS (his first name is John) on Y&Y because editor Bill Smart would not allow by-lines - made all his mistakes on Y&Y but learnt the hard way. When he got the length of a cable wrong the editor made him write out 20 times : ' A cable is a cable is a cable.' It was published in letter form signed : 'Des Sleightholme's homework.' Des went on to join the staff of Yachting Monthly as assistant editor in January 1967 following an interview in the Savoy by the legendary Maurice Griffiths, who was himself then in the editor's chair. He took over from Maurice in June that year when MG retired. When plans were mooted to build an international airport on the Maplin Sands just down river from Des's Essex home, he moved to Polstead in Suffolk and so began 15 years of 'grisly commuting 'Des went on to run a series called; 'The Skipper's Weekend', a forerunner to the RYA Yacht Master courses, in which readers would join a cruise from Salcombe to Plymouth and ' things would happen on the way.'
Man Overboards, Maydays, and Abandon Ships pre-arranged by letting off a thunder flash in a galvanised bucket had the poor reader shaken to the core. But something, some lesson always came out of it,' said Des. Des's team took people out into the Channel, or North Sea and made them wear 'foggles' – spectacles with dimmed glass lenses giving a sense of being in fog. They then set the wearer navigational tests. Gas leaks were contrived by dropping fresh onion rings around the cabin sole. They even had a scuba-diver on hand to see how different anchors gripped the sea-bed in different conditions. The efforts Des spent as a youth at his father's DIY easel did pay off in the end – it helped him create cartoons for YM including the Old Harry series about an old salt who, not unlike Captain Pugwash, gets by more through luck than judgement.
Again, alongside the humour, there was depth and compassion in JDS. He it was who, over four decades ago, approached what was then the RYA Seamanship Foundation about organising cruises for the blind. As he started campaigning in YM for same, he had letters of support from all over the world and the first sailing course for the blind took place in Poole, Dorset. The Seamanship Foundation eventually amalgamated with today's RYA Sailability and carries on the good work to this day. Des also took plenty of busman's holidays, including an AZAB, when he and Joyce sailed a 27 footer back from the Azores to the UK. It belonged to Des's deputy editor Andrew Bray. 'We were on the same tack the whole way,' Joyce recalls, 'but normally we didn't do any racing, we cruised.'
Des, retired from Yachting Monthly in 1985, but continued to write articles including his Sea Sense column. He also wrote a column for our sister journal Classic Boat. Without the constraints of needing to be near YM's London office, he moved from his home in Suffolk back to Devon – scene of his earlier years with the ICC. There was another reason for this – his daughter Michele – who had started sailing instruction with the club had moved to Salcombe. She still lives there, though now she works with special needs schoolchildren. Des had both hips replaced twice. When the second set came 'unshipped' another heavy dose of anesthetic left him with vertigo – permanently. Also his left leg is now longer than the right one and he is always dizzy. He dismissed suing the consultant as soon as he thought of it: 'I couldn't be bothered,' he told me. Instead he described himself as having 'the sort of limp that goes with a parrot on your shoulder – unless I walk with one foot in the gutter. 'This stymied hopes of taking Joyce away for three month jaunts in a Rival 32, his last boat.
Our long interview at an official end Des and I repaired to his local pub the Hope & Anchor. I drank beer, he drank whisky: but not enough to slake his thirst, he poured two more shots once we got back to his bungalow and with his walking sticks clipped over the back of his armchair started serenading both Joyce and I on his mouthorgan until we all nodded off.
Next morning, after breakfast, I took a final walk with Des up on the cliffs above his home.
'See that slipway down there,' he waved at the cove below with one of his sticks, 'get that in transit with itself - dead on - and you can come all the way in and anchor safely. It's a good place to wait for a favourable tide.' That was Des being serious. Before I left for the long road back to London, he handed me a slip of paper. This is what it said: 'May 2001.....Hope Cove
Spread my ashes on the beach
Let grockles take one granule each
And ask each other grimly frowning
"Is it JDS or gravy browning?"
Don't spread them though upon the strand
Lest children mistake them for golden sand
I can do without the hassle
Of ending up a sand bloody castle'
That was Des being Des: the only thing he never took seriously was himself.
In his last year the walking sticks had given way to a buggy - which he actually turned over on the clifftop in his enthusiasm for a look at the Channel waters below and received a good ticking off from Joyce! But also in his last year he had just made a start on writing children's stories: inspired by the love he had for his four grandchildren. Des died from coronary heart failure on 11 June in Derriford Hospital, Plymouth while awaiting yet another operation on an 'unshipped' hip. But the echoes of Des live on - shortly after his death Joyce found a mini cassette tape recorder in his desk. On it were pearls of wisdom, thoughts, and ideas. 'It was quite eerie hearing his voice,' said Joyce.
(Reproduced by kind permission of Yachting Monthly)
Here are just a selection of Des's books from John's bookshelf. They are full of amusingly told tales, with generally good outcomes, that will make you wince or writhe in laughter. I have always found Des's writings to be witty but wise. He often said that there were many years of cruising between most of the incidents, they did not all happen at once! Look out for them in your bookshop! J.W.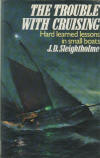 Fifteen stories covering every sort of disaster that could be met!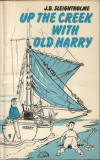 What can you say about Old Harry? Des himself commented that with the years he began to look more and more like his character!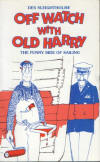 More hilarity, the joys of antifouling marine engines and their bloody-mindedness, dubious pleasures of Spring Tide Sailing, they all make up another tome full of giggles.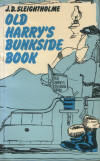 Here we have a collection of those short stories that had me smirking on the tube train to town. Only a sailor will understand!

E-mail us at enquiries@eventides.org.uk