Bob Telford has just joined us, May 2006, with 'Idle Duck'. Pictured above. this pic was taken a few years back we surmise.... We have been sent a bunch of pics which will be placed on this page ASAP. Bob is refitting her and will keep us up to date with her progress... John

Easter weekend. We bent on sails and took her for engine trials,
stayed over at Essex marina [the crew found the Adnams Broadside] and
caught the tide for Oare Creek in Kent, as early as sore heads allowed next morning.
My son, on the bowsprit, of course, and Steve, friend and crew,
[rebuilding a Hillyard]. I think the conversation went something like
" you have attached the tack to the slider, so......down.... again...."
and those are big sails.....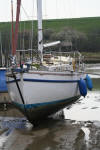 Nasty moment at Oare - No one said it was a flat wooden scrubbing grid
[an old barge bottom] we stuck on; we thought it was mud, so there was
a panicky moment when the water went away. The 15inch wide keel kept
her upright and completely steady. We warped the mast and added shores
later, but just for peace of mind. Moved her alongside on the springs,
but it gave me my first look at the hull form and I think she is really
beautiful.

Yes we agree, a very nice shape!

45 feet hollow pine; One spreader was rotten - good job we did not sail
seriously coming down from Burnham.

Board down - you cannot see the clay still attached.


Ready for the grand entrance.


Lifted up for the cradle to be removed and the centreboard dropped.

October 2006.

ID is now at Alan Staley's Yard at Faversham.

The mast is off and refurbished, and modified to run the wiring inside.

That is now wrapped and stored ready for refit.



The boat is in the yard, raised high enough for the centreboard to be
dropped. The pivot pin has been extracted and found to be near
perfect. The board itself, pitch pine, is a little worn, probably due
to lack of painting. It will be filled and epoxy sheathed.



The coachroof is off and awaiting replacement.



The hull is being prepared for repainting. I copper coated my last boat
so that I would never have to rub down a boat bottom again..................



Cheers
Bob

It sure looks as if a very thorough job is underway here. She is going to look great when she is back on the water! John